Introduced in 2014, Trending is the section to the right of your News Feed on Facebook displaying the top global headlines and linking to various news sources. If you've found yourself rarely using the feature, you're not alone. According to Facebook, only 1.5% of news publisher traffic came from Trending, and it has only been available in 5 countries all this time.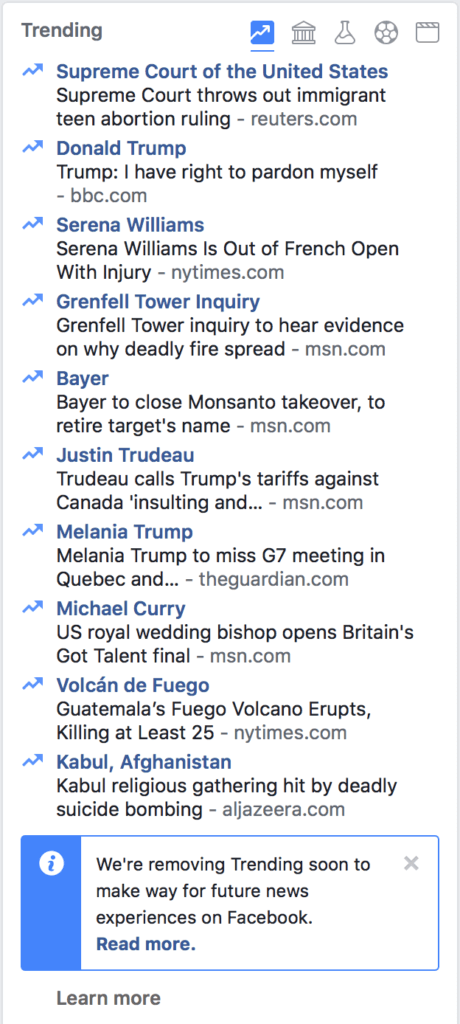 Facebook's 'Head of News Products' Alex Hardiman' announced a few days ago that Trending would therefore be removed this week, in order to "make way for future news experiences on Facebook". With news being predominantly digested through mobile video at present, it makes sense for Facebook to make this kind of content easily available to users.
Some features Hardiman mentioned that could be coming to Facebook soon were:
A feature allowing publishers to add a 'Breaking News' label to their content
Breaking News notifications

Localised news source 'Today In' where users can find news updates from their area

A news section in Facebook Watch for live coverage and more in-depth news stories
This focus on a news revamp goes hand in hand with Facebook's current efforts to tackle misinformation. The platform have spoken out about their efforts regarding fake news and bias following the Facebook content that aimed to sway U.S voters in 2016. Deciding to remove the little-used Trending feature implies an upcoming re-work of how we use Facebook to stay up-to-date with current affairs.
Do you keep up with news through a social media platform? If so are you looking forward to Facebook's updates? Let us know in the comments!