Looking for the best Hootsuite alternatives to manage your social media presence? This blog post has all the answers you need…
Social media has an estimated 3.96 billion users in 2022. The speedy growth of social media users is quite intriguing with a 38.5% increase from 2017 (1.1 billion additional users).
Managing social media accounts can be challenging for marketers, brands, agencies and organizations. Luckily though, social media management tools like Hopper HQ help you plan, schedule, organize, and direct your social media marketing strategy efficiently.
Given the vast array of tools, it can get overwhelming to pick the best social media management tool that meets your needs.
Hootsuite is one of the known social media management tools on the market. Although Hootsuite offers a range of enticing plans, you may want to consider Hootsuite alternatives for various reasons; you could be looking for a social media tool with different features, an easier user interface, the ability to collaborate with your team members and enjoy the full capabilities of the tool without spending a huge amount.
Let's take a look at Hootsuite and discover some of the most popular social media management tools that are considered top Hootsuite alternatives.
Hopper HQ: The Better Alternative ✨
Manage your social media, plan & schedule posts, add hashtags, and track results from one place with Hopper HQ!
Table of Contents
What is Hootsuite?
Hootsuite is a social media management tool used by marketers to schedule, publish, and manage their social media content & ad campaigns across multiple social networks from a single dashboard, allowing brands to become more efficient in increasing brand visibility and business growth.
Why consider alternatives to Hootsuite?
Sticking to your marketing budget while achieving your marketing goals is crucial for your long-term business success.
While Hootsuite offers some great plans, they come at astonishingly high prices. Hootsuite plans may exceed your budget as a growing business. Hootsuite pricing, however, may not be the only downside to make you want to look for Hootsuite alternatives; these are some other limitations of Hootsuite:
❗Complicated user interface
❗A steep learning curve
❗Customer support is only available for selected plans
❗Team collaboration only available on higher plans
❗The team collaboration feature is very expensive (starts from $1548 per year)
❗You can't pause content that's been scheduled in bulk
❗You need to purchase most of the apps in the Hootsuite App Directory
❗No Google Business profile integration
❗Limited URL shortener feature
❗The free plan is very limited (only schedule 5 posts and connect 2 social accounts)
Hopper HQ: The best Hootsuite alternative
Simple Post, Story + Reel Scheduling ✨
Visually plan your social content. Instagram, TikTok, Twitter, Facebook, LinkedIn + Pinterest
Hopper HQ is one of the best social media management tools and an ideal Hootsuite alternative. It offers an array of enticing features that you can leverage to grow your online presence. Some of the Hopper HQ features include:
Scheduling and auto posting
Instagram, TikTok, Facebook, Twitter, Linkedin & Pinterest
Schedule carousels, stories, reels, images, and videos
Auto publish Instagram Reels, no reminders needed
Full image editing
Schedule and auto-post your first comment
Hashtag suggestions
Bulk upload & edit all your media at once
Account and post analytics
Unlimited team members at no additional cost
Social media content calendar
Drag and drop Instagram grid planner
Social media monitoring
Hashtag suggestions
Save post drafts for approval before scheduling
Choose between auto posting or posting with reminders
Review your feed with or without Reels
Reliable customer support for all plans
Easy to use and intuitive interface
Best time to post free tool
iOS and Android companion mobile apps
With Hopper HQ analytics, you can target your audience at the right time, get high engagement on your posts, discover your best-performing content, monitor customer behaviour & follower growth, and discover relevant #hashtags & how often they're used.
Explore The Data Behind Your Social Media Accounts 📊
Find the best time to post, track your follower growth, and understand what content works best with post and account analytics.
Hopper HQ has a powerful editor with a wide range of filters which lets you edit your images and videos professionally. You can also upload and plan your content in bulk up to 50 images and videos simultaneously.
Hopper HQ supported social platforms
Instagram
TikTok
Facebook
Twitter
Pinterest
LinkedIn
Hopper HQ Pricing
Hopper HQ offers a FREE 14-day trial on all plans.
Pricing starts as low as $16.15/month when billed annually, or $19/month when billed monthly.
Pricing includes unlimited posts and 1 bundle of social accounts (1 Instagram account + 1 Facebook account + 1 Twitter account + 1 Linkedin account + 1 TikTok account + 1 Pinterest account)
Agencies managing multiple social media accounts can benefit from our bulk pricing discount:
For plans with over 5 social bundles, each new account's price will be $15
For plans with over 10 social bundles, each new account's price will be $10
Find more pricing details and start your free trial here
Hopper HQ stands out as a top alternative to Hootsuite. It is ideal for small businesses and agencies managing multiple social media accounts. With its range of valuable features, easy all-in-one dashboard and intuitive UI, Hopper HQ is the best Hootsuite alternative for content planning scheduling, and social media analytics at a fraction of the cost compared to Hootsuite.
Here are the key points that make Hopper HQ the better alternative to Hootsuite:
1. Competitive pricing:
Hopper HQ offers plans that won't leave a dent in your pockets when compared to Hootsuite. You can get started on Hopper HQ for $16.25/month and enjoy all the features at no additional cost, whereas Hootsuite pricing starts at €49/month for its basic professional plan and goes up to €669/month for its business plan.
2. UI and ease of use:
Hopper HQ is easy to navigate and use. It has a short learning curve and the friendly user interface allows you to adapt to its features and easily use them for your unique business needs. This makes it the least time consuming platform for most users.
3. Customer support for all plans
Hopper HQ's customer support is top-notch, we provide excellent customer support for all of our users on all plans. We respond promptly and offer solutions to any challenges you may have.
4. Suitable for small businesses and agencies
Business growth depends on efficient planning and execution. Hopper HQ helps agencies easily manage multiple accounts and brings small businesses closer to achieving key milestones by planning, publishing, and monitoring their social media performance.
Hootsuite vs Hopper HQ
| | | |
| --- | --- | --- |
| Features | Hootsuite | Hopper HQ |
| Pricing | €49/month | $16.25/month |
| Number of users | 1 | unlimited |
| Free trial | ✅ | ✅ |
| customer support | ⛔only available for the business plan and above | ✅available for all plans |
| analytics & reporting | ⛔only available for the enterprise plan | ✅available for all plans |
| @mentions | ✅ | ✅ |
| Alerts/Notifications | ✅ | ✅ |
| Calendar Management | ✅ | ✅ |
| Drag & drop grid planner | ⛔ | ✅ |
| Image Editing | ✅ | ✅ |
| Multi Account management | ✅ | ✅ |
| For small businesses | ⛔ | ✅ |
| Instagram Reels auto posting | ✅ | ✅ |
| Social networks | Instagram, TikTok, Facebook, Twitter, Linkedin & Pinterest | Instagram, TikTok, Facebook, Twitter, Linkedin & Pinterest |
| Supports images, videos and carousel posts | ✅ | ✅ |
| Instagram Stories scheduling | ✅ | ✅ |
| Full image cropping & editing | ✅ | ✅ |
| First comment scheduling and auto-posting | ✅ | ✅ |
| Hashtag suggestions | ✅ | ✅ |
| Bulk upload multiple posts at once | ⛔ | ✅ |
| Review your feed with or without Reels | ⛔ | ✅ |
| Easy to use and intuitive interface | ⛔ | ✅ |
| Best time to post free tool | ✅ | ✅ |
| iOS and Android companion mobile apps | ✅ | ✅ |
Hootsuite advantages and disadvantages
Not all social media tools can meet your marketing needs and like every other social media tool, Hootsuite has its pros and cons.
Hootsuite advantages
Hootsuite supports popular social media networks like Facebook, Twitter, Instagram and LinkedIn.
It has an interface that allows you to organize and divide engagement activity into tabs of different social networks and streams.
Hootsuite has an app directory or library that supplies access to more than 100 apps, including YouTube, Salesforce, Google Drive, and SoundCloud.
Hootsuite disadvantages
Most customers perceive the app as outdated because they don't add new features or upgrade the user Interface,
Customer feedback is very poor. It only provides "24/7 priority support by real live humans" to elite customers who pay above $599.
So many social networks appearing on the interface can be overwhelming as it looks crowded and confusing for a lot of users
Hootsuite's features are not simple and can be a steep learning curve.
Prices are expensive
Team collaboration is only available on higher plans.
Hootsuite dashboard
The Hootsuite Dashboard is where users can schedule, publish, view, and respond to social posts, as well as view analytics, social listening, and engagement.
Let's take a quick tour of the dashboard.
To explore the features of Hootsuite, first, you'll link your social media accounts. The main workspace is in the centre of the dashboard. You can find the main Hootsuite functionalities like Streams, Inbox, Planner, Analytics, and the App Directory on the sidebar. The Header contains features like Composer, Account Settings and the Help Menu.
The Hootsuite Composer is where you can write your message, shorten links, attach visuals, and schedule posts to various social networks.
You can visit the Planner to review your scheduled content in a calendar format.
Plan & schedule social media ahead of time.
> Video, gallery & image posts
> Calendar, feed & grid preview
> Instagram, Facebook & Twitter
By clicking on the 'Stream View' in the sidebar you can monitor and see engagement on posts across social networks. You can also view analytics and overview metrics in the sidebar.
You may have access to Hootsuite Inbox depending on the paid plan you have. With Inbox, you can manage conversations across different social networks.
Hootsuite analytics
Social media analytics are crucial for keeping tabs on your performance across social media platforms.
Hootsuite does not offer analytics for its limited free plan. It offers Social media report templates, customizable reports, and the best time to publish on its professional and team plans, and provides additional reporting on team productivity, paid and organic ROI reporting, and social listening at an additional cost for its Business and enterprise plans.
Hopper HQ analytics are an excellent alternative to Hootsuite. Hopper HQ offers analytics tools that provide performance reports that allow you to strategize your social media goals, know what's working and what's not, choose the best time to post depending on interaction and follower activity, and the kind of content your customers prefer to see.
Explore the data behind your Instagram account.
> Find the best time to post on Instagram
> Track your follower growth overtime
> Understand your post engagement
Hopper HQ provides detailed analytics reports on a post level and account level.
The Hopper HQ post analytics metrics include impressions, likes, comments, engagement rate, reach, and saves.
The Hopper HQ account analytics metrics, on the other hand are: new follower growth, impressions, reach, profile views, website clicks, and email clicks.
With Hopper HQ, you can also get recommendations on the best time to publish posts when more of your followers are online and likely to engage with your content.
Additionally, Hopper HQ provides you with insights into your audience's ages, genders, and locations.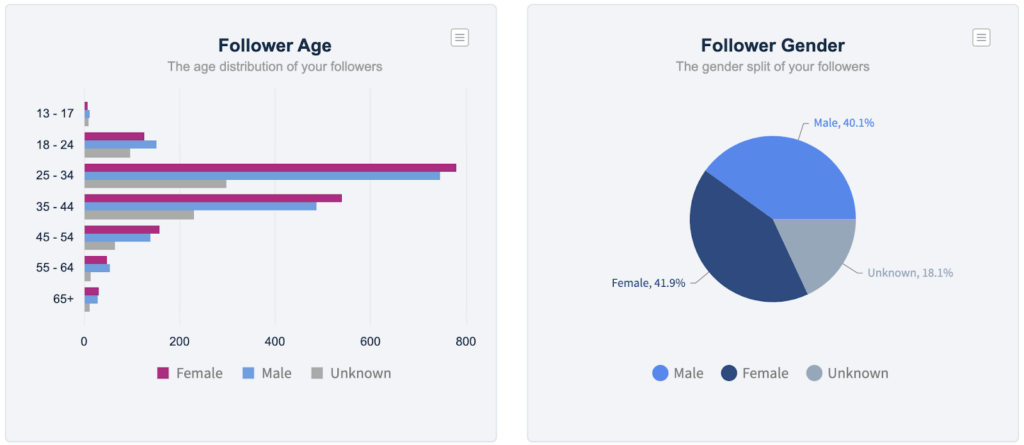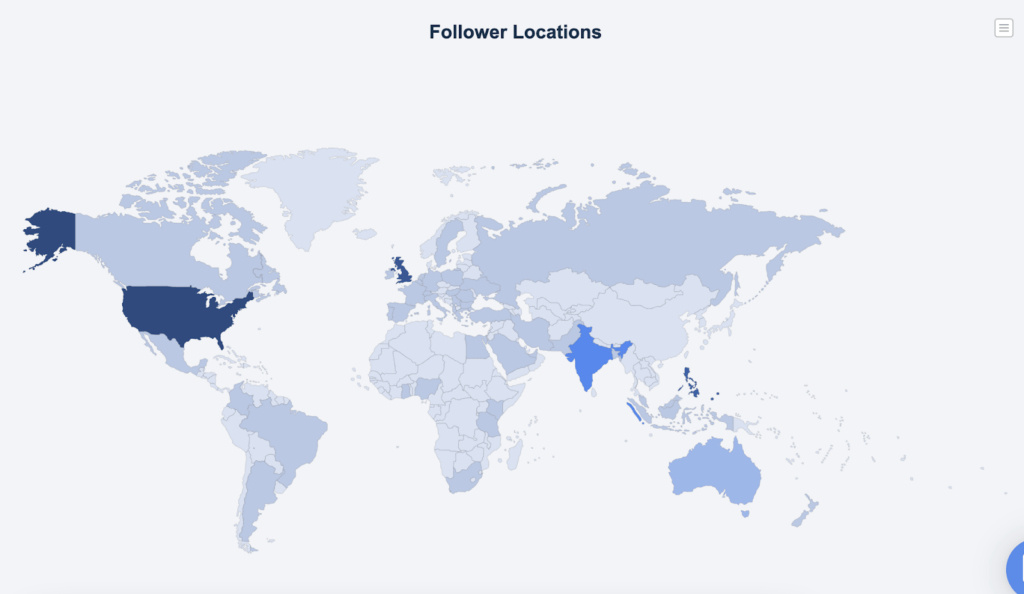 Plan & Schedule Your Social Media Posts
Visually plan your posts. Drag & drop everywhere in seconds ✨
Hootsuite reviews
Here's what people had to say about Hootsuite:
"Post and Explore"
Overall
Hootsuite helps you post posts regularly and schedule them at once to save time, and we were able to do both. We also understood the engagement our posts got through the platform. It's a great product if you have good money to invest in social media management.
Pros
Hootsuite is very feasible to use. The feature to link multiple streams helps the user to post freely across the stream and saves a lot of time. Accessibility is the best thing about Hootsuite.
Cons
There was nothing in particular that I disliked about Hootsuite. The only thing that restricts our organization from using Hootsuite as our only platform is that the paid plans are costly.
Kuvam M.
Vice President
Non-Profit Organization Management, 11-50 employees
Used the software for: 6-12 months
Reviewer Source: Capterra
Date: June 22, 2022
2. "Good but expensive tool"
Overall
Solid app with good stability misses out many features if you are no a lower plan.
Pros
Very good tool to schedule content to social media accounts without having to open every social media account. It helps you keep with your content posting.
Cons
There are some features missing in the professional which are really useful not just for agencies but also for personal use.
Spoorthy A.
Web Developer
Computer Software, 1001-5000 employees
Used the software for: 2+ years
Reviewer Source: Capterra
Date: July 28, 2022
3. "A Great Tool For Social Scheduling – But Others Offer More For Less"
Overall
Overall the product has served us well; we're still using it daily and are able to plan campaigns around our scheduling abilities, we're able to connect directly with our customers and assigned potential customer service issues within our team with a few clicks. Over time, however, social platforms are getting savvy to the needs of businesses are starting to build out their own business tools and scheduling/performance analytics hubs (Facebook Business and Twitter for Business for one). It remains to be seen how Hootsuite will compete with free as the platforms begin to grow this part of their businesses.
Pros
Social Post Scheduling is the raison d'etre for Hootsuite and it does it effectively and with lots of options including custom tagging for your analytics platform. If you're only interested in being able to schedule and post to multiple social media channels, this is the first place to look.
Cons
The pricing and tiers no longer make sense as many of their competitors are offering similar/better scheduling and posting options at a lower price (or free with limitations). In 2022, Instagram post scheduling shouldn't be an exclusive feature.
Alberto L.
Marketing Manager
Education Management, 11-50 employees
Used the software for: 2+ years
Reviewer Source: Capterra
Date: April 28, 2022
Hootsuite pricing + plans
Hootsuite offers multiple plans to choose from:
Professional plan
Team plan
Business plan
Enterprise custom plan
Hootsuite has a 30-day free trial for its professional and team plans, and you can request a demo for the business and enterprise plans. The limited free plan includes 1 user with 2 social accounts, and the ability to schedule 5 posts only.
See the details below: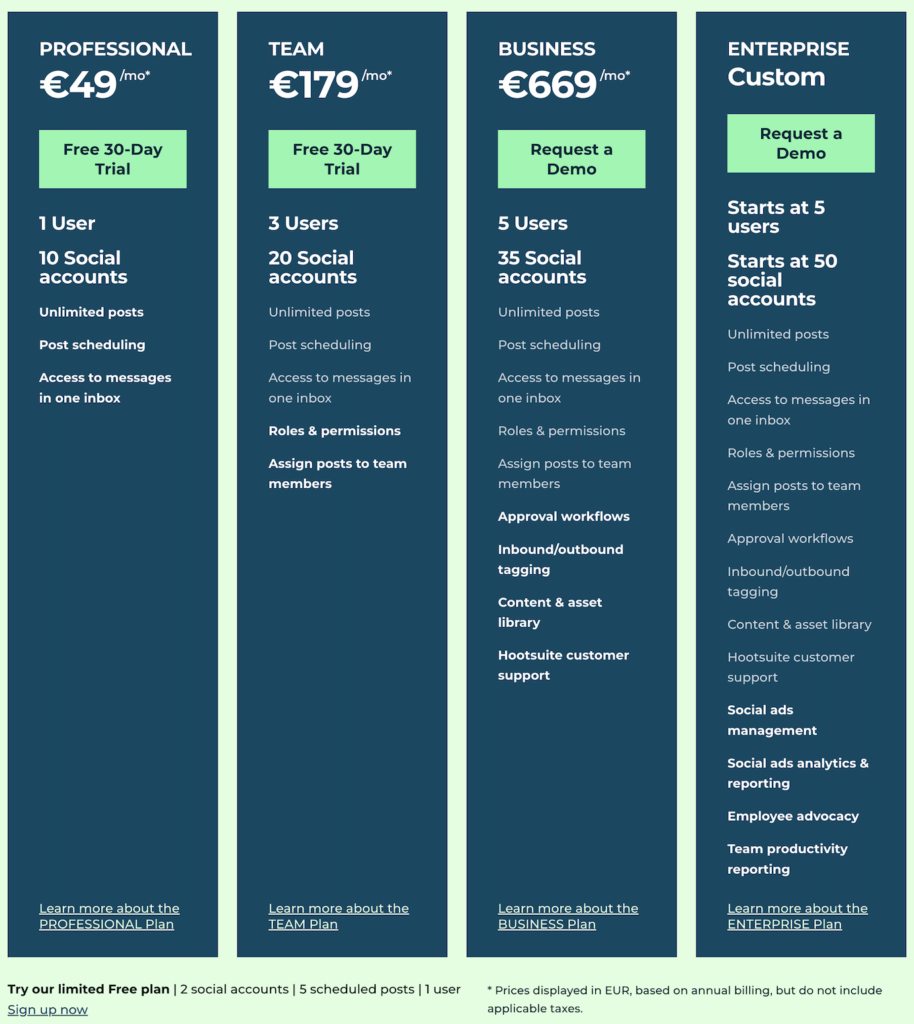 Here's a side-by-side comparison of all the Hootsuite features included in each plan:
So, what's the best Hootsuite alternative?
Social media managers and agencies need social media tools that are easy to use with friendly UI that won't put a dent in their budget. While Hootsuite is one of the known social media management tools, Hootsuite alternatives like Hopper HQ offer the same features at a more affordable price range.
Start your 14-day FREE trial and easily manage your social media accounts with Hopper HQ.
TRY HOPPER HQ FREE
Refreshingly Simple Post, Story + Reel Scheduling
Visually plan all your social channels. Instagram, TikTok, Twitter, Facebook + LinkedIn.