Welcome back to Social Bullet, our weekly round up of the most important social media news, live on our blog every Monday, Social Bullet will keep you informed and up-to-date on your social media game. This week we have news of Instagram releasing a new shoppable tags feature for stories, Reddit are investing in their ads platform with autoplay video ads & Snapchat are finally releasing a developer kit for third party apps.
Social Bullet Video Round Up
---
Instagram Plan To Launch Shoppable Stickers To Stories
Instagram are planning to release Shoppable stickers for stories. The feature has been in testing with a limited set of partners for a while now, slowly becoming available to more users, however shoppable tags were for Instagram posts only, and allowed users to tap to discover more info about products in the post, without having to leave the app. According to several reports Shoppable Tags will soon be available in Stories too.
Instagram Stories has been a hit with users ever since it was released with 300M users using Instagram Stories everyday. The introduction of Shoppable posts will add a new layer of user experience to Stories and could really be the tipping point to crown Instagram as the king of Stories over rival Snapchat. Users will be able to find our more details about products that are tagged and even purchase them, from within Instagram, all without having to leave the app. Shoppable tags will be very useful for those brands that are active with Instagram Stories, and it will be interesting to see how brands like BurgerKing, Aldi and ASOS utilise the new feature as part of their campaigns.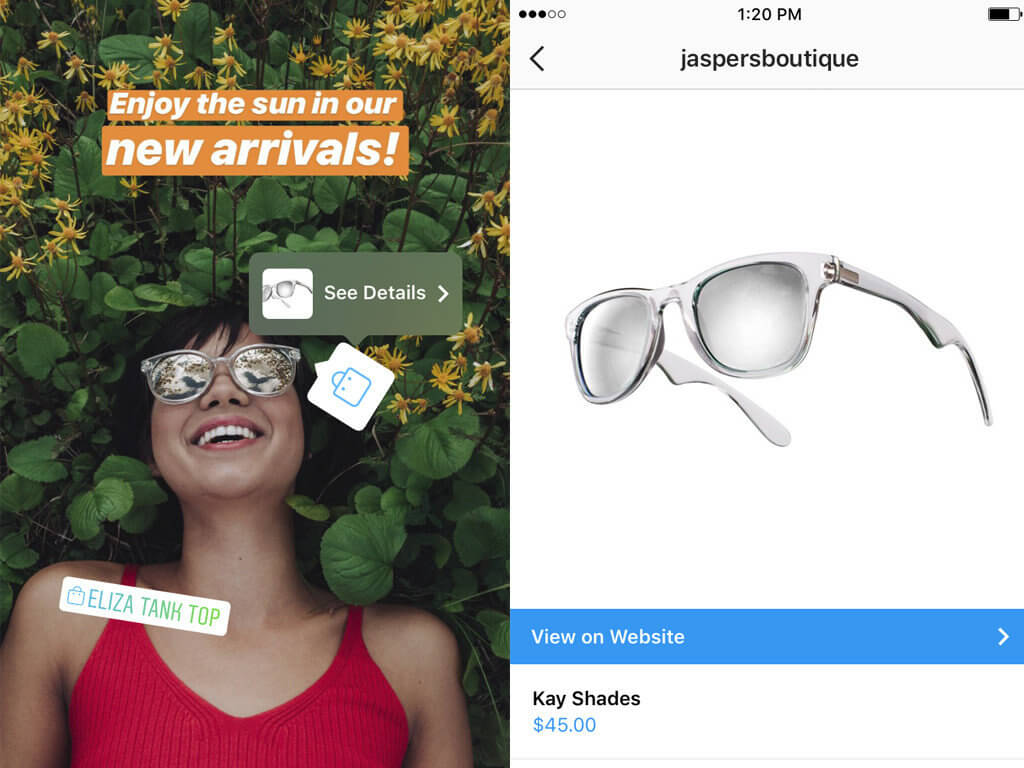 ---
Reddit Launches Native Autoplay Video Ads
Perhaps one of the most popular spaces on the internet but an underestimated social media space, Reddit is launching new autoplay video ad. The new ads will be optimised for the sites recent controversial redesign. As with most new roll outs, the feature will initially be available to select partners before being available to all advertisers. Video ads aren't a entirley new addition to Reddit, as they have been available before, however this is the first time video ads will be fully native across all platforms and the first time they'll be available on a cost-per-view basis. Reddit's effort in making video advertisements more accessible and effective does indicates the companies intentions to evolve and improve their platform to make it more attractive to brands. Currently social media ads are dominated by Facebook and Instagram, text based platforms similar to Reddit such as Twitter, have yet to offer a promising ads products, could Reddit be the game changer?
---
Snapchat Launch Developer Kit Giving Access To Third Party Apps For The First Time
Snapchat have finally launched their developer kit allowing third party apps and services to connect and integrate with some of Snapchat's popular features. Snapkit as it's being called offers four key features for developers to connect with, these include; Login Kit, allowing users to log into the third party apps using their Snapchat credentials, Creative Kit provides third party apps with access to Snapchats camera and unique filters. Bitmoji kit will bring the popular animated characters to new platforms, and finally Story Kit will allow public Snapchat stories to be integrated and viewed in third party apps and services. Brand such as Pandora, Tinder and Eventbrite have already started integrating Snapkit features into their app, with other brands predicted to follow.