After the success of our recent panel events discussing digital marketing trends, we set out to tackle a new topic: video. On Wednesday 13th June people from all areas of the social media, video, and marketing worlds came together to hear industry leaders discuss the question:
Is video essential for content marketing success?
Tackling the topic was our panel of video experts…

Ayesha is a Senior Creative at BuzzFeed UK. She specialises in creating shareable video, social, and written content that delicately balances audience-interests with brand objectives. Ayesha spearheads social video for BuzzFeed's beauty franchise, As/Is, and regularly contributes to its travel franchise, Bring Me.

Alvin Hussey is Brand Partnerships Director at The Hook, working with brands and media agencies to craft innovative branded content for clients. Alvin has been integral to the launch of creative social media agency The Hook Labs, which leverages The Hook's wealth of experience in original content production and storytelling to help partners achieve similar success on social.

Michelle is the Creative Video Producer at ASOS. Not only does she manage 90% of the video content within the creative department, she also manages the creative video team. During her time at ASOS she's been a part of campaigns such as the ASOS activewear and Face + Body, as well as most of the recent social campaigns that have gone out in the last 9 months.
Compèred by:

Mike is a Co-Founder of Hopper HQ, the planning and scheduling tool for Instagram. Mike has over 12 years experience in digital marketing including within an advertising agency and as part of startup studio Turn Partners, co-founding and growing multiple digital businesses such as a leading niche dating business and an influencer marketing agency.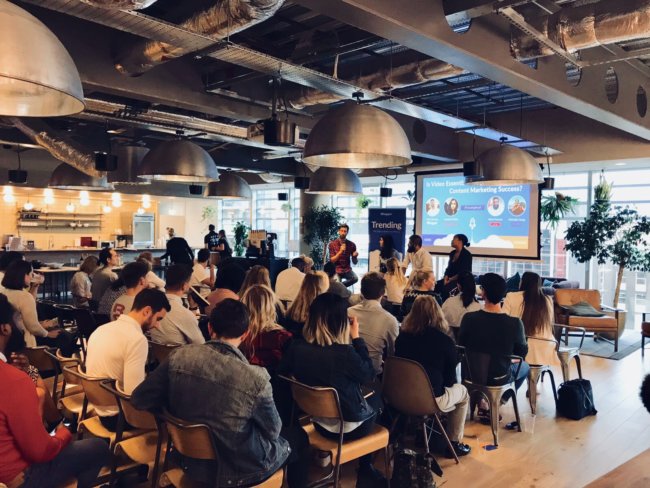 We hosted the event at our London base in WeWork, Aldgate Tower. Mike kicked off the discussions for the evening, inviting the panel to speak about their experience of video in their roles, how brands can utilise video on social media, and how to create really powerful content. From the ease of mobile video on Facebook and Instagram Live, to the art of holding a viewer's attention in just 3 seconds, we heard it all. Here are some of our top takeaways…
Top Takeaways
"Think, would you watch this?" 🤔
Ayesha highlighted the importance of thinking of your viewers as real people rather than numbers. Put aside objectives and metrics for a moment and think on a human level: would I want to watch this?
Test content 📊
Alvin reminded us to always test our video content! There's no point putting stuff out if you're not sure your audience wants to see it. Always test and optimise.
Have a recognisable style 🎨
Michelle told us about 'the ASOS way' and how they keep that ethos at the heart of all the content they produce. This creates a recognisable style that people grow to know and trust!
Don't be afraid to go niche 🎬
Keeping your audience broad can mean your video content is just a "drop in the ocean" according to Ayesha. Don't be afraid to go really specific and find a smaller audience that will be highly engaged.
Every platform is different 📱
Rather than video content being something that's made and then shared on social media, these days video is created with social platforms in mind. Remember every platform is different and video content serves different purposes on each of them.
Repurpose content for different channels 💻
That being said – there's no harm in repurposing your video content for different platforms! When you've invested resources and budget into great content, find ways to keep sharing it.
Don't lose sight of the audience 👥
This is something all of our panelists agreed on. Always keep the audience at the heart of the video content. As a creative it's easy to get carried away with what you think is good, but remember not to lost sight of the people it's being made for!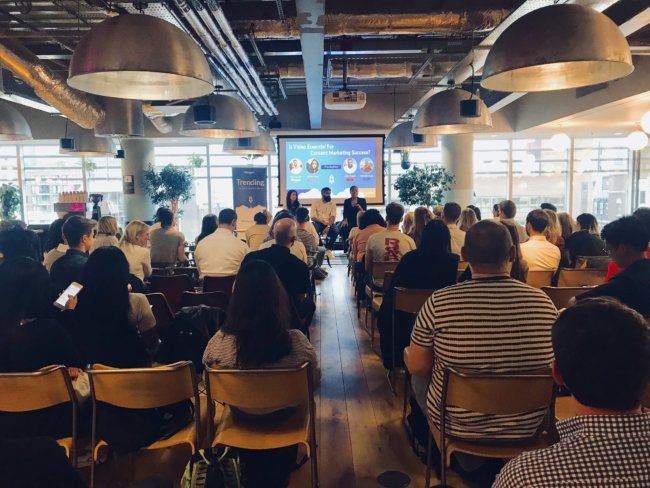 We had a very interactive audience from a huge range of industries, eager to ask questions and share their points of view. Our 'Cards of Contention' (an interactive system involving pieces of blue and orange card) allowed the audience to join in the debate, and offer their opinions on the key issues being discussed.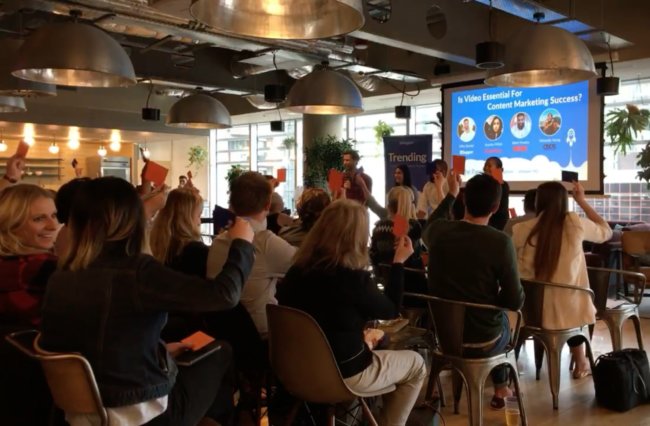 As with all our events, some lucky raffle winners got some mobile camera equipment and a free year of Hopper HQ! Thanks again to our wonderful speakers and everyone who came along, we hope to see you at the next one 🎉
If you couldn't make the event — or just want to relive the fun — check out the full livestream on our YouTube channel…
Make sure you don't miss our next event! Sign up to our Trending newsletter to get notified of the next one, as well as get weekly social media news and trends straight to your inbox!