Have you been trying to build your brand on LinkedIn but haven't yet seen any development?
That's where the best time to post on LinkedIn comes in. It's one of the things that can assist you in gaining interaction. It's crucial to post while your target demographic is online to spark discussion and get higher engagement.
You've found your desired target audience, created or selected content to speak to their interests, and converted it into a forward-looking content calendar that guarantees you always have something to say.
However, you're not seeing the growth you want.
The most successful content marketers know that your active user time plays a significant role in generating impact and engagement. It's important to deliver content at a time when your target demographic is likely to notice it and have the time to interact with it.
This sweet spot fluctuates based on the medium you're trying to reach your target audience. Each social media platform plays a distinct function in the lives of its users, and those roles frequently occur at various times throughout the day.
However, determining the perfect moment to publish on LinkedIn may be challenging.
For you, we have found the best times to post on LinkedIn.
The findings are worthwhile because, in addition to the apparent benefit of increasing interaction by posting at the perfect time of day, you can learn a lot about your audience's motivations and goals on LinkedIn by knowing when they are online.
Table of Contents
Why Timing Matters on LinkedIn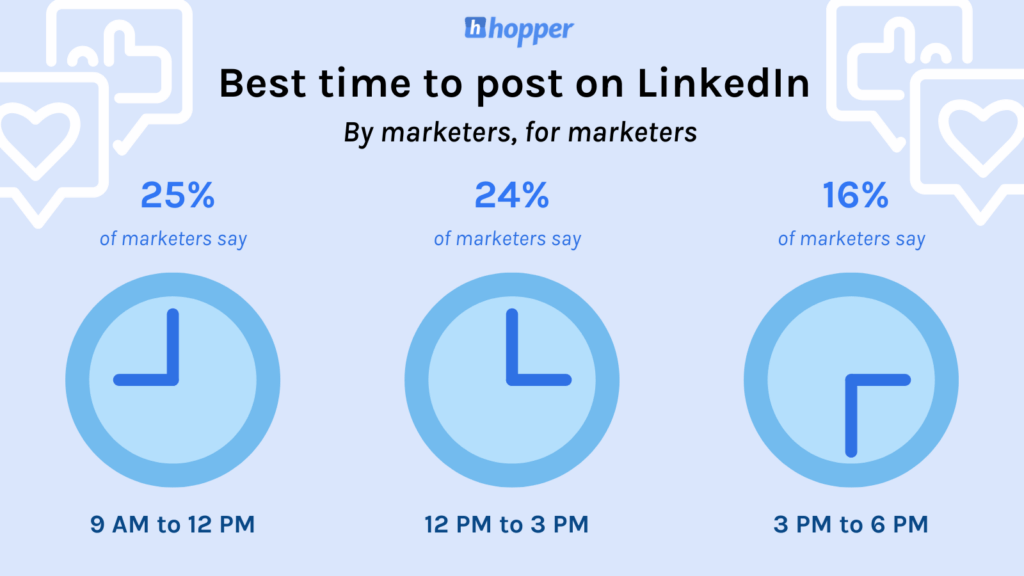 Since its inception in 2002, LinkedIn has become a platform for establishing brands rather than merely posting resumes and seeking jobs.
Both B2B and B2C marketers advertise their content there and develop enduring relationships.
However, there isn't a single perfect day or time to post that consistently ensures a large audience and active users. This is because each brand's target market is unique; they may reside in various time zones, be preoccupied with work at particular times of the day, be inactive on social media, etc.
Having said that, certain recommended practices are universally effective. Like most social media algorithms, LinkedIn's algorithm promotes recency, so publishing while your audience is online is an excellent place to start.
You can focus on the behaviour patterns of your followers by looking at your analytics data. (If you're new to LinkedIn and lacking in past data, we recommend a generalized safe place in the next section.)
You should keep your objectives in mind while you search for the ideal posting window. What do you want?
Do you want to increase brand recognition?
Drive visitors to your website?
Find leads?
On a Monday morning, your audience may interact with an encouraging message while scrolling the platform, but they may not open a sales pitch until later in the week (and day).
By posting your LinkedIn content at the perfect time, you can ensure its success by clearly understanding your goals.
The Best Times to Post on LinkedIn in 2023
Best time to post on LinkedIn on Monday
People tend to check their inboxes and social media in the morning before they start working on the first day of the week. On Monday, 9-11 AM is the perfect time to post anything on LinkedIn.
Best time to post on Tuesday
The best time to post on LinkedIn on Tuesday is between 9-11 AM or around 2-3 PM. This is because people are on breaks and are more likely to engage with your content.
Best time to post on Wednesday
12:00 PM is the perfect time to publish on Wednesday. Utilize your lunch hour to connect with your target demographic on LinkedIn.
Best time to post on a Thursday
The best time to post on LinkedIn on Thursday is between 9-12:00 PM. This is because people tend to be more engaged on Thursdays, which is a good time to catch them while checking their feeds.
Best time to post on a Friday
People tend to be less productive on Fridays and may spend more time on social media during the day. So, 2-5 pm is a good time to post.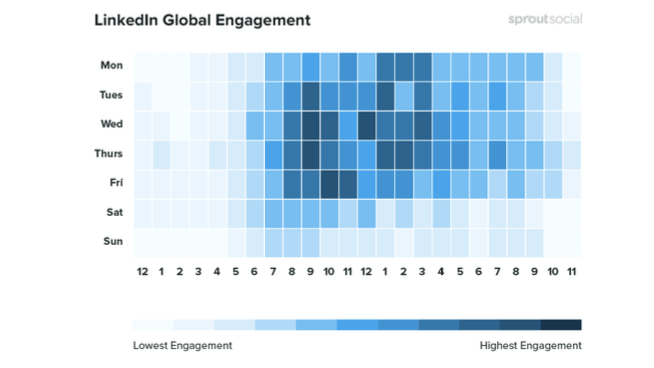 Best time to post on a Saturday
Saturday is not typically a good day to post. However, you can try posting between 2:00 p.m. to 4:00 p.m. as people check their LinkedIn profiles during their downtime.
Best time to post on Sunday
The best time to publish on LinkedIn is 8-10 AM. Weekends don't draw as much attention as weekdays, but on both Saturday and Sunday, you're best off targeting the early hours or the nights.
How to Find Your Best Time to Post
Use Time Zones to Your Advantage
When creating and publishing on LinkedIn, you'll need to consider time zones if you're a local, national, or international company. Some LinkedIn marketers post their content at various times to reach everyone.
However, as LinkedIn's algorithm punishes users who share more than once daily, we don't advise taking that move. Our advice is to plan your content according to the times when most of your audience is most likely to be on LinkedIn.
Use social media analytics tools to determine the location of your target audience.
Follow Your Specific Audience
Finding the perfect time to publish on LinkedIn for your business requires careful consideration of your target audience's behaviour.
Look at the LinkedIn usage patterns of your target audience, as well as their preferred types of content and times when they are online and active.
In addition, it's important to consider lunch breaks and time zones. You can better understand your target audience with social media analytics tools like Hopper HQ.
Frequency of Posting on LinkedIn
For LinkedIn, two to five times per week, up to 25 times per month, is the perfect posting frequency. Publishing to the platform multiple times daily throughout the workweek is not advised.
Posting more than once a day during the workweek will probably cause more harm than good because LinkedIn's algorithm is designed to give consumers a wide variety of posts from various contributors in their newsfeeds.
Best Time To Post On LinkedIn By Industry
Your industry will also influence the perfect times to publish on LinkedIn. For instance, according to data, B2B organizations post most successfully between 11 AM and 2 PM, but B2C businesses and software firms do best outside the 9 AM to 5 PM window.
Here is a list of the ideal times to post on LinkedIn for various industries.
The highest point for LinkedIn activity in your sector is shown below.
B2C companies: For individuals with a 9 to 5 schedule, the perfect time to connect with people on LinkedIn is during their lunch breaks.
B2B Businesses: B2B audiences are typically more career-focused than larger B2C audiences, so reaching them before work, throughout lunch, and just after their evening commute may provide the best results.
Software Businesses: If you want to reach people in the software industry, it's best to do so before or after work or over lunch when they are not fully engaged in their tasks.
Healthcare Companies: Healthcare deviates a little from other industry sectors, with mid-morning to early afternoon being the most productive.
Media Companies: People frequently check their LinkedIn feeds in the morning, similarly to how they read the newspaper. It follows that early in the morning is when publishers notice the greatest level of effectiveness.
Colleges: It's easier to catch students during lunch or late at night.
Using Hopper HQ to Schedule Your Posts
Consider the Hopper HQ LinkedIn statistics. You can get a summary of the perfect day, post type, and frequency for your linked channels using our Analytics function.
You can track the stats for each of your posts over the past 30 days if you've been publishing to LinkedIn for at least that long.
Analytics also keeps track of data like followers, engagement rate per post, clicks, and more, advising on the best days to publish or how frequently to post. It's an excellent way to obtain a comprehensive picture of your work on LinkedIn and any other social networking sites you use.
How to schedule your posts on Hopper HQ

The final step is to publish at those times now that you are more aware of when your LinkedIn connections are most engaged.
You can schedule and program your posts to automatically publish on LinkedIn using the scheduling tool from Hopper HQ:
Link your Hopper HQ account to your LinkedIn profile.
Click on the button "Create post" on the top left corner
Create a caption for the post and include hashtags. Additionally, you may press "Edit Image" to trim the image to the ideal size for LinkedIn and add text to it.
Select the time you wish to schedule your post and then hit save.
Simple Post, Story + Reel Scheduling ✨
Visually plan your social content. Instagram, TikTok, Twitter, Facebook, LinkedIn + Pinterest
Other Tips for Improving Your LinkedIn Presence
You need to do some research to determine the perfect times for you because no two audiences are exactly the same.
The only way to determine your ideal posting schedule is via experimentation. It requires some data analysis to determine your ideal time to post, but it doesn't have to be difficult because we'll help you through it.
Here are some suggestions for using LinkedIn to connect with your target market.
Review your top-performing posts
If you've been publishing on LinkedIn for a while, your previous performance data is a gold mine of information about your audience.
Review and observe trends in your best-performing content. Is there a unifying factor? Are most of your most popular postings from a certain day or time?
To identify your best achievers, use a free native analytics tool on LinkedIn. Alternatively, use Hopper HQ if you don't feel like searching for and manipulating data.
It'll suggest the ideal time to post on Facebook, LinkedIn, Twitter, Instagram, and TikTok. The suggestions are based on your prior performance and are specific to your target audience's behaviour.
Research your competitors
Researching your competitors is always a good idea. You can get a sense of when your rivals think it's ideal for posting by stalking their profiles. Your audiences may overlap if the goods or services you provide are comparable. In this case, you may learn from your competitors' mistakes and avoid trial and error altogether.
You may have noticed that many businesses plan for their posts to go live around the hour mark. Try posting a few minutes before that to avoid the competition.
Post in the right time zone
If your company has a global presence, be sure to post in the time zone of your target market. It should go without saying that your audience won't view or respond to your content when they are asleep.
Regardless of where you are, you can use a social media management tool like Hopper HQ to plan your posts in advance and have them go live at the perfect moment on LinkedIn. In other words, you won't need to set the alarm if you want to post at 6 AM on a Tuesday.
Monitor your results
It takes more than one try when deciding when to post on LinkedIn. You must modify your publishing schedule as your audience and approach change.
Regularly reviewing your LinkedIn statistics will allow you to assess the effectiveness of your strategy and identify any developing patterns. Don't hesitate to test an alternative schedule if you discover that your former strategy is no longer working. Social media is always changing.
Be consistent
Consistent posting keeps your audience engaged while also allowing you to get more analytics data. And more data means more chances to discover what your audience prefers.
Consistent posting will also make your company more recognizable on LinkedIn and increase the sense of belonging among your audience. Ultimately, LinkedIn's algorithm detects when you have a genuine connection with your audience, which benefits your business and your bottom line.
To Wrap It Up
LinkedIn engagement and reach are crucial factors to consider when trying to draw in new clients or build brand recognition.
You can expand your network and attract new customers by knowing when to publish on LinkedIn.
For the highest possible interaction on your posts, it's critical to understand when to post on LinkedIn. This is a signal to reconsider your LinkedIn publishing schedule if you have quality material but a small audience.
Additionally, you can use Hopper HQ to automatically publish your content to take advantage of those peak times.
Trends, Tips & Inspiration to Supercharge Your Instagram Marketing.
Join 50,000 other subscribers. Getting inspired & supercharge your social media marketing with tips from our experts. Prepare for upcoming trends and social media holidays before they happen.