Looking for the best later alternatives to manage your social media? We've got you covered. Read on to learn more about the Later social media management tool and the top later alternatives that best suit your needs.
Table of Contents
Social media has become the perfect place for marketing any business, getting clients and staying credible to your audience.
So, why not use the power of social media to build your business?
A dead social media profile isn't doing your business any favours. People like to see fresh and engaging content on social networks. And creating content for all your social profiles on a regular basis isn't that simple.

That's when social media management tools like Later and Hopper HQ enter the scene.
In this post, we'll tell you more about Later, its main features, and the top 5 Later alternatives to turbocharge your social media presence.
Plan & Schedule Your Social Media Posts
Visually plan your posts. Drag & drop everywhere in seconds ✨
What is Later?
Later is a popular social media management platform where users can schedule posts. It works for Facebook, Instagram, Twitter, Linkedin, TikTok and Pinterest. Later offers simplified features that make social media more manageable.
The Later features include:

Visual uploading
Scheduling
Writing captions
Measuring performance
Why consider alternatives to Later?
Later helps marketers plan and schedule posts and offers insights to improve their social media marketing efforts. However, it may not be the best tool for everyone, here's why:
Reasons to consider Later App Alternatives:
The free version is very limited
The features in the basic plans are limited
You need to upgrade your plan to access key features
The tool is expensive
The analytics feature is limited in basic plans
The tool is more Instagram-focused
The features in the basic plans are limited:
To elaborate; Later's most basic starter plan starts at $18/month, this, however, only includes 1 user, 30 posts, and limited analytics, without the option to add extra social sets or users.
If you wish to add extra social sets or users, you must upgrade to the growth plan at $40/month, where you can add each social set at an additional $15/month and each user at $5/month in addition to the monthly plan cost of $40.
Hopper HQ, on the other hand, offers a more affordable plan starting from $16/month billed annually, The plan offers 1 social set (6 social accounts), in addition to unlimited posts and users.
Plan & schedule social media ahead of time.
> Video, gallery & image posts
> Calendar, feed & grid preview
> Instagram, Facebook & Twitter
Additionally, Later's analytics is quite limited in the first two packages. Only the premium plan offers advanced analytics. Meaning that if you don't spend $80/month on the premium plan, you may have to use additional tools for measuring analytics.
Want to leverage detailed analytics without the extra cost? Try Hopper HQ 👇
Explore The Data Behind Your Social Media Accounts 📊
Find the best time to post, track your follower growth, and understand what content works best with post and account analytics.
Hopper HQ: the best Later alternative
Hopper HQ is a social media management and scheduling tool and one of the best Later alternatives to schedule your social media posts, get insights, manage, and maintain your social media presence.

The Hopper HQ features include:
1. Social Media Posting for Multiple Platforms
Post on Instagram, Facebook, Twitter, LinkedIn, TikTok and Pinterest
Automate image and video posting
Easy uploading and editing features
Fully automate Instagram carousel posts without reminders
Publish one post on all 6 networks at once
Schedule and auto-post Instagram reels
Plan and schedule Instagram stories
2. Planning Social Posts Efficiently
Content Calendar to visually plan all your content in one place
Create an Instagram grid with easy to use grid planner
Add unlimited team members
Drag and drop feature to save time
Find out your best-performing posts with post analytics
Find out the best time to post on your social for maximum engagement
3. Content Creation & Automation
Create, schedule and auto-post your first comment
Get relevant hashtag suggestions for your posts
Edit and crop all your images
Bulk upload up to 50 images and videos at once
Hopper HQ Offers exclusive features to simplify social posting on multiple platforms, with excellent customer support to help you make the best use of the features at every stage.
With Hopper HQ, you can cut your social media management time. Create one post and quickly post that on multiple accounts. Also, upload tons of visuals at once. There are options to repost and reschedule old posts as well.
Our image editing options let you fix sizes and dimensions, add filters, text overlay frames, and adjust colours. You can improve your posts with hashtags, mentions, locations tagging and emojis in Hopper HQ.
Hopper HQ makes everything about managing social media much faster and easier. It also lets you know lucrative insights about your efforts to engage more followers.

✨ Schedule & auto-post your upcoming social media content. Get Started with our 14-day Free Trial ✨
Hopper HQ Pricing
Hopper HQ's pricing is relatively simpler than tools like Later social media scheduler. Hopper HQ comes with a single plan that allows you to bill monthly or annually. The monthly bill increases with the social sets you choose to have. Meaning you have to pay according to your needs only.
The Hopper HQ plan lets you post on all of 6 supported social accounts and add unlimited team members. If you need Hopper HQ for multiple sets of social media accounts, you can just add the required number of sets. This helps social media managers and agencies with multiple clients adjust their plans according to their needs whenever they want.
Agencies can also benefit from our bulk discount when adding more than 5 social media sets to their plan.
Additionally, you can save up to 15% if billed annually, and get a 14-day free trial to try out the tool.
In short, Hopper HQ offers a range of features at cost-effective pricing.
Simple Post, Story + Reel Scheduling ✨
Visually plan your social content. Instagram, TikTok, Twitter, Facebook, LinkedIn + Pinterest
Later advantages and disadvantages
Just like any other tool, Later has its pros and cons. We've listed some of the advantages and disadvantages of Later below.
Later Advantages
Offers a Visual Planner to plan Instagram feed
The drag-and-drop feature makes scheduling easy
The caption saving option allows the reuse of the captions on other content
Later Disadvantages
Limited features compared to the price
Unlimited posts are available only in the Advanced plan
Advanced analytics are only available on higher plans
Link in bio and tagging features are not available in the Starter plan
Later dashboard
Later has a dashboard which shows a media library, calendar, analytics, Linkin.bio tool, as well as conversations. You will need to upgrade to different plans to access all the available features.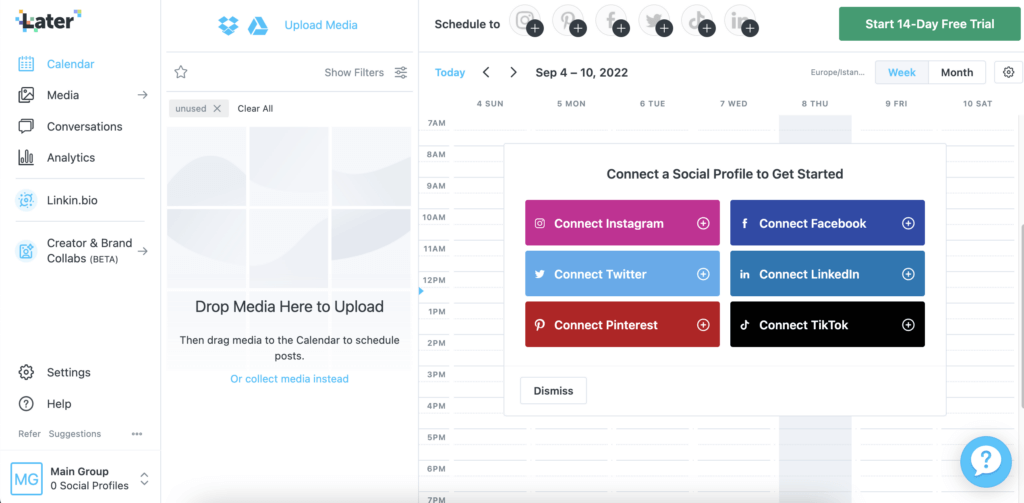 Later reviews
Great 3rd Party Scheduling App Option
Very user-friendly and has great insights and tools. I prefer this over HootSuite and other competitors. I've also loved the option of posting automatically or manually and the app on a mobile device is easy to use.
Pros
I loved the suggested hashtag feature, saves so much time when posting to Instagram! It's also a very easy-to-use software for scheduling feed posts and stories.
Cons
The price for multiple accounts is what has moved me to Facebook Business Suite. With a real estate company, we have multiple agents with social media, and it's too much of a cost when there's a free option for multiple accounts.
Haley S.
Real Estate, 11-50 employees
Used weekly for 2+ years
GetApp review
2 . Well designed Social Media Management platform with a fatal flaw
Overall, Later was an incredible platform that offers some incredible features at a price point that cannot be beat – serving as the primary social media management platform for our team for well over a year. However, due to a lack of customer support surrounding a key feature consistently breaking, we were forced to give up on Later and move to competing products.
Pros
Later is an incredibly well-designed platform that offers the best user interface and planning features I've encountered across social media management platforms. Setting up Later with our Instagram & Facebook accounts was a breeze, as was configuring the platform to fit my specific needs with custom post-schedules, and their visual planner (offering week views, monthly views & even a profile view) – all available at their free tiered platform. Pay a couple bucks a month, and you get access to even more features – such as suggested posting times (truly an incredible feature), video posting, Instagram story posting, and team management options (such as Contributors) that are truly unbeatable at the price Later offers them.
Cons
While Later's platform was absolutely stunning & incredibly user-friendly, my issue with Later stemmed from the continued issue of Later failing to post scheduled Instagram posts. I will say, I haven't used Later since late 2018 (so this issue may have been resolved); but I was continually dealing with this issue for over 6 months – with a scheduled post failing to post, the Later platform marking the post as "failed to post", and Later refusing to notify me of the failure – despite their fallback feature of notifying the user via the app when a post fails to get posted. With this issue I contacted support, but got given the run-around "Instagram's API" was down (seems to have happened a lot while I was with Later and never when I switched to another platform), so I begrudgingly made the decision to switch to a more expensive & less featured platform that would auto-post to Instagram. As I mentioned previously, however, this issue may have been resolved in the past 1.5 years since I used the platform.
Darien C.
Religious Institutions, 1-10 employees
Used other for 1-2 years
GetApp review
3. Very useful software for organising and planning social media
Later has helped me with our social media profiles, helped my time management, and it has helped grow our social media presence by increasing our reach and growing our followers across our platforms. There are also a good series of online training videos which I have found helpful.
Pros
Being able to plan and automate our social posts in advance saves me a lot of time and ensures a consistent approach to our socials, which has grown our reach and following.
Cons
Previously you couldn't post multiple images to a post, but it has been updated so you can now do that. We use the basic paid tier, so there are limitations, you can't put links into posts on any platform or tag other profiles, which is a shame.
Ellen R.
Philanthropy, 1-10 employees
Used weekly for 1-2 years
GetApp review
Later pricing + plans
Later provides multiple paid tier plans:
1. Starter: $18/month, 1 social set, 30 posts, 1 user
2. Growth: $40/month, 3 Social Sets, 150 posts, 3 users
3. Advanced: $80/month, 6 Social Sets, Unlimited posts, 6 users
Two separate plans are available for those who manage a number of clients, brands, businesses, & store locations. These plans are called Scale Plans.
1. Scale 15: $200/mo, 15 Social Sets, Unlimited Posts, 10 Users
2. Scale 30: $400/mo, 30 Social Sets, Unlimited Posts, 20 Users
Try Hopper HQ and start scheduling unlimited posts + get your social media team to collab with unlimited users at no additional cost 👇
Plan your social media posts.
Visually plan your posts. Drag and drop everywhere.
Here's a detailed comparison of all the Later features included in each of its plans:
Planning and Scheduling:
Linkin Bio Tool:
Analytics:
Content Collection & Engagement:
Time Management & Support:
Top 5 Later alternatives
Despite having different features, Later lags in pricing and plans that would suit everyone. There are tons of different social media management tools that are great alternatives to Later, but how to choose the best one for you?
Here's a list of the best Later alternatives:
1. Hopper HQ
Hopper HQ is a social media management tool that offers amazing features for agencies, SMEs and social media managers. It's one of the best Later alternatives with more flexible plans and pricing and a bundle of attractive features.
What makes Hopper HQ a great Later alternative?
The tool offers a platform that is intuitive and super easy to use, with all the features you need to grow your social media presence, at a more affordable price.
Hopper HQ is the only Later alternative that offers unlimited post scheduling and unlimited users included in its plans, without the need to upgrade or pay more. what does that mean for you? You can schedule as many posts and add as many team members as you want.
Here's why you should consider Hopper HQ as an alternative to Later:
1. Fast & Easy Post Scheduling
Hopper HQ lets you use delightful content scheduling tools. You could use the built-in calendar and grid planner to do the tedious scheduling in minutes. After creating your post, you can determine how the post will look in the feed using the grid planner. You can also drag and drop posts from the grid to your calendar. We bet this is the easiest way to schedule with less effort.
Simple Post, Story + Reel Scheduling ✨
Visually plan your social content. Instagram, TikTok, Twitter, Facebook, LinkedIn + Pinterest
2. Actionable Analytics & Reports
Hopper HQ offers analytics data on your account, audience, and published content. You can effectively evaluate your account performance as a whole with account analytics, or check the performance of individual posts to better understand what content better resonates with your followers via post analytics. Moreover, the Hopper HQ analytics tool offers Hashtag Analysis and Best Time to Post data based on your followers most active times. This is very helpful information that helps optimise your posts for better visibility.
Explore the data behind your Instagram account.
> Find the best time to post on Instagram
> Track your follower growth overtime
> Understand your post engagement
3. Engaging Content Creation
Hopper HQ offers tons of user-friendly options to create posts, stories and reels. Hopper HQ allows you to craft a single post one by one or choose to upload and edit multiple posts at once. It lets you add images and video posts, captions, first auto comment, select location, add hashtags, and schedule to auto-post at your ideal time.
Hopper HQ is a great option for creators, agencies and businesses of different sizes.
Repost TikTok Videos to Instagram
Automatically post your TikTok videos to Instagram. without watermark!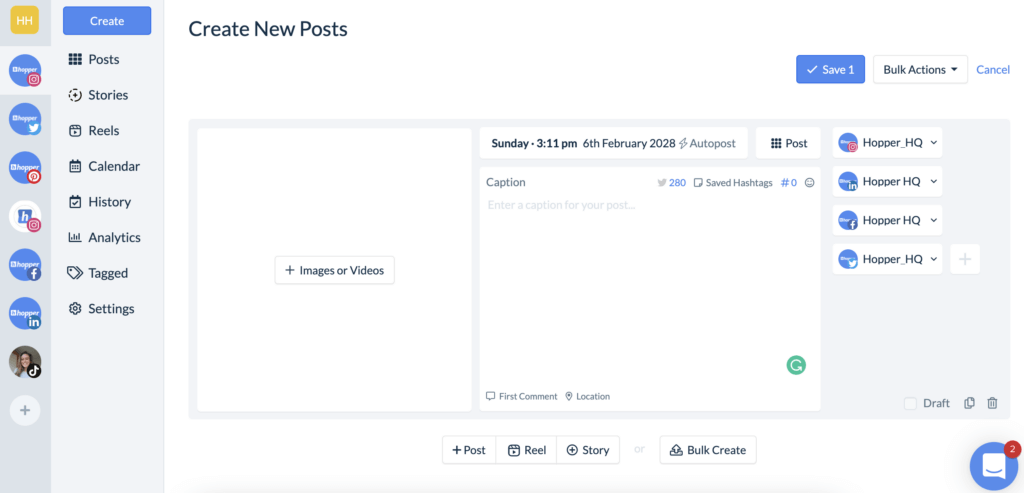 4. Customer Support
Hopper HQ offers excellent customer support on all plans to onboard and guide users and give quick responses and effective solutions if you ever you feel stuck or encounter any issues.
🗓 Ready to plan your next post? Try Hopper HQ for Free Today!
Later vs Hopper HQ
Features
Later
Hopper HQ
Pricing
$18/month for the Starter plan
$16/month
Social Sets
1 set for the Starter plan

No extra sets can be bought in this plan without upgrading to another plan
Price is per 1 social set
Full control over the number of social sets with bulk discounts
Number of users
1 user for the Starter plan
Unlimited users on all plans
Social post numbers
Up to 30 posts in the Starter plan
Unlimited on all plans
Analytics
Limited for Starter & Growth plans
Detailed analytics for all plans
Best Time to Post
Available
Available
Hashtag Suggestions
Available
Available
Visual Grid Planner
Available
Available
Supported Platforms
Instagram, TikTok, Facebook, Twitter, Linkedin & Pinterest
Instagram, TikTok, Facebook, Twitter, Linkedin & Pinterest
Free Trial
Available
Available
Bulk Upload
Available
Available
2. Pallyy
Pallyy has a range of social media scheduling features — very similar to Later.
Later Vs Pallyy
Pallyy key Features:
Autopost stories, reels, carousel, feed posts
Bio link tool
Analytics
Visual planner
Canva integration
Pallyy Supported Platforms: Instagram, TikTok, Facebook, Twitter, Pinterest, LinkedIn, Google My Business
Pricing: Pallyy offers a free trial for 14-days for its Premium plan. It also comes with a free plan with limited features. The Premium plan starts from $15/month.
3. Sendible
Another Later alternative with a wide range of pricing options.
Later Vs Sendible
Sendible Key Features:
Content calendar
Scheduling in bulk
Priority inbox
Analytics
Brand metrics
Keyword alarms
Available Platforms: Instagram, TikTok, Facebook, Twitter, Pinterest, LinkedIn, Google My Business, YouTube, WordPress
Pricing: Sendible offers a 14-day free trial on all plans. Pricing starts from $29/ month.
💥 Plan & auto-post your next content. Get Started with the 14-day Free Trial
4. Sprout Social
This one of the Later alternatives fit for large-scale businesses.
Later Vs Sprout Social
Key Features
Visual content calendar
Planning & scheduling
Multimedia library
Unified inbox
Analytics & reporting
Available Platforms: Instagram, TikTok, Facebook, Twitter, Pinterest, LinkedIn, YouTube, WordPress, Facebook Messenger, Google's Business Messages.
Pricing: Sprout Social provides a 30-day free trial for 3 paid plans. The Standard Plan starts from $89 / month.
5. SocialBee
SocialBee is one of the best alternatives to Later, which is suitable for managing multiple social media channels.
Later Vs. SocialBee
Key Features:
Content calendar
Category-based scheduling
Automatic approval
Workflows
Content recycling
Collaboration tools
Custom short URL
Available Platforms: Instagram, TikTok, Facebook, Twitter, Pinterest, LinkedIn, Google Business Profile
Pricing: SocialBee offers a 14-day free trial for its 3 pricing plans. The most cost-effective one starts at $19/ month.
So, what is the best Later alternative?
Social media tools like Hopper HQ let you automate your social media posting. You can rely on autopilot and make many tedious social media tasks more manageable. This allows you to save time and focus more on connecting with your audience while managing multiple social accounts simultaneously.
Later alternatives like Hopper HQ offer valuable features and amazing customer support within a reasonable price range. You can try a 14-day free trial and see if Hopper HQ fits your needs.
TRY HOPPER HQ FREE
Refreshingly Simple Post, Story + Reel Scheduling
Visually plan all your social channels. Instagram, TikTok, Twitter, Facebook + LinkedIn.
FAQs
Which app is better than Later?


Hopper HQ is one great alternative to Later. It offers the same features with more flexible plans that are suitable for creators, agencies, and brands managing multiple social media accounts.
What is the best app for scheduling Instagram posts?

Try Hopper HQ; It has a 14-day free trial and excellent social media scheduling features at a reasonable price.
Enjoyed this post? You might also like: