Social media has become a core part of life and business. According to DataReportal, about 4.24 billion of the 7.9 billion people on earth use social media. Social media offers tons of opportunities to connect with customers, generate leads, build trust, and increase your Return on Investment through social media. A search for a social media management tool will reveal so many 'useful' tools with an array of features and functionalities. However, it can be a drawback if you don't know which one is right for you.
We know how important finding the right social media marketing tool is for your business. That's why we wrote this guide on how to find it.
Table of Contents
Why use social media management tools for businesses
Since many of your customers, prospects, competitors and potential partners are on social media, you cannot ignore it. You need to build a relationship with them. You can do this by consistently publishing helpful and engaging content while keeping track of conversations about your business and responding to customers online.
If you are launching a new service or brand, you'll need to raise awareness. Social media management tools help you schedule posts in advance and find mentions of your brand online. You don't need to be online to post on your social media accounts.
Social media management tools provide tons of valuable data about your customers' and prospects' activities online. For example, you can study seasonal trends and buyer behaviours to create suitable offers. In addition, they provide an affordable customer support platform.
With consistent engagement, targeted advertising and retargeting, your brand stays in the minds of people making buying decisions. So whether you are a freelancer, business owner, part of a social media team or a digital marketing agency, you need the best social media management tool.
While social media has many incredible benefits for your business, there are some challenges. Social media marketing involves creating content, publishing, engaging with customers, analysing data, reporting, measuring ROI, etc. There are also several social media platforms. At times businesses are on more than 5 platforms at a time. Managing all these processes manually on different social networks can be complex and time-consuming.
✨ That's where social media management tools come in.
How do you find the best social media management tool for your business?
Social media management software and tools allow you to manage different social media accounts in one place. There are many tools with different functionalities and features, including:
Content creation: Creating and curating ideas and content, e.g. Canva.
Scheduling and auto-posting: Automated sharing and publishing of the content on different channels, e.g. Hopper HQ.
Social listening: keep track of what your audience is saying about your brands, products and services and engage in conversations with them. Stay on top of trends to create relevant content, e.g. BuzzSumo.
Content analysing and comparing: Observing metrics and KPIs to know if you are getting closer to your goals, e.g. Hopper HQ.
Some tools combine some of these capabilities. You need a tool that helps you achieve your business goals on social media. To avoid getting bogged down with myriads of social media tools when researching, follow the steps below:
1. Define your social media goals
Start by outlining your social media goals. What is the point of finding a tool if you don't know what you want to use it for? Spelling out the specific social media goals helps you understand what to look out for when choosing a suitable social media management tool. To set your social media goals, define your business goals, think of how you can use social media to achieve these goals, and outline what metrics you want to track.
Your social media goal could be to run an awareness campaign, establish your authority as a thought leader, and communicate with customers.
If your long term business goal is to increase brand awareness, you can create a social media goal to grow your following on Instagram by 15% over a 3-month timeline. Use the SMART goals model to set goals that are easy to execute. To learn more about setting social media goals, read this article by Hopper HQ.
Simple Post, Story + Reel Scheduling ✨
Visually plan your social content. Instagram, TikTok, Twitter, Facebook, LinkedIn + Pinterest
2. Determine your must-have features
You can use your list of social media goals to identify the features your social media marketing tools must have.
Must-have features: these are the key features you must have to execute your social media strategy effectively.
Nice-to-have features are other helpful features you may want to use in the future.
Remember to ask members of your team to write the features they need. This way, you'll avoid overlooking some crucial features. Make a list of your activities. What do you do monthly, weekly or bi-weekly? How often do you want to publish? What routine tasks will help you meet your goals?
Say you need to publish three times a week on Tiktok, LinkedIn, Instagram and Facebook. You need a social media tool that can schedule images, videos, carousels, stories and reels. A tool like Hopper HQ offers this in addition to bulk uploads and full image cropping and editing all in one place.
If you're not entirely sure what your 'must-have' features are yet, ask yourself the following questions:
Purpose: What were you unable to do before? Why did you begin looking for a social media tool?

Post scheduling: Do you need to schedule posts ahead of time? Do you want your team to spend less time on social media?

Team collaboration: Would you want to add team members and manage their workflow?

Best time to post: Do you want a tool that can suggest your optimal posting time for better reach?

Image cropping and editing: do you want to be able to crop and edit your images within the tool?

Hashtag suggestions: some tools like Hopper offer hashtag suggestions to get more impressions on your posts. Is this a must-have feature for you?

First comment scheduling: Do you want to be able to schedule your first comment along with your hashtags and post it automatically with your post?

Supported file formats: Do you want a tool that would support images only, or do you also need the ability to post videos, carousel posts, stories, and reels? If the latter, Hopper HQ may be a great option for you.

Bulk uploading posts: Does the tool allow bulk uploading of your media files all at once to create multiple posts? This would be a helpful and time-saving feature, especially for businesses that post frequently.

Analytics: Do you need detailed reporting and analysis? What metrics do you want to track?

Integrations: What tools should it integrate with for a seamless workflow?

Social media listening: Do you need to keep track of what people say about your brand?

Supported social media platforms: What social media platforms do your customers use? Do you want many social media platforms on one dashboard or a scheduling tool tailored for just one or two social networks?

Social media advertising: Do you need to be able to handle ads on social media platforms from your tool?

Hopper HQ combines many of these features in one tool with an array of impressive features. For example, you can schedule images, videos, carousels, stories, and reels for Instagram, Facebook, LinkedIn, and Twitter (Tiktok and Pinterest coming very soon). You can also:
add an unlimited number of team members at no additional cost
schedule your first comment
get hashtag suggestions
full image cropping & editing
maintain a killer aesthetic with a drag n' drop grid planner
bulk upload all your media files
track your performance with analytics.
3. Do some research to find the best options
Now that you have a list of essential features you are looking for, It's time to search for the best social media tools. Researching for the best social media management tools helps you create a shortlist from which you can find one that suits your needs. What is perfect for you depends and your goals and activities. That is why clarifying your goals and must-have features is super important.
Visit Google and Youtube
You can search for keywords like 'best social media marketing tools', 'top social media management tools', 'social media management software', and 'top social media tools'. Check out reviews and comparisons. Observe what users say about these tools. Pay attention to their strong points and gaps.
Ask questions on online forums and communities
Check out Quora and Reddit to get a sense of what people are saying about all the different tools. Ask questions on those online communities where social media managers and content marketers discuss relevant topics. Groups like Nathan Collier's Content Marketing Lounge and Superpath's Slack channel have content marketers from all over the world. You can get reliable suggestions there.
4. Create your shortlist of social media tools
As you explore the features of the tools on your list, select the ones with features you cannot do without. Then, choose between 2-4 of them. Keep your workflow in mind while shortlisting the best social media marketing tools.
Any social media marketing tool that lacks some of the features on the must-have list should not make it to your shortlist. Don't overlook it. A missing feature can become a clog in your team's workflow in the future.
5. Evaluate and test drive the tools on your shortlist
Evaluate the shortlisted tools. Test them to ensure they are effective. You can sign up for a free trial and take note of your likes and concerns about the tool.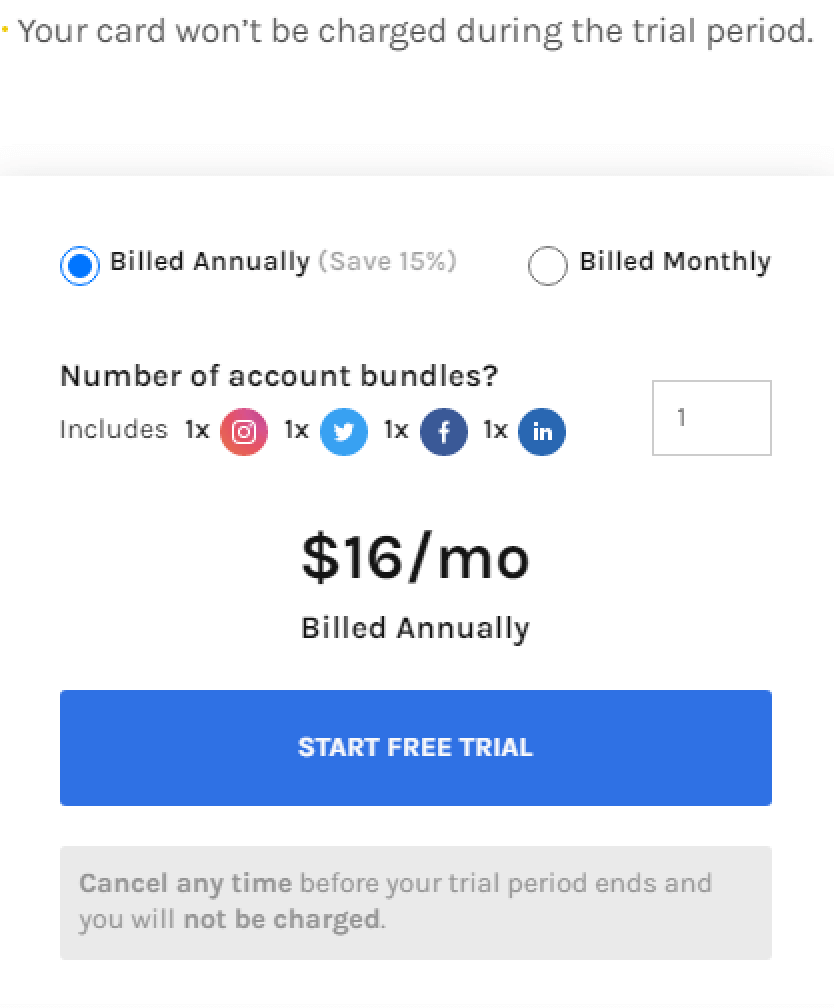 Also, ask your team members who would use the tool to test it. Team members should try out all the tasks they intend to do on the social media tool. Since different team members need various features from the social media tool, consider the feedback from every member of your team.
If you are a freelancer or manage a small business, you can do the testing yourself. Ensure to test all the essential activities you wrote out earlier.
Things to consider when evaluating a social media tool
1. User experience
The team's experience using the social media tool is significant. What devices can the tool work on? Is it optimised for mobile? Does it need a lot of training? Does the user need to follow many unnecessary steps to get a task done?

To find out if a tool has a good user experience, check reviews of other users, ask other social media managers in the groups you've joined earlier or start a trial.
2. Features offered
Can the social management tool's features meet your marketing needs? For example, Hopper offers hashtag suggestions, first comment scheduling, a calendar planner and other functions. Find the full feature list here.
3. Customer support
When you start using a new social media tool, you will need some help. Do they offer training for customers? How quickly do they respond to customer concerns? Is their customer support available on channels where you can easily reach them?
Quick shoutout to our customer success hero, Isabel 🚀
"I would like to just come on here and mention Isabal for being fantastic. She was able to help me with onboarding and a quick demo. I had some issues on my end, but her patience and ability to open her schedule on the same day show me that Hopper HQ really does care and wants to help their customers more than anything. If we end up staying with this program, it's because of the amazing customer service provided by Isabel!"

Trustpilot reviews
4. Team collaboration tools:
Because social media management includes several activities like publishing, designing, engagement, responding to customers, analysis and more, different team members may handle the social media accounts. Your tool must support a smooth workflow among your team members to be consistent and effective.
5. Analytics and reporting
Remember the goals you set? The analytics feature helps you keep track of the metrics and KPIs to measure your results. For example, can you track the likes, shares, comments and clicks? Can you get data reports to make informed decisions about your overall social media strategy?
Explore The Data Behind Your Social Media Accounts 📊
Find the best time to post, track your follower growth, and understand what content works best with post and account analytics.
6. Supported social media platforms
Ensure you pick a tool that provides most of the features you need. For example, instead of using four social media management tools, it is better to work with one that supports the platforms where your ideal customers are.
Besides, having your team collaborate on one platform is more productive. Hopper HQ supports Instagram, Facebook, LinkedIn, and Twitter. (Tiktok and Pinterest are coming very, very soon!)
7. Pricing
What is your budget for this social media management tool? The price of social media tools depends on many factors like the platforms supported, the number of social profiles, the number of users, etc.
If you've found the perfect tool for your business, check what features are free and if the paid features fall under your must-have list.
Paying annually costs less than the monthly payment plans. Hopper HQ offers you a 14 day free trial with no hidden charges. This includes 1 social set (1 Instagram account, 1 Facebook account, 1 Linkedin account, 1 Twitter account). If you are an agency or manage multiple accounts, there is a bulk discount.
Consider if you would prefer to pay for select features or everything, including features that your team may not use. The bottom line is to compare the cost and the expected ROI. Is it worth it?
8. Scale
As your business grows and your marketing needs evolve, you may need to add more team members and social profiles to your tool.
Does the social media marketing tool charge per user, or is it a flat rate? How much will it cost as you make these changes? This factor is important because it helps you foresee possible future expenditures and prepare for them.
Ready to switch?
After finding that perfect social media management tool for your business, you need to help your team come on board and get familiar with using it. Plan out how your team will make the transition. You can train your team members to use the new tool. Practise using the tool and update the workflow to fit any needed changes.
Finding a social media tool that works for your business takes time, effort and money. But the returns on investment and boost in productivity are priceless.
FAQs
What is a social media management tool?

A social media management tool is software designed to allow you to schedule, monitor, and manage your social media networks from one interface. There are many tools with different functionalities and features, including content creation, scheduling and auto-posting, social listening, and analytics.
What to consider when choosing social media management and reporting tool?

Things to consider when evaluating a social media tool

User experience
Features offered
Customer support
Team collaboration tools:
Analytics and reporting
Supported social media platforms
Pricing
Scale
What is social listening?

Social listening involves tracking conversations and mentions of your business. You can analyse this information to make strategic decisions.