Hootsuite Vs. Buffer – which one should you pick?
If you have been researching tools to schedule your Instagram posts (or other platforms like Twitter, LinkedIn, Facebook, etc.), you may have inevitably come across Hootsuite and Buffer.
As two of the most popular social media scheduling tools, both Hootsuite and Buffer come packed with features to help you with your tasks. But which is the right tool for your business?
Let's find out.
Oh, by the way…
If you are visiting this website for the first time and do not know who we are – Hopper HQ is a brilliant social media scheduling tool. Just like Hootsuite and Buffer, but BETTER ;-).
In this article, we are going to do a Buffer Vs. Hootsuite comparison across a handful of different parameters. As a direct competitor to both Buffer and Hootsuite, we are also going to tell you how Hopper HQ compares against these two tools on the same parameters.
Quick Summary
Don't want to read the whole thing? Here's a TL;DR version. For similar features, this is what it costs on different tools
Let's get going.
Sign-up & Onboarding Process
Many users tend to disregard the sign-up process while reviewing various tools. After all, it is just a one-time thing, right?
But here's the thing.
The onboarding process can be one of the most crucial parts of the user journey. It does not matter how powerful your product is – if this value is not communicated to the user, they are going to feel overwhelmed.
Hootsuite onboarding process
The Hootsuite homepage communicates what they offer, their free trial policy, and also a quick link to their pricing page.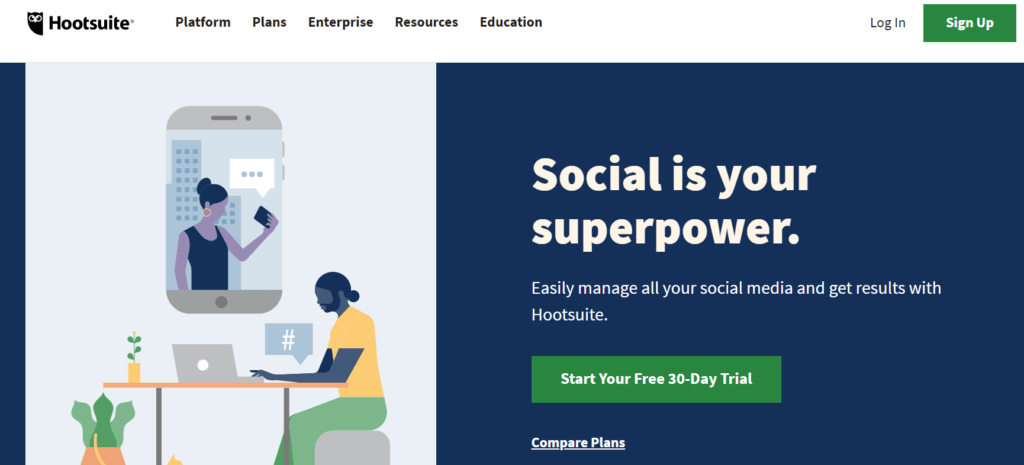 There is a bit of friction in actually completing the sign-up though.
Clicking on the 'Start Your Free 30 Day Trial' button takes you to a window where you are offered a chance to pick between their Team plan and the Professional plan. You will have to make a decision here before you are taken to the sign-up window.
That's a lot of work to just get to the sign-up window.
The sign-up process is not complete. Yet. Once you have entered the options, you now have to choose between a monthly or annual plan, and enter your credit card details before you can start the free trial.
Phew!
Buffer Onboarding Process
Like Hootsuite, the Buffer homepage too has its communication laid out.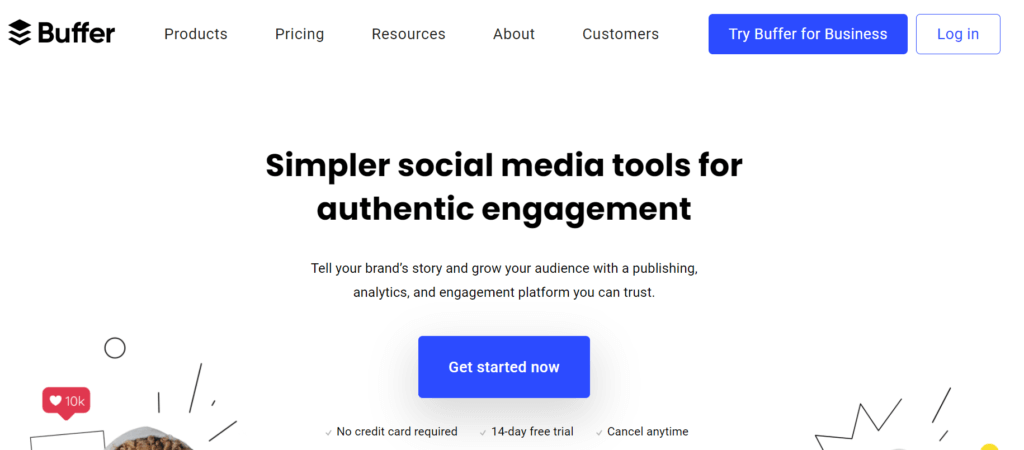 The trial period is shorter, but in our experience, you do not need more than a couple of days to decide if a tool is a good fit for your needs, or not.
Anything more than that is a bonus.
Again, just like Hootsuite, there is a lot of friction in completing your signup process.
If you thought deciding between the different plans was cumbersome with Hootsuite, Buffer takes it up one notch further. Here, you also have to pick between two completely different products – their 'Publish' and 'Analyze' products.
Both 'Publish' and 'Analyze' come with separate pricing plans.
Since we are discussing the scheduling functions of these tools, we are going to pick the 'Publish' option.
Now, you need to make a decision on which of the three paid plans you need to sign up for. Remember that at this point, you do not even know if Buffer is a good fit for your needs or not.
So I think all of this is mentally draining as a new user.
The good thing, however, is that you do not need to enter your credit card details just to try. But then, inputting an email and password is not going to complete the sign-up process.
You are then taken to another window where you enter details about your company, the number of people in your team, where you heard about Buffer, and so on. These are not optional questions. You need to answer them before moving to the next step.
The onboarding process from here is smooth. You connect your social media accounts and can start using the product.
Also Read: Planoly Vs. Later
The Hopper HQ Sign Up Process
Compared to Hootsuite and Buffer, Hopper HQ has a very clean and intuitive onboarding process.
First – there are no hoops to jump through. The signup window is perhaps the first thing you will notice when you load the HopperHQ website.
Above the signup box is a clear value communication on what the product offers.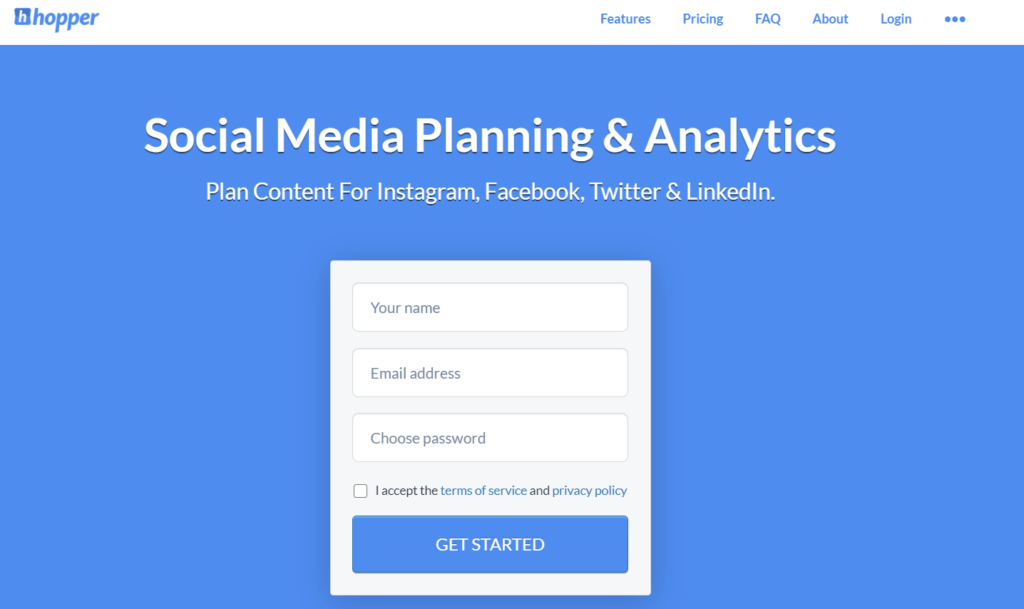 Amazing, right? You key-in your name, email, and password, then enter the credit card details in the next, and voila – your free trial has begun.
It does not take more than one minute to get through the signup process.
Pricing Plans Comparison
Hootsuite Pricing
Hootsuite offers 4 different pricing plans (apart from Enterprise custom solutions).
For individuals who want to use a social media management solution for their personal accounts, the free tier can be quite handy.
Here, you can connect three social media accounts and can cumulatively schedule 30 messages in a month. It's nifty enough to give yourself an extended trial of the product.
Among the paid plans, the lowest price point is $29/month for the Professional plan. It gives you the ability to connect 10 accounts.
Beyond this, Hootsuite starts getting very expensive. If you need to connect more than 10 accounts, you will need to go for the 'Team' plan which is $129/month and those who need to connect more than 20 accounts will have to go for the 'Business' plan which is $599/month.
Quite clearly, both the Team and Business plans are geared towards agencies who do social media marketing for their living.
You won't otherwise need to connect so many accounts or afford $599 for just social media management.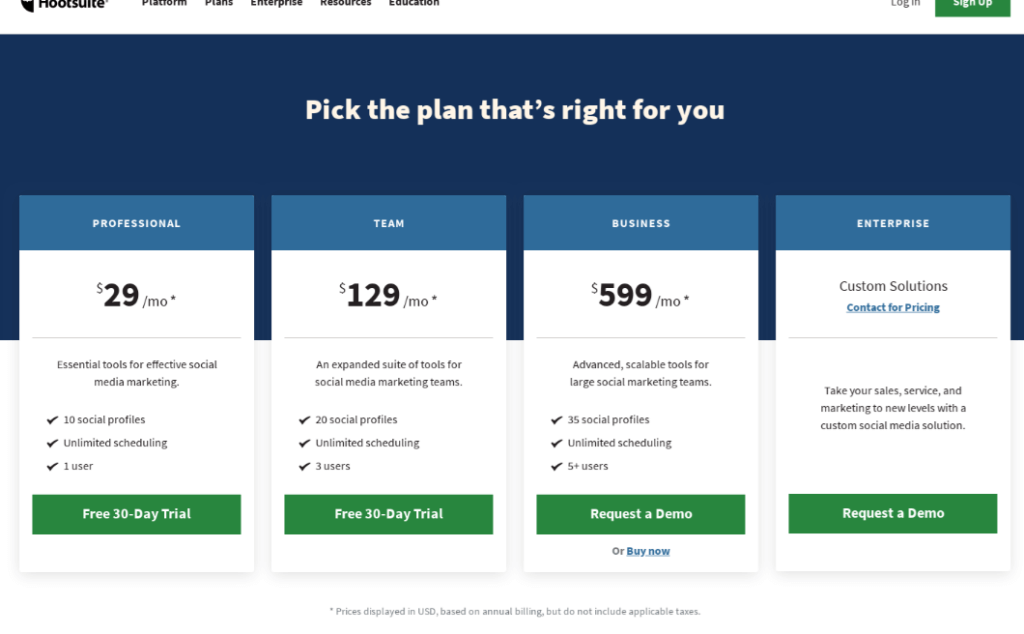 Buffer Pricing
As I mentioned earlier in this article, Buffer has two products – 'Publish' and 'Analyze'. 'Publish' is their suite of social media scheduling tools while 'Analyze' is their analytics product.
Compared to Hootsuite, Buffer is relatively cheaper. Their free tier lets you schedule 10 posts in a month.
If you are a serious user though, you will need to sign up for one of their paid plans that start at $15/month for the Pro plan. This plan lets you connect to 8 channels and 100 scheduled posts in a month.
The Premium plan that is priced at $65/month lets you generously schedule as many as 2000 posts a month.
But here is the thing – you are still allowed to connect only 8 social channels. If you are an agency that handles social media accounts for more than a couple of clients, you are going to need their 'Business' account which is priced at $99/month and lets you connect 25 social accounts.
You are still limited by their 2000 posts per month limit.
Quick note — the pricing discussed here is just for the 'Publish' product. If you also want analytics features for your clients, you have to sign up for the 'Analyze' product which starts at $35/month for 8 social accounts.
Hopper HQ Pricing
Hopper HQ is designed to keep the needs of agencies in mind. There are no pricing tiers to choose from.
You are instead offered 'bundles' – each bundle lets you connect to one account each from Instagram, Facebook, Twitter, and LinkedIn.
You can get as many bundles as you wish. The pricing starts at $16/month (annually billed) for one bundle and there are discounts if you need several bundles.
For instance, if you are signed up for 10 bundles, then the annual pricing drops from $16/month/bundle to $14.5/month/bundle.
Another good thing is that there are no posting limits like you have with Buffer. No matter how many accounts you have connected your account to, you enjoy unlimited scheduling.
The reason why this pricing model makes more sense is that agencies no longer have to juggle their expenses across different clients. Someone with 5 clients can sign up for 5 bundles while a large agency with a hundred clients could sign up for 100 bundles.
So, which of these tools is the best value for you?
Let's assume you are an agency with 10 clients, and you handle their Facebook, Instagram, Twitter, and LinkedIn. And also, you need unlimited posting.
On Hootsuite, you are going to need their Enterprise plan. While you will need to ask for a custom quote from the company for this, we know for a fact that this is going to cost you more than $600/month with Hootsuite.
With Buffer, you can go with their Essentials plan. For your needs, you will spend $240/month with Buffer.
Hopper HQ works out the cheapest. You only spend $170/month with Hopper HQ for ALL these features.
In summary, for similar features, you spend
$600/month on Hootsuite
$240/month on Buffer
$170/month on Hopper HQ
Product Features
Both Hootsuite and Buffer come with all the standard features that one might be looking for in a social media scheduling application.
We are talking about features like publishing calendar, auto-scheduling, and bulk scheduling. Truth be told, this is what a majority of users are going to need in a scheduling app.
So what makes these tools different?
Starting with Hootsuite, this is built for collaboration. The Team plan lets you have 3 people in the account. With the $599/month Business account, you also have the option to have additional users for a fee.
Many other features like Campaign planning, reporting, and social listening are only available under the Business plan. Again, some of these are add-ons which means that you will be spending more than the monthly fee to access these features.
With Buffer, most of the basic features are available to all paid users. However, if you are looking for hashtag management, additional users, and Instagram Stories publishing, then these are only available to the higher tiers – they are not available to the Pro tier users.
Let us take a look at these features in some detail.
Collaboration
In an enterprise setting, you may have different people taking care of various aspects of social media posting – like content curation, creating visuals, and copywriting.
Many times, these tasks are handled by freelancers who report to the social media manager.
Hootsuite makes it easy for you to collaborate among these various members of the team. Your copywriter could, for instance, build a pool of new posts to get submitted over Hootsuite to the social media manager for approval.
You may also integrate your Hootsuite account with Slack so that recently posted items can be shared with your team who could then like/comment on them.
The catch here is with the number of team members you can collaborate with. The professional plan does not allow for any collaboration. With a 'Team' plan, you can work with two other team members on your projects, while a business plan lets you collaborate with 4 others.
The Business plan also lets you add-on more team members at an additional fee.
This makes it a little tricky for agency businesses to use Hootsuite since the costs can go up pretty quickly due to the size of your teams.
In terms of accessibility to collaboration, Buffer is not too different. Their lower two plans – the free tier and the Pro plans do not offer much in terms of collaboration. You get to collaborate with one other team member with your Premium plan (at $65/month), and with up to 5 other members with the Business ($99/month) plan.
While both Hootsuite and Buffer prominently position the collaborative nature of their Instagram scheduling apps, these features are unfortunately out of reach for most small and medium businesses who cannot simply afford paying over a thousand dollars each year for social media management.
Did You Know?
Hopper HQ offers unlimited team sets with every plan. This means that you can work with all of your team members and clients by signing up at the base price of $19/month. Interested? Sign up for a 14-day FREE trial and check it out for yourself!
Analytics
Analytics is another feature that has been highly touted on both Hootsuite and Buffer.
Hootsuite gets you basic reporting at even the lowest plans. You will however need to be on a hasTeam plan or above if you need to customize these reports to track metrics that are of particular significance to your team.
Other, more significant reporting features like team productivity reporting, organic and paid ROI reporting, and social listening either are only available to the highest plans – either as a paid add-on, or as a feature on the Enterprise plans.
As noted earlier in this article, Buffer does not provide Analytics as part of their Instagram scheduling app. It comes as a separate tool with independent pricing.
The Pro plan starts at $35/month while the Premium plan costs $50/month.
Both these plans offer many of the reporting functions like basic insights overview, individual post analytics, boosted post insights, hashtag engagement, and demographics-based reporting.
However, Instagram Stories analytics is solely available for Premium plan users.
For internal use, the Pro plan may appear sufficient since you are able to create custom reports even with the Pro plan. However, if you are an agency that needs to share reports with clients, you may have to go with the Premium plan.
So, how does Hopper HQ compare with Hootsuite and Buffer? When it comes to Instagram analytics, Hopper HQ offers all the reporting that one may need natively integrated into your account.
You do not need to purchase any higher-tiered plan or subscribe to a new tool altogether. While this reporting may not be adequate for enterprise users, we have found in our experience that our reports fit the needs for most of the users we work with.
Hopper HQ features you can't miss
There are some things that Hopper HQ does really well – features that neither Hootsuite nor Buffer offer.
No Feature-gating
There is no feature-gating on Hopper HQ. That is, you are not going to be denied a feature just because you are not on a higher tier plan. All features are available to all users.
Kickass Image Editor
Hopper HQ has a fantastic image editor that lets you do all sorts of amazing things with your photos before you upload them on Instagram or other platforms.
You can add filters, add texts, crop your image, add overlays, edit the brightness and saturation levels – it's a comprehensive image editing tool.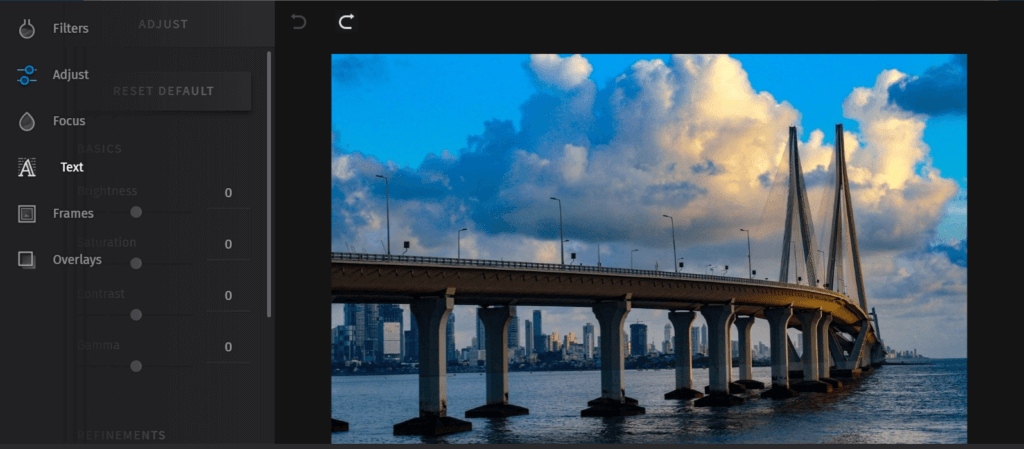 Neither of the two tools we discussed before has this feature. Now, you do not have to pay for another image editing application just so you can upload beautiful images to your Instagram account.
You also have a comprehensive Instagram Analytics tool available to all Hopper HQ users. Unlike Buffer, you do not have to sign up for another product just to get analytics reports.
Priority support to everyone
If you are not sold on Hopper HQ already, consider this – despite being the cheaper of the three tools, Hopper HQ offers the best customer support.
All users regardless of how big or small they are get instant live-chat support. Why is this cool? Because, if you are a Hootsuite customer, you get 24×7 priority support only if you are a $599/month business user.
All Hopper HQ users get priority live chat and email support.
Hootsuite Vs. Buffer – Which one would you choose?
The answer to this is that it depends. Hootsuite is the more expensive of the two. It also comes with a solid list of features that an enterprise business would need, and can afford.
Buffer is relatively cheaper. However, if you are an agency, you are going to feel limited with their 2000 posts per month limit. Also, you are going to need their analytics tool for client reporting purposes which makes it sort of more expensive than what you originally thought.
Hopper HQ has some amazing tools like image editor that marketers, especially Instagram marketers, are going to love. It also permits unlimited scheduling which takes away the perennial dilemma that agencies face – how many posts should I allocate for each of my clients?
Ultimately, it's a question of your needs and choice. But before you make a decision, feel free to give Hopper HQ a try. You are going to be absolutely delighted.