If your business is on Instagram, then knowing how to use all the different post types and features is no walk in the park. From image and carousel posts to stories and Instagram reels, landing the perfect Instagram strategy will take your brand to the next level.
So, we've rounded up everything you need to know about Instagram Reels in this comprehensive guide.
Simple Post, Story + Reel Scheduling ✨
Visually plan your social content. Instagram, TikTok, Twitter, Facebook, LinkedIn + Pinterest
Table of Contents
Instagram has over 1 billion monthly active users. The platform helps businesses grow by sharing engaging content with their customers and expanding their reach.
Instagram launched the reels feature in August 2020. Since then, brands have used it to engage and entertain their followers. If you're managing an Instagram account, your brand's reels can get 22% more engagement than other videos on Instagram. For example, Louis Vuitton gets an average of 7 Million views on each reel. While research shows that in 2021, Nike got 4,6 million views per reel.
What are Instagram reels?
Instagram reels are short vertical videos that can be up to 60 seconds long. Reels have the advantage of not disappearing after 24 hours like Instagram stories.
You can view trending Reels on Instagram through the Reels icon at the bottom of the Instagram app's homepage. There's also a separate tab for reels on your Instagram profile where your followers can view and engage with previous reels you posted.
Viewers can see reels from accounts they don't follow on the reels tab on the app's homepage, which is a great way for new users to discover your brand.
Instagram Reels vs TikTok
Since reels are considered direct competition for TikTok, it's worth discussing how the two are similar, and how they're different.
Both Instagram Reels and TikTok provide users with the space to flex their creative muscles by creating and sharing short videos. They both offer options allowing users to make the best possible clips.
There are, however, some differences between the Reels and TikTok:
The major difference is that reels are an Instagram feature while TikTok is a platform on its own.
Additionally, the reels video time limit is up to 60 seconds, while the video time limit for TikTok is up to 3 minutes.
Repost TikTok Videos to Instagram
Automatically post your TikTok videos to Instagram. without watermark!
Instagram Reels vs IGTV
Every feature on Instagram serves as a unique channel to publish your content. To make the most of those posts you need to know the one that best fits each of the content.
Reels have greater reach than IGTV videos because of their short length. You can use reels to spread your message while entertaining your viewers. This is because the attention span of adults is short. IGTV videos, however, require much attention for maximum utility.
Reels are short videos meant for entertaining and passing across a quick idea on a subject, topic or product. Meanwhile, IGTV videos are quite lengthy and are great for educational and informative purposes. They can span for up to 60 minutes.
You can organize your IGTV videos by creating an IGTV video series when you have many to publish. IGTV is useful in guiding your audience through discussions on a particular subject.
In short, Reels are perfect for piquing the viewer's interest by offering a sneak-peek into something, while IGTV videos provide expansive value for the viewer. So, if you are looking to ace your Instagram presence, it is ideal to have a mix of both post formats to reach a wider audience and maintain interest in your content.
How to make a reel on Instagram?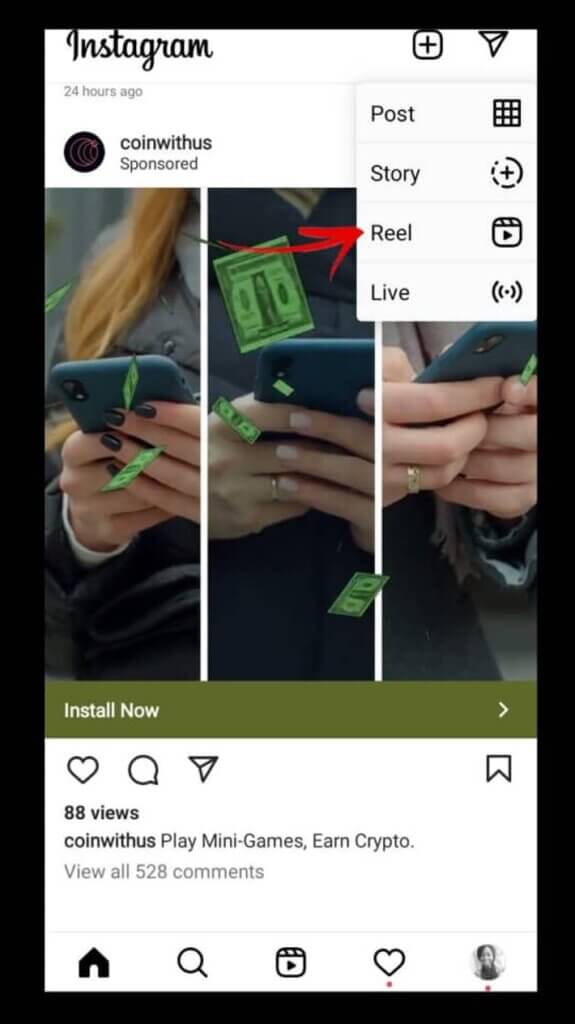 To create a reel, tap on the + sign at the top right of your Instagram explore page.

Tap 'reels', it is the third item on the displayed list.

The reel dashboard appears, displaying different features on the left side.
Simple Post, Story + Reel Scheduling ✨
Visually plan your social content. Instagram, TikTok, Twitter, Facebook, LinkedIn + Pinterest
Instagram Reels features include:
Music: Here you can add songs to your reels. Music encourages engagement and it can be added before or after recording your reel.
Length: This icon allows you to select the duration of your reel. (either 15, 30, 45 or 60 seconds) by tapping on it.
Speed: You can regulate the speed of your reel with the speed icon.
Video layout: It allows you to choose the video layout you want for your reel.
Timer: This helps you set signal time to begin recording your reel.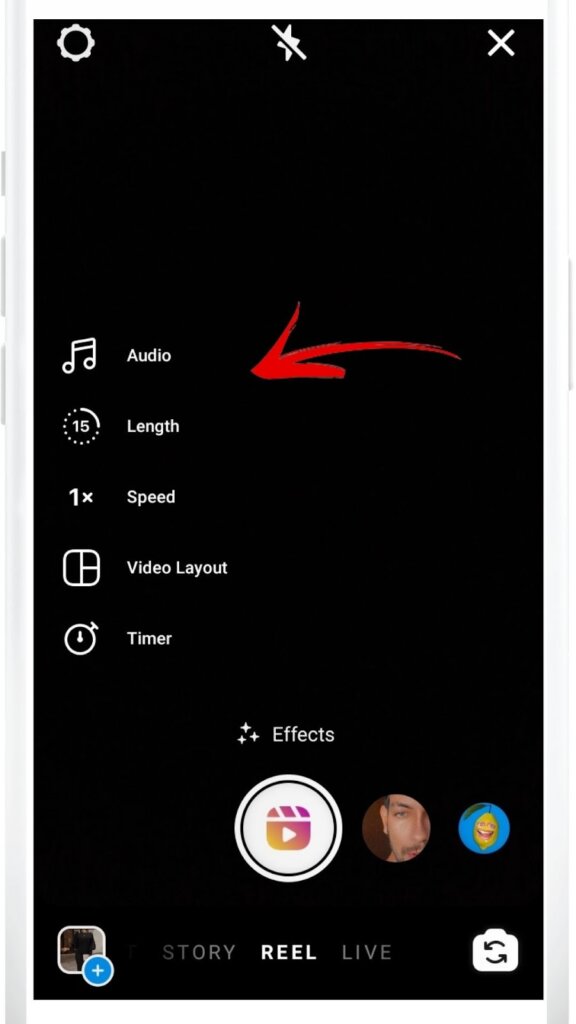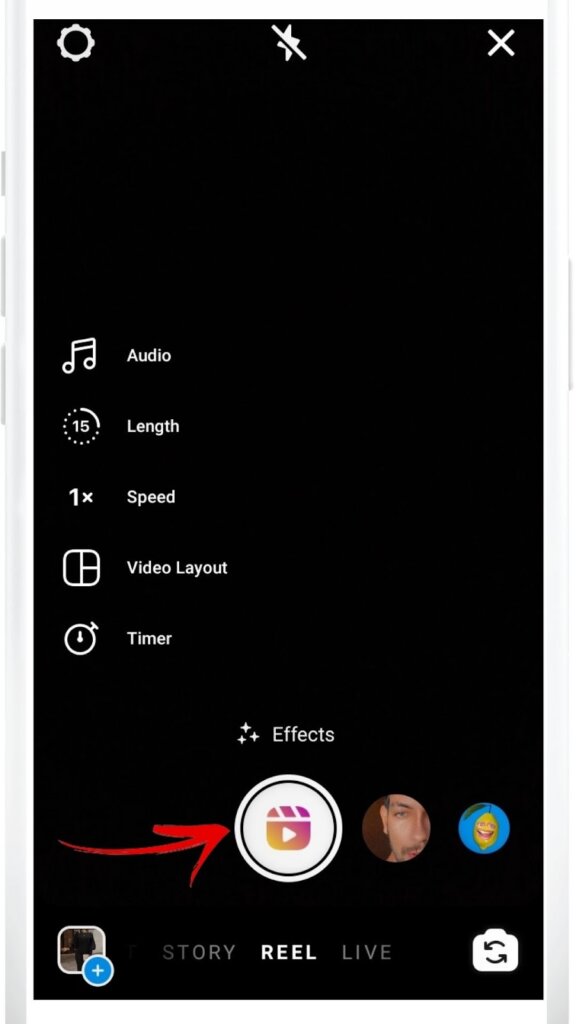 4. To begin recording, tap on the round Instagram camera at the bottom of your screen or tap on the square box with the plus sign to upload your pre-recorded reel.
5. After recording you can edit reels by adding text, filters, emojis, stickers, crop, format size and more.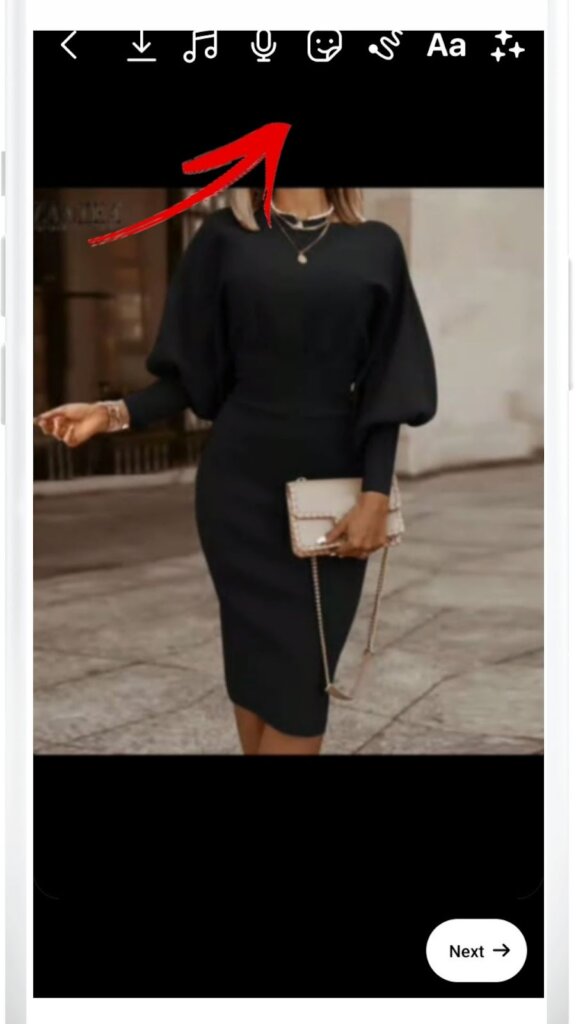 6. Click on the 'next' button at the bottom right.
7. Next you can add a caption, choose to share or not share on your feed, crop the profile image you want to be displayed on your reel cover, tag people, and add location.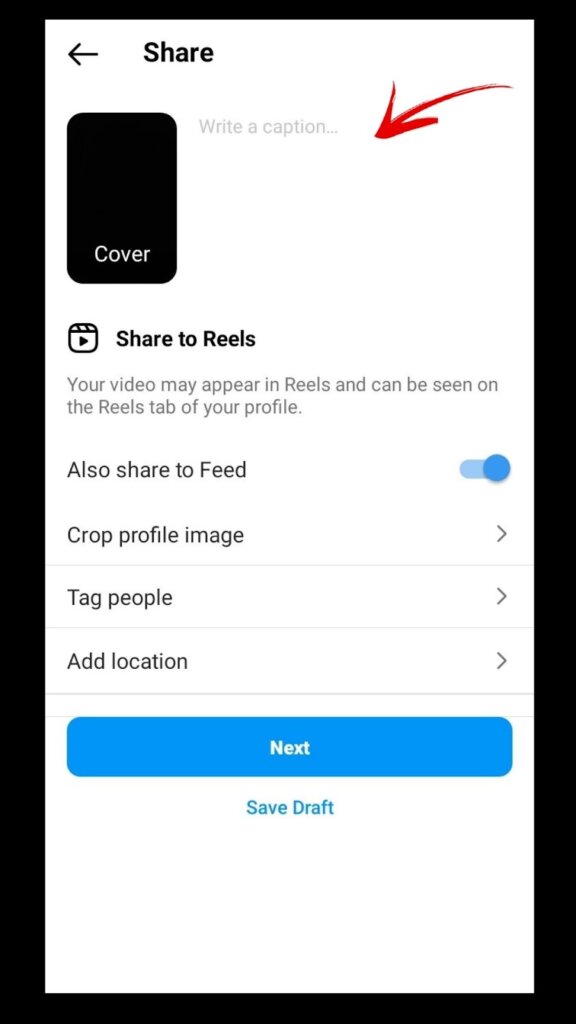 8. Tap 'next' to share your reel or 'save draft' to post later.
Instagram reels dimensions: recommended aspect ratio and video size for Instagram reels
The recommended aspect ratio for reels is 9:16 and the recommended size is 1080 x 1920 pixels.
Reels are full vertical videos, so to avoid reels being automatically cropped, follow the recommended Instagram reel size when uploading video footage from your gallery. When recording on the go using the reels camera, the size is set by default, so you do not need to worry about resizing.
Explore The Data Behind Your Social Media Accounts 📊
Find the best time to post, track your follower growth, and understand what content works best with post and account analytics.
Can I auto-post Instagram Reels?
Yes, you can! With Hopper HQ's Instagram reels scheduler. Here's how:
To schedule Instagram reels with Hopper HQ, follow these steps:
First, create a Hopper HQ account to get started.
Connect your Instagram account.
Next, a dashboard will be displayed where you can connect your Instagram account and begin scheduling your reels.
Click 'Create Posts' at the top-left of the dashboard. Hopper HQ allows you to select and upload as many as 50 reels at a time from your gallery. It also has editing features that allow you to crop and edit your reels, and add filters, stickers or text.
Add hashtags and captions to your reels to help your content reach the right people. You can add hashtags, emojis, location tags, and tag people you're mentioning in your captions on Hopper HQ.
Schedule your Instagram reels
💥 And that's it! Your Instagram Reel will automatically publish at your scheduled time. No reminders or push notifications are needed! 💥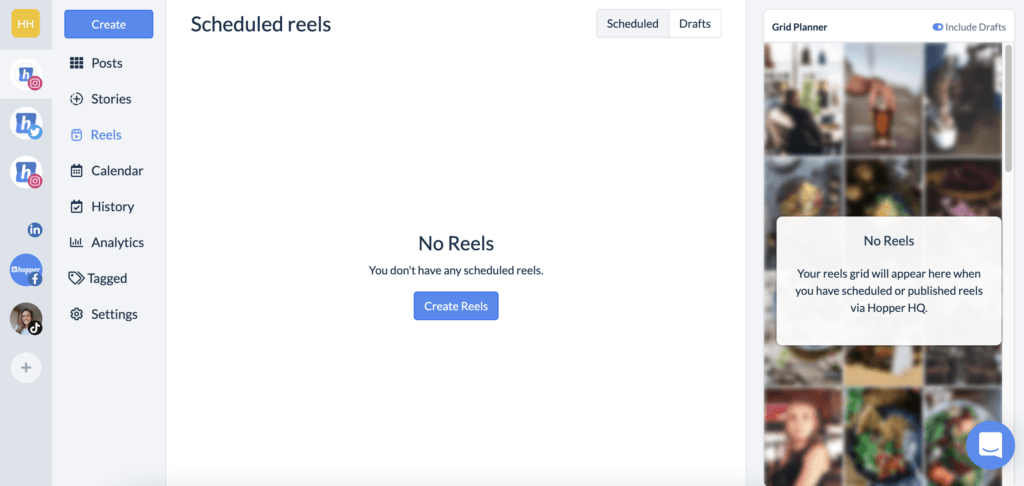 The best time to post reels on Instagram
If members of your audience are in different time zones it's not always possible to have a fixed time to post your reels. Users engage more with your Instagram content during their free time when they're online. According to research, the best times to post on Instagram are during the morning shuttle, lunch hours, evening rush hours and at bedtime.
Find your best time to post for maximum engagement with Hopper HQ.

How to add music to Instagram reels (Before or after recording)?
Music adds flavour and value to your reels. Using trending audio increases the visibility of your reels because users can search for reels using trending music on Instagram.
Here's how you can add music before and after recording your reels.
After you have recorded your reel you can add music by clicking on the 'audio icon'.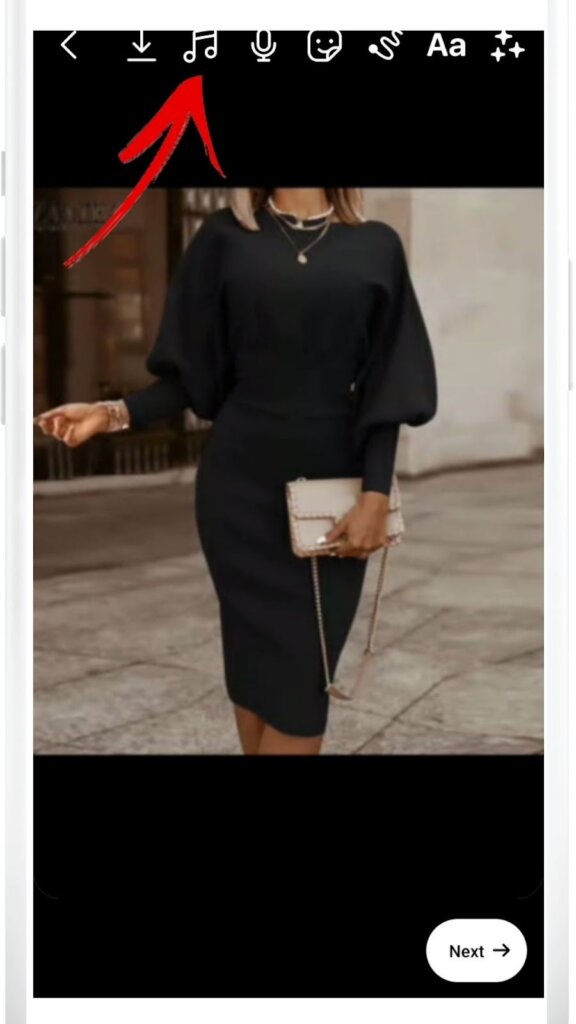 2. The Music screen shows you music options to pick from.
You can use the Search icon at the top to find the music of your choice.
Tap on 'See More' to view additional music options.
Tap on the Saved icon just below the Search icon to use any of your previously saved audio from your reels.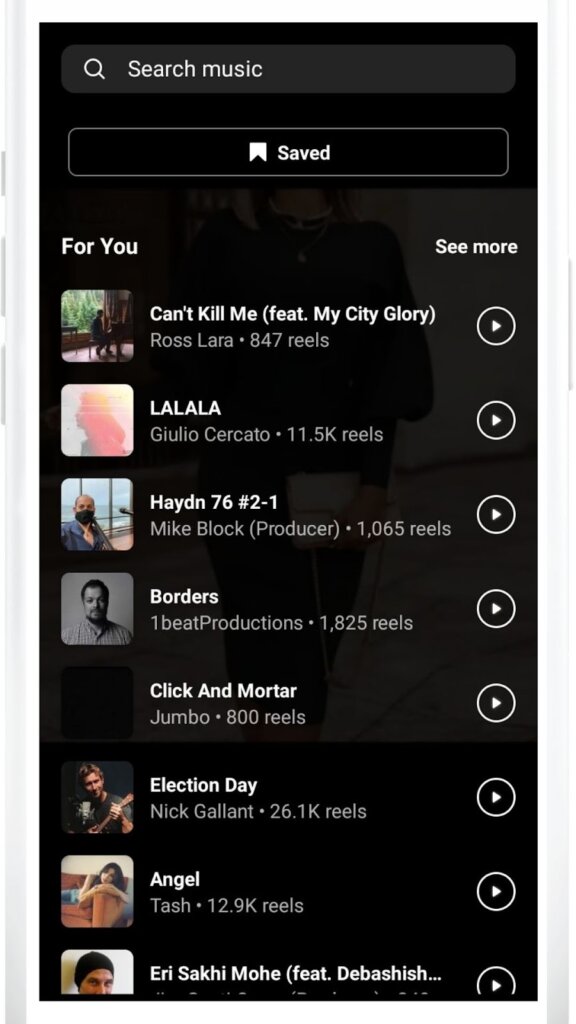 3. Use the slider at the bottom to select the part of the song you want to use for your reels.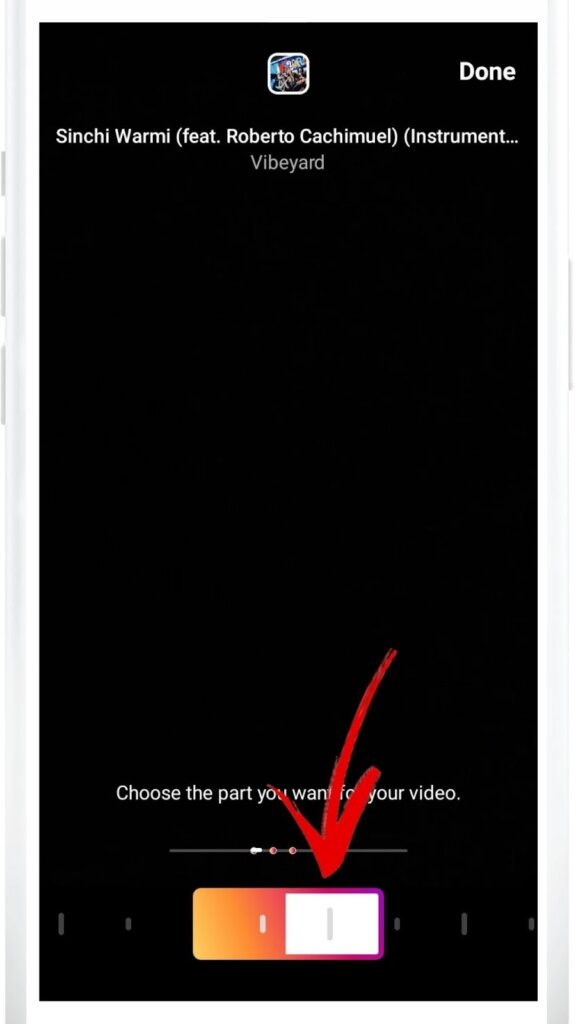 4. Finally, tap the 'Done' button to add the song to your Reel.
You may also want to add your voice to your reel instead of a song. Here's how to do it:
The voiceover feature can be used as an introduction to your reels to tell a story.
To do that, click on the 'preview icon', it scrolls left to the screen where you can see the voiceover icon at the top alongside other icons to add text, doodle and stickers to your reel.
The Voiceover screen will appear. Click and hold the red record button to start recording your voice.
You can add multiple recordings at various positions.
Tap on 'Done' to save the changes.
Can everyone hear my reel music?
Yes. Other users can find and use your reel music to make their reels. When you upload your reels, viewers can save your reel music and use it to record their own.
However, if you have a private account, viewers cannot save and use your original sound.
Instagram also does not allow Business accounts to add music from recording artists to their reels because of copyright terms and conditions. You will have to change to an Instagram business account to be able to do this. As a Business account, you are only allowed to record your original audio.
Instagram reel music is also limited based on your location as only 50 countries can access reels.

Related: How to Add Music to Instagram Stories
How to download Instagram reels?
You may want to save inspiring and entertaining reels you come across from Instagram, but there is really no built-in feature to help you download Instagram reels.
You can either record using your 'screen record' feature on your phone or use a third-party app like reels Video Downloader for Instagram that allows you to download reels by copying and pasting the link to the reel on the app.
You may also want to download your own reel after posting.
Simply go to the reel layout on your profile.
Click the reel you want to save, then tap on it to open in full-screen size.
Tap the three dots at the bottom right corner to show the menu.
Click 'Save to Camera Roll'.
The video is directly saved to your device.
Reels analytics: Top Instagram reels metrics to track
Analytics monitors your Instagram performance and helps you know how your audience is engaging with your content. It can be applied to reels like every other content on social media.
Reels analytics is the process of using data to track, collect and analyze the performance of your reels. A good Instagram reels analytics tool can help you strategise better on how to expand your reach using reels.
Instagram lets users access insights for Instagram Reels in 2 ways:
On individual reels
Through the Instagram Insights tab.
How to access Instagram reels insights for individual reels
If you'd like to see the performance of a specific Instagram Reel, follow these steps:
Go to the Reels tab on your Instagram profile page and open the Reel you wish to see the insights for.
Tap the three dots at the bottom right corner of the screen, and select "Insights."
After selecting insights, you can see the following metrics:

Plays
Accounts Reached
Likes
Comments
Saves
Shares
How to access Instagram reels insights for overall reels performance
To see the overall performance of your Reels, go to your Instagram profile and select "Insights."
You can browse through the different reels and see how they are performing and contributing to expanding your reach and growing your account.
Reels insights give you a complete breakdown of:
Comments
Likes
Saves
Reach
Plays
Shares
Reels Interactions
How does the Instagram reels algorithm work?
The reels algorithm are criteria necessary for your reels to have more engagement and meet the target audience. It focuses on entertaining and fun content, free of watermarks and stickers from other apps, and high-quality video content. It also promotes reels with original audio, trending music, and recommended resolution and size, making them more discoverable by viewers.
For viewers to see reels they like, Instagram uses data like their previously liked, commented, or shared posts to predict what viewers may be interested in and see related reels. This helps reels go viral and ensures they meet their target audience thereby helping users grow their views and increase visibility.
With that in mind, the Instagram Reels algorithm favours:
Reels with high engagement, this includes likes, comments, saves, shares, and watch time.
Reels that have the correct vertical dimensions.
Reels that use creatives like text or filters.
Reels that use original audio you create or find on Reels music from the Instagram music library.
With these best practices in mind, it's always good to create Reels that are entertaining, inspiring, or experimental. For example, create a reel that grabs people's attention, makes them laugh with a fun surprise or twist, start a trend that others can easily take part in, and don't be afraid to try something new.
On the other hand, here are some reels don'ts to avoid:
Posting Reels that are blurry or low-resolution.
Reels that have the majority of the image covered by text.
Reels that do not meet Instagram's Community Guidelines.
Reels that are recycled from other apps with visible logos. Aim to create high-quality Reels directly on Instagram.
Tips for creating viral Instagram reels (with examples)
1. Use trending music or audio
Reels go hand in hand with music so you will need to pick the right song. A trending music on reel can be downloaded by many viewers to make their own reels. If you use trending music in creating reels, they can be easily found by others on the reels page.
2. Avoid reel videos with watermarks from other apps like TikTok.
Ensure they are formatted to the right size and resolution. Include stickers, emoji sliders, and more to give people the chance to interact with your reel. Minimize using videos from Tiktok like in this example.
3. Avoid copyright infringement
Use hashtags, advanced tags, original audio and videos in creating your own reels. For example, the owner of this reel created his own video. By creating your own content, you avoid copyright issues.
Grow Your Audience With #Hashtags
Discover better hashtags to reach the more people, grow your follower count and get more engagement on your posts.
4. Ensure your reels are entertaining and concise.
Make your reels free of too many details as this can make them boring and difficult for your viewers to follow. Your reels should be short and straight to the point.
5. Post consistently and at the right times
This is one secret to increasing your visibility. Post reels when your audience will likely see them and be consistent with it.
6. Tips and Tricks
You can create reels that contain tips and tricks about your product or a subject that concerns your audience.
7. Behind the Scenes
It's important to share with your audience the behind the scene experience of your brand or product. Behind the scenes reels are effective in proving authenticity.
How to make money from reels with Instagram Reels Play Bonus ​
According to Instagram, the Instagram Reels Play Bonuses are "opportunities for you to earn money directly from Reels. If you qualify to earn a bonus, you'll be notified in the Instagram app to onboard and enable bonus payouts."
So, to put it simply, creators can make money from Instagram or Facebook reels based on the number of plays their Reel gets.
In order to qualify for the bonus program, you have to have a business or creator account. All you have to do is share Reels on Facebook and Instagram. Instagram will pay out on Reels that get at least 1,000 views over a 30-day period.
To choose a reel for the bonus program, select 'Reels Play Bonus' from the Bonuses page before sharing your reel. If you forget, you can go back and make that selection within 24 hours. Permanently deleted reels do not count towards the Play Bonus.
You'll earn money based on the performance of your reel. The amount you earn per view varies.
Note: The Reels Play bonus program is currently not available in all languages. The reels play bonus program is currently only available to a few creators in the U.S and only in a few languages.
FAQs
What are Reels on Instagram?

Reels are short, entertaining and creative vertical videos on Instagram. You can create and edit multi-click videos that are 15 seconds long.
Why don't I have Reels on Instagram?

You won't have Reels If you are using an outdated version of Instagram. So update it to the latest version.
How do Instagram Reels make money?

Instagram pays out on Reels that have a minimum of 1000 views over 30 days. You'll need to have a business or creator account to access the program.
Spice up your social media strategy with creative Instagram reels. Use Hopper HQ to schedule your reels in advance and share your experiences with us in the comments section.
Simple Post, Story + Reel Scheduling ✨
Visually plan your social content. Instagram, TikTok, Twitter, Facebook, LinkedIn + Pinterest.