In 2018, Instagram launched a feature that lets users add music to Instagram stories. Instagram even lets users add their custom audio tracks to their stories.
According to Instagram, over 500 million accounts use Instagram stories daily. 58% of those users say they become more interested in a brand or product after seeing it on Instagram stories. And a whopping 50% of them say they have actually visited a website to buy a product or a service after seeing it in stories.
If you want to get in on this action and create Instagram stories that make a lasting impression, you'll need to learn how to add music to Instagram stories. In this blog post, we'll go over all the different options to add music to Instagram Story, and we'll share how to troubleshoot some of the common issues that come up along the way.
Table of Contents
Instagram stickers
Instagram music is a story sticker that allows you to add music to your Instagram story. The Instagram music sticker is available on iOS and Android devices, but not in every country.
So, before we dive into the different options for adding music to Instagram stories, let's look at Instagram stickers.
Instagram stickers are drawings or interactive buttons that you can add to your Story. Instagram has 2 types of stickers:
Animated GIF Stickers
Interactive Stickers (which your followers can tap and interact with)
To see Instagram story stickers:
Open your Instagram story
You should upload or take a photo or video
Tap the "Smiley" button
You will see the "Stickers" screen
TRY HOPPER HQ FREE
Refreshingly Simple Post, Story + Reel Scheduling
Visually plan all your social channels. Instagram, TikTok, Twitter, Facebook + LinkedIn.
What is an Instagram music sticker
Instagram Stickers are additional features you can add to make your stories more interactive. It's an easy way to add 15-second audio clips to your stories by accessing a library with thousands of songs. Whether it's your favourite pop song or a soundtrack from your favourite movie, the choice is yours!
Which countries have Instagram music?
When Instagram launched this music on Instagram stories feature in 2018, it was only available in certain countries. Since then, Instagram has made this feature available in more countries and regions.
As of May 2022, Instagram music is available in 60 countries, including New Zealand, France, Portugal, Germany, Mexico, Japan, Australia, Sweden, the US, Canada, Italy and UK.
How to add music to Instagram Stories with a sticker
Access the sticker library on your Instagram story and you'll see a music sticker!
Tap this to open the entire library of songs now at your fingertips.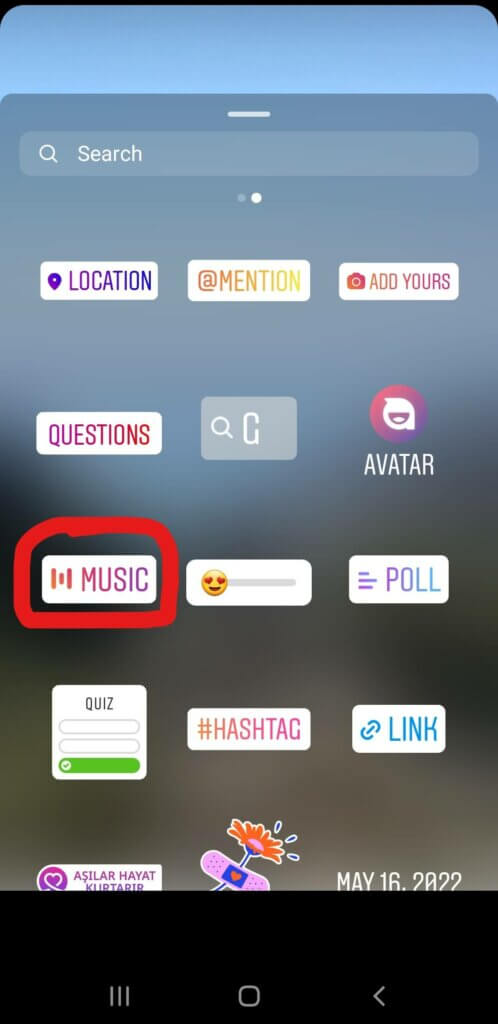 The app lets you search by keyword, mood, genre or what's trending right now. Make sure you hit the play button to sample before choosing your track.
You can browse through the song as shown below to make your selection.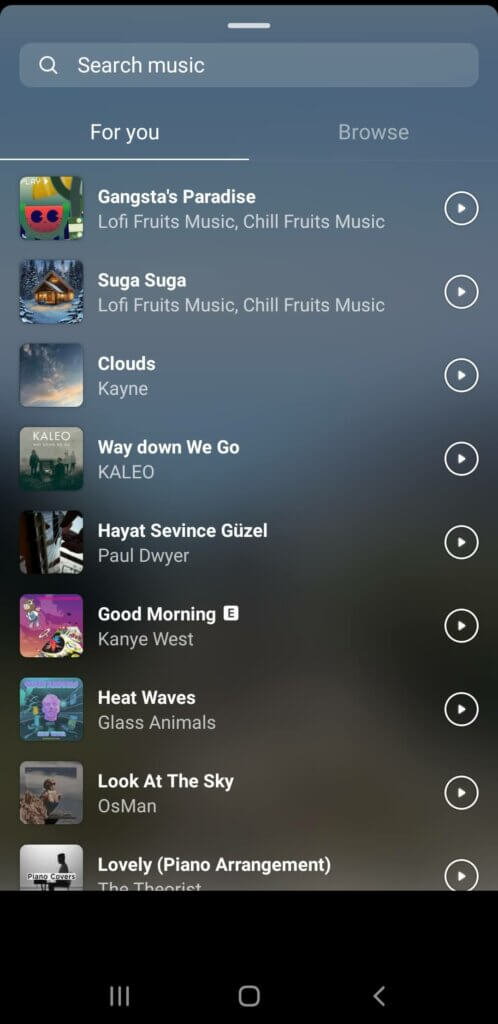 If you are adding a piece to a still photo or image, you can choose how long to play the music selection by setting the length of your story.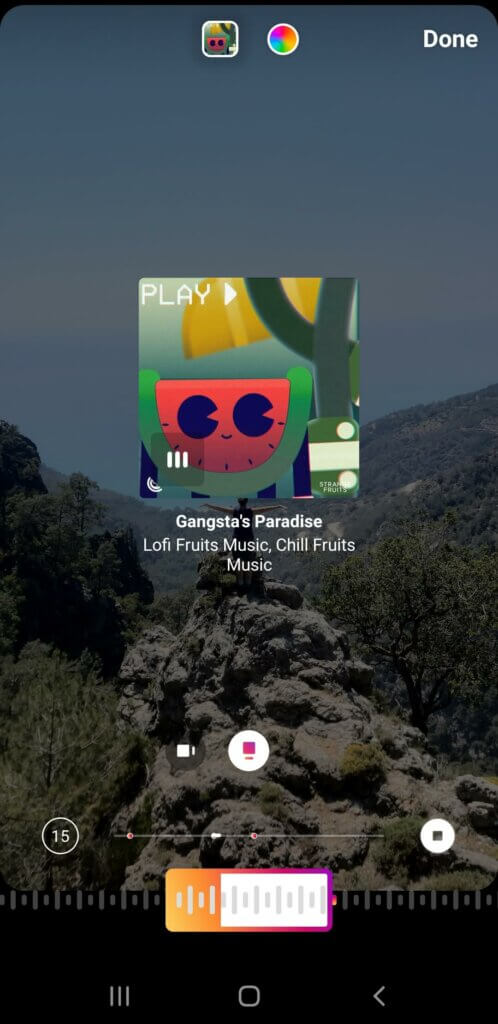 Many songs have lyrics and are automatically opened when saved in the app. You can choose from four different lyric styles to add a little character.
And finally, you can choose what kind of album sticker you want.
Since the songs are up to 15 seconds long, it's important to choose the part that best fits your Story's content (or your favourite lyrics).
Fortunately, Instagram's music stickers automatically start with the song's chorus to help you use the part of the song you're more likely to prefer. As a result, you don't need to spend a lot of time searching for the perfect part of the song. Instagram has you covered.
Remember that the selected song will play automatically when your followers view your Instagram story, so make sure to pick the best part!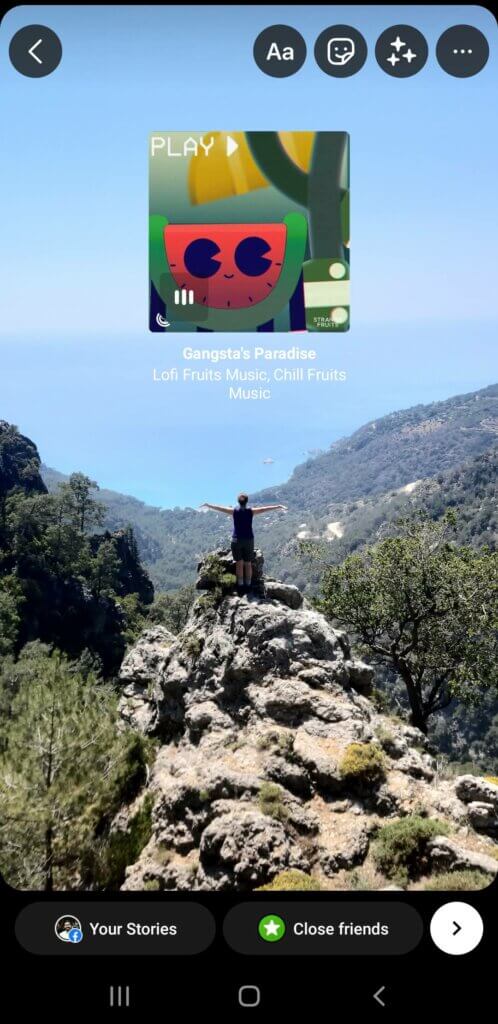 How to add music lyrics to Instagram Story
If you're having trouble figuring out how to add a song's lyrics to your stories, don't worry. Below are instructions on how to find and use this editing feature:
Open the Instagram app.
Press the Story icon in the upper left corner of your screen.
Upload your Story or shoot with the Story camera by swiping up to access your Camera Roll.
Press the Music sticker button.
Find the song you want to use.
Tap the song and add it to your story.
Press the letter button directly on the music player and swipe left to see more font options.
Select the font you want to use.
Press Done.
Press the Your Story button in the lower-left corner of the screen.

That's it! Your story is now posted with the lyrics.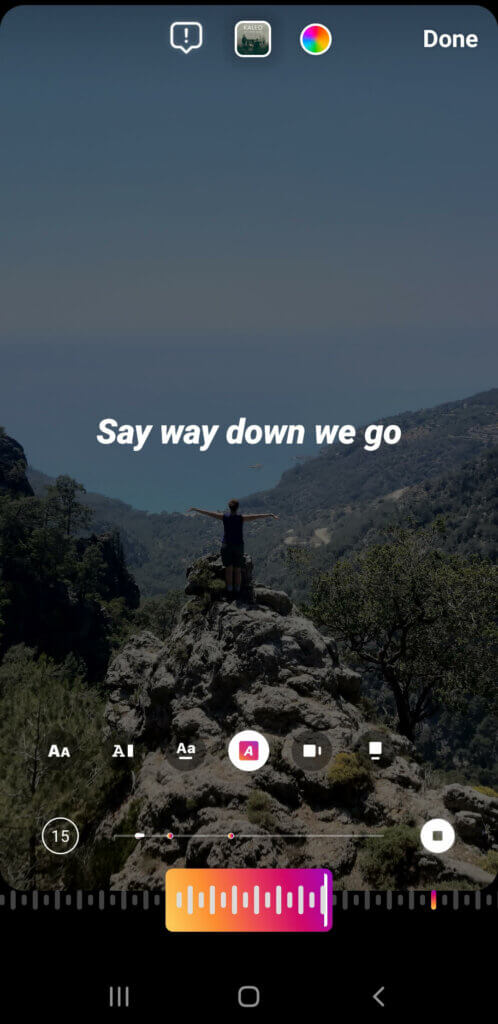 How to hide the music sticker on Instagram stories
Often, Instagram stories are created on a whim and there is no time to carefully shoot and edit them, especially when creating them just for fun. If you don't like the Instagram music sticker that blocks your story, you can hide it so that it becomes invisible.
After capturing or selecting a picture or a video from your gallery, you will see the preview screen. On this screen, you can define the look and feel of the story. You can add hashtags, edit titles, apply filters and place stickers. Tap the Stickers button at the top to bring up the Stickers tray.
Search for music in the search bar and the Music sticker will appear. Tap on it and you will get an option to choose a song.
After choosing a song, you have the option to trim any part of the story you want. While the lyrics seem okay and sometimes complete the story, you can hide them completely. Select the regular label and tap Done.
Now pinch to reduce the size of the sticker and drag upwards until it is off the screen. You will see that the music continues to play but the sticker is completely hidden.
Weekly Content Inspiration Direct to Your Inbox
Get free content inspiration delivered straight to your inbox and learn from real brand accounts.
Level up your social media marketing game with actionable tips from Hopper HQ's experts with new advice every week.
How to edit the music sticker on Instagram Story
You can only edit your music before publishing your Instagram story. So, once you're happy with your song selection, you can fast forward and rewind the song to pick the part that fits your story perfectly. If the lyrics of the song you selected are available, they should appear on your screen.
After that, you can choose different designs and fonts and edit which part of the song you want to play. When your followers watch your story, they can press the lyrics to learn more about the artist or listen to the song.
Finally, you can customise the look of the sticker by tapping the sticker before publishing it. Now you're ready to post on Instagram stories. As usual, you can add GIFs, polls and even hashtags. Next, tap the "Your Story" button at the bottom of your screen and you're all set!
TRY HOPPER HQ FREE
Refreshingly Simple Post, Story + Reel Scheduling
Visually plan all your social channels. Instagram, TikTok, Twitter, Facebook + LinkedIn.
How to add music to Instagram Story without a sticker
1) Add music from Apple Music to Instagram stories
Sharing your Instagram story from Apple Music is simple. If the song is currently playing, tap the three dots (•••), then select "Share". If the song is not playing, long press or tap the 3D track.
After that, select "Share Song". In both cases, you will see the same share screen.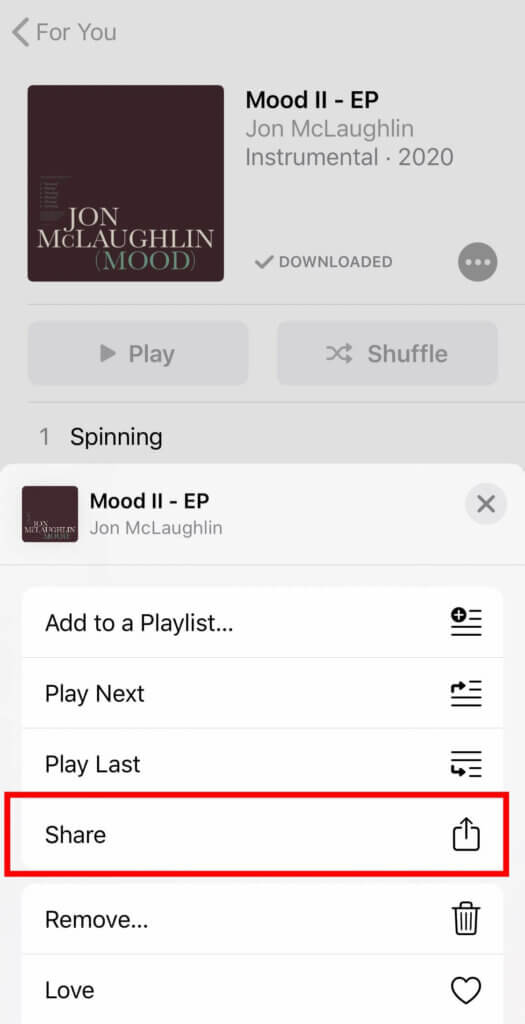 Now, browse the application row, then tap Instagram. If you don't see the app you want here, scroll to the end, tap 'More', then select the app under 'Suggestions'.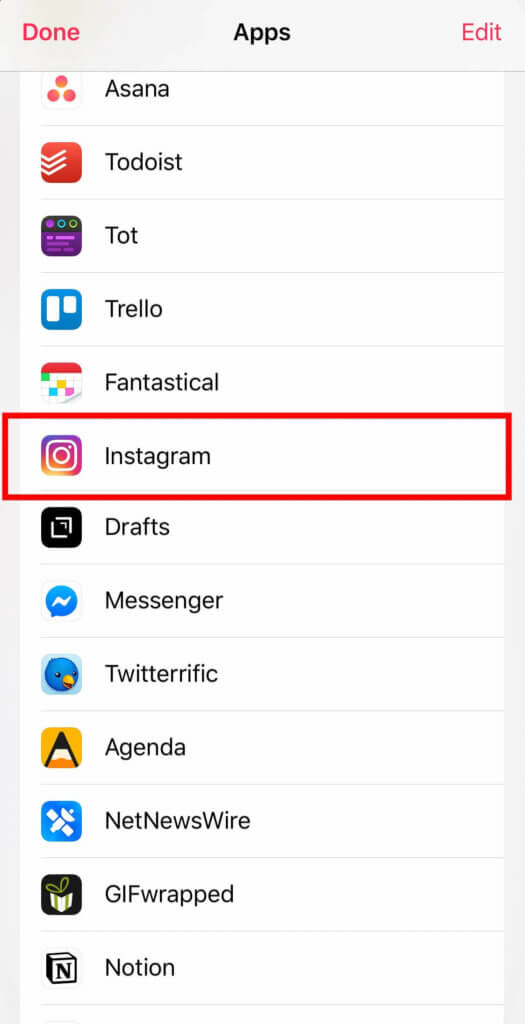 Tap on the app and Apple Music will automatically be added to your story draft.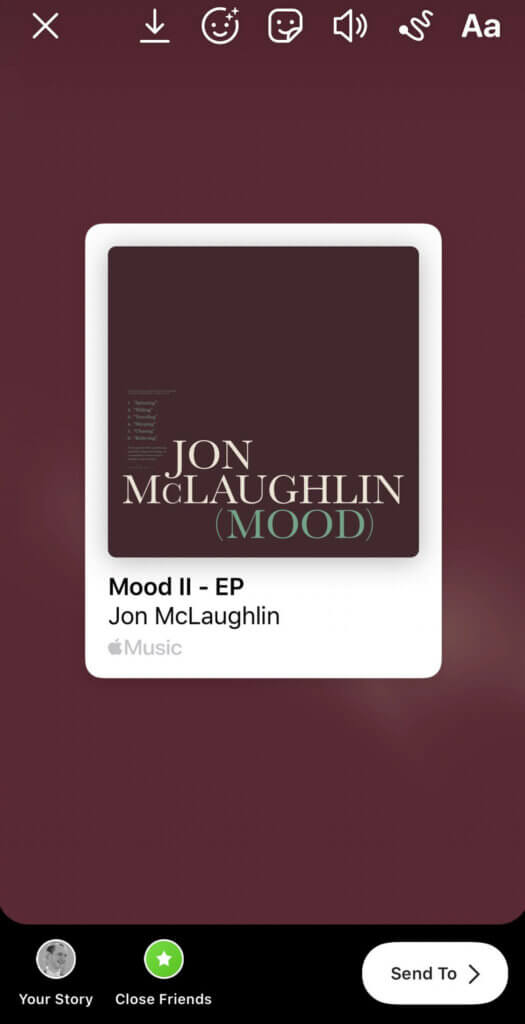 If this is your first time using this feature, Apple Music will prompt you to launch the said app. Tap "Open" and iOS will launch the app and the story editor with the song you selected.
The background colours will match the album artwork and create a great effect to match the mood of the song. But the song itself does not play. Instead, friends can tap the picture to launch Apple Music on their devices.
2) Add a song from Spotify to Instagram Story
1. First, you should open Spotify and play a song.
2. Tap on the Share button and select the Instagram app on the share page. When you do this, Spotify will create a story for you in the Instagram app.
3. Tap Your Story at the bottom to share stories.
Such stories have interactive text above the story being read. Essentially, people viewing your story can listen to the entire song by clicking the text in the same music streaming app.
3) Add a song to your Instagram Story from SoundCloud
With this update, you don't need to take screenshots from SoundCloud and post them on Instagram. Instead, you can use the new option built right into the SoundCloud app to share SoundCloud song links to Instagram stories. Here's how.
1. Open the SoundCloud app and navigate to the song you want.
2. Next, push on the share button and select it to Instagram Stories.
3. With this, you will be redirected to Instagram Stories and the song or album art will be set as the background. However, there is a sticker with the SoundCloud logo and the name of the song.
4. Then, if you wish, you can make edits such as adding stickers such as text, hashtags, and Polls to your story, and finally send it to your story. That's all you have to do!
Viewers will need to tap Play on SoundCloud at the top and select Open SoundCloud to listen to that track on SoundCloud. This means it only adds a link to the songs, not the actual song itself.
Therefore, users need to step away from Instagram to listen to the songs. Also, if the SoundCloud app is not installed, the song will open in your smartphone's browser and play smoothly.
4) Add a song to your Instagram Story from Shazam
1. First open the Shazam app and make sure it is linked to your Instagram account.
2. Then hold your phone to the screen while watching an Instagram story and wait for the Shazam logo to appear.
3. Once it does, release your finger and the song will start to play.
How to use third-party apps for Instagram music?
Most third-party apps today let you add custom music to videos. And if you install the right app, you might also find some free-for-use music to add to your Instagram stories.
1) Storybeat
Firstly, you can create eye-catching stories, add music to your photos or videos and share on Instagram by using Storybeat.
This app helps you add music to your Instagram stories regardless of your current location.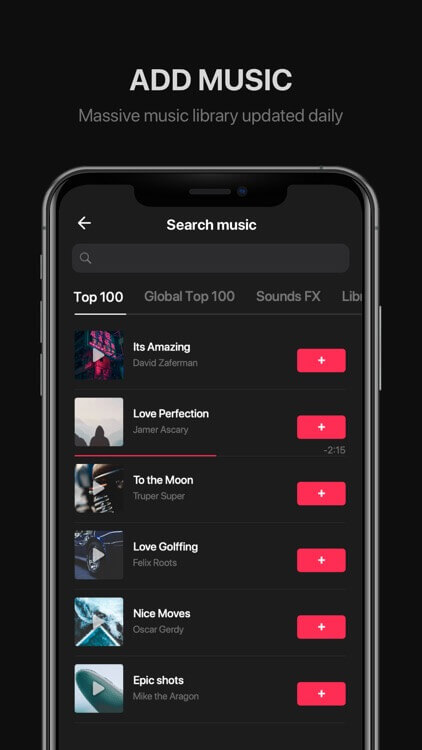 2) InStories
You can create original Instagram stories and add music to them with InStories. The app has an unlimited music library like iTunes preview tracks, InStories personal compilation and themed sounds etc.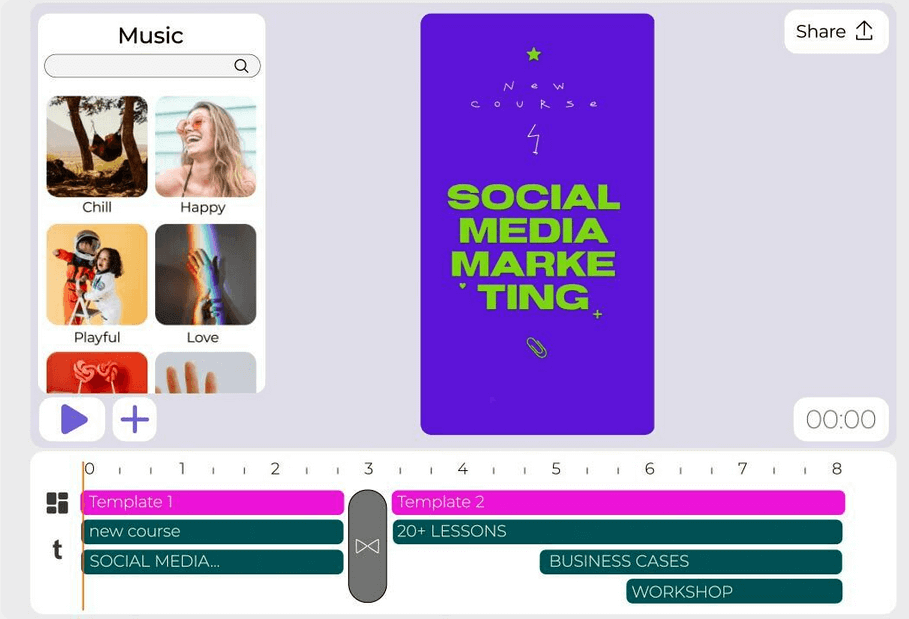 Why can't I add music to my Instagram Story?
There are several reasons why you might have trouble adding music to your Instagram story:
If you can't find the music sticker in your Stories, you can try uninstalling and reinstalling your Instagram app. Sometimes all it takes to bring your music feature back is a quick update.

If you reinstall the app and there are still no stickers, it may be because your country is not on the list to access music for Instagram stories.
As we mentioned before, the feature is only available in 60 countries. If your country is not listed, you can use ClearVPN, which has an "Instagram Music Unlock shortcut" option.
Press this shortcut and ClearVPN will connect your iPhone to the IP of a country where Instagram music stickers are available.
Instagram Music Isn't Available in Your Region: How to Fix It
Due to copyright infringement or piracy issues, Instagram needs a license to play music. The platform implemented this feature after Facebook. Instagram has a deal with Sony Music, Universal Music, and Warner Music Group to add songs to videos.
In regions where the feature is not available, there are a few legal procedures to follow as there is no universal law regarding copyright and piracy. The global rollout of the feature may take some time.
Currently, the feature is only available in seven countries: Australia, New Zealand, France, Germany, Sweden, the UK, and the USA. Fortunately, there is an alternative that lets you not only listen to other people's musical stories but even create one.
Let's look at how you can do it.
How to use a VPN For Instagram Stories music
Before getting a VPN, you need to delete the Instagram app from your device. It is very important to delete your Instagram app as the app detects your current location when you run the app for the first time.
After uninstalling the app, you must activate the VPN.
Once your VPN is working, go to Google Play or App Store and reinstall Instagram.
After completing the installation, log in to your Instagram account, and the music sticker feature should be available.
Happy Instagramming! Enjoyed this post? Here are some more useful Instagram resources to check out:
FAQs
Can I use copyrighted music in Instagram Stories?

According to Instagram's blog, you can use music in Instagram Stories. Stories lets you use both recorded and live music performances. The only exceptions are countries where the use of music is currently limited. Your content must contain a visual component.
How long does Instagram story music last?

15 seconds. Doing so will open a new screen where you can search for music by Popular, Mood, and Genres. Instagram offers a variety of popular music licensed for use in your Instagram Stories. However, you can only use it for up to 15 seconds at a time (the length of a story) and while the song is playing, the sticker along with the song's title and the artist listed will be displayed in your Story.
Why is my music limited on Instagram?

If you can't add music to your Instagram Story, you may first need to update your app. As businesses, mostly you are not legally allowed to use the latest popular songs.