Everybody seems to have a podcast these days…so should your business jump on the trend?
In 2018, people are loyally listening to podcasts in record numbers – with 80% listening to all or most of every episode (Edison Research: Infographic) they're subscribed to. On Tuesday 20th November, we hosted the latest event in our Trending series: an insightful panel discussion with industry leaders tackling the question: is podcasting a marketing necessity in 2019? As with previous events, digital marketers from a range of industries came to our London base at WeWork Aldgate Tower to learn more about podcasting and find out how they could incorporate it into their marketing strategy.
On the Panel:

Russell established Audere Communications in 2014, having previously spent 16 years as a Director of broadcast specialists, markettiers. Audere provides content marketing strategy and implementation, producing the award-winning csuite podcast that Russell presents too, as well as providing podcast production services to clients. The csuite podcast covers topics such as Marketing Communications & Innovation, Employee Engagement & HR, Social Mobility, Diversity, Mental Health & Wellbeing and more and features senior executives discussing latest trends, campaigns and issues, sharing best practice case studies.

Emma is the founder of Podcast Production Company Art of Podcast. AOP create more than just podcasts, they aim to get to the heart of who people are and why they do what they do by telling their clients' unique stories to a global audience using audio storytelling. Winner UKPOD15 | Nominated UKPOD16 | Nominated Start Up of the Year at the DIB Women in Business Awards 2014.

Katharine is the Senior Podcast Producer at Wireless Studios. Her background combines commercial radio and award-winning branded podcast content. She also runs Podcast Pioneers, a consulting and creative development platform for new writers and producers and podcasttalent.co.uk.
Compered by:

Mike is a Co-Founder of Hopper HQ, the planning and scheduling tool for Instagram. Mike has over 12 years experience in digital marketing including within an advertising agency and as part of startup studio Turn Partners, co-founding and growing multiple digital businesses such as a leading niche dating business and an influencer marketing agency.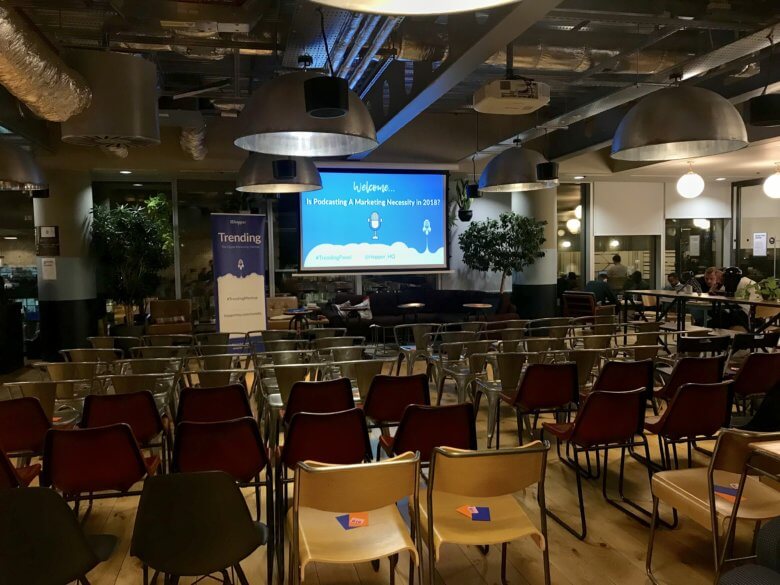 The dark and rainy evening deterred many of our guests from making it, so Mike kicked off the evening with a very special thank you to those who'd braved the elements to make the event, notebooks and pens in hand. For those who'd never been to a Hopper HQ panel event before, Mike introduced the 'cards of contention' on everybody's seats. These are coloured pieces of paper to be used throughout the discussion: blue for agree, orange for disagree, enabling everyone to get involved and offer their opinion!
We started with a brief discussion of podcasting and how it's changed and grown in the past 3 years or so, with Katharine believing it's predominantly as a result of advances in technology creating more listeners, and brands taking more of an interest to collaborate and seeing it as a successful marketing platform. Russell also added that the amount of celebrities who have become involved with podcasting in the past few years has brought it firmly into the mainstream as a medium. Emma attributed the growth of podcasting to bigger corporations "taking it more seriously" – citing an example of the BBC going from doing podcasts as a secondary support piece to launching BBC Sounds. All of panelists agreed that the addition of integrated podcasts to the likes of Spotify and Amazon Alexa has made podcasting more accessible than ever.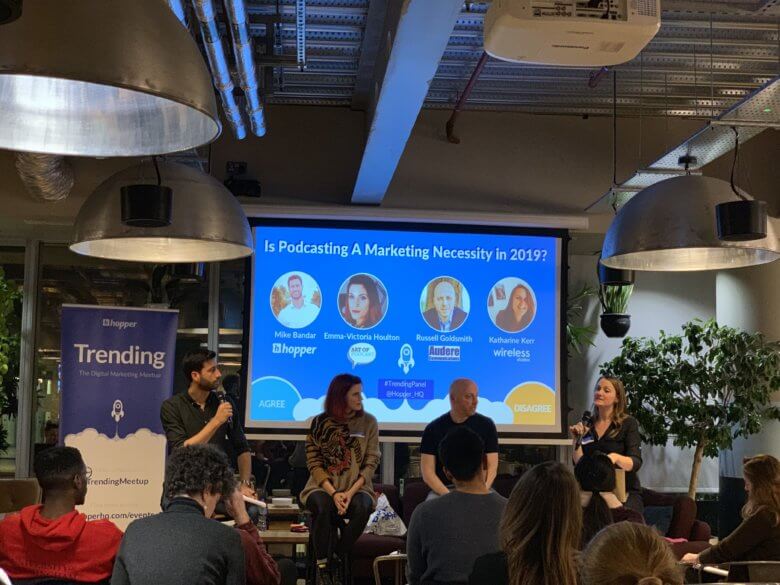 Here are our Top 10 Takeaways:
#1 There are more podcast listening hours in a day than video watching hours 👂
Emma said brands need to take advantage of podcasting being a "secondary medium", meaning you can listen while running, driving, walking the dog etc. compared to video as a marketing medium which requires your full and dedicated attention.
#2 The maths is in your favour 🙌
As we mentioned in the stat at the beginning of this article – 80% of podcast listeners listen to all of every episode they're subscribed to. Katharine highlighted that an average podcast episode is 40 minutes long – which means people are dedicating a lot of their time taking in the information provided to them. 80% of 1 episode is a far greater amount of time than a 2 minutes social media video, or an average day scrolling on Instagram!
#3 Podcast audiences are getting younger 👥
The average age of a podcast listener is 38.5 (according to Katharine's organised slide deck) but stats are showing that age is getting younger! Citing the example of the Love Island podcast, she highlights how the podcasting space has developed and become more accessible, diverse, and most importantly an amazing marketing opportunity for brands across all target audiences.
#4 Starting your own podcast is not the only option! 💡
Podcast marketing can work in many ways. Russell partners with brands looking to gain exposure to their target audience on his Csuite podcast, where they sponsor the episode to appear as guests and discuss their business in an informative way. This reinforces that sponsorship in podcasting doesn't always need to take the form of an ad break, but there are many ways to integrate content naturally and more creatively.
#5 If you decide to release a podcast – make sure can keep up the consistency 🎙
Russell claimed there's nothing worse than a brand releasing a 'one-off' podcast. If a business you like publishes a podcast episode, there is an expectation for there to be a series. Your audience will want to subscribe for regular content, so make sure you can pull through on the regularity that a podcast requires.
#6 Don't get a celebrity for the sake of it – use an expert 🤓
The pull of a celebrity is always tempting for marketers trying to boost their reach. However, Katharine advised against getting a celebrity just for the draw of the name if they're clueless in the topic you're discussing. A scripted guest is very obvious, so it's more valuable to find a genuine expert or someone with interesting stories to tell relating to the podcast title.
#7 Repurpose your podcast to create even more great content 📝
Emma reminded us that a podcast can be repurposed for a number of different content purposes so you get even more value from each episode. The audio can be transcribed to become a blog post, the top takeaways can become social media posts or you can make a video about the discussion!
#8 Structure your podcast around a story narrative (more than the first episode) 📚
If you decide you want to start a podcast, it can be easy to get carried away and jump straight to production. Make sure you plan and structure episodes in order to help you market and promote the podcast, as well as ensure your episodes are following a narrative. Katharine gave the example of the brilliant Homecoming podcast, which got turned into the TV show starring Julia Roberts off the back of its incredible storytelling!
#9 "The great thing about podcasts, is that you can iterate" ♻️
Russell highlighted the ability with each episode to edit and improve based on reception and feedback from your audiences! Due to the conversational and informal nature of podcasting, they benefit from not being rigid. Especially when you're just starting out, this can be a great way to strengthen your community and ensure you're producing content your audience wants to listen to.

#10 Be human! 🙂
The number 1 thing that makes a brilliant podcast for Emma is the element of being human and approachable! Focusing on topics that you (and your guests) are clearly passionate about will make for the most compelling content.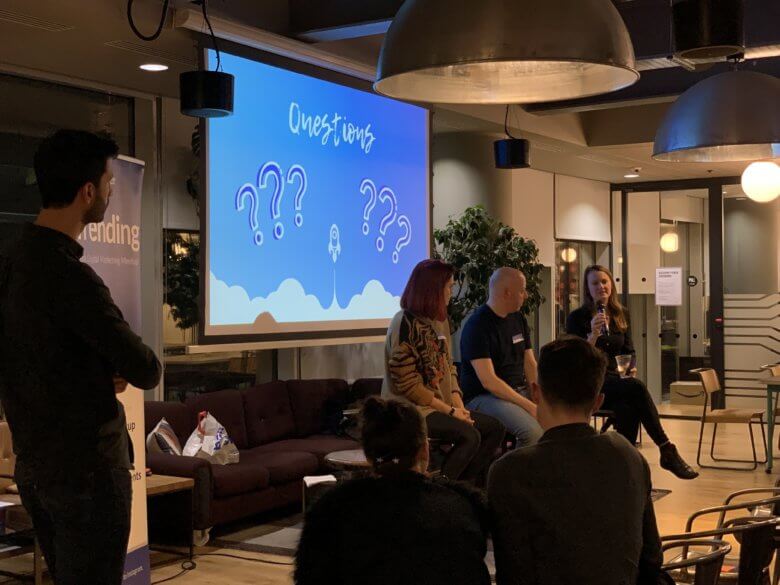 They're our 10 top takeaways from the event but so many more brilliant points were made, so if you'd like to learn more about podcast marketing, you should check out the full livestream on our YouTube channel:
Join the Hopper HQ Meetup group 'Trending' to keep up to date with all future events! We aim to tackle a different area of digital marketing every time, and as always, everyone is welcome!
See you next time!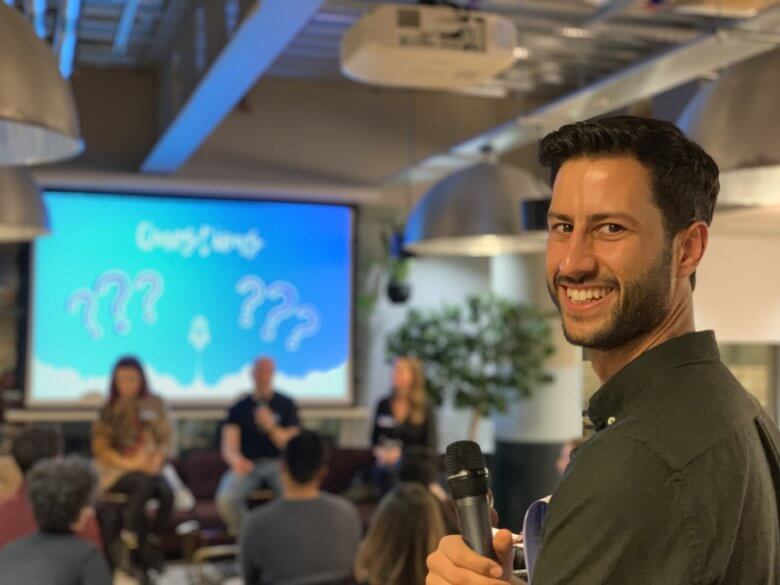 Plan & schedule social media ahead of time.
> Video, gallery & image posts
> Calendar, feed & grid preview
> Instagram, Facebook & Twitter