From miracle gold-flecked oils to extra-sparkle eyeshadows, beauty addicts are shopping their favourite products with only a few swipes. But if you're an avid member of Instagram, you'll know it's overwhelming to pick through all these countless dreamy accounts.
Rejoice ! Hopper wants to take care of your beauty game and have rounded up the best brands that are taking over the platform. Curious?
Well hide your wallet, scroll down, and get your fingers ready for a lot of double-tapping!
Launched in 2014 by the beauty enthusiast and writer Zoe Sugg, the amazing page is full of yummy doughnuts and sweet pink sneak peeks, and it feels as light and natural as its products! Today the brand has 1 million followers and is available worldwide at Superdrug, Feelunique and many other stores.
That's not all! Zoella is currently giving away a set of lovely signed beauty pieces, and you're still in time to enter the contest – what are you waiting for?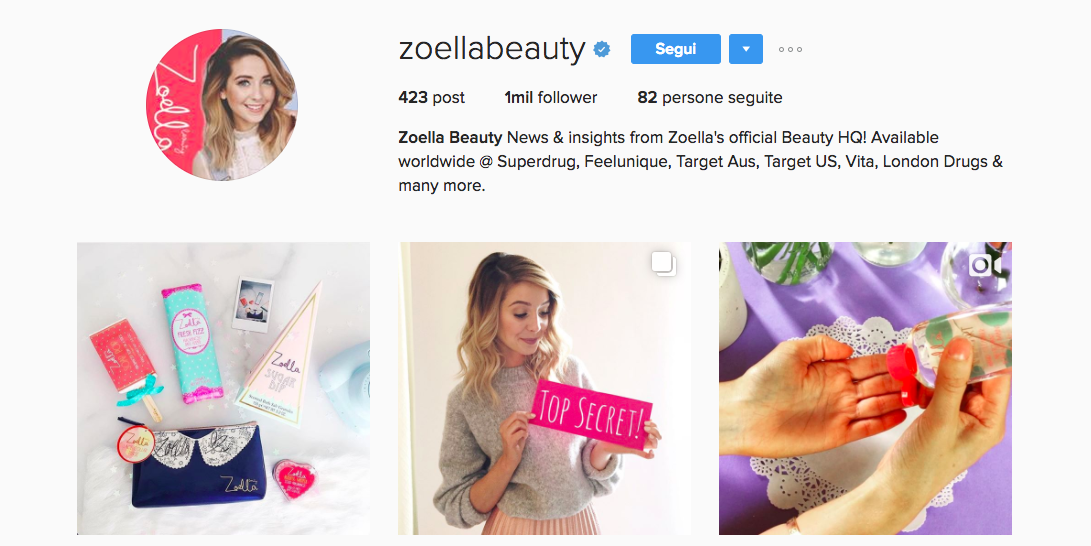 As you can see, Zoella is a great example of  a gorgeously curated feed!  By using the same color palette in all her posts, Zoe is giving the page a distinct aesthetic that really makes it stand out. Remember, users are more likely to act if they can easily recognise your brand!
Little tip: stick to bright white backgrounds and add a pop of color; or try desaturating your photos and play around with two or three color combinations to repeat in your posts.
Never run out of ideas for your next quirky eyelook! Shu's channel is home to the best make-up inspiration and colours experiment. Starting with its founder showing his talent as a make-up artist for hollywood films, the Japanese brand is now represented in 18 countries and in over 320 points of purchase. Don't forget to feature them in your photos for a chance to be on their page!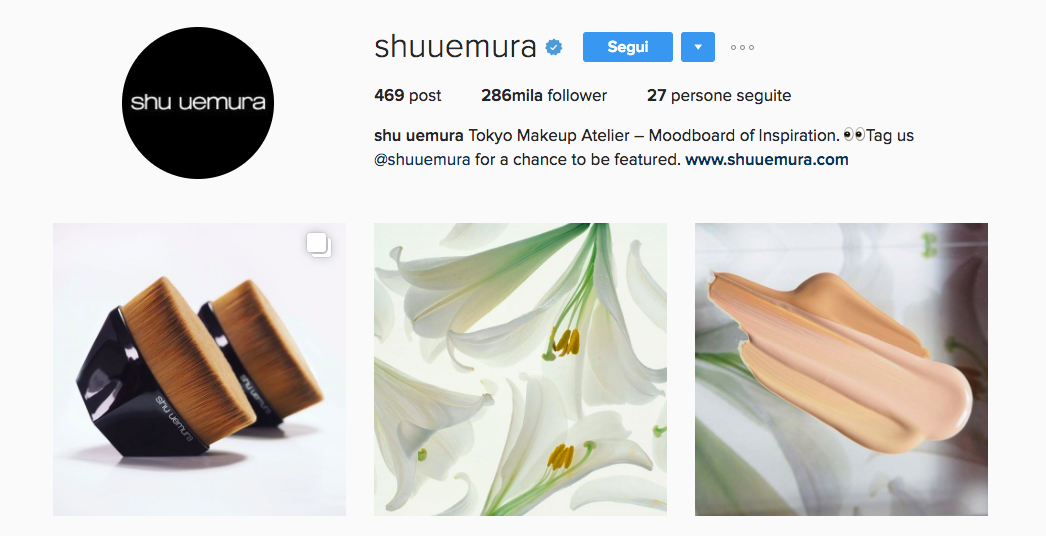 Shu put emphasis on high quality images that are more likely to capture attention. By taking detailed model head shots and showing off their products in different and interesting ways, they also encourage and inspire followers to create their own makeup look and feature them on their pages. What better way to increase brand's interaction!
This Instagram feed should come with a warning label, because every snap will make you want to buy everything! "The pleasure to be Bella (beautiful), in just a few steps", this is the Italian brand's motto that is capturing more and more followers every day! Have a look at their page – although you may be filled with the desire to repaint your nails or change your night out makeup every time one of their pictures pop up.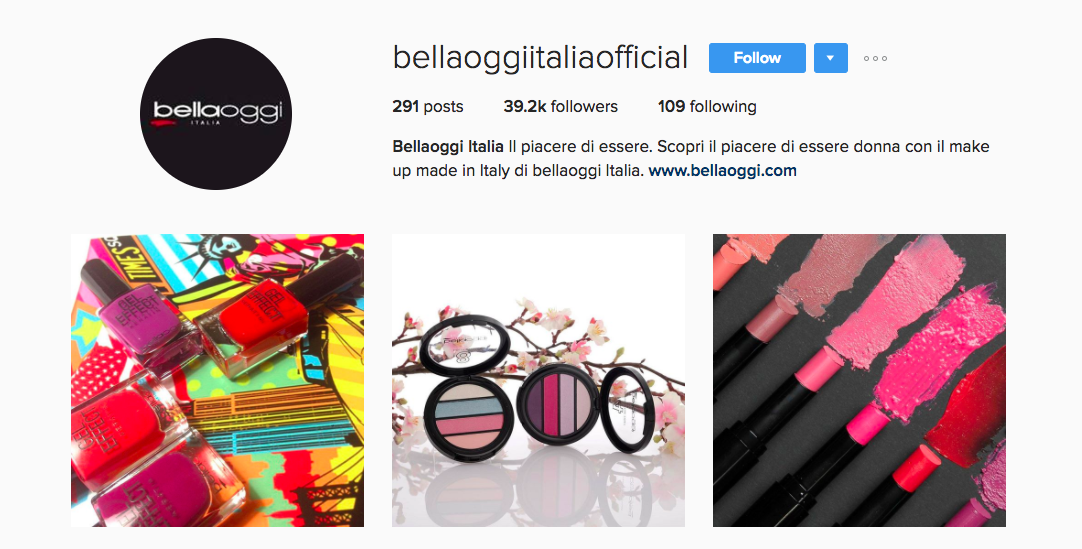 Through some well-written captions, Bellaoggi stays clear on what they're selling, giving their followers all the information needed about the products. They also run regular creative contests, which as we said in our " How To Run An Instagram Contest" guide, is one of the most effective tactics to increase engagement and grow your audience!
Looking for a brand that gives you makeup, nails and serious hair goals all day everyday? Hairapeutix is one of the only brands that specialise exclusively in hair extension care as well as treatments to prevent natural hair's breakage and dryness. Once you're a follower, you'll get more blue hair, glitter lipstick and equally blue cake pops than you could ever possibly imagined.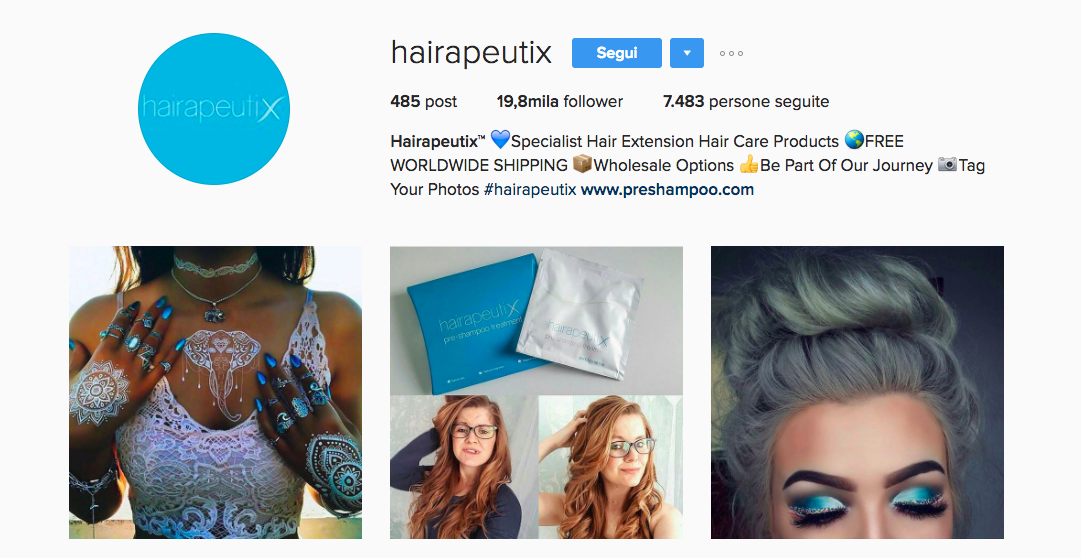 Once again, see that the feed's predominant colour is blue, and every post seems perfectly matched to the one before it, after it, above it, below it…! With makeup inspos, mermaid hair goals and pretty nails snaps, Hairapeutix also makes sure to provide strong value to its customers, instead of spamming followers with self-promotional posts and only pushing for the sale.
Who doesn't love a temporary tattoo! You might not be ready to paint your lips bright blue, but a black and white rose on the shoulder can be a cheeky addition to your (vintage) outfit. From colourful inked arms to great motivational quotes, The Australian brand PepperInk is steadily killing it on Instagram! Want to know more ? They're shipping worldwide! So head over their page immediately and get your hands on your favourite tattoo!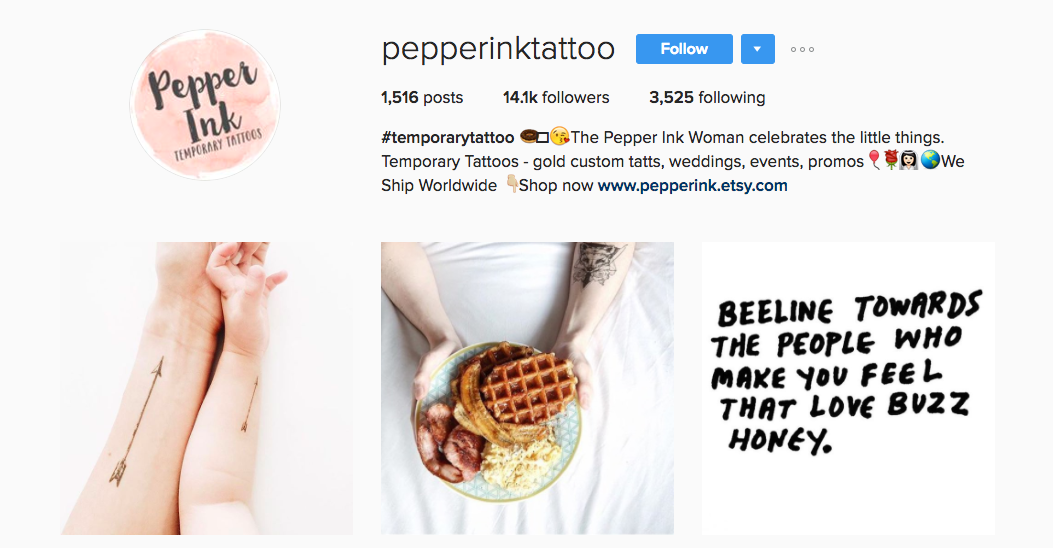 How are they growing so quickly? We don't know much about their magic skills, but one thing is sure: their hashtag game is one to follow! Start by collecting relevant hashtags that your brand could use, and divide them from the rest of your caption by hiding them beneath dots and line breaks in a second comment.
Take your beauty obsession to the next level with Lip Monthly's Instagram account. Carrying everything from Lip sticks and glosses to Lip balms and stains , the brand is known for its unique bags filled with 5 new and customizable full-sized products delivered to its customers EVERY month. Follow their clean and flirty feed for a daily dose of playful product snaps and totally life-changing beauty hacks!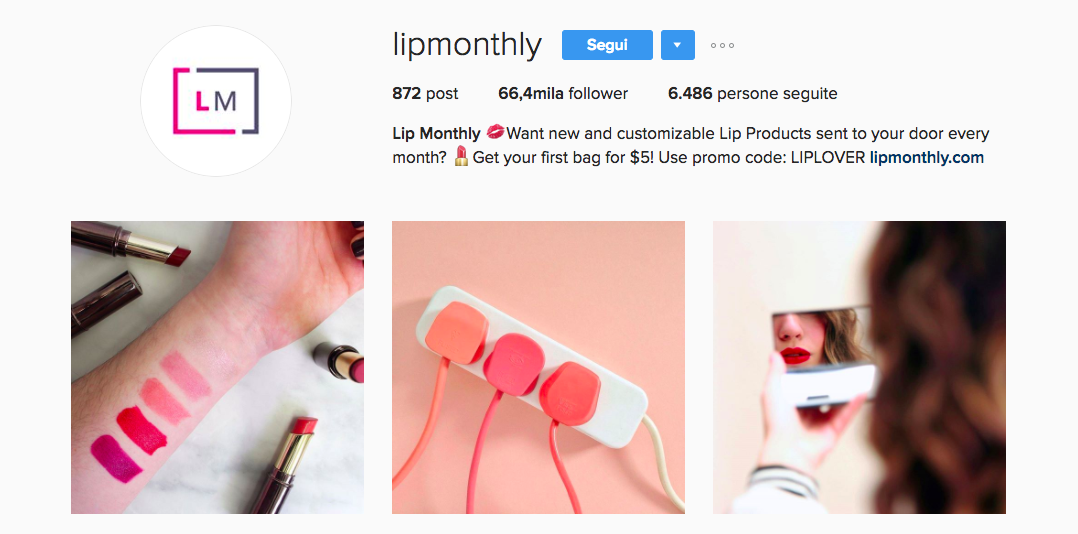 Besides the amazing grid, what really grabbed our attention are their stylish illustrations that give a touch of creativity to the feed. Not to take anything away from those few behind-the-scenes glimpses, which are always a great way of getting more personal with your audience and humanise a business!
Last but definitely not least, Lavaa Lashes are a must-follow for any beauty babe. We're talking envy-inducing eyelashes and perfect smokey eyes that'll get you itching to try something new! Lavaa Exclusive 3D lashes last up to 30 wears, and for every product purchased the brand donate $1 to the Breast Cancer Research Foundation.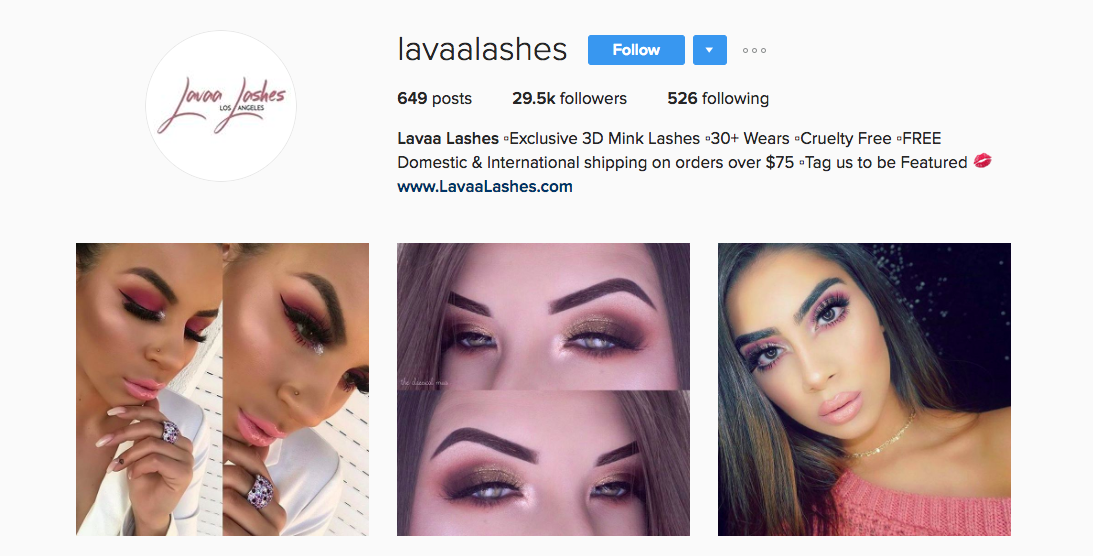 Wondering how they got so many followers? The feed is an inspiring look book of how customers stylize the eyelashes. Reposting Instagram content to show how users are wearing your products can encourage new customers to buy and ensures your account never goes idle!
Plan your social media posts.
Visually plan your posts. Drag and drop everywhere.