Hopper HQ has had a makeover, bringing the creativity back to Instagram management and content planning…
People who manage multiple social media accounts and channels know the importance of planning and scheduling in advance, and use a number of tools, apps, and software to help them manage the workload. Instagram management is particularly time consuming as it has such a visual focus. Social media managers don't only need to perfect their copy and community engagement, but also their content, colour palette, and overall feed aesthetic!
When redesigning Hopper HQ, we wanted to focus on how social media managers work, and how we can make that workflow even easier and more creative. We're excited to introduce Hopper HQ's new look, and announce some highly anticipated features to make Instagram management easier than ever!
1. Visual planning — like an Instagram mood board ✨
Instagram is a visual platform, so your dashboard for Instagram management should be too! Welcome to the new look of Hopper HQ, a clean interface which puts your content at the focus…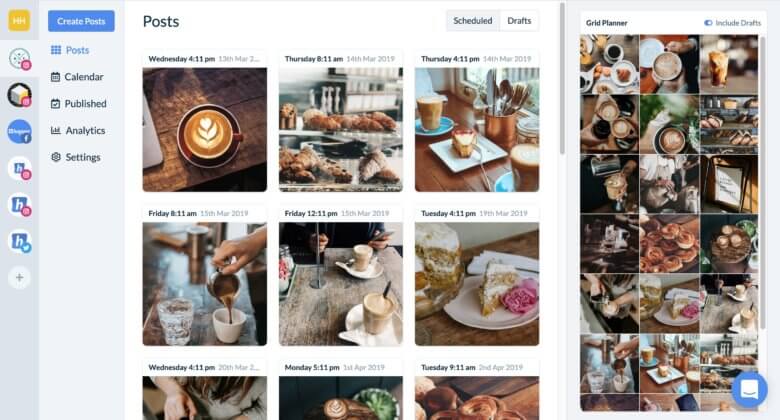 We're firm believers that the more you enjoy a task, the better you do it. Instagram management doesn't need to be tedious, it can be a creative process which brings out the designers and photographers in all of us! With drag and drop and one-click editing, Hopper HQ will allow you to schedule your Instagram content for the month ahead quickly and enjoyably!
Plan & schedule social media ahead of time.
> Video, gallery & image posts
> Calendar, feed & grid preview
> Instagram, Facebook & Twitter
2. Perfect your Instagram theme with the grid planner 🎨
As any social media manager knows, Instagram management isn't just about the individual posts, but the profile as a whole. In 2020, business Instagram profiles are as (if not more) important than a website, and can result in a huge amount of new customers. However, it takes only a few seconds from landing on an Instagram profile to decide whether you keep scrolling or leave, and this is due to what you see in those first 6 squares.
Many brands and influencers arrange their feed using grid patterns and themes, so that the overall impression of the profile is as impressive as the content. This is intended to grip new visitors and increase the chance of them clicking the Follow button…
But grid patterns and themes are hard to perfect! They require a lot of effort to plan and curate, and are therefore a time consuming area of Instagram management. Hopper HQ's Grid Planner makes it easy for you to see what your scheduled Instagram posts will look like on your profile once they've been published!
You can play around by dragging and dropping the posts to create the best theme or pattern — this will update the order that the posts are published on Instagram. In the new design, you're able to view your team's draft posts, and reschedule published content from within the Grid Planner.
Sometimes it's hard to visualise what individual images will look like next to each other, and many social media managers will have had to delete something that clashes or didn't look as good as imagined. We take the guessing out of your Instagram management, so you can get it right every time.
4. Save time by scheduling your Carousel Posts in advance 📱
Carousel posts are a great way to deliver more value to your followers in a single post. They're particularly beneficial for grouping a series of similar photos, of an event for example, or a product photoshoot, as well as showing before and after images. If you frequently post long video content, you can also use carousel posts to exceed the 60 second limit and continuing the video by swiping left!
Basically what we're saying is, the possibilities of carousel posts are endless, and they're a necessity for any brand to explore in their Instagram management and planning. Carousel posts have been our most requested feature on Hopper HQ since Instagram released them in 2017, so we're very excited that they're finally here…
Upload up to 10 photos and videos for your carousel on Hopper HQ, crop and edit quickly and easily with our editing software, and schedule away!
6. Recommended usernames to make @mentions even easier 🗣
Another sure fire way of increasing engagement on Instagram is by mentioning other users in your captions! Whether it's a customer, a brand partnership, or just a shout out, mentions notify other accounts of your post. This is likely to result in fast engagement, which is important because the Instagram algorithm favours posts that receive likes and comments quickly after being published. As well as engagement, mentions also contribute to building a community and starting conversations with people in your target demographic, which are both huge parts of Instagram management.
Hopper HQ now recommends Instagram users as you type, so you can quickly find the account you're looking for, as well as make sure your mentions are going to notify the right people!
7. Perfect your posting consistency with a visual content calendar 🗓
Second to what you're posting, one of the most important factors of Instagram management is how often you're posting. There's no right or wrong answer for how often brands or influencers should post on Instagram, as long as it's consistent, and not spammy.
The easiest way to prevent against rushed or ad-hoc posts on Instagram is to create a content calendar. This way you know exactly what's going out when, and it's easy to notice any gaps! Using the new Hopper HQ calendar you can clearly see your scheduled posts in either a monthly or weekly view…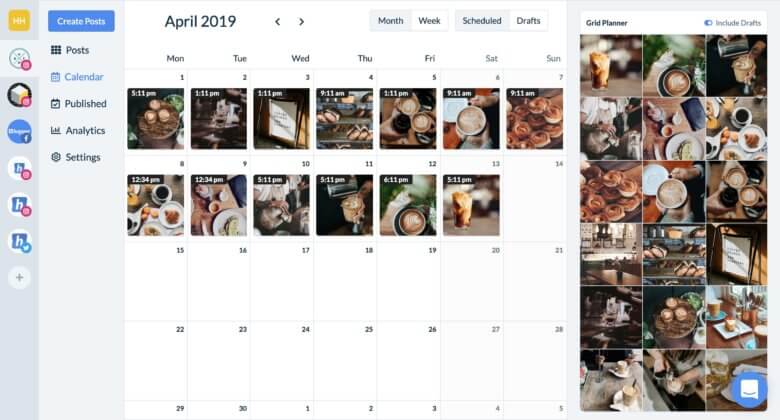 In order to increase engagement on Instagram, make sure you are posting when your audience are online and active! Connect your business Instagram account to our free tool to find out the best time to post on Instagram for your followers…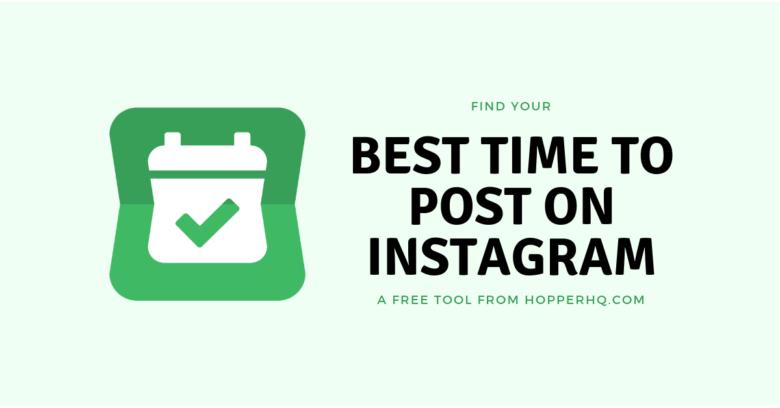 Happy posting! 🎉
Hopper HQ's newest features and interface will save heaps of time on Instagram management, as well as make scheduling a creative part of any social media managers' week! Test it out yourself with a free 14 day trial. Let us know if you have any more feature requests, we'd love to hear from you 💙
The Ultimate Instagram Course
Learn how to build a relevant & engaged following. Create better content & leverage Instagram for your business.