The climax of sharing a new photo with your followers can often become flummoxed by the numerous Instagram filters available.
If you're using a professional camera with an optimum lens, instead of a smart phone, you may be tempted to go nakedly filterless. the hashtag #nofilter is a proud and popular way many instagrammers choose to get noticed. Adding a filter to an already beautiful piece of art can take its beauty away, so refrain from using a filter if you're photo really would be better off without one.
When a follower scrolls down your Instagram account there should be a consistent theme of filters running through all your images. This is one factor many potential followers will look at before clicking the follow icon. If they see your photos meet an ongoing tone that flows throughout, they will find this more admirable in comparison to another Instagram account which is a mishmash of several tones and inconsistencies.
Your filter should blend in with your branding. Deciding which filter depends on your personal preference and individual style. Here are a few tips to take on board:
1. Outdoors & Nature
If you generally take images in natural light to contain greenery, there are a few filters which will further enhance the boldness and depth of the green to make it more lush and stand out. Experiment with Juno, Lo-Fi or X-Pro II and notice how the greenery becomes more remarkably imposing. The below contrasts are between Normal and Lo-Fi.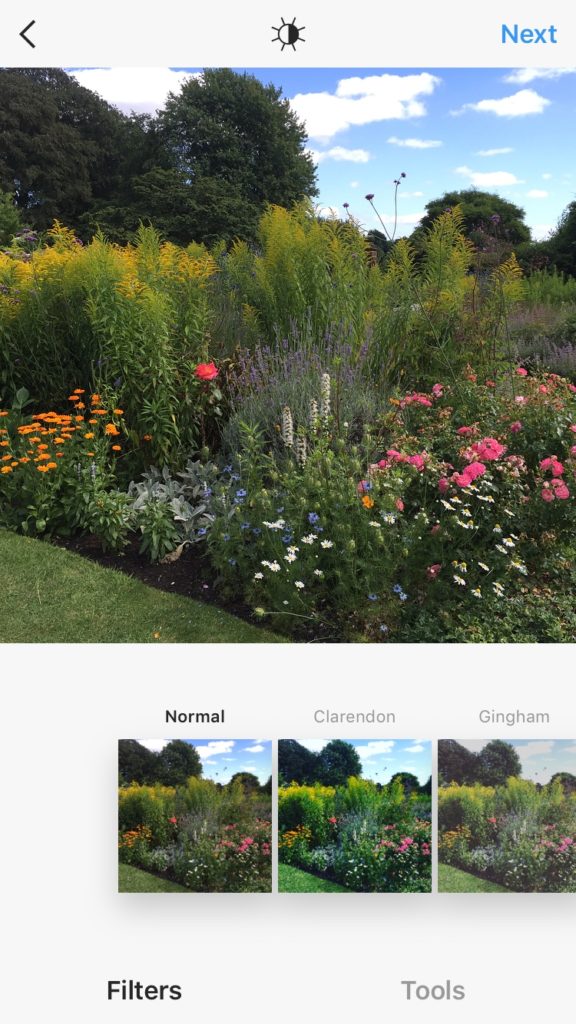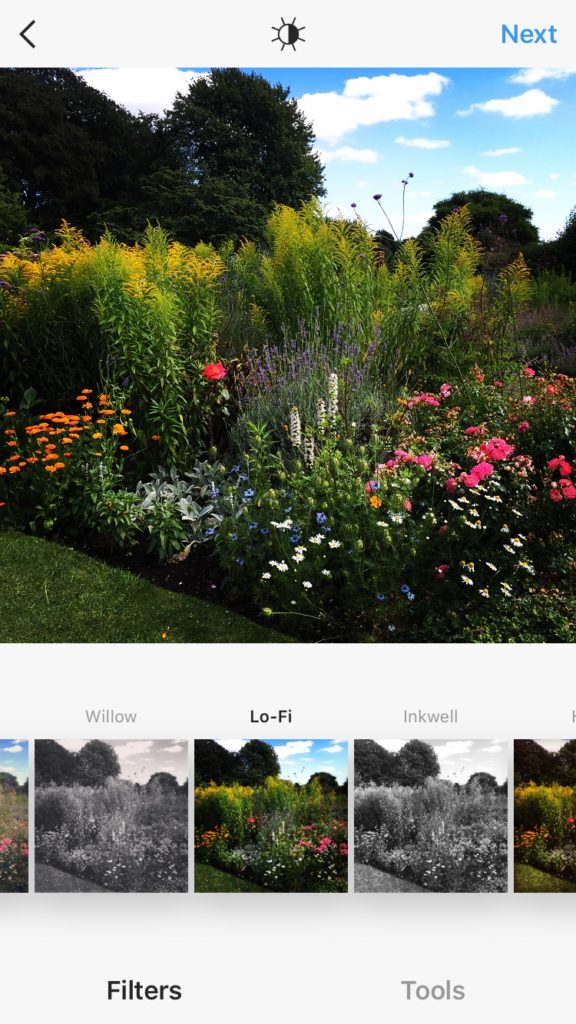 The below image of an entertainer in Covent Garden has been filtered using Clarendon. Notice how Clarendon's green tones change the entire setting in comparison to Amaro's warmer tones. Clarendon is still the preferred favourite.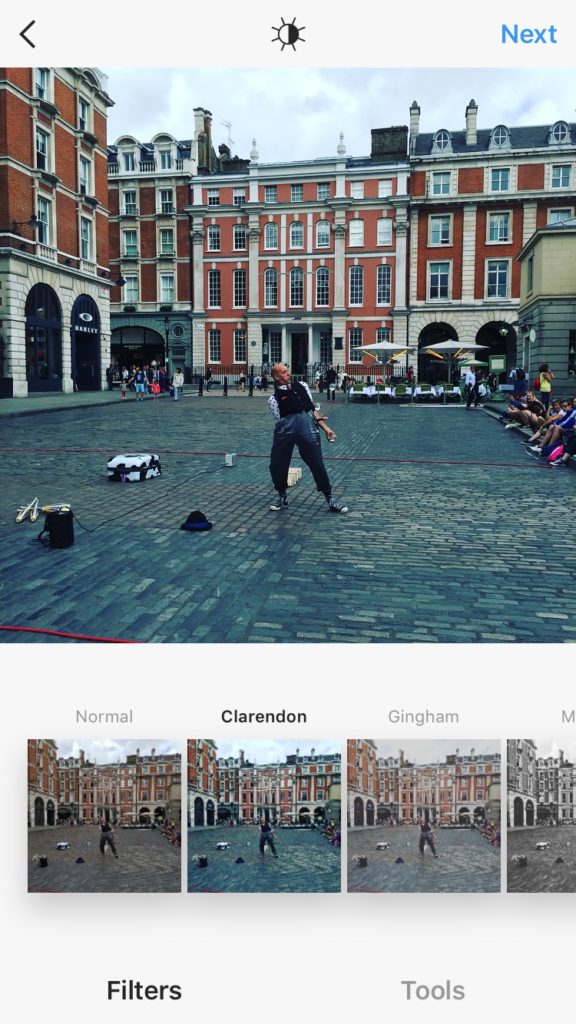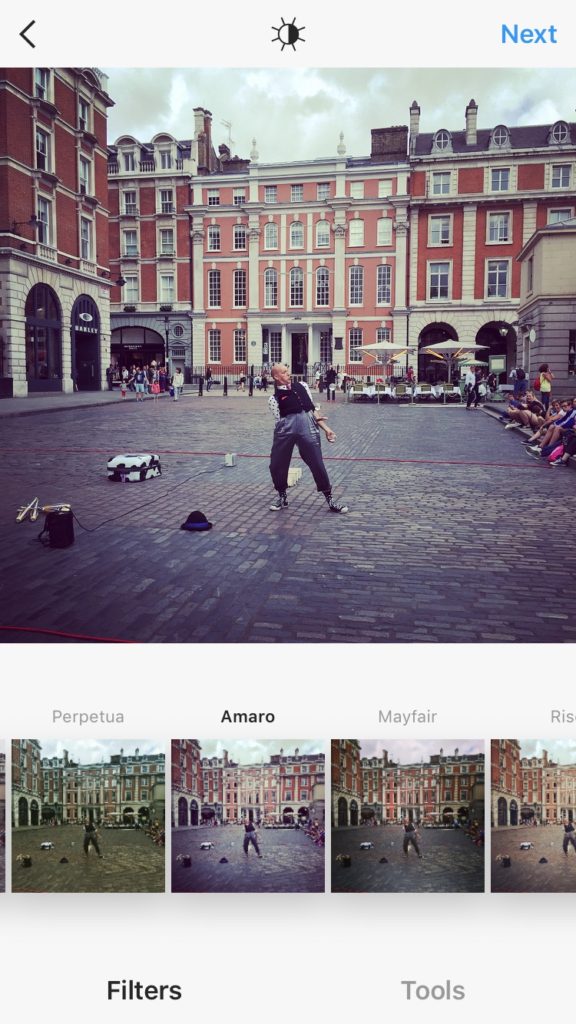 2. Historical
Adding a hint of nostalgia to this old printing press at Winterbourne Gardens can be achieved with Aden, Nashville, Valencia or even plain black and white Inkwell. Of the three black and white filter options available, Inkwell definitely offers the most clarity. Willow will give you a grainier ageing effect offering defects with less sharpness for a dramatic 1800s result.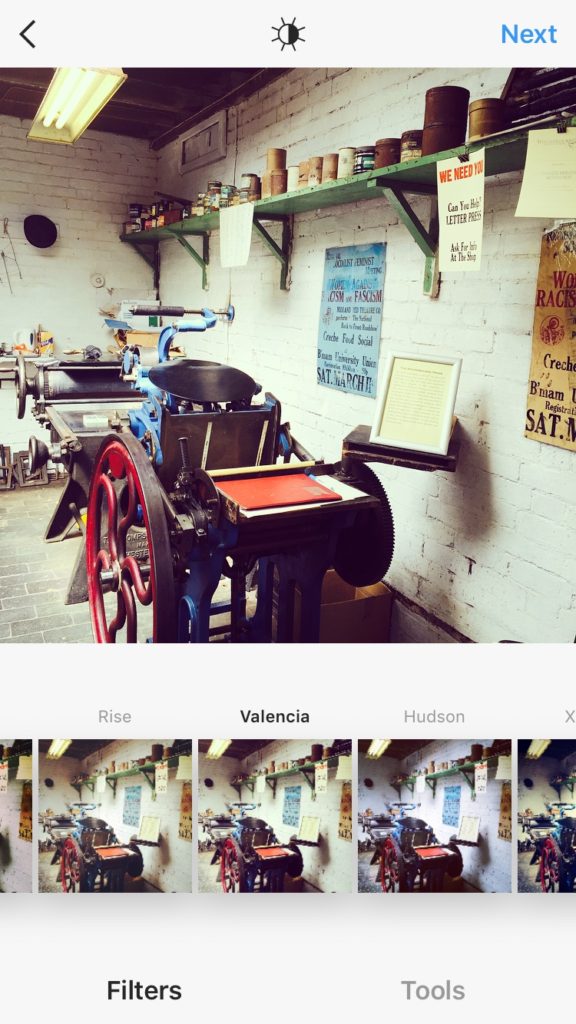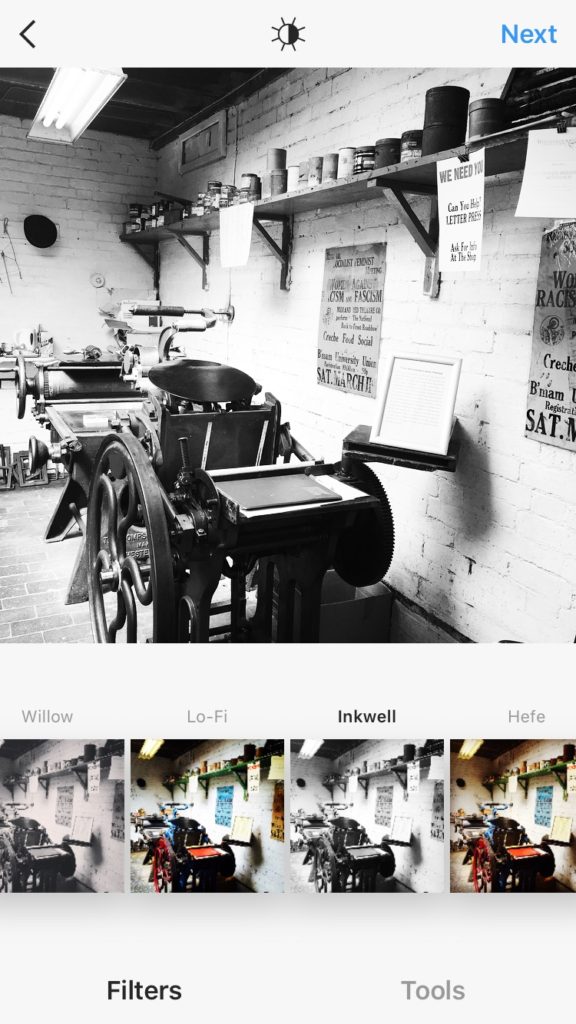 3. Food
Amaro and Clarendon do a great job at creating a flawless look where everything looks naturally perfect as if a lightbulb hangs from the ceiling (or sky). Food is best captured in an unbiased and appetising light using Clarendon. See how much more aesthetically glossier the image on the right looks than its unfiltered matt version on the left.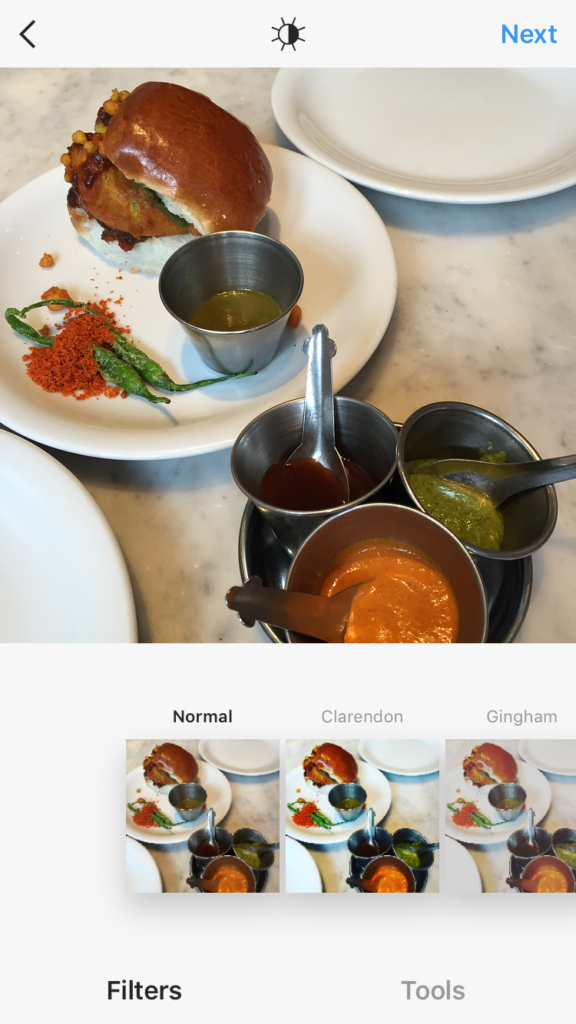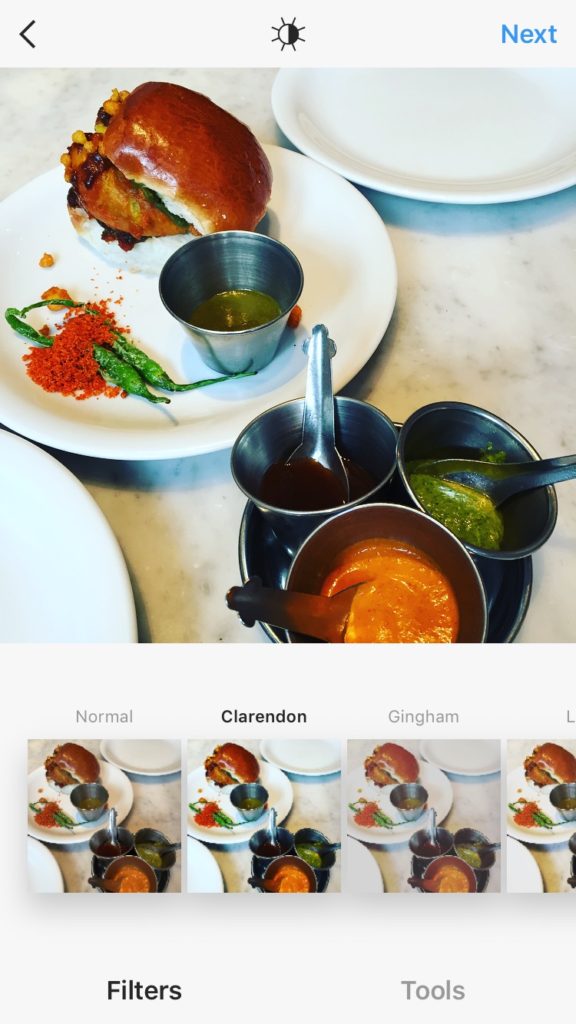 4. Earthy
Ludwig turns the dullness down one notch on your image so everything appears cloudier even on a  normal day. Other Instagram filters that achieve a similar effect to soften and shift the original palette of colours, include Slumber, Crema and Perpetua. For this particular example, we see the image of the pedal bus in London's outdoor Borough Market, in Perpetua welcoming subtle green tones. Remember, images taken outdoors and indoors will achieve different effects even with the same filter.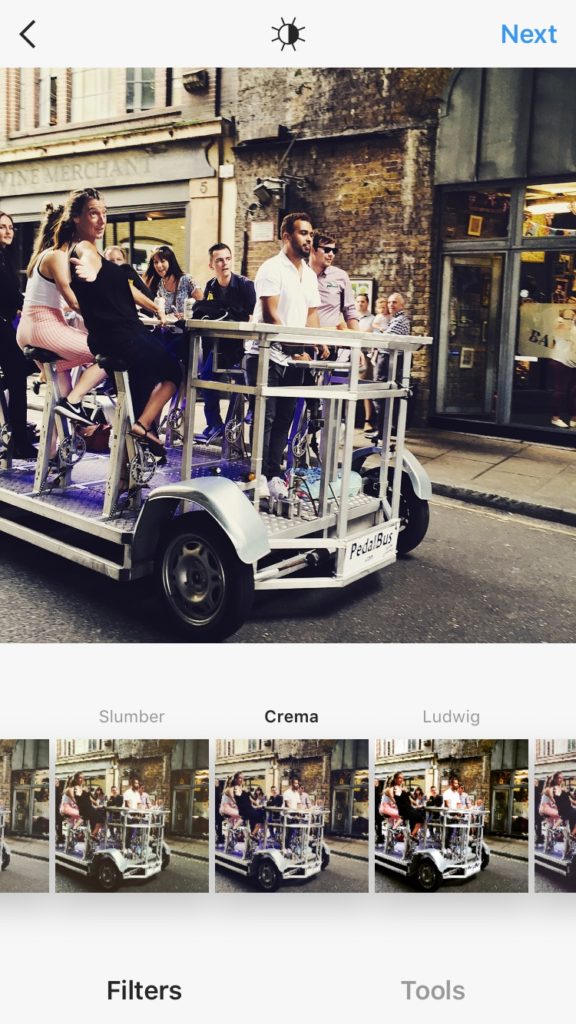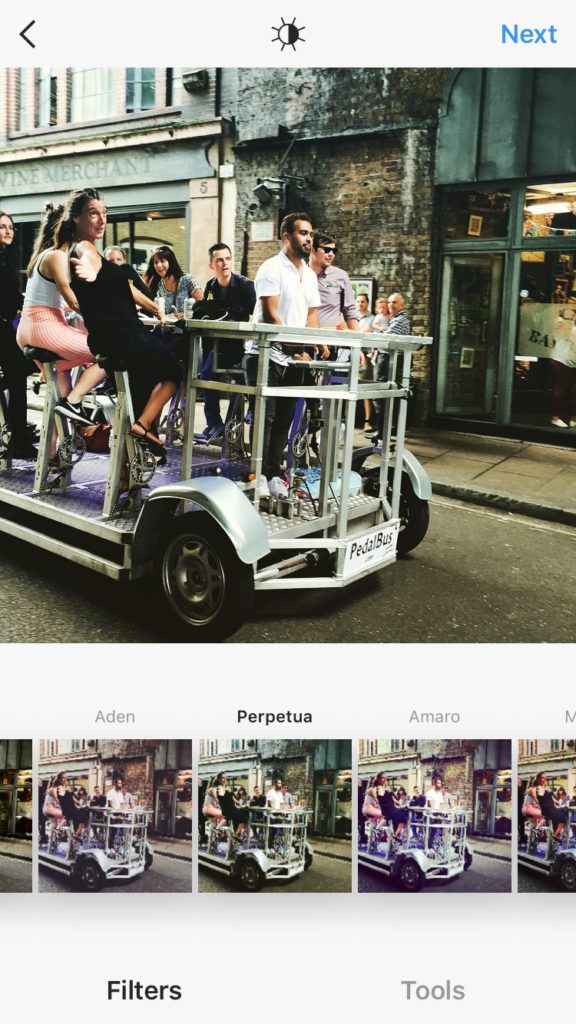 5. Architecture
Unlike many filters that will lose your blue sky, the Skyline filter will keep your blue sky intact behind your buildings whilst enhancing the rest of the photo. Ludwig is an equal favourite to capture your European landmarks, as it captures light and dark in all the right spots.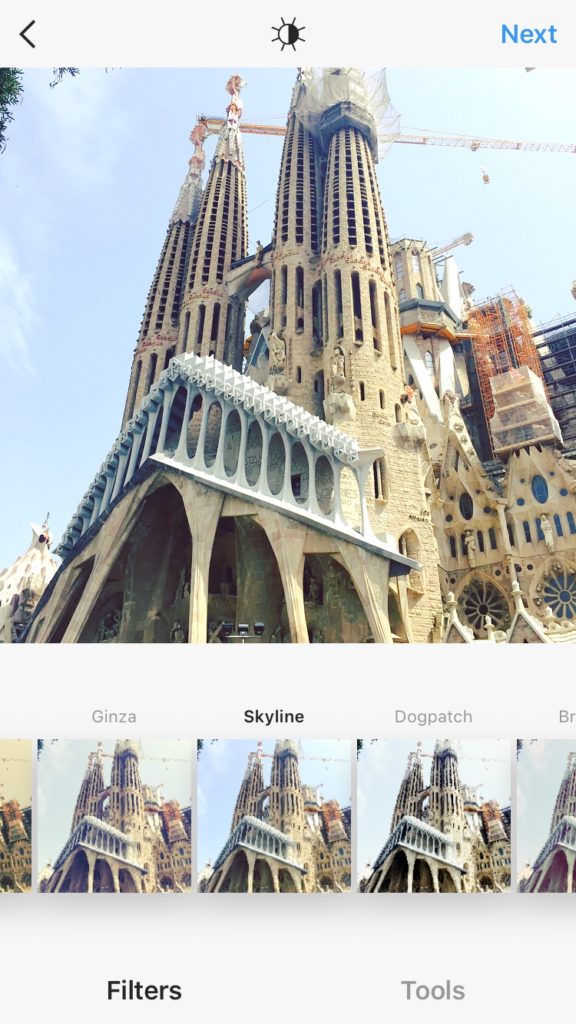 Once you've decided which filter is right for you, try to stick with that filter for all your images. It's amazing how a filter can transform dull images into vibrant appealing images to entice new followers.
Discovered Exactly What You Want?
To hide filters from your menu, simply scroll right to the end of the filter choices and select Manage. You can uncheck the least favourites from the list and even order them in preference. Surprisingly you may discover old filter favourites that you hid years ago. If you have your heart set on one filter, then go ahead and uncheck all but that one.
If you're using Hopper to schedule your posts in advance, the answer is yes, you can apply filters while your schedule. To edit your image (currently desktop only) select the blue "Edit Image" button to the right above your picture. From this editor you can make a range of changes to your picture using 25 different Instagram filters.