Looking to utilise influencer marketing in your social media marketing strategy? Here's how to get the most from influencer collaborations at different stages of your campaign with some real-life examples…
Influencer marketing is loved and executed by millions of brands all around the world. You can incorporate influencers into your marketing strategies for all different kinds of purposes, from creating awareness for your startup brand or promoting your product launch, to completely changing your brand's image. Influencer marketing is as versatile and exciting as the content creators themselves, as it can support every stage of your overall marketing campaign!
Influencer Marketing in the Marketing Funnel
When influencer marketing emerged a few years ago, most marketers perceived it as being most useful for generating brand awareness by spreading the word. However, influencers can have a tremendous and successful impact on every stage of your
marketing funnel: creating awareness by word-of-mouth, advising the audience during the consideration phase, generating direct conversions, and finally keeping the audience engaged at the stage of delight.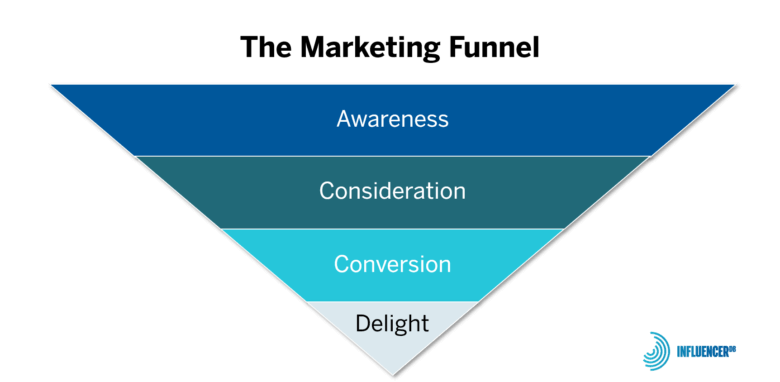 In this article, I will highlight 4 real-life campaigns of brands utilizing influencer marketing to support different stages of the marketing funnel!
Awareness Stage: Cluse's #cluselovestories
Amsterdam-based jewellery and watch brand CLUSE offers minimalistic watches that combine a simple, clean and elegant style all in one. The company has recently expanded into jewellery and has created a formidable online presence, particularly on Instagram. The brand collaborates with influencers all year round but also adds specific seasonal campaigns to their marketing activities. By planning Instagram content around upcoming events or social media holidays, brands give themselves plenty of time to plan brilliant influencer marketing campaigns, which they can schedule in advance using software like Hopper HQ! One of CLUSE's campaigns, #cluselovestories, celebrates love-filled moments and new beginnings.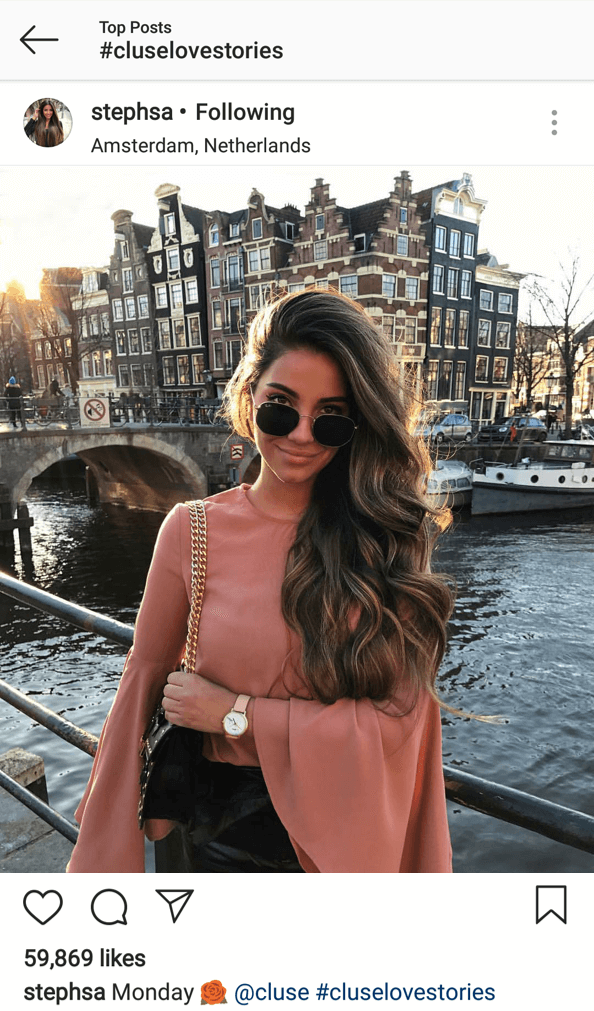 The campaign produced 10 million likes and an average of 6,741 likes per posting. Our report Best Performing Brands and Campaigns in Influencer Marketing 2018 shows that #cluselovestories even made it into the top 20 influencer marketing campaigns on Instagram! For our analysis, we examined the earned media value brands had created on Instagram in the first half of 2018. The earned media value equals the exposure a brand generates on Instagram by being tagged and mentioned in influencer postings, as indicated by the green bars: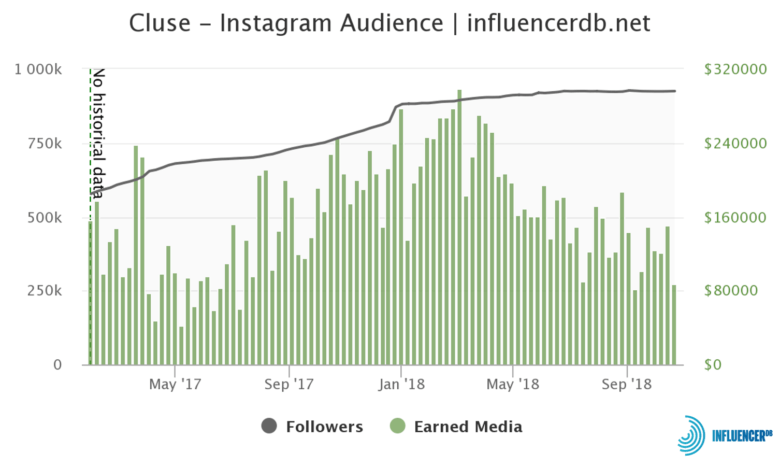 The CLUSE campaign produced the equivalent of $1,155,892 in earned media value. Over 450 influencers mentioned the campaign and used the campaign hashtag #cluselovestories. With an average Like Follower Ratio of 4.79%, the campaign generated the highest Like Follower Ratio of the top 20 campaigns. The earned media value gives you an idea of a brands virality on Instagram and the engagement rate shows how well the campaign is perceived by Instagram users. CLUSE is constantly being tagged and mentioned by influential channels which creates a huge amount of brand awareness within the audience. The watch brand uses InfluencerDB's research database and the engaged influencers section to identify those influencers that interact with the brand organically and selects them as potential collaboration partners. This way, CLUSE makes sure to choose band-loving partners for their campaigns that have created brand awareness even before the actual collaboration starts.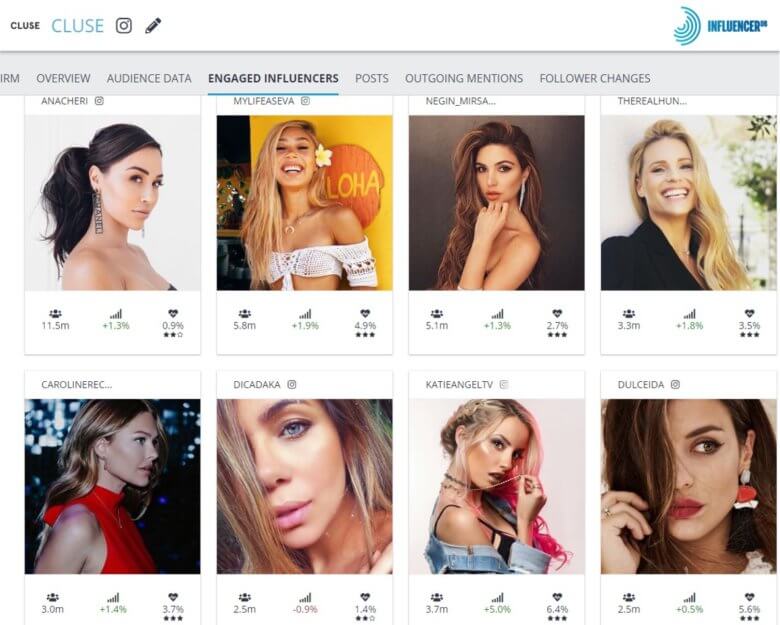 The followers have heard the influencers talk enthusiastically about the CLUSE products on a regular basis, which strongly increases the authenticity and credibility of the collaboration!
Decision Stage: Udemy's #neverstoplearning
Udemy is an online learning platform that allows coaches to create online courses on topics they are experts in. Part of Udemy's concept is that basically everyone can create a course on the platform and teach curious learners more about their field of expertise. For their campaign #neverstoplearning, Udemy collaborated with online savings platform CupoNation. The campaign goal was to strengthen Udemy's position as an online learning platform in Germany and promote the platform to a tech-savvy audience.
The concept was based on a highly practical user-experience: German influencer Julian Völzke is a tech-enthusiast who is specialized on apps and electronic reviews on his YouTube and Instagram channel.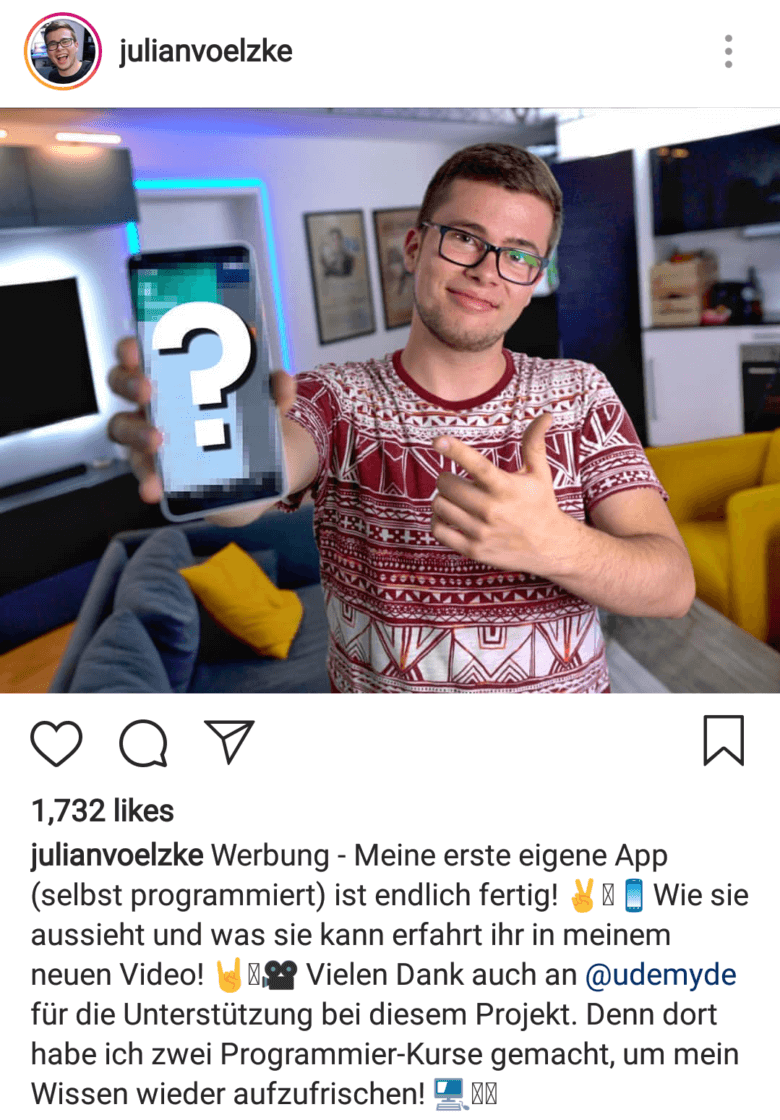 During the influencer marketing campaign, Julian took a Udemy course in app development and used his newly acquired skills to program his own app for Android. With two dedicated YouTube videos and two supporting Instagram posts, Julian took his followers along on his journey to becoming an app-developer.
The campaign dedicated a rather long timeframe to Julian actually testing the Udemy course which not only increased the authenticity of the campaign but first and foremost helped his followers to get a good understanding of how Udemy is set up and learn more about the structure of the courses. For his highly engaged audience – he has a Like Follower Ratio of 10.5% – Julian acted as a "guinea pig" and really helped them make an informed decision about the product.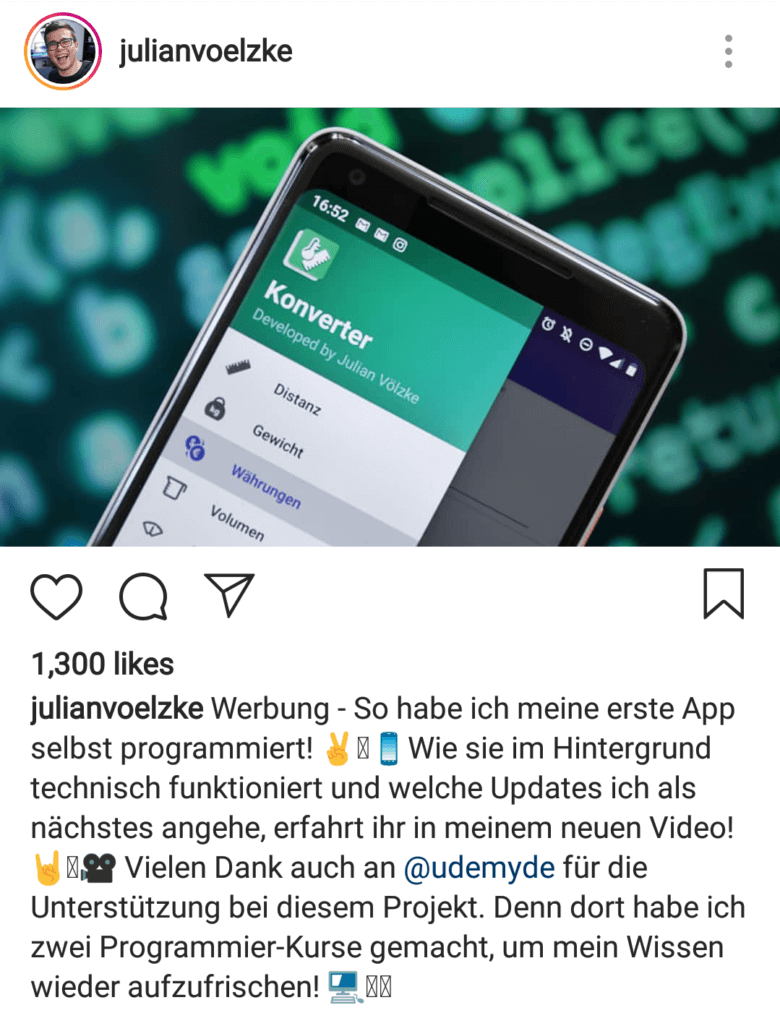 The results of the influencer marketing campaign speak for themselves: Julian reached an engagement rate of 46% on his YouTube video. The campaign generated a 178% increase in transactions and a 134% increase in order value.
Conversion Stage: Melou's #withyouandmelou
German jewellery brand Melou was founded in late 2017. The startup brand harnessed the power of influencer marketing from the get-go and managed to scale their influencer marketing efforts despite a limited budget. The brand pays close attention to a good embedding of their products into the influencers' life stories and the conveying of highly emotional messages which
strengthen the bonds between brand, influencers and followers. As mentioned previously, planning influencer marketing campaigns around upcoming social media holidays is a great tactic, and so Melou did just this for Valentine's Day, creating the #withyouandmelou hashtag. With only the tight budget of $1.000 US-Dollars, the brand identified influencers in relationships who conveyed their own personal messages about love and integrated the product into their individual channels' story.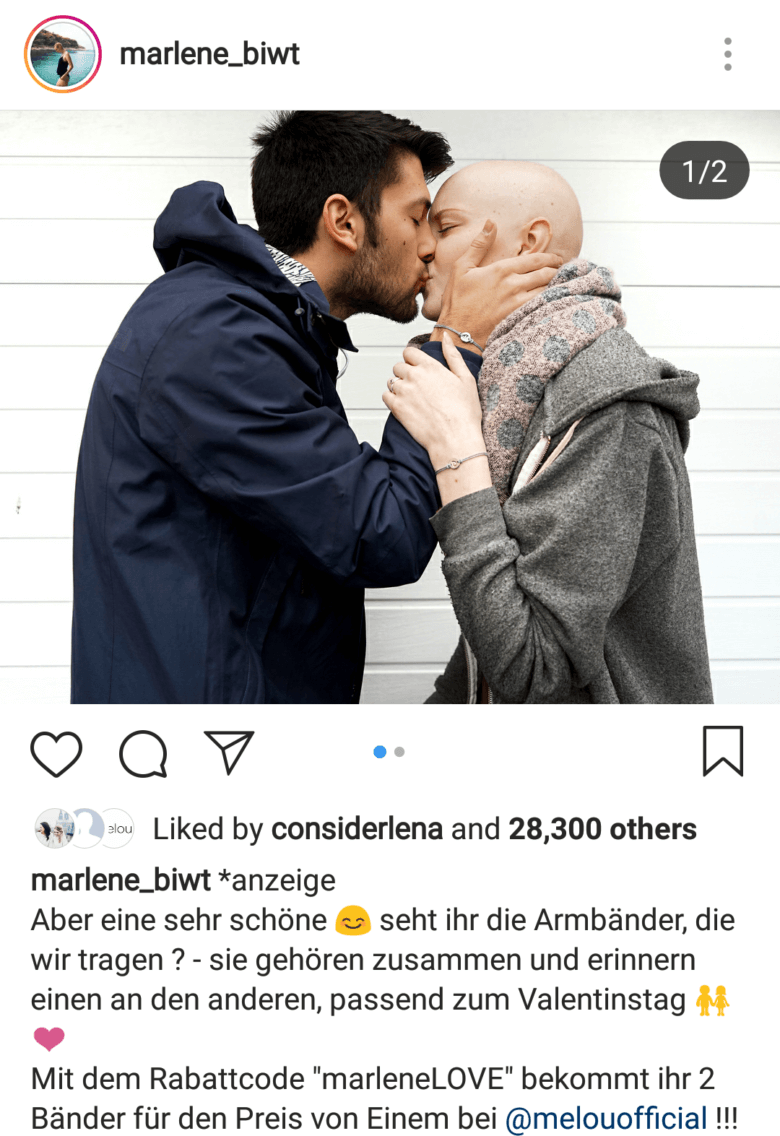 The brand selected authentic micro-influencers with a close connection to their community and extraordinary engagement rates to ensure reaching highly engaged follower that are sincerely interested in the influencers' content and the products they
promote.
Every post included an individual discount code to easily track conversions. The campaign reached 610k followers and the ten Instagram posts and one Instagram Story gained 118k likes and 2.000 comments. The brand channel amassed 3.000 new followers. Over the course of the campaign, 2.000 orders have been placed and by the end of it, the campaign had generated a return of invest of $20 per $1 invested – a very successful influencer marketing campaign!
Delight Stage: Asics's #asicsfrontfrontrunner
Sports equipment brand ASICS has introduced their concept ASICS Frontrunner – Ambassadors of Movement a few years back. The brand aims at getting people moving with a range of different products with a roster of fitness-enthusiastic
micro-influencers leading the way.
ASICS uses influencer marketing and specifically influencer generated content holistically throughout their marketing mix. The brand's I move me content hub contains inspirational content (via the brand's owned social media channels) as well as educational and informational material (for example on the corporate blog and the ASICS online store).
The main purpose of the influencer generated content is inspiration and community! The content is used on all of ASIC's social media channels. Close-ups of the shoes in action are used for product inspiration. For running inspiration, the brand uses IGC to capture all emotions of a race.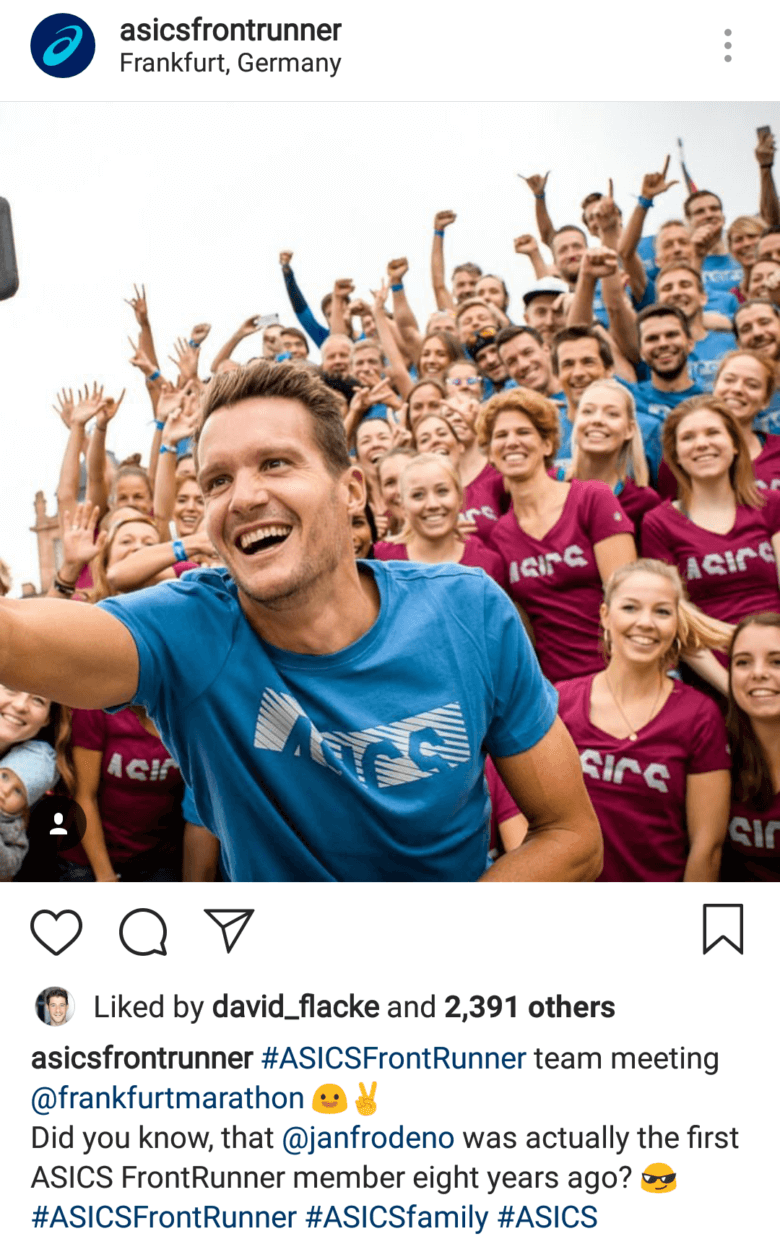 The ASICS frontrunner movement is based on long-term, trusted and authentic relationships between the brand and the influencers. The brand selects influencers that truly believe in the values and appreciate being part of a close community with a shared excitement over a healthy mind and body. This is a brilliant example of influencer marketing in the final stage of the marketing funnel – going well beyond brand awareness and conversion.
For the frontrunners, ASICS is more than a brand – it is an integral part of their lives. There are people posing with ASICS baby running shoes and even ASICS logos on birthday cakes!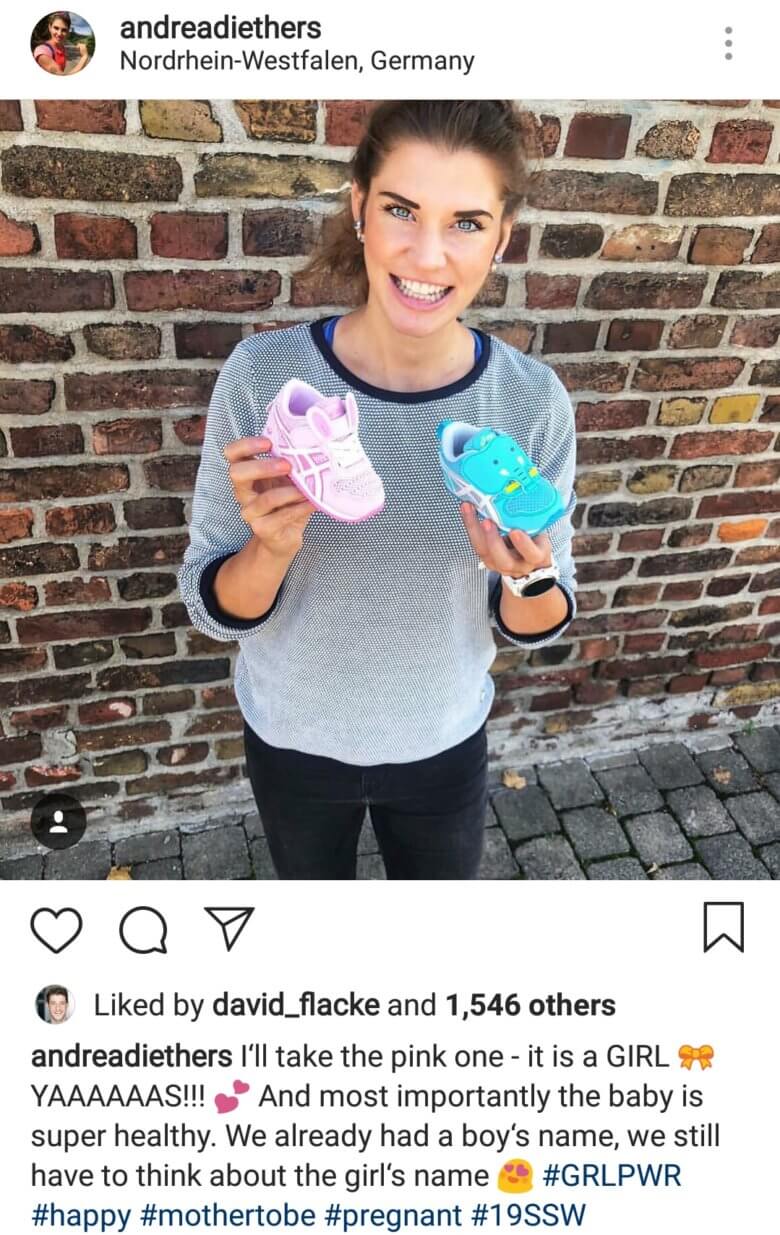 Today, the ASICS frontrunner community includes 700 members from 35 countries – and is growing steadily!
These 4 successful campaigns highlight the fact that influencer marketing can really support every stage of your campaign and be used for every stage of your marketing funnel. By carefully selecting influencers with a perfect brand fit and adjusting your campaign to fit the associated funnel stage you want it to support, you can skyrocket your influencer marketing campaigns to make them much about more than just creating awareness for your brand! Go the extra mile with your influencer marketing campaigns by planning, scheduling and working collaboratively with influencers on Hopper HQ!
For even more information about influencer marketing on Instagram, check out this Simple Guide To Instagram Influencer Marketing in 2018 ✨
Guest Author: Mona Hellenkemper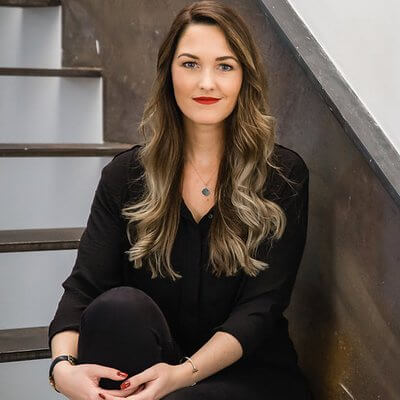 Director of Content – InfluencerDB
Mona Hellenkemper is Director of Content at Europe's leading influencer marketing software company, InfluencerDB. In her role, Mona has developed a deep breadth of experience in influencer marketing. She creates educational content on best practices and develops strategies to position InfluencerDB as an industry thought leader. Her content strategy has helped thousands of brands, agencies and companies to get educated on the ever-developing and fast-paced field of influencer marketing. Mona has a Master's degree in Public Relations and successfully used her experience to position InfluencerDB as the go-to experts in influencer marketing in the DACH region and beyond.