Why hashtag research? Did you know that Instagram is the perfect platform for conducting hashtags research In 2023? More than 1 billion people will be using Instagram, so it's important to understand how hashtags work on this platform. So, in this blog post, we will discuss some of the most essential aspects of Instagram hashtags research. We will also provide some tips for conducting your research!
What is a hashtag?
Even if you are new to social media networking, you have probably seen the hashtag symbol # on social media sites. Hashes are also called the pound or number sign.
The word, hashtag, combines "Hash" and "tag."
However, you write a hashtag without spaces starting with the hash(#) sign and then the keyword or phrase. Then, they can be added at the end of a post, embedded in your story, or the bio too.
In your posts, you can click on hashtags. Hashtags link to content on social media. Moreover, these can be text, images, or videos. Using hashtags, you can search for related topics.
Instagram users can search for related content using hashtags like #love or #NewYear. They are also often used as acronyms, such as #lol or #tbt.
Nowadays, you can regularly hear about challenges, discussions, or mass movements under a particular hashtag, such as #BlackLivesMatter.
With Instagram hashtags, users can express themselves, show their emotional state, or promote their content.
It's beneficial not only for finding relevant content to share but also for giving your audience easy access to your content. Further, organizing it into categories and themes for easy searching. Further, it gives you greater visibility and opportunities to grow your audience. Thus, by using hashtags, you are reaching and engaging more people.
In a breeze:
A hashtag is a compound word: "hash" and "tag."
They work like hyperlinks that group related posts under a keyword/topic.
You can write them in your posts, stories, or bio.
They organize your content into categories and themes for easy searching.
How long have hashtags been around?
Social media networks like Twitter, Instagram, Facebook, Pinterest, and LinkedIn have popularized hashtags over the years.
You may not know this, but hashtags were first used in 2007 by a Twitter user named Chris Messina.
The primary purpose was to group related posts under a keyword. But their value for marketing and building social media presence has grown dramatically since then.
Why do I need to use hashtags on my Instagram?
Most people will add a hashtag if they see it in a post. Adding one or more relevant hashtags to your content reaches 71% of your audience on average.
People constantly search for hashtags to learn something new, feel a connection with the topic, and be part of a community.
So whether you create custom hashtags or research trending ones, hashtags will make it easier for you to sort out data and engage more people with your content.
If you are considering marketing your business, you can:
Research trending topics and reach more of your target audience
Use relevant hashtags to give context and add value to your content
Reuse hashtags across different platforms to reach more audiences
Avoid making mistakes by learning from others and using social media analytics tools
If you want to know more, stick around to the end for a quick overview of what you need to know for hashtag research on Instagram.
In a breeze:
Hashtag use can boost your content engagement to 71% on average
Twitter was a pioneer in hashtag usage
The primary purpose of hashtags was to group related posts
Hashtag research and analytics tools are a must to reach a larger audience.
What does hashtag research mean?
What does hashtag research mean? Researching hashtags essentially means analyzing the data gathered from a specific hashtag. This data can assist you in estimating niche hashtags and popular hashtags to increase engagement and reach more people.
According to studies, there are many ways to apply hashtag analysis to practical purposes, such as strategic marketing and management. Thus, social media marketing can benefit from this finding.
An article that studied 1,382 Instagram posts tagged with the same hashtag found that women used emotional hashtags more than men. In addition, there was a strong relationship between hashtags and likes. The authors concluded that hashtags could measure user satisfaction and feedback.
Several tools are available for predicting trends and increasing your audience using hashtag research for your business. Read on to know more.
See Instagram's 2023 Trend Report for predictions on beauty and style, social justice, food, and more.
In a breeze:
Researching hashtags is analyzing the data gathered from a specific hashtag.
Social media marketing can benefit from Hashtag Research
Hashtags can measure user satisfaction and feedback
How to use Hashtags for your business?
You can use various types of hashtags to promote your business on Instagram. You can reach different communities by using a variety of hashtags. Listed below are 9.
Hashtags to identify your product, e.g., #Shoes or #Bakery
Hashtags that indicate your niche in your industry, e.g., #WeddingPlanner or #InteriorDesigner
Hashtags you can use to find Instagram communities in your field, e.g., #bakersofinstagram or #foodiesofinstagram
Hashtags for special occasions, e.g. #foolsday or #nationaldonutday as
Location-specific hashtags, such as #pizzanyc, #madeinDR, and #sydneysweets.
Daily hashtags like #mondayworkout, #fridaytip, and #wellnesswednesday.
Hashtags related to what you do, such as #thinkcreatively or #animallove.
Hashtags with acronyms, like #qotd (quote of the day) or #ootd (outfit of the day).
Hashtags with emojis, like #shoes👟 or #🌞.
How to track your relevant hashtags?
You can use different types of hashtags on social media. The kind of hashtag you use will depend on your purpose. You can use content, branded, trending, campaign, or ad hashtags.
Content hashtags. These are the keywords you tag at the end of your posts.
Branded hashtags. You create this hashtag, so people can tag the company directly. Furthermore, tracking this one will give you an idea of how many people are talking about your specific business.
Trending hashtags. On Instagram, you can quickly search the top section where top posts appear on trending hashtags to show you some popular posts tagged with that hashtag.
Event hashtags. Big and small events are a great way to increase your company's reach. So, make sure to incorporate your event's hashtag in all the content you share related to the event, and encourage employees and the audience to do the same.
Campaign/ad hashtags. This hashtag promotes a product, campaign, launch, or advertising. Equally important, It generates interest around what your company is doing and its latest posts.
Tools can speed up the process and make it easier, but you must carefully discern how to utilize them.
In a breeze:
What hashtags to track will depend on your goal
A brand or campaign hashtag attracts customers and promotes products
Trending and event hashtags can boost your popularity
What Hashtag metrics should I track?
Hashtags are helpful, but how would you determine whether they are successful?
Here are some top metrics to get you started:
Look at trends. Choose hashtags that are frequently used or searched. Hence, you'll have a better chance of reaching more people. Otherwise, your posts will be buried quickly by all the new content.
Consider the range. You can decide whether to include a hashtag based on the number of people using it.
Engagement is key. It is not just about people seeing your content, but getting them to share and post.
Your Audience. Who is your audience? Is your audience getting your message? For this purpose, make your content strategy based on the people interested in your services. That way, you won't just copy random popular hashtags, instead, those that your clients may use but make sense to your business.
In a breeze:
Focus your hashtag research on metrics.
Select popular hashtags.
Create engaging content
Tailor hashtags to your target audience.
Best Instagram analytics tools for Hashtags
Which hashtag research tool is best for Instagram? Great question! Keep in mind that the most reliable hashtag research tool is the platform you are using, Hence, in this context, Instagram.
As you type a keyword into Instagram's search engine, it ranks the most relevant hashtags. Then, It is up to you to pick the ones that make sense to use in your case.
A hashtag is one of the most powerful organic social media strategies. Still, the best way to maximize its performance is to track it. In any case, hashtags are easier to find on Instagram if the appropriate tools are available.
Instagram has a search bar that allows you to browse hashtags for your content, but they may not always give you the information you want.
Here are some Instagram analytics tools you can use.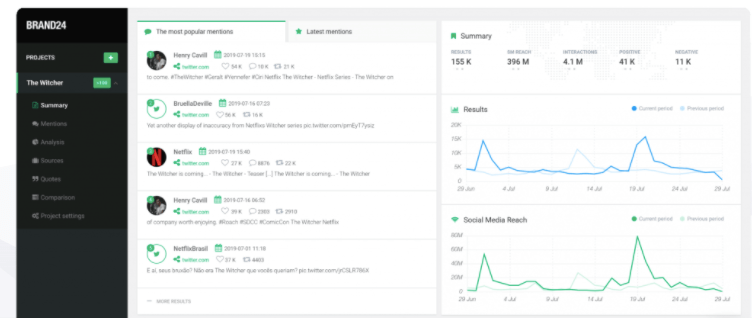 You can track hashtags and find influencers with Brand24. You can measure hashtag campaign effects, such as Reach and Engagement.
Further, Its user-friendly interface provides you with hashtag metrics to measure the number of mentions.
There are also ways to sort through the noise for the posts that matter. They offer a free 14-day trial with no hidden fees and no credit card needed.
Key features
Track and analyze contests. Additionally to campaigns based on hashtags.
Hashtag popularity and performance
Quick Reports in Excel / Data Export and customized PDFs
Hashtag analytics
Find influential social media profiles.
Estimate Social Media Reach
Pros
App version available
Excellent customer service
Simple dashboard
Cons
Costly for small businesses or personal use.
App needs improvement
It may not have all functions in all languages.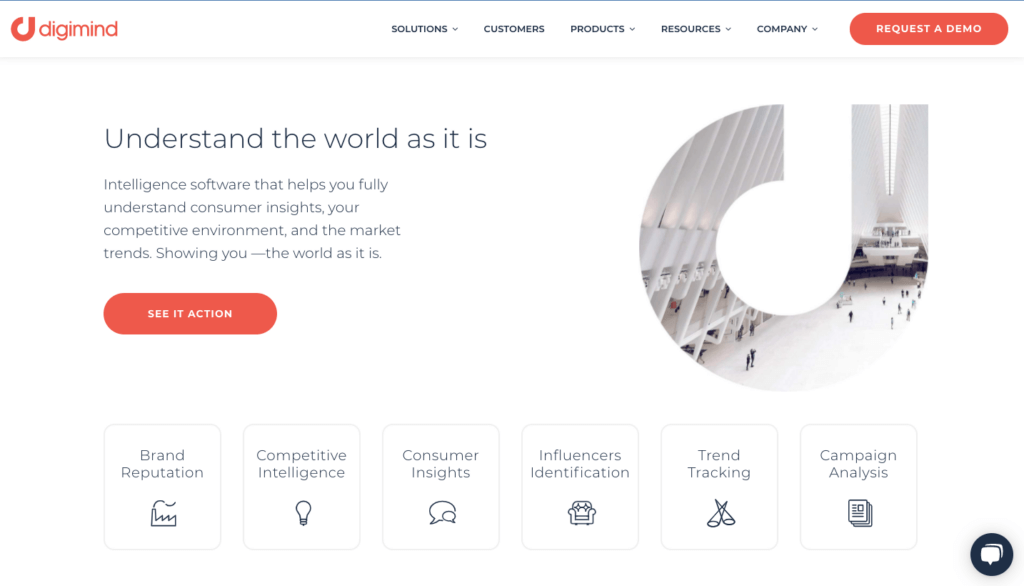 Digimind provides social listening and marketing intelligence services. It includes intelligent social media monitoring apps to listen, engage, analyze, and report.
Key features
Unlimited social media & web coverage
Personalized tags and Re-tagging
Automatic translation
Real-time analysis
Top influencers and Trending topics
Personalized dashboard
Daily/weekly/monthly reports in Multiple formats: pdf, ppt, Xls, jpg
Presentation-ready reports and Custom templates
Reach measurement and Social statistics
Online reputation management
Top search concepts, results, and domains
Pros
Powerful monitoring tool
An excellent sentiment analysis
The interface that is easy to use
Several report types to choose from
Cons
Time-consuming to set up searches
Complicated features
Poor customer support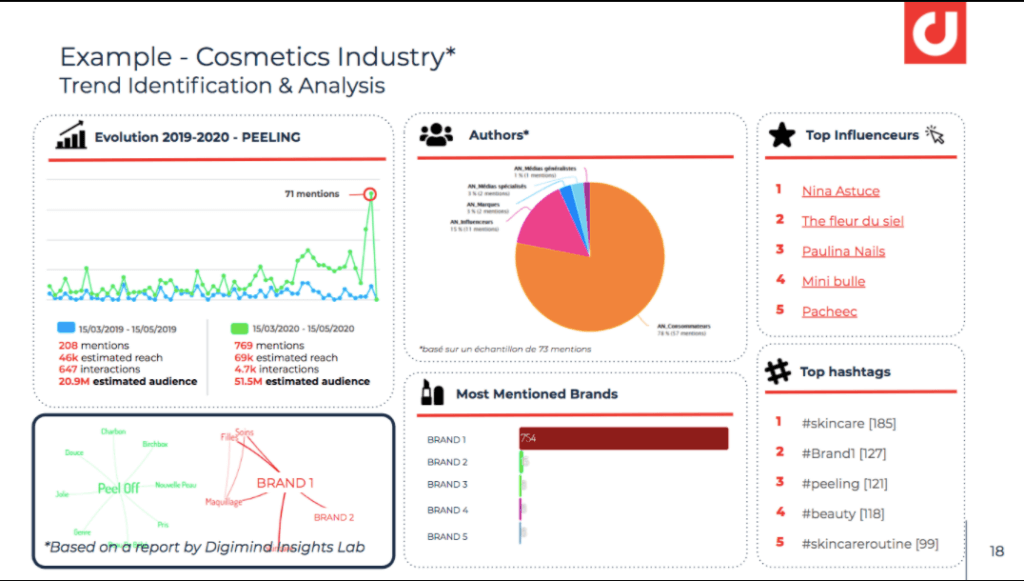 The visual analysis included in YouScan's social intelligence platform makes it stand out. Additionally, you can collect all your brand mentions by keywords, logos, and text on images from thousands of media sources in real-time.
Key features
Visual analysis
Real-time consumer insights
Monitored topic with spam filtering
AI-powered automated data segmentation
Find influencers and brand ambassadors
Collaborate with a team
Logo recognition
Pros
Learning tools & features
Image recognition
Friendly interface
Unlimited multiple access levels for users
Cons
API limitations
Multi-brand/multi-category businesses not supported
Some glitches
Pricey
Best Instagram hashtag generator tools
However, beneficial hashtags are, gimmicky ones can be harmful. In general, If you use spammy hashtags, your brand image will be less appealing.
You can find relevant hashtags to popular hashtags with these hashtag analytics tools. Generally, they offer hashtag finder functions, making it easier for you to choose the correct hashtags.
Let's review these today: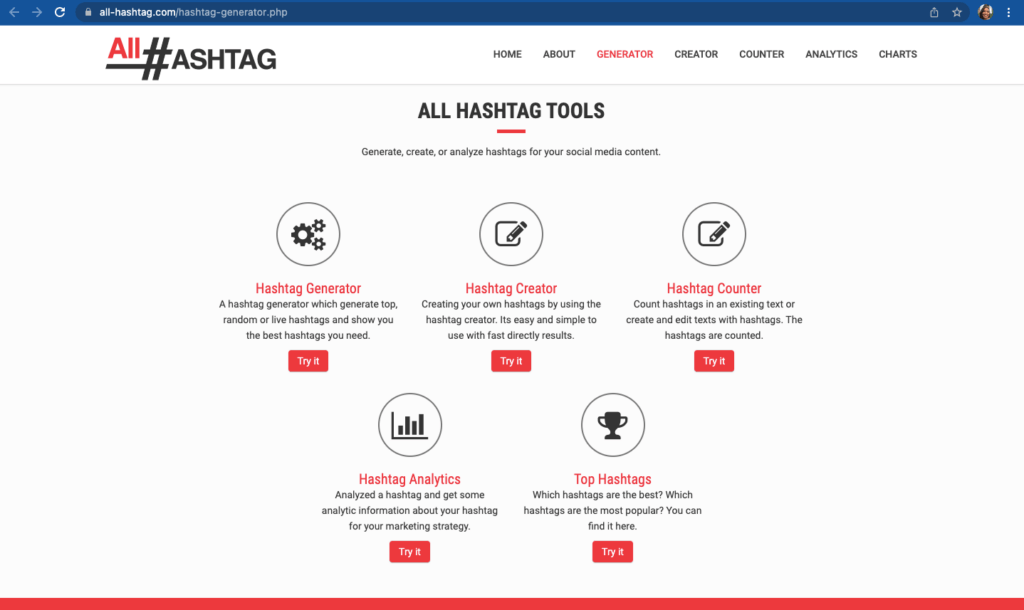 The All-Hashtag generates relevant hashtags that you can copy and paste into your social media posts. The tool is simple, cost-free, and easy to use.
Key features
Generate 30 hashtags for one post
Create your Hashtags
Analyze Hashtags with charts
Find top Hashtags
Hashtags counter
All services and hashtag tools are 100% for free
Pros
Easy to use for hashtag beginners
No app or software needed
Cons
Hashtags generated aren't always relevant.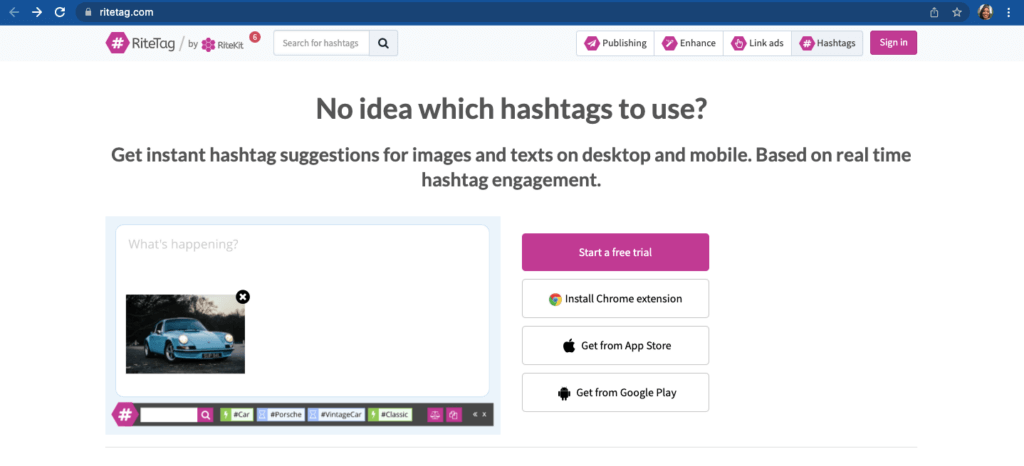 If you don't have an idea for a hashtag to use, this tool can help. For this purpose, Ritetag helps you curate hashtags for desktop and mobile images and texts.
Key features
Real-time hashtag engagement
Hashtag Suggestions for Texts and Images
Tag Sets
Group hashtags to easily compare them
Integrations
Pros
Google Chrome extension
Boosts social media engagement
Automate tweets and posts.
Low cost
Cons
May not identify less popular hashtags
Looks outdated
Limited insight into potential viral hashtags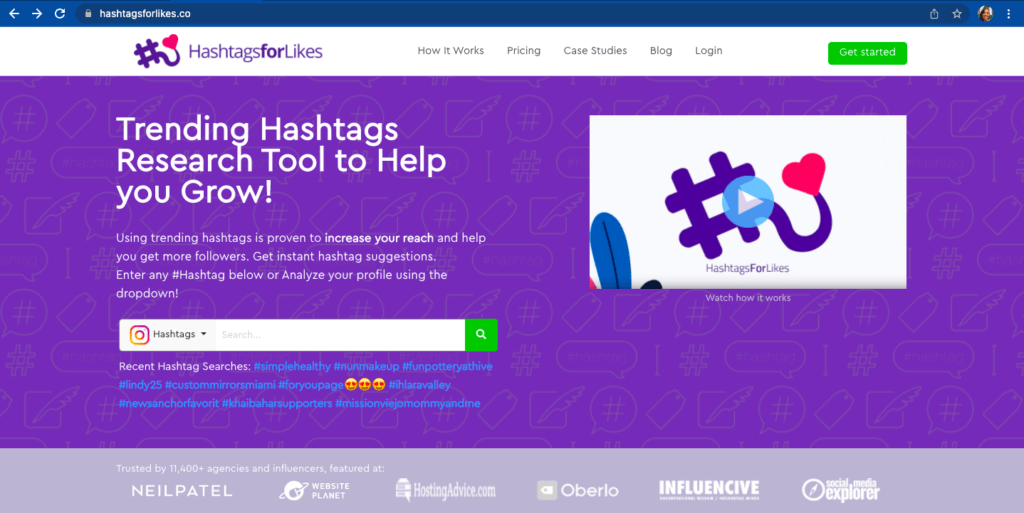 What can HashtagsForLikes offer you? You can search hashtags while viewing difficulty scores. You can also curate hashtag campaigns to grow your reach organically. Lastly, it keeps your account safe!
So, to make better business decisions, you can track, measure, and even get insights into your competitors using their profile analyzer. Also, less time is wasted.
Key Features:
Live Instagram stats
Audience Demographics
Fraud Detection
Brand Affinity
TikTok Hashtags
Research & create hashtag campaigns
Pros:
Ensures relevant hashtags for business
Find most responsive hashtags
Easy to use
Good customer support
Cons:
Tips for your Instagram Research hashtag strategy
Do your research
Make sure you do not rely solely on hashtag generator tools to create hashtags for you. Equally important, check out what the competition uses to get an idea of what works.
You will then have a better idea of what hashtag strategy works for others in your industry. You may discover hashtags to add to your plan or come up with original ones.
Use hashtags your audience is using
What if your target audience is already using a hashtag? so, why not give it a try? Just type a keyword into the Instagram search tool. Then, you will get a list of popular hashtags associated with it.
Just make sure that the content tagged with the hashtag is relevant to your brand or business. It would also be good to see what hashtags your followers are using.
Use Instagram's features
There will be a list of related hashtags on any hashtag page that can be swiped through by swiping left from the top and recent tabs. Using this method, you can quickly identify niche hashtags more relevant to your search than the generic keywords you were trying to find.
It means a more relevant audience with less competition for the exact key phrase. Furthermore, brands looking to connect with passionate communities can use these hashtags to their advantage.
Brand your hashtag
Creating your own hashtag may be the most effective way to promote your brand. Besides, a branded hashtag is simply tagging your brand or campaign. However, keep in mind the hashtags shouldn't be too long or too complicated to remember.
Your audience can then learn about your hashtag by including it in your Instagram bio and highlighting it in your Instagram Stories. In addition, you can run a contest with a branded hashtag to generate content while also popularizing it.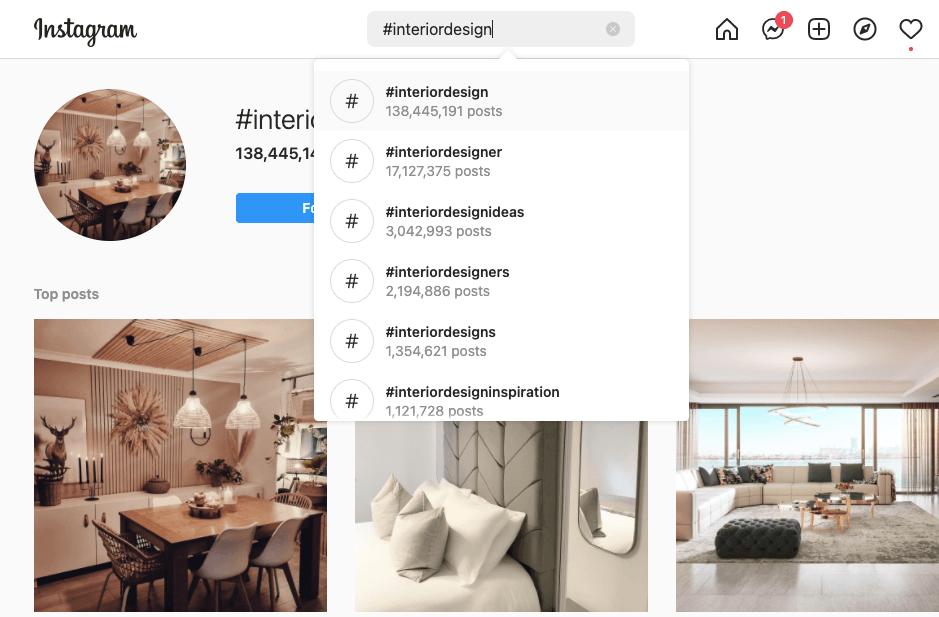 Final Thoughts about Instagram Hashtags work
In conclusion, when it comes to hashtags, there is no one-size-fits-all strategy. On Instagram, for example, you can share up to 30 hashtags within a single post, but the trend is to use just 1-3 hashtags per post.
Using as many hashtags as you can, is a good idea, but the use of repeated hashtags is penalized. Most people utilize 11 hashtags when posting.
Hashtags can contain numbers, but spaces and special characters won't work.
Why Instagram, then? First, it's free, but also, Instagram allows you to share photos and videos with users on iOS and Android devices and from the PC as well.
According to employees, globally, Instagram has more than 2 billion monthly active users (CNBC).
Thus, Instagram is ideal for gaining followers who can view, comment, share, like, and comment on your posts.
Finally, you can also connect Instagram to Facebook and get an automatic monthly report of your account activity, reach, and engagement.
In a breeze:
One post may contain up to 30 hashtags
Repeated hashtags are penalized and may appear spammy
Special characters are not allowed
Instagram is free and accessible
More than 2 billion users as of December 2021