Did you ever browse a blogger's Instagram feed and wondered how she makes her pictures look like they're straight from a fashion magazine? Yes? Then you're in the right place!
If you thought a single tap on "Valencia" would do the trick, think again, as there is much more than just filters in those freshly wrapped flowers' snaps.
So what are we waiting for? Let's explore this envy-inducing world from behind the scenes: here is everything you need to know to nail a stylish perfect shot!
1. Camera basics
Whether in portrait or landscape mode, we recommend holding your phone as flat as possible. You want to try matching the height of the subject (#OutfitsFromAbove excepted), such as lying on the ground to snap a picture of your new favourite shoes!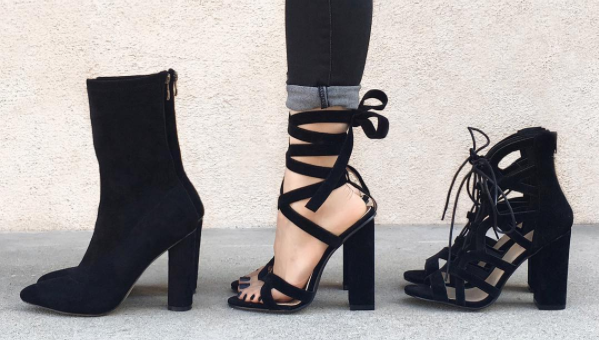 Another way to quickly improve your photo skills is to turn on the camera's gridlines; your viewfinder will be divided into 9 even squares, based on the so-called "Rule of Thirds". Sounds too complex? Don't worry, it's actually much easier than you think. The photography theory suggests that if you place the important elements of an image along the lines or intersections, you'll end up with more balanced and interesting pictures. Why not give it a go!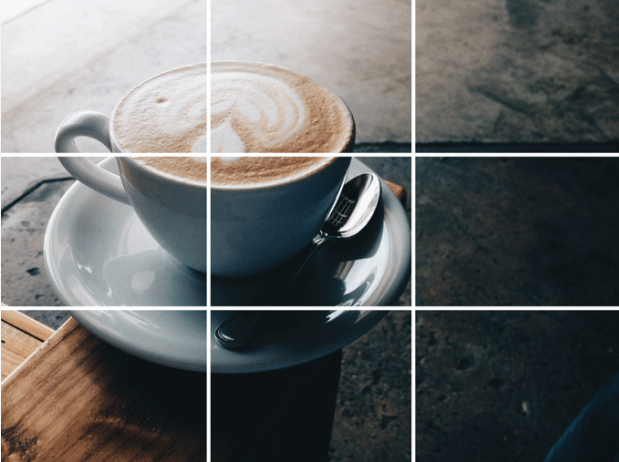 But if you feel like your coffee still doesn't look cool enough, get close to it! Nothing screams "my mum shot this" more than a grainy picture of something that's half a mile away from the camera.  So don't zoom in using your phone as it would just decrease the image quality!
2. Composition
Sorry to break this to you, but those artfully placed arrangements of clothes and magazines, messy sheets and casual pineapples don't just happen to look pretty on their own. It's not only about shooting, you must set the right scene!
To balance or not to balance
If you place an object off center (as you would using the Rule of Thirds), the rest of the picture will obviously stay empty. Try and fill the space with other elements for a more balanced picture but feel free to leave it as it is if your Miu Mius want to hog all the attention.
Sometimes it's also good to break the rules! Place your sunnies at the center of the photo and play with symmetry for an eye-catching composition. Remember to use those grid lines from tips #1 to align everything perfectly!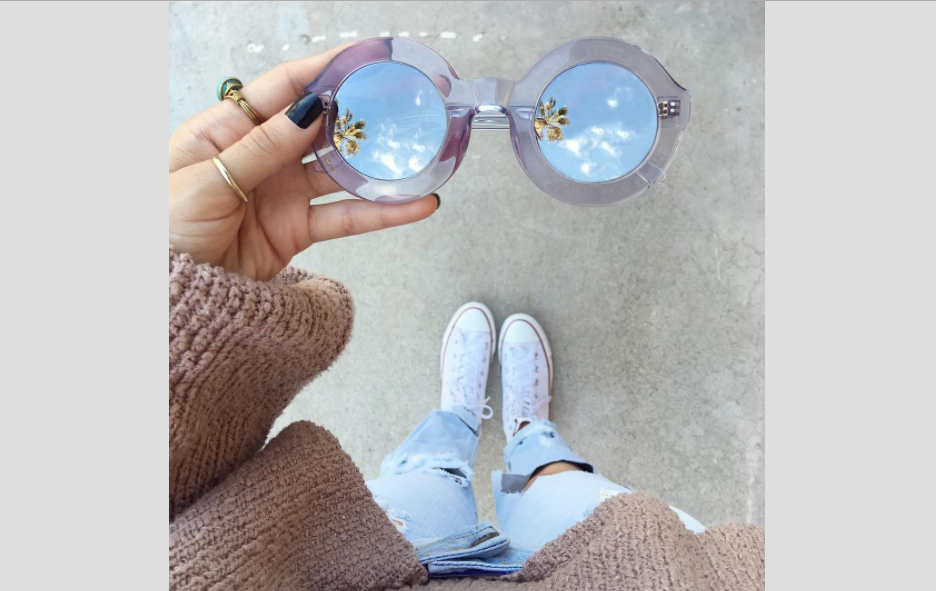 Choose an appropriate background
Make sure the main element of the picture doesn't get lost due to a distracting background. Unless you're doing a feet selfie on a beautiful floor, it might be better to have a simple and basic backdrop that makes your subject stand out. Marble and wooden tables are a crowd favourite!
Mind the style
Give the scene a theme and try to keep harmony between colours. Pick a bag, complete with matching accessories here and there or add some flowers for a pop of colour – everyone will want to know where it's from.
And don't forget to watch the proportions! Balance out larger items with very small ones or fill your frame with a repetitive pattern; creativity is always welcomed.
(So why not place your shoes on a table setting?)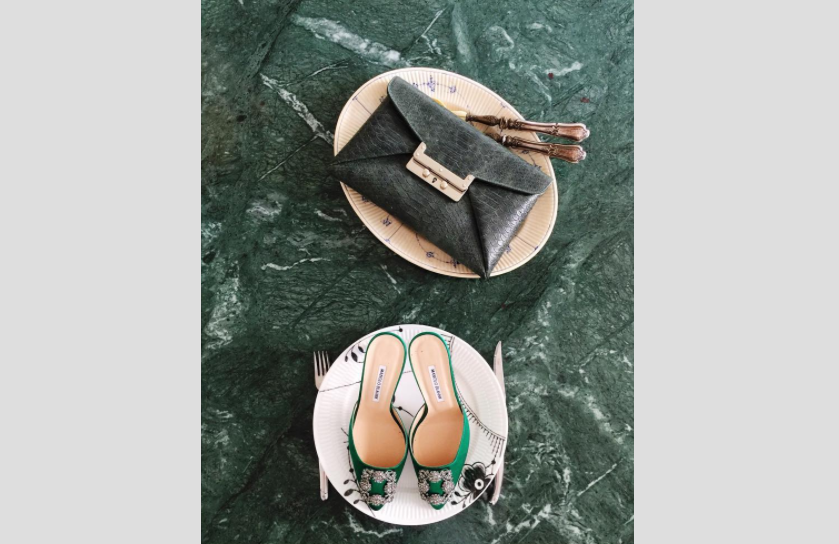 3. Outfit of the day (no photographer boyfriend needed)
We've all been there: you're really feeling stylish, but no one's there to snap your outfit. Do not panic – not every #OOTD selfie needs to be taken at arm's length!
Find a cool mirror (and clean it), use a bright light that's not too harsh, and create angles to elongate your figure. Remember to check everything is neat before snapping – you don't want other people to see your penguin slippers.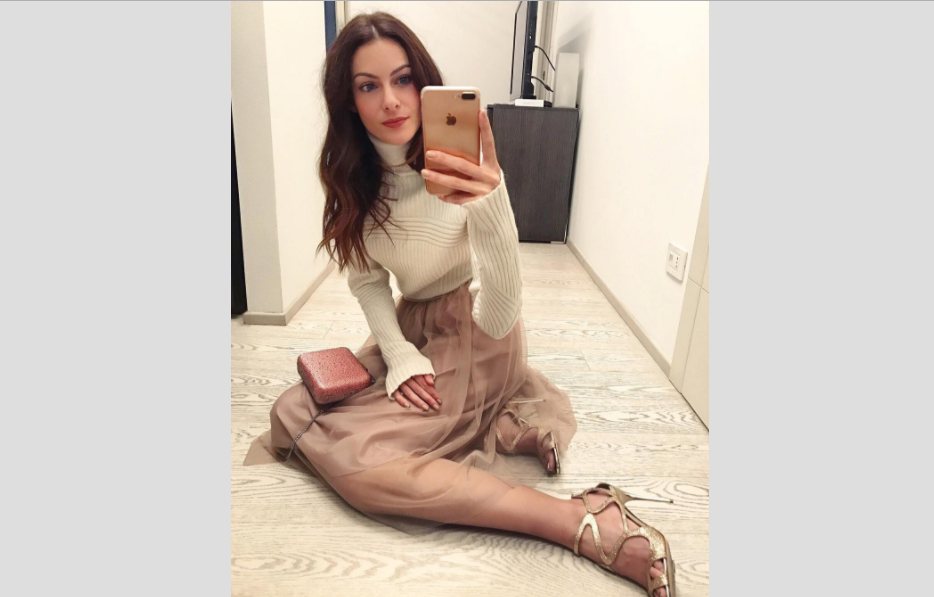 Bad hair day? Just go for the taken-from-above shot. Some see two legs and a watch, we see a cheeky way to show off your style. Very simple: stick your arm out, tilt the phone toward your body, and snap.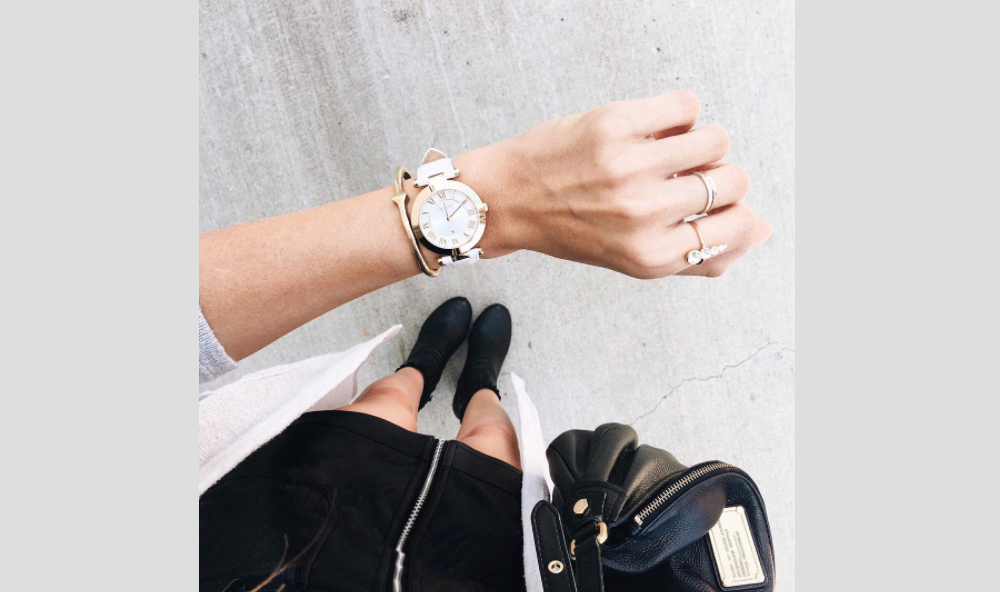 4. Best time to shoot
You might have the most incredible oversize jacket or yummiest breakfast smoothie, but without the right lighting your photo will be far less great. Whether you like playing with shades, backlight or direct sun, there is one type of light that rules above all others – the Golden Light.
It's soft, warm, and will add more dimension to your scene – the best time to shoot is during the first hour of light after sunrise, and the last hour of light before sunset.
So get yourself out of bed a bit earlier, and give your followers all the more reason to double-tap your photos!
5. Editing
Whether you've managed to find the perfect light or not, editing is the final crucial step – a filter here, a filter there, and bam! Your shot is ready to go on Instagram.
Umm…no, that's not really how it works.
Using too many filters will make your #ThrowbackThursday looks more 1900s than 2010s, and turn your selfie into a comic cartoon.
But that isn't to say snaps need to go unedited; it just requires a bit more effort than you think. There is brightness involved, contrast levels to be played with, colour saturation to adjust, and at least three different apps to download.
A sleek and popular app that acts like a professional studio. Get rid of the annoying blemish on your face or that fly away hair –  it's super easy to use and does all the work for you!
Besides the basic tools, Snapseed also allows you to edit parts of the photo that need colour correction, instead of changing the whole picture. It's a must if you didn't get to shoot in the golden hour!
Calling all selfie addicted! Facetune lets you photoshop face and hair to perfection and its whitening tool is ideal to transform even the yellowest background.
So what are you waiting for?
Pick up your phone immediately as you're now more than ready to share that new maxi coat with the world!
Plan your social media posts.
Visually plan your posts. Drag and drop everywhere.