Businesses spend hundreds or thousands of dollars each month producing high-quality photos and videos for their Instagram marketing campaign.
These visuals then become part of your marketing asset that can be used elsewhere – on your website, blog, or on other social media platforms.
For instance, if you have a significant chunk of customers who visit your website from a desktop computer, you may want to have a gallery or a photostream section where they can view the latest uploads from your Instagram feed.
While this can have a high impact on your website engagement, this involves a lot of work. Uploading photos or videos on Instagram, and then carrying out the same process for your blog can quickly take up a lot of your time.
This can be especially difficult if you are a bootstrapped one-person shop.
Luckily, you can easily automate the process of uploading photos or videos on Instagram. Our tool, Hopper HQ offers a simple and efficient way to schedule hundreds of photos to your Instagram feed well in advance.
What's more – you can do all of this from your desktop or Mac without the need to fiddle your way through on a mobile phone.
In this article, we will tell you how you can go one step further and automate the process of embedding these visuals on your website or blog as well.
What Exactly Is An Embed Code For Instagram?
Have you ever checked out these news stories talking about what celebrities or influencers say or post on Instagram? These articles often include the actual Instagram post in question.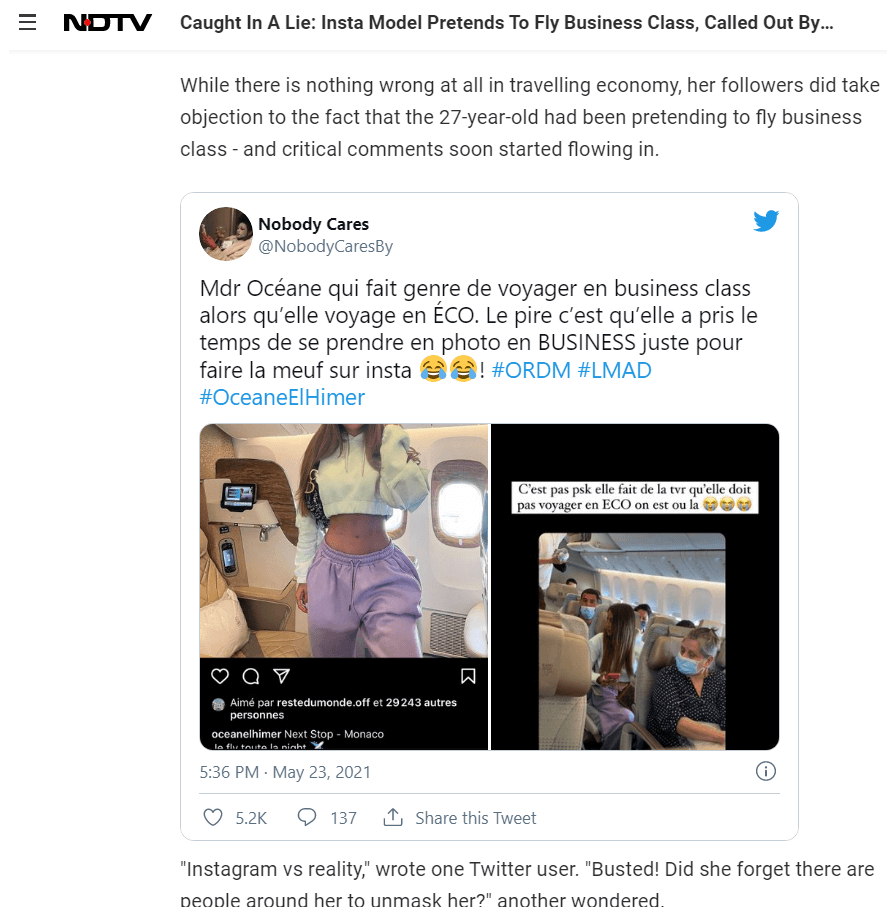 This is done with the help of what is called an 'Embed code'. It's easy to do and Instagram makes it possible for anyone to embed a post as long as the account owner has offered the right permissions.
How do you get the embed code on Instagram?
Here's a quick step-by-step instruction on how you can embed an Instagram post on your own blog or website.
Step 1: Log Into Your Instagram Account
It is preferable to do this from your desktop. You might be able to do this from a smartphone as well. But the desktop is much easier and straight-forward. Click here to do this.
Step 2: Find The Instagram Account
Once you are logged in, look up the account you want to embed from. For this example, I am going to embed a recent post from the Hopper HQ Instagram account. Follow us if you haven't already!
Step 3: Open The Post To Embed
Click on the post you want to embed. It now opens as a pop-up on your browser.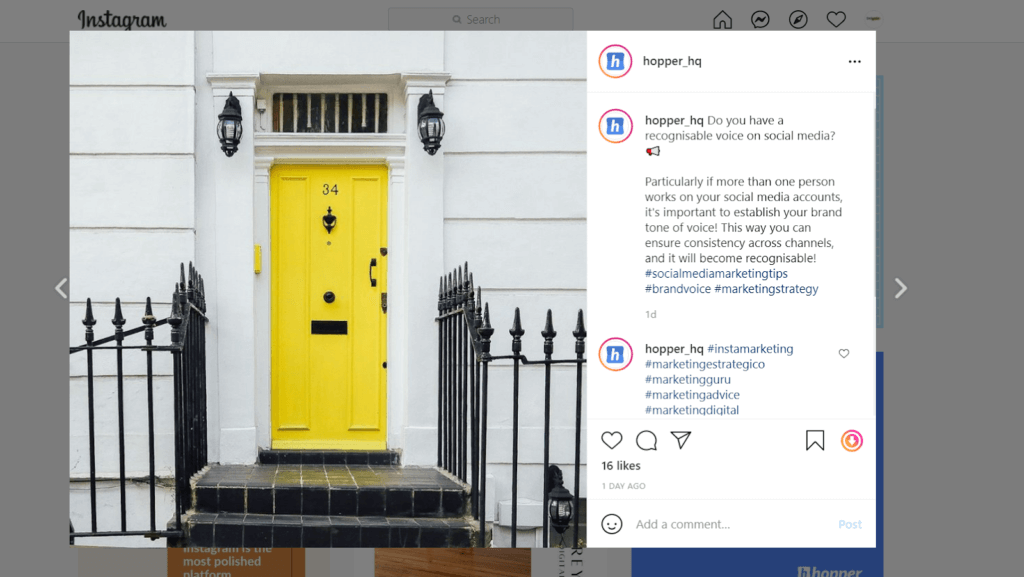 Step 4: Click On The Ellipsis Menu
On the top-right of the window, you will notice a menu with three dots (also called an ellipsis). Click on this to find a list of options to pick from.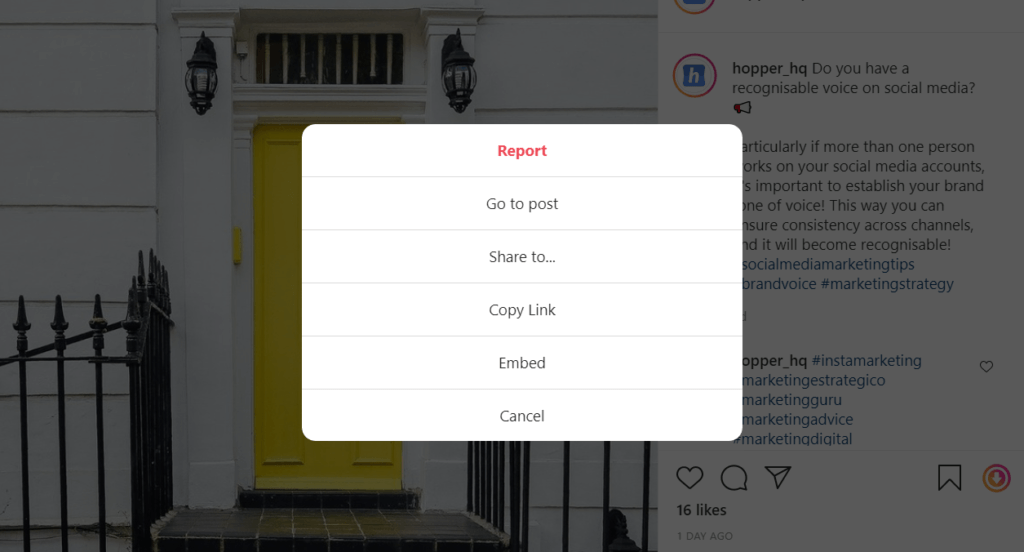 Click on the 'Embed' option.
Step 5: Copy The Embed Code
You will now see a little snippet of code. Click on the 'Copy Embed Code' button to copy this code.
Step 6: Paste Code On Your Website
Log into your website CMS and paste. If you run the latest version of WordPress, click on 'Add Block' and pick the 'Custom HTML' option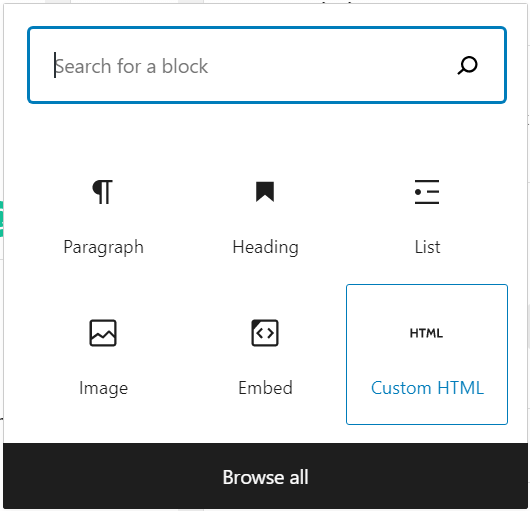 Paste the copied code in the presented window and save your post. 
Voilà! There you go!
While this strategy works when you want to embed an Instagram post once in a while, this is not exactly an automated process. You have to manually get your embed script and paste it on your website each time. 
However, there are instances when you want to automate this process.
For instance, you may have a 'Product Showcase' section on your website that you constantly update with your latest Instagram posts.
You may also have other sections like 'Customer testimonials' or 'Sale' where you showcase Instagram posts that go with specific hashtags.
Best Tools To Automate Instagram Feed Embed
There are a number of third-party tools that can help you automate this process.
TagEmbed
TagEmbed is a 'social media aggregator' tool that lets you collect, curate, and moderate appealing content from social media for your website.
Using this tool quite straightforward – you specify the hashtags, profiles, or mentions that you want to follow and TagEmbed provides you with a curated stream of posts from Instagram (as well as Facebook, Twitter, and other social media platforms).
You may then choose which of the posts you want to showcase on your website. TagEmbed gives you an embed script that you deploy once and it gets automatically populated with content you choose to showcase.
TagEmbed has a free plan that lets you connect to one feed and is good for up to 1000 views per month. Paid plans cost between $8/month to $24/month.
EmbedSocial
EmbedSocial gives you a one-line script to embed on your website and this allows you to automatically pull all your Instagram content directly into your website.
This is especially useful for eCommerce marketers because it gives you an option to add clickable buttons to every photo in the album so that interested viewers can click and visit the relevant product pages to buy the product.
There are a number of ways to customize the look and feel of the embed, and you can set it on autopilot so that new photos get embedded automatically without any human intervention.
EmbedSocial has a free widget to start off with. Paid plans for the EmbedFeed product start at $29/month and go up to $99/month for advanced features.
TaggBox
Like TagEmbed, this is a script that lets you pull in a curated list of Instagram posts based on hashtags, profiles, channels, and mentions you specify.
You may choose to automate the entire process so that posts that meet the criteria are automatically showcased on your website, or take a semi-automated approach where the curation is automated, but you have to manually approve the posts before they get showcased.
TaggBox is well-suited for businesses that want to showcase customer testimonials, hashtag campaigns, or simply have a visual gallery on your website.
TaggBox has a 'Startup' plan that is free to use and is limited to two feeds. Paid plans start at $24/month and go up to $79/month.
Walls.io
Walls.io is a popular tool for businesses that want to showcase customer love during events or trade booths. They also have a widget you can showcase on your website to create brand awareness and engage your audience.
As a product, this is similar to the other curation tools that we have already discussed. Business owners specify a list of social media channels they want to curate from, and moderate the feed to showcase the best of the posts. You also have the option to customize the look and feel of the widget to match your website theme.
Walls.io is free to try for 30 days, and their free plan lets you create one 'wall' from one source. Paid plans start at $250/month with their Premium plan priced at $600/month.
WordPress Plugins To Embed Instagram Feed
As the world's most popular content management system (CMS), WordPress enjoys a large plugin ecosystem. There are plenty of options to choose from for bloggers who want to embed their Instagram feed on their website. Here are a few great options.
Intagrate
Intagrate is a powerful WordPress plugin that connects your WordPress blog with as many Instagram accounts as you need – you may choose to showcase photos that are posted from a particular account, contain specific hashtags, or are tagged with a certain location.
Integrate also has a scheduling feature – this is great if you want to have a section like "Customer Reviews For The Month" that you publish once a month.
You may choose to automate the process and publish all posts matching your curation criteria or set up a moderation panel and manually approve posts.
Integrate has a 14-day refund policy. Plans start at $55/year and go up to $255/year.
Instagram Feeds Pro
Smash Balloon is a popular WordPress plugin developer that is used by over 1.6 million WordPress blogs. The Instagram Feeds Pro plugin lets you display completely customizable Instagram feeds on your WordPress blog with just a few minor tweaks.
Instagram Feeds Pro offers you a customizable Gutenberg Block that allows you to make use of WordPress' latest CMS interface to add Instagram feeds anywhere on your blog posts. It comes with a responsive design and has several different layout options like grid, carousel, masonry, and highlight to choose from.
The plugin price starts at $49/year for one site and if you are an agency, you can deploy the plugin on unlimited sites with their $299/year plan.
Now, although there are plenty of such tools to help you embed your Instagram feed on a website, one question remains – is this legal? Can you be sued for embedding a copyrighted photo from Instagram on your website?
Please note that none of this is legal advice. If you are truly concerned, talk to someone who specializes in Intellectual Property law.
Is Embedded Instagram Legal?
To answer this question, we will first need to discuss another important topic –
Who Owns The Photos On Instagram? Are Instagram Pictures Public Domain?
When you use Instagram to post photos or videos, you agree to their 'Terms of Service'. Among other things, you agree to this clause:
"We do not claim ownership of your content, but you grant us a license to use it."
In other words, you are the rightful owner of the photo or video you post. However, you grant Instagram a "non-exclusive, royalty-free, transferable, sub-licensable, worldwide license to host, use, distribute, modify, run, copy, publicly perform or display, translate, and create derivative works of your content"
In other words, Instagram (or Facebook in effect) does concede that you own the photos you post. But they can modify or distribute it in whatever way they deem fit as long as these photos stay on Instagram.
It can be argued that embedding Instagram photos on a third-party website using their embed code or authenticated API scripts is a perfectly valid way to distribute content.
In other words, yes, embedding an Instagram feed on your blog or website is legal.
However, please do note that Instagram also requires users to only post content that they own or have the right to share.
This means that if you embed photos that the Instagram user does not own, then the rightful copyright owner could technically come after you as well. So, please make sure that you only embed content that you know is not in the IP-grey area.
Using Instagram Feed Embeds As A Marketing Strategy
There are dozens of use-cases to embed Instagram posts in your website or blog. The most effective way to use these embed scripts is by integrating this with the rest of your social media automation strategy.
A tool like Hopper HQ will help you visually plan and schedule your Instagram posts in advance. Use relevant hashtags like "#customerreviews" or "#Sale" for the different posts and use one of the many tools listed here in the article to automatically curate different pages on your website for "Customer Testimonials" and "Sale".
This way, you can build a highly engaging website audience that converts.