How do you schedule Instagram posts? It's a question we hear amongst Instagram users far and wide, which is why we put together this step by step guide.
In this article, we'll talk you through how to schedule Instagram posts, and why you should get started right away!
Knowing how to use an Instagram scheduler is perhaps one of the most integral marketing strategies you can use to help the growth of your Instagram account.
It's a simple formula: the more consistently active you are on Instagram, the better your account will perform. Your followers want to see great content, and they want to see it often!
Contents:
Simple Post, Story + Reel Scheduling ✨
Visually plan your social content. Instagram, TikTok, Twitter, Facebook, LinkedIn + Pinterest
How to Schedule Instagram Posts: A Step By Step Guide
Unlike Facebook, scheduling posts to Instagram cannot be done directly. In order to be able to schedule Instagram posts, you need to use an Instagram scheduling tool.
We will naturally be favouring Hopper HQ for images and video post Instagram scheduling. Hopper HQ has a free 14-day trial so you can get set up and test out all the features free of charge!
You can also check out a full independent review of Hopper HQ here.
Without further ado, here's how to get started (I have set up an account from scratch to show you how easy it is)
Step 1: Create a Hopper HQ account
First thing's first, to schedule Instagram posts you'll need a Hopper HQ account. Signing up only takes a few minutes, and the best part is you'll receive a free 14 day trial to test it out!
Step 2: Connect your Instagram Account
Once you've registered with Hopper HQ, you'll be taken to a dashboard where you can connect your social accounts in order to manage and schedule your posts.
Plan & schedule social media ahead of time.
> Video, gallery & image posts
> Calendar, feed & grid preview
> Instagram, Facebook & Twitter
Step 3: Upload Photos & Videos
Now you're connected and verified with Hopper HQ you can begin to schedule Instagram posts…
Select Images/Videos — Head to the dashboard and click 'Create Posts'.
From here you'll be able to bulk upload up to 50 files from your computer, a URL, the web, or from Dropbox, Google Drive, Google Photos or Box.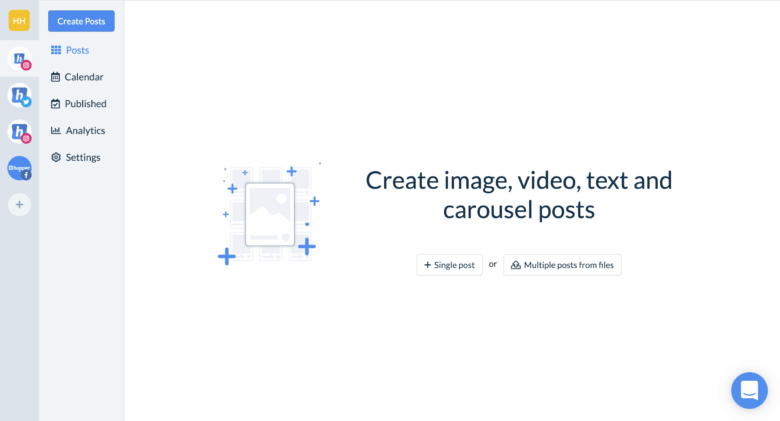 Edit Images — Once uploaded, you're taken to the bulk edit view where you can add more images to make a gallery post, as well as crop, and edit your images.
If your files are not the correct size for Instagram, you will see an alert to crop using the pre-set dimensions. Click on the crop icon to make your image square, portrait or landscape.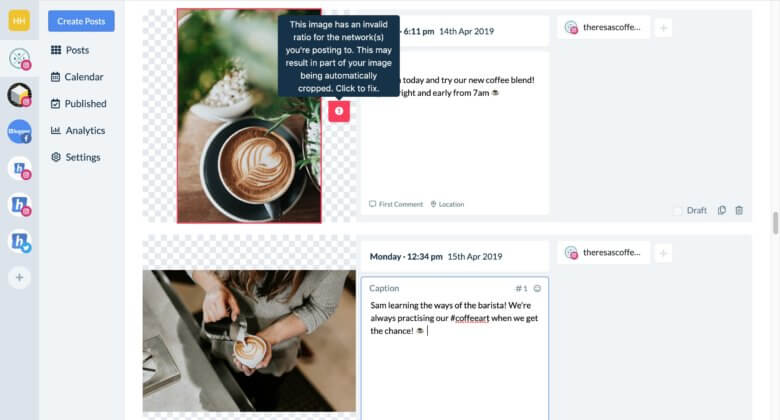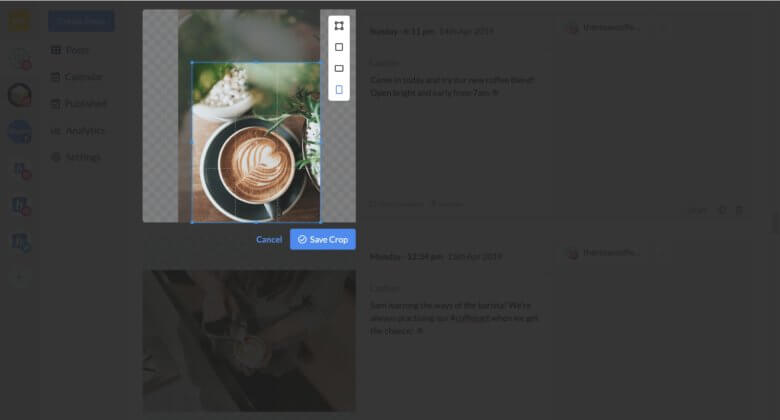 Click on the paintbrush icon to go to Hopper HQ's in-app editing software! Here you can add filters, edit brightness, and even add light leaks, text and stickers.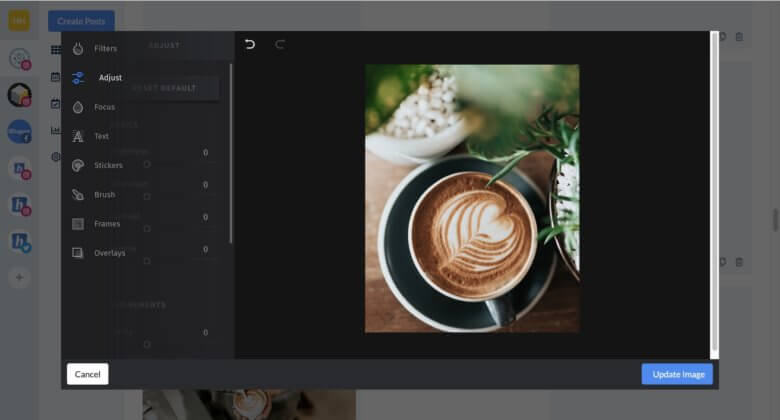 Plan & Schedule Your Social Media Posts
Visually plan your posts. Drag & drop everywhere in seconds ✨
Step 4: Final touches
Captions & Hashtags — Once you've finished editing, you can write out both your captions and first comments for all of your posts. These will be published with your post at its scheduled time.
You can add hashtags, emojis, and tag users you're mentioning in your captions on Hopper HQ.
Also add location tags to increase your reach! Instagram posts with locations receive 79% more engagement than those without, so we'd recommend using this feature.
Schedule Instagram Posts — Now you're happy with your posts, you have the choice to Post Now, Schedule a date & time, or save it as a draft (a handy feature if you're working within a team).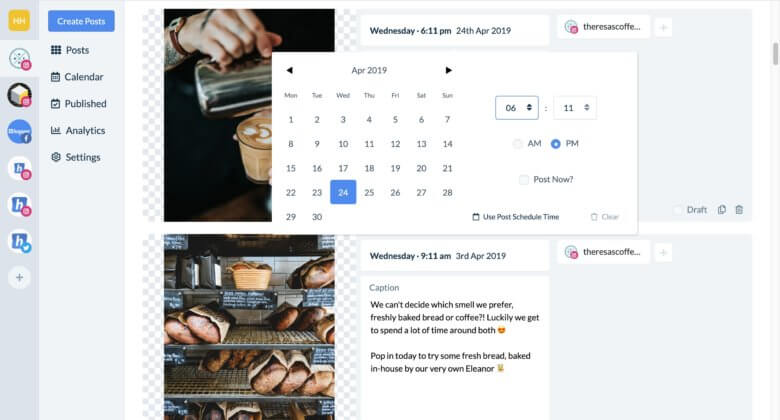 Done! — Click 'Save Changes' to schedule your posts.
Your posts will all appear in the Posts and the Calendar view, and any changes can be easily made by drag and dropping.
The Hopper HQ calendar allows you to ensure posting consistency when you schedule Instagram posts! View your content by month or week, and drag and drop to move things around.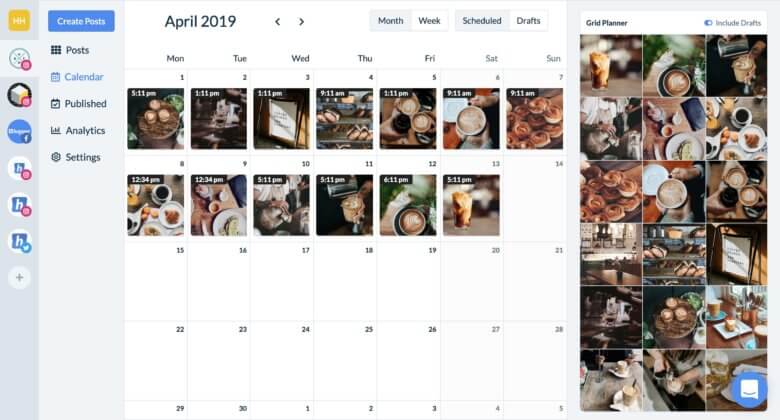 Video Tutorial: How To Schedule Instagram Posts
Why You Should Schedule Instagram Posts:
As well as being a fundamental strategy for growth and organisation, scheduling your posts to Instagram has many benefits, including:
1. Saving Time ⏰

Scheduling Instagram posts saves you a great deal of time! Having to open the Instagram app, upload a photo, write a caption and then post it is a tedious task.
Uploading, managing and planning your content in advance streamlines this process, as you're able to schedule multiple Instagram posts at once, with captions and hashtags, and don't have to be anywhere near a phone when you want the posts to go out.
2. Content Management 📱

Organising your content on social media can be a big task, especially if you're managing multiple accounts. Schedule Instagram posts to help manage what content is going out when, posting consistency, feed aesthetic and much more!
This prevents any rushed or last-minute posts, which will improve the overall quality of content going out.
Simple Post, Story + Reel Scheduling ✨
Visually plan your social content. Instagram, TikTok, Twitter, Facebook, LinkedIn + Pinterest.
3. Posting From PC 🖥

One of the many limitations of Instagram is the inability to post content via a desktop web browser. This is naturally problematic for brands, photographers, influencers and any users who have to juggle between their phones and desktop to post content.
Using an Instagram scheduler allows you to cut out these steps and upload your posts straight from your computer files, Dropbox, Google Photos and many other online storage systems.
4. Planning Your Instagram Feed 🎨

If you're looking to take your Instagram to the next level, you need to start planning your feed in advance to maintain the aesthetic your followers love to see!
Using an Instagram scheduler allows you to visually plan your feed, ensuring your posts are cohesive, do not clash, and keep any patterns or themes intact on your profile.
5. Engaging Instagram Followers
Sometime back, we analyzed several millions of Instagram posts made by our users across 70+ countries.
What we found was that your Instagram followers are most active during their morning commutes, lunch hours, the evening rush hours and at bedtime. These are typically the best times to post on Instagram.
It is however not always possible to publish your posts at these exact times. This is particularly challenging if your followers are in a different timezone.
Social media scheduling tools like HopperHQ can help you with automating Instagram submissions so that you do not have to manually post them when your audience is online.
6. Managing Multiple Accounts 👥

Having more than one Instagram account has become a common trend, whether you have separate accounts for business, are a social media manager for other brands, or even have accounts for your hobbies! Managing multiple accounts and maintaining posting regularity requires a huge amount of time and organisation.
Using software to schedule Instagram posts takes away the burden of account management, and allows you to focus more time on the fun creative parts, like content creation!
9 Best Social Media Scheduler Apps For 2021
The job of a social media scheduler is three-fold.
First, it should help you plan your social media campaigns and set up your content calendar ahead of time.
Second, it should provide you with the right tools to make your social media marketing success with ease.
Third, it should offer a great user experience.
In this section, we will give you a list of some of the best social media scheduler apps available today and how you could go about picking the best app for your business.
If you have been researching social media schedulers for your business, you may have come across apps like Hootsuite, Buffer, or Later. They are all big names in this industry.
But there are two reasons Hopper HQ is better than these apps for your business.
Brilliant image editor: None of the popular social media scheduling apps in the market today offers an Image editor, much less one that is as sophisticated as what you have with Hopper HQ.
This makes a huge difference because social media platforms like Instagram are highly visual in nature. Processing your images before you upload them can thus be vital to your marketing success.
Complete package: At the outset, the difference in pricing among the various social media schedulers could seem like just a few dollars. However, when you start working with them, the costs could shoot up quite dramatically.
This is because most scheduling apps charge you for the number of social profiles you handle. Even if you handle the major social media accounts for a couple of clients, you would quickly breach the basic pricing plan and would be looking at an upgrade.
This is why Hopper HQ is so better. Here, you pay a fee for a bundle that includes one account each from Instagram, Twitter, LinkedIn, and Facebook. What this means is that when you handle accounts from two clients, you pay for two bundles, and when you need to let go of one, you could scale down as required.
Bundle-based pricing makes it easy for an agency to predict their expense on social media schedulers and weave them into their own fee.
In addition to this, Hopper HQ also offers a number of other exciting features that makes it worth your while:
A social media calendar to plan your content months in advance

Bulk composer to schedule multiple posts at once

Quick access to your social media posting history

Visualise and rearrange content on the interactive publishing calendar.

An exhaustive analytics tool for your Instagram

Easy time zone adjustment settings to serve users across the world
Hopper HQ costs $21/month when billed annually and this comes built-in with integration with one bundle and the image editor.
You also get a free trial to explore the features before you make the purchase. Click here to sign up for a 14-day free trial.
Simple Post, Story + Reel Scheduling ✨
Visually plan your social content. Instagram, TikTok, Twitter, Facebook, LinkedIn + Pinterest
Hootsuite
Hootsuite is by far the most popular social media scheduler in the market. Similar to Hopper HQ, Hootsuite comes with a social media calendar that lets you plan and schedule your content in advance.
You also get access to their asset libraries, bulk composer tools, and collaborative features that let you plan your content with your team members or the client. Enterprise customers get access to Proofpoint, an automated screening tool that large businesses may need for compliance purposes.
Hootsuite plans start at $29/month and are limited to 10 social media accounts. You can read a comprehensive review of Hootsuite and how it comes to Hopper HQ by clicking here.
Buffer
Like Hootsuite, Buffer is yet another social media scheduler that has two distinct products for publishing and analytics. The Buffer Publish tool covers social media scheduling for Instagram, Facebook, Twitter, LinkedIn, and Pinterest.
In addition to creating a publishing schedule, you also have features like the ability to post the first Instagram comment, manage hashtags, publish Instagram Stories, and collaborate on posts as a team.
Buffer has a free plan that comes with limited features, including the ability to schedule up to 10 posts at a time on up 3 social media channels.
You can read a complete review of Buffer and how it compares to Hopper HQ by clicking on this link.
Plan your social media posts.
Visually plan your posts. Drag and drop everywhere.
Later
Later is a social media scheduler that is targeted at the Instagram audience. Similar to Hopper HQ, Later offers a drag-and-drop tool to upload photos to your social media publishing calendar. Other tools that are similar to Hopper HQ include hashtags suggestions, analytics, and social media bundle-based pricing.
Later has a very limited free plan that lets you post up to 30 submissions per month. Their Starter plan has a price of $15 per month while the Growth and Advanced plans are priced at $25/month and $40/month each.
One of the biggest cons with Later is its posting limits. Unlike Hopper HQ that offers unlimited submissions each month, the paid plans on Later are limited by the number of submissions one can make each month.
For example, the $15/month lets you post only 60 submissions per profile in a month while the Growth plan has a 150 posts per month limit.
This creates additional constraints for you as a social media marketer since it does not allow you to freely experiment with different posting schedules and monitor performance. You have to always keep an eye on the limits while scheduling content.
You can read a complete review of Later and how it compares to Hopper HQ by following this link.
Planoly
Planoly is a social media scheduler that focuses primarily on Instagram and Pinterest users. It is relatively cheaper than the other tools discussed so far – however, the caveat here is that the features are also quite limited.
Planoly does have a free plan that lets you link to one account each from Instagram and Pinterest. It restricts uploads to 30 photos per month in a profile.
Paid plans start at $7 per month but miss a lot of important features including a sophisticated content calendar, image editor, and integration to other social media profiles. While you can post to Twitter or Facebook, these are basically auto-posts from Instagram to these channels.
As a social media marketer, you must have an independent content strategy for each of these different platforms. What works on Instagram may not necessarily work on Facebook or Twitter. Auto-posting may hence not be a great idea for serious marketers.
You can read a more comprehensive review of Planoly and how it compares to Hopper HQ by clicking on this article.
Sprout Social
Sprout Social is a social media scheduler that is perhaps targeted at in-house social media marketing teams. Compared to other schedulers listed in this article, Sprout Social is on the expensive side relative to the features on offer.
The Standard plan is priced at $99/month and comes integrated with 5 social profiles. You can schedule content for posting across these profiles using their social media content calendar. The tool also offers the ability to monitor business reviews on third-party platforms like Yelp and Facebook, but this feature may not be of much value to you if you are not a local business.
Besides the Standard plan, you also have the Professional and Advanced plans that are priced. Both these plans are limited to 10 social profiles – and you may need to pay more for integration with more profiles. It is thus not ideal for marketing agencies that deal with a lot of clients.
Repost TikTok Videos to Instagram
Automatically post your TikTok videos to Instagram. without watermark!
CoSchedule
CoSchedule has two main products – the Marketing Calendar, and the Marketing Suite (of which the calendar is also a part). The latter is an enterprise offering that lets you manage a large team of social media marketers who work on the 'Marketing Calendar' product.
Speaking of this tool, it lets you schedule and publishes content on up to 10 social media profiles. Additional profiles are available for $15/month for 5 extra integrations. In addition to the calendar itself, you have other features like bulk scheduling, social campaign templates, and automation.
CoSchedule can integrate with a number of third-party platforms like WordPress, Mailchimp, and Hubspot which can be useful if you use any of these tools. The product has a starting price of $39/month and increases depending on the number of social media profiles you want to link to.
Tailwind
Similar to Planoly (whose review you can read here in this article), Tailwind also focuses mainly on Instagram and Pinterest users.
Similar to Hopper HQ, it offers users a drag-and-drop tool to publish new content to their Instagram profile. But that is where the similarities end. Unlike Hopper HQ that offers unlimited posting, Tailwind lets you schedule up to 400 posts per month.
As I mentioned earlier, this can be a problem if you want to experiment with different posting schedules and styles since you always have to keep an eye on the post-count to stay within limits.
Also, there is no option to edit images, unlike Hopper HQ. Analytics data is available for the last 30 days, and the app lets you collaborate with up to 2 other users.
On Tailwind, you pay for every social profile you want to post to. It costs $14.99 per profile per month which can be quite expensive if you are dealing with multiple social media accounts.
Zoho Social
Zoho Social is a social media scheduler that comes from the stables of the enterprise software maker, Zoho. They have plans targeting both business owners and agencies. The Standard plan lets you integrate with up to 7 social profiles (one each for Instagram, Twitter, Facebook Page, Facebook Group, LinkedIn Company, LinkedIn profile, and Google My Business.
As you can see from the list above, this tool is perhaps better suited for businesses looking to manage reviews and ratings. While you can schedule posts, you do not have comprehensive calendar management or image editing features that you can enjoy with a tool like Hopper HQ.
Explore The Data Behind Your Social Media Accounts 📊
Find the best time to post, track your follower growth, and understand what content works best with post and account analytics.
Plan Your Instagram Feed
Another benefit of scheduling Instagram posts is being able to plan your feed in advance.
There are huge advantages to knowing what your posts will look like next to each other once they're published on your Instagram feed:
Posting manually (and often in a rush) means you can end up posting too much of the same type of content.
Whether it's text posts, product shots, or employee photos, a good Instagram feed is one with a variety of content. Scheduling and planning your feed in advance means you can ensure your content does not look repetitive.
Many Instagram accounts stick to a colour scheme to give their profiles an impressive cohesive look. Remember, when people land on your Instagram profile, they see the feed as a whole rather than individual posts.
By planning your feed with an Instagram scheduler, you can easily maintain a colour scheme by checking your scheduled posts match your existing ones.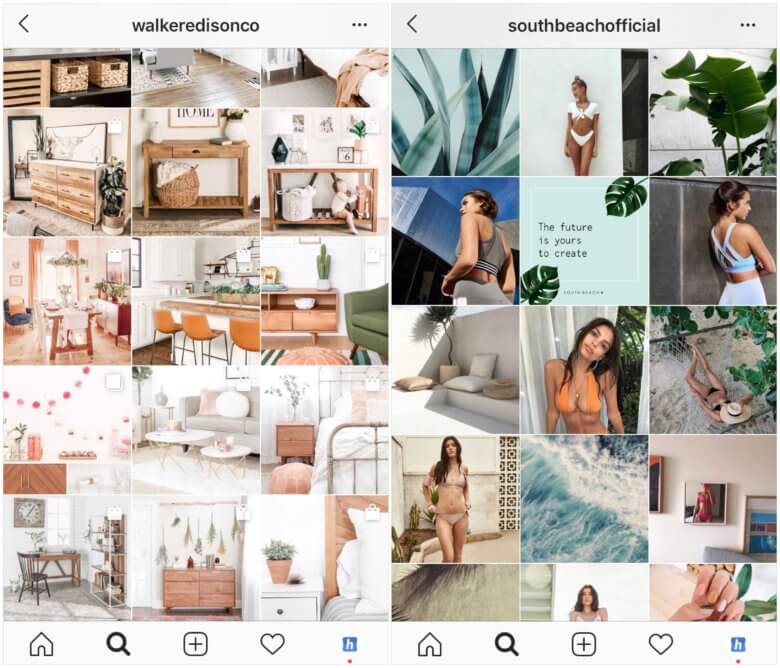 With our drag and drop Instagram Grid Planner, you can perfect your feed aesthetic as you schedule Instagram posts.
If you think one of your scheduled posts would look better next to a different post, you can drag and drop it and it will automatically change the posting order.
Schedule Captions And Hashtags
Another advantage of scheduling Instagram posts is the ability to plan your captions and hashtags in advance!
Captions are one of the most time-consuming areas of Instagram marketing, and therefore should never be rushed on the spot! Especially as a good caption can be vital for high engagement on a post:
Encourage interaction with your followers by asking questions in your captions! Generally people like offering their opinion about things they're interested in. If you know the kinds of conversations your target audience are having on Instagram, cater your questions around those topics.
Don't be afraid of a long caption! As humans, we love stories and storytellers. Try and weave a personal story into your Instagram caption — it will make you seem more human to your followers and also keep people on your post for longer!
A classic but a goodie, ask your followers to tag a friend who ought to see your post! If you know your target audience well you'll know the kind of content that will appeal, and the subtle call to action will result in an influx of comments on your post!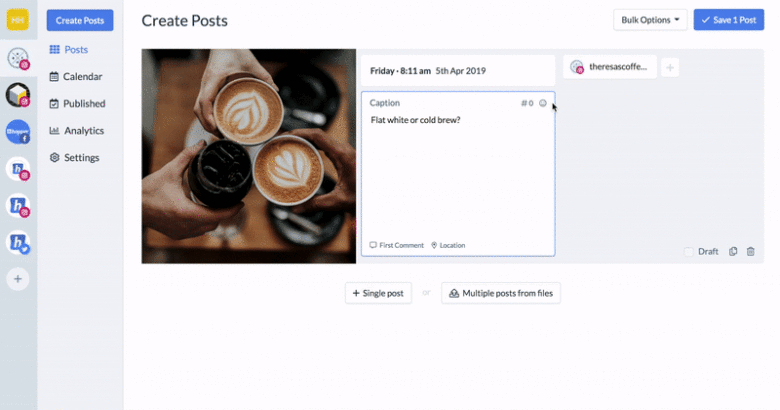 In terms of hashtags, we recommend splitting them between your caption and first comment, and always keeping them highly relevant to what you're posting.
The right hashtags can increase your reach and engagement significantly. But how can you find the best hashtags to use?
On the Instagram app, if you search any hashtags in the Tag search bar, Instagram will provide suggestions of similar and related hashtags. This is a great way to find new popular hashtags in your industry.
Audience hashtag research
Another sure-fire way of finding the best hashtags is by researching which ones your target audience are using. Take some time exploring your target demographic and customers on Instagram to see what they hashtag their posts with.
Grow Your Audience With #Hashtags
Discover better hashtags to reach the more people, grow your follower count and get more engagement on your posts.
Your competitors will have also done this research, so take a look at which hashtags they're using and compare them to yours. They might be finding the right people that you're missing out on!
💡 TIP 💡 It's good to have a mixture of high-volume (1 mil+) hashtags, and smaller more niche and relevant hashtags.
Using the hashtag tool on Hopper HQ, you can explore each hashtag and find new relevant ones to include!
#️⃣ Check out our All In One Guide To Instagram Hashtags for more tips! #️⃣
How Often Should You Post To Instagram?
There is no right or wrong answer for how often to post on Instagram, as it does vary from user to user. At Hopper HQ we'd advise between 1-3 posts a day, with anything over 10 leaning into the spam zone.
On average, brands are posting on Instagram between 1-2 times a day — although posting frequency can vary by sector, so it's worthwhile checking out your competition to see how often they're posting.
Remember: posting consistency is actually more important than posting frequency. If you decide you have enough content resources to post 5 times a day, that's amazing, but just ensure you can maintain that level of publishing!
By staying consistent in your Instagram posts, your audience will become accustomed to your content, and in turn, you will be perceived as a reliable and stable brand.
When Is The Best Time To Schedule Instagram Posts?
Again, there's no one-size-fits-all answer to this question.
Using Hopper HQ's Best Time To Post analytics tool tracks your follower activity to see when most oof them are active on Instagram. You can connect your business Instagram account and check the Hopper HQ follower analytics to find the best times to post for you and your audience, then schedule your posts for those times to boost engagement!
⭐ Find out how to create a winning Instagram marketing strategy here ⭐
Related: Check our latest blog to find out the best time to post on TikTok
Happy Scheduling! 👋
If you have any questions about how to schedule Instagram posts, and specifically using Hopper HQ, please get in touch in the comments!
---
Hopper HQ is an Instagram content scheduling and management platform that saves social media managers and agencies time. Start your 14-day trial today!
TRY HOPPER HQ FREE
Refreshingly Simple Post, Story + Reel Scheduling
Visually plan all your social channels. Instagram, TikTok, Twitter, Facebook + LinkedIn.