Here's 
why

you should schedule Instagram posts, and

how

you can get started right away!

How do you schedule Instagram posts? It's a question we hear amongst Instagrammers far and wide, which is why we put together this handy guide (that rhymed). Knowing how to schedule Instagram posts is perhaps one of the most integral marketing strategies you could use to help the growth of your Instagram account. It's a simple formula: the more consistently active you are on Instagram, the better your account will perform. Your followers want to see great content, and they want to see it often!
Why You Should Schedule Instagram Posts
As well as being a fundamental strategy for growth and general organisation, scheduling your content to Instagram has many benefits, including:
⭐ Find out how to create a winning Instagram marketing strategy here ⭐
Managing Multiple Accounts 👥


Having more than one Instagram account has become a common trend, whether you have separate accounts for business, are a social media manager for other brands, or even have accounts for your hobbies! Managing multiple accounts and maintaining posting regularity requires a huge amount of time and organisation. Using software to schedule Instagram posts takes away the burden of account management, and allows you to focus more time on the fun creative parts like content creation!
---
Video Tutorial: How To Schedule Instagram Posts
---
How to Schedule Instagram Posts: A Step By Step Guide
Scheduling posts to Instagram cannot be done through the mobile app. In order to be able to schedule Instagram posts, you need to use an Instagram scheduling tool. We will naturally be favouring Hopper HQ for fully-automated Instagram scheduling. You can also check out a full independent review of Hopper HQ here.
Without further ado, here's how to get started:
(I've created a brand new account to show how easy it is to get set up from beginning to end!)
Step 1: Create a Hopper HQ account
First thing's first, to schedule Instagram posts you'll need a Hopper HQ account. Signing up only takes a few minutes, and the best part is you'll receive a free 14 day trial to test it out!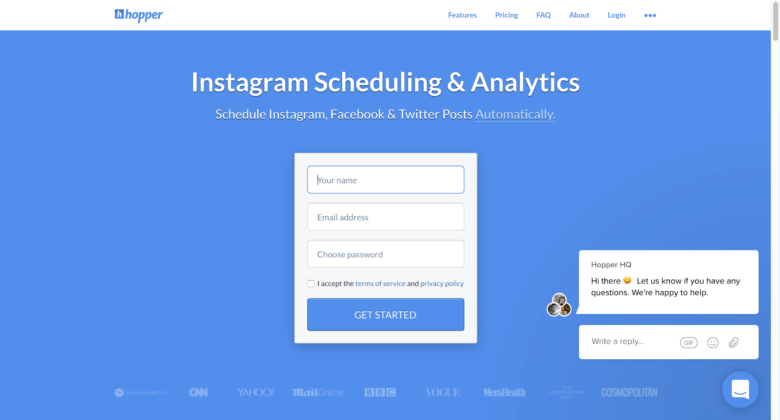 Step 2: Select Your Plan
Choose how many Instagram accounts you want to manage on Hopper HQ, and whether you want to pay annually or monthly. You will have to enter your card details to proceed, but you will not be charged until the end of your 14-day trial, and can cancel at any time. For the purpose of this example, I've selected 1 account.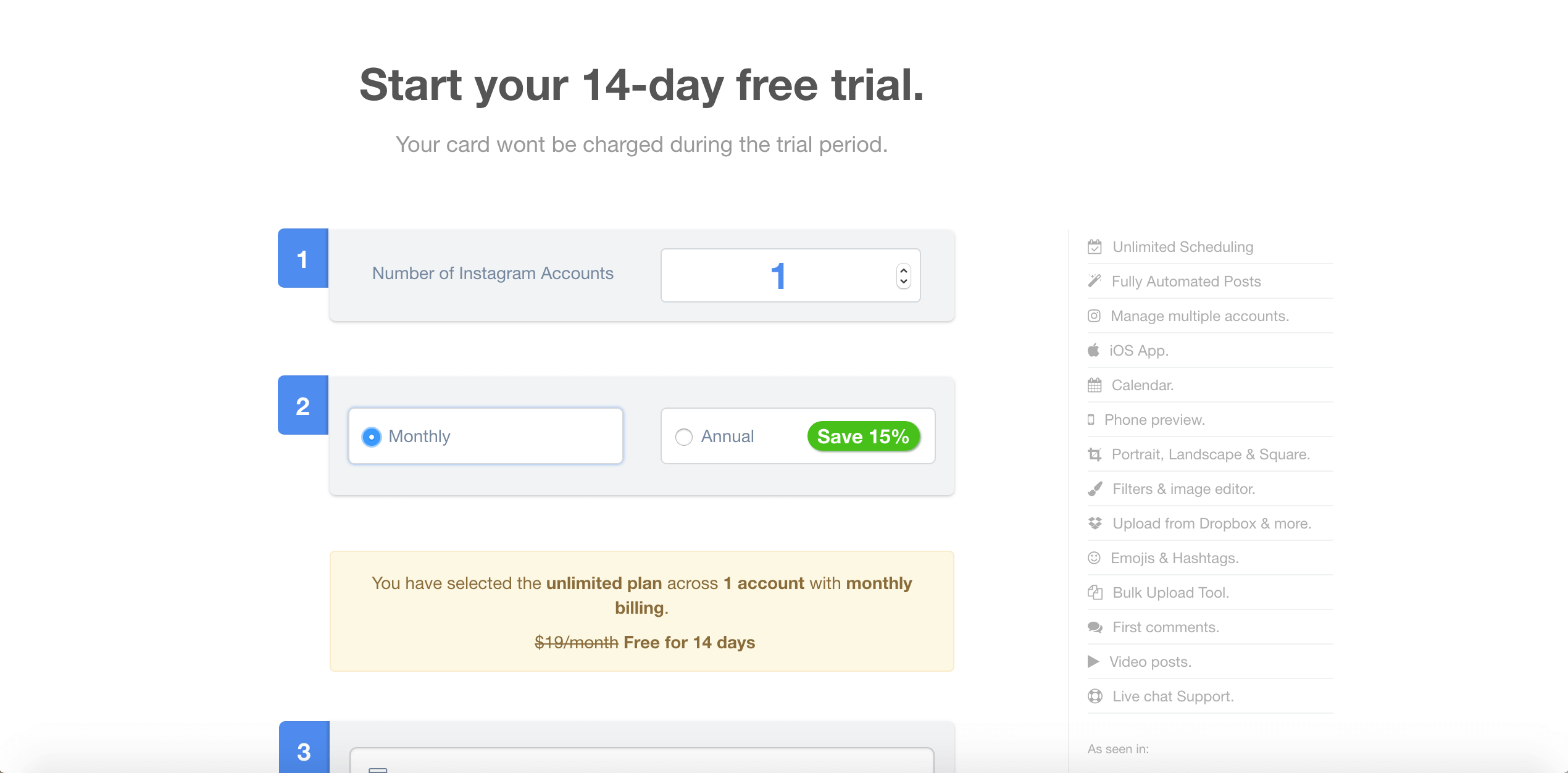 Step 3: Connect your Instagram Account(s)
Once you've registered with Hopper HQ, you'll be taken to a dashboard where you can connect your Instagram account(s) in order to schedule your posts!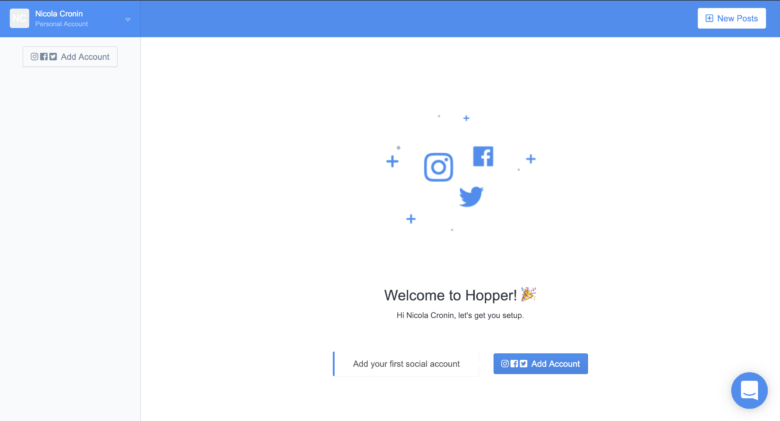 From here you will be able to add your Instagram (and Facebook & Twitter) accounts to the platform.
NB. Facebook and Twitter accounts are included with the number of Instagram accounts you choose on your plan. For example, a 2 x Monthly plan includes 2 Instagram, 2 Facebook and 2 Twitter accounts.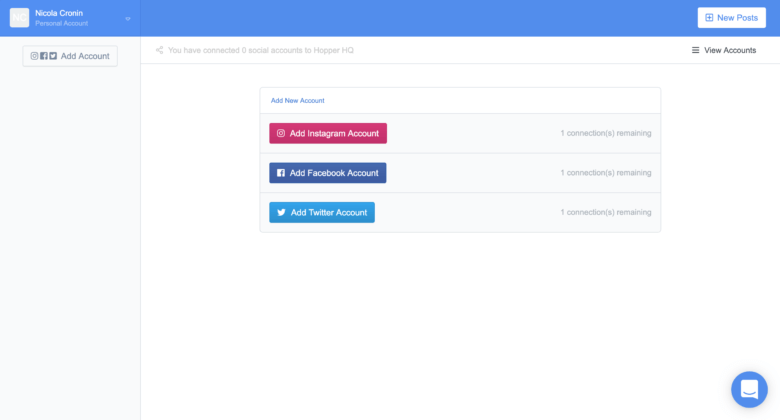 If your Instagram account is a Business account (i.e linked to a Business Facebook page), you can login with Facebook and Hopper HQ will show you all the linked Instagram accounts you can add. If it's not a Business account, you can still add it but you will not have access to Analytics!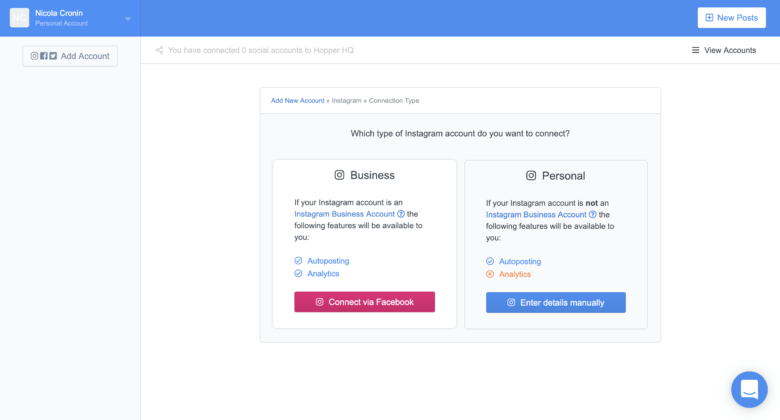 For this example, I connected a Business account. Be aware that this process will be slightly different if you choose to manually add a non-business account.
After logging in with Facebook, you will see a list of Instagram accounts to add to Hopper HQ:
(in order to see your Business Instagram account here, you will need to be an admin of the Facebook Business Page it's linked to)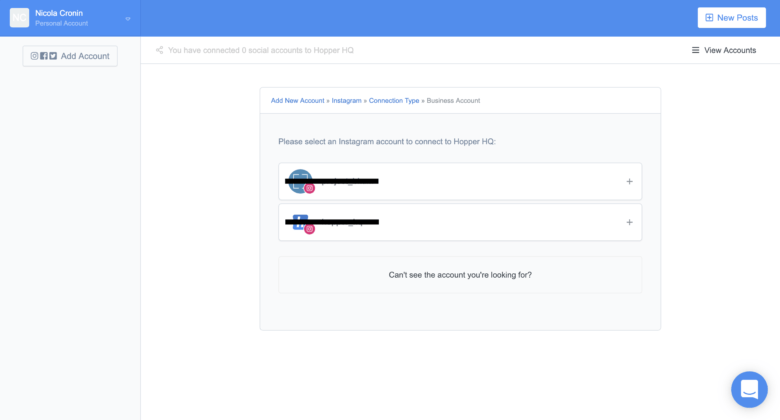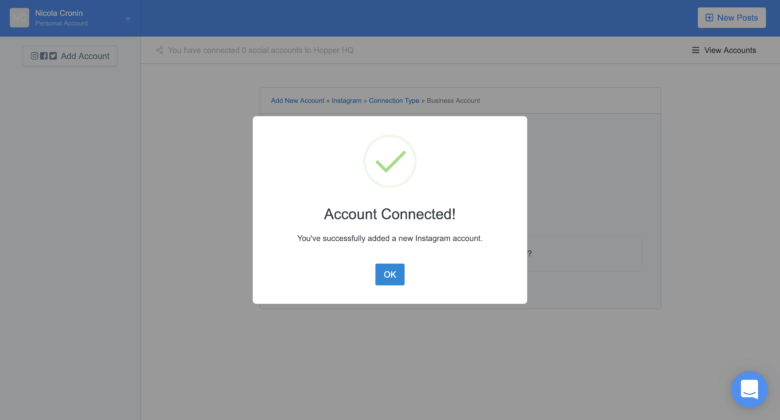 💡 Note: If at any point you're struggling with these steps, you can click on the chat icon in the bottom right hand corner of the platform to speak directly to one of the Hopper HQ team. Someone will be happy to help! 💡
Step 4: Verify Your Account
Once connected, you need to enable auto-posting by entering your login details. This is part of the verification process for Hopper HQ to connect to Instagram to post on your behalf.
It sounds obvious, but please check you're entering the correct password for your Instagram account. If it's wrong it will slow down the verification process and we know you're keen to start scheduling your Instagram posts ASAP!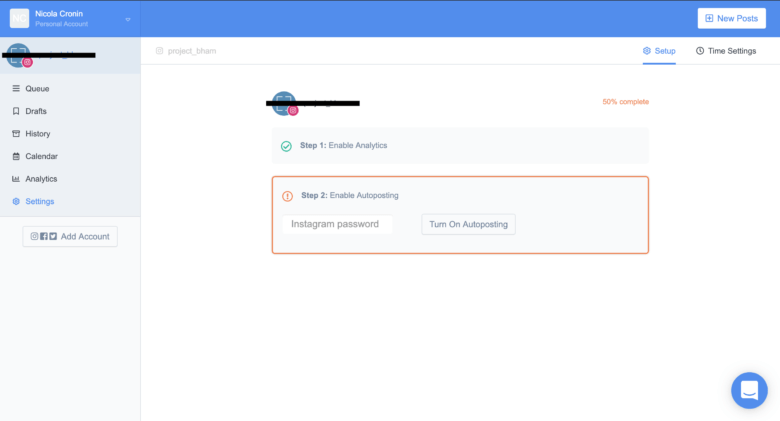 Hopper HQ will then verify your account with Instagram to enable auto-posting.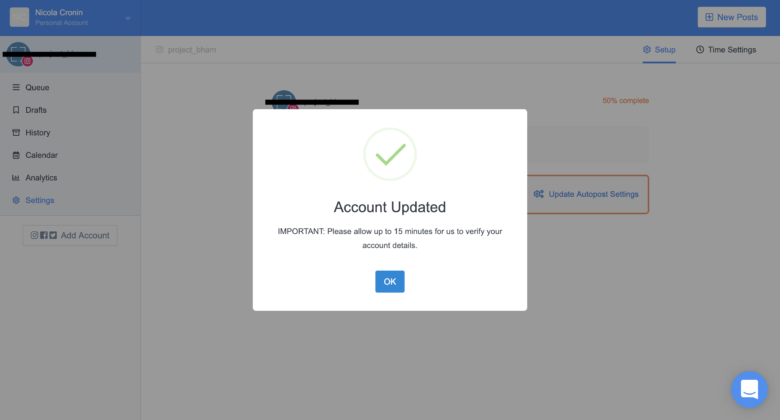 Most of the time, Hopper HQ will be able to verify your account without any more action from you. You'll shortly receive an email from us confirming you're able to schedule Instagram posts on Hopper HQ!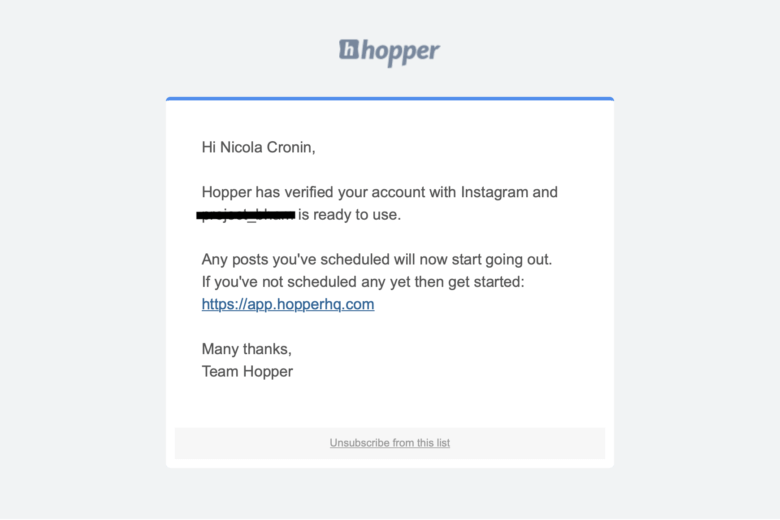 On some occasions, Instagram might need further verification from you. You might receive an email or pop-up on the Instagram app, asking you to verify your Hopper HQ account.
This verification could take a few different forms, but will simply be a case of approving the login attempt from the Hopper HQ Android device by selecting 'This Was Me'. This will enable Hopper HQ to auto-post on your behalf from one of our physical devices! Note: we have physical posting devices in locations all over the world, so don't be alarmed if it's far away from where you are!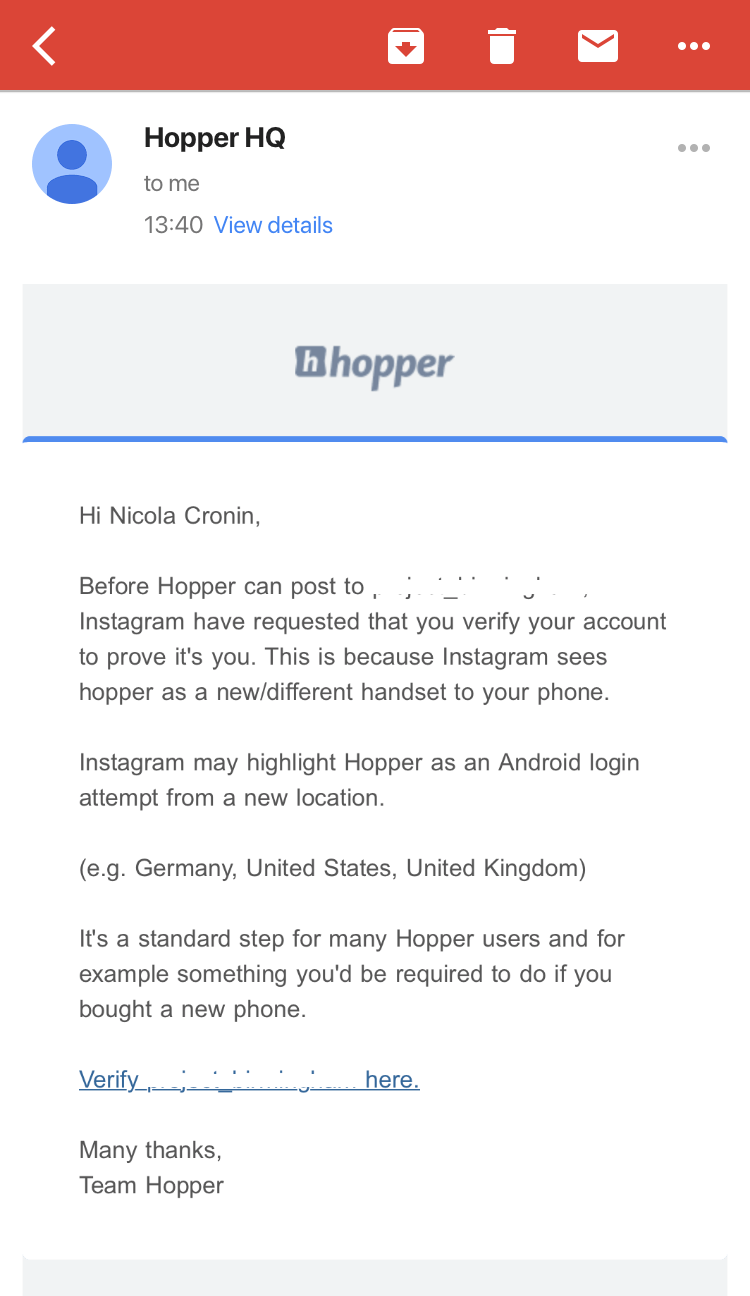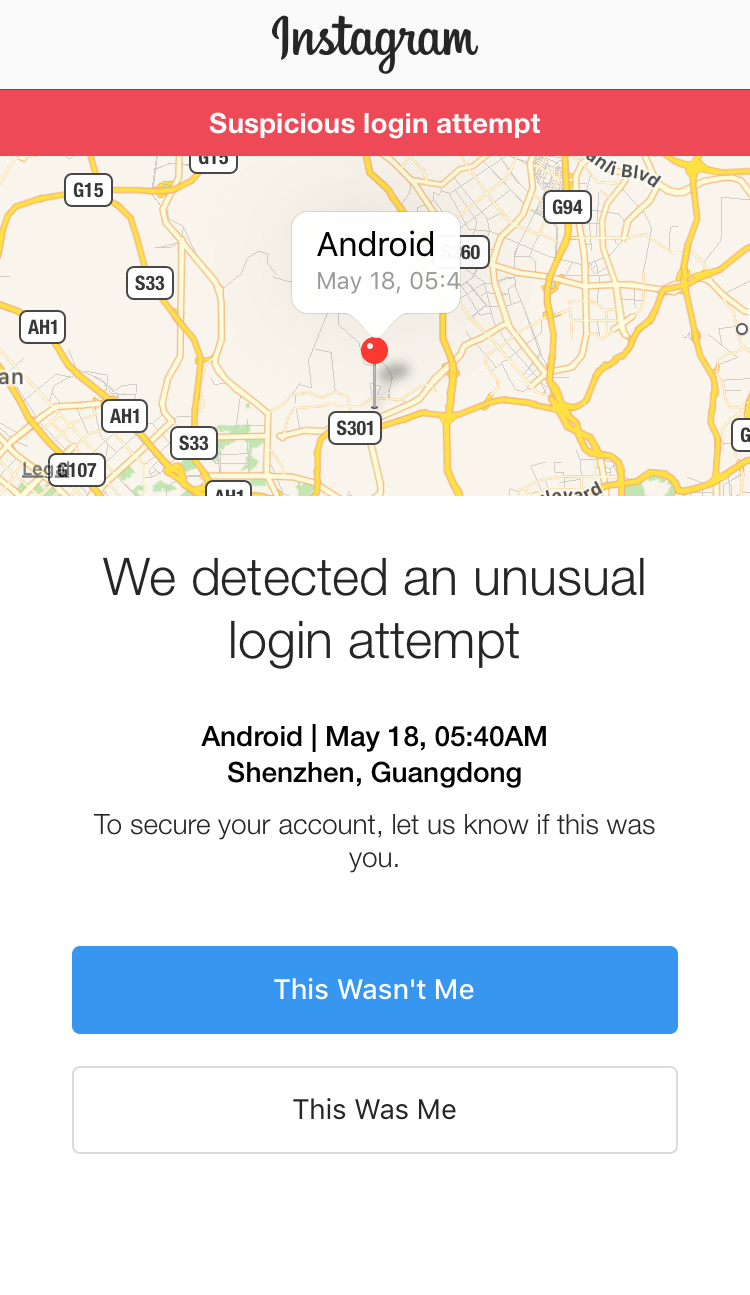 When this is done, auto-posting will be enabled and you'll be able to schedule Instagram posts with Hopper HQ 🎉🙌 hooray!
Step 5: Upload & Start to Schedule Instagram Posts
On to the good stuff! Now you're connected and verified with Hopper HQ you can begin to schedule Instagram posts…
Select Images/Videos – Head to the Hopper HQ Queue and click 'New Posts'. From here you'll be able to bulk upload up to 50 files from your computer, a URL, the web, or from Dropbox, Google Drive, Google Photos or Box.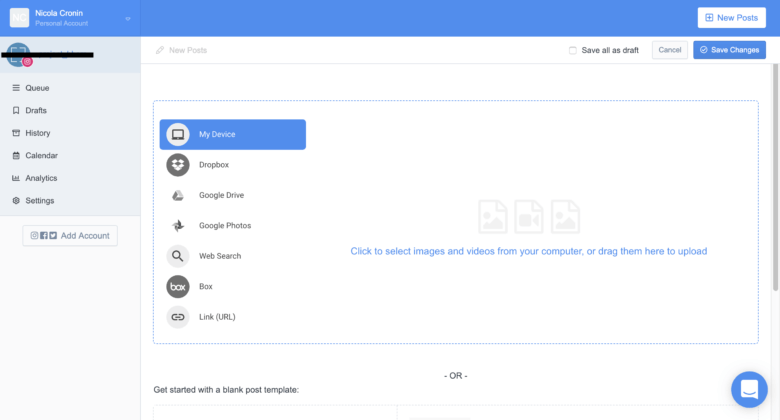 Edit Image – Once uploaded, you're taken to the bulk edit view where you can add more images to make a gallery post, crop, and edit your post!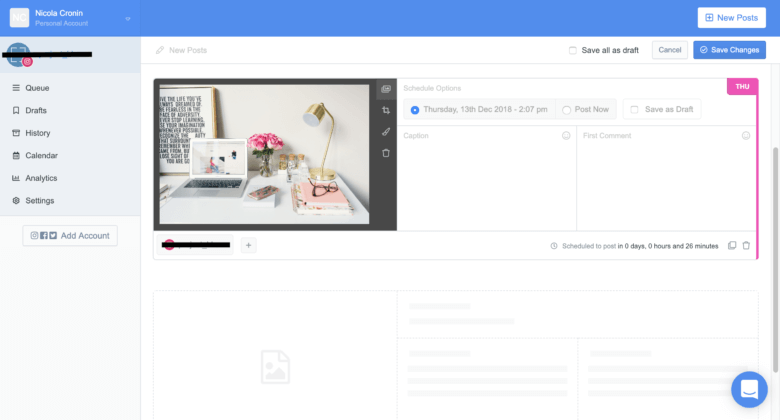 If your images are not the correct size for Instagram, you will see an alert to crop using Hopper HQ's pre-set dimensions. Click on the crop icon to make your image square, portrait or landscape.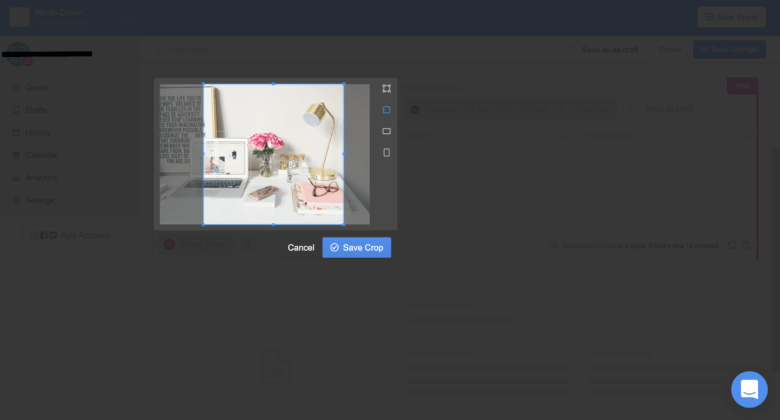 Click on the paintbrush icon to go to our in-app editing software! Here you can add filters, edit brightness etc and even add light leaks, text and stickers.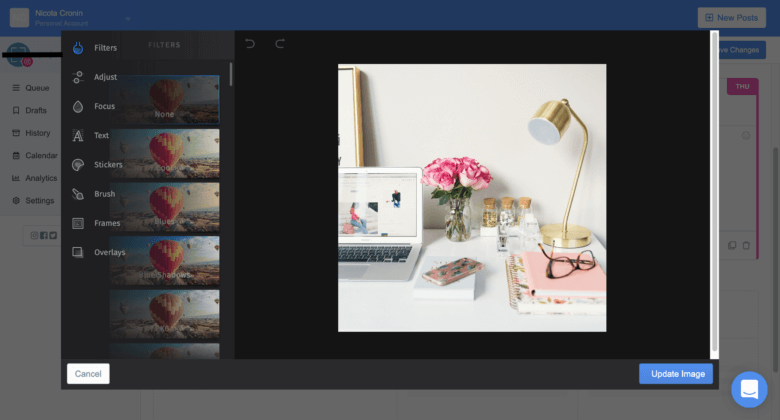 Add Captions and First Comments – Once you've finished editing, you can write out both your captions AND first comments for all of your uploads (with emojis!). We recommend splitting your hashtags between your caption and first comment, and always keeping them relevant to what you're posting. Using our hashtag tool, you can explore each hashtag and find new relevant ones to include!
#️⃣ Check out our All In One Guide To Instagram Hashtags for more tips! #️⃣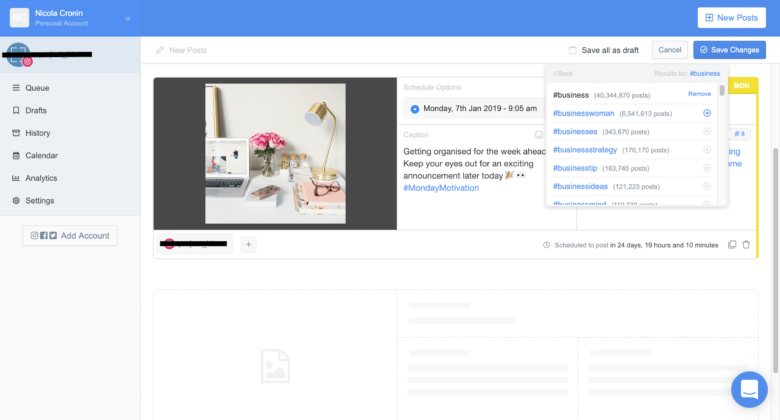 Schedule Instagram Post – Now you're happy with your posts, you have the choice to 'Post Now', schedule a date & time, or save as a draft (a handy feature if you're working in a team). If you decide you want to post the same photo to another Instagram account, or even a Facebook or Twitter account, you can easily add accounts underneath the photo using the plus icon.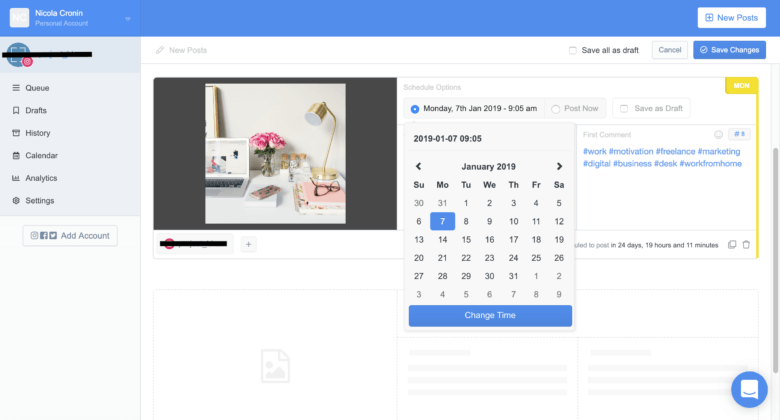 Done! – Click 'Save Changes' and Hopper HQ will take care of the rest. Your posts will automatically be published to Instagram at your scheduled time. Your scheduled posts will all appear in the Queue and the Calendar, and any changes can be easily made by drag and dropping without being redirected. Hopper HQ also has an Instagram Grid Planner, so you can perfect your feed aesthetic as you schedule Instagram posts.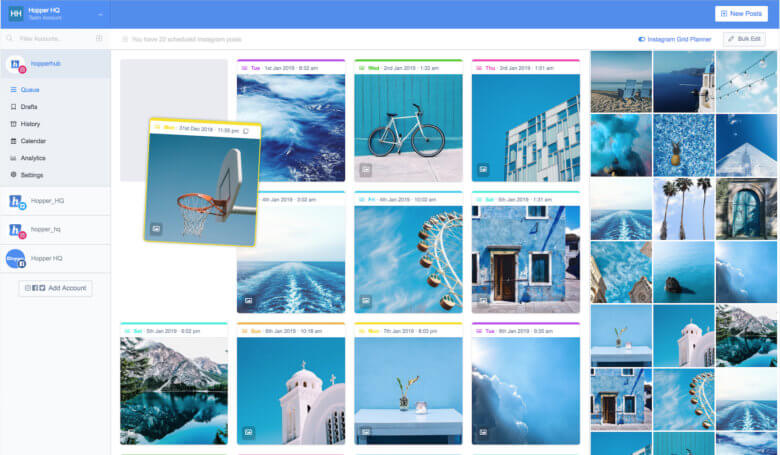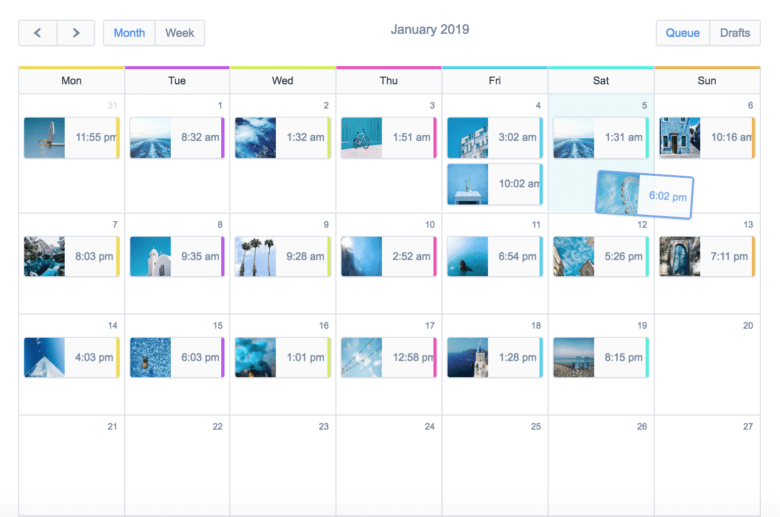 One Final Thing…
Two common questions we hear at Hopper HQ are:
"How often should I be posting to Instagram?"
and
"What is the best time to post on Instagram?"
There is no right or wrong answer for how often to post on Instagram. At Hopper HQ we'd advise between 1-5 posts a day, with anything over 10 stepping into the spam zone. On average, brands are posting on Instagram between 1-2 times a day – although posting frequency can vary by sector, so it's worthwhile checking out your competition to see how often they're posting!
As for the second question, the best time to post on Instagram will truly depend on your followers and the audience you are trying to attract. Using Hopper HQ's free Best Time To Post tool, you can find the hour and day your audience are most active to get optimum engagement, and then schedule Instagram posts around that data!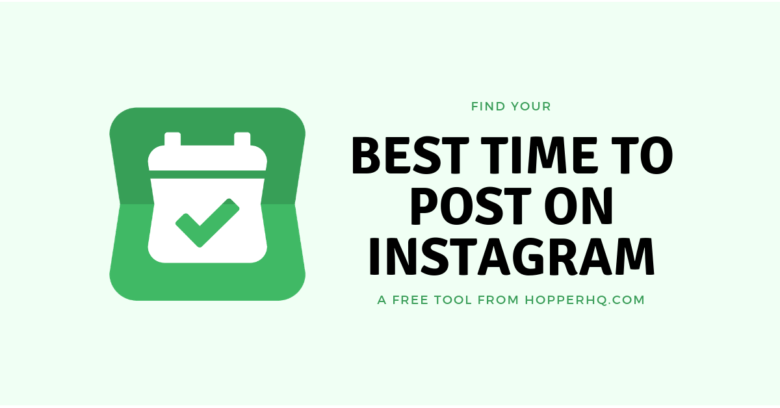 Remember: posting consistency is actually more important than posting frequency. If you decide you have enough content resources to post 5 times a day, that's amazing, but just ensure you can maintain that level of publishing! By staying consistent in your Instagram posts, your audience will become accustomed to your content, and in turn, you will be perceived as a reliable and stable brand.
Happy Scheduling! 👋
If you have any questions about how to schedule Instagram posts, and specifically using Hopper HQ, please get in touch with us in the comments!
---
Hopper HQ is an Instagram content scheduling and management platform that saves social media managers and agencies time. Start your 14-day trial today!