This step-by-step guide on how to post on Instagram from PC gives you 12 different methods for posting on Instagram from your desktop. Let's get started!
When Instagram first launched in 2010, it only allowed users to post photos from their mobile devices through the Instagram app. Since then, Instagram users have been searching for options to post on Instagram from PC.
If you're wondering "How do you post on Instagram from a desktop?", we'll cover 12 different options to post on Instagram from your computer in this article. In addition, we'll list the pros and cons of using each tool to post on Instagram so you can choose the best option for you.
There are 6 ways to use a laptop or desktop computer and Windows or Mac to create IG posts photos and videos on Instagram.
Table of Contents
1) Use an Instagram scheduler (recommended)
You can grow your Instagram by planning your posts ahead of time. Using an Instagram scheduler lets you:
Hopper HQ lets you focus on content quality. With features such as bulk content creation and scheduling ahead of time, all from your desktop.
Hopper HQ is a company founded in 2014 tailored for brands, agencies, and creators to grow on Instagram. They also have an outstanding live chat to help you on the go.
Instagram Scheduler Tool: Hopper HQ
Whether you're on a Mac or Windows PC, you can schedule and post on Instagram with ease using the Hopper HQ desktop app. Hopper HQ provides a seamless Instagram for Mac and Windows experience, allowing you to visually plan and schedule your social media campaigns automatically with tailored insights, all from your computer. Scheduling your posts saves you precious time that you can use to focus on other aspects of your growth.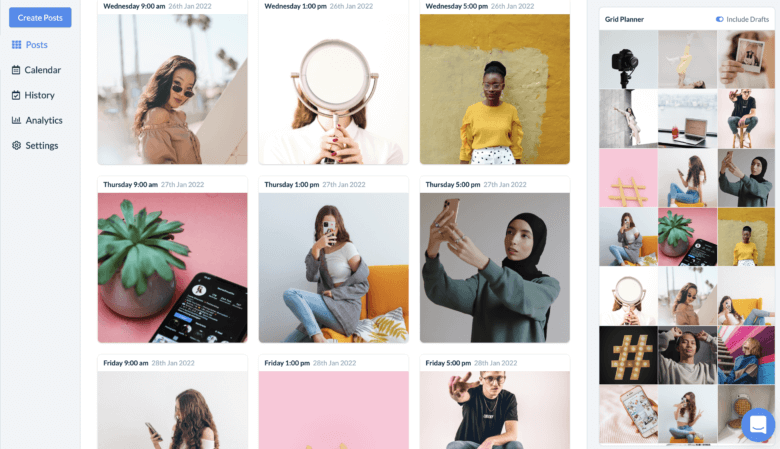 Simple Post, Story + Reel Scheduling ✨
Visually plan your social content. Instagram, TikTok, Twitter, Facebook, LinkedIn + Pinterest
How to use Hopper HQ to post on Instagram from the desktop?
1. Create an account at HopperHQ.com
After logging in to your new account, you are greeted with a visual dashboard with four sections: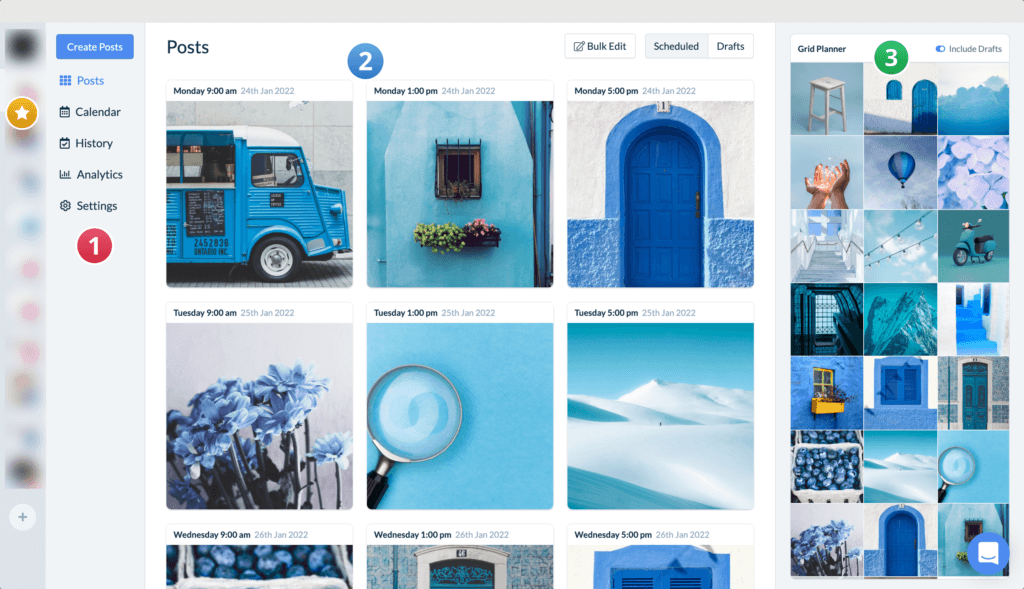 Section 1: Social media accounts list
In the left corner, you can see your Instagram handle. You can add other social networks too, such as LinkedIn, Facebook, and Twitter accounts (Stay tuned for more social networks soon 👀)
From the menu, you can create and manage your feed posts, calendar, analytics, and settings.
Section 3: Instagram posts
View your scheduled and drafted posts ready to be posted on Instagram.
Section 4: Grid planner for Instagram feed
Look at your Instagram feed posts, exactly how they will appear on your IG profile once published.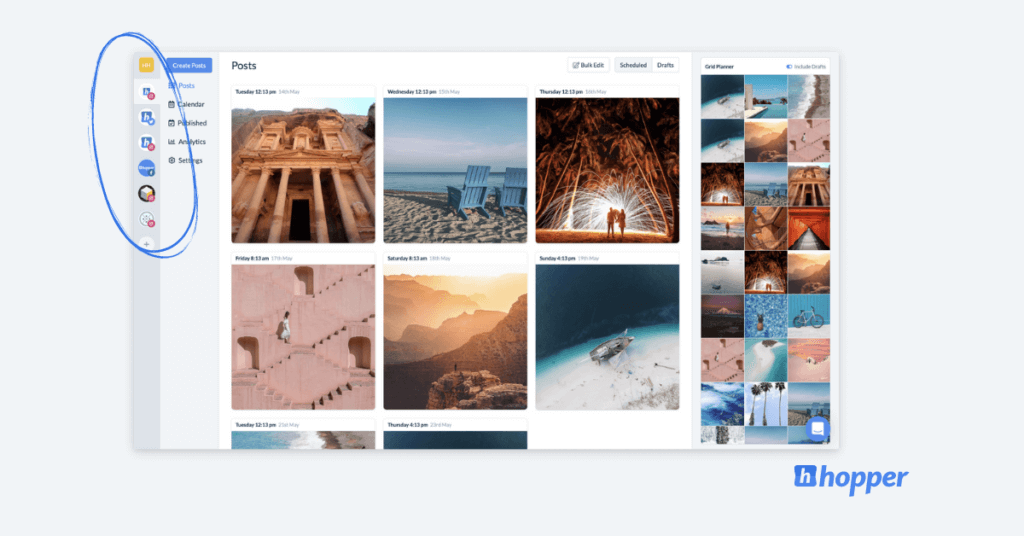 2. Create posts and upload Instagram photos, videos, stories, and reels
In the top-left corner, click "create posts" and you are taken to a window where you can upload 50 photos or video posts at once directly from your desktop browser in one swoop.
Take a look at the video uploading photos from Unsplash. As a result, fill your calendar in seconds.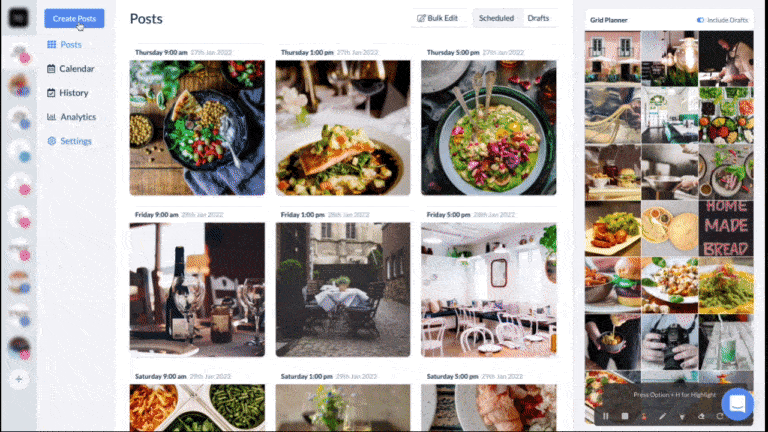 3. Edit your Images
If your images are not in the correct Instagram size dimensions, a pop-up alert will take you to the photo editor with pre-set dimensions for portrait and landscape photos, and apply any filters or edits.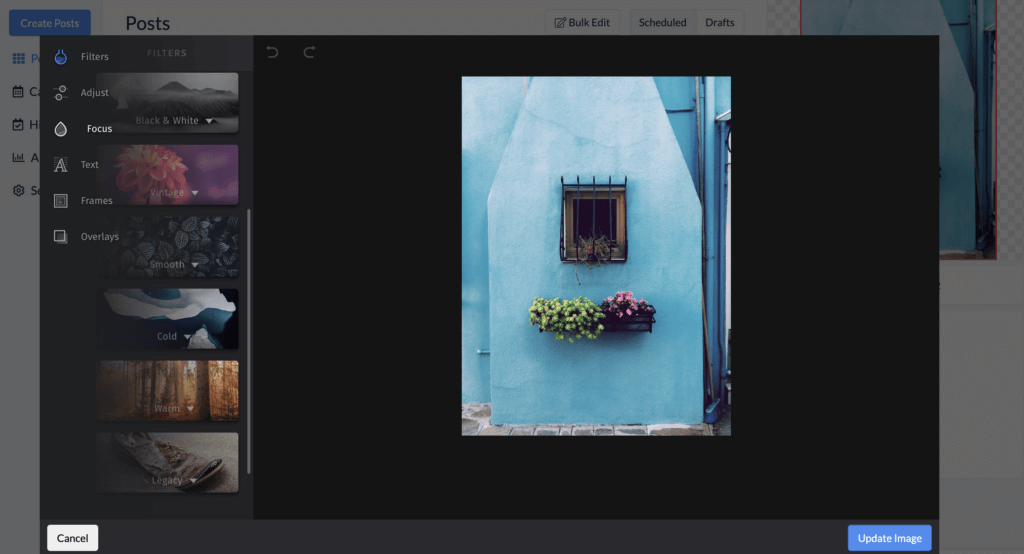 4. Write captions and schedule your first comment with hashtags
Once you've made your edits, you can write captions (including emojis) for all uploads, and schedule the first comment where you will add all your hashtags.
Grow Your Audience With #Hashtags
Discover better hashtags to reach the more people, grow your follower count and get more engagement on your posts.
If you decide you want to publish the same post to another social network then, you can choose to send it to multiple platforms at the same time. This includes Instagram, Facebook, Twitter, LinkedIn, and more social networks coming very soon in 2022.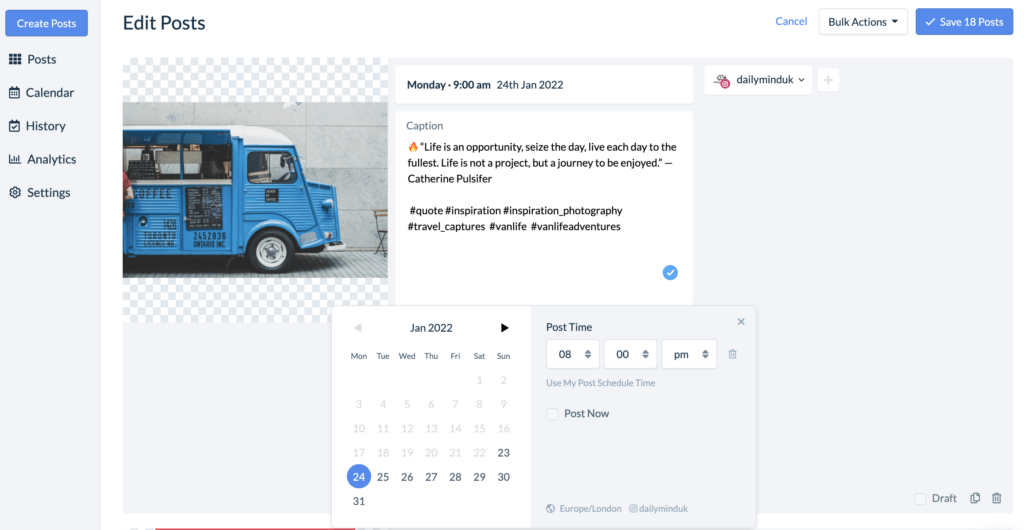 5. Drag and drop grid planner
Once all your photos and video posts are in the dashboard, you can easily make changes by dragging and dropping the posts. The Instagram Grid Planner displays an accurate view of what your IG feed will look like.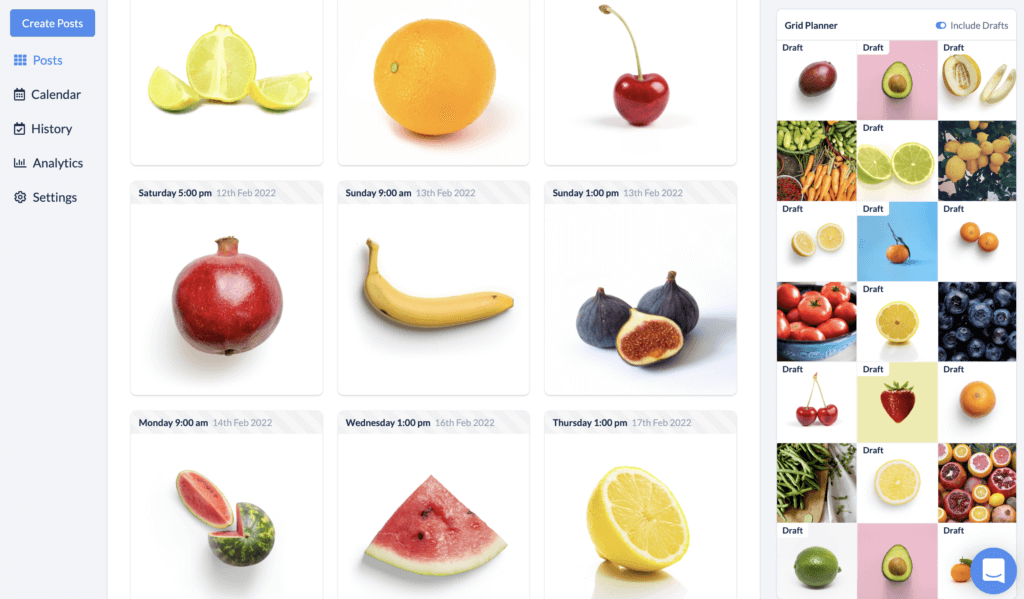 6. Calendar View
Hopper HQ also includes a calendar view in a clean and aesthetic arrangement.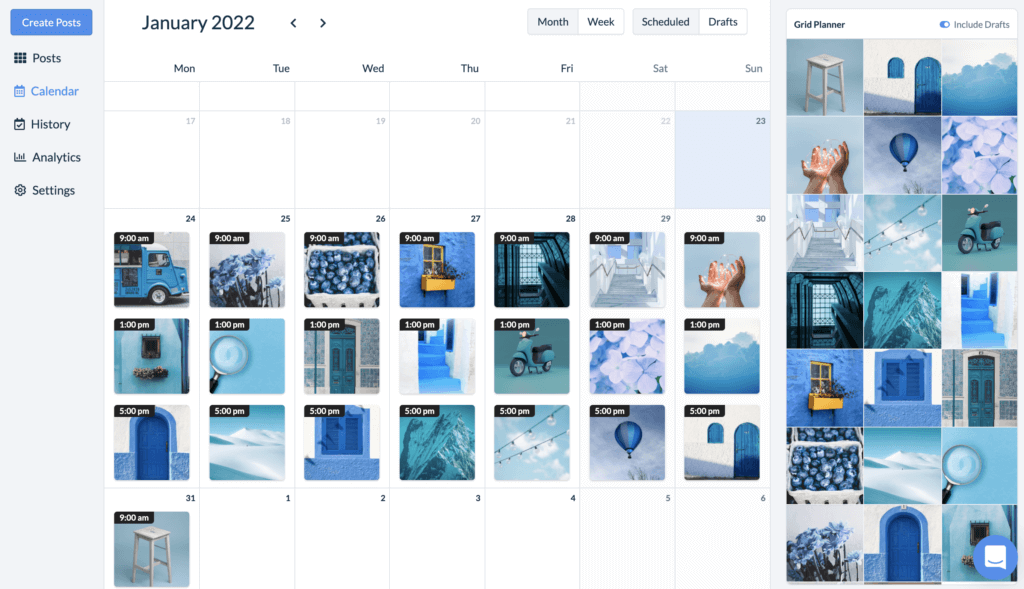 7. Monitor your social media analytics
User-friendly Analytics to measure the success of your content and stay informed about your audience demographics!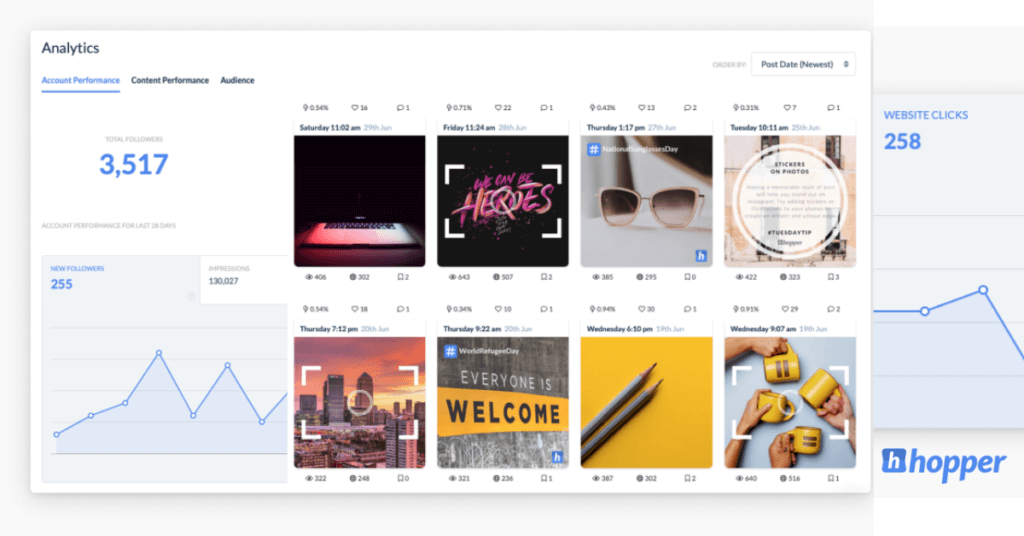 Explore The Data Behind Your Social Media Accounts 📊
Find the best time to post, track your follower growth, and understand what content works best with post and account analytics.
Pricing
Hopper HQ works on a subscription basis by the number of social accounts sets. Pricing starts at $19 monthly or $16 monthly if paying annually for 1 set of social accounts.
1 social set = 1 Instagram account, 1 Facebook account, 1 Linkedin account, 1 Twitter account.
If you are an agency or you manage multiple accounts, there is a bulk discount. 🎉
Pros and cons of using an Instagram scheduler tool to post on Instagram from PC
Pros: The Scheduler tool lets you plan and automate posts in advance, upload images and videos from the desktop, create carousel posts with multiple photos in seconds, and much more. Additionally, we recently launched Instagram Story scheduling AND Instagram reels scheduling.
Cons: it is not a free option. The good news is that there is a free trial to test drive the tool before committing, and you won't be charged until the trial period is over. Interested? Start your free trial today!
The verdict
Hopper HQ does far more than post to your Instagram from PC or desktop. It is a complete social media management tool built to automate and manage Instagram and other social networks to scale. It offers a visually appealing dashboard with an easy-to-use drag and drop interface, resulting in an attractive grid and consistent Instagram aesthetic in no time.
| 🚫 Free | ✅ Hashtag Tool |
| --- | --- |
| ✅ Photo AND Video Posts | ✅ First Comments |
| ✅ Instagram Stories & Reels | ✅ Editing Tools |
| ✅Carousel Posts | ✅ Filters |
| ✅ Windows | ✅ Cropping |
| ✅ Mac | ✅ Tag Images |
| ✅ Bulk Upload | ✅ Tag Locations |
| ✅ Captions | ✅ Multiple Accounts |
| ✅ Feed Grid Preview | ✅ Bulk Edit |
Choose the best tool to manage your Instagram Account from your Personal Computer
Plan & Schedule Your Social Media Posts
Visually plan your posts. Drag & drop everywhere in seconds ✨
2) Using Instagram Web

Instagram Web version
With Instagram's latest update, everyone can post from PC whether with Mac or Windows; therefore, allowing to upload Instagram posts from the web version of Instagram (Not the mobile app).
Visit the Instagram website and log in with your credentials. Once inside, click the + icon in the upper-right corner of the menu bar (next to the Messenger icon). Here, you can edit the photos, and add your caption, for instance. In addition to changing location, Alt text, and advanced settings.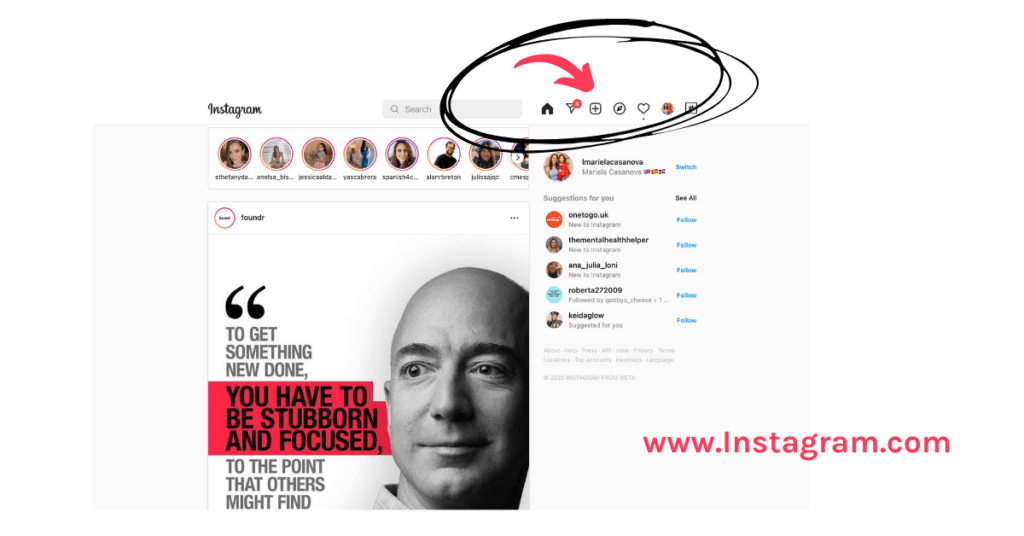 Pros and cons of using the Instagram web version to post on Instagram from PC
Pros: Instagram lets users share photos or video posts from the Instagram web on a desktop. The Instagram web app allows users to add captions, locations, tags, and hashtags. Additionally, this is an option that's easily accessible from any browser (Safari, Google Chrome, Bing, etc.)
Cons: It's very difficult to manage multiple Instagram accounts. Image cropping options are limited, and you cannot re-post photos using this method. Lastly, you cannot upload Instagram Stories and schedule posts in advance.
The verdict
Using the Instagram web version is beneficial if you are looking to upload one picture on the go or see your Instagram feed on a bigger screen. However, you can't upload Instagram Stories and there is no scheduler!
Bottom line: limited and difficult to scale your Instagram account.
3) Using Google Chrome or Safari (Mac and Windows)

This method changes the user agent on your browser for posting on Instagram from PC (Mac or Windows) and does not require a website or software download, plus it's free to use. Here are the ways to use it, explained depending on your favourite operating system!
Google Chrome (Mac)
How to change the user agent in Google Chrome when using Mac?
1. Open the Developer Tools Window.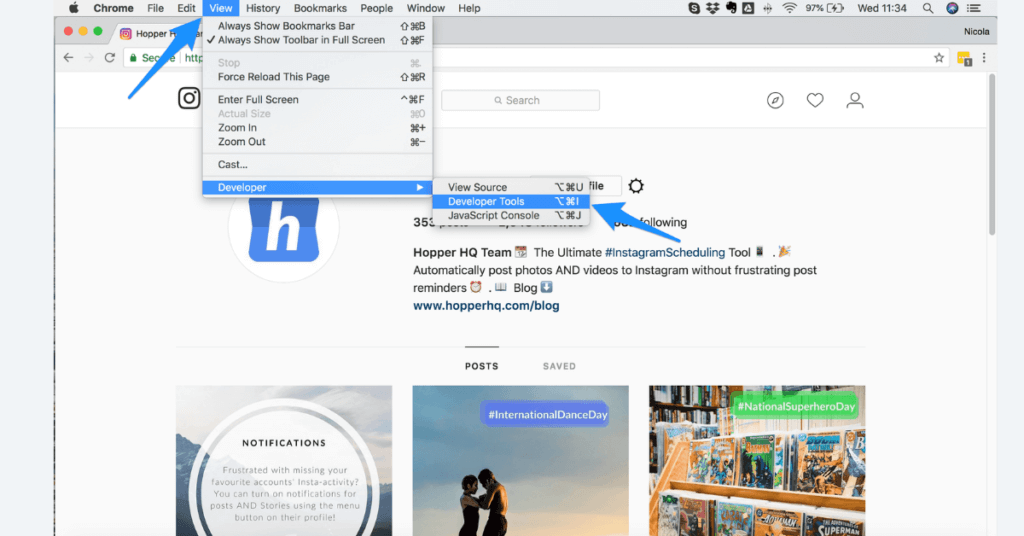 2. The console will open. Then, by clicking this icon, you can change the view to a mobile device.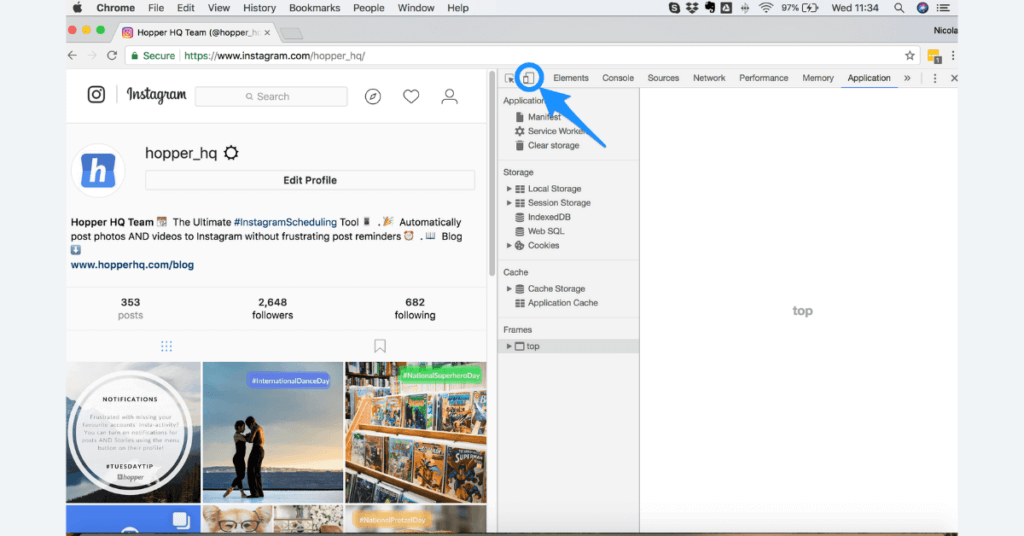 3. In this drop-down menu, select a mobile model from the list of devices. This will change the browser's view to a mobile screen, and the upload button will appear.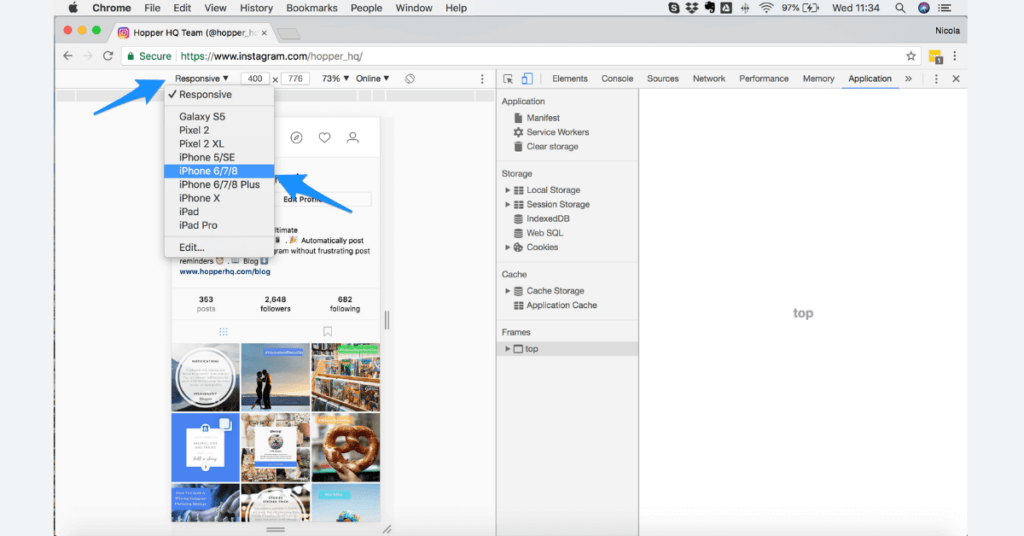 4. The upload button will automatically open your computer's files. Select a photo. You then have the option to rotate and also to zoom out.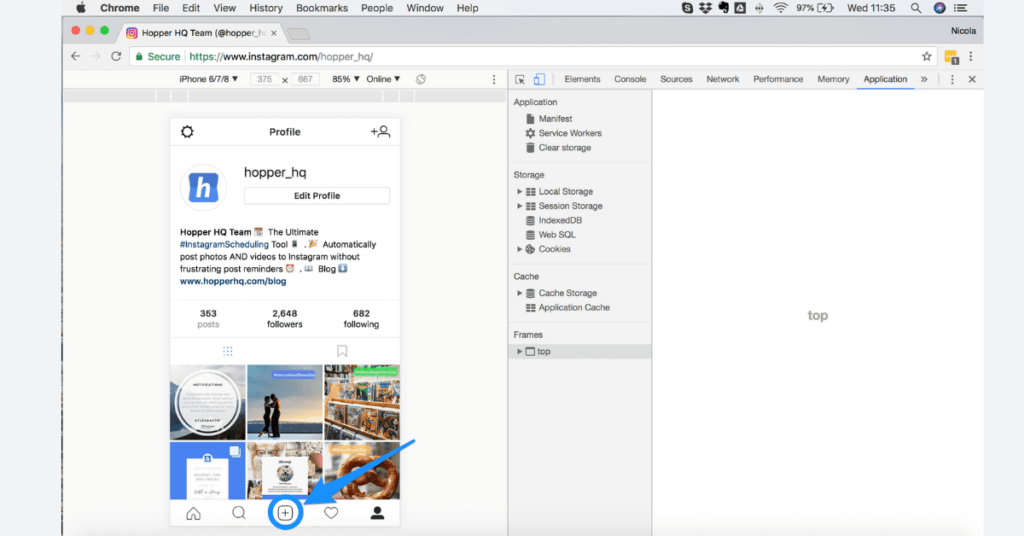 5. You have a range of Instagram filters available, although not the editing tools. When you're ready, press next as you would on mobile.
6. Add a caption and location on the review page. Thereafter, click share, and the post will be published on your profile!
7. Additionally, publish to your profile using the Share button in the top right-hand corner!
Google Chrome (Windows)
How to change the user agent in Google Chrome from Windows?
If you are running Chrome, click on the 'three dots' icon on the top right section of your browser. Despite it for windows, actually works in Mac too. Find the steps explained.
(1) Click on 'More tools' and pick "Developer tools".
(2) Go to the "Toggle Device Toolbar" option in the console window.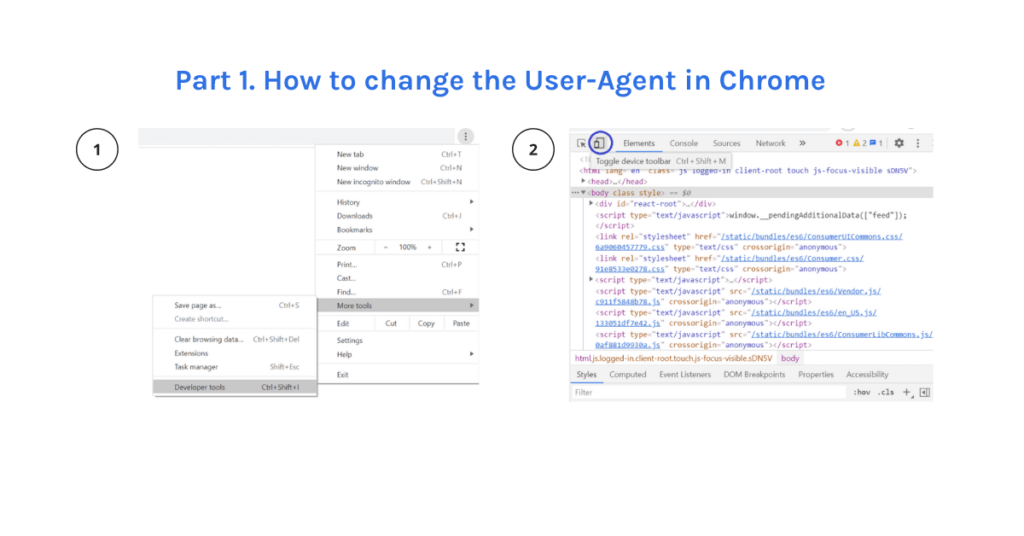 (3) Go up to the dropdown to pick a mobile device user agent and set the user agent to the mobile device that you wish.
(4) After that, launch IG on the browser.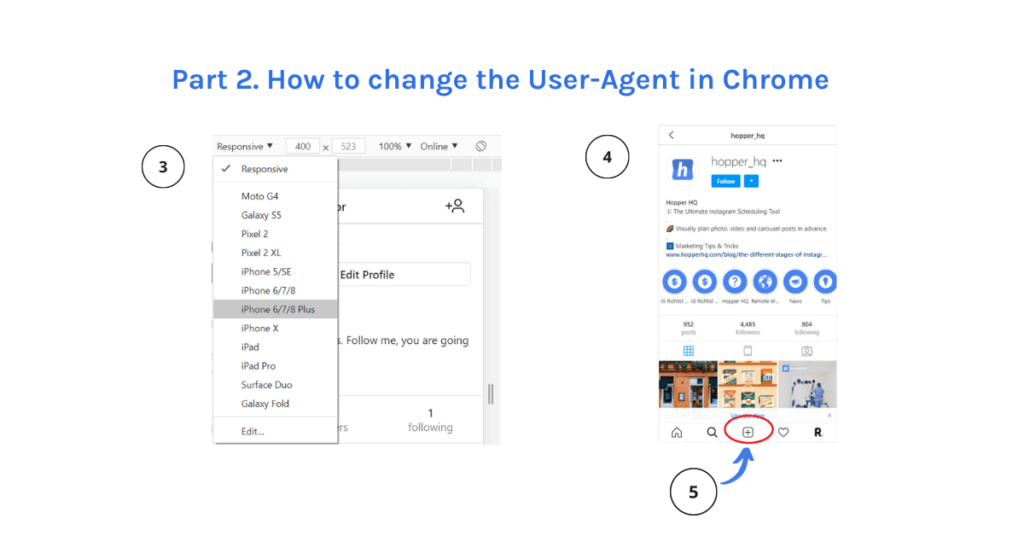 Thereafter, you can click the + button to start posting photos or videos on Instagram from your desktop or laptop computer.
Safari (Mac)
How to change the User-Agent in Safari from Mac?
To change the user agent on Safari, you must enable the 'Develop' menu by going to Safari browser > Preferences > Advanced Settings and allowing the "Show Develop" option in the menu bar. Once this is done, you can follow the steps explained in the option above.
Pros and cons of using Chrome or Safari to post on Instagram from PC
Pros: posting on Instagram from Chrome or Safari requires no third-party site or download, and the Interface shows your Instagram as it would appear on mobile.
Cons: It is missing the editing tools and you can't add videos. This method also does not allow you to post multiple photos, nor schedule posts in advance.
The verdict
This is a handy quick fix if your photos are ready to go on your desktop or USB and you don't have time to transfer them to your phone. While this is relatively simple and free, there are many limitations.
Check out this in-depth guide where David Coleman explains "what the user agent is."
4) The Inspect method
How to post to Instagram using the Inspect method?
To post to Instagram using the Inspect method, open your browser's search bar and type Instagram.com
Use the right-click and select Inspect; subsequently, a code screen should appear where then you can select Toggle Devices. Now, you can follow the instructions above.
Pros and cons of using the inspect method to post on Instagram from PC
Pros: It is free and simple to use. You can write captions, tag people, and then click Share.
Cons: The images will be posted as you upload them, with no filters or cropping, and again videos cannot be posted. In conclusion, no schedule option in none or automation that helps manage multiple accounts
The verdict
This is a quick and easy way to post to Instagram from any browser. Nonetheless, this method has limitations like editing your videos and photos, scheduling in advance or managing multiple IG accounts.
Plan your social media posts.
Visually plan your posts. Drag and drop everywhere.
5) Facebook Creator Studio
In August 2019, Facebook launched the option to post to Instagram on their Creator Studio platform. Consequently, users with a business Instagram profile can link to their business Facebook page and can publish posts from a desktop.
Connect to business Creator Studio by using your Facebook credentials. Then, go to the Instagram section (Instagram – camera icon) and click on it.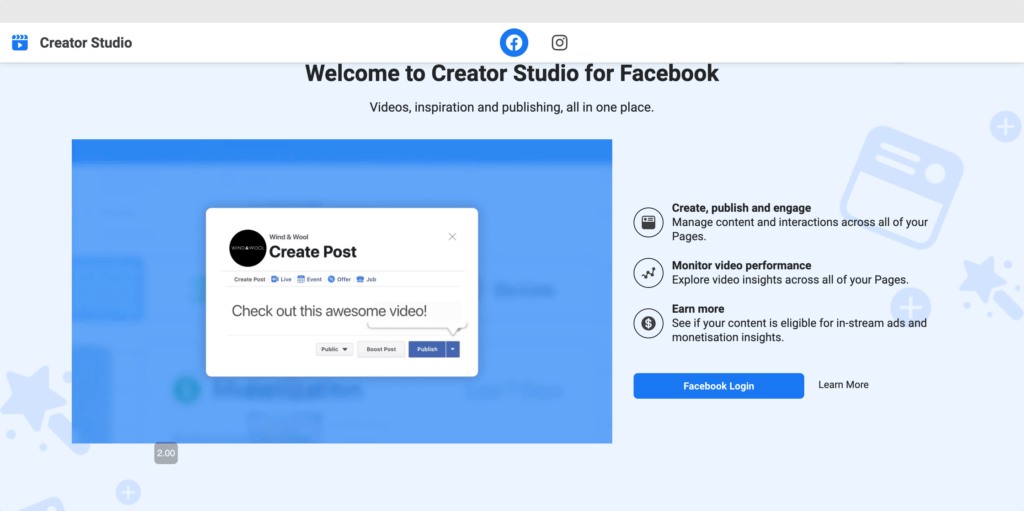 Pros and cons of using Facebook Creator Studio to post on Instagram from PC
Pros: You can post IGTV videos (short for Instagram TV)
Cons: This option doesn't offer a bulk upload option to create multiple posts at once. In addition, you can't edit scheduled posts (even if they're not published yet), and it is not possible to schedule an Instagram story either.
The verdict
This is a great free alternative to posting on Instagram from computer. However, it is limiting if you're managing Instagram content in batch, as it is time-consuming to find workarounds.
6) Using other third-party tools to post on Instagram from PC

Using other tools created by independent developers is another way to create Instagram posts from PC. Keep reading for an overview of some other programs available online.
1) Bluestacks (Windows and Mac)
Bluestacks is an Android emulator that allows Android applications to run on PCs running Microsoft Windows and macOS. All you need is a Google account, after that, you can download a version of the Instagram Android app;
Bluestacks requires you to download an app to your computer, find their webpage, type Instagram in the search bar and click Install from their App Center. Log in and you're ready to post on Instagram from PC.
Pros and cons of using Bluestacks to post on Instagram from PC
Pros: You can edit posts and share them on Instagram. In addition, Bluestacks is a free option to use.
Cons: Bluestacks is not helpful if you need to upload posts in bulk, share to multiple accounts, or schedule in advance.
The verdict
BlueStacks lets you post on Instagram from your Windows or Mac PC but with limitations on working with multiple accounts and scheduling posts in advance.
2) Deskgram (Mac)
Using Deskgram lets you post on Instagram from your Mac PC, as well as view comments and likes, just like the mobile app.
You need to download the app on your computer. Drag to the applications folder and upload your photos and videos to Instagram from Mac and you're all set to use it.
Pros and cons of using Deskgram to post on Instagram from PC
Pros: You can upload and send photos and videos in bulk and shorten your posts to fit better in portrait or landscape.
Cons: Deskgram only works with Mac, and lacks any video trimming features. There are no in-app video editing tools, so make sure your Instagram clip fits its 60-second limit when posting it.
The verdict
Deskgram's $2.99 monthly price seems fair for unlimited use on one device, but don't forget it's limited to use just on Mac.
3) Uplet (Mac)
This Instagram Uploader was developed by Eltima Software and, like Deskgram, works only with Mac.
You need to download Uplet to your desktop, drag it to the Applications folder and upload your photos and videos to Instagram from your Mac.
Pros and cons of using Uplet to post on Instagram from PC
Pro: You can upload photos and videos in bulk and send them to multiple Instagram accounts. Moreover, you can choose between portrait or landscape options as needed.
Cons: Uplet does not have features like filters, in-app editing tools or trimming. Finally, it is limited to use only on Mac.
The verdict
The license cost ranges from $19.95 to $49, paid as a one-time fee. Despite covering the basic options, there are some drawbacks, such as the need to download an application, lack of some features, and it only works with Apple computers.
7) Using Chrome extensions
Direct Message for Instagram (DMI) – Chrome extension
This Google Chrome extension lets you use Instagram as you would on your cell phone. As revealed by their website in a disclaimer, this Chrome extension is not an official app from Instagram, but from independent developers.
Install the Instagram extension by searching it on the Chrome web store. Thereafter, you click on the extension icon, you will be prompted to sign in to Instagram again, allowing you to post from your PC as you would on mobile.
Pros and cons of using the DMI Chrome extension to post on Instagram from PC
Pros: You can like and comment on posts, view Instagram Stories (photos and videos), upload photos, and send messages.
Cons: It is not possible to upload videos. You also cannot work with multiple Instagram accounts and schedule future posts.
The verdict
The extension allows you to send direct messages to other Instagram users, view photos, and follow links from others just like the web version of Instagram. It does, however, have its limitations when it comes to uploading videos.
So, what is the best option for you to post on Instagram from PC ?
Whether you're using Windows or Mac, you have plenty of options to post on Instagram from PC. Your method of choice will depend on what you're looking to achieve; do you just want the ability to post on Instagram from computer? Or are you looking for a tool that you can use to upload, edit, and schedule multiple posts from PC?
In conclusion, based on your goals and individual needs, you'll be able to decide on the best option for you.
Do you have a touchscreen Windows 10 computer? Find out how to post to Instagram directly from it!
TRY HOPPER HQ FREE
Refreshingly Simple Post, Story + Reel Scheduling
Visually plan all your social channels. Instagram, TikTok, Twitter, Facebook + LinkedIn.