Hashtag your way to a bigger following with this simple guide to Instagram Hashtags!
Whether you're just starting out with Instagram marketing, or you're looking to fine-tune your strategy with some hashtag research to optimise your Instagram hashtags game, this resource will help you each step of the way…
Grow Your Audience With #Hashtags
Discover better hashtags to reach the more people, grow your follower count and get more engagement on your posts.
Table of Contents
1. The Basics #️⃣
What are Instagram hashtags?
Essentially, Instagram hashtags are a way of categorising posts in order to discover new content and increase reach. Instagram is set up so that using a hash sign followed by a keyword will create a link to a collection of other photos, videos and Stories tagged with that same word!
For example, if you want to find posts relevant to the topic of 'travel', you can search for Instagram hashtags using that keyword and see how many posts on the app have posts containing it.
If we pick the hashtag #travelphotography, Instagram will pull up all the public posts on the app using that hashtag, dividing them into 'Top' and 'Recent'.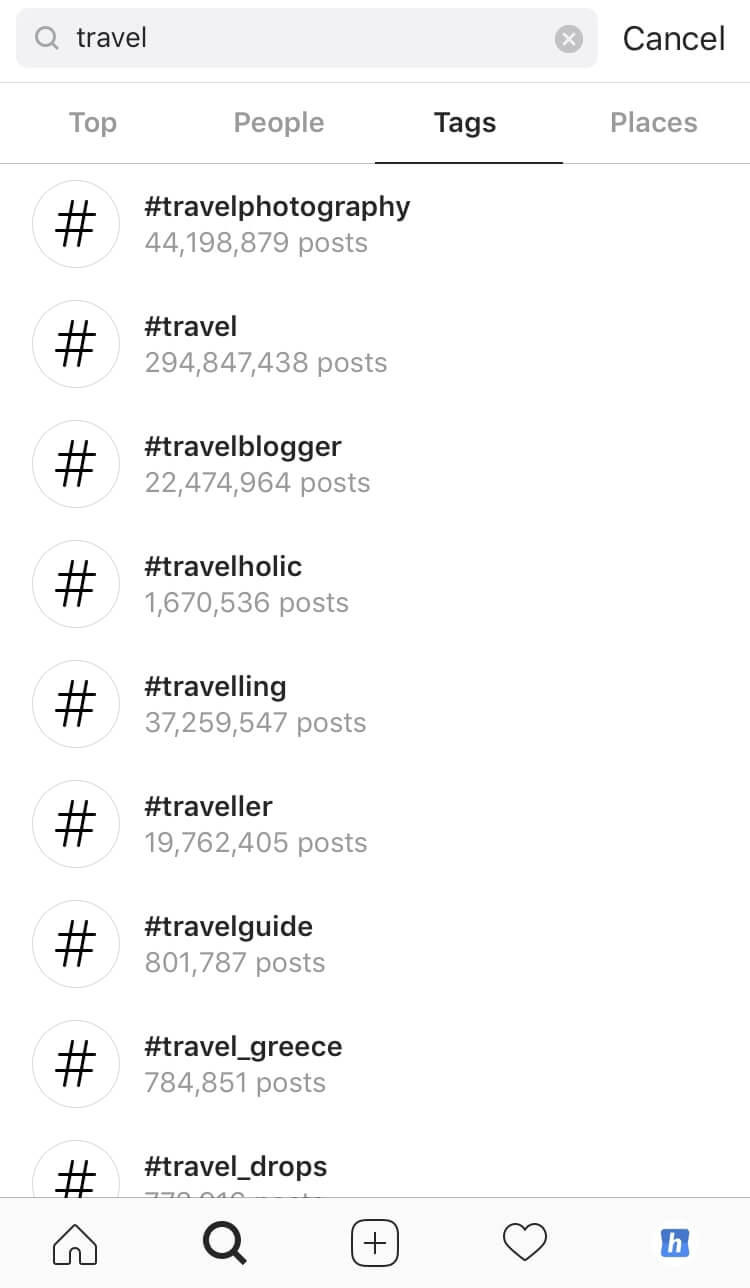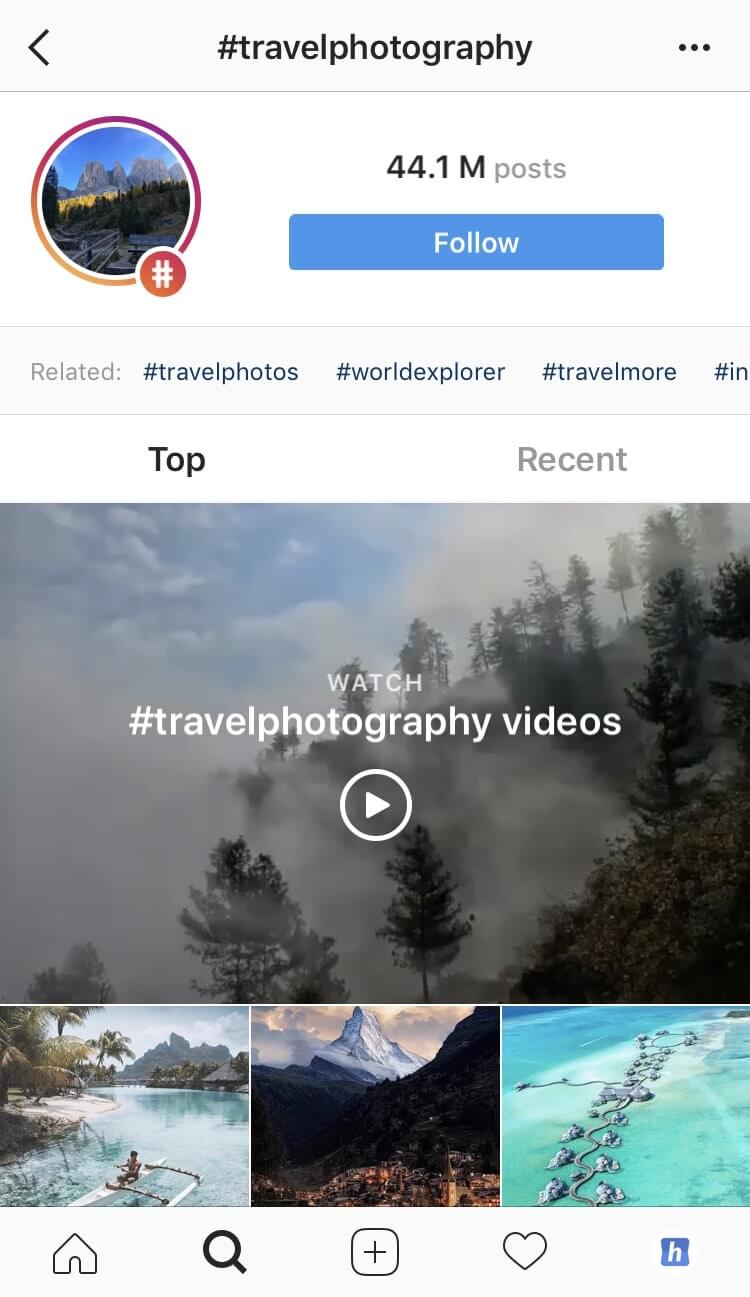 Where can I use Instagram hashtags?
Hashtags can be used in captions, comments, bios and Instagram Stories.
Many users prefer to put their Instagram hashtags into the first comment of their posts rather than the caption, in order to separate the two.
The screenshot on the left shows Instagram hashtags displayed at the bottom of a caption, and the screenshot on the right shows them in the comments.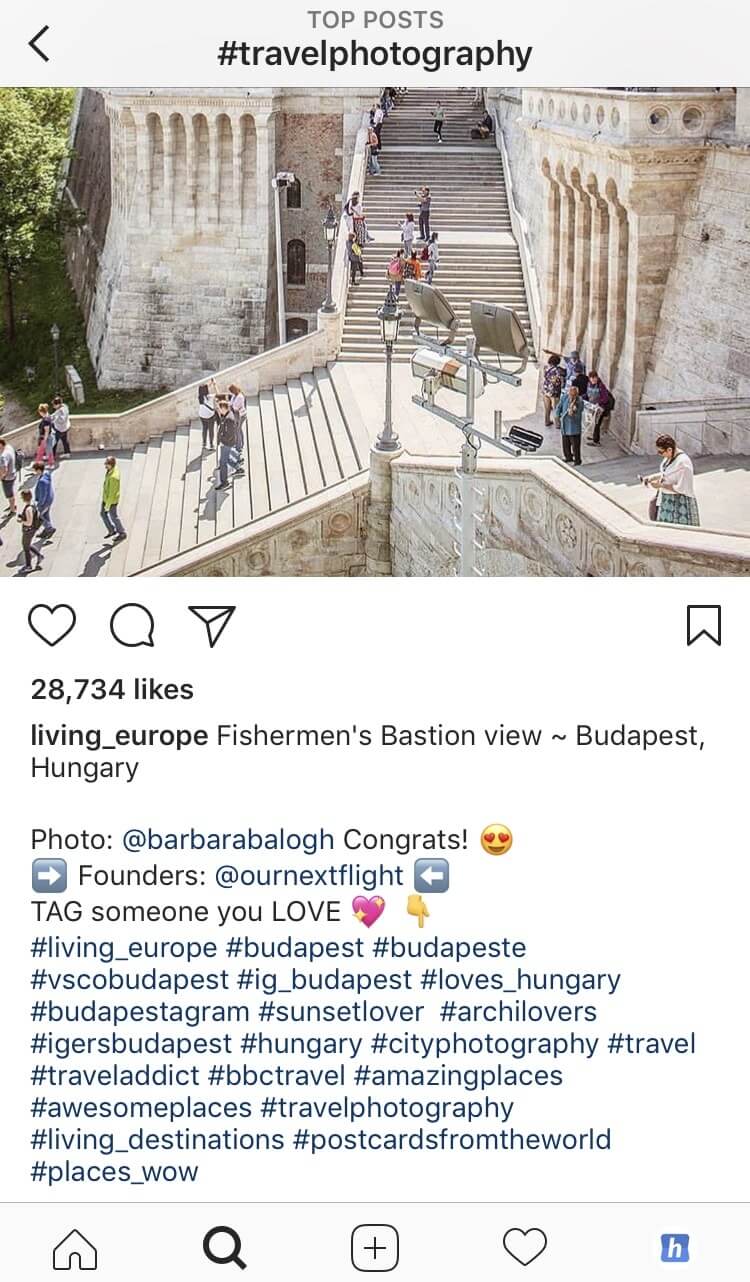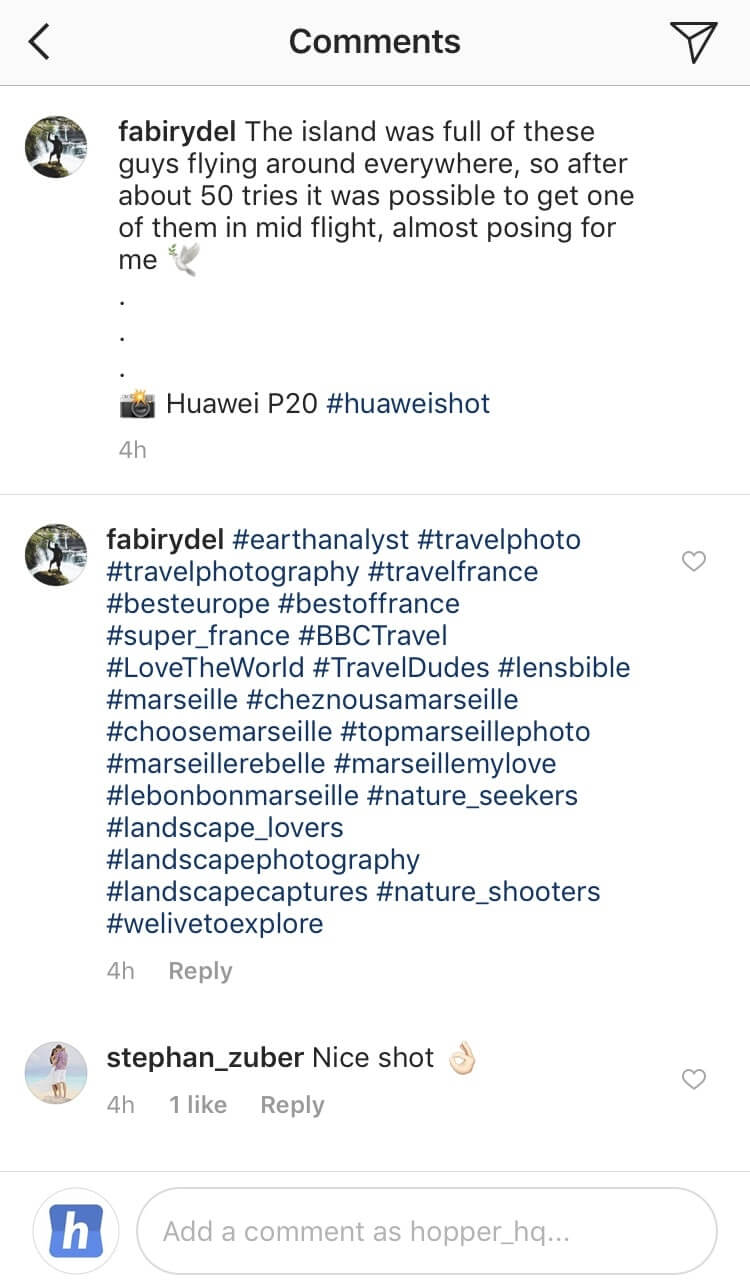 As for Instagram Stories, there are 2 ways to include hashtags:
One is by simply typing the # key followed by the keyword, and the other is using the hashtag sticker available from the sticker menu. Similar hashtag suggestions appear underneath as you type.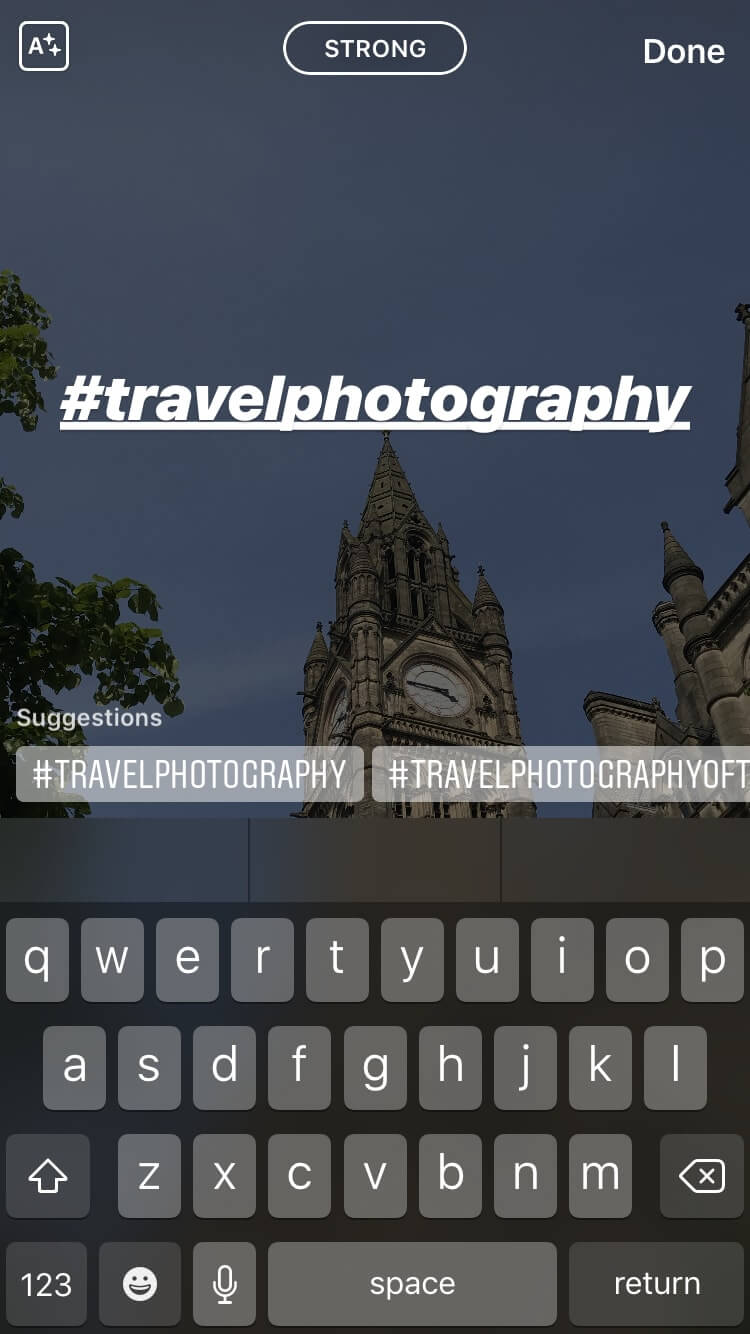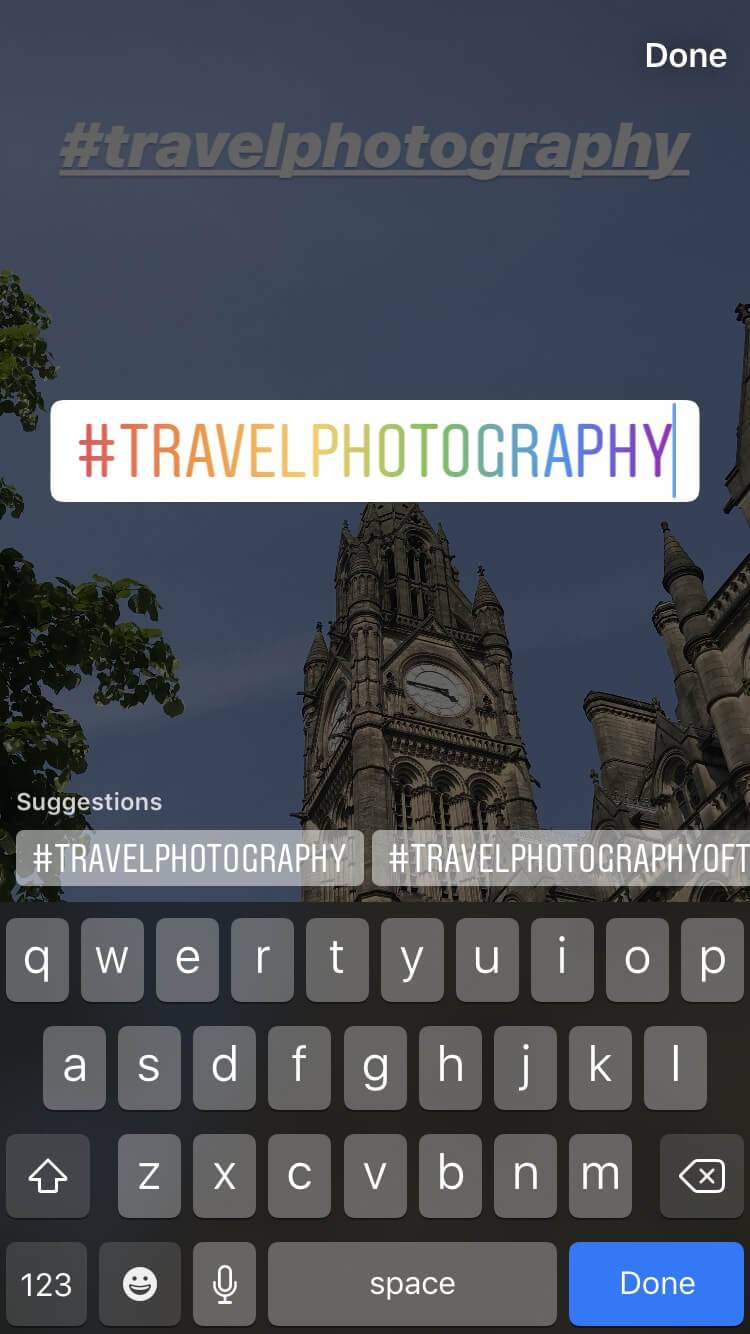 How many hashtags can I use on Instagram?
Instagram limits users to 30 hashtags per post — this is counted across captions AND comments. If you try to post 20 in your caption and another 20 in your first comment, the comment will not post. In Stories, the hashtag limit is 10 per Story.
Can I use punctuation in Instagram hashtags?
No — punctuation will break the link
Can I use numbers in Instagram hashtags?
Yes!
Can I use emojis in Instagram hashtags?
Definitely 😍
Simple Post, Story + Reel Scheduling ✨
Visually plan your social content. Instagram, TikTok, Twitter, Facebook, LinkedIn + Pinterest
2. How To Choose Instagram Hashtags 🤔
Hashtags span all industries and topics, and there are literally millions to choose from and compete with. So how do you know which Instagram hashtags to use?
Firstly, you'll have to do some research! Using the app itself you can gather loads of data around popular hashtags in your niche, as Instagram will always offer 'suggested' and 'related' hashtags when you search.
What Instagram hashtags is your target audience using?
Find the types of people you are aiming to reach and see what Instagram hashtags they frequently use! Think of their wider interests and lifestyle, and research hashtags around those topics.
(More on this in How To Create A Winning Instagram Marketing Strategy)
What hashtags are your competitors using?
Remember, their target audience is your target audience. Find a competitor who is excelling at Instagram marketing and take note of what hashtags they are using!
What hashtags should you NOT use?
Make sure you're also steering clear of the wrong Instagram hashtags for your brand and audience! While hashtags increase your reach on Instagram, there's no point using ones that aren't relevant to your post.
The Instagram algorithm is getting smarter and will pick up on people using consistently spammy or irrelevant hashtags.
Try to avoid 'quick fix' Instagram hashtags that specifically ask people to follow you, such as #follow4follow and #like4like — they might work in the short term, but these followers are unlikely to engage with your content (or even be real people).
Track your hashtags
Keep a note of what Instagram hashtags you're using, and track your engagement rates on posts to figure out which are working best!
Using an analytics tool like we have on Hopper HQ, you can track content performance by every metric, including reach, impressions and engagement. By tracking and keeping record of this data, you can ensure you're always improving and optimising your Instagram hashtag strategy.

Explore The Data Behind Your Social Media Accounts 📊
Find the best time to post, track your follower growth, and understand what content works best with post and account analytics.
Create your own brand Instagram hashtags!
Big event, product release, or something else worthy of a personal hashtag coming up? Make your own Instagram hashtags and encourage others to use them to drive new people to your profile! We'll go into this in more detail in the next section.
Go niche! Check out our Instagram hashtags guides by industry…
Top Photography Hashtags 📸
Top Food Hashtags 🍕
Top Health & Fitness Hashtags 🏋️‍♀️
Top Fashion Hashtags 👗
Top Travel Hashtags ✈️

3. Hopper HQ's Hashtag Top Tips ⭐
By implementing the right hashtags into your Instagram marketing strategy, you can reach hundreds more people in your target demographic, as well as generally increase your engagement on Instagram.
#1 Instagram Hashtags in Stories
Instagram automatically collate all Stories using a hashtag into a collective 'hashtag Story'. So by including relevant hashtags in your Stories, you're publicising it to far more eyeballs than you would without – it's a no brainer really!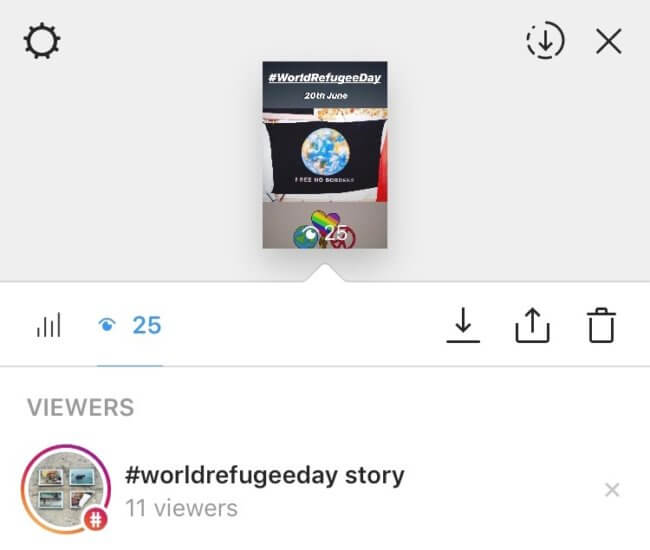 #2 Hashtags in Your Bio
In 2018, Instagram made it possible to include hashtags in your profile bio! Due to the limitation of only being allowed one link in the bio, this was a great addition to tell people more about your account.
Use this spot in your bio to highlight a key hashtag associated with your brand — people will become familiar with it and hopefully start to use it themselves! Which brings us on to…
#3 User-Generated Content
Your customers can be your best marketers, and Instagram hashtags are the easiest way to find great user-generated content.
Photos other people have posted on Instagram of your product, establishment or service make really valuable content.
The best way to encourage and keep track of customer Instagram content is by creating a brand hashtag, such as River Island's '#ImWearingRI'. You can include this in your bio with a call to action for followers to 'tag to be featured':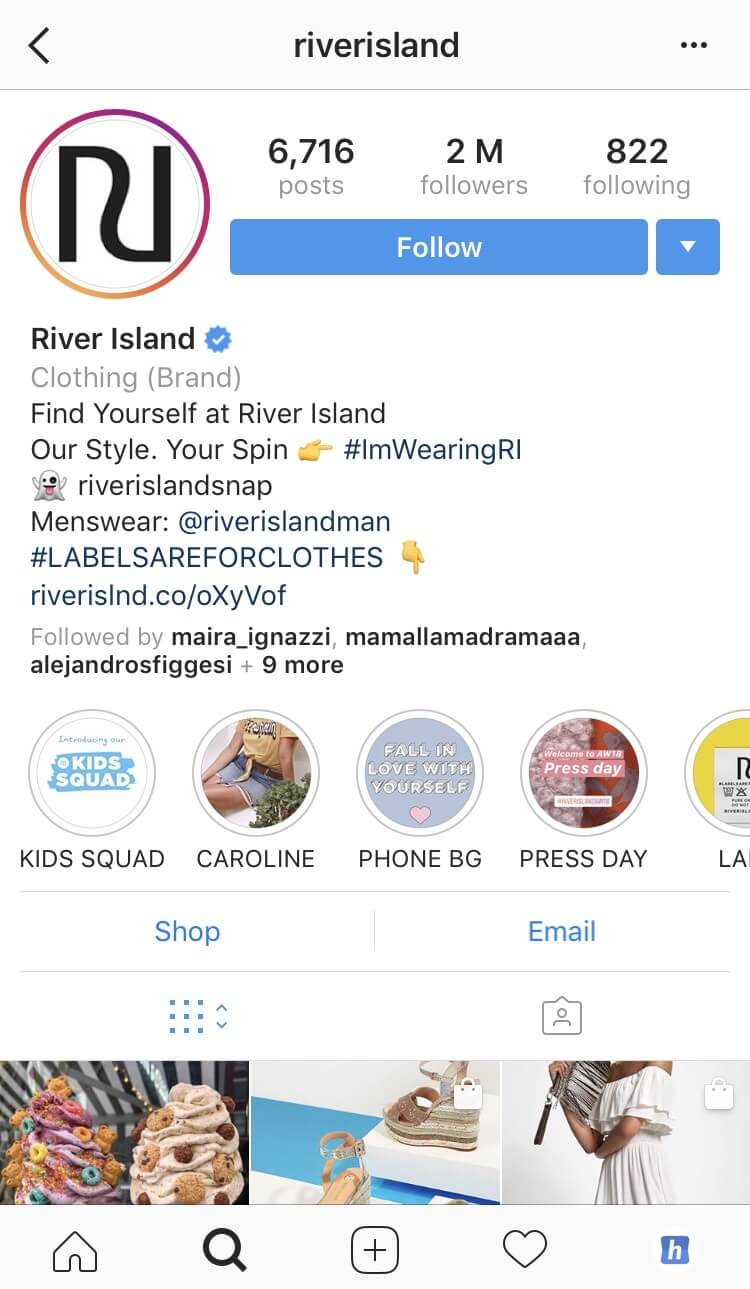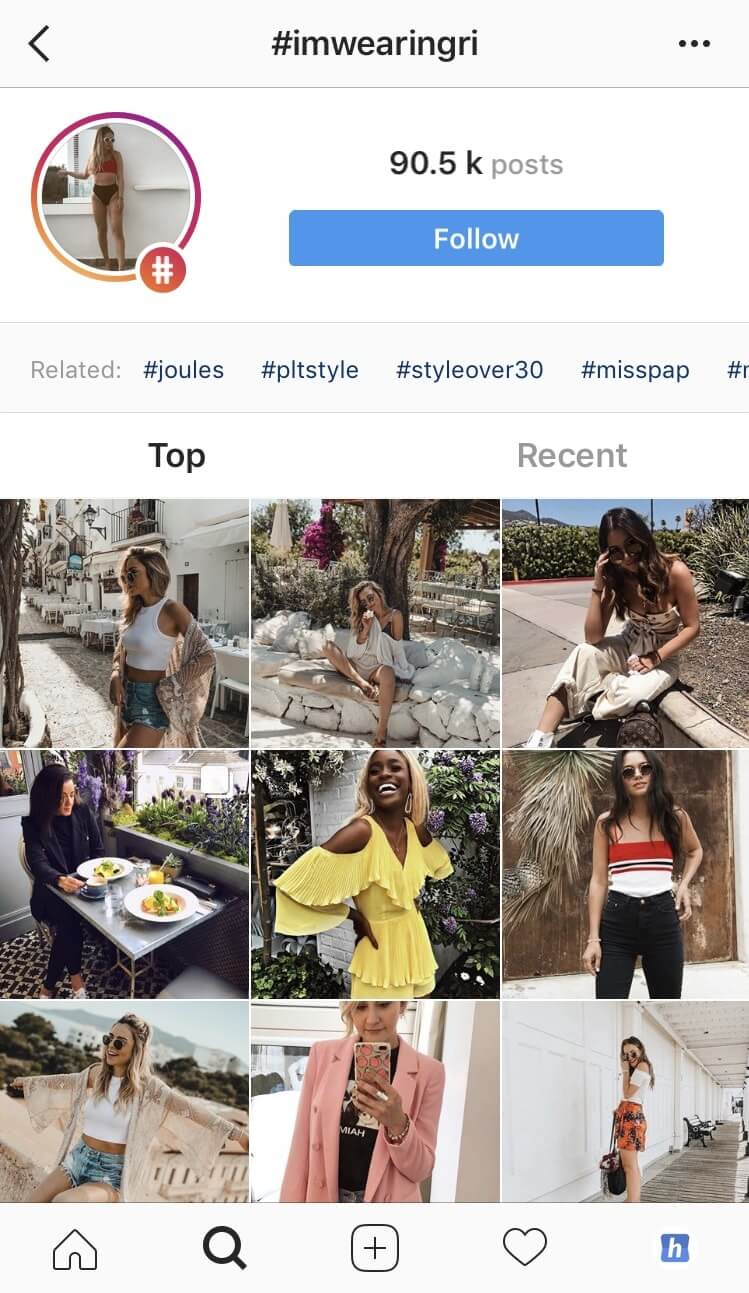 #4 Keep an eye on hashtag trends and social media holidays
Current affairs (#WorldCup) social media trends (#ThrowbackThursday) and commemorative holidays (#EarthDay) all pull in a huge amount of traffic.
If you can find relevant and inventive ways to get involved with these time-sensitive hashtags on Instagram, you'll stand a good chance of significantly increasing your reach. For a full list of upcoming trends, check out:
🗓 2020 Social Media Holiday Calendar 🗓
#5 Follow Instagram hashtags
An update in 2018 allowed you to start following Instagram hashtags the same way you follow Instagram accounts!
This was a great new feature for a number of reasons:
Firstly, you can encourage users to follow your branded hashtags to keep up to date with any updates or announcements.
Secondly, you can follow key Instagram hashtags in your niche to stay on top of new trends.
And thirdly, you can follow competitors' hashtags to see what the big players in your space are up to!
Follow any hashtag by clicking the blue follow button at the top of any hashtag collection. Posts will then appear in your feed that contain that hashtag, as pictured on the right.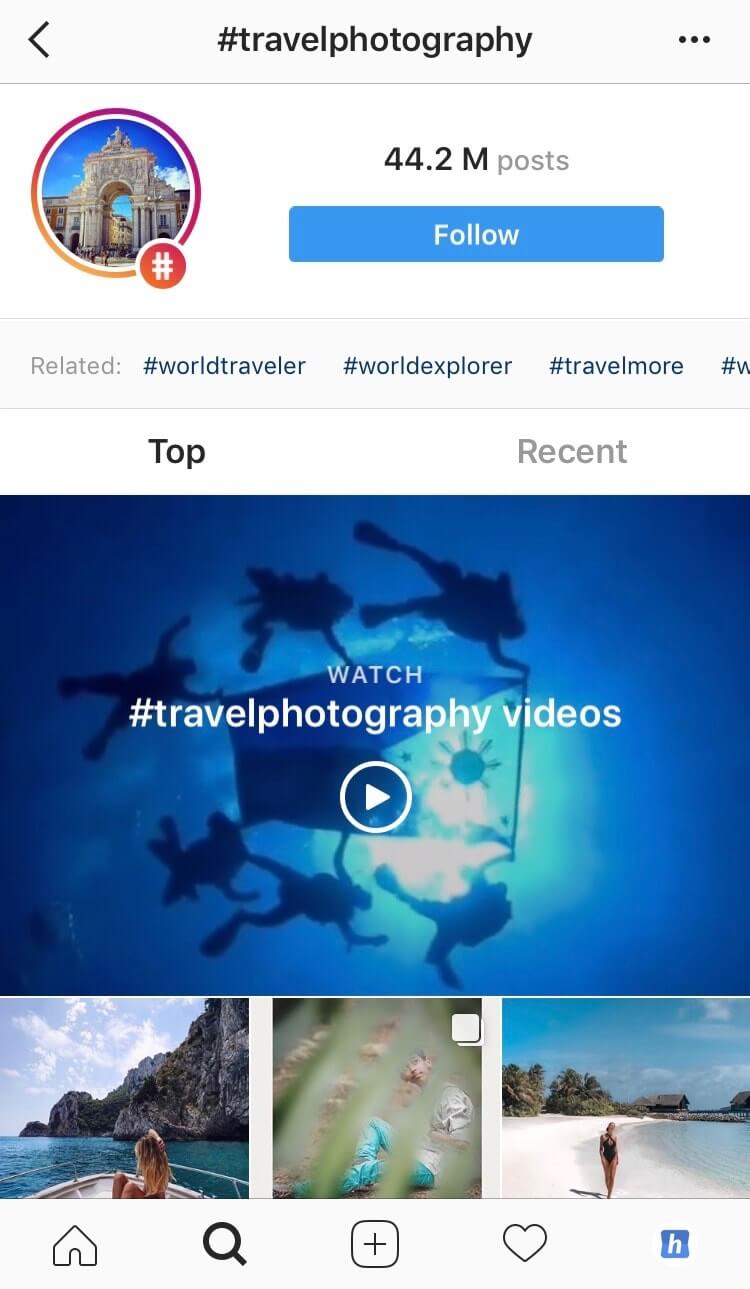 #6 Schedule your hashtags
Instagram hashtags are a key part of your marketing strategy, therefore they shouldn't be rushed on the spot! Not to mention, typing up to 30 hashtags on a mobile can get quite tedious.
Using Hopper HQ you can schedule your captions and first comments in advance with your posts, so regardless of where you prefer to keep your hashtags, they will be automatically published when your photos and videos are.
We personally recommend splitting your Instagram hashtags between your caption and first comment, and always keeping them highly relevant to what you're posting.
Using our in-app hashtag tool, you can explore the strength of each hashtag and find new ones to include!
Start scheduling your hashtags today with a free 14-day trial of Hopper HQ!
Do you have any other hashtag top tips?
Let us know in the comments! Happy posting 👋
---
Hopper HQ is a content scheduling and management platform that saves social media managers and agencies heaps of time. Start your 14-day trial today!
TRY HOPPER HQ FREE
Refreshingly Simple Post, Story + Reel Scheduling
Visually plan all your social channels. Instagram, TikTok, Twitter, Facebook + LinkedIn.