We're all after the perfect Instagram layout — here's how to achieve it using an Instagram grid planner…
In recent years Instagram has become a primary marketing platform for businesses, to the point where Instagram profiles are as valuable as company websites.
Despite people finding new Instagram accounts via single posts — from hashtags, locations and tagging  — once they land on a profile it's the whole 9 grid Instagram layout that will make a lasting impression.
Brands, influencers, and creatives need to therefore make sure their Instagram posts look good when placed all together using an Instagram grid planner!
A consistent Instagram feed theme can really affect the overall impact of a profile, which is important to bear in mind when planning your Instagram marketing strategy.
Here are some tips for creating a great Instagram layout and using the Hopper HQ Instagram grid planner…
Finding a theme for your Instagram feed aesthetic
There are many kinds of Instagram themes, but the one thing they all have in common is consistency.
This requires discipline and planning when it comes to content creation and curation, which is why it's no easy feat! Themes will vary depending on industry and the type of content you're publishing, but here are a few ideas to get the ball rolling:
1. Pick a colour palette
There's something incredibly satisfying about an Instagram account with a clear colour palette.
It looks clean, stylish and well-curated. Using a colour palette theme will require an Instagram grid planner to ensure a seamless transition from post to post. If you don't have a naturally artistic eye, you can use a colour palette generator in order to browse colour schemes and see the kinds of colours that complement each other in photographs.
You can either stick to one colour throughout, or use a colour palette to transition through various colours as you scroll! There are many possibilities, and once you decide on a colour scheme you can create content accordingly.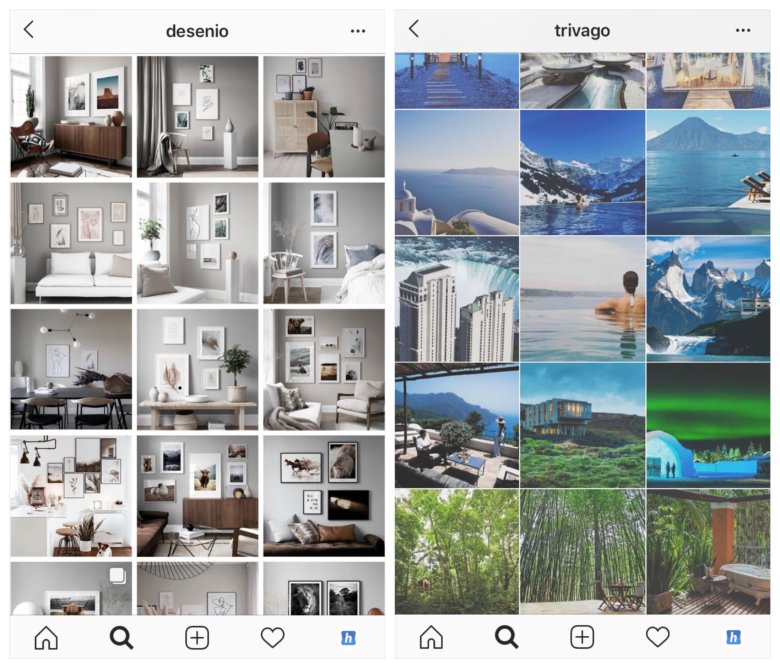 2. Use white borders or frames
Another way to create a stand out Instagram layout is by placing your photos and videos in white borders or frames to create a pattern.
This became a common trend back when Instagram only supported square posts, as a hack to not have to crop your portrait and landscape posts! Now it is simply a thematic decision to make your Instagram feed look more like a photo album or brochure.
Again there are a number of ways to implement white borders, whether it's small squares, portrait, landscape, or a mixture!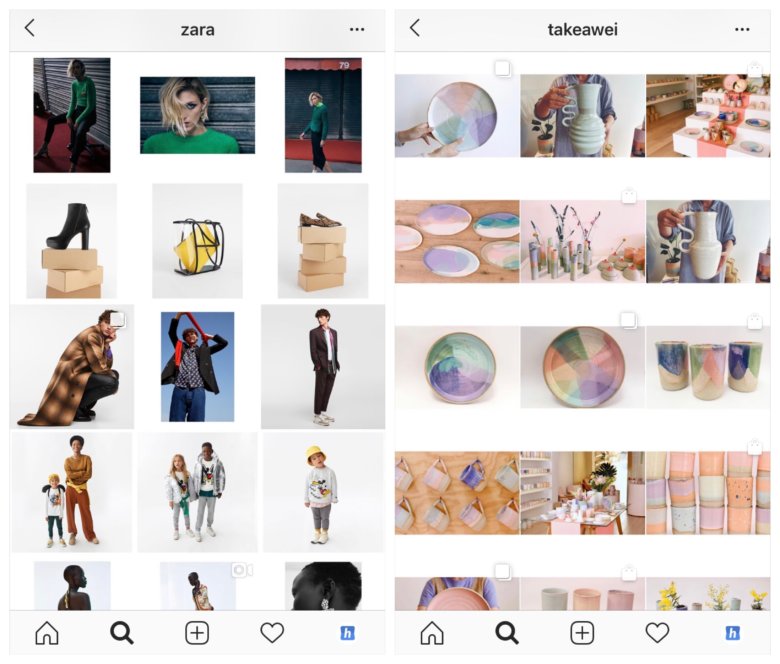 3. Create a grid pattern
Many brands use a variety of content and photography types on Instagram. Whether it's flat lay product shots, typography quotes, or UGC — you can incorporate the different forms of content into your Instagram layout!
This could be in the form of a checkerboard or horizontal/vertical lines, and gives you the chance to be creative without restricting your content choices too much.
Another way of utilising the grid to make your profile stand out is to make all 6 or 9 squares an image themselves.
If you choose to do this make sure the individual squares work as individual posts, as that is how they will appear on your followers' feeds! Aldi UK are masters of this, with their Instagram profile looking like a never ending table but each post focusing on a specific food item.
Remember: if you choose to create an Instagram theme like this, you will always need to post in threes, so that the layout stays in tact. This is when an Instagram grid planner is necessary, as you can line up your posts into the grid theme and make sure the pattern matches up!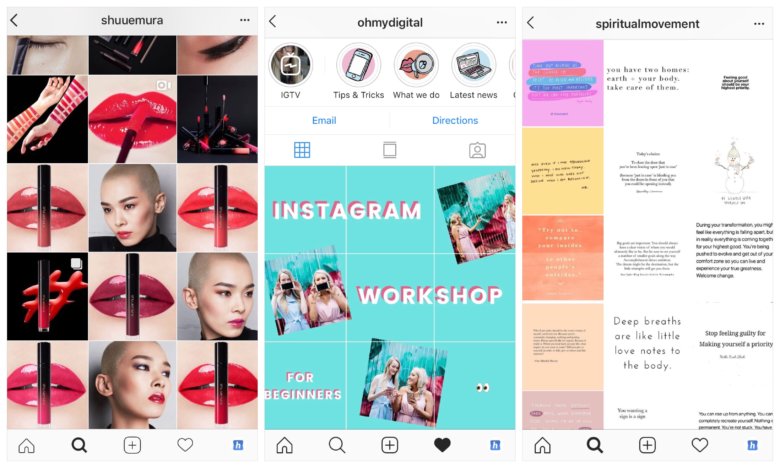 Using an Instagram grid planner to create your layout…
At Hopper HQ, we built our own Instagram grid planner to help you perfect your Instagram layout at the same time as scheduling your content for the coming weeks!
The Instagram grid planner on Hopper HQ allows you to see what your Instagram profile will look like once all your scheduled posts have been published. This is incredibly useful if you're trying to create one of the layouts discussed above.
You can drag and drop your posts around to test the best combinations and layouts before they are sent to your Instagram account.
For colour matching, or a pattern created by vertical or horizontal lines, the grid planner makes the process of creating a beautiful Instagram feed much quicker and easier. Regardless of your layout, you can use the Instagram grid planner to ensure no posts clash and ruin the pattern you've spent so long creating.
On Hopper HQ's Instagram, we use vertical lines for post type, such as our 'Spotlight' series and social media holidays, and horizontal lines for colour palettes. This would be far more confusing and long-winded if it wasn't for the Instagram grid planner, as we can ensure the posts will be published in the correct order to keep our layout in tact!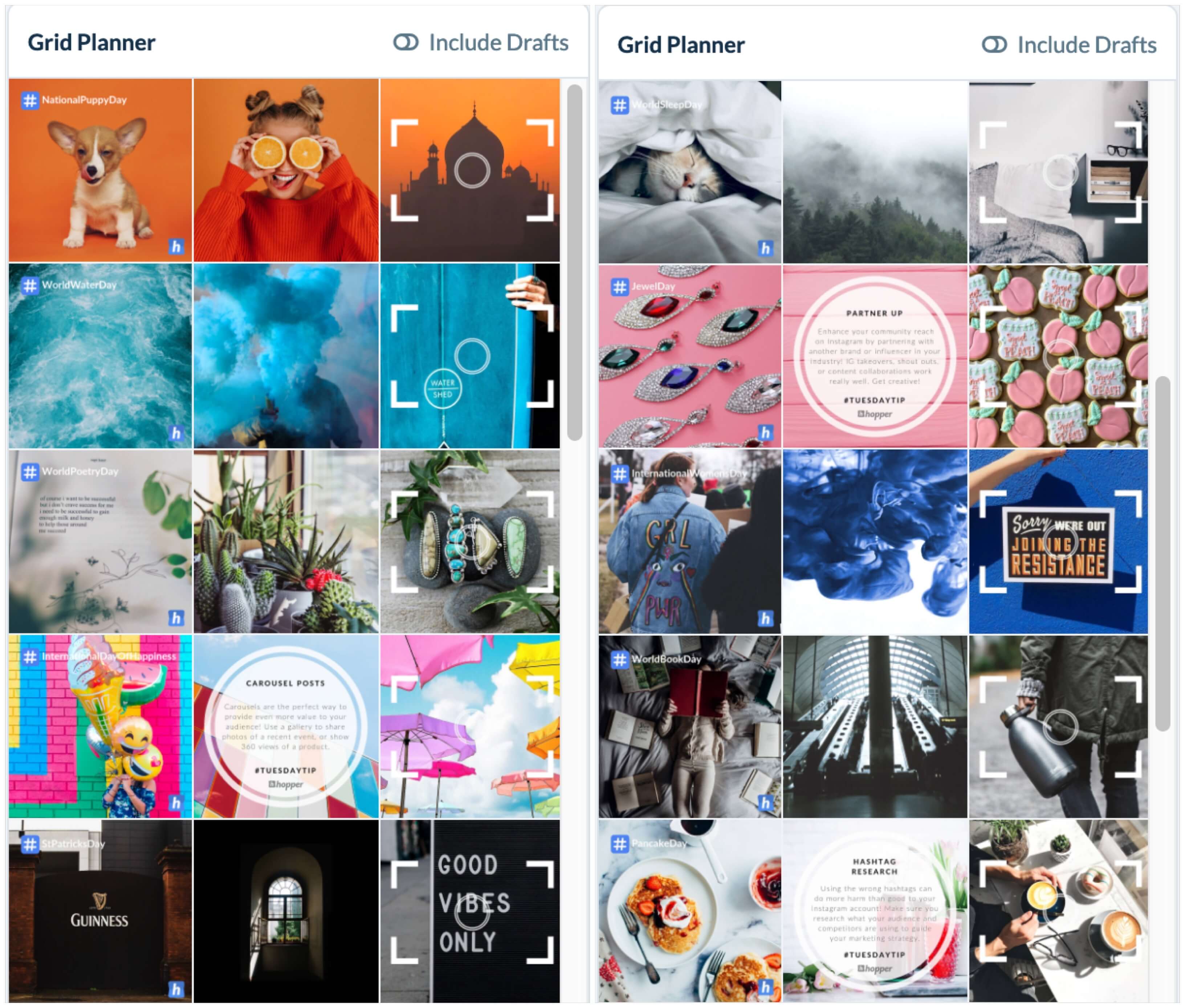 With Hopper HQ, you can bulk upload up to 50 photos and videos in one go, scheduling them as far in advance as you see fit while ensuring your grid feed remains consistent and striking.
We believe this Instagram grid planner is a game changer for social media marketers! Say goodbye to the test Instagram accounts you were using to check for feed cohesion, and visually manage all your content in one place.
Will an Instagram grid planner come to the app itself?
In 2018, Hopper HQ received insider reports of an internal Instagram grid planner feature in beta mode to certain users. We were able to get our hands on exclusive screenshots of how it looked: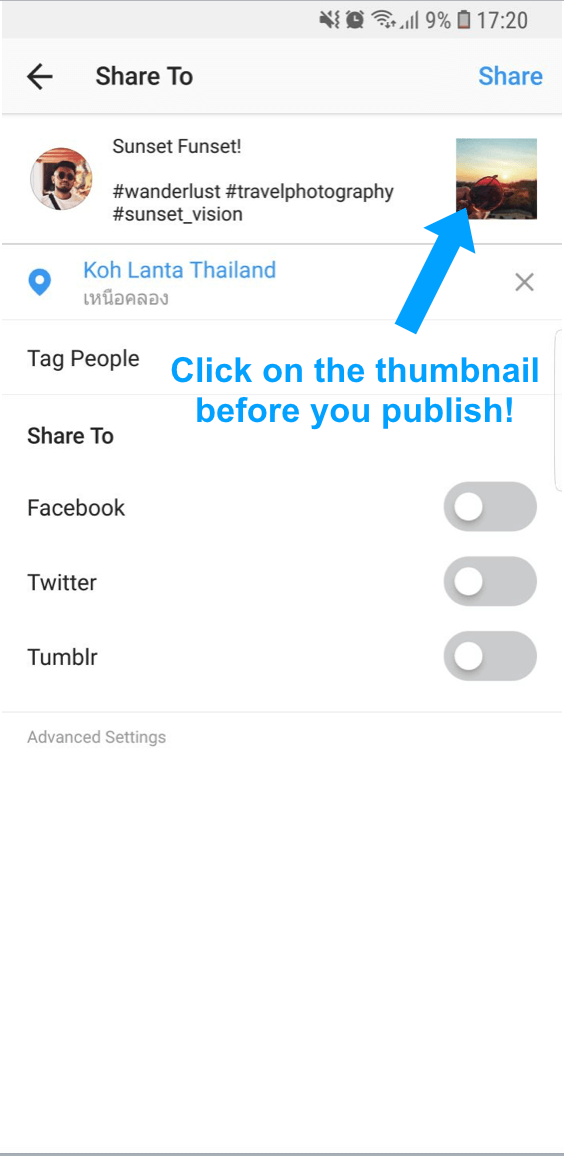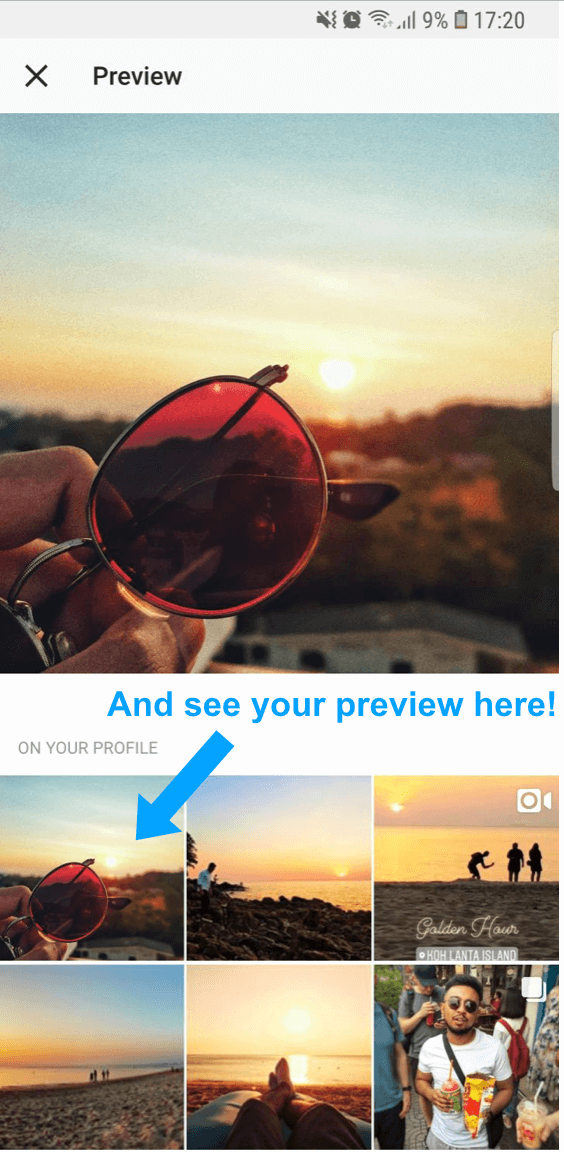 Sadly, this feature only seemed to reach testing mode on Instagram, as it was never officially released in an update!
This does however show that Instagram are clearly thinking of ways to help brands, influencers, and individuals plan their feed aesthetic and ensure their posts match the content already on their profile.
We're certainly keeping our eyes peeled for a new Instagram grid planner feature release.
✨ Test out the Hopper HQ Instagram grid planner and many more features by signing up to a free trial today! Start planning and scheduling to your Instagram feeds and other social channels with ease ✨