With over 8 million business profiles on Instagram, the app is a hub for brands and a necessity in any social media strategy. But with all that noise, how can you be sure your company will be heard? The answer is with a killer Instagram marketing strategy!
This article will help guide you through the process of making a winning Instagram marketing strategy, and ensure your profile stands out.
Contents:
Determine Your Audience 👥
First thing's first, who are you trying to reach on Instagram? Are you certain that they're there at all? For example, it's good to know that 68% of Instagram users are female and that the majority of users are under 30. Carrying out market research into target demographics is vital before you start putting out content. Determine the age, gender, location, interests, even diets of your ideal audience so that you can ensure you're catering your content appropriately!
Once you've got that demographic in mind, go a step further:
What kind of hashtags are they using?
What locations do they hang out at?
What other brands are they interested in?
This audience research doesn't take long, but is an important first step in creating your Instagram marketing strategy!
Determine Your Objectives 📊
What do you want your Instagram account to achieve?
When creating an Instagram marketing strategy, it's important to keep tangible business objectives at the forefront to avoid wasting time and resources. Write a list of targets that you're aiming to accomplish through marketing on Instagram. These will naturally vary depending on business and industry, but could be anything from growing an engaged community, to increasing brand awareness, to driving conversions!
Each of these objectives will have different KPIs and metrics to track, and will require different forms of content. If you can narrow these down early in your Instagram marketing strategy, it will help you and your team stay on track – especially because it's very easy to get carried away with content!
Analyse Competitor Content 📱
As important as market research is for determining your audience, it's also very beneficial for analysing your competition. When creating an Instagram marketing strategy, identify big players in your industry on Instagram and see what they're doing well, and what you think you could do better. Remember that their target audience is also your target audience, so here are some things to consider:
What is their engagement rate? (likes + comments ÷ no. of followers x 100)
Do they respond to comments?
What kind of questions are their audience asking?
Which hashtags are they using?
What form of content are they predominantly using?
What is their call to action?
Running an audit check like this on your main competitors is useful for learning about the space, finding what works best, and getting to know your Instagram audience better!
When creating an Instagram marketing strategy, identify big players in your industry and see what they're doing well on the app, and what you think you could do better!
Click To Tweet

Check out our All-In-One Guide To Instagram Hashtags to take your strategy to the next level! 💡
Create A Content Strategy 📸
A main part of your Instagram marketing strategy is deciding what to post in order to best showcase your brand AND reach your business objectives. This includes weighing up the following forms of content:
Firstly, think about your target audience and what matters to them. Consider whether you are selling to consumers or to other businesses, and how that affects the content you're putting out.
If you sell a product which is photographable, then naturally your product will be the foundation for your content. Whereas if you sell an in-person service or a software tool, it might be that you share useful information or updates in the form of text posts, or document your company lifestyle with behind-the-scenes insights.
Don't just post and hope that your followers will like your content – make sure they do! Using Instagram Insights you can gain a basic idea of what's working and not working for your audience – take a look at our guide to Instagram Insights to find out what all the metrics mean. However, for more in-depth analytics, use a specific tool such as Hopper HQ Analytics to find out exactly where those views and likes are coming from.
If you notice that the behind the scenes snaps of your colleagues bring in more engagement and start more conversations than your quotes of the day, prioritise the former! Using Analytics you can easily keep on top of your best performing content and ultimately discover the perfect recipe for Instagram success. Take lots of time on this step in the creation of your Instagram marketing strategy, as it's definitely one of the most important!
Creating An Editorial Calendar 🗓
Hand in hand with a content strategy comes an editorial calendar. Now you know what you're posting, the next step in your Instagram marketing strategy is deciding when and how often it should be published. You don't want to end up scraping the barrel for last minute content, so having an editorial calendar will enable you to be organised and plan your feed around upcoming events, announcements, or relevant trends!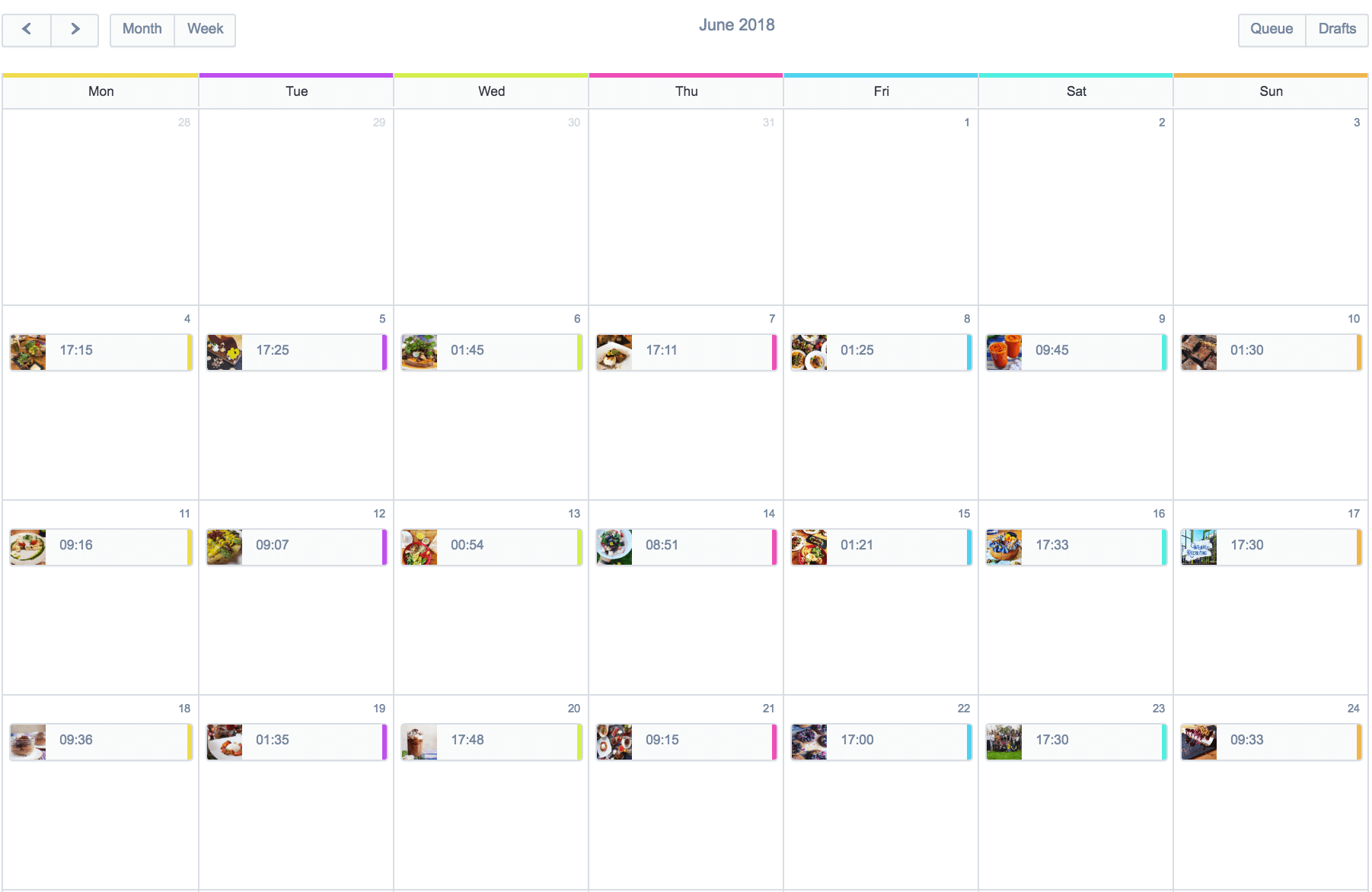 There's no right or wrong answer for how often to post. At Hopper HQ we'd advise between 1-5 posts a day, with anything over 10 stepping into the spam zone. On average brands are posting on Instagram between 1-2 times a day, although posting frequency can vary by sector, which is why it's worthwhile to have analysed your competition in advance! Using Analytics you can find the best time of day to post in order to get maximum engagement from your audience, and therefore plan your calendar around that data!
Posting consistency is actually more important than posting frequency. If you decide you have enough content resources to post 5 times a day, that's amazing, but just ensure you can maintain that level of publishing! By staying consistent in your Instagram posts, your audience will become accustomed to your content, and in turn, you will be perceived as a reliable and stable brand.
Schedule Content In Advance ⏰
Make your life even easier by turning your editorial calendar into your content schedule! Using an auto-scheduler like Hopper HQ, you can bulk upload your photos and videos for the month (or even further in advance) and have them published straight to Instagram when you want them. Including auto-scheduling in your Instagram marketing strategy massively helps organisation and frees up more time for the fun bit: content creation!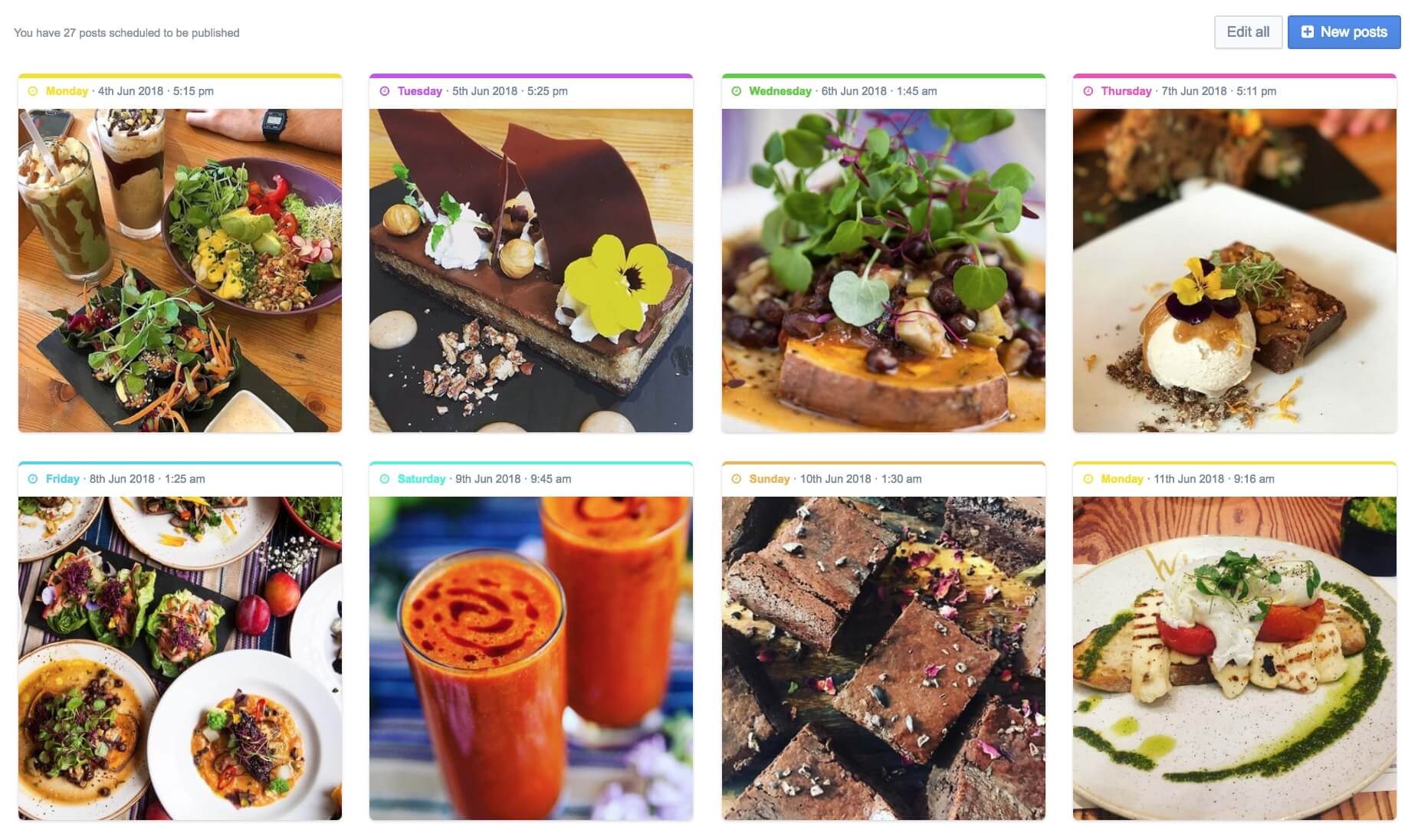 Scheduling offers great foundations for an amazing Instagram marketing strategy, but that's not to say that you can't also post manually if something comes up that you hadn't planned! It's there to help your content plan – not restrict it! Take a minute to read our guide to Scheduling Posts To Instagram for more info ✨
Plan and Schedule Captions ✍
Another important thing to factor into your Instagram marketing strategy is captions! This is where you actually speak to your audience and get the chance to convey a narrative about your brand. Your audience will get to know you through your captions, and so you need to be confident in the brand voice you're putting out. Depending how many people manage your account, you'll need to decide and agree on the tone of voice for your captions, as well as smaller details like whether you use emojis or not (more on this in the next section).
Hashtags are also a vital part of your Instagram marketing strategy, and your captions or first comments is where they'll go! Throughout the process of analysing your target audience and  competitors, you should have gained an idea of the hottest hashtags for your industry, but it's always worth doing more research. Using a tool like Hashtagify you can get analytics for any hashtag to make sure it's going to get you the most reach.
You can also check out our top hashtag lists across this range of industries:
Top Photography Hashtags 📸
Top Food Hashtags 🍕
Top Health & Fitness Hashtags 🏋️‍♀️
Top Fashion Hashtags 👗
As captions are so important, they're not something to be rushed on the spot! You can also schedule your captions and first comments on Hopper HQ, in order to craft the perfect narrative.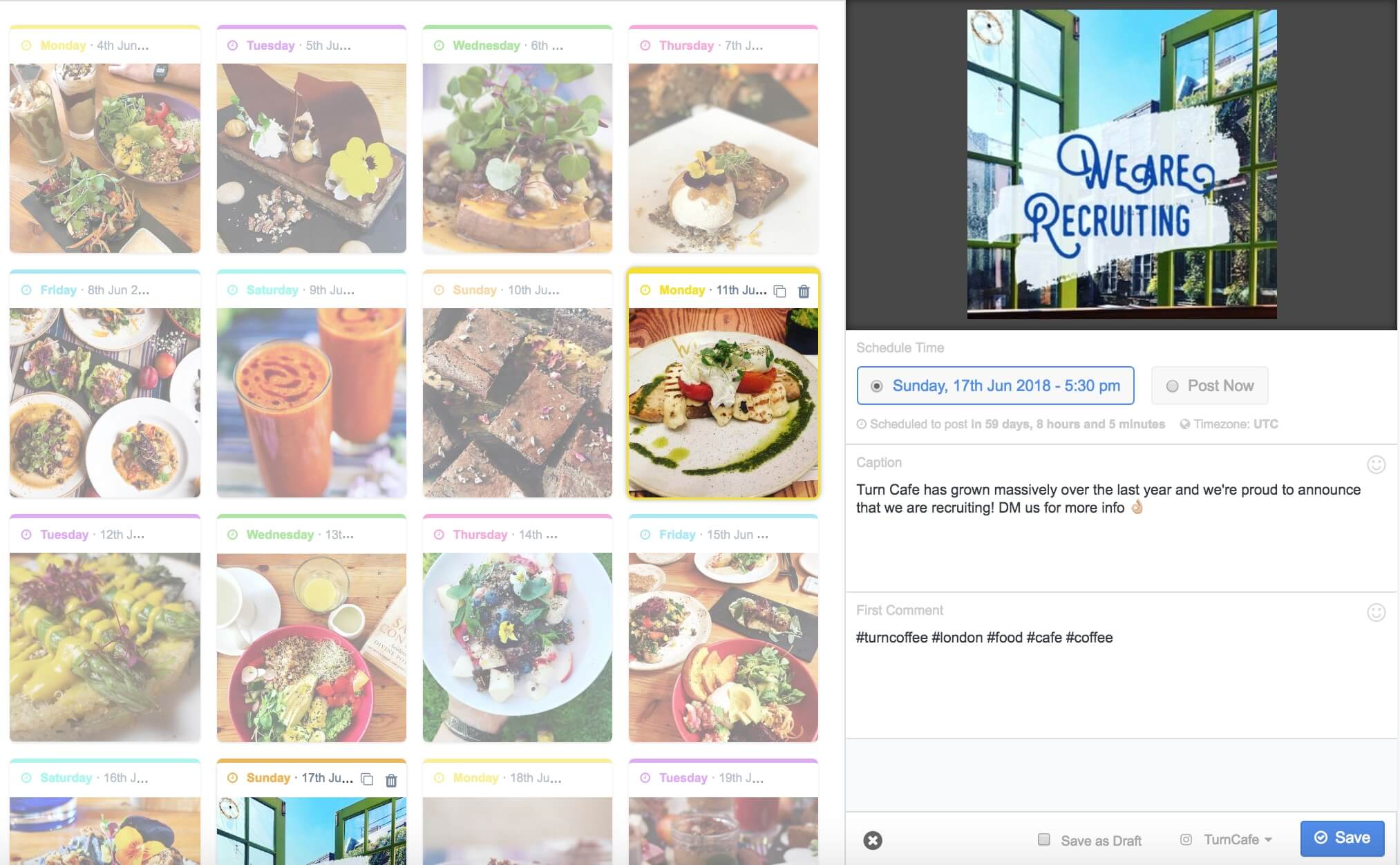 Establishing Brand Guidelines 📋
Brand guidelines are vital for any Instagram marketing strategy, especially if you operate in a large team. This is the time to get all the small details down into a communal document so that all team members are on the same page when it comes to Instagram activity. Here are some things to include (this list recaps on everything discussed in this article):
What kind of content your account posts
How often you post content
What hashtags are included in every post
What hashtags are never used
Language used in captions, comments and direct messages. Is your brand voice casual or formal? Do you sign off personally or always reply as 'the brand'?
Use of emojis
Protocol on responding to tagged photos and mentions in Stories
Banned words/topics
Again, there's no right or wrong answer for brand behaviour/voice on Instagram, as long as it's consistent! Engaging with your audience is very important, so make sure if people are taking time to comment on your content or send you messages that they get a quick and engaging response!
Track progress 📈
The important thing with Instagram marketing is that you're always testing, learning, and optimising your content. There's no point spending time and resources on content that doesn't achieve its objectives. In crafting your Instagram marketing strategy, make sure you're dedicating time to track important metrics that will help you find out what content works best. You can do this using Instagram Insights on the app, or with a more in-depth third party tool like Hopper HQ Analytics.
Parting Words 👋
Good luck creating your Instagram marketing strategy! Let me know if there's any other steps you and your team find helpful when mapping this stuff out 😄 Tweet me @Nicola_HHQ
Want even more info? Take our Everything Instagram video course, where each section will cover important aspects of an Instagram marketing strategy and guide you through how to make your own! ⬇⬇⬇
Happy posting! 😍
---
Hopper HQ is an Instagram content scheduling and management platform that saves social media managers and agencies time. Start your 14-day trial today!