The trend that's been sweeping Instagram in recent months, let's talk about the Instagram Story Template…
Some of you may remember a time on Myspace when you'd copy questionnaires and fill them in on a bulletin to tell your friends the last thing you ate or that you prefer dogs to cats:
Well, friends, we've come full circle, because it's been reborn for Instagram!
What Is An Instagram Story Template?
Story Templates are well-designed images with graphics and text, including spaces left blank to be filled in by the user. Here's what I'm talking about: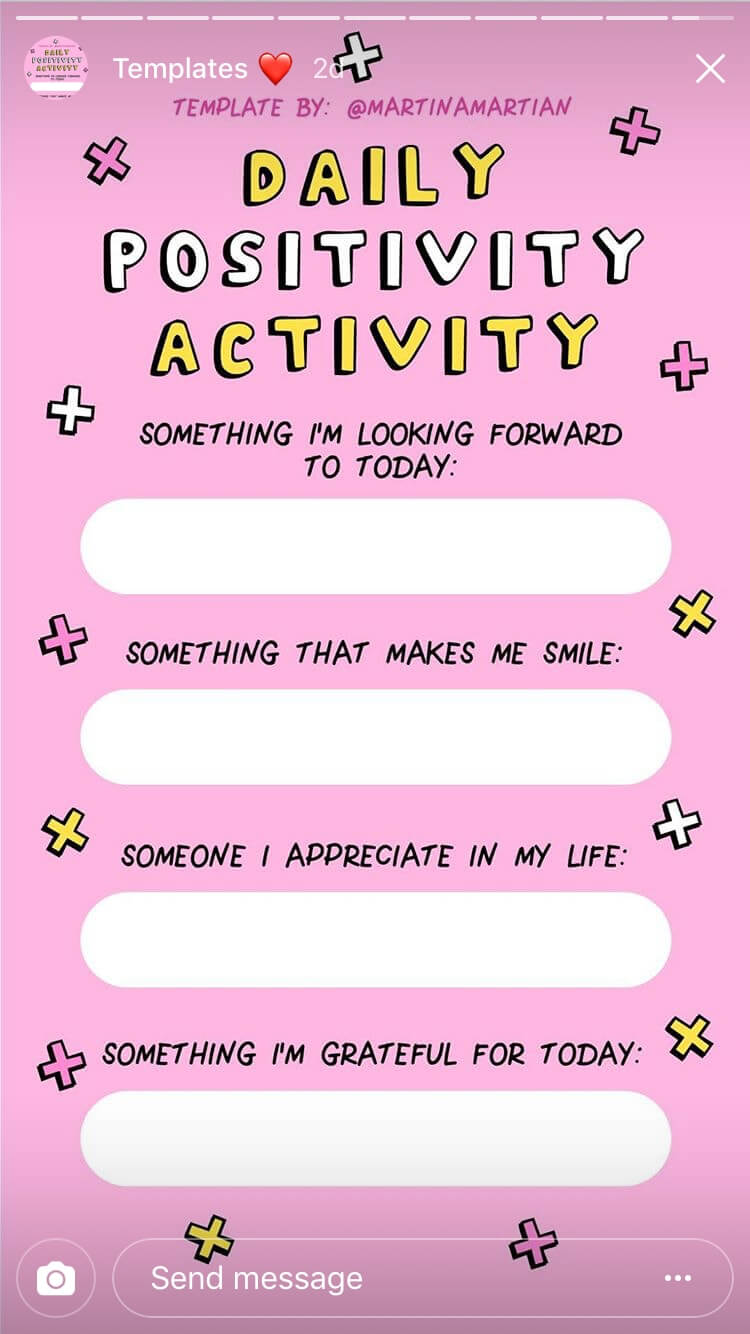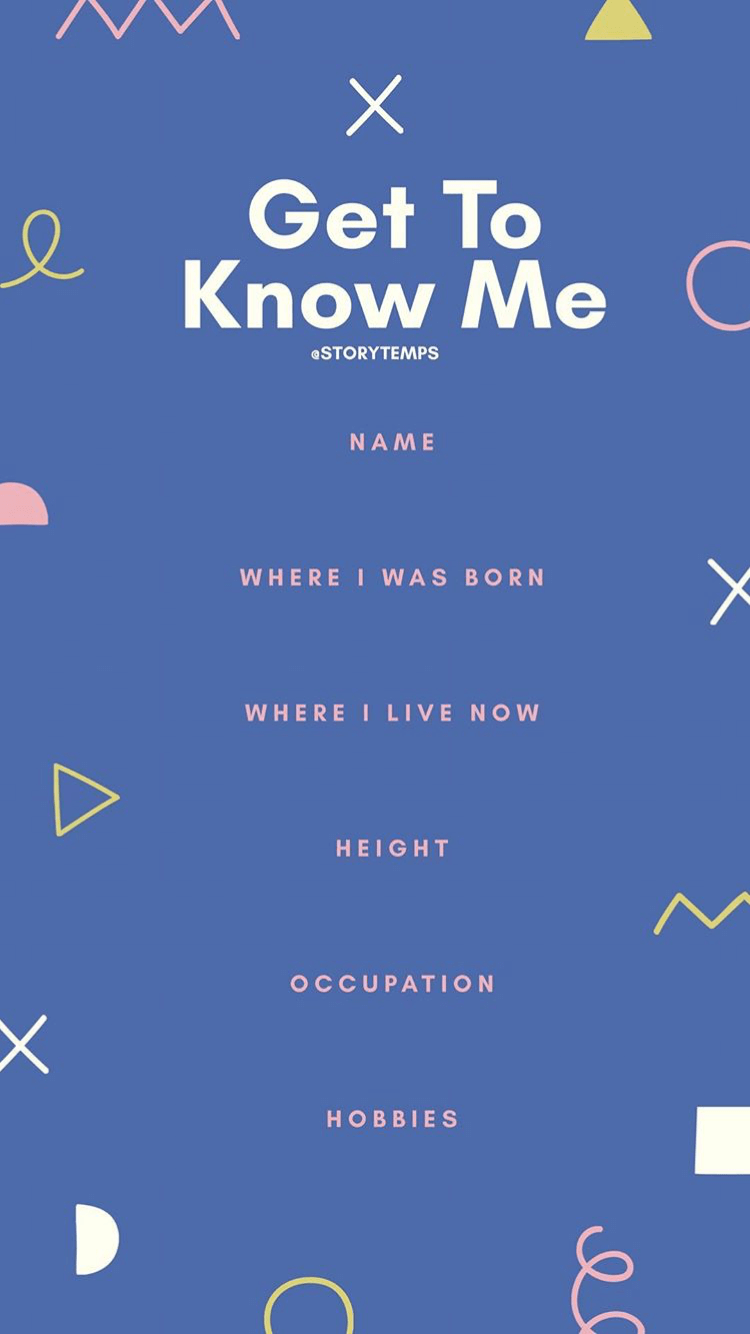 The main purpose of these templates is to share information about yourself with your followers. On a social platform that is almost completely visual, Story Templates provide a new text-based way of getting your personality out there. (You can't deny it, it looks a lot better than it did on Myspace, sorry Tom).
Thanks to Story Highlights, these templates can stay at the top of your profile and become an extension of your bio, ready to tell anyone who lands on your page some fun stuff about you! Search 'templates' on Instagram and you'll find loads of accounts creating templates for users to screenshot and use. Upload to your Story, fill in and share!
How Can Story Templates Work For Businesses?
At the moment, Instagram Story Templates have been predominantly used on a consumer-to-consumer basis, or created by influencers to increase their reach.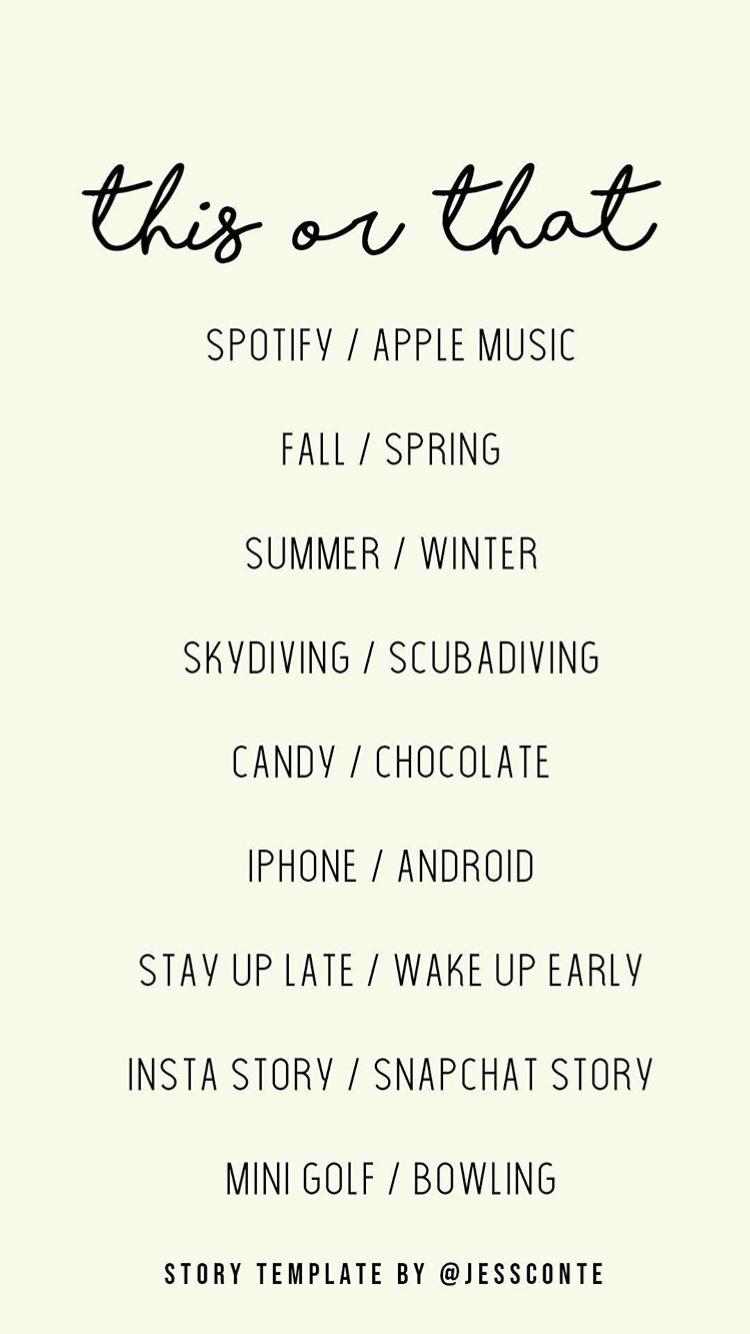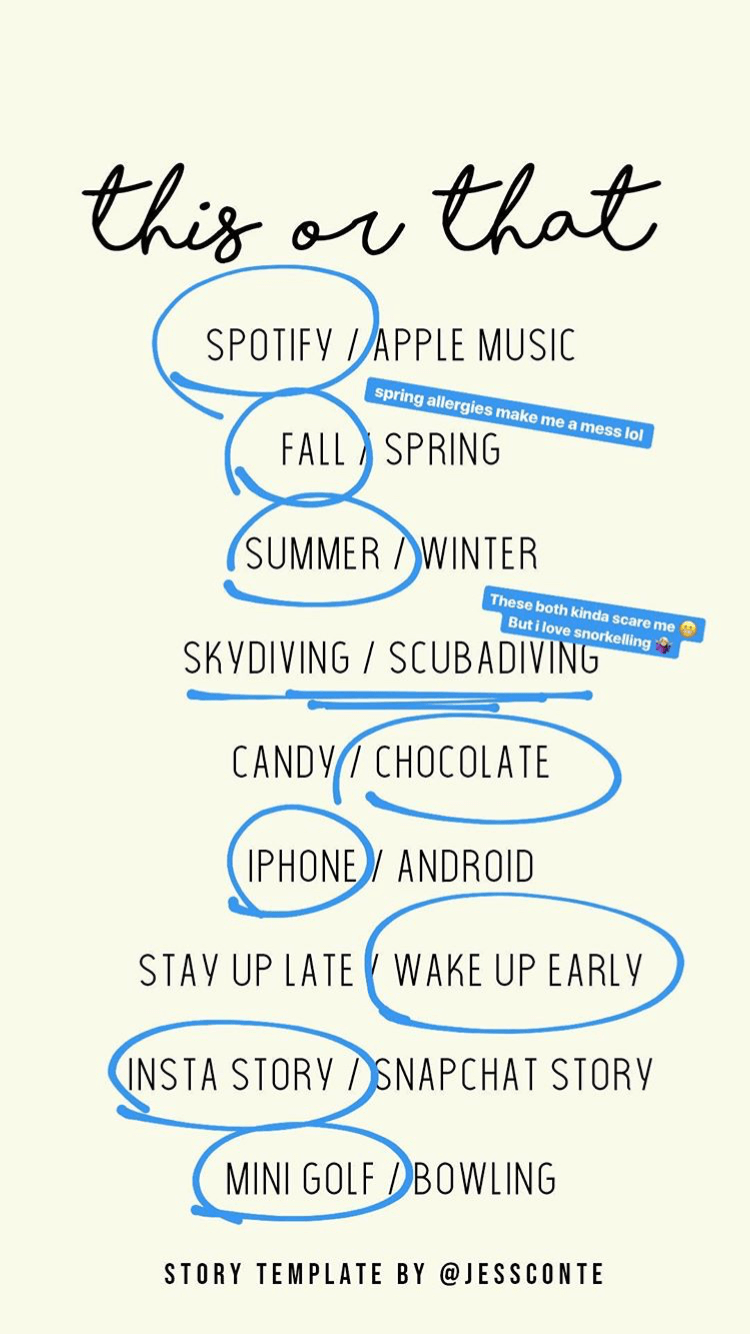 As you can see, whoever makes the template includes their name and potentially any trademarks or recognisable branding. Once they start getting shared, their account will be discovered by people outside of their current network. This is fantastic marketing because their followers are doing the distributing for them!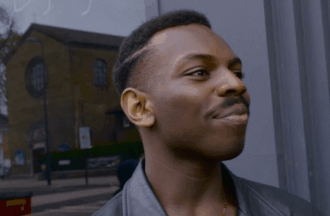 Branded Story Templates are a great form of #InstagramMarketing because when your followers screenshot and share them, they will reach people outside of your network 💡
Click To Tweet
So you can probably see that there's a real opportunity for businesses and brands to get involved here. By giving away something cool that your followers can use and share, you're increasing brand awareness and growing engagement.
By making your own branded Story Templates, your business has the opportunity to be seen by thousands of new people who are likely to have similar interests to your target audience! Not to mention, if your templates look amazing, users will go to your profile to see if they can get their hands on any more.
Simple Post, Story + Reel Scheduling ✨
Visually plan your social content. Instagram, TikTok, Twitter, Facebook, LinkedIn + Pinterest
💡 Instagram Story Template Ideas 💡
1) Stay relevant to your audience 🌎
Think about what your business does, and ways that Story Templates could apply to your target audience. For example, if you're in the travel industry, you could share templates around themes such as:
Countries I Want To Visit Next…
Pin Places You've Been On The Map!
Travel: This / That
Because that's the kind of thing people who like travelling or who go on holiday are lot are likely to want to fill in and share. Similarly, if you're in the fitness industry, you could share templates like:
Today's Workout
Weekly Progress
Favourite Gym Equipment
Encouraging your audience to share their routines and progress on their own Stories. Get into the mindset of your audience and produce templates relevant to your industry!
2) Top Trends ⭐️
You could also create Story Templates around the top trends for the week – which you can get direct to your inbox by clicking here!
Think of templates you could create around important events or trends. For example, Mother's Day sees hundreds of people take to Stories to complement their mums and share memories. This would therefore be a great opportunity to create a template such as: 'Reasons My Mum Is The Best' (or something to that effect) because it's likely to get a lot of engagement in a short space of time.
Other recurring trends like #WCW (Woman Crush Wednesday) and #MCM (Man Crush Monday) could be a good thing to make templates around depending on your audience. They are guaranteed to get traction every week and if your template looks appealing to your target demographic then it will get shared!
Here are some other good examples: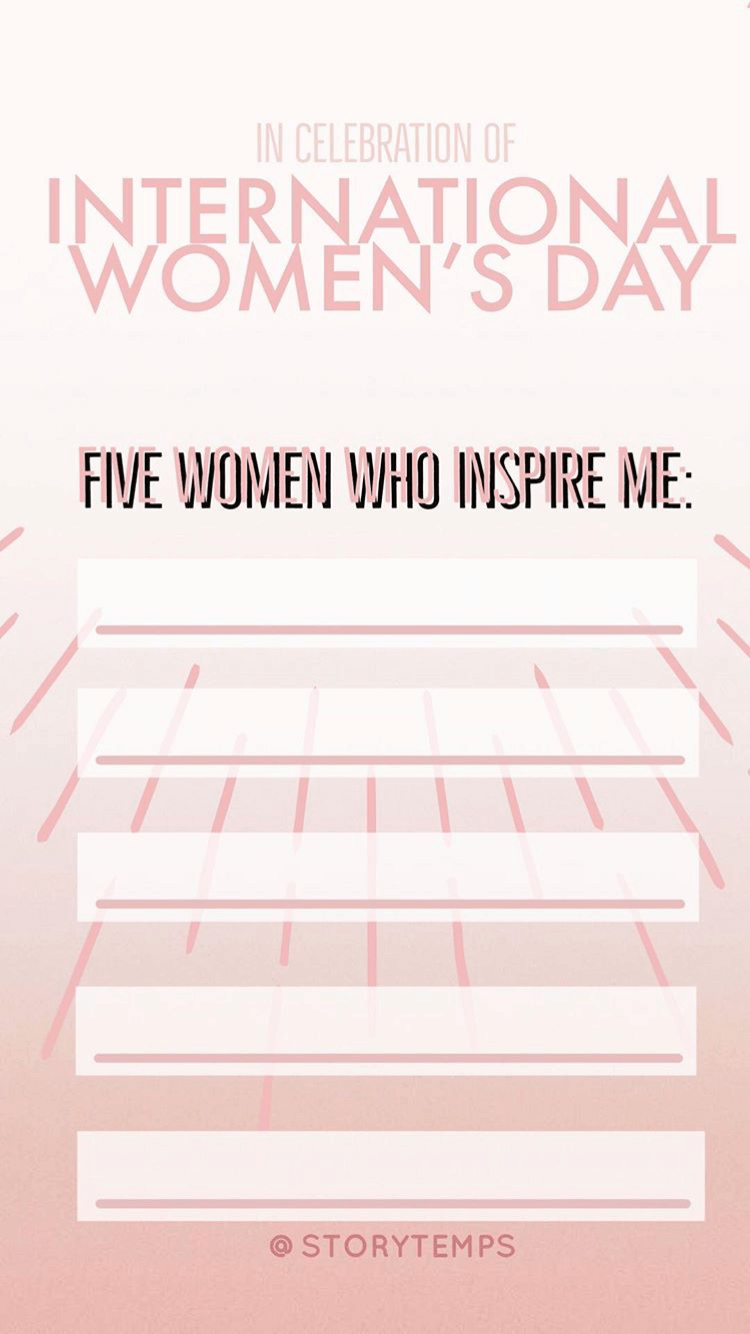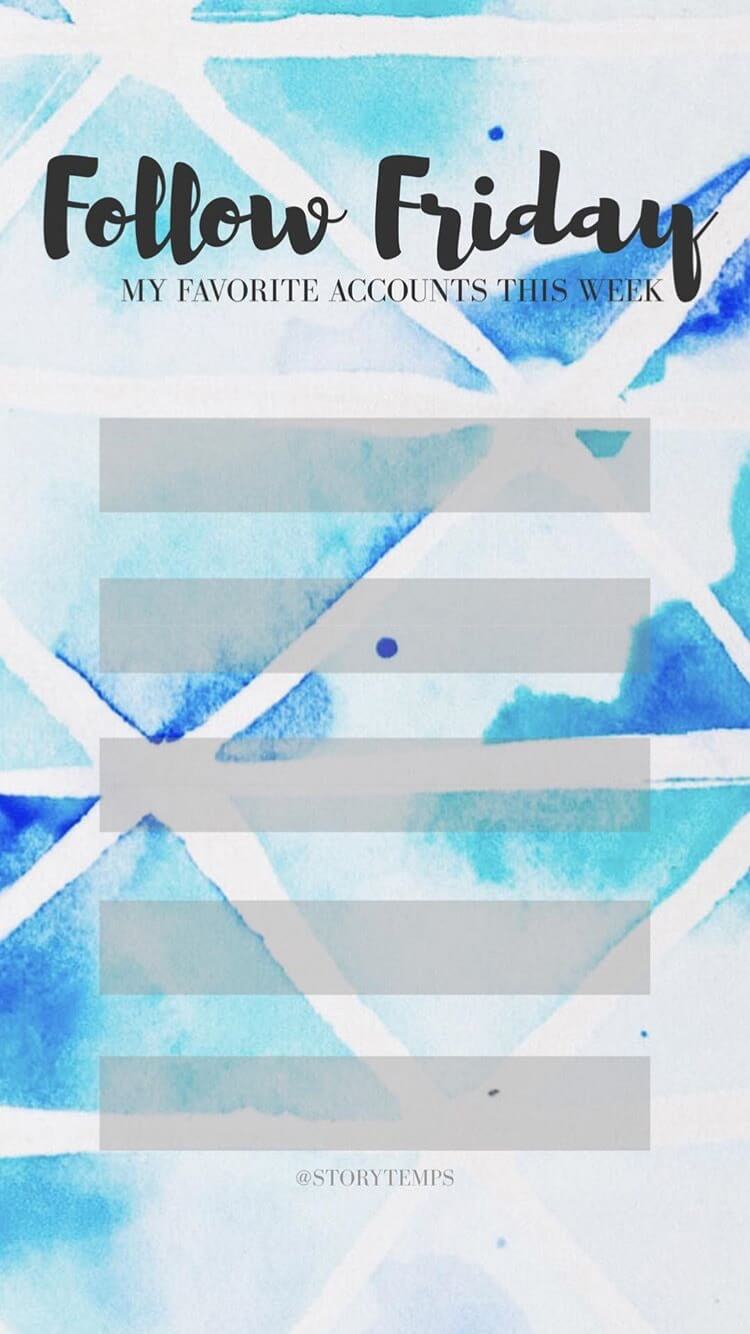 ⭐ Subscribe to Hopper HQ Trending to get emailed every week's top trends ⭐
3) Current Affairs 📰
Similarly, if you're looking to appeal to a large proportion of people, you could jump on to current affairs such as news, politics and sports to encourage interaction amongst your followers. This is a great example of a Story Template that is likely to be shared amongst football fans, with space at the bottom to include any further opinions: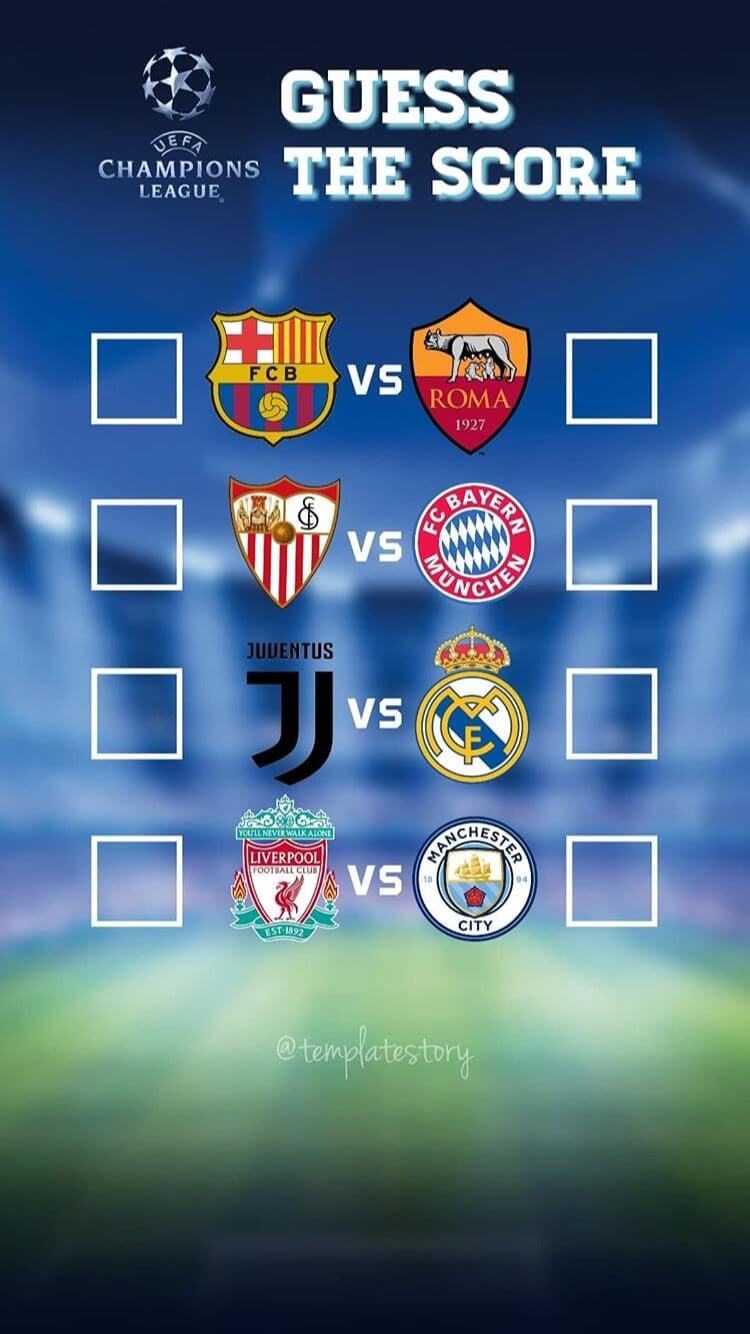 The only problem with these kinds of templates is that they expire very quickly, and will not continue to be used once the event has passed. However, if done well they have the potential to get a huge amount of reach!
4) Drawings, Emojis, GIFs and Stickers 😍
Story Templates don't have to be solely text-based! There are loads of ways to be creative on Instagram Stories, such as using emojis, GIFs stickers and pen tools.
Think outside the box for ways your brand could engage followers by utilising emojis in Story Templates – it's easier and quicker than writing answers out, so this type of template might appeal more to certain people. If your audience is creative, why not encourage them to let artistic license reign and draw something on a template?
For example, if you sell trainers you could create a blank trainer template and ask your followers to design their dream pair and share it on their Instagram Story. Minimal work at your end but great potential to get a lot of reach and engagement!
Here are some other examples: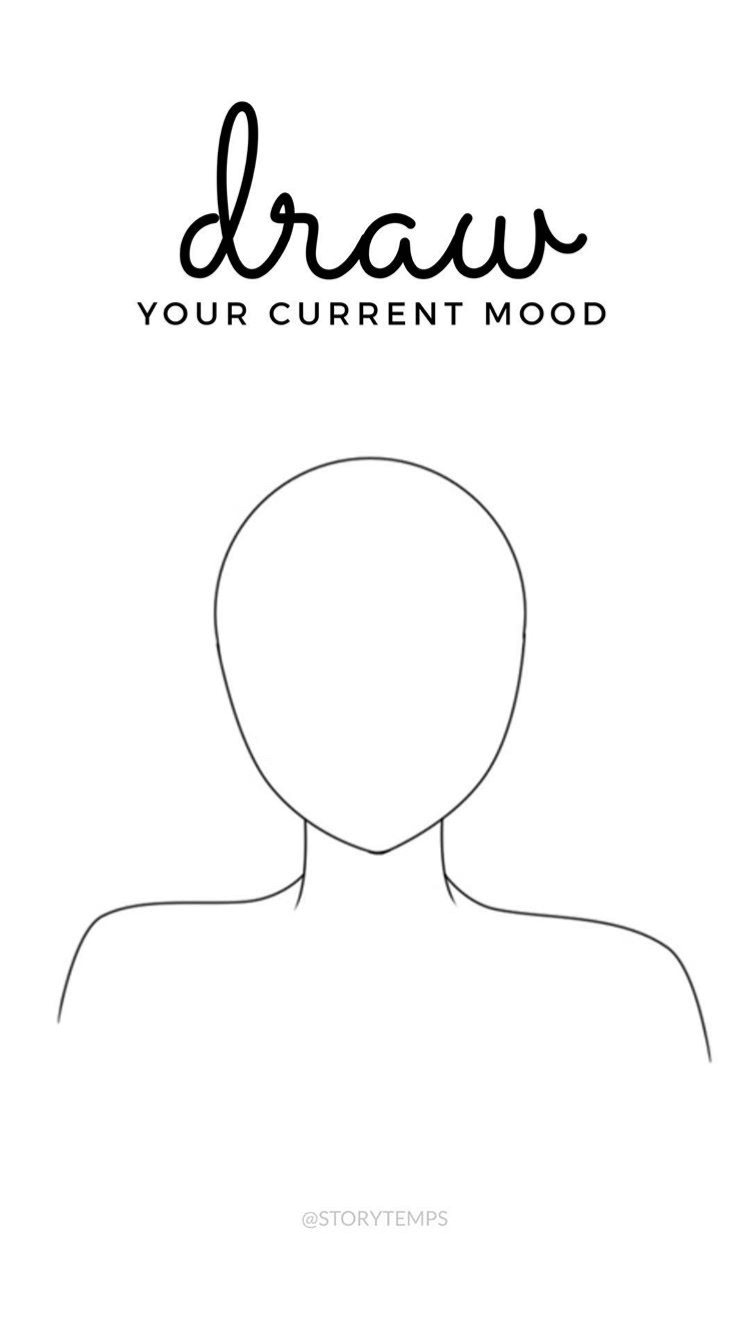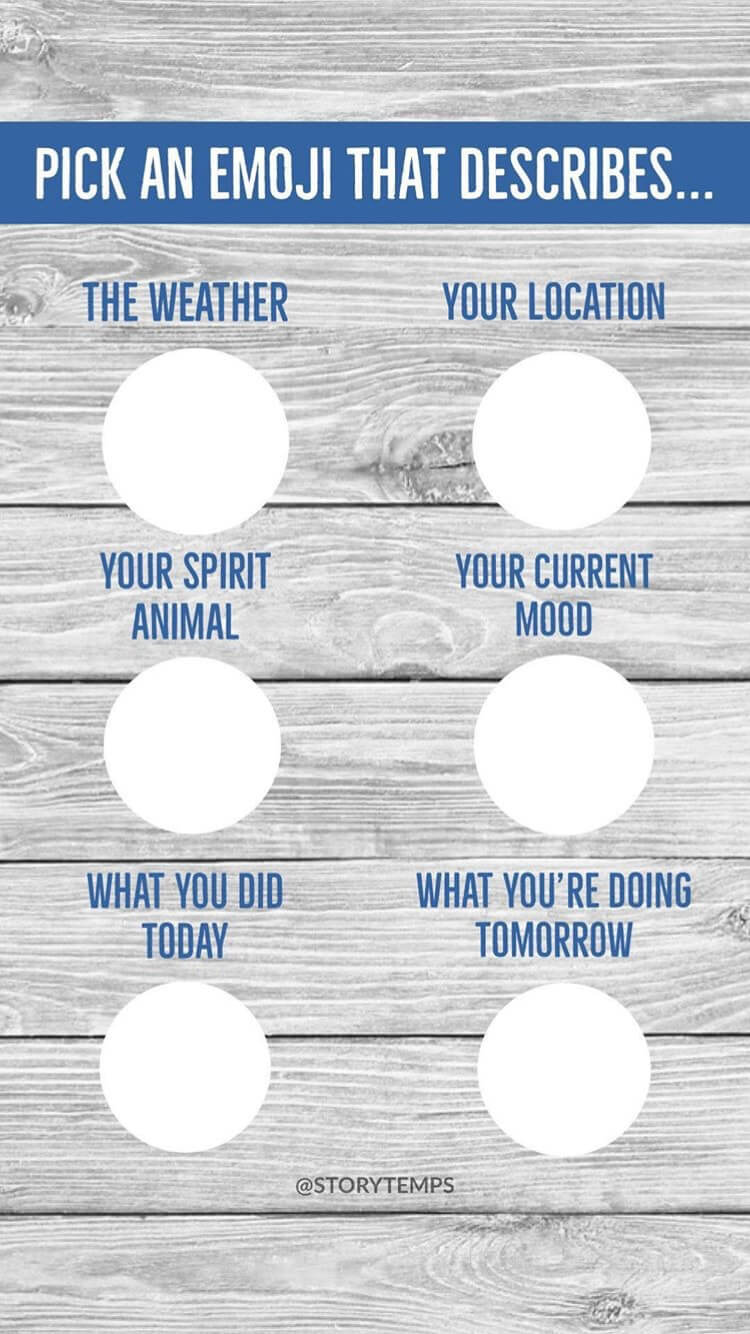 As you might have noticed from the number of examples of theirs I've used in this blog, @storytemps are all over this trend. Check them out for some inspiration — they have covered all areas and genres of Story Templates for people to screenshot and use.
If you want to test out Story Templates in your marketing strategy before spending lots of time creating your own, I'd recommend heading to their Instagram account. Have a look through the different topics and screenshot ones that are relevant to your target market!
💡 Remember: hold a finger down somewhere on the Story before screenshotting, as it will remove the username and countdown bar from the top 💡

How To Create An Instagram Story Template?
When using Story Templates as part of your Instagram marketing, it makes sense to make your own so you can design them on brand and get your company name out there.
Creating Story Templates can be done from within Instagram, for example, I just made this one in 5 minutes: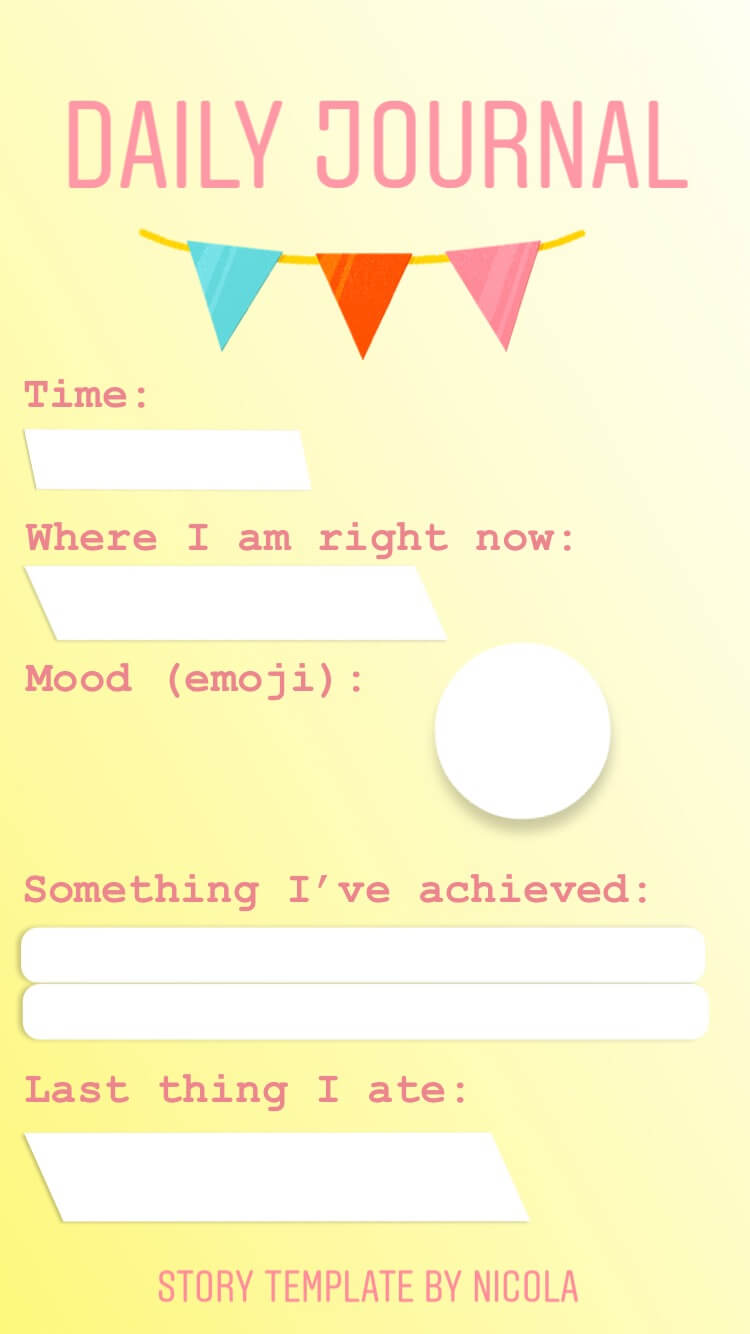 It's obviously a bit rough around the edges, but due to the newest range of fonts you can actually do a lot within Instagram Stories itself. If (like me) you don't have a steady enough hand to use the pen tool, use different forms of blown up punctuation to create the blank spaces!
You can also use the colour-picker tool to make sure everything matches, like how I chose the pink from the flag for the text. It does a job, and if you're pressed for time or want to test Story Templates out before allocating time and budget to them, then it's probably best to make them from within the app.
However, if you want to make Story Templates that stand out and look really high quality, make them using a third-party tool such as Canva.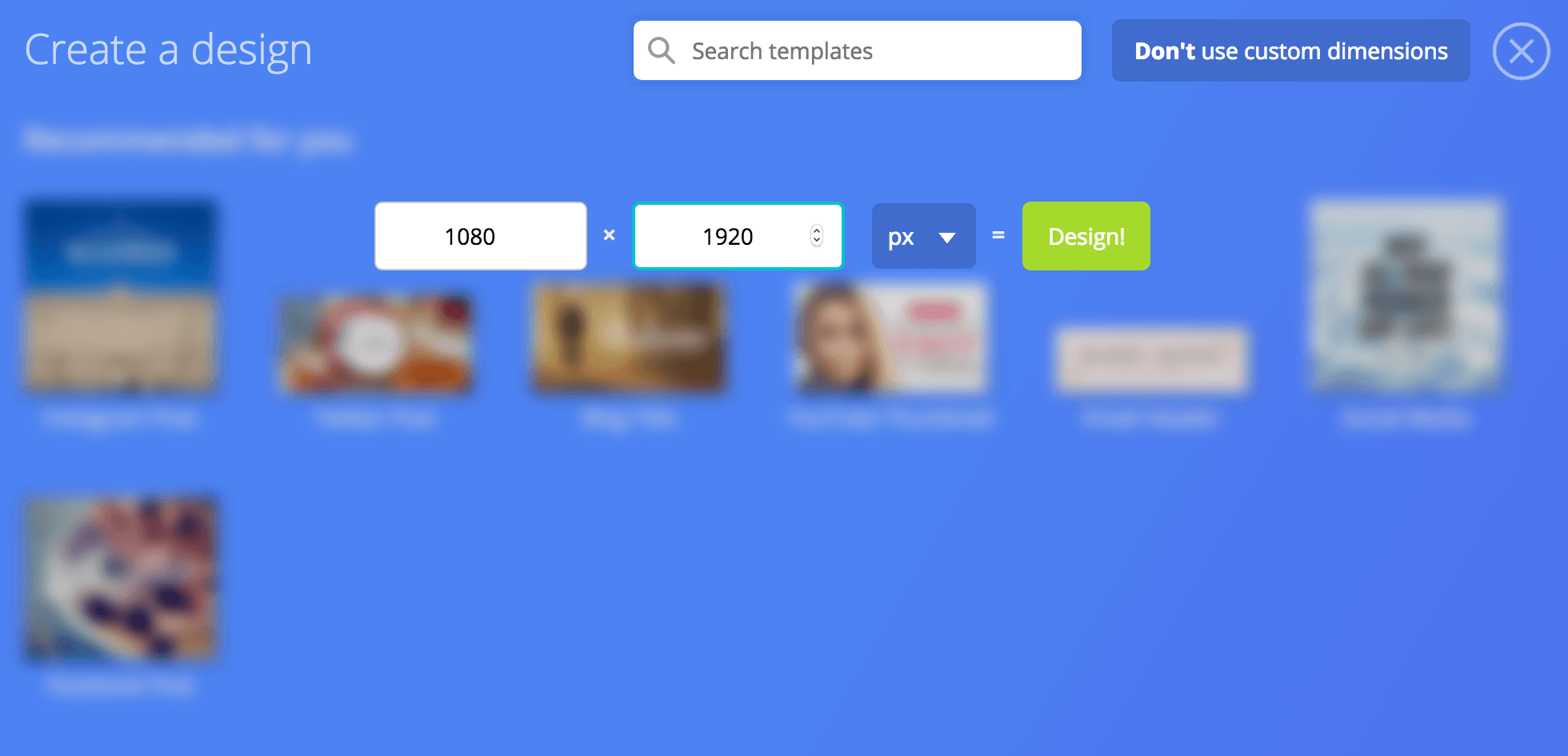 Once you have set the dimensions for Instagram Stories, which are 1080px X 1920px, Canva will bring up loads of potential designs that you can customise and repurpose for your perfect Story template!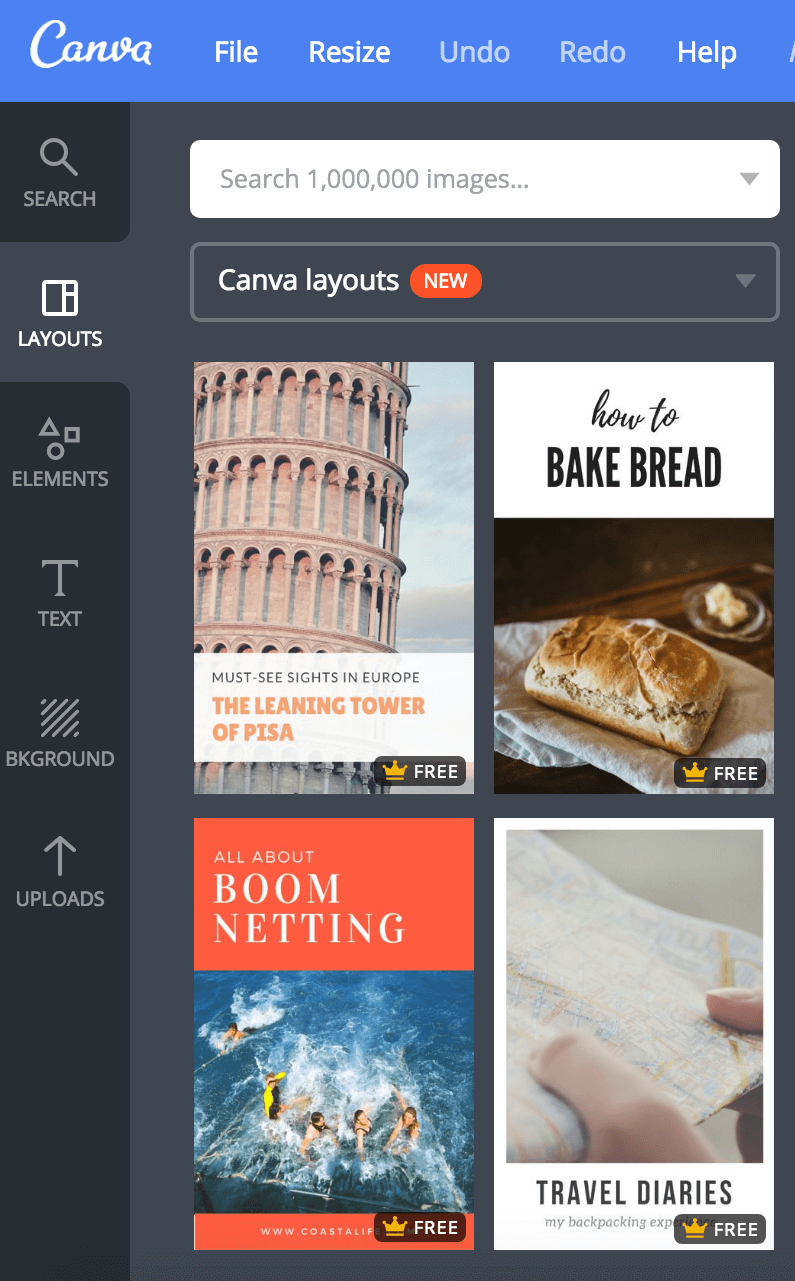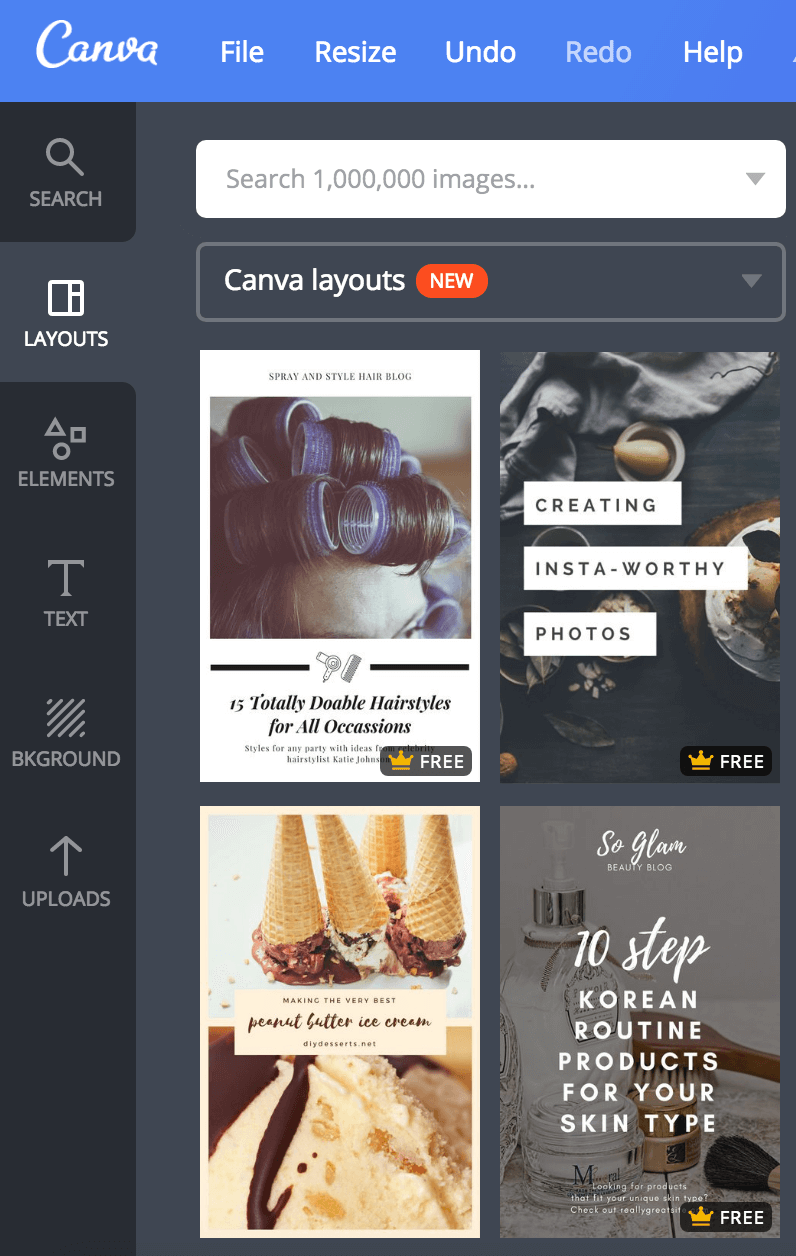 From here making Instagram Story Templates is simple, and you can let your creativity flow to create magazine-worthy images!
If you have Adobe Creative Crowd it's also possible to make Story Templates in Photoshop and Illustrator.
💡 Remember: when making Story Templates don't hashtag or tag locations or accounts. While this is a great strategy in normal Stories, when the intention is for them to be screenshotted they will lose their interactiveness 💡
Story Templates For B2B Marketing?
So far, we've only talked about Story Templates in a B2C context. When we saw this trend arise a few weeks ago we wondered if there was potential for them to work on a business-to-business-to-level. Without any inspiration out there, we decided to give it a go and make our own!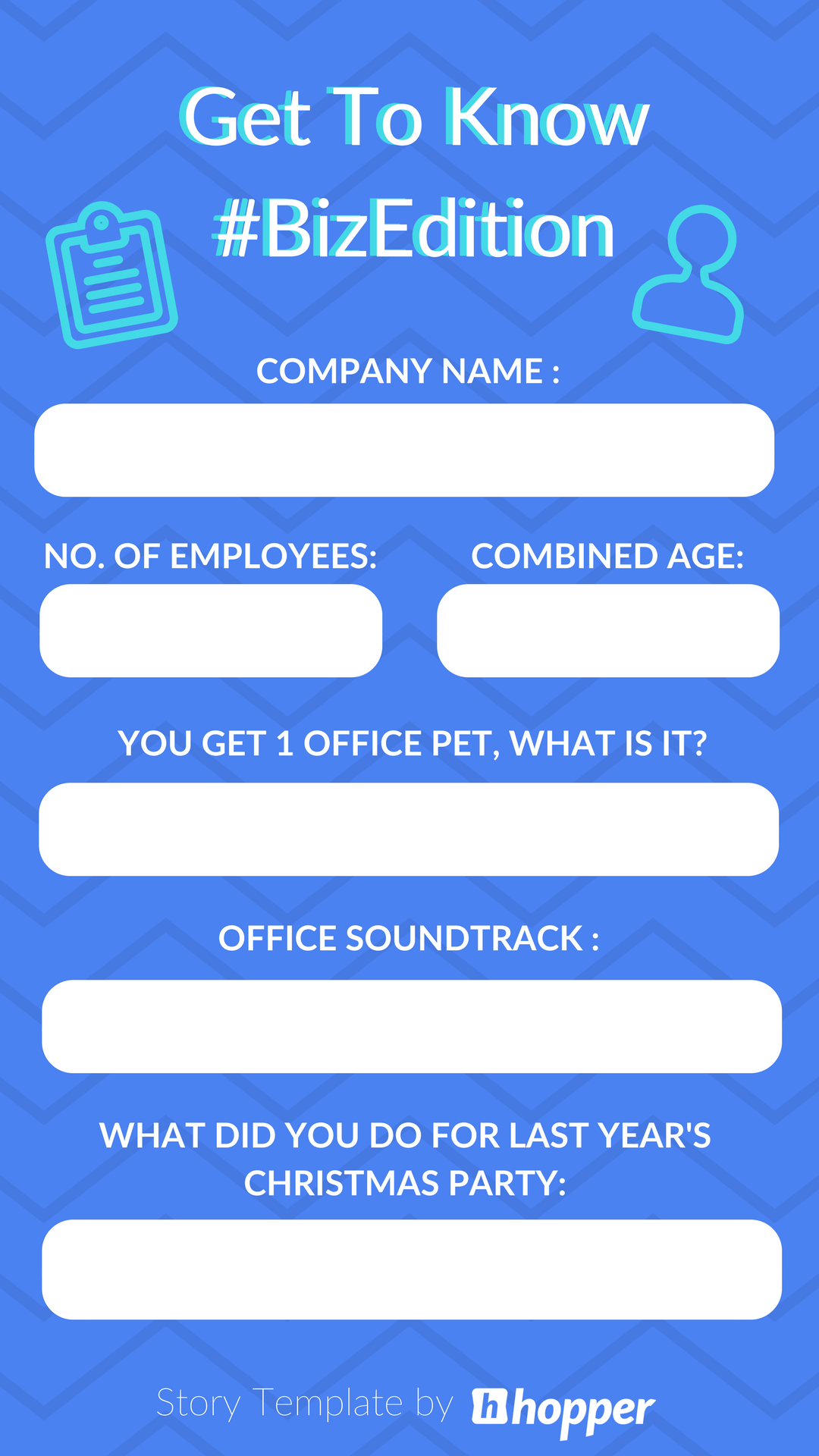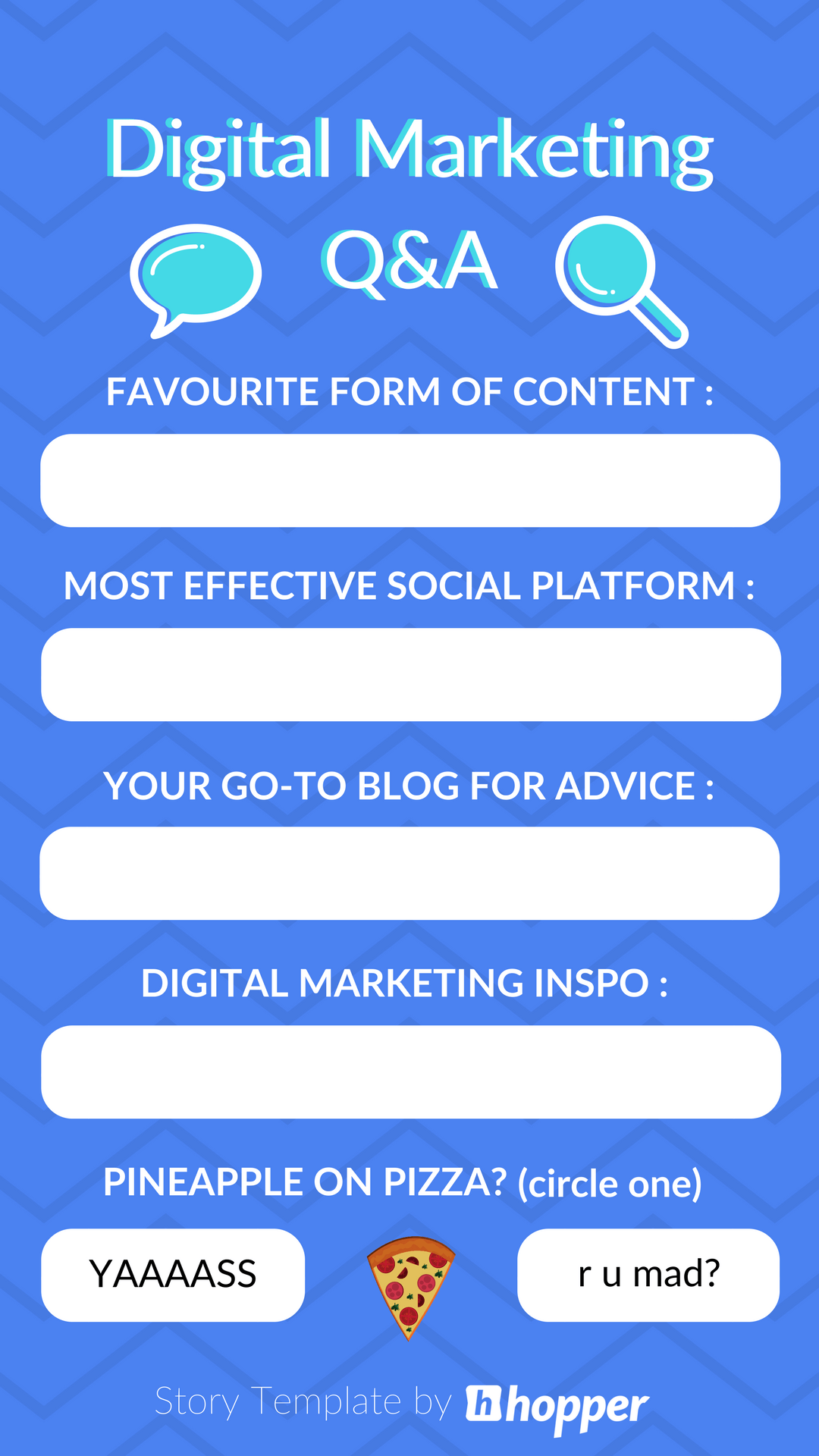 The reason Story Templates are so popular is because people like getting to know each other in fun and interesting ways. Another reason why Stories, in general, are so popular for businesses, is that their followers get to see behind the scenes and get to know the people behind the brand.
So why not combine these 2 trends and let people learn a bit more about the companies they follow on Instagram? The boring facts can be found on websites and LinkedIn pages, but what I actually want to know is what kind of company culture businesses have and what their employees enjoy doing!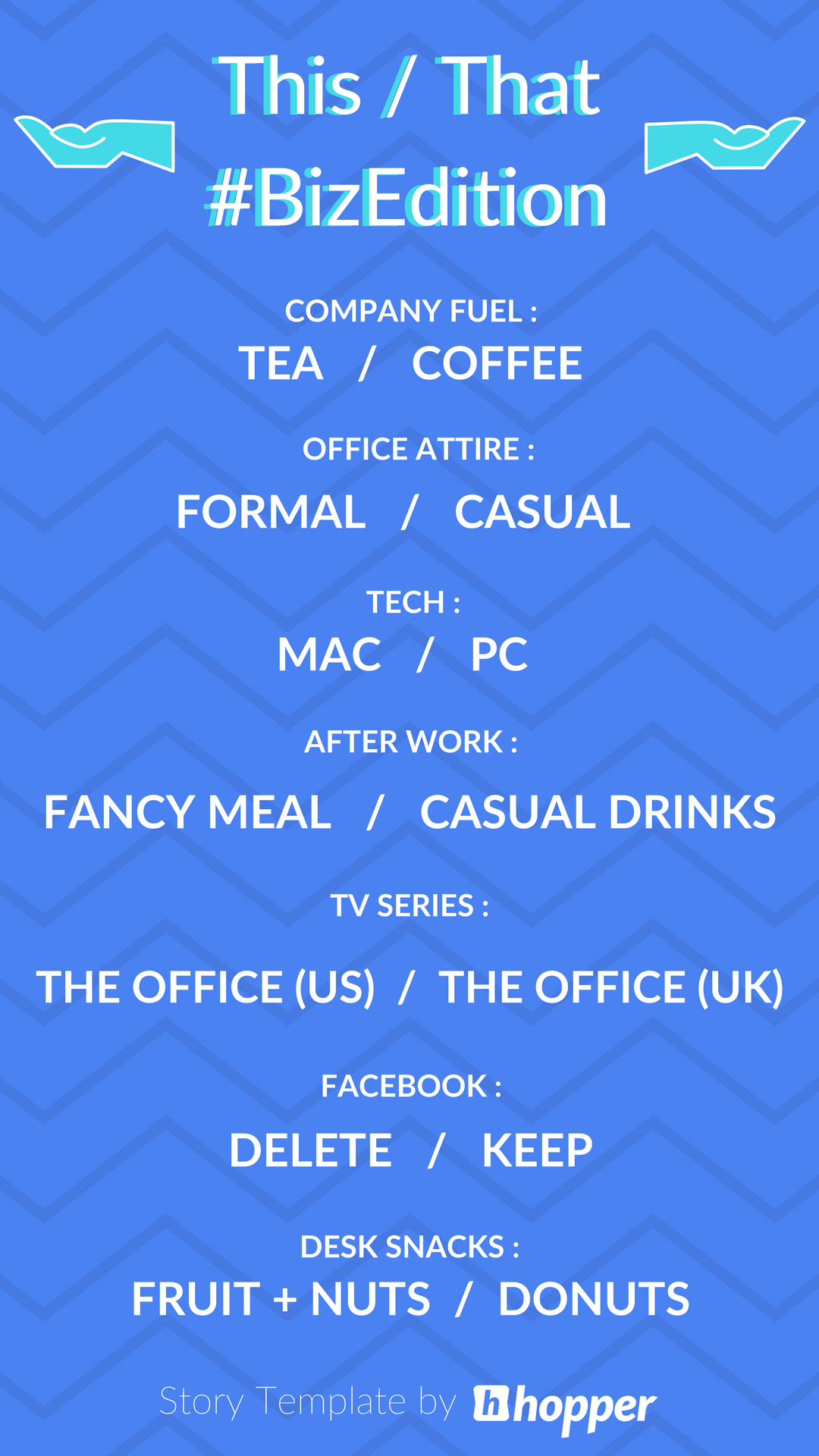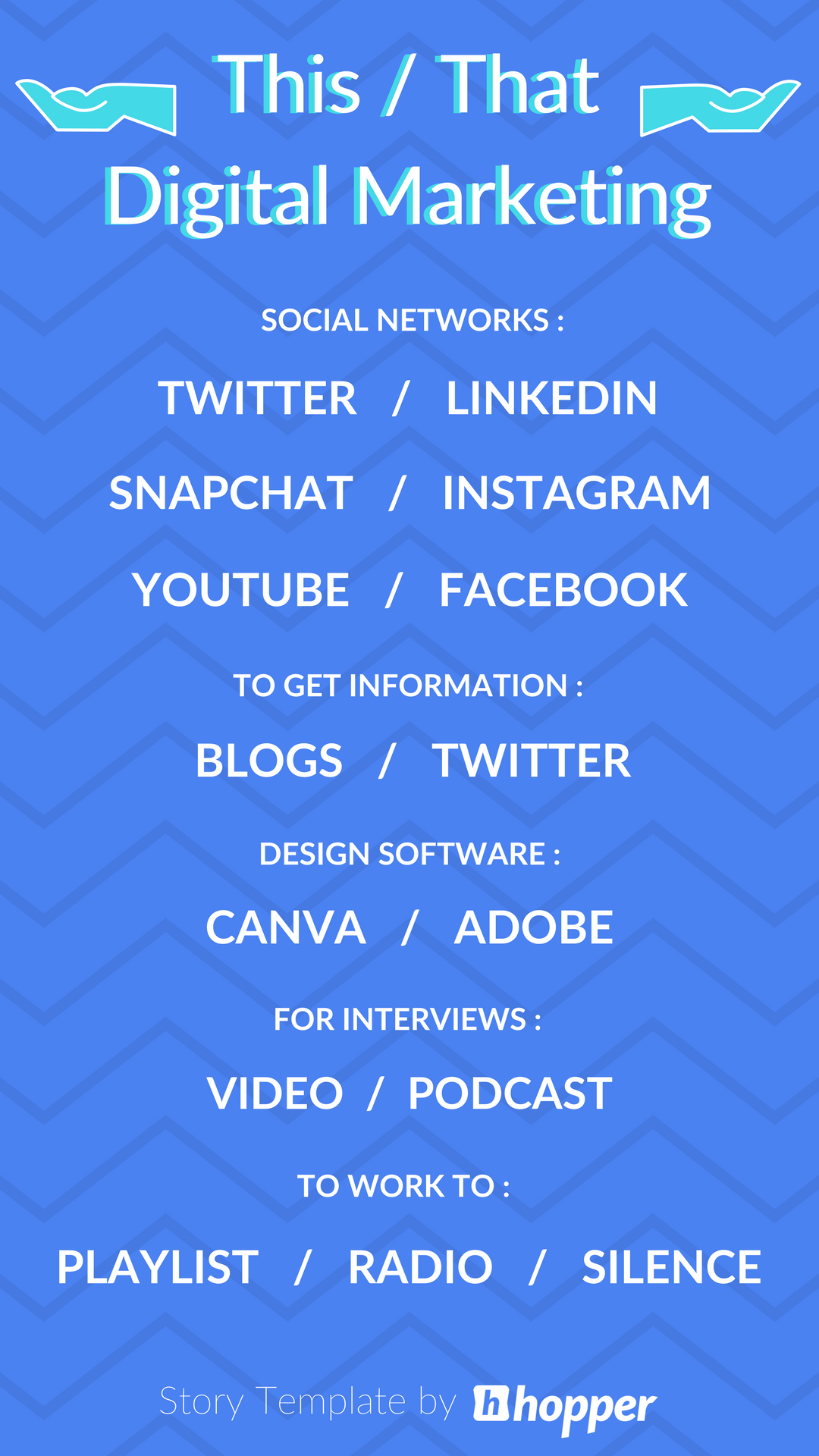 The people likely to use these Story Templates will be social media managers or marketers, hence the reason for the digital marketing questions! There's a great business community on Twitter and LinkedIn with people sharing ideas and experiences, so why not try and bring a touch of that to Instagram?
Parting Words 👋
There's so much potential to integrate Story Templates into your Instagram marketing, and it's still a really novel trend! These Hopper HQ templates are now up on our Instagram @hopper_hq in a Templates Highlight – I'd love to see your answers so go ahead and screenshot them 📸
If you also end up creating your own Story Templates after reading this blog let me know!
Happy posting 😍
✨ Can you think of any more ways businesses could make the most of this latest craze? Let me know or tweet me @Nicola_HHQ ✨
Get on the hype early and create branded Instagram Story Templates for your audience! Read how here:
Click To Tweet
Liked this post? Pin it for later!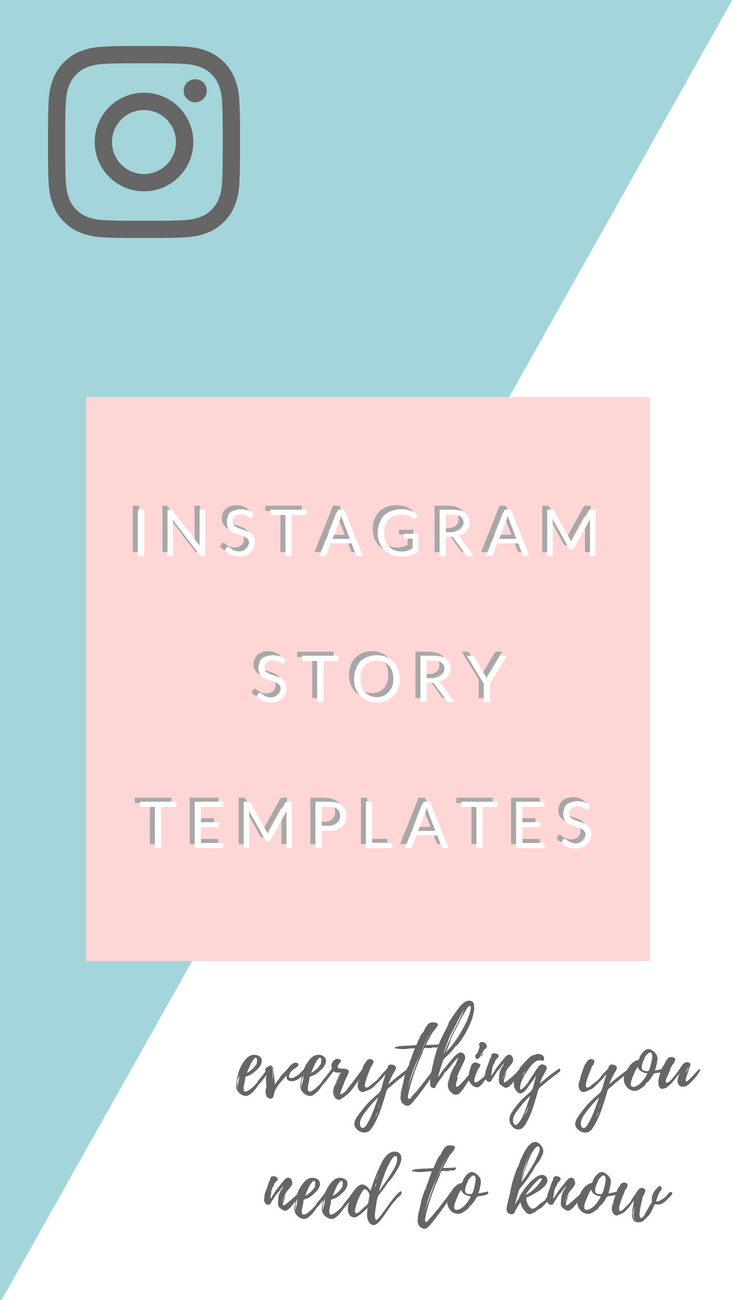 ---
Hopper HQ is an Instagram content scheduling tool that saves social media managers and agencies time. Start your 14-day trial today!