Later and Planoly are among the more popular online tools to schedule your Instagram posts.
But how good are they? And is it worth paying for them? Which is the better of the two – Planoly or Later?
Last month, I wrote an article comparing two popular Instagram scheduling apps – Hootsuite and Buffer. In that article, we did a deep dive into all the major factors that can potentially influence a buyer's decision.
Now, this article is going to be very similar. Let's get to the comparison right away.
But before I proceed, let me take a moment to introduce ourselves (in case you are here for the first time). Hopper HQ is an ultimate Instagram scheduling tool. We also do planning and scheduling for Twitter, LinkedIn, and Facebook.
Do not forget to give our 14-day trial a whirl before you finalize a product. You are going to be delighted.
Who These Tools Are Meant For
Like most other scheduling apps in the market, Later and Planoly are both targeted at the Instagram marketing audience. 
Later positions itself as an Instagram-first app that lets users "visually plan" their calendar, and is built to share photos, videos, and stories on Instagram.
Planoly is not too different – they target the marketer with a tool that lets users visually plan their calendar. Planoly also comes with unique tools like sellit, StoriesEdit, and LinkIt.
In some ways then, both these tools offer a product that is very similar to what Hopper HQ has. Hopper HQ is a visual-first scheduling app that comes with its own set of unique tools that target marketers.
Having said that, each of these tools connects with a bunch of different social media platforms. Both Planoly and Later connect to Instagram, Facebook, Twitter, and Pinterest.
Hopper HQ, on the other hand, does not connect to Pinterest yet. But we integrate with LinkedIn instead. If you have not yet uncovered the potential of LinkedIn for your business, it is high time you do it. Here's a quick guide on making the most out of LinkedIn Marketing.
Planoly Vs. Later Onboarding Process
Like most users, do you compare products merely on their pricing and stated features? This can be a big mistake.
This is why – it does not matter how advanced a product's features are. What matters is how easy it is for a layman user to know how to use them.
So how do Later and Planoly fare on this aspect?
Later signup/onboarding process
Later's sign up is quite straightforward. You click on the 'Create Account' button on the homepage and enter your name, email, and password on the next screen. You are signed up.
Later does not disrupt your workflow with a request to verify email. Instead, they ask you to connect your account with your Instagram profile in the next window. You click on the 'Connect Instagram Profile' button, authorize the app, and voila, you are done.
But here is why some users may find this process confusing.
If you are a business that does not have an Instagram account yet, or if you are someone who is here on the app for Pinterest or Facebook instead, there is no way to complete your sign up process.
You have to either connect to your Instagram account right away or abort the signup.
While it is true that most people looking for an app like Later are interested in its Instagram scheduling features, I can see use-cases where one may not have an Instagram account yet.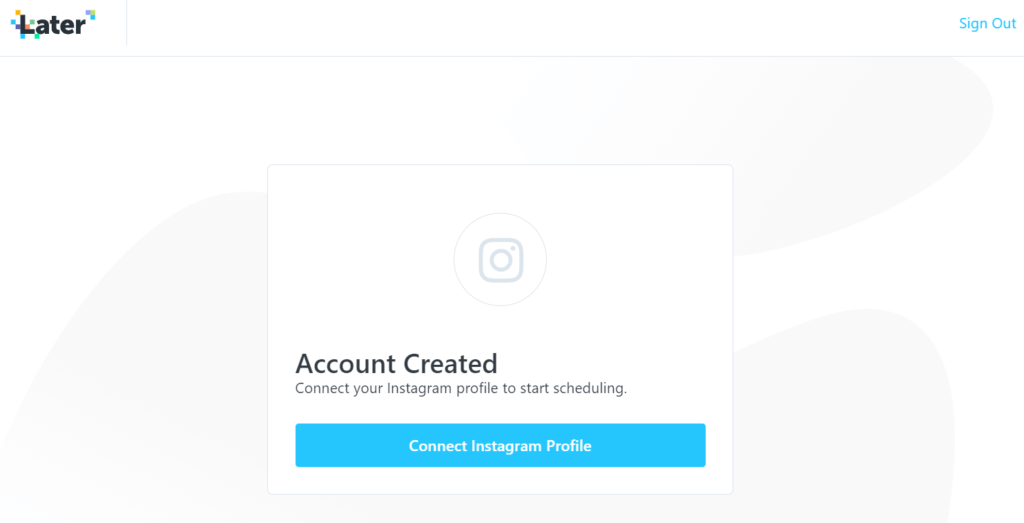 Planoly signup/onboarding process
Planoly has a more traditional sign-up process. Once you key in your name, email, and password on the account registration page, you are taken to their pricing page where you are supposed to pick a plan. By default, the user is set to the free plan.
One gripe I have with this step is that for users who wish to proceed with the free plan, there is no visual cue to indicate how they proceed. There is a link to 'Plan' at the top right of the window – something that most users are likely to miss.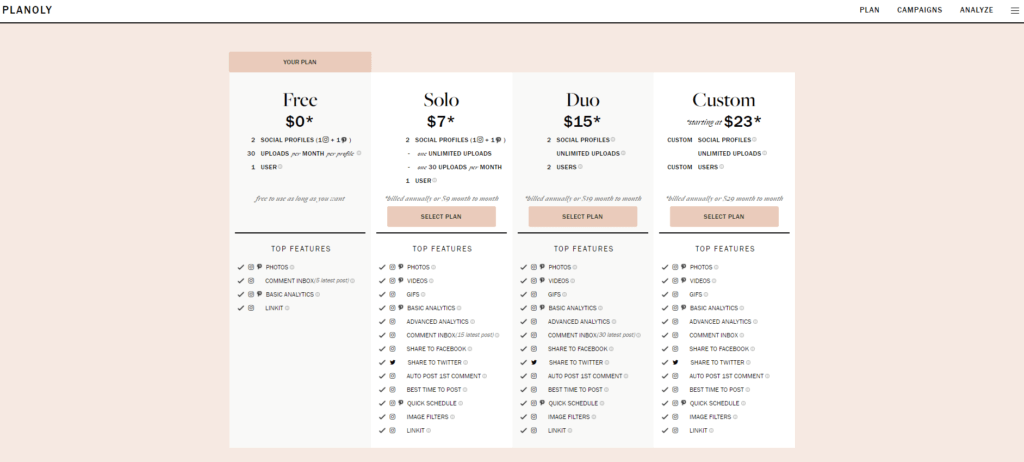 If they do, the only way to proceed is by picking a paid plan to proceed.
So, how does Hopper HQ fare against these two platforms?
Hopper HQ signup/onboarding process
Firstly, there is no way one could miss the messaging and sign up window on the homepage.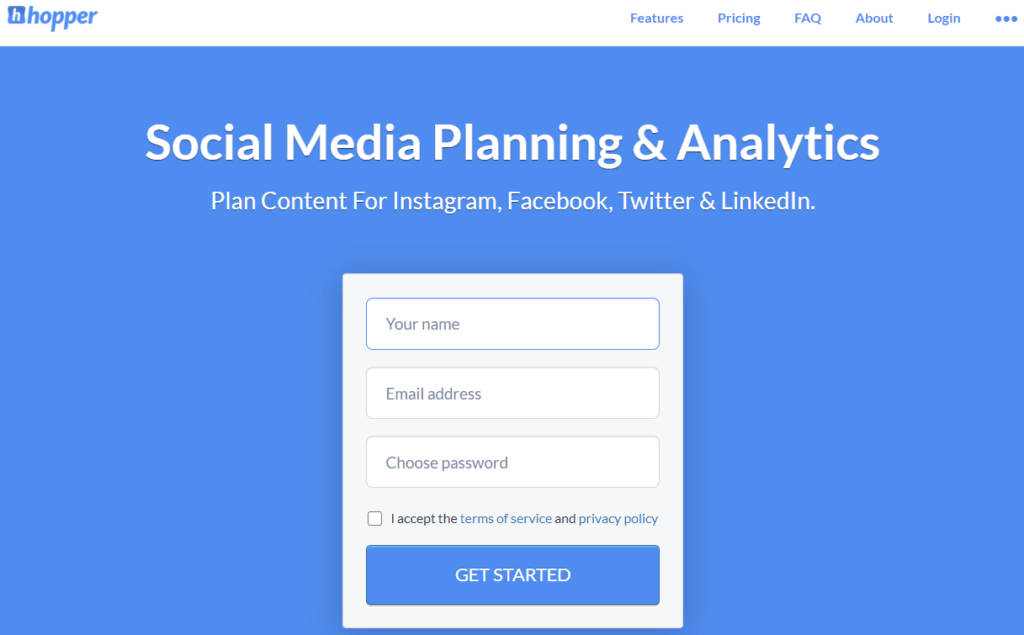 Enter the details, and you are taken to the 'Plan Select' page. You choose the number of Instagram accounts you want to connect, enter your card details, and you are done.
Your free trial has now officially begun!
Want to give this a try yourself? Sign up for a 14-day free trial now.
Planoly Vs. Later Pricing plans
There are two ways to price a SaaS product. You either have a free trial and offer only paid plans once the trial period is over; or you have a freemium where users can enjoy a free version of the product, albeit with limited features.
So which one is better for you, the user?

There is no right answer. But here is the thing – a free trial exposes the user to the entire gamut of features. If you are a business looking for ways to grow your social media marketing campaign as an online marketer expert, a free trial lets you experience the power of the product before the trial period is over. 
Free versions are great for personal use. But from a business user's perspective, they do not help you grow your business. So it is difficult to know if you need any of the features in the paid version or not.
Later pricing plan review
There are four tiers in Later's pricing plan. You can sign up for a free version, or choose between the Starter Plan, the Growth Plan, and the Advanced plan.
The pricing is based on the number of "social sets" and users you sign up for. A social set is basically a bundle of four social media profiles; one each for Instagram, Facebook, Twitter, and Pinterest.
The free plan lets you post up to 30 times from each of these profiles. But the feature set is quite limited in that you do not get to schedule videos, Stories, or even multiple photos. You also do not get hashtag suggestions, tags, or mentions.
The most advanced plan is priced at $40 per month per social set.
Planoly pricing plan review
Similar to Later, Planoly too has a free plan in its four-tier pricing plan. But the features are a lot more limited here. Also, it's a lot more confusing.
With the free plan, you get to integrate two social profiles – an Instagram and Pinterest account – and you can post up to 30 times per profile. Also, like Later, you can only work on photos with the free plan.
Here is where it gets a little confusing – the Solo plan ($9/month) gives you access to two profiles again. But while one profile gets you unlimited uploads, the other one only has 30 uploads a month.
To get unlimited uploads on both the profiles, you will need to subscribe to the Duo plan that is priced at $19 per month.
I think this adds a lot of complexity to your decision-making process.
What I like however is that all features are open to all paid plans. The only limitation is in the number of posts you can publish, and the number of users you can add.
Hopper HQ pricing plan review
Unlike Later or Planoly, there is absolutely no feature-gating on Hopper. All features are available to all users.
No Feature Limit On Any Plan
Unlike Later or Planoly, there is absolutely no feature-gating on Hopper. All features are available to all users.
Also, there is no free plan. But you have a generous 14-day free trial that gives you enough time to test out the product and ask yourself if you like what you see, or not.
Pricing is extremely straightforward on Hopper. What you pay depends on the number of social bundles you need access to.
The lowest tier is priced at $19/month (15% discount if you get an annual plan) and at this price, you get all the features and one social media bundle (one account each for Instagram, Twitter, Facebook, and LinkedIn).
Your price increases with the number of bundles you buy.
If you are an agency, you are going to love this. You pay depending on the number of client accounts you handle. So, if you have only five clients, you pay for five bundles. And, when a client signs out, you cancel a bundle and now only pay for four bundles.
It makes cost estimation so much easier.
So, which of these tools offers the best value for money?
Let's assume you are an agency with 10 clients and handle marketing over four platforms (Facebook, Instagram, Twitter, and LinkedIn). And also, you need unlimited uploads.
Planoly won't work for you since they do not offer LinkedIn scheduling. Also, you can only schedule posts on Instagram and Pinterest which may further be shared over Twitter or Facebook. That is NO native scheduling for Facebook or Twitter.
Anyway, with these limitations, you will be spending around $190 per month with Planoly.
Later limits the number of uploads per account unless you are on an Advanced plan.
With this plan, you shall be spending $400 per month for 10 clients with Later.
With Hopper HQ, there are no feature limits, and you can schedule an unlimited number of posts.
For 10 clients, you will spend $170/month with Hopper HQ
In summary, for similar features, you will spend:
$190/month on Planoly (with feature limits)
$400/month on Later
$170/month on Hopper HQ
Planoly Vs. Later Features Comparison
Speaking of features, Planoly and Later come packed with a lot of features. Which is better for you? Let's take a look.
Later features review
Later is feature-gated. So, a lot of great features are only available to the higher versions of the paid plan.
For instance, basic analytics is provided to all users. However, if you want to track clicks on Twitter or Pinterest, you will need to be signed to the Growth or Advanced plan. The same is true with Instagram Hashtag analytics or analytics export.
Again, if you want to collaborate with other team members, the Growth and Advanced plan offer unlimited access. However, the Starter pack only has one Access group.
Customer support too is based on the plan you subscribe to. Live chat support is only available to Advanced plan users. People with lower-paid plans can only get email support.
Planoly features review
Planoly has several features that make it useful for Instagram and Pinterest marketers. You can post photos, videos, GIFs, and create thematic grids with the app. You also have other features like the best time to post, first comment auto-posting, and analytics.
Free tier users do not get the quick schedule feature that is available to paid plans.
Hopper HQ features review
At the outset, Hopper HQ has all the features that are expected of an Instagram scheduling app. But what truly separates Hopper HQ from the rest of the pack is the image editing feature.
Brilliant image-editing
On Hopper HQ, you can quickly, and easily edit images before you schedule them on your calendar.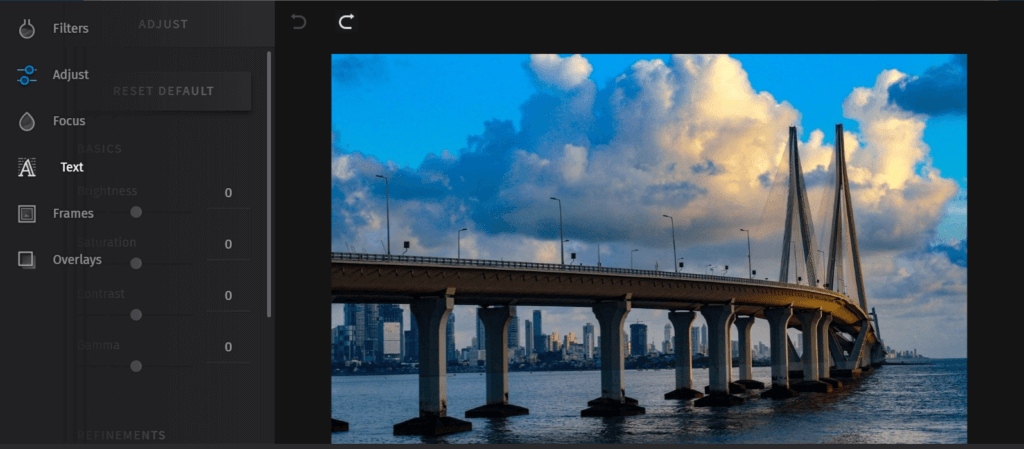 You can add custom filters, texts, or other overlays to the image. You can also adjust brightness, saturation levels, and do a ton of image editing before you schedule it for posting.
This is so important to you as a social media marketer. Other scheduling apps do not offer this feature. Due to this, you will be required to pay for another image editing application in addition to paying for the app itself.
It's a hidden cost that you don't realize till it is time to start posting.
With Hopper HQ, the money you pay for the application is inclusive of the image editing bits as well. And that is what makes it unique and better.
Priority support
Another differentiator between Hopper HQ and a tool like Later is that priority support is open to all users.
Earlier in this article, I had mentioned how you get live chat support on Later only if you are an Advanced plan user.
With Hopper HQ, this feature is available to everyone, regardless of how many bundles you are signed up to.
This is a pattern you will notice on Hopper HQ – there are simply no restrictions on the features you get access to. If you are a customer, you get access to features regardless of how big or small you are.
Conclusion
Planoly and Later both have a ton of features on their application. But before you pick one, I would urge you to check out the features on Hopper HQ. You get a 14-day free trial to explore the product exhaustively before deciding how you want to proceed.
Which is your favorite among the three? Tell us in the comments.