With Facebook being a vital tool for any business marketing strategy, it's important that social media managers keep their Facebook Business page up to date with good, frequent content. For those managing multiple channels and even accounts, this can be a hefty, time-consuming task. The solution is therefore to plan and schedule Facebook posts in advance. This frees up time and ensures the right balance of content is being published, especially if multiple people are managing the Facebook page.
We've put together this step-by-step guide on how to schedule Facebook posts and why you should start now!
Why You Should Schedule Facebook Posts
It saves time ⏰


By scheduling Facebook content in advance, you free up time to spend on other areas of social media management, such as community engagement! You can plan your Facebook posts for the month in one sitting, rather than rushing to get content out every day. This streamlines the process and makes teams more efficient – simple!

Be anywhere, any time 🌏Bulk uploading images, videos and URLs to post at a time of your choice means you can set it and forget it. This is essential if your audience is in a different time zones to you!

Feel organised 🗓


Scheduling Facebook posts means you know exactly what's going out and when! Get the perfect balance of content type and posting consistency to keep your followers engaged. You will naturally feel so much more organised having a calendar schedule than trying to remember to post immediately – especially if content needs to go out in evenings and weekends!

Keep on top of trends ⭐️

A great perk of scheduling any social media content is that you can plan in advance for big trends and events! Never miss a time-sensitive hashtag by scheduling them to your Facebook page in advance. You can check out our Social Media Marketing Calendar for the rest of the year's trends and then schedule them to Facebook!
How to Schedule Facebook Posts: A Step By Step Guide
You are able to schedule individual posts within Facebook itself, however, this feature will only get you so far. When it comes to managing a month's worth of content and multiple Facebook pages, you will need to use a social media scheduling too. We will naturally be favouring our own tool, Hopper HQ, for fully automated Facebook scheduling. Hopper HQ is one of the Top 5 Most Popular Social Media Marketing Software based on Capterra's 2018 research!
(For the purpose of this step-by-step guide I have started a new personal Hopper HQ account to show you how easy it is to get set up from scratch!)
Step 1: Create a Hopper HQ account
In order to schedule Facebook posts and manage your Facebook marketing content, you'll need a Hopper HQ account. Head to the homepage and enter your name, email address, and make a password. You'll automatically receive a free 14 day trial to test it out!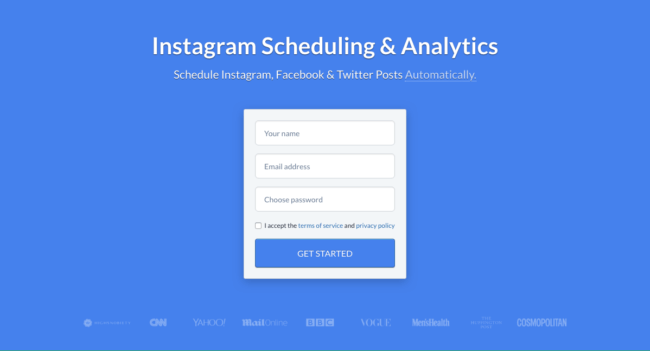 Step 2: Select your plan
Hopper HQ was the first fully-automated Instagram scheduling tool, and was therefore built around the visual display of Instagram. When you select your plan, Hopper will ask you to choose how many Instagram accounts you want to manage. Our plans work based on 'company' or 'client' rather than individual social media network. For example:
Selecting 2 accounts on your plan includes:
2 x Instagram accounts
2 x Facebook business pages
2 x Twitter accounts 
You then have the choice to pay annually or monthly. If you manage over 5 accounts, the price per account is reduced. Enter your card details to proceed – you will not be charged until the end of your 14-day trial – and are able to cancel at any time. For the purpose of this example, I've selected 1 account.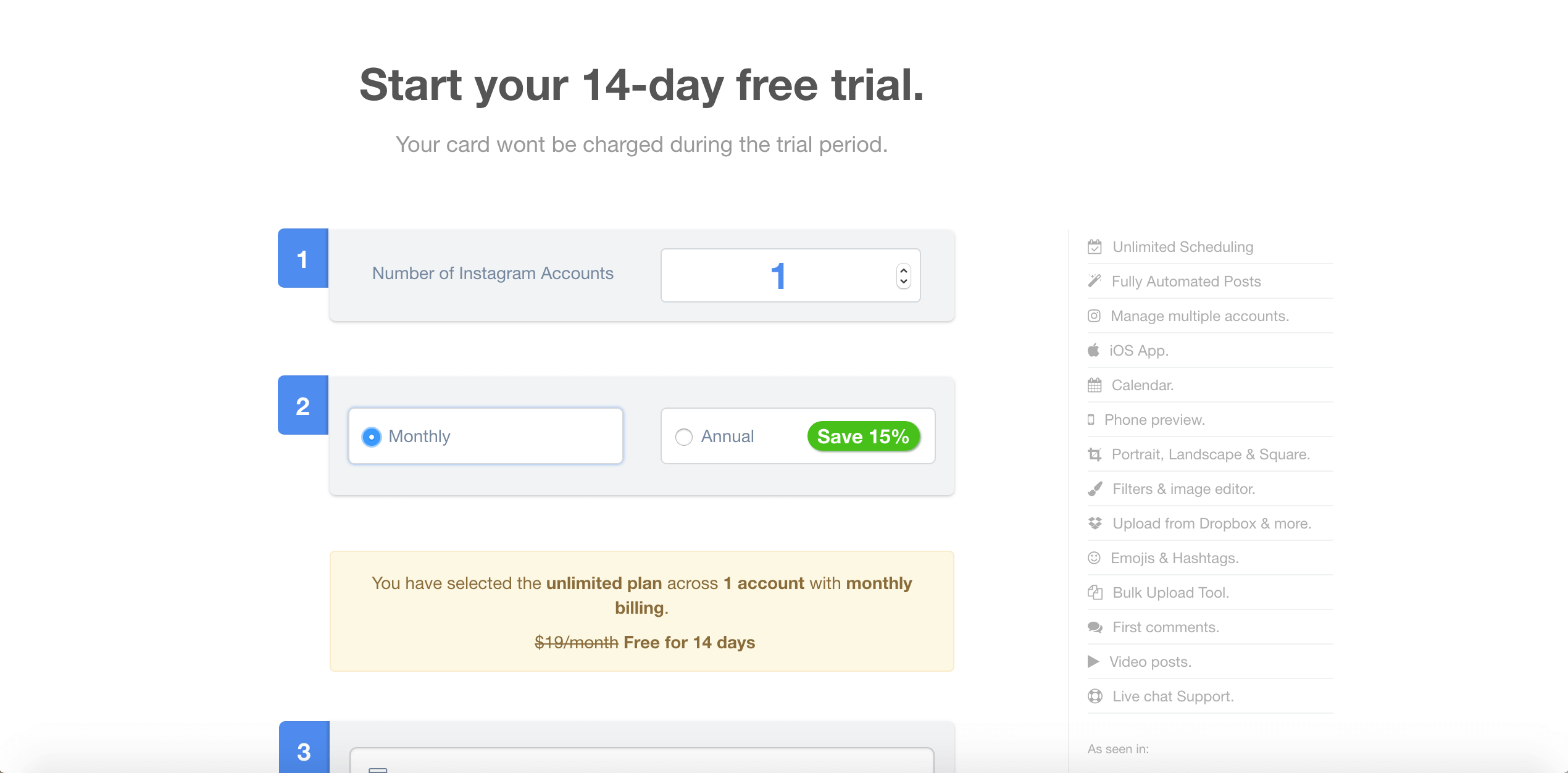 Step 3: Connect your Facebook account(s)
Once you've registered with Hopper HQ, you'll be taken to a dashboard where you can connect your Facebook account(s).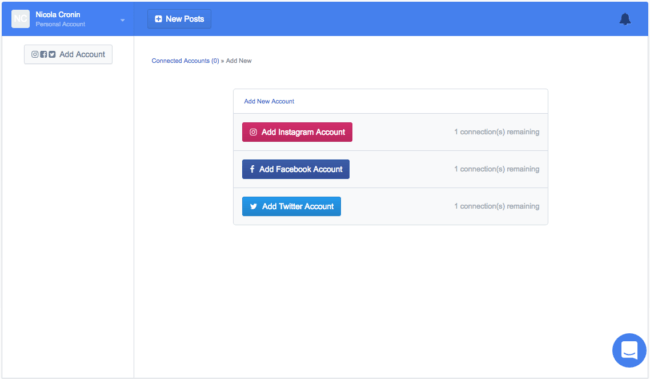 A Facebook pop-up will allow you to log in to your account and give Hopper HQ access to the Business Pages you manage.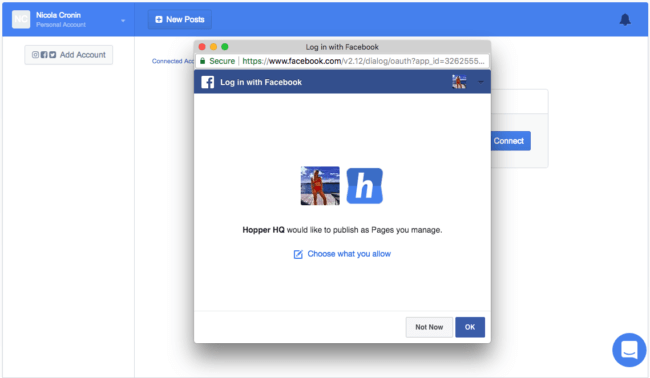 NOTE: you must be an admin of the Facebook Business Page in order for it to appear in this list: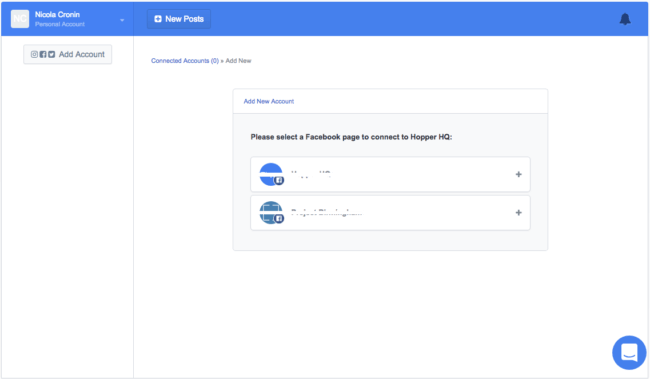 Once you choose the account, you will receive a success notification which means you're ready to schedule Facebook posts!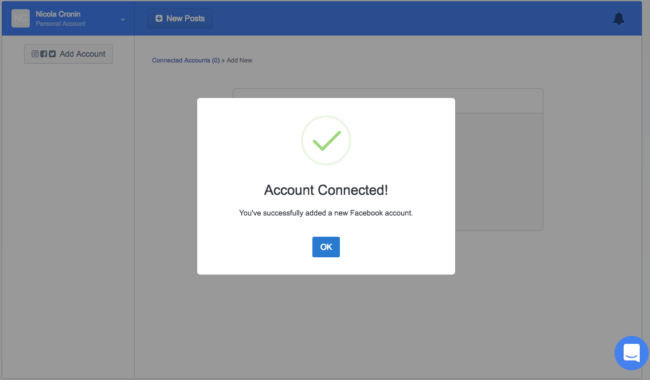 💡 Note: If at any point you're struggling with these steps, you can click on the chat icon in the bottom right hand corner of the platform to chat directly to one of the Hopper HQ team. Someone will be happy to help and talk you through it! 💡
Step 5: Upload & Start to Schedule Facebook Posts
Time for the fun bit! Now your Facebook page is connected with Hopper HQ, you can begin to schedule Facebook posts!
Select Images/Videos – Head to the Hopper HQ Queue and click on the 'New Posts' button. From here you'll be able to bulk upload up to 50 files from your computer, a URL, the web, or from Dropbox, Google Drive, Google Photos or Box.
Or just write! – You can also schedule text posts and links with Hopper HQ, just select: 'Get started with a blank post template' underneath the image uploader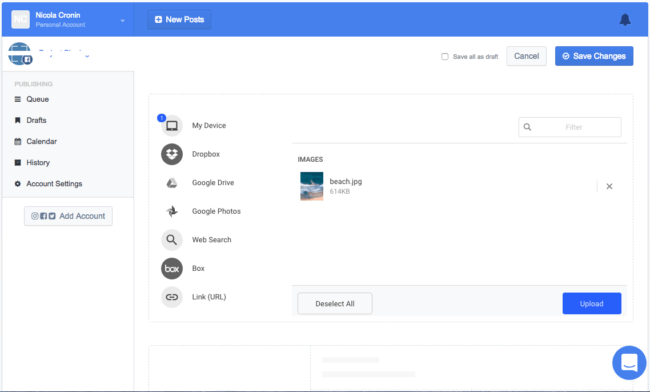 Add Text – Once your image is uploaded you can add text to go alongside it, including emojis! Note: the option to schedule your 'first comment' is one of our Instagram features so will not be available when scheduling Facebook posts.

Schedule Facebook Post – Once you're happy with your posts you have the choice to 'Post Now', schedule a time, or save as a draft (a handy feature if you're working in a team). If you decide you want to schedule the same post to Instagram or Twitter you can easily add accounts underneath the photo using the plus icon!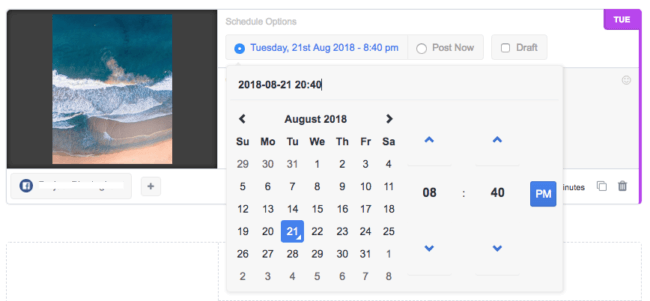 Finished! – Hopper HQ will take care of the rest and your posts will automatically be published at your scheduled time. Your scheduled posts will all appear in the Queue, and any changes can be easily made by drag and dropping without being redirected. Hopper HQ also has a calendar view to easily keep track of your posting consistency 🗓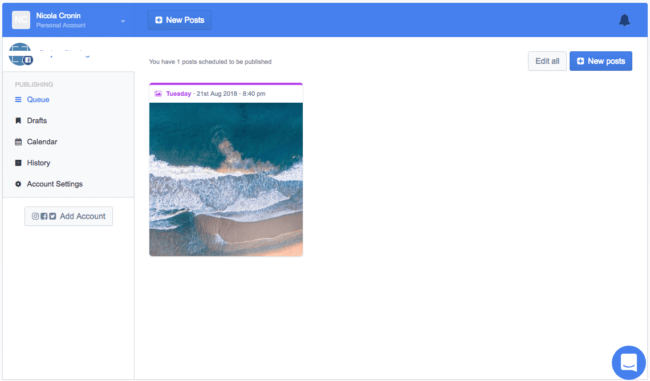 Plan & schedule social media ahead of time.
> Video, gallery & image posts
> Calendar, feed & grid preview
> Instagram, Facebook & Twitter
Happy Scheduling! 👋
If you have any questions about scheduling to Facebook and specifically using Hopper HQ, please get in touch with us in the comments!
---
Hopper HQ is an Instagram content scheduling and management platform that saves social media managers and agencies time. Start your 14-day trial today!
The Ultimate Instagram Course
Learn how to build a relevant & engaged following. Create better content & leverage Instagram for your business.