In this guide, you'll find out the best time to post on Instagram to get likes and followers.
1. What is the best time to post on Instagram?
We know from the analysis of tens of millions of posts made by accounts across 70+ countries that the best time to post depends on the day:
When To Post On Instagram
Monday to Friday
7am – 9am (morning commute)
12pm – 2pm (lunch hours)
5pm – 6pm (end of workday)
9pm – 11pm (bedtime scrolling)
Saturday & Sunday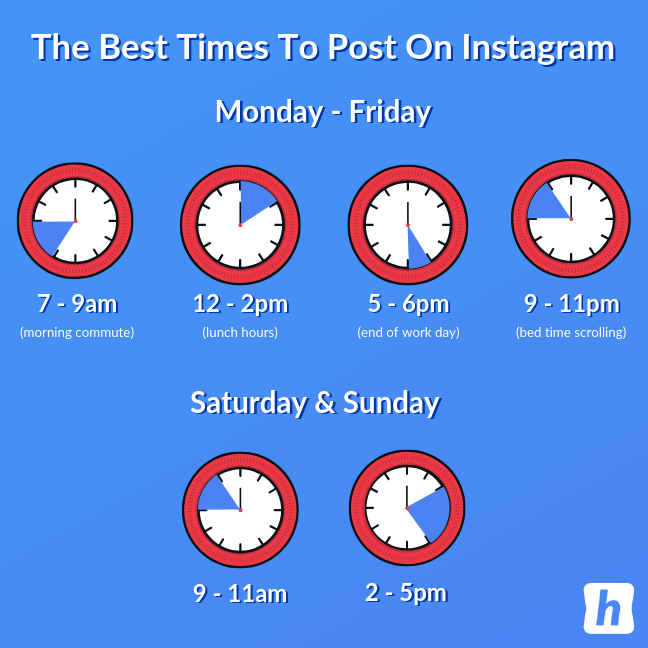 Which time zone to use?
A lot of advice online on when to post on Instagram is US-centric. This applies to your own Instagram marketing strategy if you have a US-focused Instagram account. However, it also depends on what your followers want.
If you already have followers, use the time zone that most of your followers are in for most of your posts.
Why? Instagram tends to prioritize posts based on how much engagement it receives soon after it is posted. So, when you post based on the timezone of your primary audience, it gets shown to a lot of people soon after you publish it. This increases engagement and pushes it further up to other followers. More on Instagram's algorithm later on in this article.
So, how do you know where your largest followers come from? Here's how:
1. Make sure you have an Instagram business account
2. Open the Instagram app menu
3. Go to "Insights"
4. Go to the "Audience" tab and see what your top audience locations are
If you have a brand new account, use the time zone that most of your target audience is in! If you're targeting the entire world, use EST as it's a good balance between the US (which has the largest number of users) and Europe.
Explore The Data Behind Your Social Media Accounts 📊
Find the best time to post, track your follower growth, and understand what content works best with post and account analytics.
Monday to Friday
Weekdays tend to see the majority of users online during the morning commute. Lunch hours and the end of the day are also peak hours for Instagram activity.
9 – 11 pm EST catches European Instagram users at the end of their workday, and the majority of the United States users on their lunch breaks, which is great for businesses with a global audience.
Saturday and Sunday
Weekend lie-ins, brunches, and hangovers mean users are on their phones in the late morning. Mid-afternoon is also a time of high engagement.
Keep in mind that a lot of people are out socializing on Saturday nights, and so depending on your demographic you may want to avoid posting late on a Saturday.
Again, it may differ for your particular account. Do experiment with different post times before you decide when to post on Instagram.
Engagement on Instagram is also notoriously bad on Sundays. Do not prioritize the weekend in your content schedule.
All of that being said, these times might not be the best time for you to post on Instagram…
Simple Post, Story + Reel Scheduling ✨
Visually plan your social content. Instagram, TikTok, Twitter, Facebook, LinkedIn + Pinterest
2. How to find your best time to post on Instagram
The average best times listed above are a great starting point for when to post on Instagram, but you and your followers are unique!
The best time to post depends on the audience, day of the week, and timezone…
So here are the two simple ways of finding out the best time for you personally:
#1. Manual testing
You can test posting at different times and track the results in a spreadsheet to see which posts get the most engagement.
However, there is a large problem with this:
Engagement is obviously also heavily impacted by the content itself.
This is why we recommend using our Best Time to Post analytics tool, because it blends all the factors together.
#2. Hopper HQ best time to post analytics
Hopper HQ works out the best time to post on Instagram for you and your audience based on follower activity and post engagement.
Here's how it works:
Once you connect your Business Instagram account to Hopper HQ, we find all of the users who follow your account and analyse your follower activity to tell you which followers are active at each hour of each day 🕑
This provides the data which allows you to see when the most or fewest of your followers are online! Our software processes these times to tell you when to post on Instagram.
Publishing your posts at the time when the majority of your followers are online increases the chance of more people seeing your post and engaging with it quickly — giving a big thumbs up to the Instagram algorithm 👍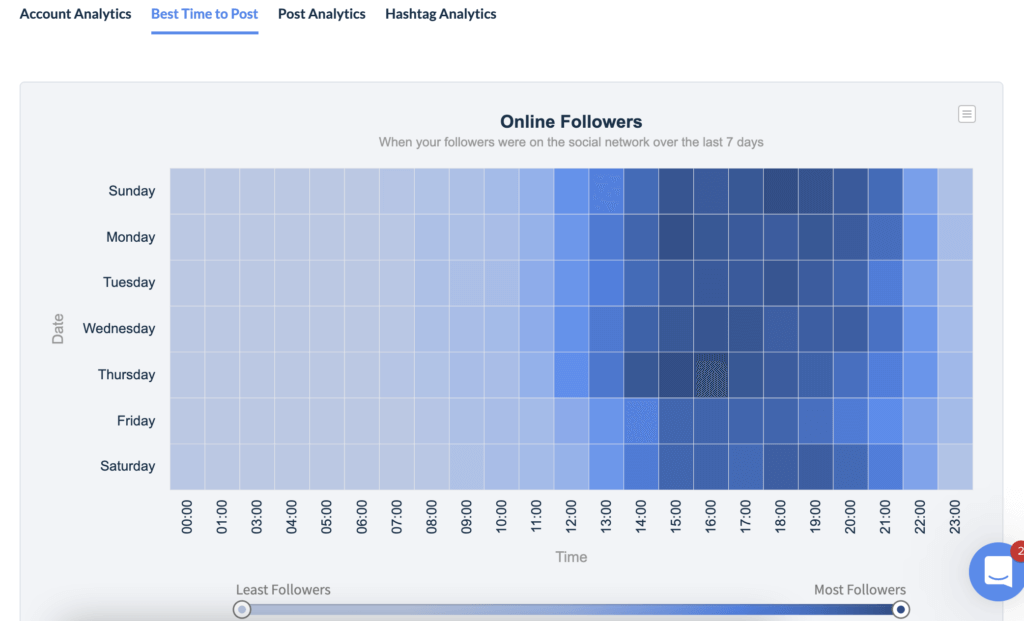 The Hopper HQ analytics also looks at your post history; It notes what day of the week and hour each of your posts were published 🗓, It then looks at the engagement (total number of likes and comments) for each post in each hour of the day, and divides them by the total number of posts in that hour 💖

This allows you to see which hours have the average highest post engagement based on your post history. While this is a very valuable insight, it is important to consider other factors — such as the quality of the content — which can also influence engagement.
Use the Hopper HQ Best Time To Post Analytics tool
Find your best time to post ⏰
Schedule your social media posts at your optimal times and watch your engagement skyrocket with Hopper HQ! 
3. Why is it important to know the best time to post on Instagram?
The big debate about the best time to post on Instagram is all to do with optimum engagement, and the answer has changed as the Instagram algorithm has developed.
Many articles online declare a specific day and time as the official 'best time to post on Instagram'.
However, from managing thousands of Instagram accounts on Hopper HQ, we know that it completely varies by the user depending on audience demographic and location — so what's important is finding the right time for you.
Naturally, if you post a video when the majority of your audience is asleep, it will get fewer likes and comments than it would when people are awake and using the app!
In order to explain why the best time to post on Instagram is important, we need to learn more about the Instagram algorithm…
4. The Instagram algorithm explained
First and foremost, Instagram is all about engagement. Not only likes and comments but saves, shares, direct messages, and turn on post notifications – Instagram is tracking all of it.
Every new update enhances the way we engage with content, and Instagram is prioritizing content we are likely to enjoy based on all of this data.
When Instagram discarded the chronological news feed, they began prioritizing 'the probability of you liking a post' as a ranking factor over 'the most recently posted item'.
On this basis, we know that the algorithm:
▪️ Evaluates how 'good' content is based on engagement
▪️ Prioritizes that 'good' content to users likely to also engage with it
---
These algorithm changes made it crucial that we receive instant engagement from our followers. As a result, we saw the 'New Post' craze in Stories emerge, where users direct their audience to go and view/engage with their most recent post the moment it's uploaded.
Here's how the algorithm works:
1. When you post a photo or video to Instagram, it is only shown to a small percentage of your followers. This is estimated to be as low as 10% 😱
2. The algorithm then tracks how quickly those followers engage with it . So there's not only pressure to get likes, you're against the clock too ⏱
3. It also evaluates the post against the rest of the content on your feed, basing its 'success' on your average engagement rate and speed 📊
4. If the post is performing well, the algorithm deems it as 'good content' that people want to see. It is therefore shown to a larger percentage of your audience, is featured higher up in other users' feeds, and will potentially even appear on the 'Explore' page 🎉📈
So the most crucial factor of getting fast engagement on Instagram?
⭐️ Posing when your audience is online and most active ⭐️
5. What if your best time to post on Instagram is inconvenient?
Often, your best time to post will be when you are unavailable!
This can be especially frustrating for social media managers and business owners, who will have to work out of hours in order to post to Instagram in the evenings and weekends (or even the middle of the night if the majority of your audience is in a different time zone!).
To avoid this problem, we recommend scheduling your Instagram content in advance!
Using an automated social media management tool like Hopper HQ, you can set your Instagram posts to be published at your optimum time and you don't have to be anywhere near your phone when the hour comes!
Other benefits of scheduling your Instagram posts:
▪️ Saving Time ⏰
Scheduling posts in advance saves heaps of time. You can bulk upload all of your weekly content to Hopper HQ in one go – freeing up all the time you'd usually spend on your phone!
▪️ Content Management 📱
Keep on track of what content is going out when and feel more organized! Scheduling prevents any rushed or last-minute posts and improves the overall quality of content going out.
▪️ Posting From Desktop 🖥
Instagram's website does not allow you to upload posts, which is problematic for users whose content is on their computer (sending photos back and forth to your phone gets pretty tiring right?). Scheduling allows you to upload all your Instagram content straight from your desktop!
▪️ Managing Multiple Accounts 👥
Whether for work or hobbies, many Instagram users manage more than one account! Maintaining posting regularity and keeping engagement high across multiple accounts requires a lot of work, which is where scheduling comes in to save the day.
▪️ Planning Your Feed 🎨
The best Instagram accounts have an amazing feed aesthetic! Scheduling is a great way to visually plan your feed, ensuring your posts will complement one another once published. Hopper HQ has a grid preview interface, allowing you to see what your feed will look like in the future!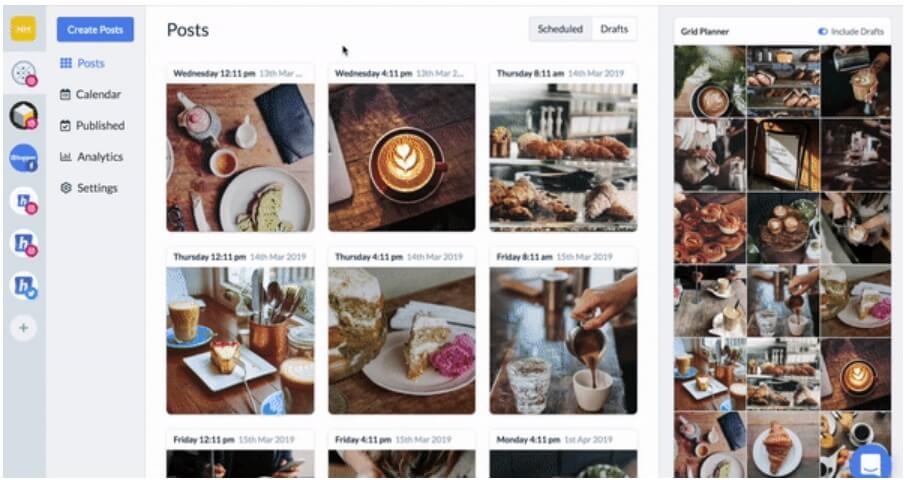 Is it better to post on Instagram at night or in the morning?
Posting during the morning rush hours will always be a good way to reach your audience when they are browsing their IG feed. With the popularity of Instagram, people cannot resist checking their phones as they wake up, or during the commute. Generally speaking, posting during the morning hours tends to generate some of the highest engagement; however, posting after 9:00 a.m. may see a drop in engagement due to work and school hours.
Whereas posting at night may receive less engagement due to users being asleep. If you are unsure of what works best for your audience, experiment with the different post times.
By upgrading your Instagram account to a business profile, you will gain access to insights that will help you understand how your followers react to your content. This will help you to decide what times is best suited to post.
When should you not post on Instagram?
It's always best to find ways to make the Instagram algorithm work for you. Steer clear of posting late at night or during sleeping hours as your followers may miss the post completely, resulting in low engagement.
⭐️ Find your best time to post on Instagram now ⭐️
TRY HOPPER HQ FREE
Refreshingly Simple Post, Story + Reel Scheduling
Visually plan all your social channels. Instagram, TikTok, Twitter, Facebook + LinkedIn.
Hopper HQ is a visual planning and scheduling tool for Instagram, bringing the creativity back to social media management and freeing up time to focus on the areas of marketing you love most 💙 Try it free today with our 14 day trial.