Think of all your favourite accounts on Instagram: the eternal globetrotting traveller, the fashionista posing in trendy outfits of the day, and the foodie with the most photogenic sushi ever. What do they all have in common (except the occasional coffee snap, of course) ?   
You got it! A beautifully crafted feed.
From minimal grids to an explosion of colors, many Instagrammers have created their own style by curating a visually pleasing theme that just begs you to click "follow". So, how can you do the same?

Sit down and take notes, here's the guide that'll make you stand out !
What to post
The trick is simple: you want to create a recognisable universe that tells a story and gives something to remember.
What kind of photos do you like to take? And what are your main interests? Whether it's shoes and denim or buildings and breakfasts, find a couple of subjects that you enjoy, and start shooting around those. Having a clear focus will help you gain targeted followers and ensure more people will see your message.
Pro-tip: be honest with yourself and try to reflect your real life!
Take @AlexandraFord, for example. She's an outfit blogger living in San Diego county, California; lover of everything boho and vintage, she's surrounded by rocky beaches and desert sunsets which are dominant backgrounds in all her photos. Her theme reflects her life.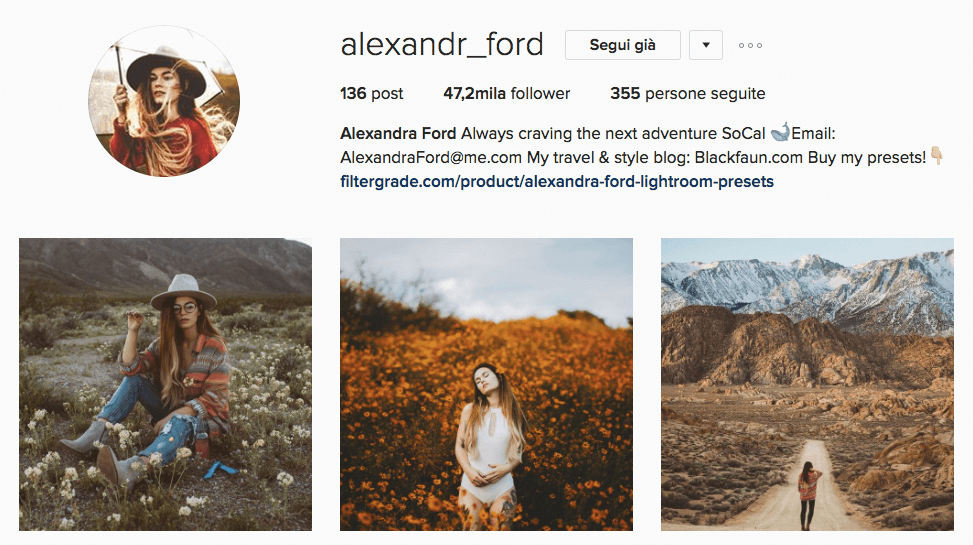 We all love her page, but if you try to copy it even though you don't live in the Eastern Sierra, be ready to face a long-run creative block that'll make any shot sadly ruin your feed (been there, done that, it's not fun).
Remember also to be picky and think quality over quantity. No matter how hot you think your selfie is or how yummy your ice-cream looks, if the image is blurry, grainy or not 100% sublime, do-not-post it.
But don't panic, if you really can't stop yourself from sharing all 20 snaps of that fabulous Sunday brunch, Instagram new Album feature is just what you need! The very best photo can be first in the gallery while the rest will be included without having to sacrifice your feed's aesthetic.
How to shoot
Once you know what you want to share with your audience, it's time to test your photography skills!
Start by shooting in the daylight: early morning and late afternoon are prime times for taking pictures, and you will so ensure a better quality image. Whether you're using a camera or a smartphone, make sure to take different frames of the same subject and shoot from different viewpoints to see what works the best. Getting a dream-worthy Instagram picture doesn't take just one shot!
@Coffeeismymust is one that loves to snap every angle of her pizza. And it seems to be a good idea as her beautiful grams of food and Rome get now more than 1000 likes!
If you want to know more, head over to our guide on "How To Take The Perfect Instagram Photo" and find countless tips that will instantly turn you into a pro photographer!
How to edit
No amount of editing is going to fix a poor quality picture (just ensuring you really got the point)…so start with a great photo!
These days, a simple tap on Valencia won't cut it. Editing with filters is still fairly acceptable, but opt for toning down the intensity from 10 to 5 in order to maintain a more natural look.
You should instead focus on all other settings, such as:
increasing contrast to make colours stronger

adjusting brightness to give your photos a crisp white look (or moody dark style)

turning down sharpness for a softer, hazy feel, or jumping it up to enhance details

playing with saturation to get the right tone and colour balance

shadows, highlights, and much more.

From creamy tones to a splash of colours, just give your pictures the pampering they've been dreaming of! And once you found the style that best suits your photos, stick to it and stay consistent. You want to look at your page as a whole, not just as individual shots; even if your wardrobe snaps look brilliant individually, they could be a jumbled mess when seen together. So focus on the overall aesthetic of the page and try editing all photos similarly in order to give your feed some continuity.
Working with a consistent colour palette can be an easy way to create a theme, especially for brands and businesses trying to build identity and recognition. Check out how @Coconutlaneuk repeats pink and white in their posts; even doughnuts match with the brand's Macbook cases!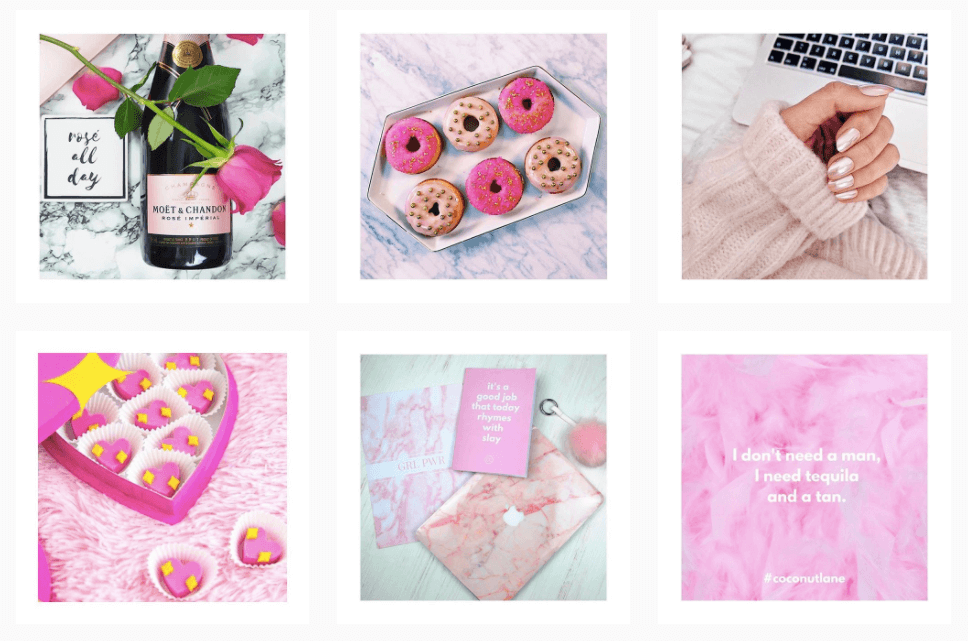 However, if you're growing a personal channel, sticking to the same colour scheme forever can be more limiting. A monochrome black feed may look cracking, but what happens when you go to Cuba and everything is suddenly colourful?
Here's the solution: work in blocks. While using the same filter or editing tools for each picture, slide in different colours accents every 6 or 9 photos – you'll see how much easier it gets to keep a stunning visual flow!
@Irina does this amazingly. Always with a great eye for composition, the Spanish teacher (and her parrot Mango) moves seamlessly from light pastels….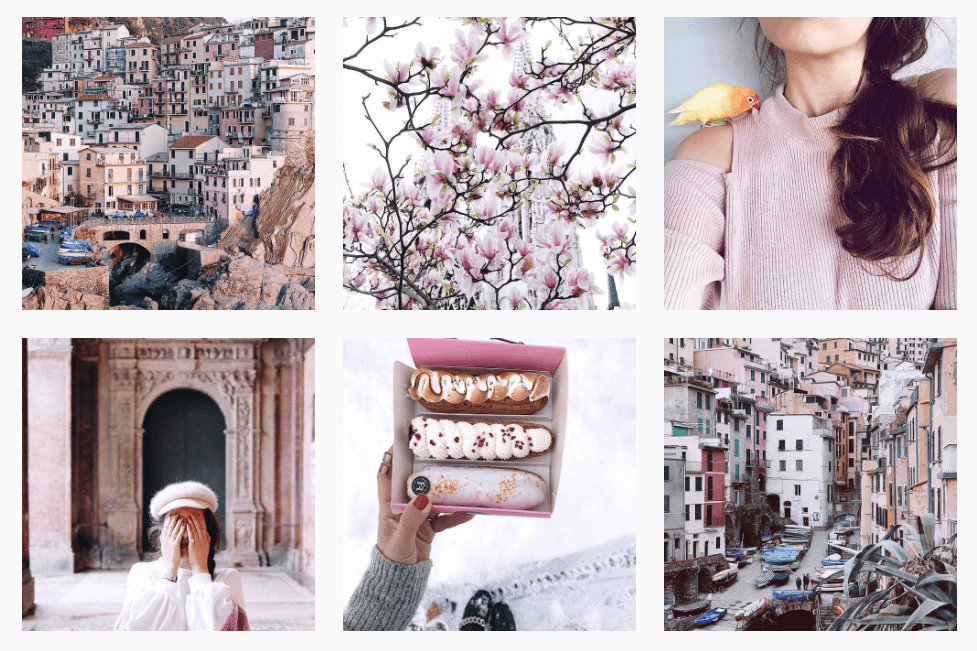 to red accents….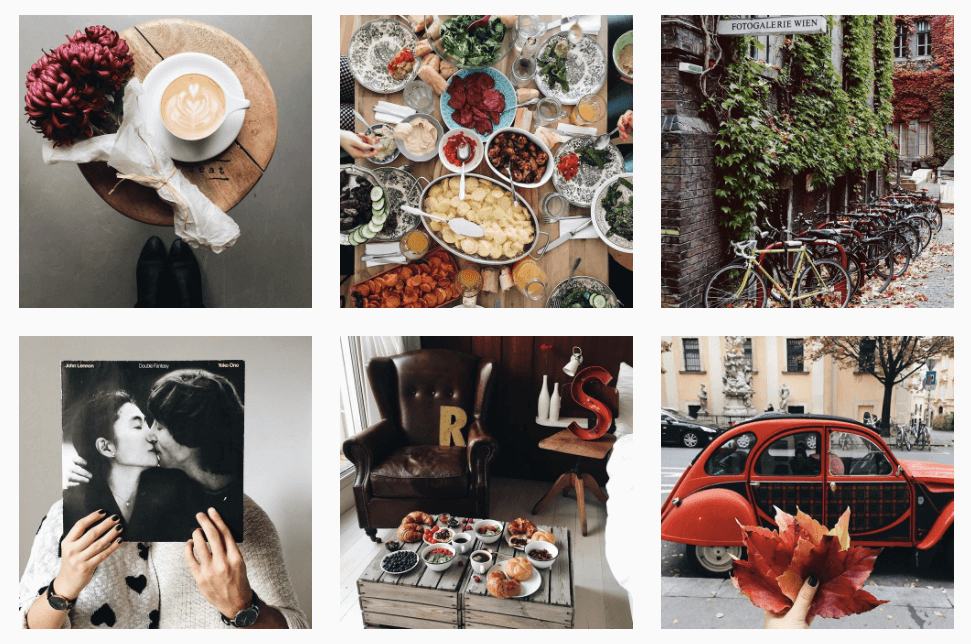 and on to dark neutrals.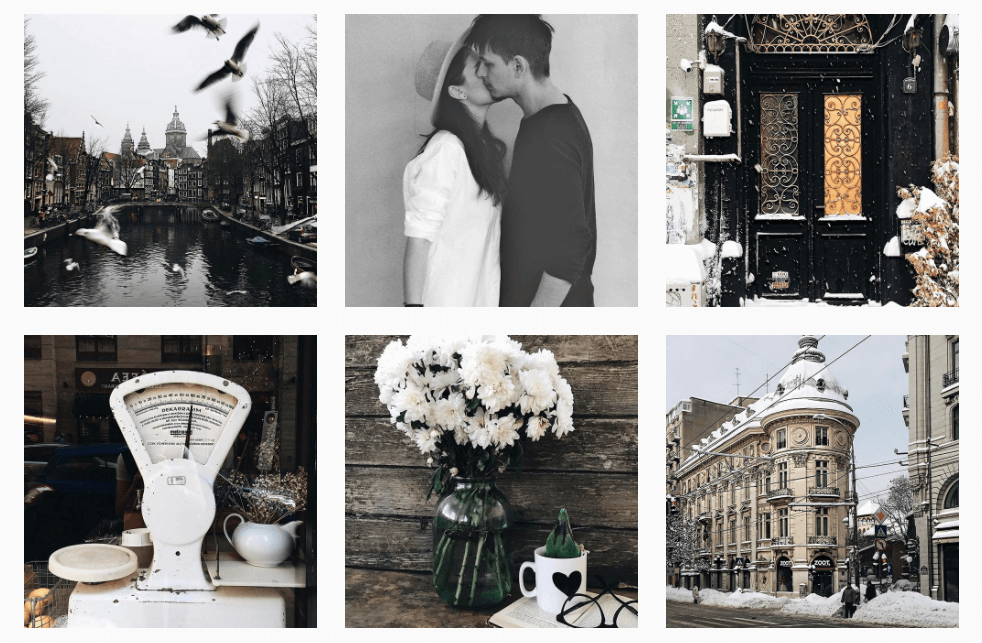 Surely one of our favourite accounts!
Plan your feed
So you've got your perfect shots, they've all been beautifully edited… are you done?
Absolutely not. The final step is to plan how everything will fit into your grid and make sure all your efforts don't go wasted!
Start by using a visual management platform like UNUM . The easy-to-use free app allows you to carefully design the look of your feed using a simple drag-and-drop feature to move and shift photos with ease.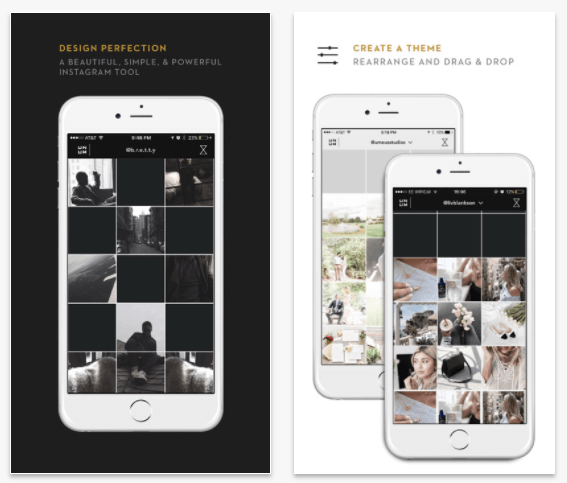 Once you have your feed's preview, mix up your photos in a way that all the subjects are shuffled. You don't want to end up with two cups of coffee side by side, nor with three selfies. Yes, there is such a thing as too many selfies.
So look at the photo that is on the right, left, top and bottom and space everything out!
Unless you're Starbucks and coffee is all you are, of course.
Over to you
Yes, you're now well on your way to create a stunning Instagram profile and amassing those thousands of followers you're hoping for – so don't waste any more time and start awesomising your feed ? !!
Schedule your Instagram posts.
Fully automated posts. No phone required.