We're celebrating five years of the Instagram Rich List! ✨
Yes, that's right – five years of the Instagram Rich List!
This year we've seen women continue to dominate the leaderboard, accounting for 56% of the highest-earning influencers on Instagram in 2021. We've also seen enormous growth in the representation of influencers in Africa and Asia, with influencers from these locations making up 25% of the overall list in 2021.
What's more, this is the first year that a Kardashian or Jenner hasn't made it into the top 3, with Ariana Grande knocking Kylie Jenner to fourth place.
Just as we did in 2017, 2018, 2019 and 2020 Hopper HQ have produced the official:
Based on internal data, agency rate cards and public information, you can now find out just how much your favourite Instagram stars are earning for their sponsored posts…
🤑 The Top 10 🤑
#1 Cristiano Ronaldo
👥 306 million followers
💵 $1,604,000 per post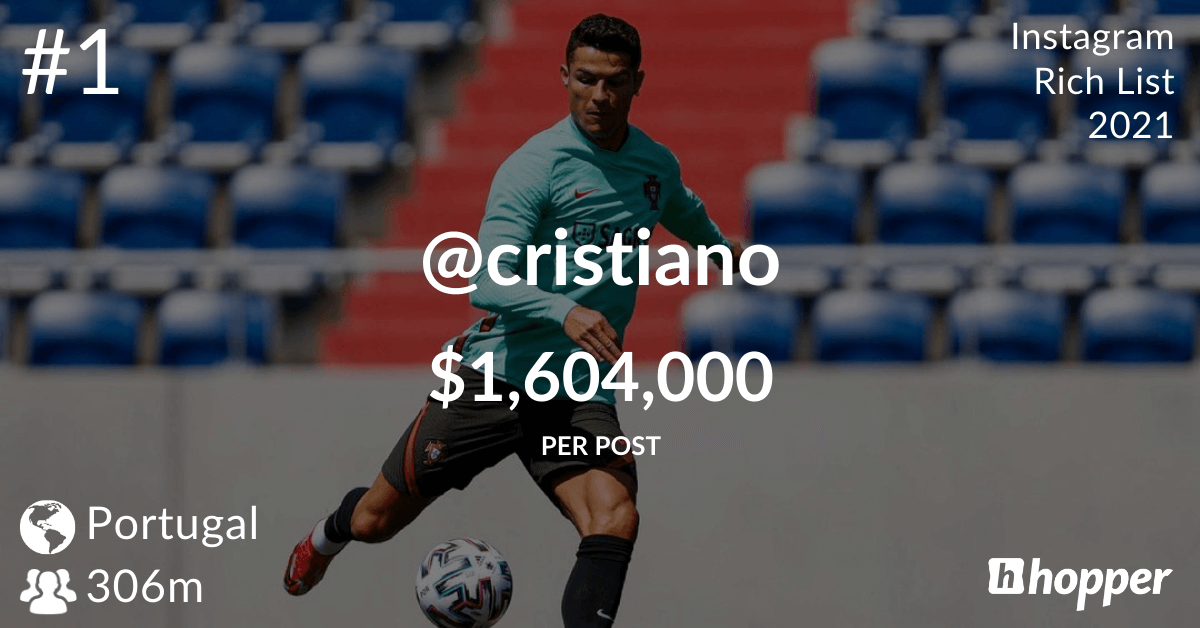 After five years on the list, Cristiano Ronaldo finally takes the crown and sets a new record with the highest ever potential earning since the list launched in 2016, making an average of $1.6 million per post.
#2 Dwayne Johnson
👥 249 million followers
💵 $1,523,000 per post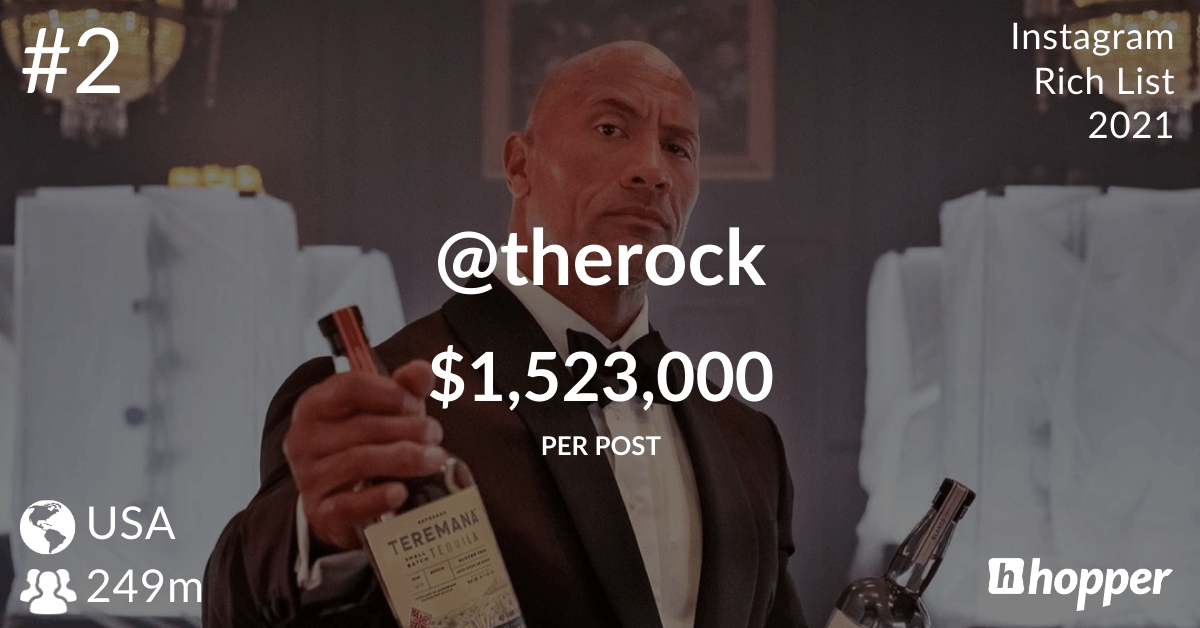 Last year's 'King of the Instagram Rich List' drops to second place, after he dethroned Kylie Jenner in 2020.
#3 Ariana Grande
👥 247 million followers
💵 $1,510,000 per post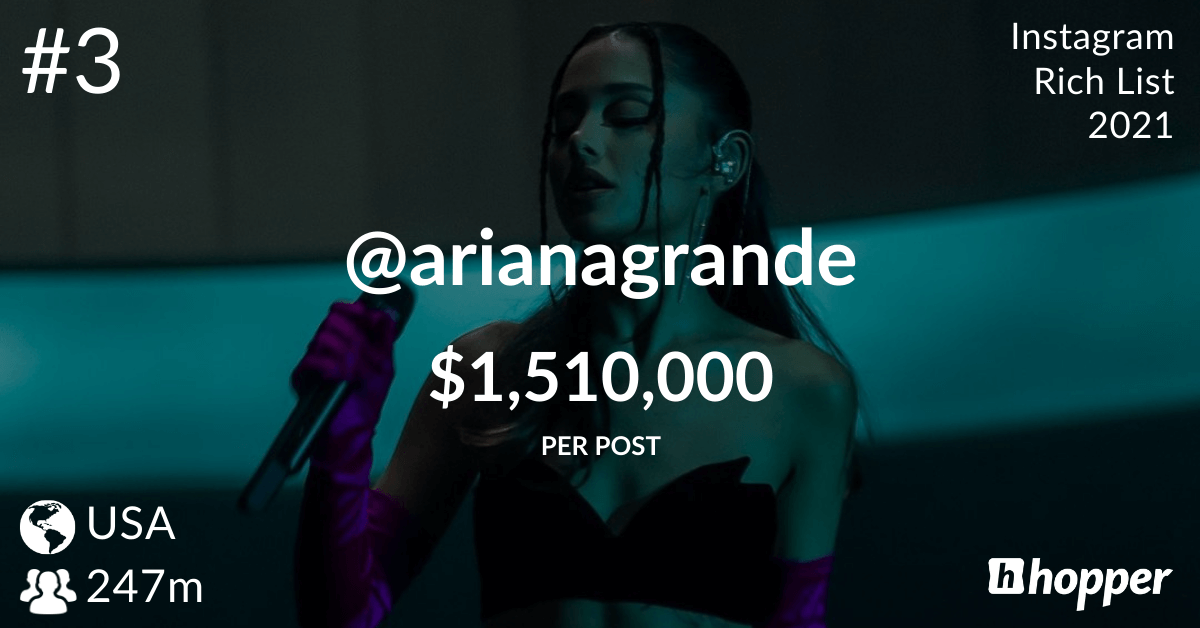 This is the first time in the list's history that a Kardashian or Jenner hasn't had a top three ranking, with Ariana Grande climbing two places securing the third spot.
#4 Kylie Jenner
👥 244 million followers
💵 $1,494,000 per post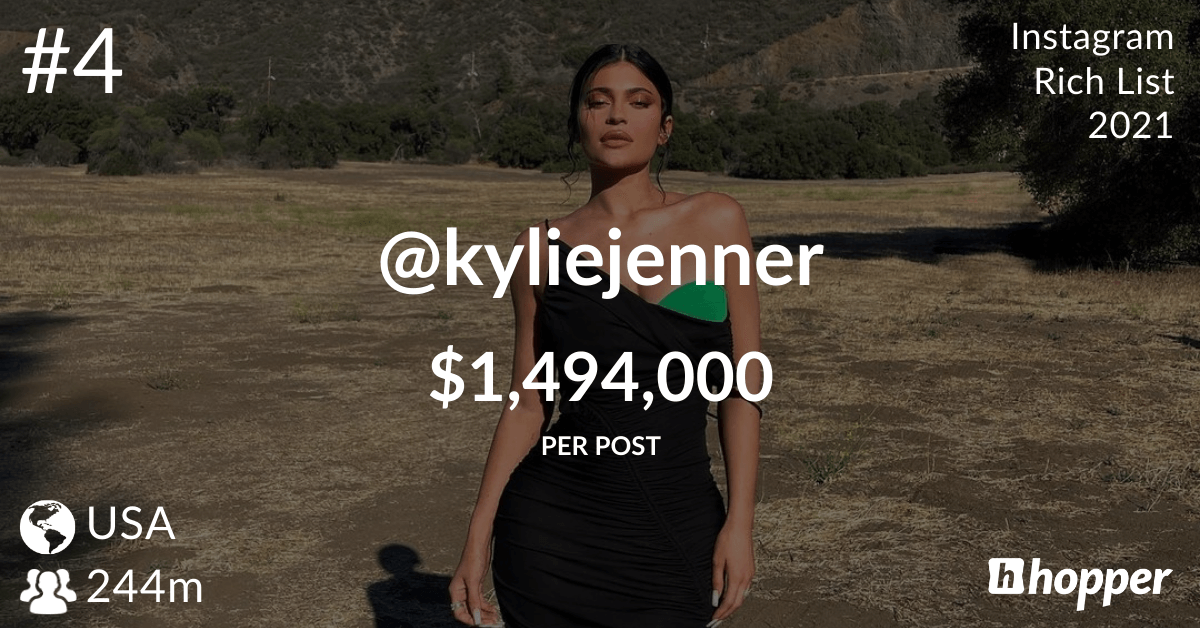 Despite being knocked out of the top three for the first time since 2017, Kylie Jenner is still the highest-earning of the Kardashian Jenner family.
#5 Selena Gomez
👥 240 million followers
💵 $1,468,000 per post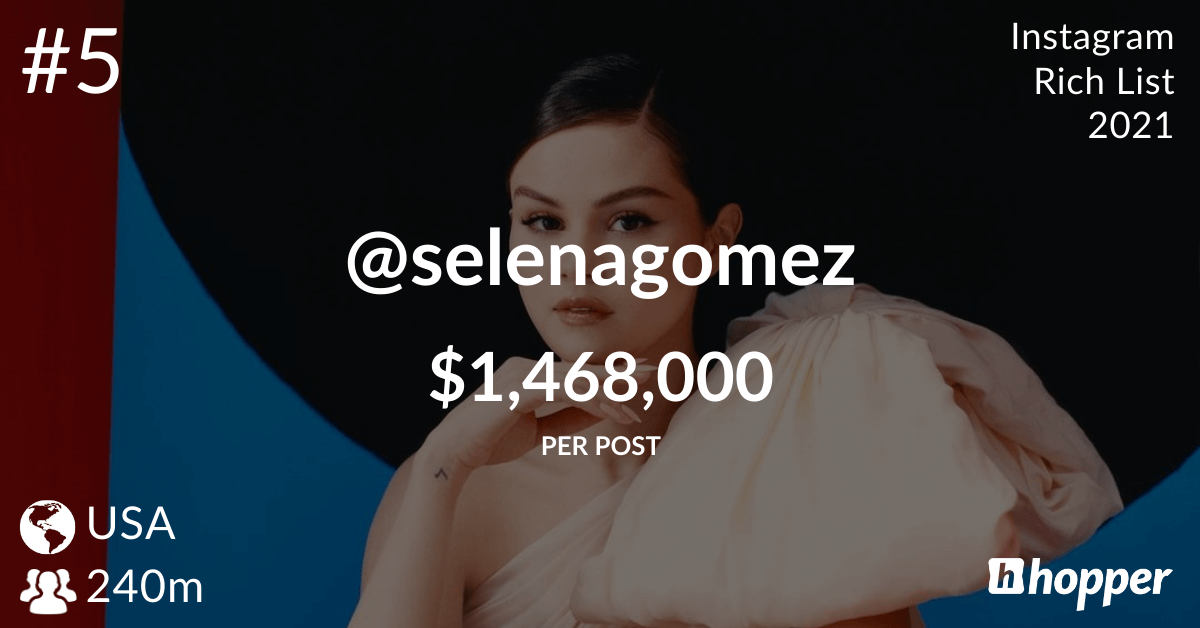 Selena Gomez climbs one place making it into this year's top 5, after placing second in 2018. Since then her potential earnings on Instagram have almost doubled.
#6 Kim Kardashian
👥 231 million followers
💵 $1,419,000 per post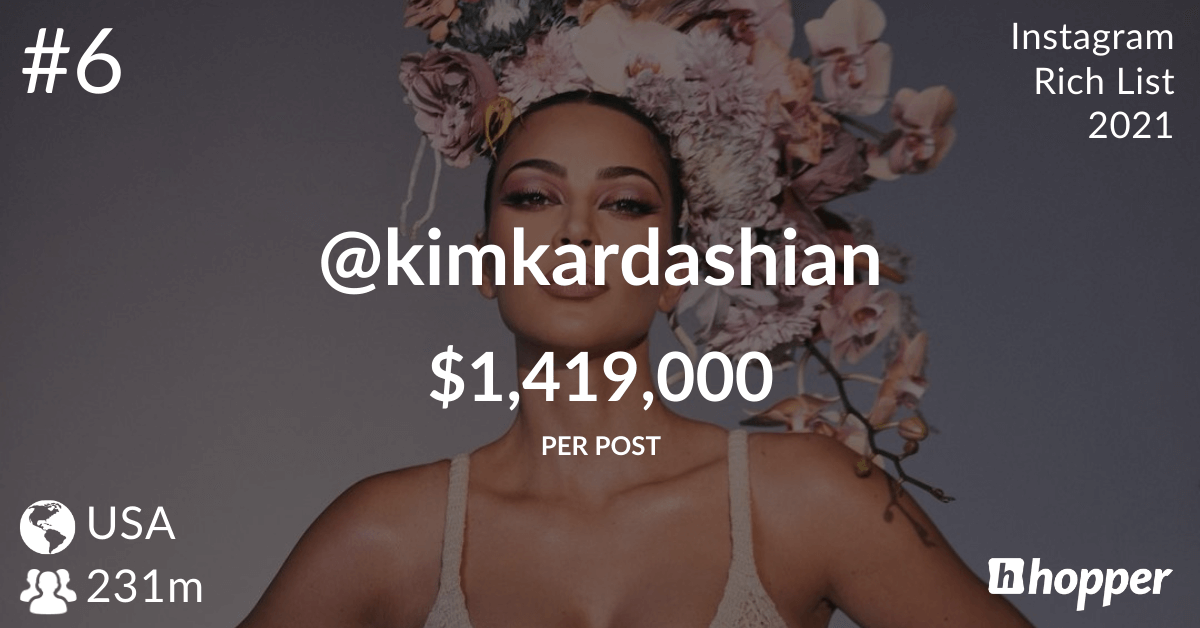 After entering the list in 2017 in second place, Kim Kardashian drops to sixth and continues to be the second most influential Kardashian Jenner on the platform.
#7 Lionel Messi
👥 223 million followers
💵 $1,169,000 per post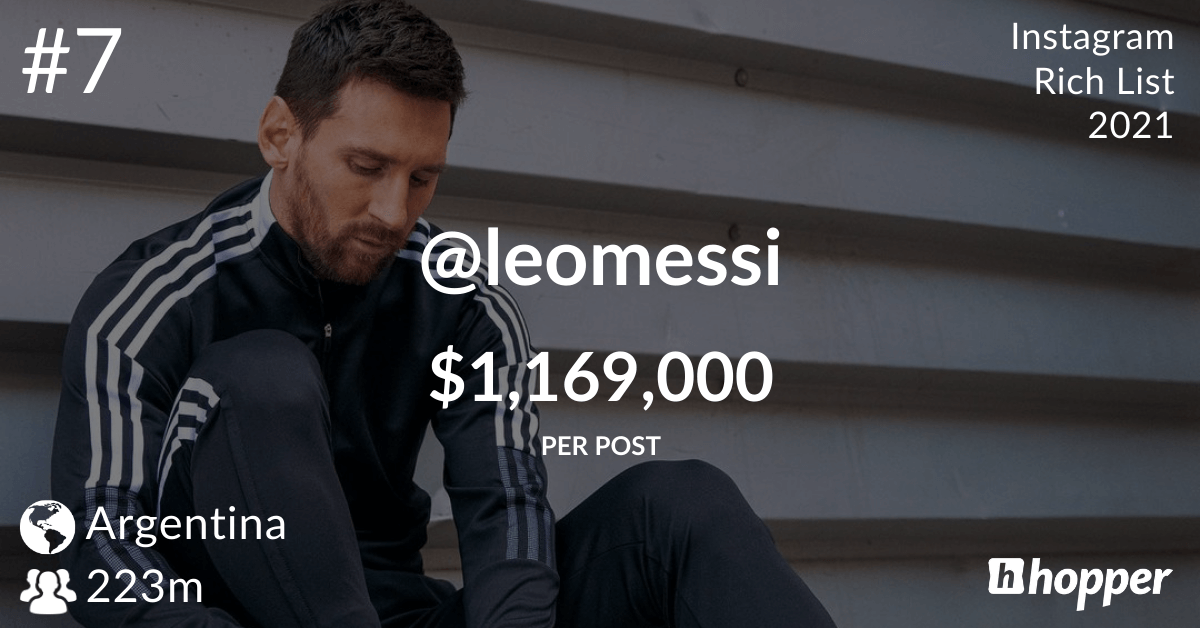 After dropping out of the top 10 last year, professional footballer Lionel Messi climbs back up into seventh place and is the highest earning influencer in South America.
#8 Beyonce
👥 189 million followers
💵 $1,147,000 per post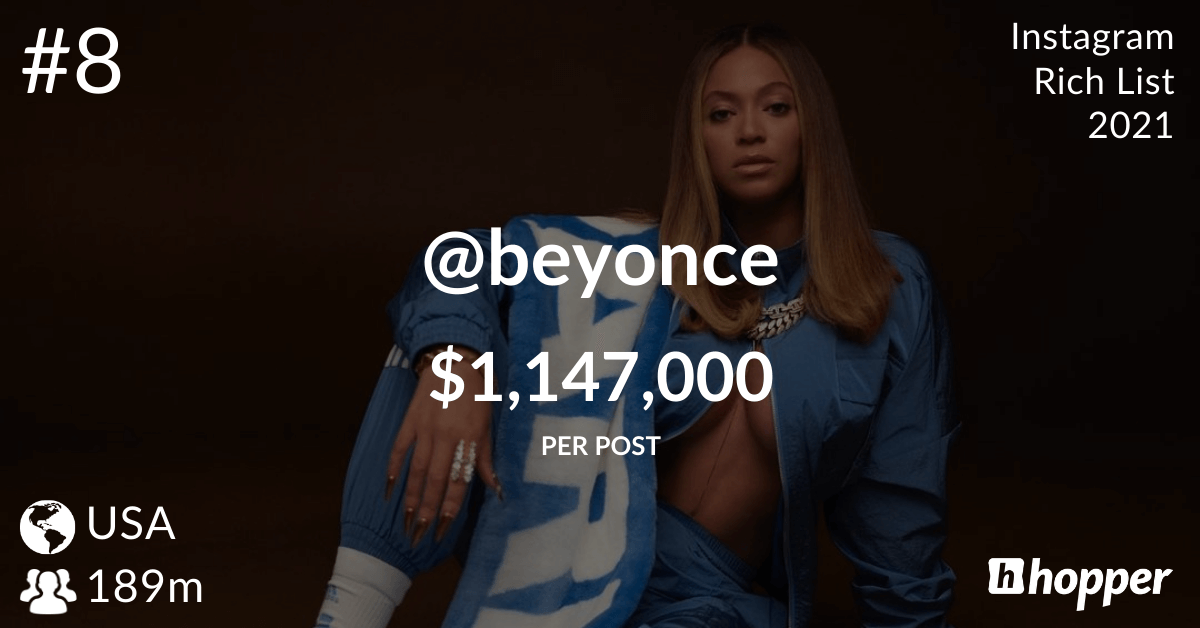 After holding on to her #7 spot for two years in a row, Beyonce drops to eighth place this year.
#9 Justin Bieber
👥 180 million followers
💵 $1,112,000 per post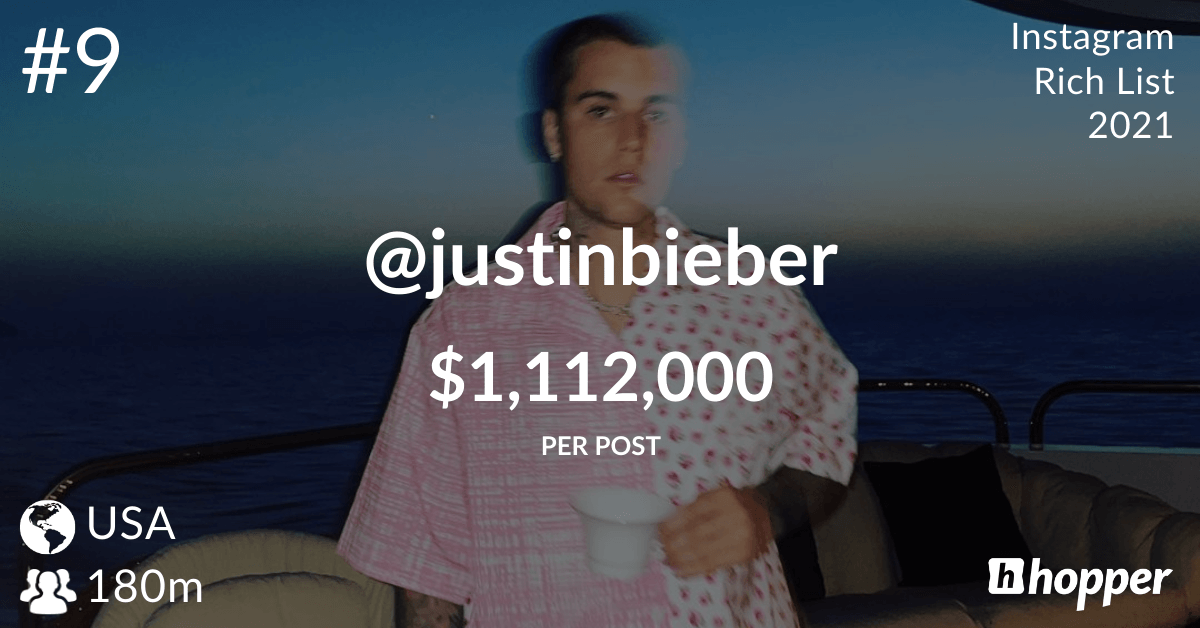 Justin Bieber holds on to a spot in the top 10 for the fourth year running and remains the only male musician there.
#10 Kendall Jenner
👥 171 million followers
💵 $1,053,000 per post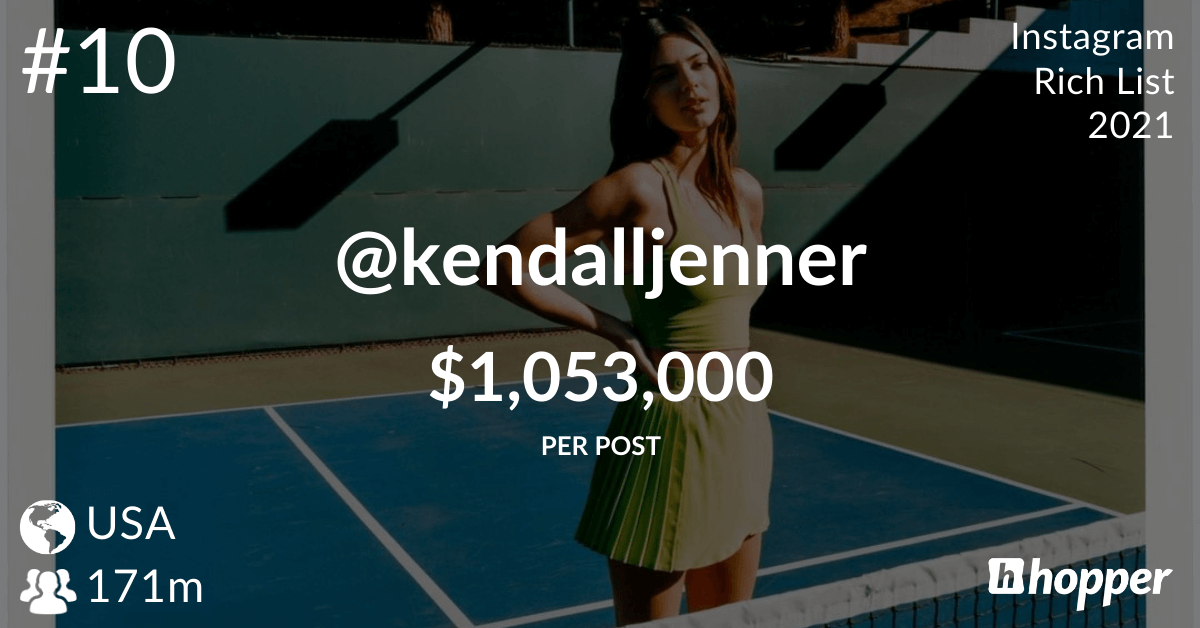 Kendall Jenner climbs back into tenth place, after initially placing there back in 2018. She is the third Kardashian Jenner to place in the top 10.
Plan & schedule social media ahead of time.
> Video, gallery & image posts
> Calendar, feed & grid preview
> Instagram, Facebook & Twitter
Check out the full 2021 Instagram Rich List here – featuring the highest-earning social media stars across:
Celebrity, Beauty, Fashion, Fitness, Food, Lifestyle, Sport and Travel.
Want to be considered for next year's list?
We're now taking applications for influencers looking to be considered for the Instagram Rich List 2022 – if you'd like to nominate yourself or your client, complete this form.