For the first time ever, Hopper HQ presents the 2022 TikTok Rich List 💰

Since TikTok launched in 2016, it has become a full-time career for many, with influencers and celebrities earning big bucks from TikTok paid posts.

So, following the success of the Instagram Rich List, and the launch of the Pinterest and TikTok Scheduling on Hopper HQ, we proudly present:
Without further adieu, meet the TikTok creators lip-syncing their way to the bank.
1. Charlie D'Amelio
💵 $105,770 per post 
🫂 142.4 million followers
💰 $20 million net worth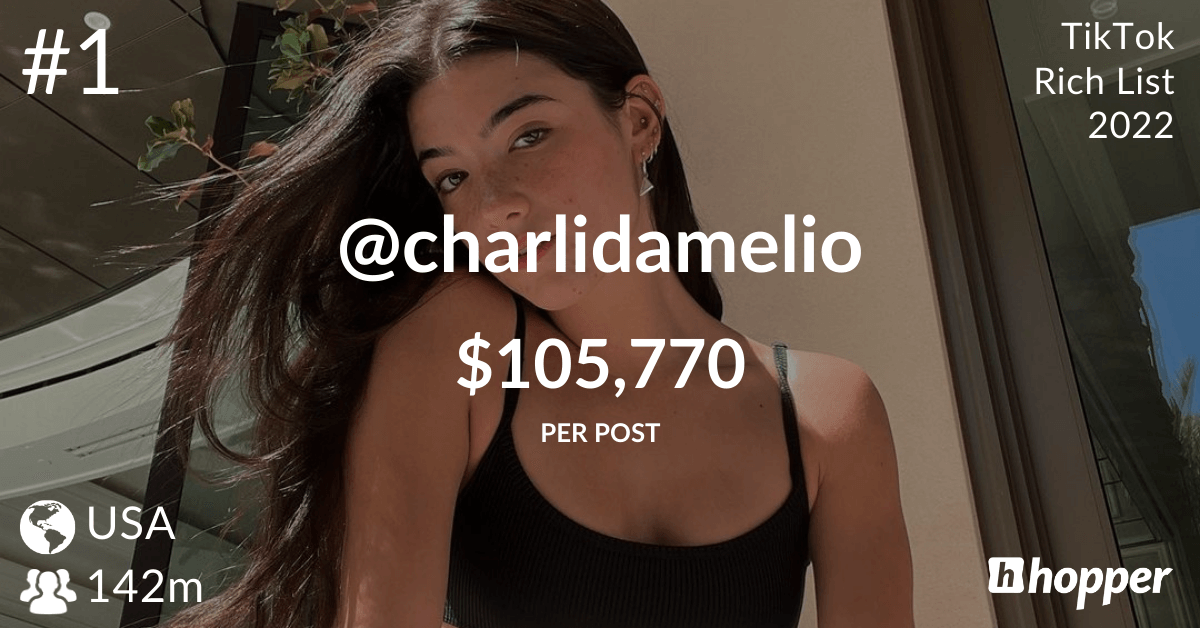 The 18-year-old takes the crown with TikTok's largest following. Charlie D'Amelio rose to fame with her dance clips and has since secured some impressive brand partnerships, ranging from Invisalign, Morphe cosmetics, Dunkin' Donuts, and her own Hulu Series, The D'Amelio Show.
2. Khabane Lame
💵 $92,270 per post 
🫂 143.2 million followers
💰 $5 million net worth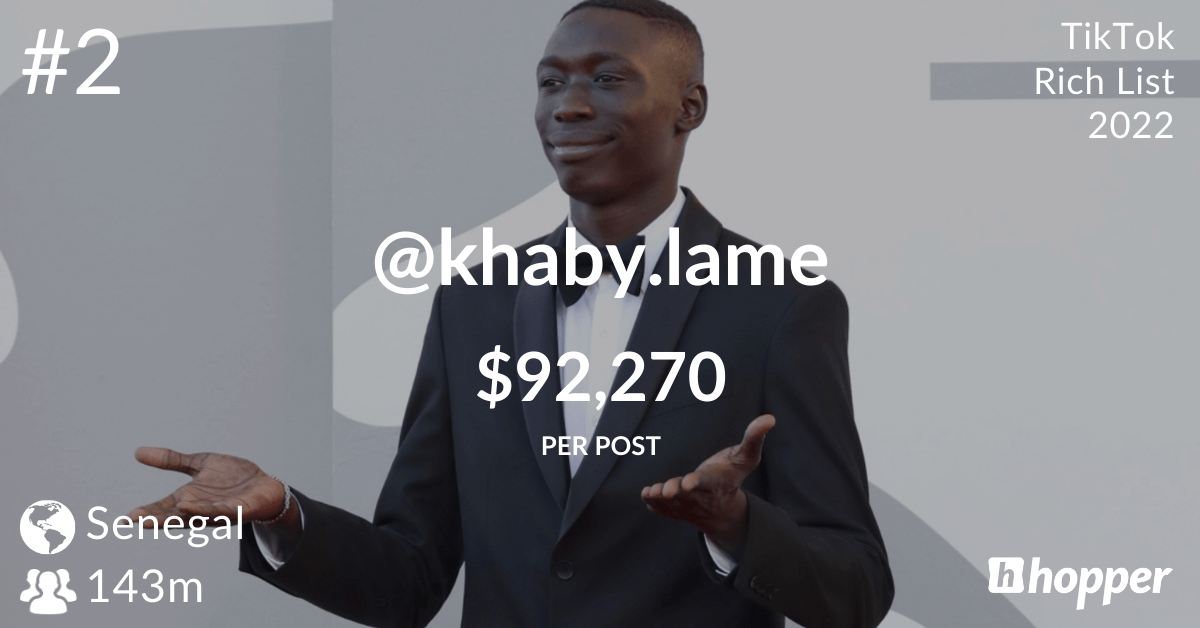 As of June 2022, Khaby Lame has the highest follower count on TikTok with over 143 million followers. The 22-year-old Senegalese-born social media star is known for his hilarious TikTok videos where he mocks unnecessarily complicated life hack videos. He's bagged some pretty high-profile partnerships with famous footballers and brands like Xbox, Netflix, Amazon Prime, and Hugo Boss.
3. Bella Poarch
💵 $66,829 per post
🫂 90.1 million followers
💰 $2 million net worth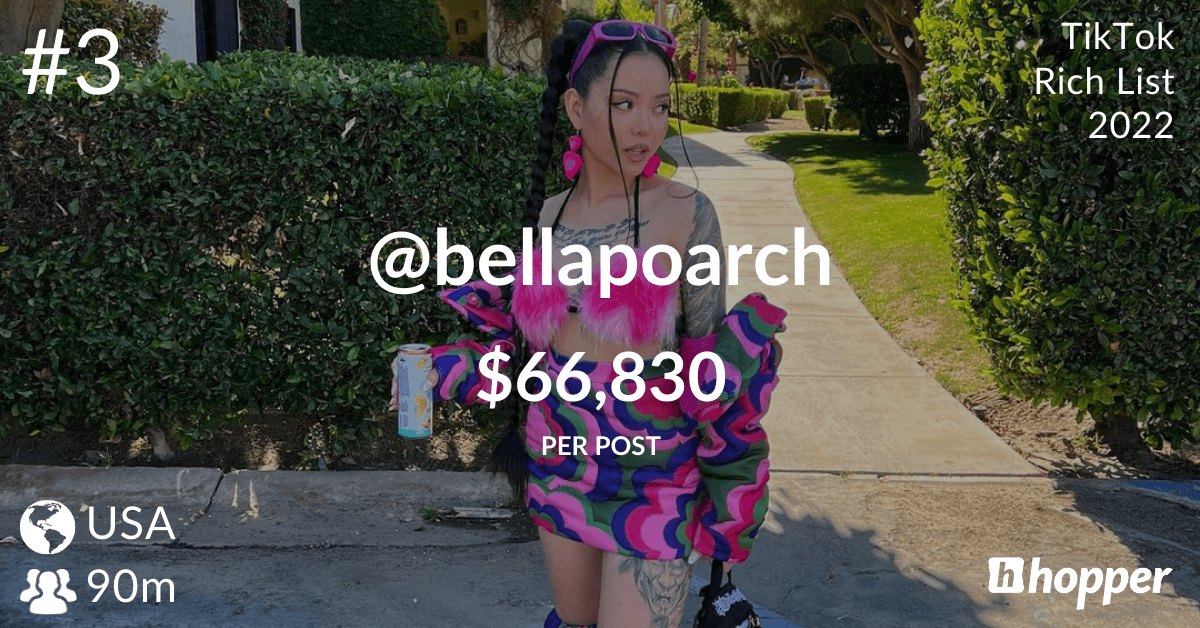 Bella's a Filipino-American social media personality and singer. She rose to fame after she created what has now become the most liked TikTok video, where she lip-syncs to the song "M to the B". Since then, she's done ads for Google, Prada and Tinder, and released her first single, reaching No. 56 on Billboard's pop chart.
4. Addison Rae
💵 $65,194 per post
🫂 87.9 million followers
💰 $15 million net worth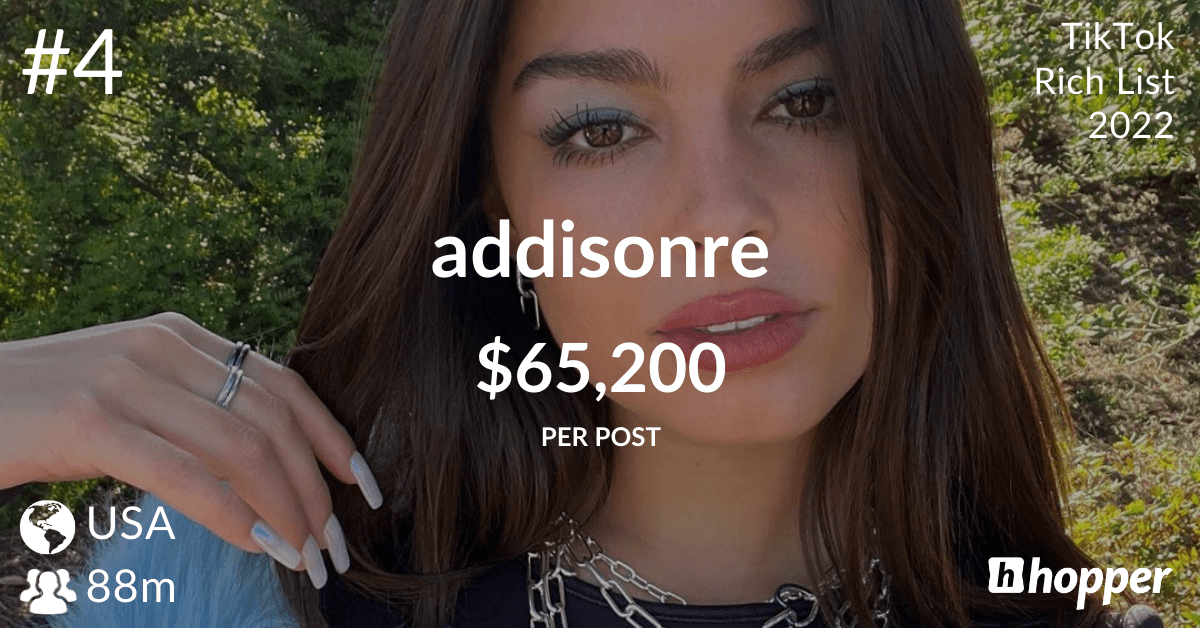 This TikTok star has made it to Forbes's "30 Under 30" for social media influencers in 2020. Her TikTok rise to fame has led her to some lucrative sponsorships with brands like American Eagle, her Item Beauty line that sells its products at stores like Sephora, and finally, starring in a Netflix movie titled "He's All That", and signed a new multi-film deal with the streamer.
5. Will Smith
💵 $53,741 per post
🫂 72.3 million followers
💰 $300 million net worth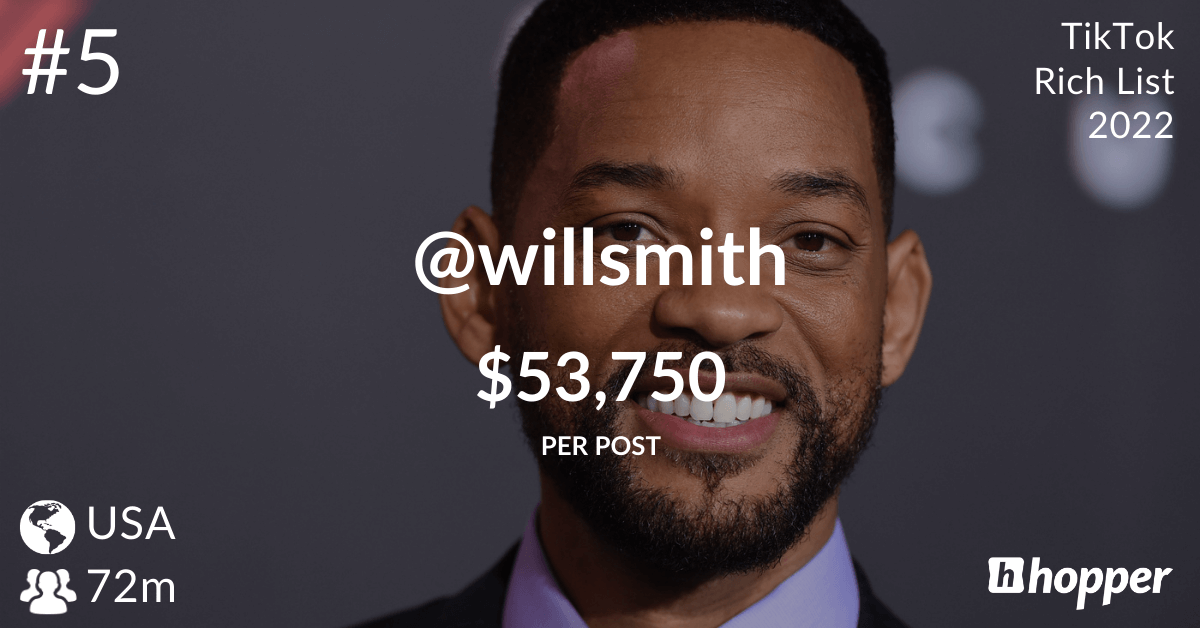 Will Smith needs no introduction, he's had a constant presence on our Instagram Rich List for the past few years; coming in 30th place in 2021 and 33rd place in 2022. To no surprise, the American actor, rapper, and film producer has also amassed a following on TikTok with over 72 million followers, where he shares the same content he does on Instagram.
6. Kimberly Loaiza
💵 $47,374 per post
🫂 63.9 million followers
💰 $8 million net worth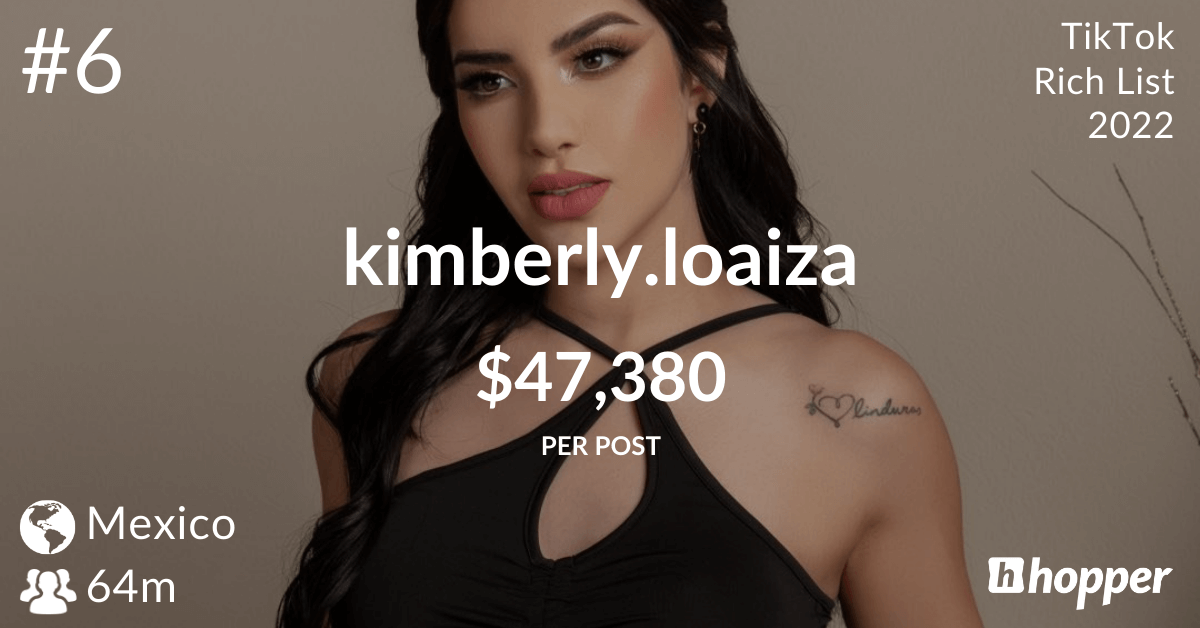 Kimberly Loaiza is a Mexican influencer. She started her influencer career on YouTube in In 2016 and grew a following of almost 64 million followers on TikTok. Her song "Don't Be Jealous" topped the charts across the globe with over 249 million views on YouTube. 
7. TikTok
💵 $44,469 per post
🫂 63.2 million followers
💰 $50 million worth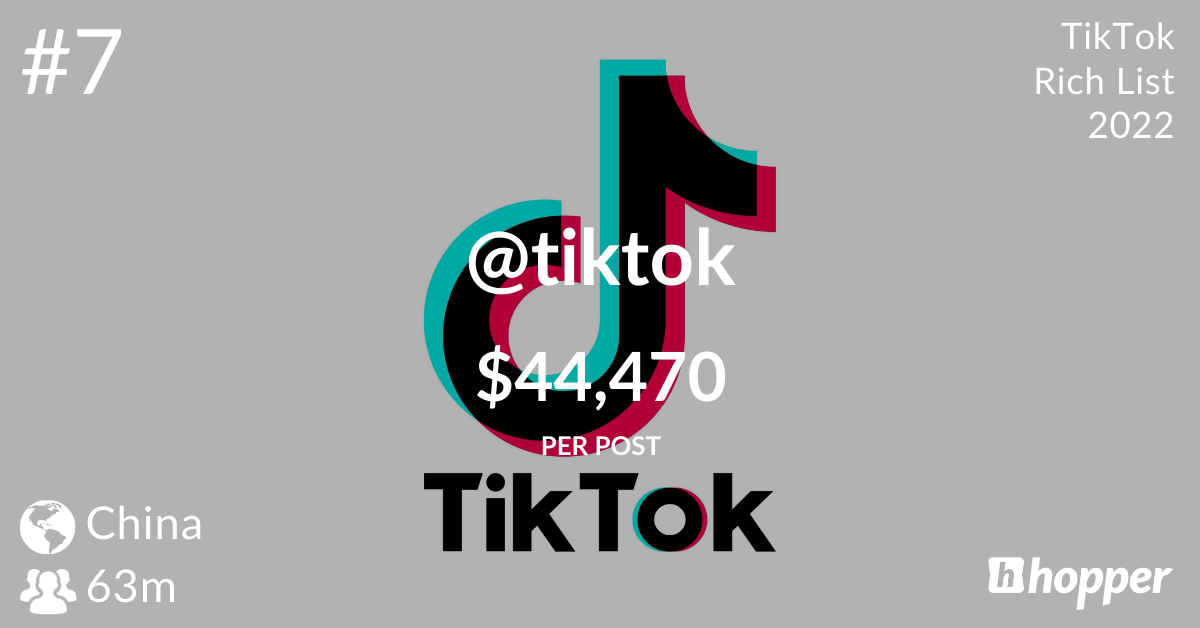 It isn't surprising that the platform's official page made it to the list. With over 63 million followers, a TikTok-sponsored post costs up to  $44,469 per post. 
8. Zach King
💵 $44,225 per post
🫂 68.7 million followers
💰 $3 million worth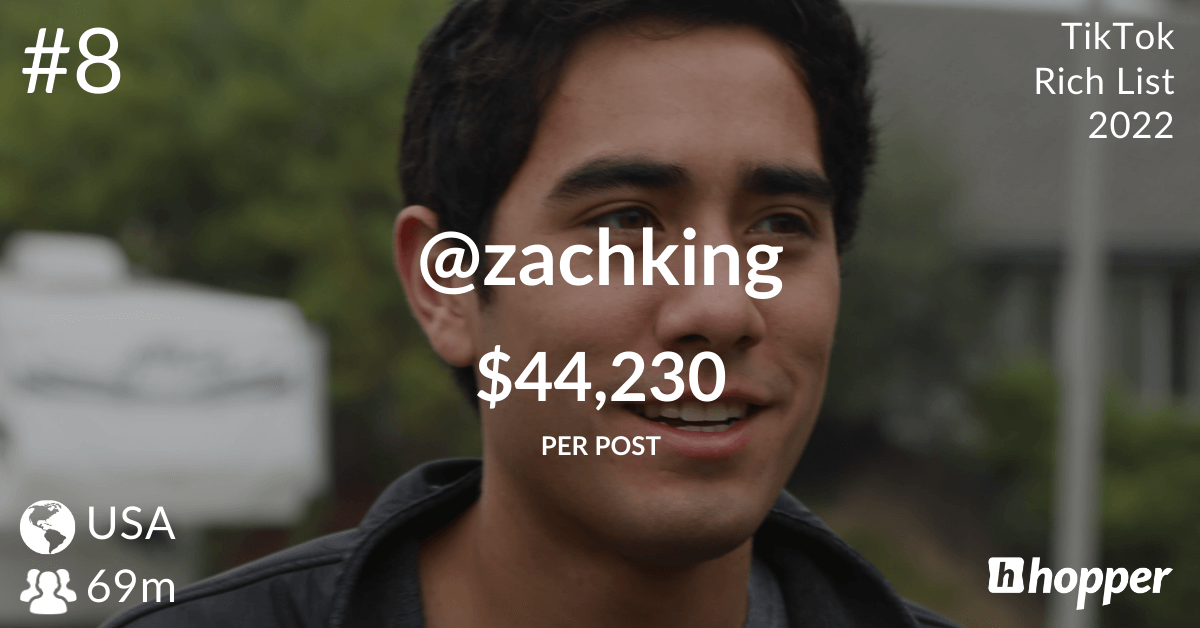 Zach King began posting videos on YouTube in 2008 followed by Vine in 2013. He is most known for his "magic vines. Zach King posted his first TikTok video in 2016 and has since amassed a following of over 68.7 million, landing him the 8th spot on the 2022 TikTok Rich List. 
9. Dixie D'Amelio
💵 $42,567 per post
🫂 57.4 million followers
💰 $10 million worth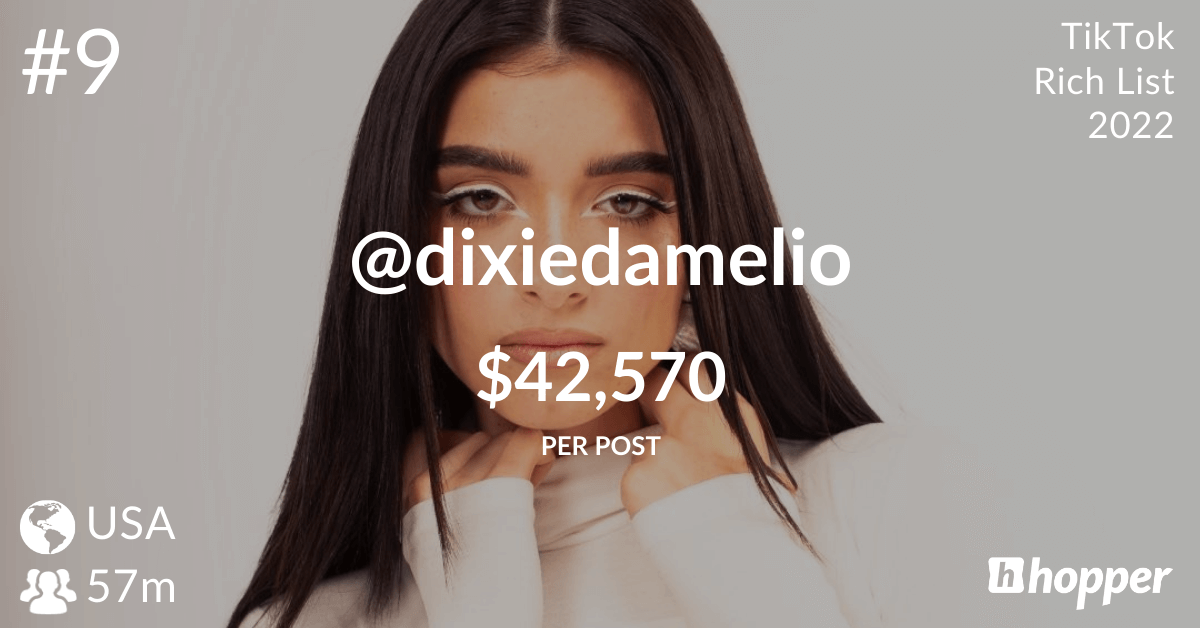 Dixie's TikTok success seems to intertwine with her younger sister Charlie (number 1 on the list), with brand deals including the Hollister, Hulu and Snap. Regardless, she has managed to secure some big partnerships in her own right with brands like Valentino and Puma and has performed alongside big stars like Ed Sheeran and the Jonas Brothers.
10. Spencer Polanco Knight
💵 $40,934 per post
🫂 55.1 million followers
💰 $6 million worth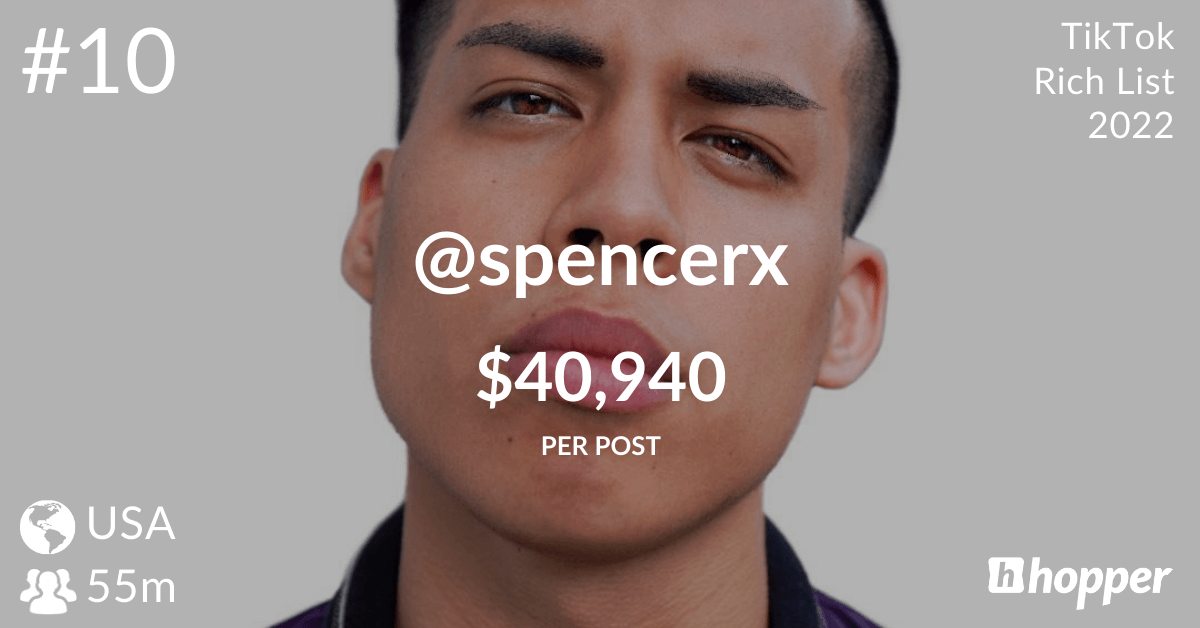 Better known as Spencer X OR the "mouth music man", Spencer "X" Polanco shows off his beatboxing skills on TikTok, where he has over 55 million followers. Since his rise to stardom, he has secured partnerships with leading brands like Sony, HBO, Nickelodeon, Sketchers, Monster Energy and Oreos. He has also collaborated with musicians like Alicia Keys and Sean Kingston.
And there you have it, this concludes the 2022 Hopper HQ TikTok Rich List. Check out the full 2022 TikTok Rich List here – featuring the highest-earning TikTok stars.
Enjoyed this? You might also like:
– The 2022 Instagram Rich List
– The 2022 Pinterest Rich List
– The best time to post on TikTok