The 2023 Instagram Rich List is NOW AVAILABLE!💥
Instagram remains one of the most popular social media networks for influencer marketing, but who's the highest-paid celebrity on Instagram in 2022?
In 2022, we continue to see women dominate the leaderboard, accounting for a whopping 67% of the highest-earning influencers on Instagram, compared to 56% in 2021. 
The sports niche dominates the top 3 with Christiano Ronaldo and Lionel Messi coming in 1st and 3rd on the list.
African and Asian influencers also witnessed enormous growth in representation, making up 26% of the 2022 rich list.
For the first time, 4 Kardashian/Jenners have made it to the top 10, with Kylie Jenner jumping to second place after coming in 4th last year, Kim Kardashian remaining in the 6th spot, and Khloe Kardashian making it to the top 10 for the first time in 9th place, replacing Justin Bieber who occupied the spot in 2021, and finally Kendall Jenner in 10th place.
Based on Hopper HQ internal data, agency rates and public information, you can now find out just how much your favourite Instagram stars are earning for their sponsored posts.
And, in honour of Hopper HQ launching scheduling for Pinterest and TikTok, have a look at the highest earning TikTok creators and find out how much top Pinterest influencers earn.

Plan & Schedule Your Social Media Posts
Visually plan your posts. Drag & drop everywhere in seconds ✨
So, just as we did in 2017, 2018, 2019, 2020, and 2021, Hopper HQ presents:
🤑 2022 Top 10 Highest-Earning Instagram Stars 🤑
1. Cristiano Ronaldo
👥 442 million followers
💵 $2,397,000 per post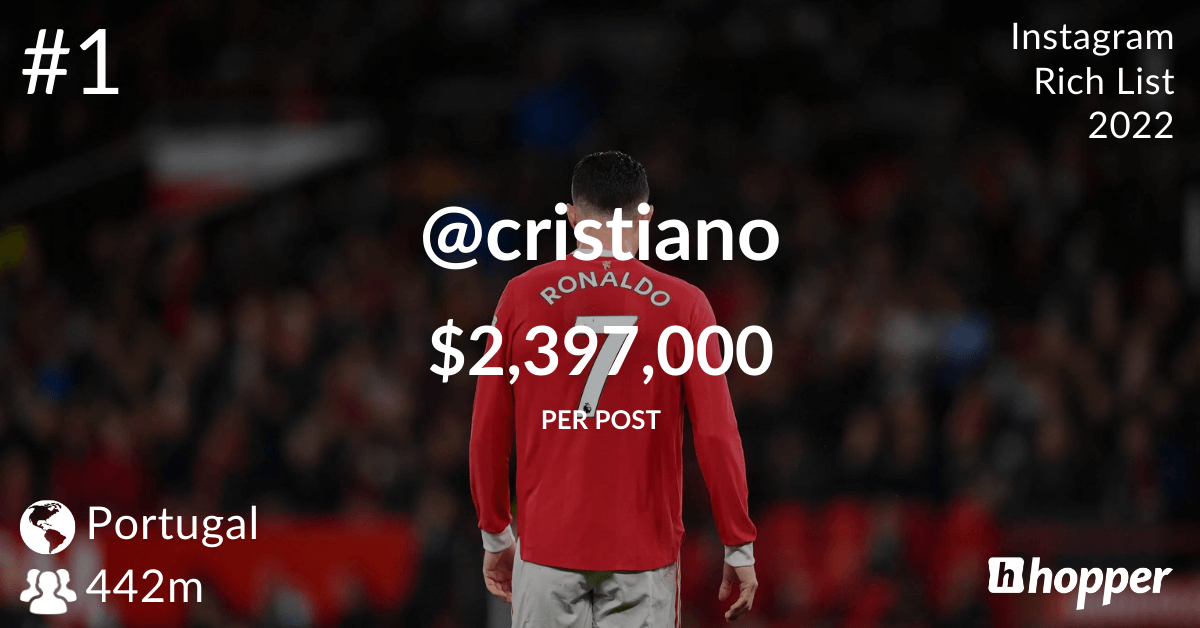 For the second year in a row, Cristiano Ronaldo sits at the top of the list with the highest ever potential earning, making an average of $2.3 million per post compared to $1.6 million per post last year.
2. Kylie Jenner
👥 338 million followers
💵 $1,835,000 per post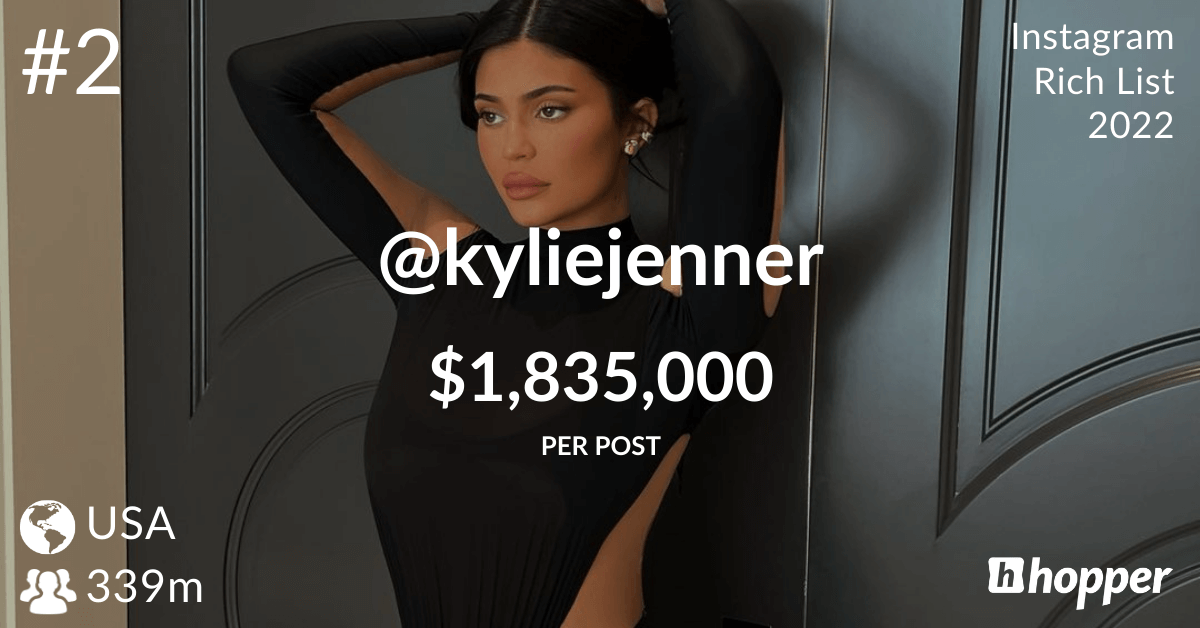 After being knocked down from second to 4th place by Dwayne Jhonson in 2021, Kylie makes a comeback to the top 3 in 2022. 
3. Lionel Messi
👥 327 million followers
💵 $1,777,000 per post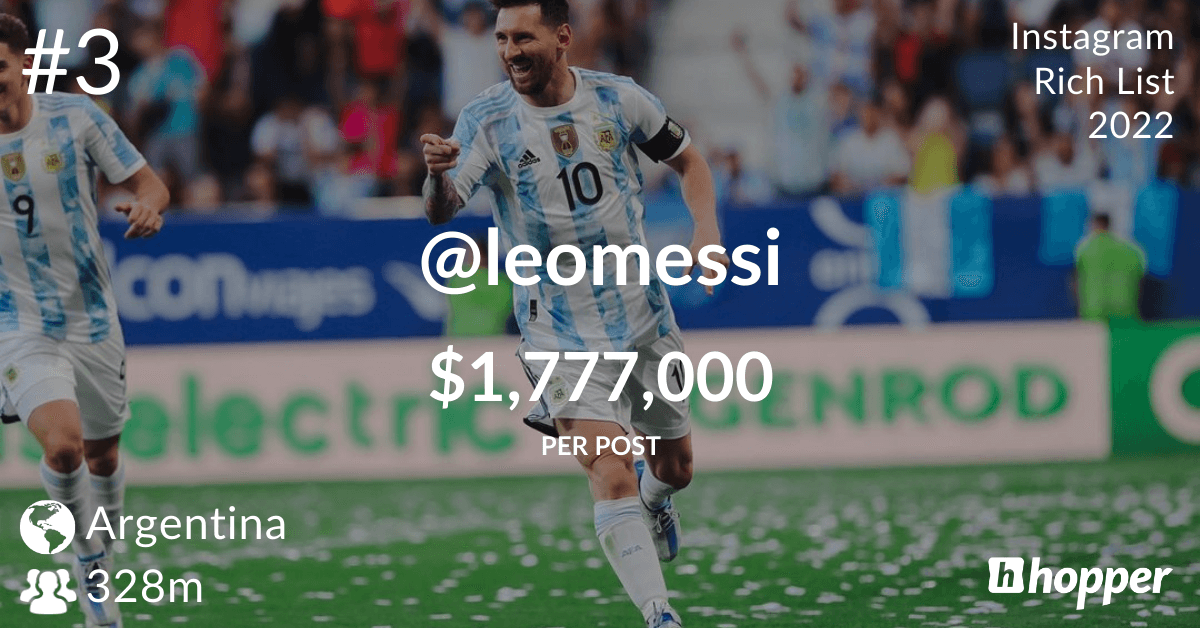 After coming in 7th last year, professional footballer Lionel Messi makes a strong comeback to the top 3, coming in 3rd as the highest-earning influencer in South America.
4. Selena Gomez
👥 320 million followers
💵 $1,735,000 per post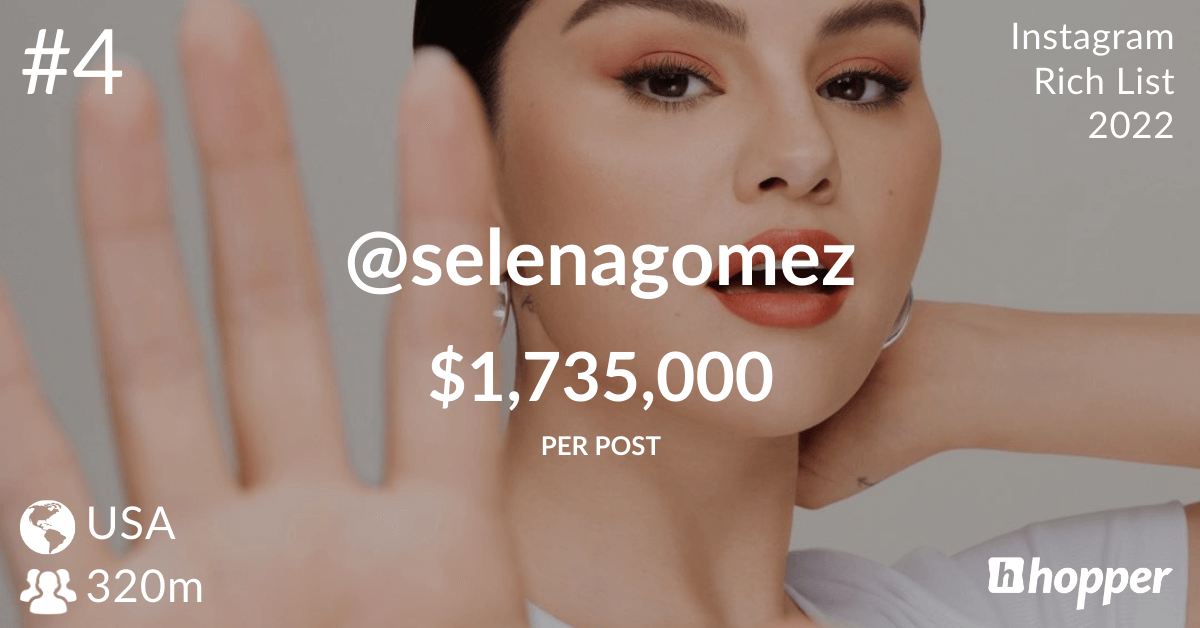 Selena Gomez climbs one place making it into this year's top 5, after placing 5th in 2021. 
5. Dwayne Johnson

👥 315 million  followers
💵 $1,713,000 per post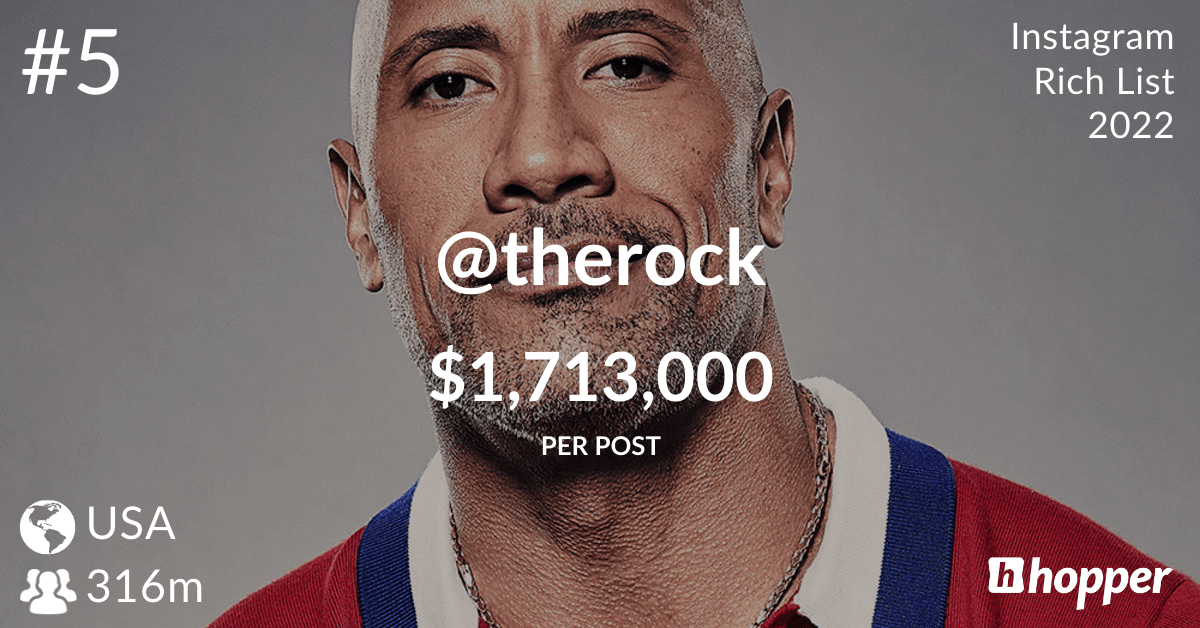 Although his follower count has increased by 66 million since last year, the 2020's 'King of the Instagram Rich List' and 2021's second drops to 5th place this year. 
Simple Post, Story + Reel Scheduling ✨
Visually plan your social content. Instagram, TikTok, Twitter, Facebook, LinkedIn + Pinterest
6. Kim Kardashian

👥 311 million followers
💵 $1,689,000 per post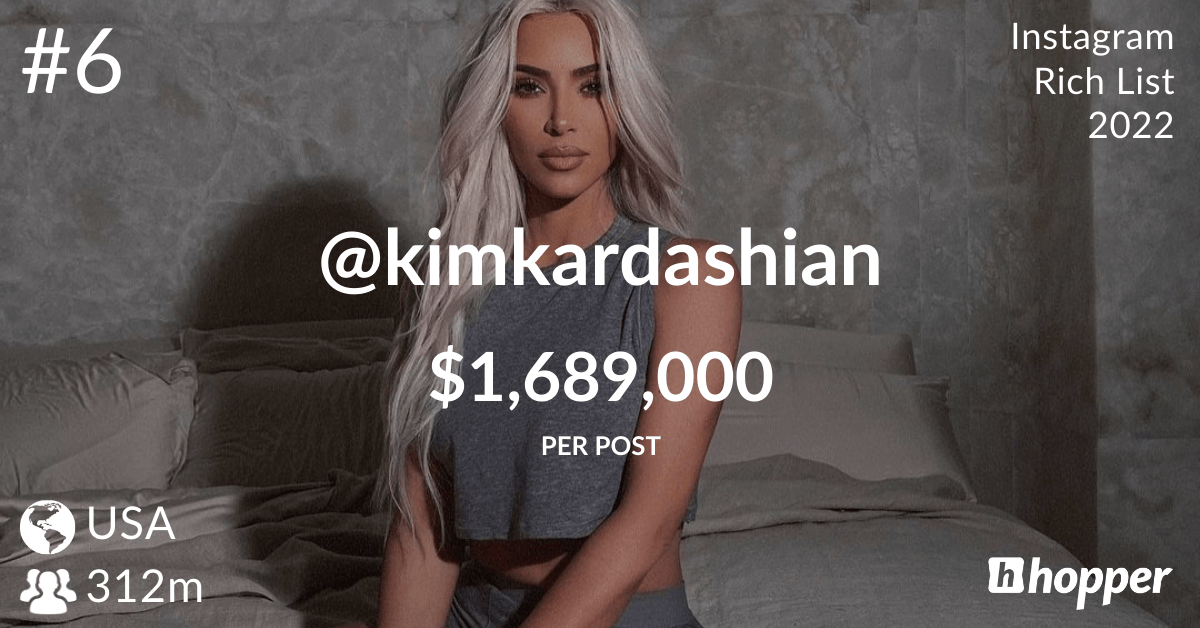 Kim Kardashian continues to secure her spot as sixth on the list this year and continues to be the second most influential Kardashian on the platform after Kylie Jenner in second place.
7. Ariana Grande
👥 311 million followers
💵 $1,687,000 per post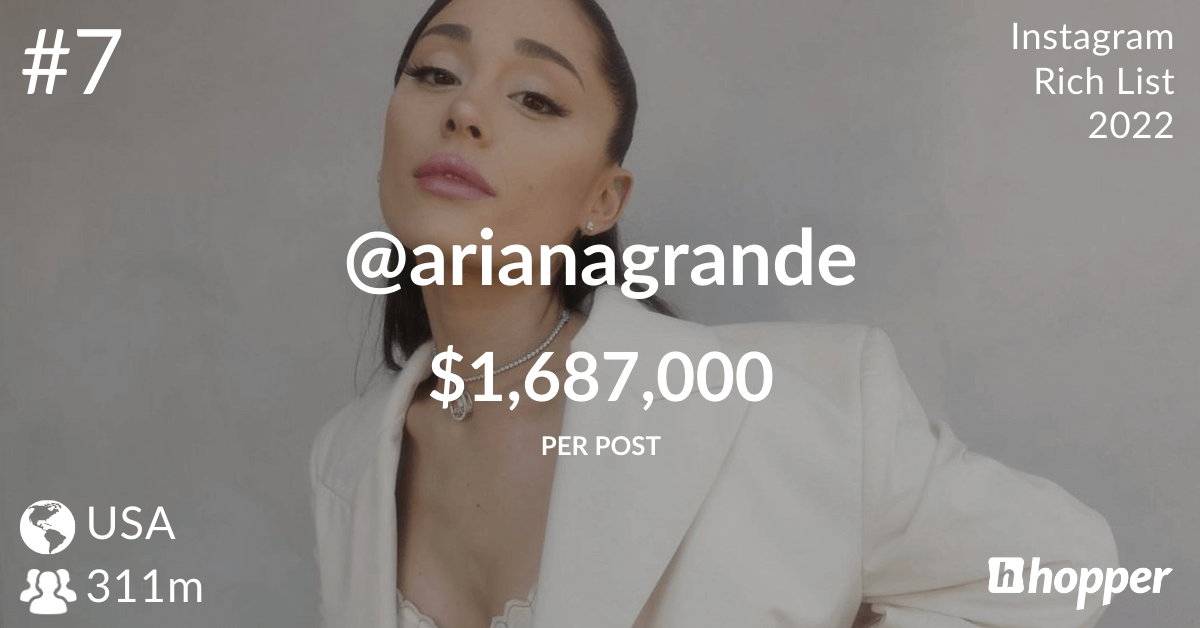 After coming in third place in last year's rich list, Ariana Grande drops to seventh place in 2022.
8. Beyonce
👥 256 million followers
💵 $1,393,000 per post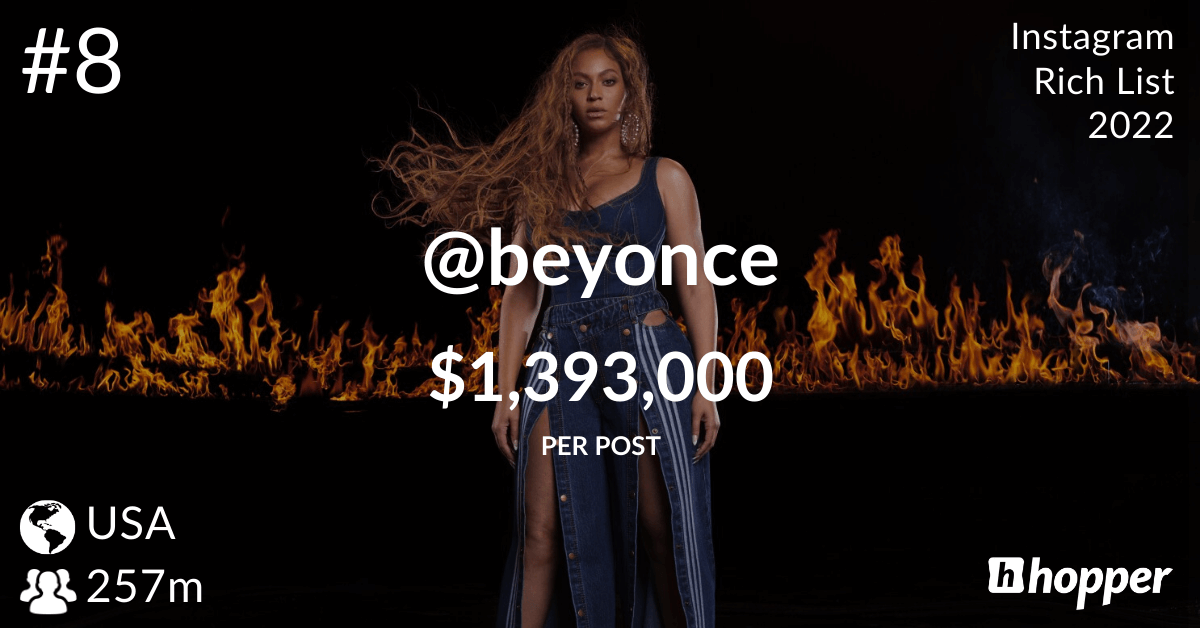 Beyonce keeps her eighth place for the second year in a row after also coming in 8th last year.
9. Khloe Kardashian
👥 243 million followers
💵 $1,320,000 per post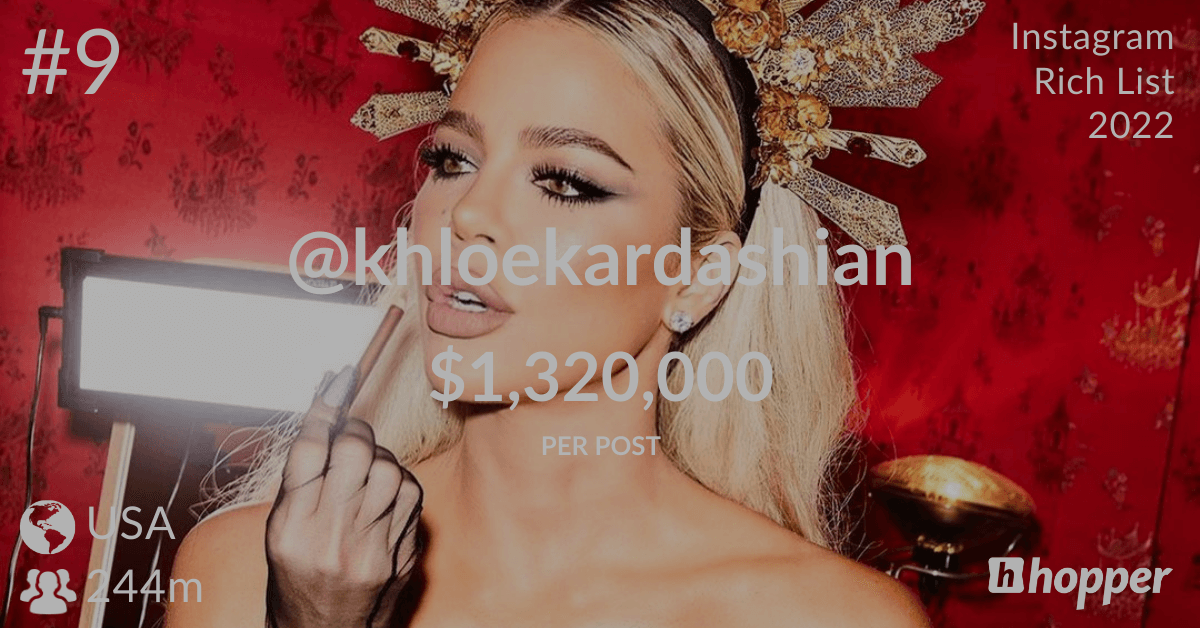 Khloe Kardashian makes it to the top 10 for the first time ever after coming in 13th place on the 2021 rich list,  making her the 3rd most popular Kardashian/Jenner on the list after Kylie and Kim.
10. Kendall Jenner
👥 237 million followers
💵 $1,290,000 per post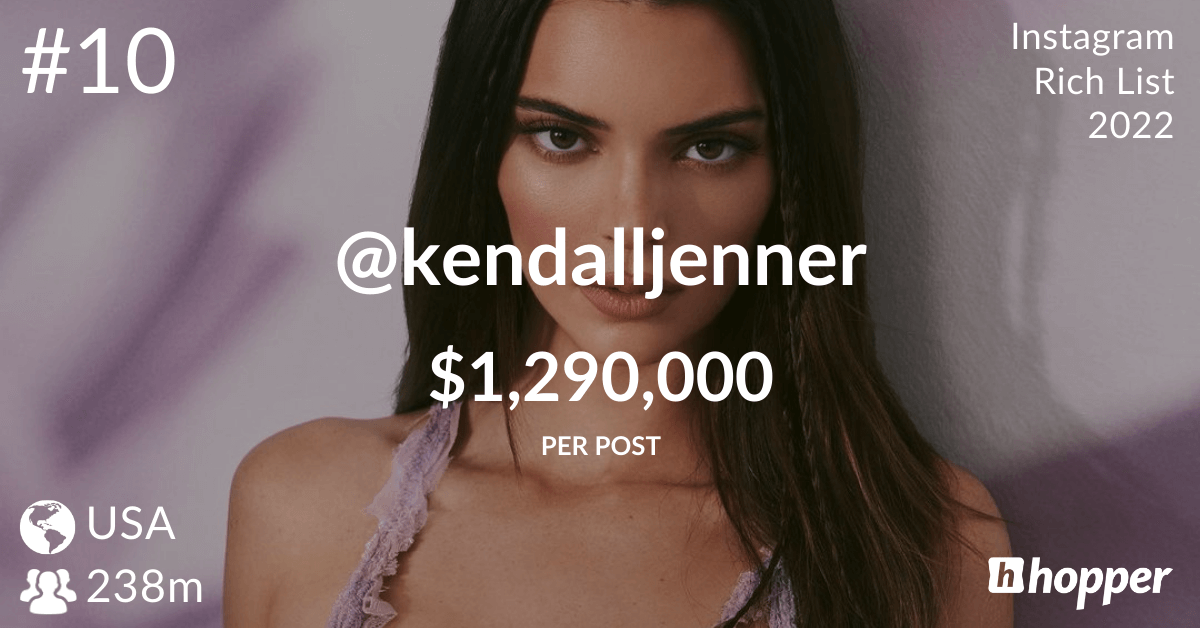 The Kardashian Jenners are on a roll as Kendall Jenner secures her spot in tenth place again this year, after placing there in 2021. The supermodel is the fourth Kardashian Jenner in the top 10.
Check out the full 2022 Instagram Rich List here – featuring the highest-earning social media stars.
You might also like:
– The 2022 TikTok Rich List
– The 2022 Pinterest Rich List
TRY HOPPER HQ FREE
Refreshingly Simple Post, Story + Reel Scheduling
Visually plan all your social channels. Instagram, TikTok, Twitter, Facebook + LinkedIn.