See which Pinterest influencers make the most money from sponsored pins with the 2022 Pinterest Rich List 💰
Pinterest is a great place to find inspiration for different niches. Its greatest strength is that it's visual first. People can create, pin and share images and videos of interest to them and add them to dedicated boards. This makes Pinterest a powerful network for brands planning their influencer marketing.
So, this year, with the launch of Pinterest Scheduling on Hopper HQ, we've rounded up the highest-earning pinfluencers on the platform. We see women dominate the leaderboard, taking up ALL TOP 10 SPOTS for the highest-earning influencers on Pinterest in 2022.

And, in honour of Hopper HQ launching scheduling for TikTok, have a look at the highest earning TikTok creators and find out how much top Instagram influencers earn.
Let's dive in! 
1. Joy Cho
🫂 15.2 million followers
👀 2.8 million monthly views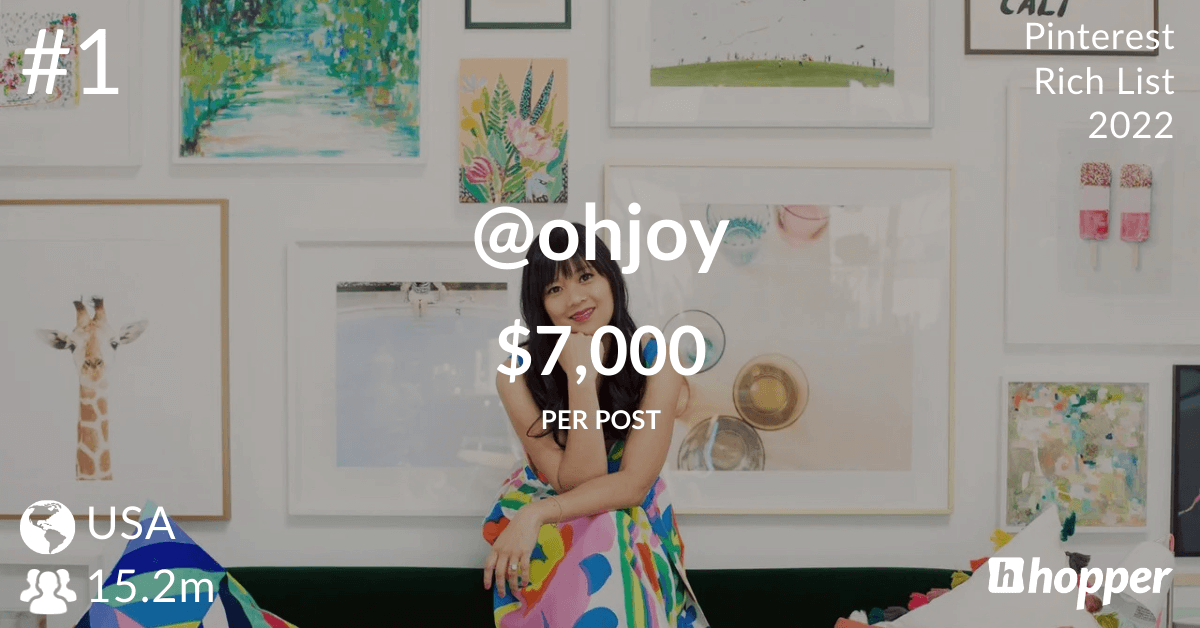 Joy Cho is Pinterest's biggest star. She is the founder and creative director of Oh Joy. Joy Cho has over 70 boards with different topics ranging from homeware, design, fashion, beauty, cooking, and travel. 
Her board titled "Oh Joy for Target" is a good example of brands using influencer marketing on Pinterest. 
2. Poppytalk
🫂 10.4 million followers
👀 1.5 million monthly views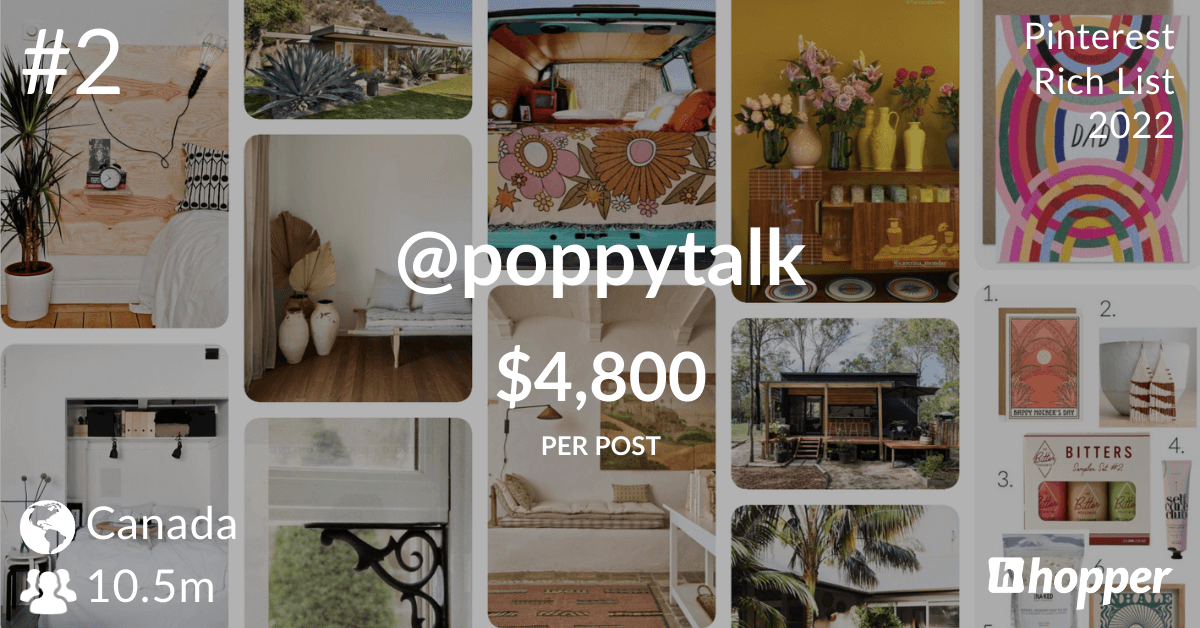 Poppytalk was founded by Jan Halvarson. It is a lifestyle and design blog and creative studio featuring DIYs, decor, crafts, nutrition and wellness.
3. Maryann Rizzo
🫂 9 million followers
👀 613k monthly views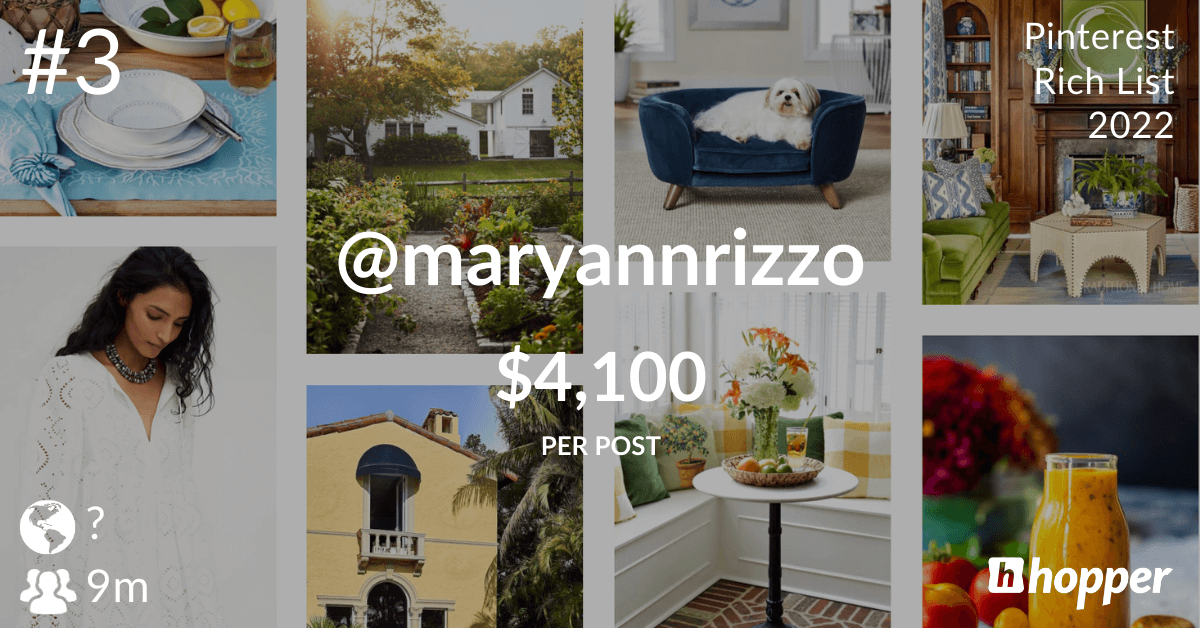 Maryann states in her bio that she's an "interior designer with a great eye for everything beautiful". With over 168 boards, Maryann showcases different design features and aims to inspire her followers' style.
4. Jane Wang
🫂 7.7 million followers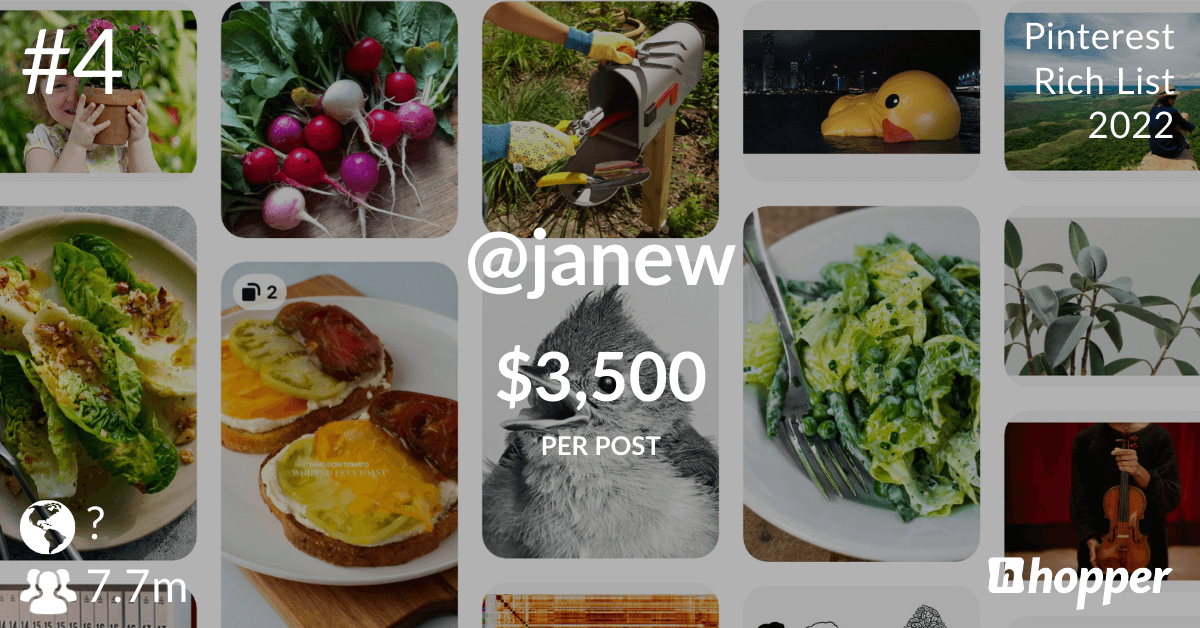 In her Pinterest bio, Jane Wang identifies herself as a "chinstrap penguin from Antarctica". One thing we do know about Jane is that she is the mother of Pinterest's CEO and co-founder Ben Silbermann. Her pins and boards cover interests ranging from design, home goods, fashion, architecture, art and food.
5. HonestlyWTF
🫂 7.1 million followers
👀 10 million monthly views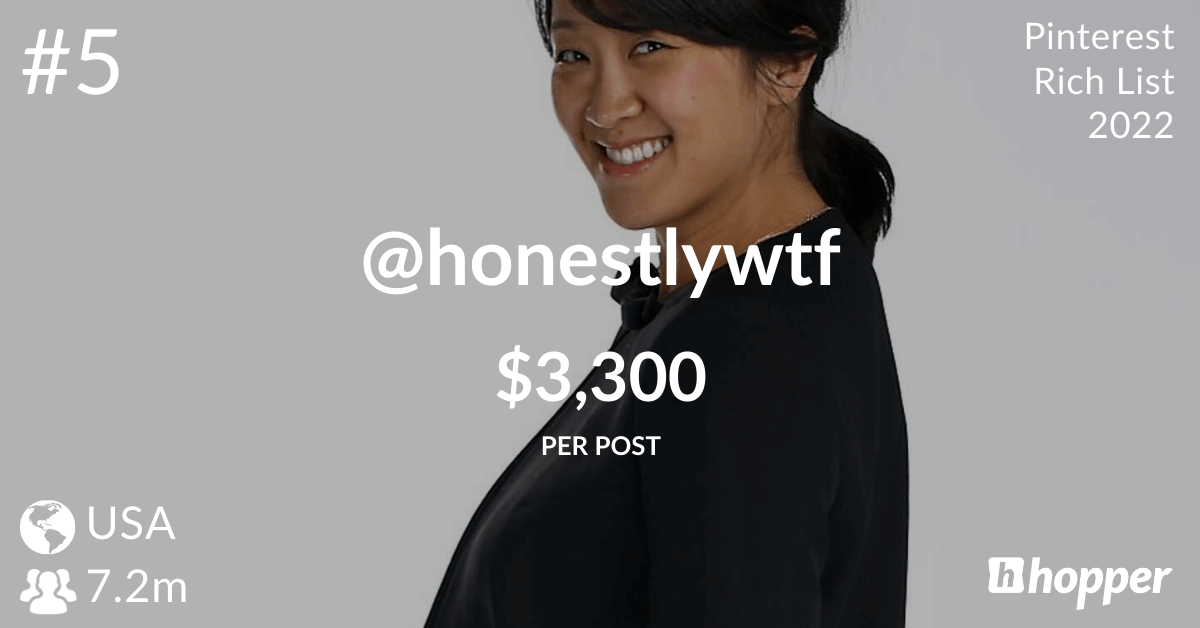 HonestlyWTF is a lifestyle blog that curates stories covering fashion, art, travel, interior design and DIY. Their Pinterest page is curated by Erica Chan Coffman, the co-founder and executive editor at HonestlyWTF.
6. Bonnie Tsang
🫂 7 million followers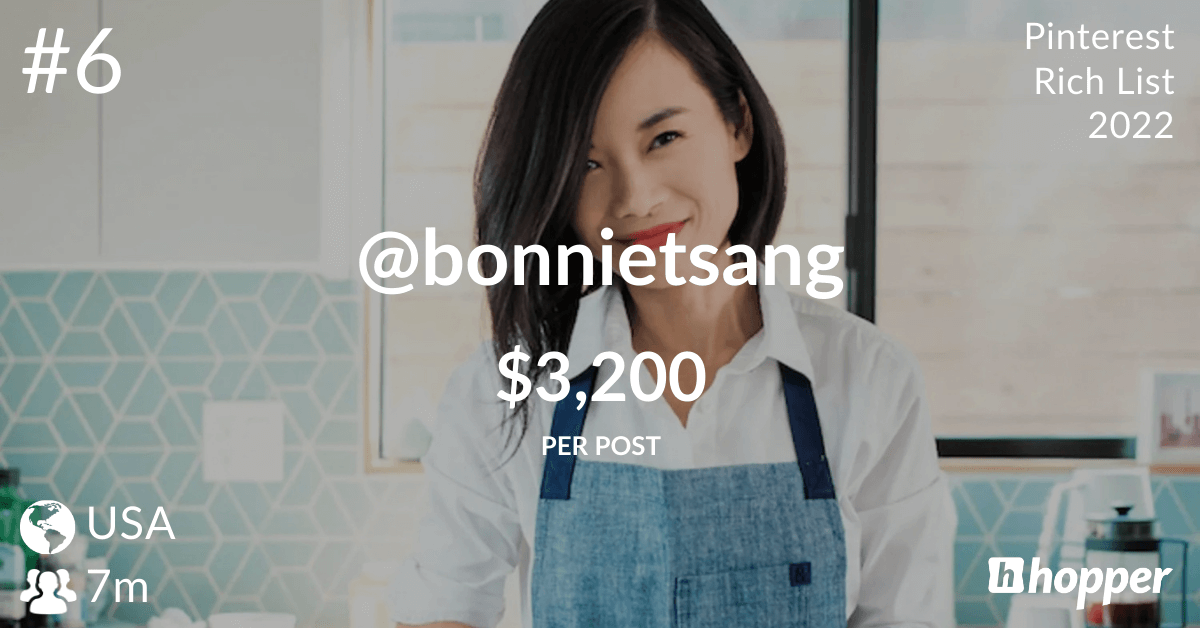 Los Angeles photographer Bonnie Tsang is a visual artist and mom of two. Named as one of the "Top 30 Pinterest Curators to Follow" by Time Magazine, her boards and pins reflect her unique vision of lifestyle and photography.
7. Evelyn
🫂 6.7 million followers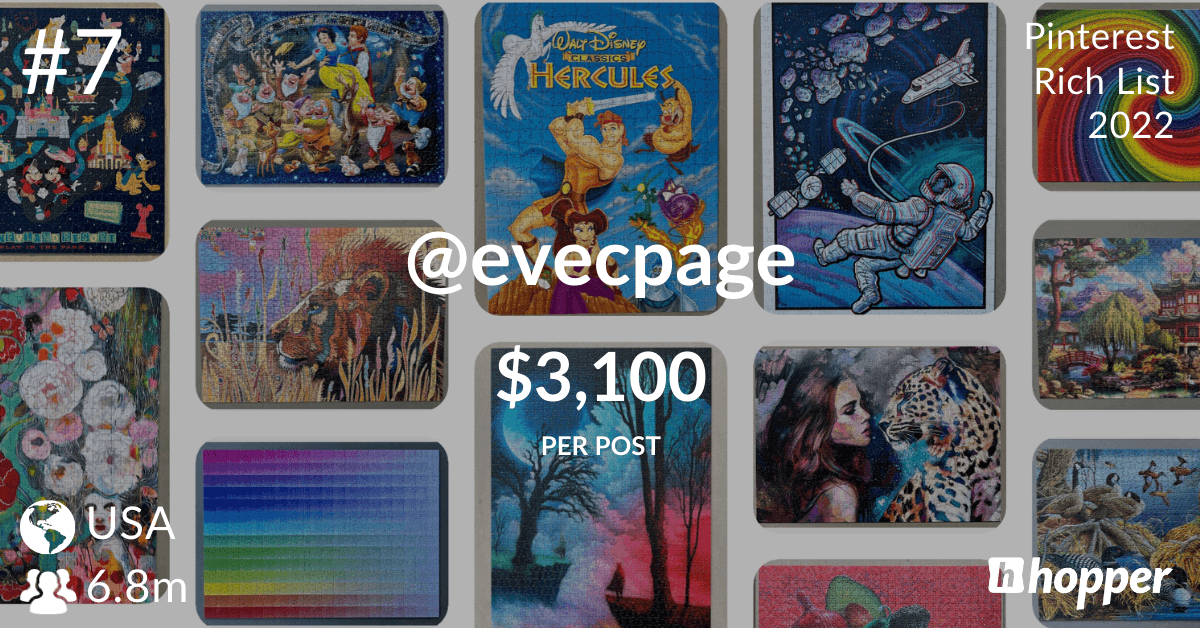 Evelyn has an eye for vivid colours and images. She pins her ideas across a variety of boards ranging from travel, art, nature and animals.
8. Pejper/Anna Karin
🫂 6.7 million followers
👀 22.2k monthly views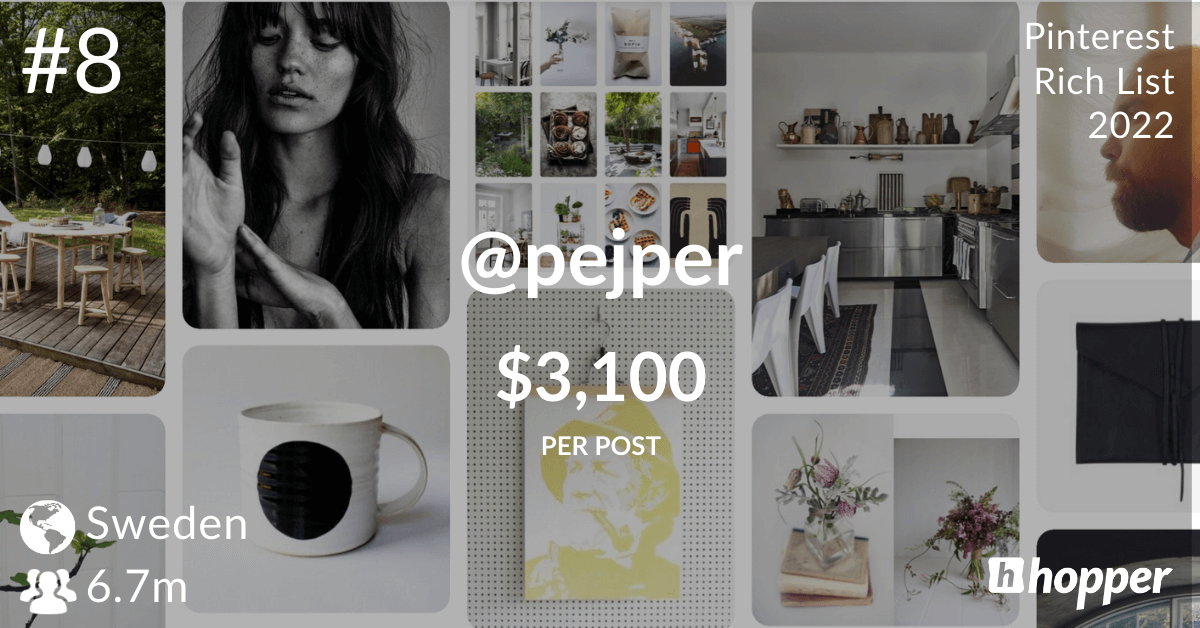 Pejper, founded by Anna Karin, is a Swedish lifestyle blog and green web agency that helps gardeners and creators grow online.
9. Veanad/ Danaë Vokolos
🫂 5.1 million followers
👀 monthly views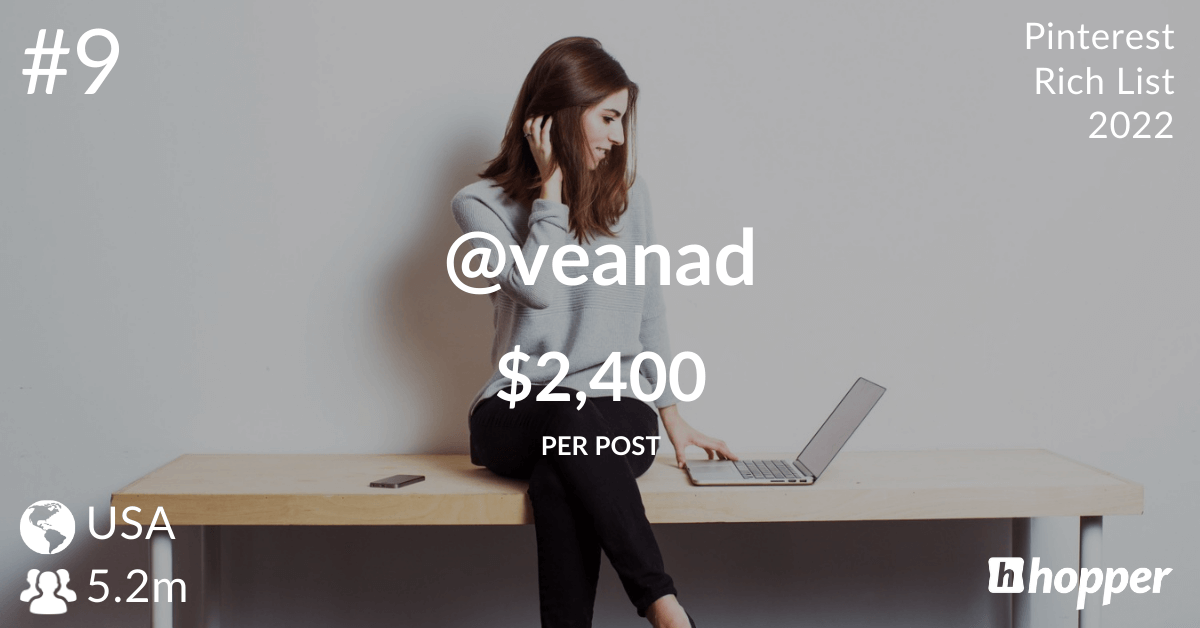 Danaë Vokolos founded veanad in 2011 in hopes of discovering her aesthetic sensibilities. Today veanad is one of the top-followed accounts on Pinterest with over 5.1 million followers. Veanad's boards illustrate the viability of high-end craft and design.
10. Christine Martinez Loya
🫂 5 million followers
👀 27.6k monthly views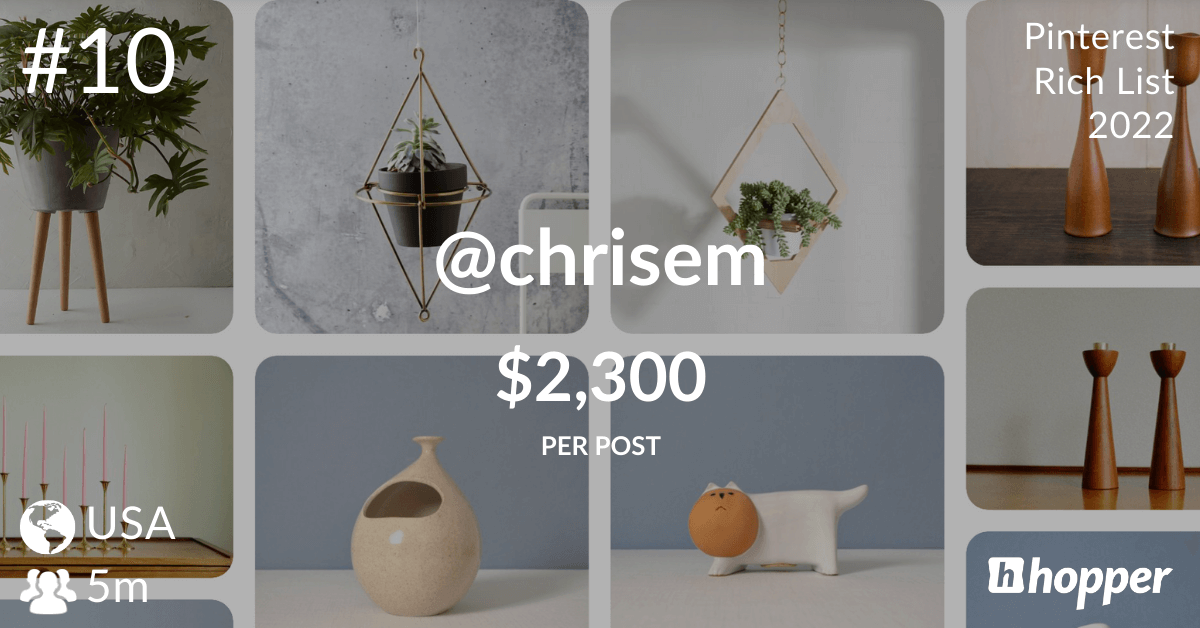 Author of The Complete Idiot's Guide to Pinterest Marketing and former interior designer, Christine Martinez Loya shares ideas across multiple boards from DIY projects and interior design to inspirational quotes and fashion looks.
And there you have it! It's easy to see the appeal of Pinterest for brands and influencers alike. The modern-day collage platform offers a digital space to share little pieces of yourself with your followers via virtual pins and boards — minus the glue.
Check out the full 2022 Pinterest Rich List here – featuring the highest-earning Pinterest stars.
You might also like:
– The 2022 Instagram Rich List
– The 2022 TikTok Rich List
Simple Post, Story + Reel Scheduling ✨
Visually plan your social content. Instagram, TikTok, Twitter, Facebook, LinkedIn + Pinterest