Struggling for new ideas? It happens to the best of us.
Despite the now countless #Selfie hashtags, Instagram isn't just a pretty face anymore; and creating a steady flow of engaging content without making your brain slowly turn to mush can be quite challenging.
Do not panic, you know we've always got you covered. Cure that creative block – from sneaky peeks to funny quotes, here's 5 post ideas that'll keep your Instagram fresh and flourishing!
1. Take us behind-the-scenes
People are curious and love to know you on a more personal level – so let your audience in, and show them why you're different! Whether it's behind-the-scenes of upcoming events or a snap of your colleague drinking from a funny mug, it will certainly give your followers the chance to see who you are or what your brand is truly about.
Take it from @Topshop! This is what happens when the team gets creative (and a little crazy) with their jeans. Serious office envy ensues…but also a sense of intrigue and personal connection with the brand!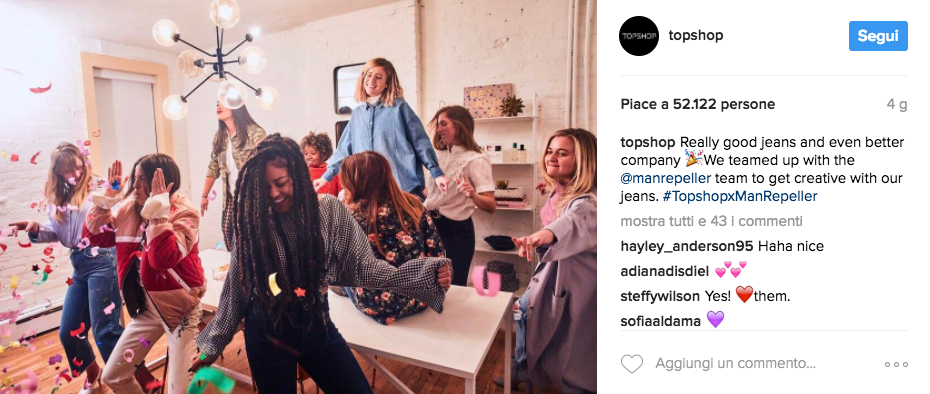 2. Put an end to boring product shots
No matter if it's just a morning coffee or the shoes your brand is selling – try and think about creative ways to show off your products!

No one forces you to only use stock photos of clean and simple items in good lighting; put your product in a natural, lifestyle setting, create your OWN atmosphere and show your unique style by surrounding it with other objects. Flowers and magazines are the current Instagram favourites.

As well as this amazingly cute puppy wearing a @forever21 headband we all now want to buy.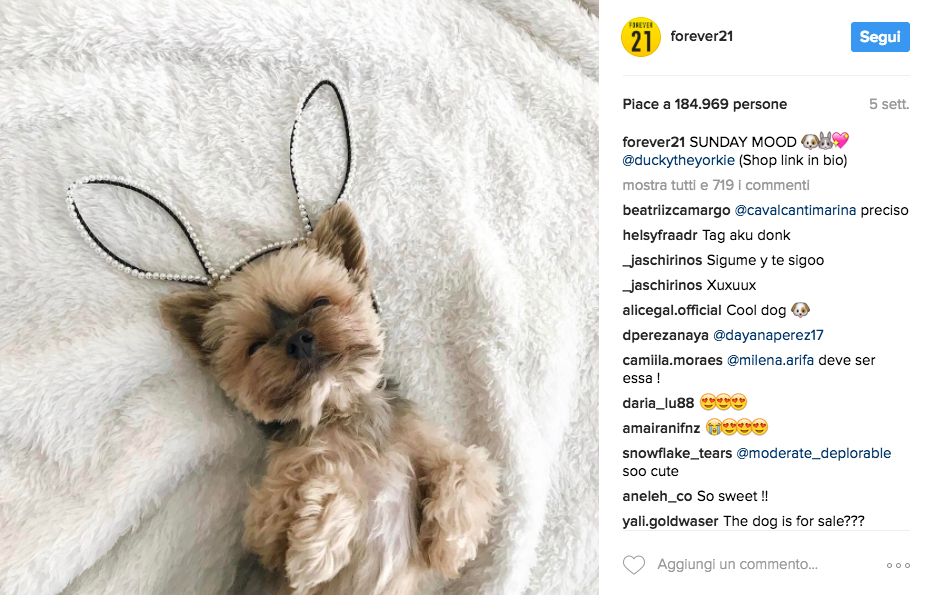 3. Quote it
Who doesn't need a pick-me-up little quote on those bad Monday mornings! Text-based images are a simple way to speak to your followers and boost engagement. From a Carrie Bradshaw quote that the fashion niche will adore, or a weird funny fact for your playful brand, the options are really endless!
You can also get your audience more involved by posting a random fill-in-the-blank question like @Calliebundy fitness model does sometimes.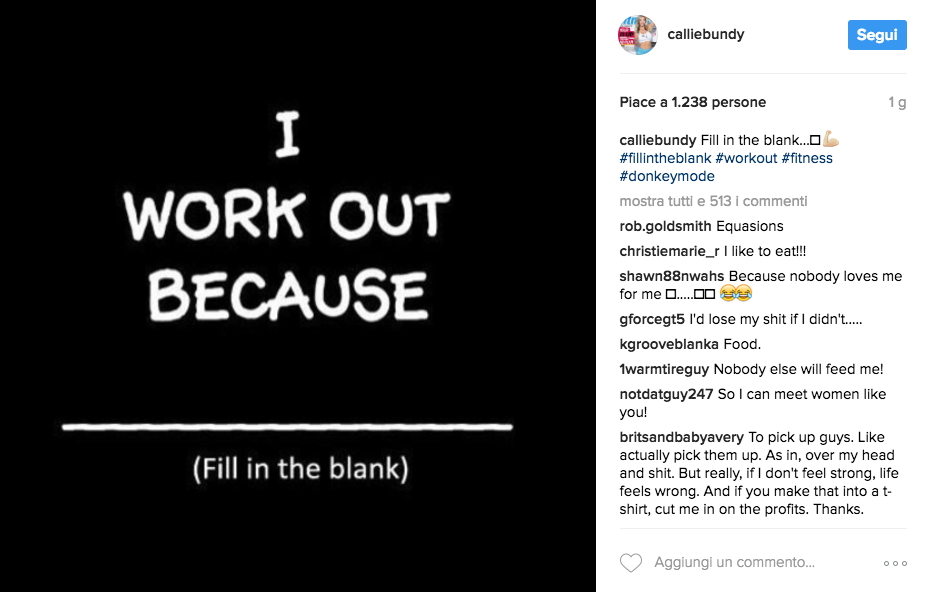 Wordswag, PicLab, Phonto, these are only some of the many apps you can use to create your own quote image; try Canva and PicMonkey if you prefer to get creative on your desktop.
4. Let your followers shine
If you're out of ideas for Instagram content, give your fans the chance to step up to the plate by simply regramming their photos! User-generated content is, with any doubt, one of the most dominating content sources in the web today. Don't believe us? A report from Social Annex states that UGC posts see 50% higher engagement over branded images – so it's definitely well worth trying!
Start by monitoring the posts people have tagged you in or create a unique hashtag for content submissions, then regram the photos you love and make sure to @-mention the original poster in your caption.
@ASOS and its #AsSeenOnMe buzzy hashtag are a great example!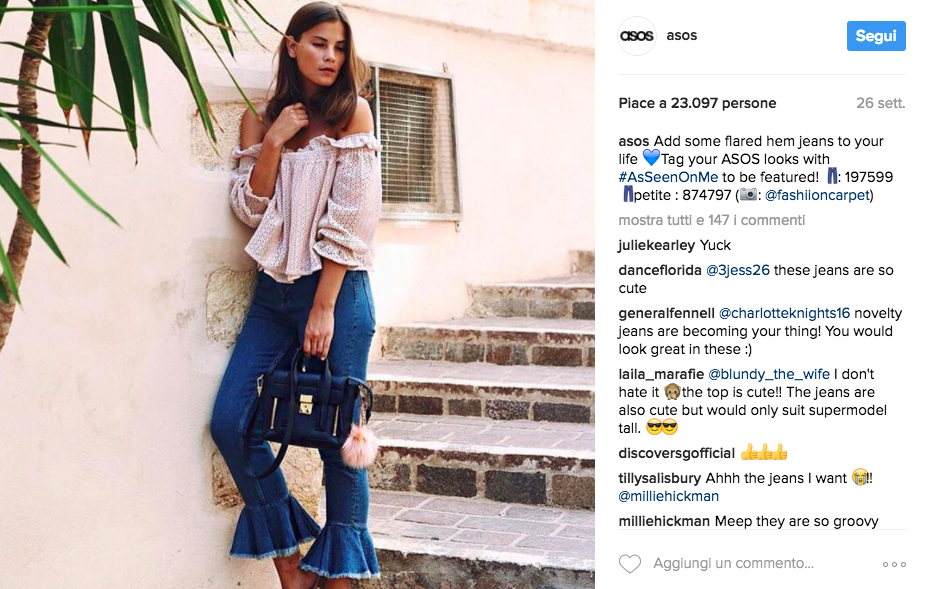 5. Host an Instagram contest
You'll may have to put a bit more effort in this, but trust us – the payoffs can be huge! Contests and giveaways are one of the most effective tactics to quickly increase engagement and grow your audience. Where do you start?

Make sure you set clear goals, have an appropriate prize ready and provide a clear entry method for participants!
Have a look at this @RoyalCaribbeanUK contest that went viral over the last two months and check out our 5 step guide on How To Run A Successful Instagram Contest to make yours really stand out!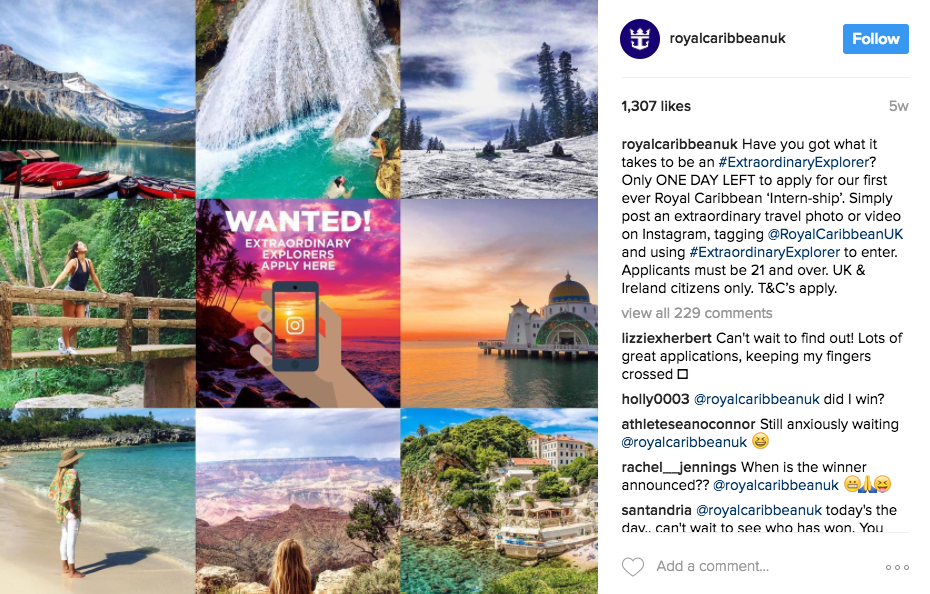 And voilà! Which one of these ideas did you like the most? Let us know in a comment! ?  
Schedule your Instagram posts.
Fully automated posts. No phone required.
Stay ahead of the social media game!
Join 50,000 others getting the latest social media news, insights and trends every week with Hopper HQ's Trending newsletter.