Food has never been more Instagrammable than right now. Everyone is guilty of taking beautiful photographs of their brunch, lunch and cheat day cakes! Food is something that everyone engages with on a daily basis. We all know how much we love to eat good food, which makes food photographs huge on Instagram — they are simple to create and relatable to everyone.
So, if you're a chef, baker, restaurant owner or food enthusiast, how can you make your posts stand out from the crowd?
Using the right food hashtags when creating your posts will help you boost your social media presence, see an increase in likes and followers and build an audience who will drool over your food photos.
This ultimate list of food hashtags will guide you in choosing the right hashtags for you and the type of food you are posting about. We've outlined some of the top hashtags being used right now for the most popular food niches below…
⭐️ More hashtag strategy tips: All-In-One Guide To Instagram Hashtags ⭐️
1. Most Popular Food Hashtags
2. Healthy Food Hashtags
3. Brunch Hashtags
4. Food Truck Hashtags
5. Baking Hashtags
6. Dessert Hashtags
7. Mexican Food Hashtags
8. Italian Food Hashtags
9. Asian Food Hashtags
10. Schedule Hashtags in Advance
1. Most Popular Food Hashtags
These are some of the biggest and most used food hashtags on Instagram!
While they're a great start when building your following, these hashtags are extremely popular and used by millions of Instagram users, so your posts will get easily lost within the insta-noise.
Therefore, we'd recommend only using a handful of these high volume hashtags and mixing them with smaller, specific food hashtags.
#Food #FoodPorn #FoodPhotography #Foodie #Foods #Foodstagram #Foodgasm #Foody #Foodies #FoodLover #FoodBlogger #InstaFood #FoodPics #FoodLovers #EatingForTheInsta #FoodLove #Food52 #FoodPornShare #FoodStyling #FoodBeast #FoodArt #FoodSpotting #FoodBlogFeed #FoodOfTheDay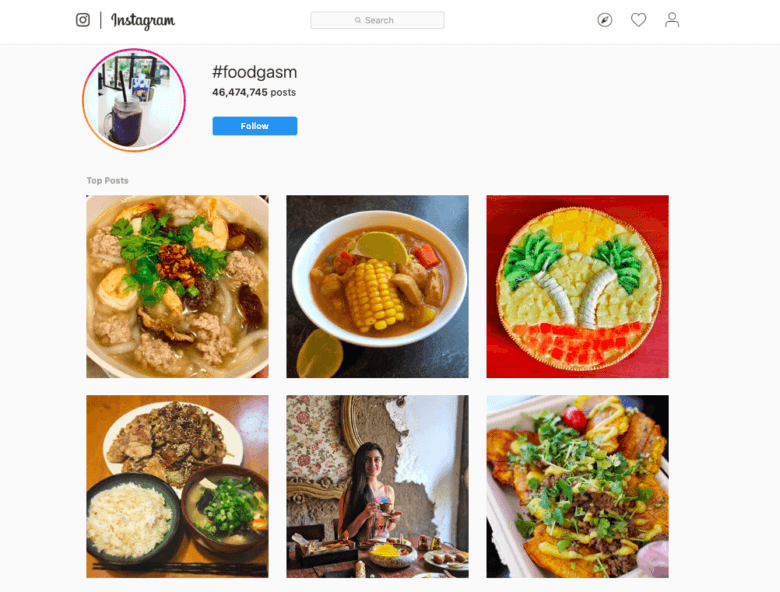 2. Healthy Food Hashtags
These hashtags are great for reaching those who are looking for yummy inspiration to spice up their diet, boost their clean eating regime, or smuggle in those veggies without the kids noticing.
Another popular food niche on Instagram, there is a huge audience out there looking for healthy food that looks and tastes like junk food, so if you have healthy eating secrets to share to the world, use these hashtags to reach out to your ideal audience:
#CleanEating #HealthyFood #JustEatRealFood #VeganFood #HealthyFoodRecipes #HealthyFoodLover #HealthyFoodEating #HealthyFoodSharing #HealthyFoodChoices #HealthyFoodPost #HealthyFoodies #FoodHealthy #HealthyFoodBlogger #HealthyFoodLove #HealthyFoodWithMe #HealthyFoodTips #HealthyFoodPrep #HealthyFoodie #HealthyFoodGuide #HealthyFoodInspo #HealthyFoodRecipe #HealthyFoodForLife #HealthyFoodDelivery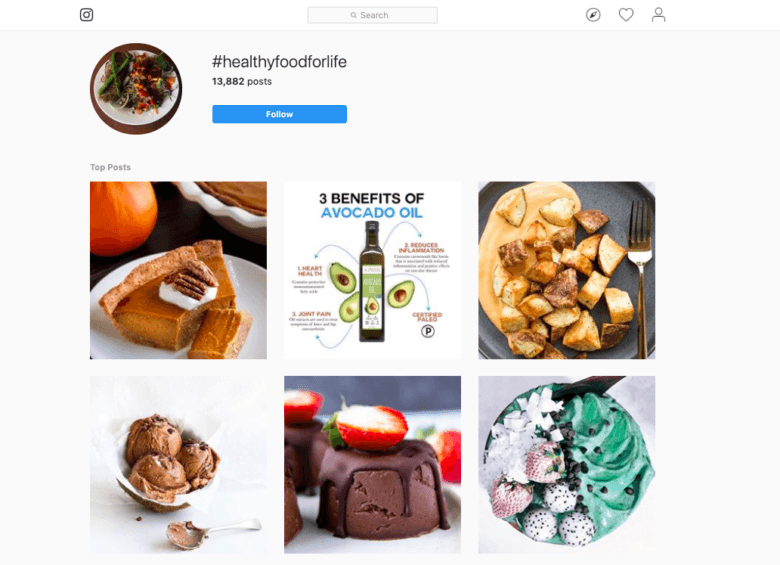 3. Brunch Hashtags
The 'brunch' craze has hit Instagram by storm! Get in with the trendiest mealtime that has taken over the world with these brunch hashtags to attract all breakfast food enthusiasts:
#Brunch #BrunchParty #BrunchIdeas #BrunchGoals #BrunchBuffet #Brunching #BrunchLover #BrunchAndCake #BrunchTime #BrunchFood #Brunchin #BrunchLife #BrunchVibes #BrunchSoHard #GoForBrunch #LoveToBrunch #BrunchFriends #BrunchTime #BrunchMunch #MorningBrunch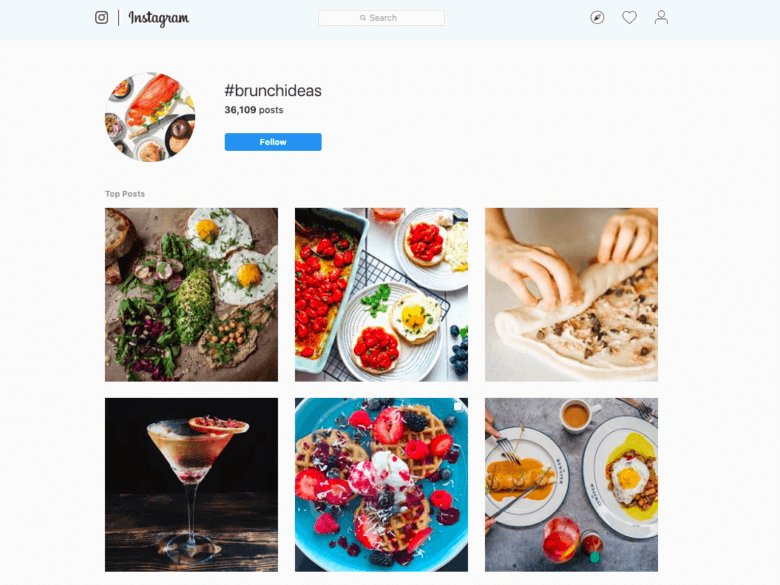 4. Food Truck Hashtags
When we hear food trucks, we automatically think festivals, parties and awesome events. If you have a food truck business or just love that these things exist, share the truck love with these hashtags for more likes:
#FoodTruck #FoodTruckin #FoodTruckFestival #FoodTrucks #FoodTruckStop #FoodTruckers #FoodTruckRally #FoodTruckRodeo #FoodTruckSnash #FoodTruckInspo #FoodTruckNation #FoodTruckFriday #FoodTruckCatering #FoodTruckLife #FoodTruckFood #FoodTrucker #FoodTruckLovers #FoodTruckNight #FoodTruckRoundup #AlwaysFoodTruckin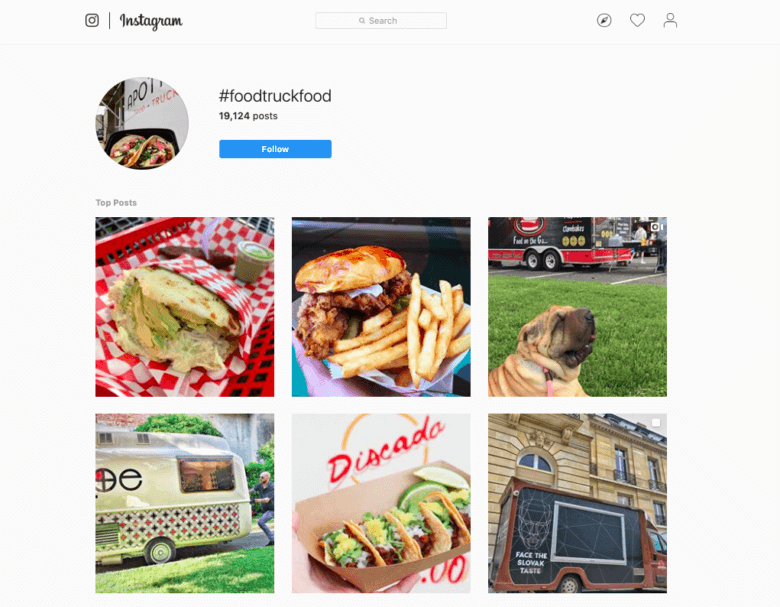 5. Baking Hashtags
Baking has been a pass time for many avid bakers and sweet lovers for many years. From recipes that have been passed down through generations to jaw dropping cake designs, make your baking photos stand out using these hashtags:
#Baking #BakingPost #BakingVideo #BakingACake #BakingSoda #BakingCooking #KetoBaking #BakingLove #BakingFun #BakingMakesMeHappy #BakingAddiction #BakingGoals #BakingDay #BakingBread #BakingIsFun #BakingClass #BakingHobby #BakingFromScratch #BakingTips #BakingPorn #BakingIsMyTherapy #BakingTime #BakingSchool #HealthyBaking #BakingTools #BakingSeason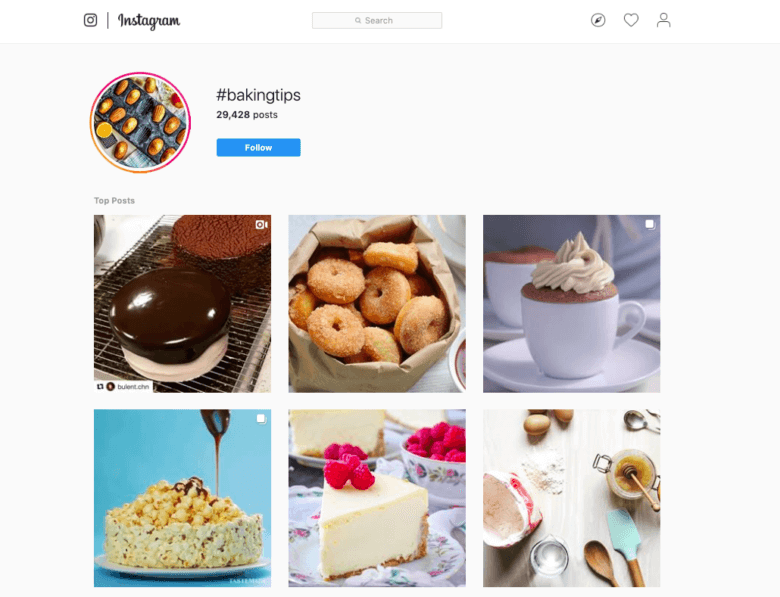 6. Dessert Hashtags
Are you one of those who ask to see the dessert menu before even sitting down in a cafe or restaurant?
We can totally relate. If you're all about the dessert section and want to reach out to fellow cake addicts, use these fool-proof hashtags for more love:
#Dessert #DessertAble #Desserts #DessertPorn #DessertPic #DessertTable #DessertBar #DessertHeaven #DessertBox #DessertMasters #DessertGram #DessertPics #DessertShots #DessertOfTheDay #DessertStory #DessertTime #DessertArt #DessertCups #DessertLover #DessertsOfInstagram #DessertGoals #DessertIdeas #DessertLove #InstaDesserts #DessertBuffet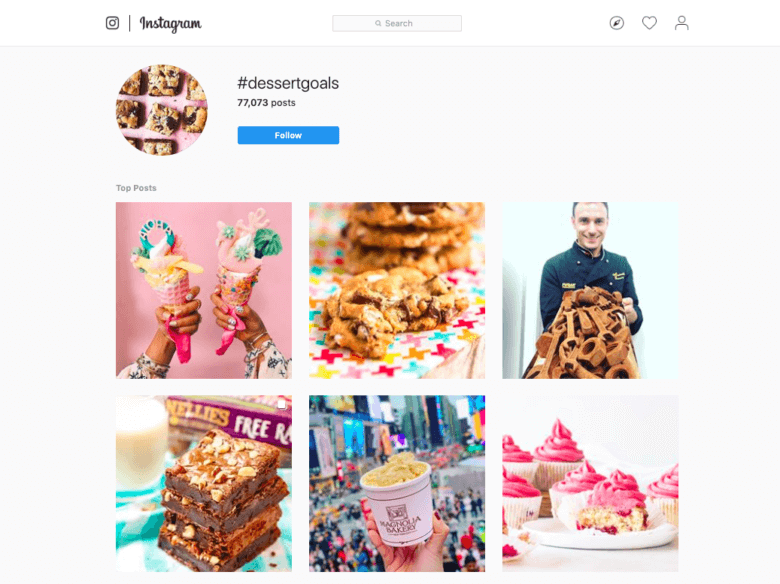 7. Mexican Food Hashtags
Arriba! Arriba! From bursting with goodness burritos, overflowing tacos and mouth-watering guac, Mexican food shines on any social media platform.
If your niche is Mexican food, get those taste buds tingling with these hashtags that are guaranteed to get you more followers:
#MexicanFood #MexicanFoodPorn #MexicanFoods #MexicanFoodBlogger #MexicanFoodLovers #MexicanFoodLove #MexicanFoodies #MexicanFoodIsLife #MexicanFoodPics #MexicanFoodAddict #FoodMexican #AuthenticMexicanFood #MexicanFoodRecipes #BestMexicanFood #NewMexicanFood #MexicanFoodTour #MexicanFoodie #MexicanStreetFood #ILoveMexicanFood #HealthyMexicanFood #MexicanFoodRocks #MexicanFoodPhotography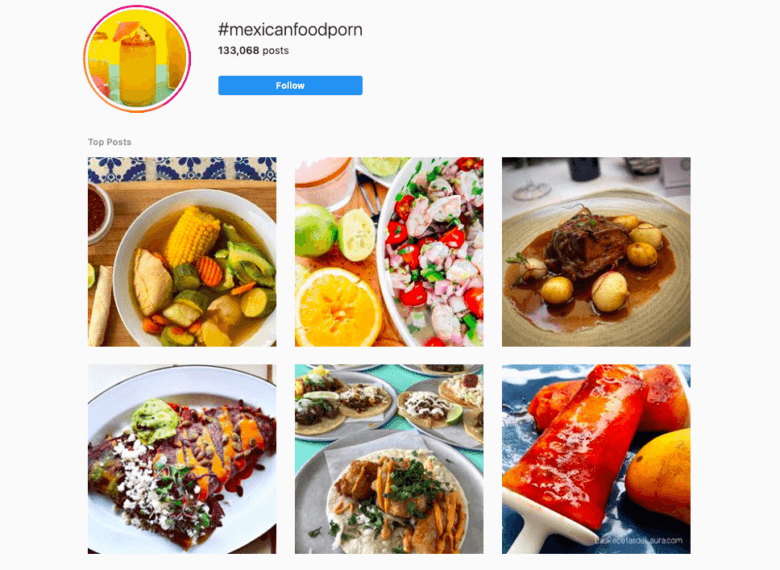 8. Italian Food Hashtags
Buon Appetito! Cooking and presenting Italian food has been said to be something of an art, a craft, an experience thanks to the love it receives from passionate Italianos.
Give your Italian food photos the love and exposure it deserves with these hashtags:
#ItalianFood #ItalianFoodPorn #ItalianFoodLover #ItalianFoods #ItalianFoodPhotography #ItalianFoodLovers #ItalianFoodBlogger #ItalianFoodStyle #FoodItalian #ItalianFoodDelicacies #ItalianFoodBlog #TopItalianFood #OfficialItalianFood #ItalianFoodLove #ItalianFoodForever #ItalianFoodAndWine #BestItalianFood #AuthenticItalianFood #ItalianFoodAddict #ItalianFoodRecipes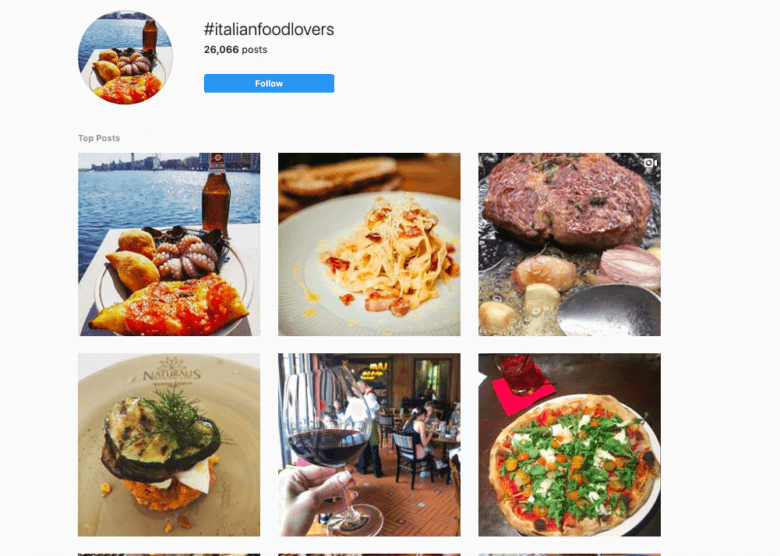 9. Asian Food Hashtags
From the enticing Pad Thai dishes of Thailand to the mouth watering samosas of India, asian cuisine is full of spice, colour and mystery. Tickle your audience's senses and leave them wanting more with these top asian food cuisine hashtags:
#AsianFood #AsianFoodPorn #AsianFoodLover #AsianFoodPhotography #AsianFoodie #AsianFoodLovers #AsianFoodChannel #AsianFoodStory #AsianFoodBlogger #FoodAsian #AsianFoodBlog #TopAsianFood #AsianFoodNinja #AsianFoodShare #AsianFoodFestival #AsianFoodLove #SouthEastAsianFood  #AsianFoodLove #BestAsianFood #AsianFoodMarket #AsianFoodAddict #AsianFoodRecipes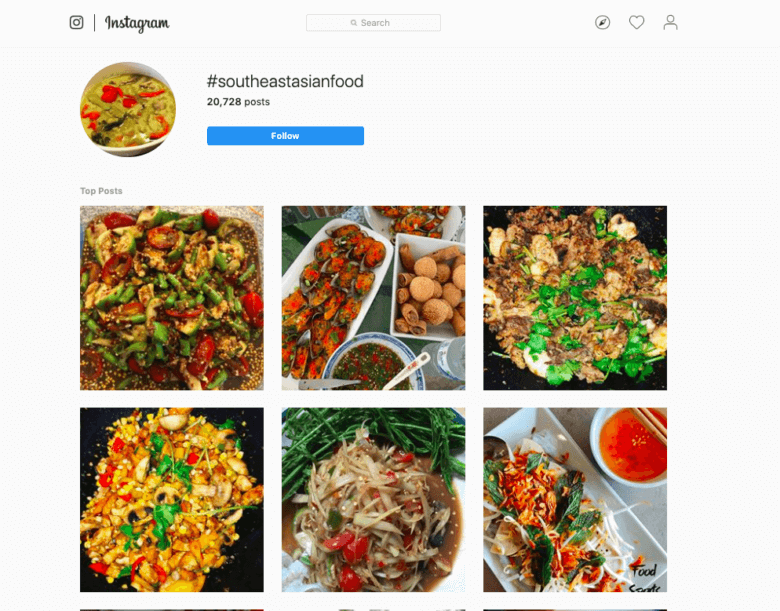 10. Schedule Hashtags In Advance
Search for the most popular hashtags
Add hashtags to your caption
Add hashtags to your first comment
Schedule your post and first comment in advance
Set and forget – Hopper HQ posts automatically for you!
Try Hopper HQ free for 2 weeks and start saving time today!
Final Hashtag Tips
When hashtagging, it's important not to overload or spam your posts with hashtags that don't work and could result in you getting shadow-banned.
The trick is to use a few generic and a few niche specific hashtags to give you the best reach – just make sure they are always relevant to the photo, video or story you've posted.
Check out our All-In-One Guide To Instagram Hashtags here for more tips!
For more top Instagram hashtags by niche, take a look at our other guides:
Top Photography Hashtags 📸
Top Travel Hashtags 🍕
Top Fitness & Health Hashtags 🏋️‍♀️
Top Fashion Hashtags 👗