Writer's block? Take inspiration from these Instagram caption ideas…
Instagram has over 1 billion users worldwide. It's an incredible marketing tool to generate traffic, sales, and increase brand awareness. But, few brands use it correctly.
Engagement is one of the biggest indicators of success. You can have all of the followers you want, but likes, comments, and plenty of activity is the goal. What's one of the best ways to achieve this? With great Instagram captions! 
In this article, you're going to learn how to craft Instagram captions that attract comments, make your posts interesting, and help you get to the top of the Explore page!
Why Instagram Captions are Important ⭐️
Many posts on Instagram are bland. The caption consists of a few emojis or a rehashed saying that's been used 1,000 times. Great Instagram captions allow you to stand out from the crowd and develop a loyal following. It shows that you're different and put effort into your content, which users will appreciate.
It's also been proven that upwards to 82% of customers feel more connected and engage with brands that produce custom content. If you get more activity as a result, your posts are more likely to be shared by Instagram's algorithm.
Instagram Caption Ideas 💡
Now that you understand why captions are crucial for your Instagram strategy, let's dive into some practical ways you can begin creating them. Feel free to add your own twists and ideas to make these strategies even more unique.
1. Ask Followers to Tag a Friend 👥
People use social networks to, as you could guess, be social. It's natural to want to share content with friends and you can use this to your advantage in your Instagram captions. All you have to do is simply ask your followers to tag a friend that would also enjoy the post. Look how Peachonomics pulled this off with one of their giveaways: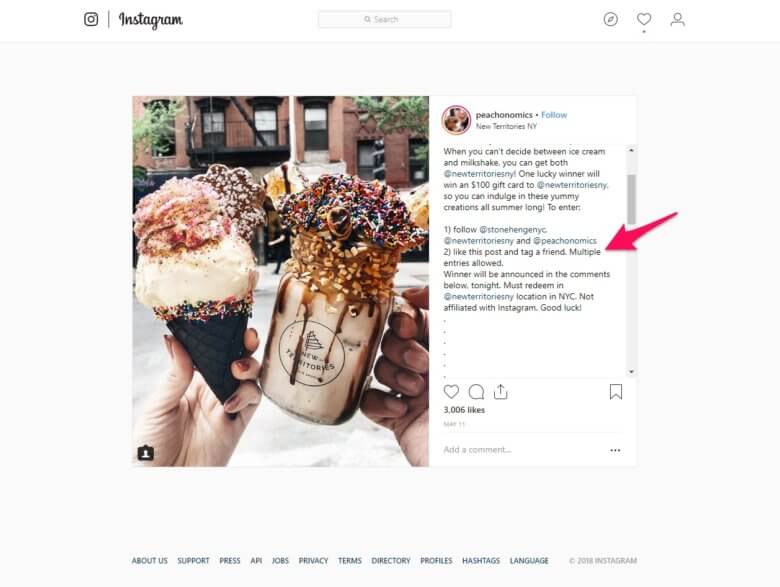 In their Instagram caption, they asked their followers to tag a friend for the chance to win a $100 gift card. Also note that to be entered, you have to like the post and be following them. This boosts their overall engagement, making the post go viral.
You don't have to be hosting a giveaway to use this strategy, though. Something as simple as asking followers to tag a friend that relates to the photo is a common approach. This Instagram caption idea creates a chain effect, enticing tagged users to do the same. 
2. Capture Attention by Storytelling 📚
Stories are one of the best ways to create an emotional connection with your audience. Thus, they make an excellent Instagram caption idea. You can tell a story in one of three ways:
Sharing a story that you experienced yourself.

Using the story of another person.

Creating a fictional story that relates to your content.
Let's look at an example of the first type: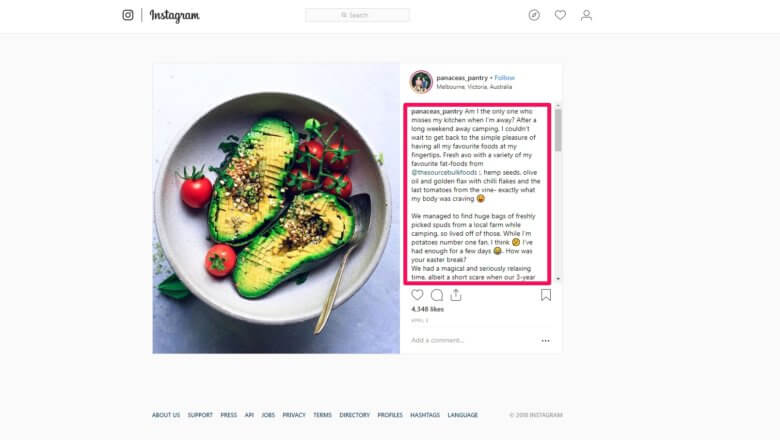 This user shared a personal story that directly relates to the photo she uploaded. They intertwined questions and emojis to make the Instagram caption more lively as well.
Stories about other people or events also make great Instagram captions. This could include stories about previous customers' experiences, or even a historical figure that relates to the post. It's okay to make up a fun story to go along with a photo, but avoid fabricating products or anything you sell. The goal is entertainment and creating emotions with storytelling to make your Instagram captions stand out.
3. Ask a Question ❓
Perhaps the simplest yet most brilliant Instagram caption idea is asking a question. Imagine that you run a finance Instagram page and post an infographic about money saving tips. You could make the caption "What's your favorite tip? Leave the number below." Users will reply with what they thought was the most helpful one.
Another way you can use this Instagram caption idea is to upload multiple photos and ask which one your followers enjoy the most. "Which is your favorite? 1, 2, or 3?" can be insanely effective, as users only have to give a quick number response.
Plan & schedule Instagram posts ahead of time.
Video, gallery, image & text only posts
Fully automated. No 'reminders'
Instagram, Facebook & Twitter
START PLANNING YOUR POSTS NOW
4. Use Quotes 📃
You can't go wrong with famous or inspirational quotes in your Instagram captions. If it's well known, your followers will recognize it and will be more likely to engage with your post. But, user-generated and personal quotes are even more impressive. They take more energy to create and are completely unique to you. Look how GoPro pulled this off: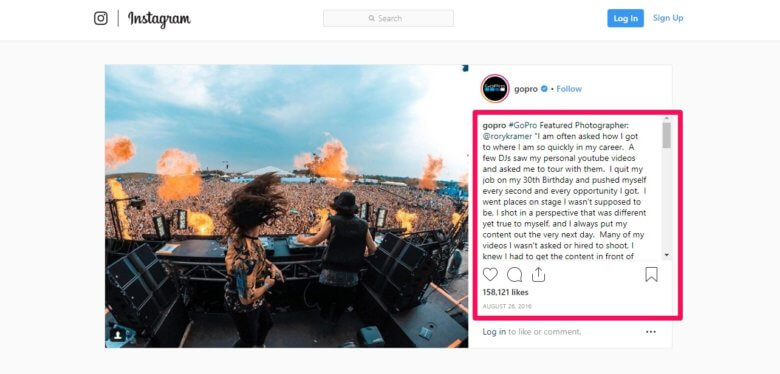 They used a quote from a photographer that used a GoPro to take this epic shot, along with an inspirational story about his career. Similarly, think how you can incorporate this Instagram caption idea into your marketing strategy! 
5. Use Calls-to-Action 📞
A call to action is one of the oldest Instagram caption ideas in the book. It plays on the human psychology of wanting to be told what to do. One of the goals in business should be to make things as easy as possible; a call to action takes the thinking out of the situation for users.
You can use calls to action in Instagram captions for achieving any business goal you have. This might include:
Having users click the link in your bio to download a

lead magnet

.

Funnelling traffic to a product page.

Following other accounts you own.
"Click the link in our bio for more", "Follow @account for similar content", and "Buy it now by clicking the link in our bio" are all examples of practical calls to action for Instagram captions!
6. Add Emojis to Make Captions Come Alive 😎
A picture can mean a thousand words—or in this case, an emoji. Every emoji has an extra or deeper meaning behind it. In today's world, they're used just as much as punctuation. A study found that 48.9% of US adult internet use emojis on social media and while texting.
That's why you should try adding emojis to your Instagram captions. Don't go overboard. Too many and your post will appear lower quality. A few at maximum will allow you to highlight certain points, catch the eyes of users, and make your content more fun.
Schedule your Instagram posts.
Fully automated posts. No phone required.
7. Write a Short Blog Post 📖
Did you know that Instagram captions can include up to 2,200 characters and 30 hashtags? Many marketers are only using a fraction of that. While it works in some cases, as we've touched on with other strategies, doing the opposite is a good idea too!
Instead of using witty lines and emojis, heavily elaborate on your photo. Turn the Instagram caption into a blog post, giving users background information and extra facts. This cuts through the static and makes your account stand out among shorter captions.
If you're promoting a product, elaborate on the materials, benefits of purchasing it, and the process of how it's made. Finish it with a call-to-action, and you have the perfect formula for an Instagram caption that generates results.
8. Take The Minimalist Approach 💡
So, you've learned how to write better regular and long-form Instagram captions. What's next? Letting the picture speak for itself. Sometimes, you don't need to add much of a caption at all! This is especially effective for attention-grabbing, viral, and outrageous content. Red Bull pulled this off perfectly with this photo from a campaign they did for free-climbers: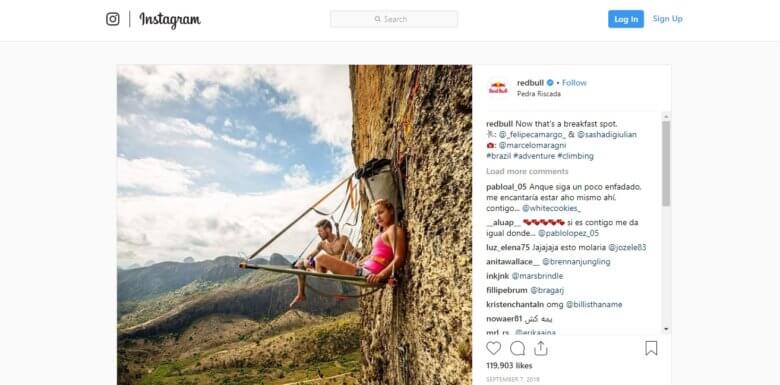 9. Speak in Your Audiences' Language 🗣
Every target audience speaks in a different way. Sure, they might use the same language, but their slang, grammar, vocabulary, and words they resonate with differ. If you can tap into how your followers speak, you have a great tool for crafting epic Instagram captions. They will relate more to your posts and feel more compelled to like, comment, and share it!
Heck, 74% of users get frustrated when brands serve them irrelevant messages. It makes it look like you haven't done your research or care enough to do it.
So, how do you avoid this? Simple. You just need to analyze previous comments on your account and visit the accounts of other brands in your niche targeting the same audience. Create a swipe for what you notice, such as:
What words and phrases you see used repeatedly.

Critiques they make about content so you can avoid making similar mistakes.

The most used emojis.
Begin implementing these findings in your Instagram captions and see the results for yourself!
Conclusion
Don't limit yourself to boring Instagram captions anymore. There are so many ways you can make your caption pop from the Instagram feed if you take a few more seconds before posting.
To recap on our Instagram caption ideas: the first strategy is to ask your followers to tag a friend that would also enjoy the content. This creates a viral effect, bringing in more highly targeted users to your page.
Next, try telling a story within your caption that relates to the photo. This is ideal for personal pictures that show behind the scenes scenarios and intimate parts of your life. Don't be afraid to use most of the character space, plenty of emojis, and emotionally charged words.
Quotes also work very well to capture attention, especially if they are customer testimonials, people you've collaborated with, or even ones from yourself. There's nothing wrong with using a famous quote either, as more people will recognize it.
For those times that you're stuck looking at your phone and feel flustered coming up with an Instagram caption, just ask a question! It's easy, stimulates your followers' brains, and gets them sharing their opinions.
Make sure throughout all of these strategies that you speak in a tone and use grammar that your audience relates to the most. For example, you probably wouldn't use very complex words and stiff writing when marketing to teenagers—you'd add more personality, casualness, and emojis.
No matter what strategy you use from today, you can always finish it off with a call to action for double the effect. Tell your followers to visit your website or take whichever action gets them closer to achieving our business goals. So, what are you waiting for? Go create the next Instagram caption that goes viral!
Guest Author:
Emil Kristensen is the CMO and co-founder of Sleeknote: a company that helps e-commerce brands engage their site visitors—without hurting the user experience.

The Ultimate Instagram Course
Learn how to build a relevant & engaged following. Create better content & leverage Instagram for your business.
Register Now
Free for Hopper HQ customers • Updated October 2017