B2B social media marketing has its challenges, and it can be difficult to know if your campaigns are succeeding. Follow these steps to keep on track…
Measuring social media marketing ROI for B2B companies has never been easy. The struggle is in tracking ROI beyond the usual likes and followers. These metrics are half measures — they hardly ever go far enough!
Available statistics show that more than 80% of people who like a Facebook page never return to view it again. To truly measure your success with B2B social media marketing, you must monitor your engagement, reach and conversions and create a strategy. Anything short of this would be inadequate to show you whether you're succeeding or not.
Are you one of those B2B social media marketers who is not seeing quite the results they had hoped for? You are not alone.
According to a recent study by Adobe, 88% of marketing experts do not accurately measure how effective their social media initiatives are. CMO did a similar study and found that while many B2B companies are spending a lot of money on social media, the results are unimpressive.
The following are some steps you can take to ensure that you get a return on your investment in B2B social media marketing…
Plan & schedule social media ahead of time.
> Video, gallery & image posts
> Calendar, feed & grid preview
> Instagram, Facebook & Twitter
1. Understand your goals
Social media marketing goes beyond posting on social media sites. If all you do is post a picture or a video on social media and then wait to see results, you will be frustrated.
Before anything else you must understand your goals. What do you aim to achieve? What will a successful social media campaign look like for your business? Take time to clearly define every goal you hope to achieve.
These B2B social media marketing goals could include:
Increasing sales – the majority of B2B companies seek to increase their leads and ultimately improve their sales.
Decreasing costs – the aim here is to increase conversions while using the lowest possible cost.
Improving the experience of the customer – by making the customer happy, a B2B company increases the chances of getting repeat sales from businesses it has worked with in the past.
A good example of a brand that clearly understands its social marketing goals is Microsoft.
As a result, they know exactly what platforms to put their greatest efforts in. Microsoft often uses Instagram to tell its followers about the communal projects it is undertaking, as well as share photos and videos of the new technologies it is working on.
Take a look at a video post that Microsoft recently published on Instagram that has already been watched over 71,000 times:
The multinational corporation uses Facebook to share article links and videos about its latest products and technologies. Take a look at a Facebook post it published recently which got over 140 shares: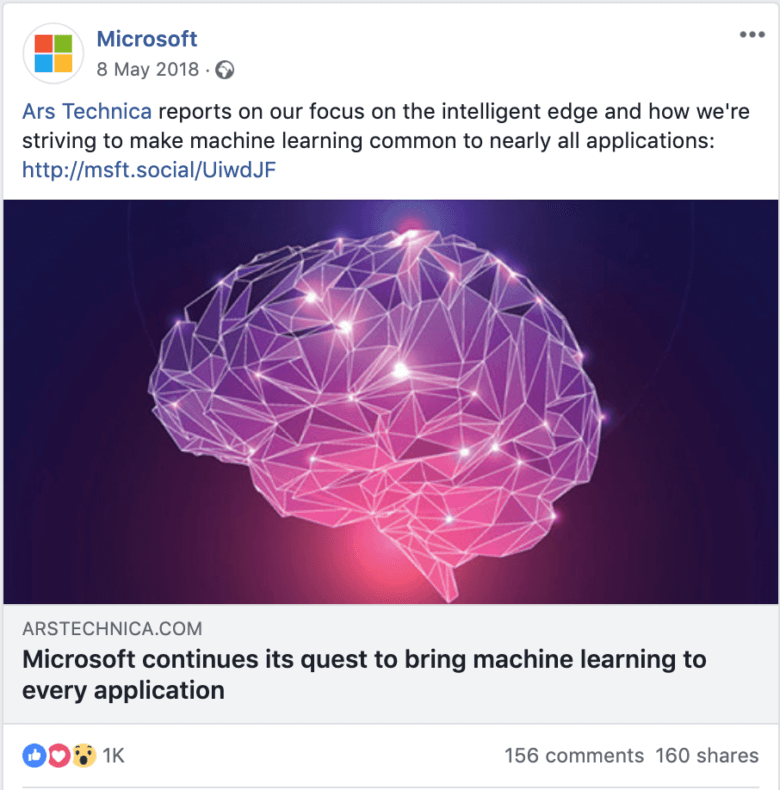 2. Define metrics
Clearly define all the metrics you will be using to achieve your B2B social media marketing goals. These include:
Impressions

Buzz shifts in the marketplace

A growing fan base

The number of social mentions of your brand

The number of social mentions of your competitors

Rate of retweeting and sharing

Number of embedded or installed programs or applications

Number of downloads

Number of views for the videos

Increase in the organic traffic to your site

Registration for your newsletters and webinars

The traffic that your social media channels ring to your site
As you can see, there are many things to track, many metrics to keep your eyes on. So, how do you decide what to spend most of your resources tracking?
You make this decision based on the type of company you have and the results you hope to attain at the end of your B2B social media marketing campaign.
3. Reach – how many people did you impact with your message?
This is usually a good place to begin: quantify the number of brands you have impacted with the social media content you have shared.
If no one notes it when you post something on social media, then you should know that something is very wrong with your approach.
By taking a look at the impressions you are getting, you can see a general picture of how many people are interested in your business proposition. The lower the number of impressions, the less inspiring your social media content.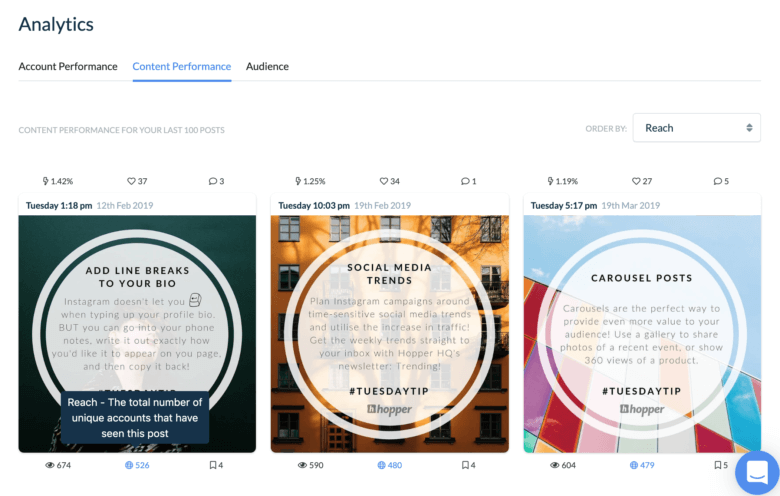 4. Start tracking campaigns and platforms
After developing all the tools you need and the analytics capabilities that will help you measure your ROI, set up tracking for both your social media platforms and all the campaigns thereof.
Constantly compare your results across the various social networking sites. Crunch the numbers; find out how many website visitors you are getting from Facebook compared to Twitter, Instagram, LinkedIn and other social media websites.
Explore The Data Behind Your Social Media Accounts 📊
Find the best time to post, track your follower growth, and understand what content works best with post and account analytics.
Go beyond the superficial look at the social media campaigns to see how you can use the data you are gathering to better your future campaigns.
In the event that engagement level is low, rethink the existing plans to see what can be done to achieve better results. Remember, for B2B companies, your focus should be on engaging with business executives and decision makers in various companies. If your message is not resonating with this group, it must be dropped and another better one formulated to replace it.
5. Quantify the value of traffic
Not all traffic is equal. Based on the results the traffic brings your business, some traffic types are more helpful in advancing your B2B social media marketing cause than others.
If your company has an ongoing pay-per-click marketing campaign, it is important to keep tabs on the cost of such a campaign vis-à-vis the results the campaigns bring your business.
This data is also often helpful to social media marketers; it helps them understand the existing cost of conversions and figure out how they can record better numbers through social media.
For instance, the social media marketer could decide to incorporate paid tools if they believe that doing so would speed up the growth of the company's Instagram page, increase traffic from this social site and still spend less than the existing pay-per-click marketing initiatives.
Take a look at the following Twitter audience demographic for Chainlink Relationship Marketing: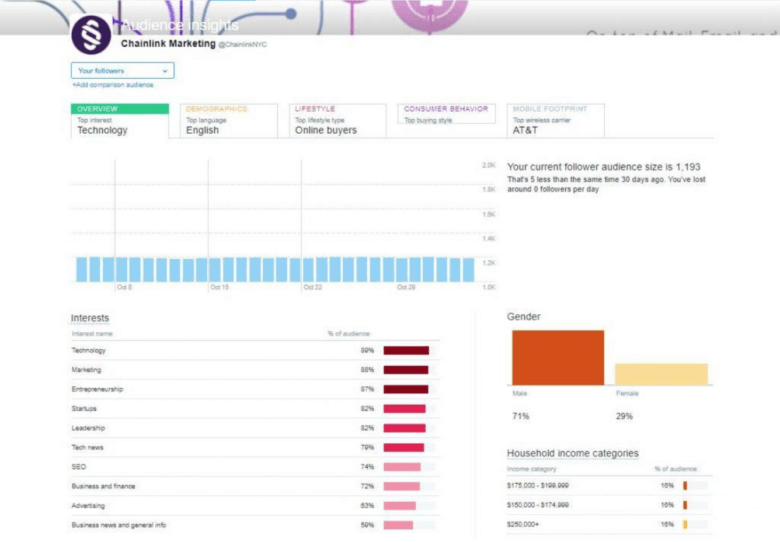 Using these insights, the company is able to continuously adjust its marketing initiatives to better target the businesses and business executives best positioned to use its services.
Using insights into its audience's household income and education level, the company is able to tell what exactly is the value of the traffic it is getting from Twitter and formulate ways to increase this value.
6. Implement closed-loop analytics
The advanced technology that many social media marketing experts now have access to has made it possible to implement closed-loop analytics.
While the phenomenon is still quite new, digital marketers who have taken this approach are gaining a deeper understanding of the level of success their social media campaigns are bringing them.
Closed-loop analytics help businesses figure out exactly which of their marketing initiatives are giving them the best results. That is why sometimes when submitting your email address for a free eBook, or to subscribe to a company newsletter, a question regarding how you came to know the company.
The firm is just trying to close the loop. Furia Rubel Communications, a public relations and integrated marketing B2B company takes this approach. See the image below: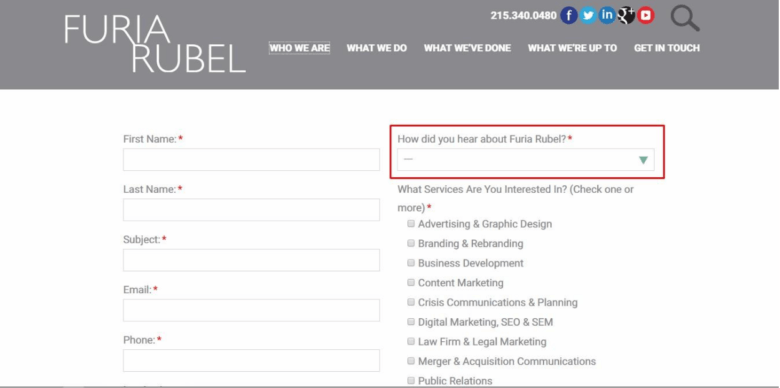 Unlike yesteryears where this information was hard to come by, today's web technologies can tell you a lot about every one of your website visitors. And given how rare it is for a first time visitor to a B2B website to convert, many companies in this space spend the biggest chunk of their advertising budget on retargeting.
Today there are various tools that can help you keep track of these potential customers, and follow them across the web until they finally convert. All the while monitoring the path the customer took until they finally bought your product or service.
7. Conversion – track how many people took action because of your message
A common approach to B2B social media marketing is using your website as a hub for which everything you publish on social media comes from.
This allows you to see how convincing your messages are on social media, driving people towards visiting your website. To find out the rate of conversions, digital marketers include special pages that someone who completes an action is redirected to.
This page from Business Broker World is a good example of a special page that website visitors who complete the website form are redirected to: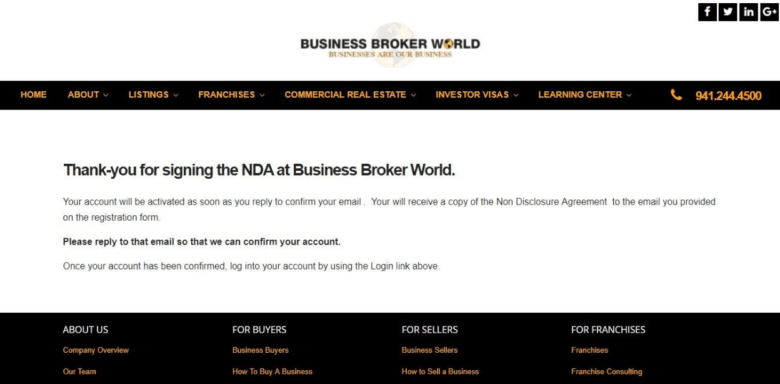 The traffic these special pages receive is a direct indicator of the number of people taking action based on your marketing campaign messages.
Google Analytics is an excellent tool in tracking conversions. By setting up goal tracking on Google Analytics, you can keep tabs on every conversion activity you have, including webinar registrations, content downloads, online sales, form completions and phone-in leads.
Using the data you obtain here, you can see how effective your marketing messages are and consider changing them to see how the numbers change!
Simple Post, Story + Reel Scheduling ✨
Visually plan your social content. Instagram, TikTok, Twitter, Facebook, LinkedIn + Pinterest
Conclusion
From choosing the right social networks to create brand profiles and maintain a presence in, to creating the right content for each social platform, all marketers must seek to create a strategic B2B social media marketing strategy centred on increased engagement and improved conversions.
Social media watchers predict that social media will continue to play a key role in marketing initiatives in the B2B space. Therefore, you should create a marketing plan that incorporates regular reevaluations of the campaigns you are running and the content you are sharing, so that you can make the changes needed to give you better results.
Make maximum use of the analytics dashboards that each social networking platform provides and look for other advanced ways to evaluate your social media efforts.
Ultimately, it is the combination of different methods and tactics of social media success measurements that will give you deep and clear insights into the impact each of your actions is having on the level of success your B2B firm is achieving through social networks.
---
Author Bio
Marquis is a writer, social media manager and SEO content marketer.  She currently lives on the coast of Ecuador, working remotely as a freelancer. Her primary focus is on building online visibility of new, up and coming brand, particularly brands that promote health and wellness. She lives a nomadic lifestyle, though is originally from California.
---
Hopper HQ is a visual planning and management tool for Instagram, bringing back the creativity to social media scheduling and freeing up more time to focus on the areas of marketing you love most. Sign up for a free 14 day trial today.