Social media marketing is an ever-changing game, and with a new year upon us, we've created a guide to help businesses succeed across all social networks…
Social media is a staple area of digital marketing for businesses of all shapes and sizes, industries and audiences.
However, with updates and new releases making it an ever-shifting landscape, brands need to keep up to date with the latest developments and changes to the space in order to benefit from their social channels.
Apply the practical advice in this guide to help strategise your social media marketing plan for 2023…
Contents:
Hopper HQ's Top Tips For 2023:
Simple Post, Story + Reel Scheduling ✨
Visually plan your social content. Instagram, TikTok, Twitter, Facebook, LinkedIn + Pinterest
1. Social Media Marketing: The Basics
In 2023, it's estimated that 3.5 billion people will use social media networks worldwide. That's almost 40% of the globe's population. With those kinds of figures, it's no surprise that businesses put so much effort into social media marketing.
If you're just starting out on your social media marketing journey, I recommend you check out our Social Media Marketing Glossary for a full list of definitions to bring you up-to-date with all the jargon!
What is social media marketing?
Social media marketing refers to business activity on social media platforms which contributes to marketing objectives such as brand awareness, website traffic, and customer acquisition.
This activity is predominantly in the form of content —such as text, images and videos — but also includes community engagement and paid ads.
At the heart of great social media content is the audience's desire to share it. When your audience share your content, they become your channel of distribution.
Whether it's tagging a friend in an Instagram post or retweeting something to their audience, content that is highly relevant and visually attractive is likely to receive high engagement and shares.
What is the most effective social media channel?
There's no straightforward answer to this, and social media marketing isn't a one-size-fits-all solution.
Different social media channels generate better results than others for certain business objectives, and the content published will also vary depending on these factors.
For example, a video on Facebook is unlikely to be more effective for driving business audience traffic than an article on LinkedIn, and so on. The great thing about this is that you can utilise the different social channel's purposes for different kinds of marketing campaigns, ensuring the content is highly tailored for that platform and audience. More on this in the strategy section!
(As you can see, there's immediately a lot to consider when it comes to social media marketing, so it's no wonder companies have whole departments dedicated to the cause…)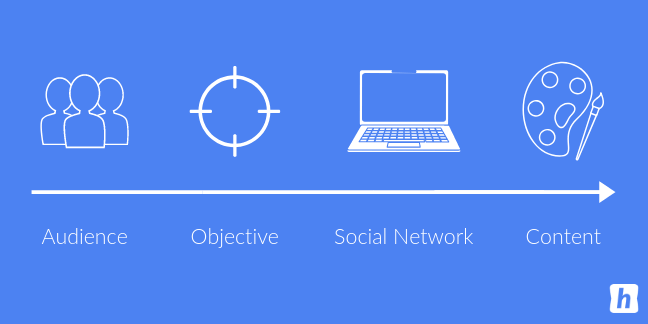 What are the benefits of social media marketing?
As mentioned, the specific business outcomes of social media marketing campaigns (such as sales, traffic etc) will depend on what objectives you set in the first place.
However, there are other general benefits that come from brands being active on social media, such as:
Being more discoverable 🔍
If you're posting content on a number of social media channels that's tailored to your target demographic, you're naturally likely to be discovered by new potential customers.
Having valuable conversations with customers 💬
It's no wonder so many companies use Twitter for customer support, or run Q&As on Instagram Stories. Social media marketing offers a personal and informal way to get to know your audience.
Recruitment opportunities 👥
Social media marketing makes it easier than ever to share company culture and the people behind a business with the world. This not only increases customer loyalty but also helps when it comes to hiring brilliant new people!
Building a community 🤝
No matter your industry, social media marketing helps to connect you with your target audience and other relevant businesses.
With every app-update comes more creative ways to enhance your social media marketing and hit those KPIs.
The benefits are endless, and the more you learn about what platforms and content work best for your objectives, the more you'll get out of social media marketing!
2. How To Create A Social Media Marketing Strategy
Now we've covered a brief overview of what social media marketing is and how it can benefit your business, let's move on to the practical bit.
Before diving straight in with a few tweets and Instagram posts, all social media marketing activity needs to start with a strategy.
NB. If you're already well set up with social media marketing and have your strategy in place, you can probably skip this part and head straight to our top tips for 2023!
#1 Set your objectives 🏅
As discussed, you can't plan which channels to use or what kind of content to produce until you determine your business objectives. i.e what do you want your social media marketing to achieve?
Deciding these targets in advance will:
Save time and resources
Ensure you're not producing content 'for the sake of it'
Help you establish the key metrics to track success
These objectives will naturally vary business to business, which is why there isn't a blanket answer for 'what works best'.
Write a list of everything you want out of your social media marketing activity, and then prioritise them in terms of value for your business. Once you have your core objectives decided, you can proceed with the next steps…
#2 Outline your audience 👥
Just as it's important to outline why you're using social media marketing, you also need to clarify who you're trying to reach. This will help to determine which social channels will be most effective for your objectives.
For example, 72% of teenagers are on Instagram, whereas the majority of Twitter users are aged 18-29. Depending who your target demographic is, you might decide to prioritise a certain social network over another.
Clearly outline your audience demographic, and go into as much detail as possible: age, gender, location, hobbies, interests, challenges they face, where they hang out, what other brands they like – the lists can go on and on.
Determining these characteristics will ensure you use the best social networks to reach them, and also cater your content to best reach your objectives! See how it all links up?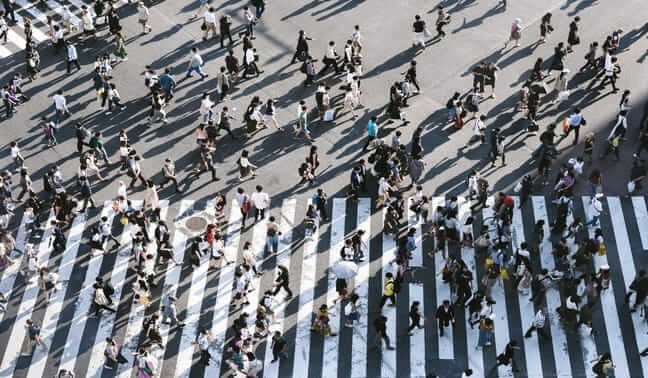 #3 Market research 📈
Analysing your competitors' social media marketing activity is an important and valuable part of your strategy. After all, their target audience is your target audience. Spend some time researching:
Which platforms they're most active on
What kind of content they publish
How much average engagement they get
What hashtags they use
What tone of voice they use
What kind of conversations they have with their audience
What call to action they promote
The list goes on…
Taking the time to do this social media marketing analysis will put you in a good position to decide which platforms are best for your audience and objectives, as well as help you get to know your target demographics' behaviour on social media.
#4 Prioritise social networks 📱
With all of the above strategising, you should now have a pretty good idea of which social networks are most valuable to your business.
All social channels can benefit all businesses in some ways, but you will spread yourself too thinly by trying to be highly active on all of them.
Instead, prioritise which networks are the most effective for your audience and business objectives, and focus on producing different kinds of content to maximise results.
If you sell a consumer product which lends itself well to visual marketing, Instagram should be the obvious choice. Contrastingly, if you are a B2B service provider you'll probably find Twitter or LinkedIn more effective.
Find out how to verified on Twitter here.
#5 Set brand guidelines 📋
This an important step for any social media marketing strategy, particularly if you're working in a team.
Brand guidelines should cover all details regarding brand activity on social media – and should be clear and accessible to everyone with access to the social accounts.
Outlining these details early on in your social media marketing strategy will ensure everyone is on the same page, and help you create a consistent and recognisable brand persona on social media.
Here are some things you'll want to consider including in your social media marketing brand guidelines:
Brand voice
What kind of tone/language do you use? Is it the same on every platform?

Use of emojis
How formally/informally do you want to be perceived?
Use of hashtags
Which hashtags do you always use on each social network? Which do you want to avoid?
Protocol on interacting with audience
Who is responsible for replying to comments and messages? Do you reply personally or as the brand?
Banned words/topics
There are some things you never want your brand to talk about on social media – even if it's obvious to you, avoid any potential faux pas by outlining them in the guidelines
These are just a few examples – but the list will go on depending on your brand and how many social networks you're using in your marketing.
Remember, however you decide to portray your brand on social media, the important thing is that you stick to your guidelines! You want your audience to feel a familiarity that will engender loyalty, so ensure your activity across all social networks is consistent.
Missguided have a very clear and recognisable brand voice on Instagram which is well aligned with their target demographic:
View this post on Instagram
#6 Plan your content 📸
Now comes the more creative part – deciding what type of content will best achieve your objectives on each social network. This may vary depending on resources, but predominantly involves weighing up:
Photos
Videos
Graphics
Articles
Livestreams
Stories
It's hard to know where to start, so try and think about your target audience and really get to the heart of what matters to them and what they're most likely to react to.
If you've carried out your demographic and competitor market research thoroughly, this hopefully won't be too difficult a decision!
All of these content options have sub-categories to consider, for example, if you decide that Instagram photos will make up the majority of your content, you'll need to think about:
What the photos are of
What style they are taken in
Colour scheme and feed aesthetic
Who will take them
Where they'll be taken
Using user-generated photographs
A lot of these details will take shape as you get going and learn what your audience best respond to, and it's good to adjust your content accordingly!
#7 Use a content calendar 🗓
Social media marketing is a huge task, especially when you're active across many different channels. Without sufficient planning, it's easy to post sporadically or neglect certain social networks.
The best way to stay on top of all this content is using a social media marketing calendar, so you can see how frequently you are publishing and ensure posting consistency.
Using a content calendar, you can plan ahead for big events or milestones, brand announcements, or relevant social media holidays!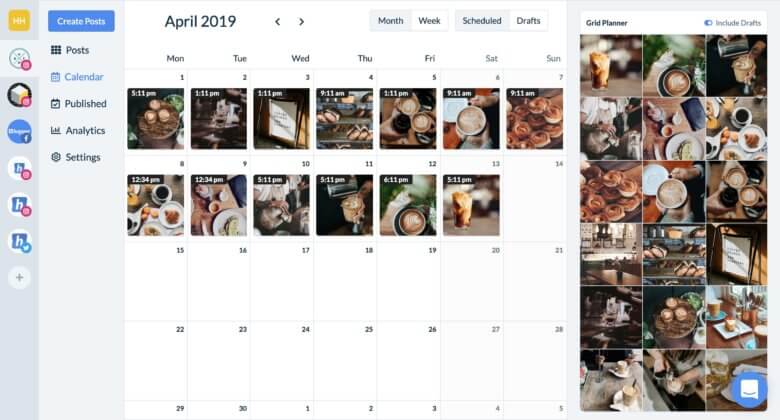 #8 Schedule social media content ⏰
If you want to save yourself hours of time and generally enhance the quality of your social media marketing, you need to schedule content.
Using an automated management and scheduling tool like Hopper HQ, you can bulk upload your photos, videos and text posts for Instagram, Facebook and Twitter — and set them to be published in the weeks ahead!
Scheduling social media content in advance improves efficiency, keeping everything in one place and freeing up more time for content creation and other creative aspects of social media marketing.
For practical advice on how to get started, check out our step-by-step guides for how to schedule posts on Instagram and Facebook!
#9 Track your metrics 📊
Last but definitely not least! One of the most important aspects of social media marketing is that you track the metrics and KPIs linked to your objectives for each social network.
It's all well and good putting out excellent material and engaging with your audience, but if you aren't listening to the numbers you won't learn what works best. You might think a Facebook campaign is brilliant, but if it doesn't do what it was meant to, then it's a waste of time and resources.
By tracking key metrics you can develop and optimise your activity and become excellent at social media marketing!
With business social media accounts, you have access to insights such as reach, impressions, engagement as well as information about your audience demographics, such as age, gender and location.
Explore the data behind your Instagram account.
Find the best time to post on Instagram
Track your follower growth overtime
Understand your post engagement
TRY INSTAGRAM ANALYTICS NOW
Whether you're just starting out with social media marketing or are looking to reconsider your strategy, follow those 9 steps to skyrocket your presence across social media networks and smash those targets!
3. Hopper HQ's Top Social Media Marketing Tips For 2023
Now you're feeling ready to dive into social media marketing, here are some of our top tips for your strategy in 2023 for Instagram and Facebook…
Instagram 📷
The most engaged social media channel in the world, Instagram is a necessity for brands of all shapes and sizes. The Instagram algorithm is constantly evolving, and consequently changing the game for social media marketing.
With competition higher than ever, brands needs to keep up to date with new features in order to grow an engaged following on Instagram.
💡 More info on the Instagram Algorithm here 💡
#1 Post user-generated content
Instagram is first and foremost about community, and one of the best performing types of post on the app is user-generated content.
This is when brands share photos taken by a user on their business profile, and is a great opportunity to acknowledge customers while spreading brand awareness.
User-generated content has a 4.5% higher conversion rate on Instagram, proving its value for businesses. UGC is really a win win for consumer and brand for a number of reasons…
Benefits of User-Generated Content on Instagram:
Community building 👷‍♀️
By acknowledging and encouraging customer's posts about your business, you're interacting with your audience and building a community!
Customer loyalty 🤝
Stemming from this sense of community is an increase in customer loyalty. If you're taking the time to engage with your customers and share their content on your profile, they will feel happy and fall in love with your brand that little bit more.
Free content 🖼
A huge perk of UGC is that your customers are essentially doing your social media marketing for you! 75% of users find UGC more authentic, and finding ways to humanise your brand on Instagram is always a win.
Increased reach 📈
UGC often receives higher engagement than branded content, meaning the algorithm will receive the nod that it's a strong post and increase its reach. Similarly, the person who took the photo is highly likely to share the post or tag friends in the comments!
The king of user-generated content on Instagram is undoubtedly GoPro, with almost 100% of their content being taken by athletes and explorers in their community!
They've made UGC align so perfectly with their brand, showing that it's not just about the camera, but about where you go and what you do with it.
Their Instagram profile has become a travel and adventure inspiration feed with their product at the core, all thanks to user-generated content:
But it's not only products that can utilise UGC on Instagram! Websites such as Booking.com share photos of incredible travel destinations taken by the Instagram community, making their feed a haven for anyone with a dose of wanderlust.
Similarly, Parkrun share their members' running posts to tell their stories of fitness and positivity. These are great examples of brands thinking outside of the box, celebrating their community, and using UGC to make their social media marketing more meaningful.

How to use User-Generated Content on Instagram:
Sounds good right? You can make the most of this social media marketing strategy in 2023 by sharing photos your community are posting!
Create a brand hashtag for your business profile and encourage your followers to use it so you can find all relevant UGC on Instagram.
Remember: you need consent to repost somebody's content! Drop a comment on the post asking permission to feature it on your profile – this is also a great chance to chat to customers and get your brand personality across!
#2 Post when your audience are active
This may sound obvious, but is more important than ever as the Instagram algorithm continues to change the way we use the app.
The faster an Instagram post gets likes, comments and shares, the higher the algorithm ranks it as a piece of content, revealing it to more of your audience and giving it an organic boost.
The easiest way to ensure fast engagement on your posts is to publish them when the majority of your followers are online and actively using Instagram.
The team here at Hopper HQ built a free tool to make finding your best time to post on Instagram as easy as possible – simply follow the link below and connect your business Instagram account!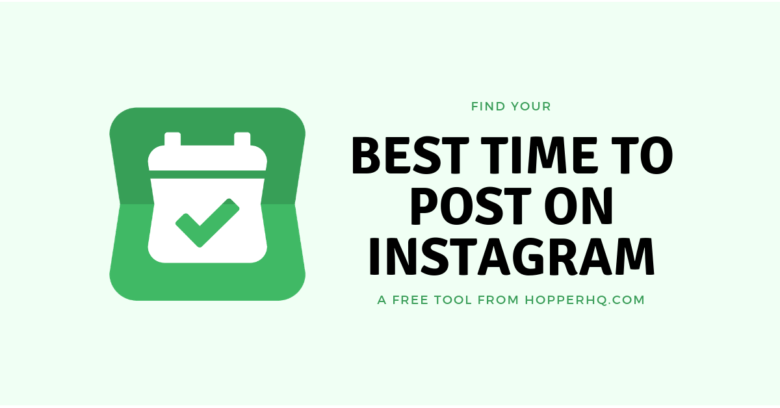 #3 Plan Instagram campaigns around social media holidays
A tip to increase the reach of your Instagram posts is to utilise hashtags that will be getting a lot of attention in a short space of time, such as global events (#Superbowl), social media holidays (#NationalCoffeeDay), and time-limited trends (#ThrowbackThursday).
Thankfully, we live in a modern world where everything seems to have a commemorative day of some kind, and so there's plenty of opportunities to make the most of the boost in traffic no matter your industry!
Take a leaf out of this hotel's book, who utilised #NationalPineappleDay to create some fun and unique content relevant to their business:
Never miss a hashtag opportunity! Sign up to Trending to get the week's social media holidays and trends straight to your inbox every Monday morning 📩

#4 Make the most of Instagram Stories
Stories were a complete game changer when Instagram introduced them back in 2016, and they have not stopped developing valuable features since.
If you decide Instagram is the primary network for your social media marketing, Stories need to be a part of the plan. They are incredibly diverse, and the 24 hour time limit allows brands to be a bit less regimented with the content they put out.
You can do a lot design-wise on Instagram Stories directly, however, if you want to take it to the next level check out these free Instagram Story templates.
Here's just a few things your business can try out on Instagram Stories:
Go behind the scenes 🙈
The beauty of Stories is the personal and authentic nature of them. Use the casual format to show your company culture and let your followers into the world of your business.
Questions ❓
Use the questions sticker to run an anonymous Q&A with your audience, or to gain customer feedback.
Polls ⚖️
Similarly, encourage follower interaction and feedback with the poll sticker.
Story takeover 💁‍♂️
Collaborate with an influencer, or another brand with the same audience as you, and try out a Story takeover.
Tag locations 📍
Get your Story featured on a location Story by using the location sticker! This will increase your reach and could result in more followers.
Go live 🎥
Plan a livestream via Instagram Story – whether it's an event, a Q&A, a sneak preview or something else – Live Stories are naturally featured higher up in Story feed.
For more in-depth Instagram Story tips and examples to help your social media marketing, check out:
🎯 14 Ridiculously Easy Ways To Use Instagram Stories For Your Business 🎯
#5 Run an Instagram contest
An Instagram contest is a great social media marketing tactic as they bring in tonnes of likes and comments on a post.
By making the requirement to enter involve 'tagging a friend', you also draw lots of new users to your profile, increasing your reach and spreading brand awareness!
There are a number of ways to run an Instagram contest, and the type of competition and prize will naturally vary based on your business. The majority of Instagram contests are in the form of 'giveaways', and may be a bundle of products, an experience, or a voucher.
Around Christmas time, many brands are utilising the festive season to host daily giveaways and drive a lot of new users to their profile in a short space of time. This strategy links back to tip #3 and is a great example of planning campaigns in advance for time-sensitive trends!
For more info and practical tips on how to include Instagram contests in your social media marketing, check out our 5 Step Guide!
Plan & schedule social media ahead of time.
> Video, gallery & image posts
> Calendar, feed & grid preview
> Instagram, Facebook & Twitter
Facebook 📘
With over 2 billion monthly users, Facebook remains the biggest social media platform on earth.
As a result, their features for businesses when it comes to social media marketing are incredibly advanced. Despite it being more and more difficult to get organic engagement on Facebook, there's still plenty of ways you can increase your reach and grow a community on the social network…
#1 Video
Video content is a winner on Facebook. With the platform aiming to become a true hub for video streaming and compete with the big television providers, its focus on video will only grow in 2023.
If you're looking to use Facebook in your social media marketing, get planning some captivating video content! The possibilities are endless with video, and provide the opportunity for creative freedom.
Regardless of budget and resources, there are many ways to make engaging video content: whether it's professionally filmed in a studio, intentionally informal on mobile, stop motion or animation – it can work on Facebook!
Most importantly, Facebook video is the best form of content to boost your brand and send you on your way to hitting those objectives we talked about…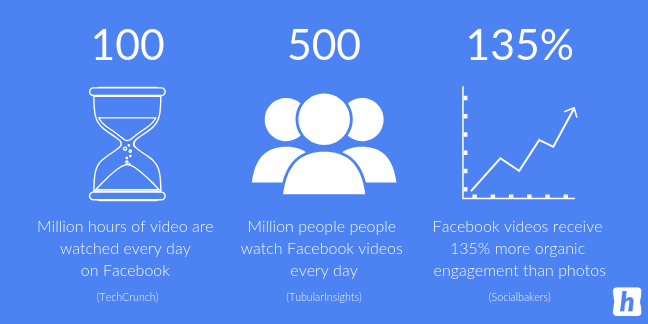 The key to creating successful video content for Facebook is to make it instantly captivating. The fact that videos automatically play in News Feed when you land on them is a great opportunity to capture your audience's attention – although you only have a few seconds!
Remember that a huge proportion of Facebook users watch videos on the app without sound – so make sure to annotate and subtitle all your video content to keep people watching.
You can also use overlaid text to highlight your call to action in your video. What do you want people to do after they've watched it? A CTA is particularly important if you're planning on your video content being a Facebook Ad, as it will help drive users towards your website.
So in your 2023 social media marketing plan, don't miss out on the opportunities Facebook video provides!
#2 Go Live
Following on from the power of video on Facebook, going Live should be another strategy in your social media marketing plan for 2023.
As with all new features, Facebook promotes accounts using them in order to encourage more users to do so. You'll notice that 'Live' is the first option in the status bar, and you sometimes get notified when someone 'goes Live'.
All of this demonstrates Facebook's desire for people to utilise and watch their Live content (another indicator of their plan to become a leader in the streaming space). This is great for businesses, as your content is less likely to get lost in the sea of regular post and videos on the site.
Use the opportunity of Live to stream an event, a product launch, run a Q&A, or share behind the scenes going ons at the business! You can also 'Bring a friend' to a Facebook Live video, which is a great feature to run a mini webinar or interview.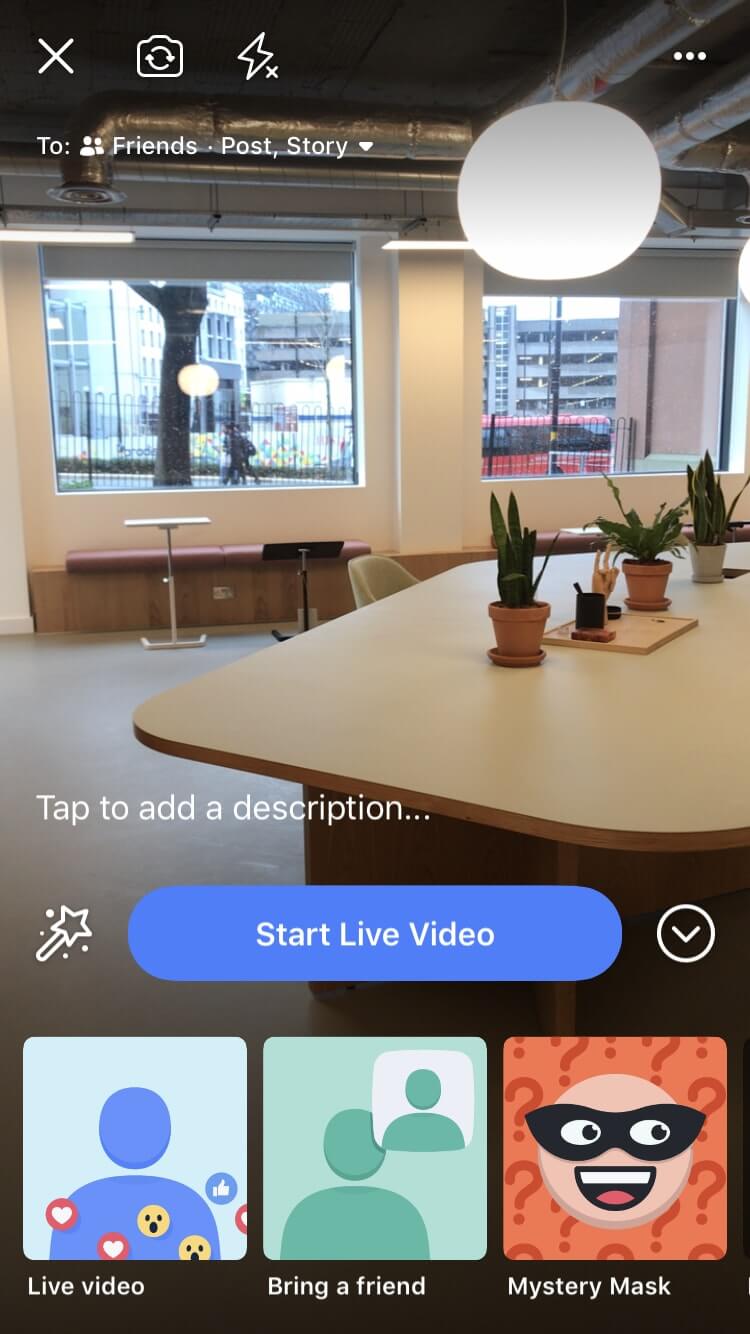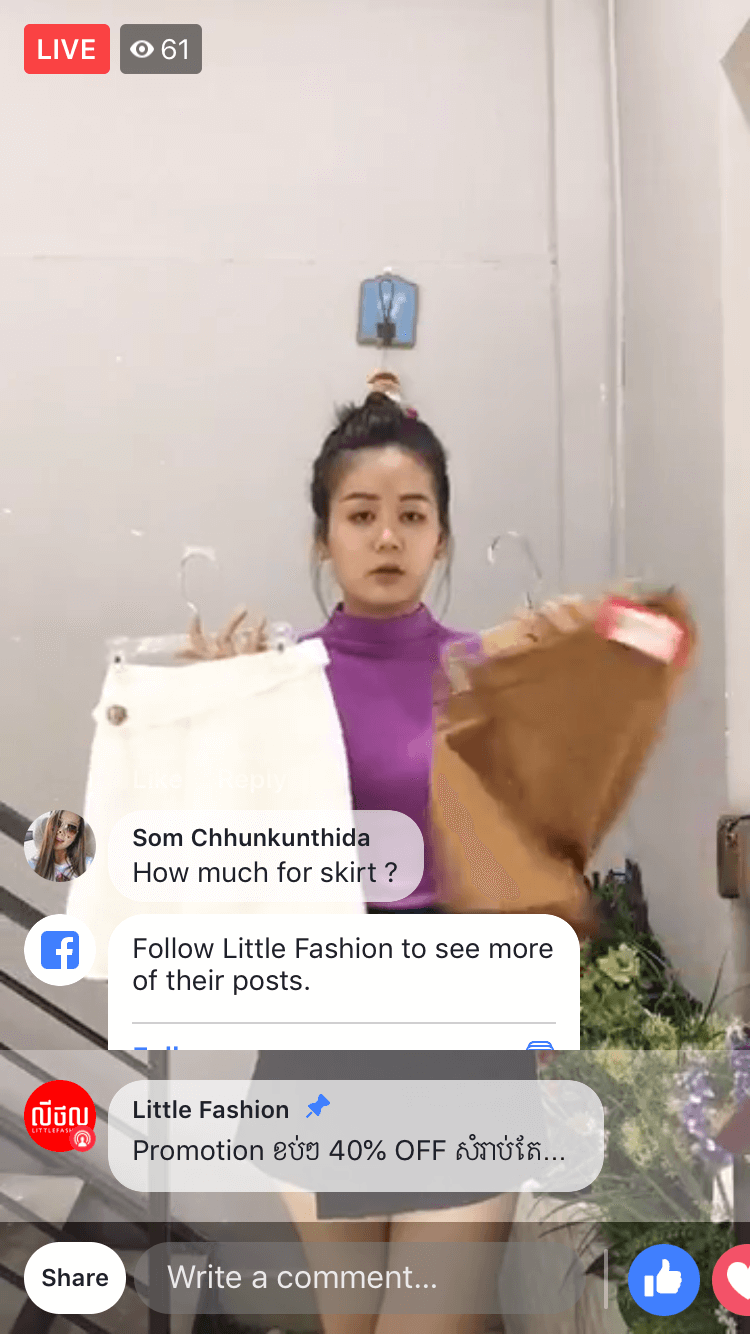 #3 Facebook Groups
Facebook is a platform for communities, and in a world where we're rejecting advertising more than ever, Facebook groups offer a saving grace for individuals looking to share knowledge and support one another.
I know I said all social media marketing activity needs to be linked to business objectives, but that doesn't always mean sales. An important aspect of social media marketing is community building and brand awareness, and so any activity helping meet these goals is highly valuable.
There are two ways you can utilise Facebook groups to get to know people in your target demographic and establish yourself in the space:
Make a community Facebook group related — but not exclusive — to your business
Join already established groups and start conversations
The former is naturally more groundwork, but can be very rewarding if you gain a lot of members. The second is great for market research and will ultimately put you in a good position to start your own group.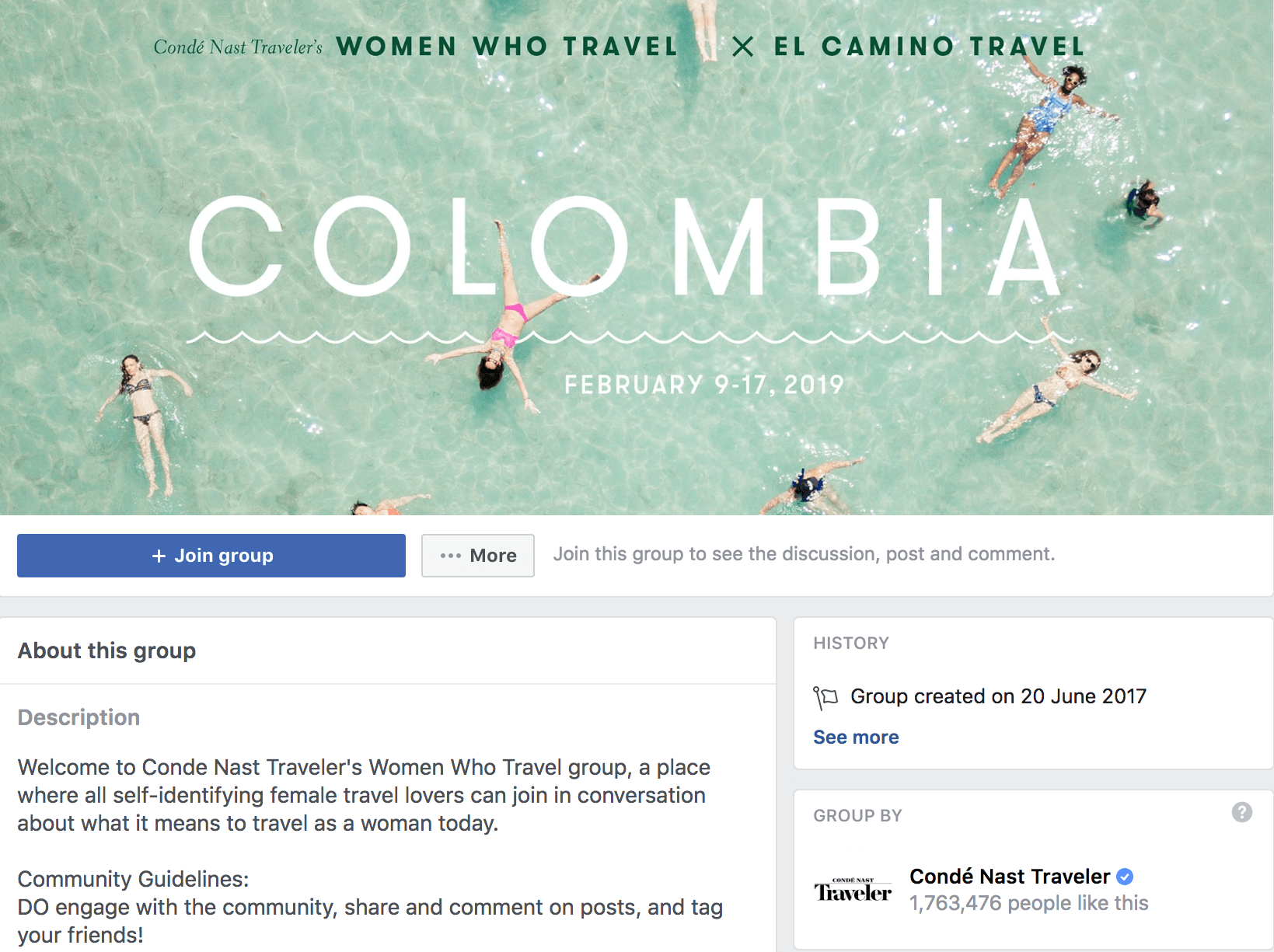 The most important thing about brand behaviour in Facebook groups is that it's not self-promotional. The whole purpose of this kind of social media marketing strategy is that it's community first rather than sales first.
Activity needs to be authentic and human in order to position your brand as a friendly, trustworthy source. Once you have built a relationship with members, you can share your content in a way that is genuinely helpful rather than overly promotional.
#4 Think shares, not sales
Following this line of thought, the key with Facebook content is to have 'shareability' at the forefront. The aim is to have people tagging their friends in the comments of your posts and sharing it on their profile.
Whether this is done by being entertaining, informing or thought-provoking, the important questions to ask when planning your Facebook content are: 'would I watch this?' and 'would I share this?'.
One of the most effective ways of increasing your reach on Facebook is by your audience tagging people in the comments. This will not only show your post to the new people tagged, but also to their friends on News Feed.
Often, a brand's post will appear on your Facebook feed with the preface: '[Friend] commented on this post' or '[Friend] was tagged in a comment on this post'. This kind of sharing is invaluable for your brand's Facebook content, and will mean your posts are seen by far more eyeballs than usual.
A great (and low-cost) way to encourage tagging and sharing is with branded memes appealing to your target audience. Don't just take my word for it! Look at the difference in these 2 Facebook posts from In The Style: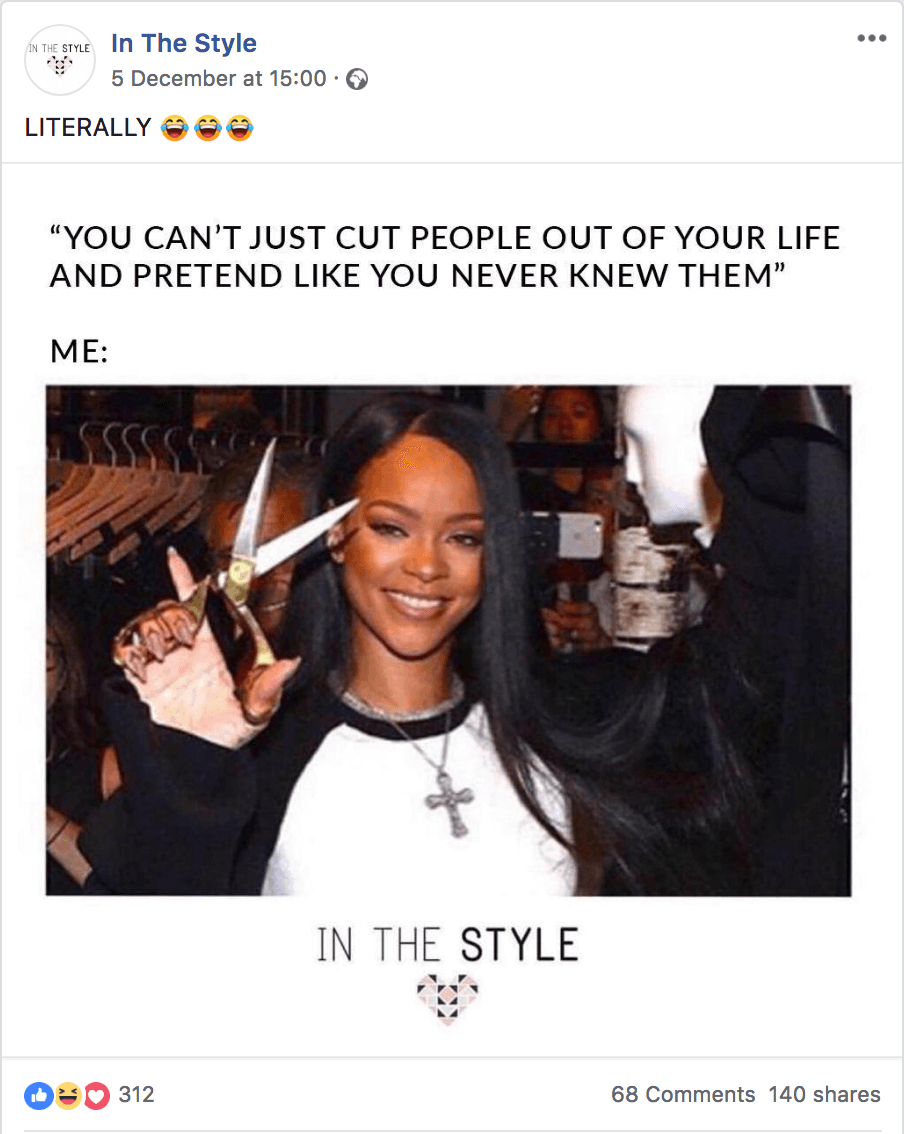 This post is not a direct sell: it has nothing to do with their products, offers, or even fashion. However, its content is relevant to their audience, and they have included their logo, so when it gets shared, their branding will be shared with it.
Contrastingly, a post including a discount and a clear call to action did not perform anywhere near as well: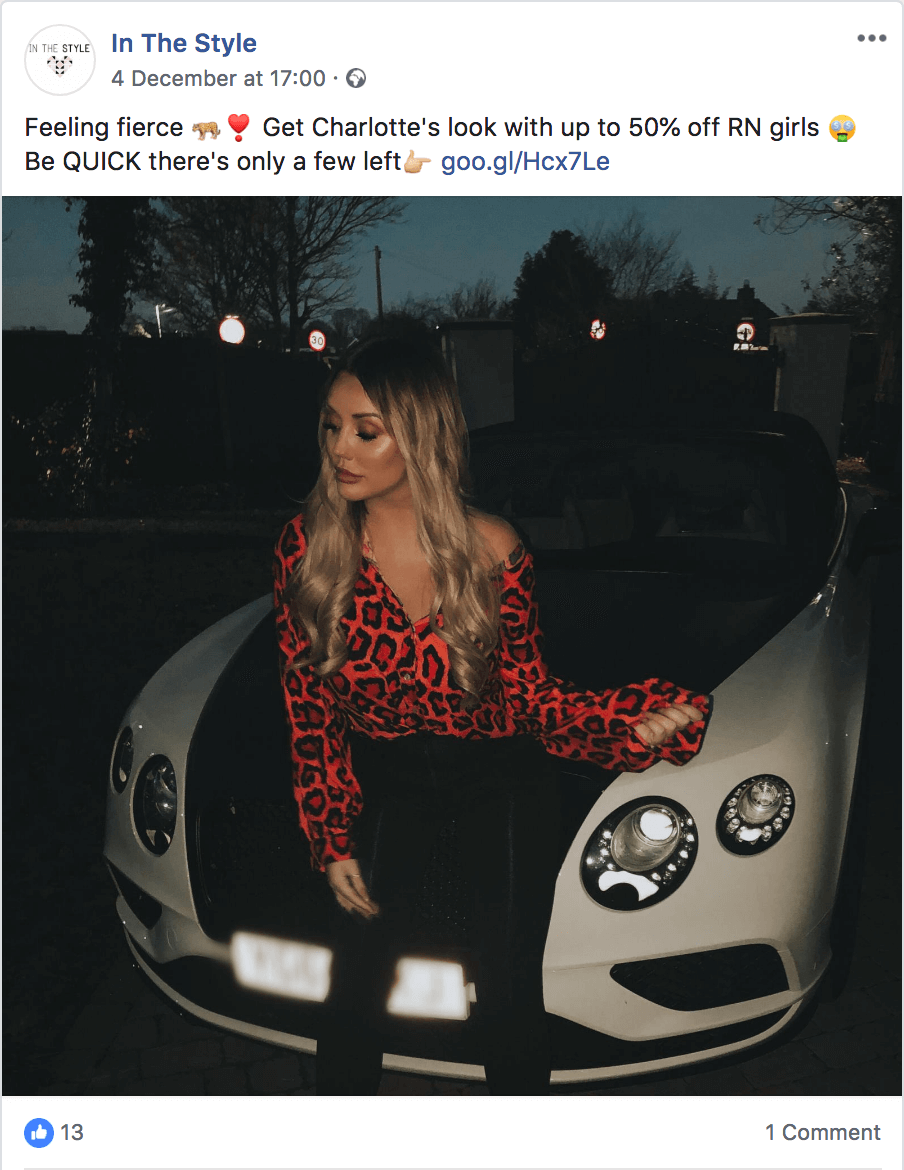 These examples show how the social media marketing game has changed, and highlight how shareability needs to be embedded into all Facebook content your brand is producing.
#5 Promote to a lookalike audience
One of the most important and tricky aspects of Facebook ads or promoted content is testing out different target audiences. Facebook offer a great feature called 'Lookalike Audience' to help you reach an entirely new group of people who share characteristics with your existing customers and target demographic.
You can choose your source audience based on data from the pixel on your site, email addresses, or Custom Audiences you've used in the past on Facebook. Regardless of where these source users are from, you can choose countries to target with for the lookalike audience – and one source audience can produce up to 500 lookalike audiences!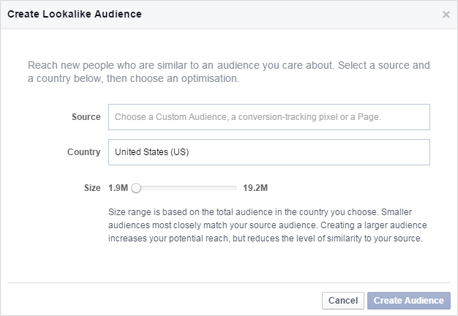 For more information on Facebook Lookalike Audiences, check out their help centre guide!
The Ultimate Instagram Course
Learn how to build a relevant & engaged following. Create better content & leverage Instagram for your business.
There you have Hopper HQ's top social media marketing tips for Instagram and Facebook!
I hope you utilise the information in this guide to smash your 2023 objectives out of the park, and would love to hear from you if you have any comments or questions!
---
Hopper HQ is a social media scheduling and management platform that frees up time to focus on the fun creative stuff! Named in the Top 5 Most Popular Social Media Marketing Software list 2018. Start your 14-day trial today.