Instagram & Etsy happen to be one of those rare product / marketing matches that work perfectly together.
We've spoken with some of the Etsy sellers that use Hopper HQ & online experts over at the Etsy Reddit to learn what does & doesn't work when marketing an Etsy store on Instagram.
What is Hopper? Hopper is the safe automated way to schedule Instagram posts online. 
Plan & Schedule Your Social Media Posts
Visually plan your posts. Drag & drop everywhere in seconds ✨
---
Contents
1. Getting Setup
2. What to post
3. Growth tactics
4. Wrapping up

---
1. Getting Setup
If you can get the same Instagram username as your its store then snap it up, but with Instagram's 800+ million users there's a good chance it'll be taken. If that's the case then don't sweat. You can put dots in the name to create something original. 'One Source Supply' could become @one.source.supply.
Be as consistent as you can. Use the same profile picture on your new Instagram account as you have on your Etsy store. Don't make your users hunt for it.
Instagram doesn't allow links in posts (unless it's a paid ad). So make sure you include a link to your Etsy store in your profile. Use Bitly to shorten the link. Bitly.com will give you some basic analytics around how many people have clicked on your bio link. It's a nice way to see if your Instagram efforts are paying off.
Give some details about you & your Etsy store in the bio area, but also include a call to action to click the link. It makes a bigger difference than you think.

2. What should you post?
Don't think of Instagram as a feed of images or as an alternative to email where you blast out images to followers. Instead, think of it as a creative outlet where you share the narrative behind your store and show your products being used by real people. Instagram shouldn't feel like a chore, but if it is taking up lots of your time then you can automate it to some extent. ( More on that later )
Here's a selection of ideas to help you get inspired about what to post. Make sure you follow other Etsy stores on Instagram too. There's no harm in taking inspiration from other Instagrammers who are doing well.

Sales posts
Don't just post a picture and a price. Make sure the posts has value beyond just the product. Shoot the product in a quirky way to the post itself is creative and fun. Your followers won't feel like they bring spammed my amazon then. Only offer promotions occasionally so your fans don't postpone making purchases while they wait for your next promo.
Plan & schedule social media ahead of time.
> Video, gallery & image posts
> Calendar, feed & grid preview
> Instagram, Facebook & Twitter
Creative process posts
Involve your fans in the creative process. – involve your audience in the early stages of the creative process. Fantastic way to get feedback and make sure you're making what your fans want.
Lifestyle shots
Don't spam the same images of your products over and over. Instead, post good images of your products being used in a lifestyle setting. Instagram isn't a catalogue, it's more like a huge glossy magazine of the digital world. Think: your products in a desirable context.

Experiment
Have fun and try new ideas. If you see a fun post idea on another account then have a go at recreating it & mention them in the comments. Take a look at the Foldio 360 and try making 360 videos of your products. It's just one easy repeatable way to show off your products in an original way.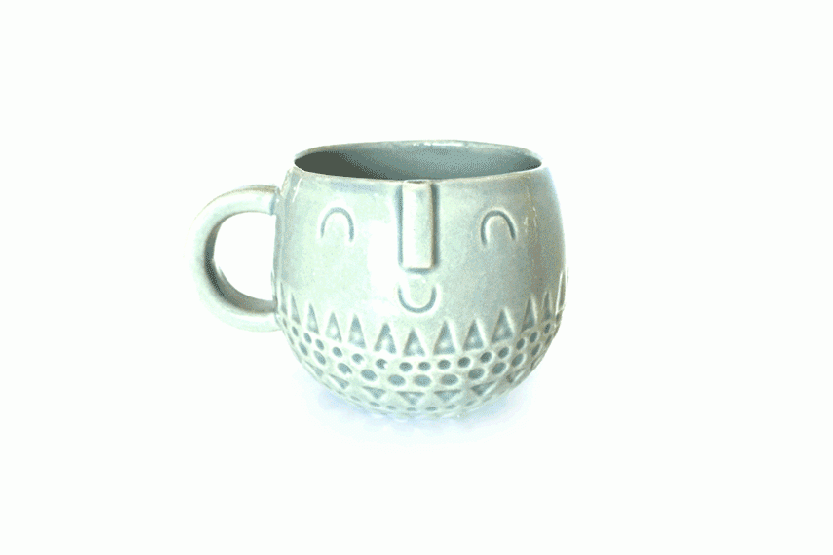 Simple Post, Story + Reel Scheduling ✨
Visually plan your social content. Instagram, TikTok, Twitter, Facebook, LinkedIn + Pinterest
Repost customer pictures
Ask your customers to post pictures of them enjoying/wearing your product and repost them. Try the Repost app to make this easier. Download RePost app for iPhone & Android.
It will encourage more people to share pictures of your products and help get your work out there.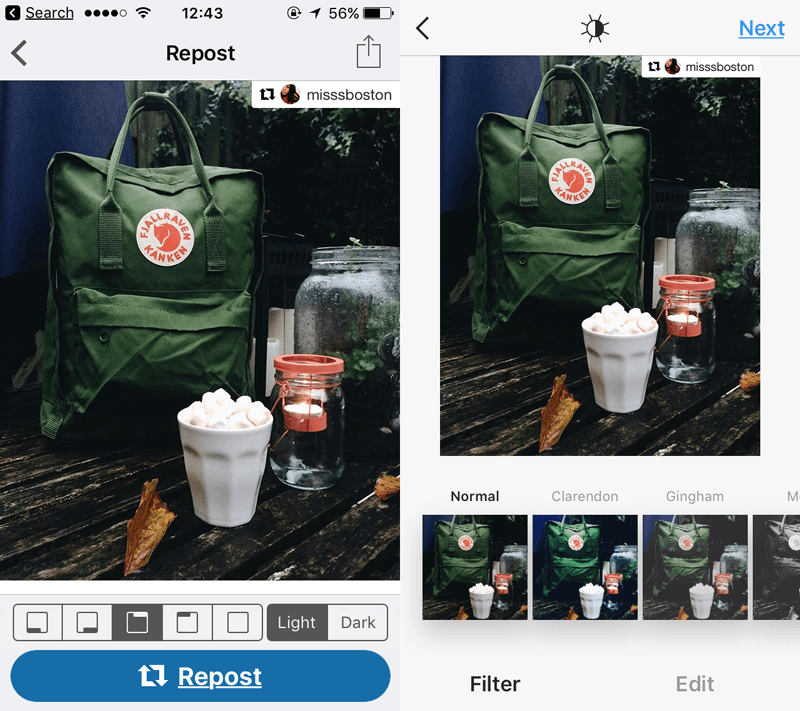 Your workspace
Have a messy but brilliant studio that you work from? Show it off! It helps build your back story and show's where the magic happens.
Inspiration
Seen something that inspires you? If it inspires you then it will probably inspire your followers too. Curate the world around you and share the best bits with your fans.

YOU!
If you're shy and it's not your style then don't stress about it, but if you're happy showing your face then make sure you feature yourself in posts too.
3. Growth Tactics
Once you're happy with your style on Instagram it's time to get tactical to maximise your exposure.

Hashtags
Hashtags are used to link posts around different themes. For example, if a user searches Instagram for #fashion then any posts using #fashion will show in the search results. Using  hashtags can increase your post's reach and is the best way of increasing your follower count.
Pick hashtags that are relevant to your Etsy shop. Bare in mind that some hashtags are wildly more popular. This means more people are searching for them, but also means your posts are competing for attention.
Instagram doesn't offer a top list of the most used hashtags since they restricted their public API. To help guide you: here's an old list of the top 3000 Instagram hashtags before they made the change.
3000 top Instagram hashtags
Grow Your Audience With #Hashtags
Discover better hashtags to reach the more people, grow your follower count and get more engagement on your posts.
There's also 3 popular Etsy specific hashtags that are worth using to connect with the Etsy community: #etsyseller #etsygifts #etsylove.
So you've selected some relevant hashtags. How to best use them?  Don't stuff them all in the caption, use the caption to write about your post, add context and mention any offers associated with the product. Instead, put 2-3 hashtags in the caption & save the rest for the first comment.
Instagram allows up to 30 hashtags between the caption & first comment, use them all. Be the first to comment on your post.
The reason for this is to make the most of every hashtag you can without making the post look unnatural. When someone sees you post they'll see the well-edited caption followed by the collapsed first comment.  All the hashtags will still be there to increase discoverability, but the post will still look natural.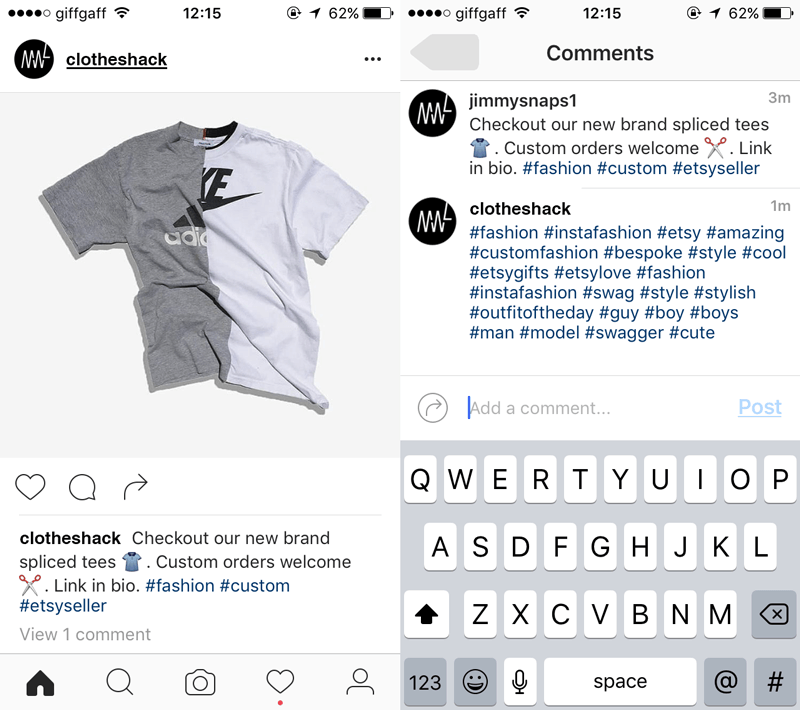 Guest Post
As your audience grows so will your influence. This is where you can really make leaps in followers and potential customers. Contact other Etsy Instagrammers who have a similar audience size and do a 'post swap'. Direct message (DM) them on Instagram and ask if they'd like to post on your feed in exchange for you posting on theirs.

Schedule & Automate
Some are always be best sent out in real-time as you're sketching or making a prototype, but for others you can plan in advance and schedule them.
With this tactic, you can plan the exact posts you want people to see at the start of the week and then focus on the rest of your business, while your posts are taken care of. Try Hopper for 14 days, schedule your Instagram posts and try out all the other tools. Like video posts & bulk upload, which lets you create up to 50 posts in one go.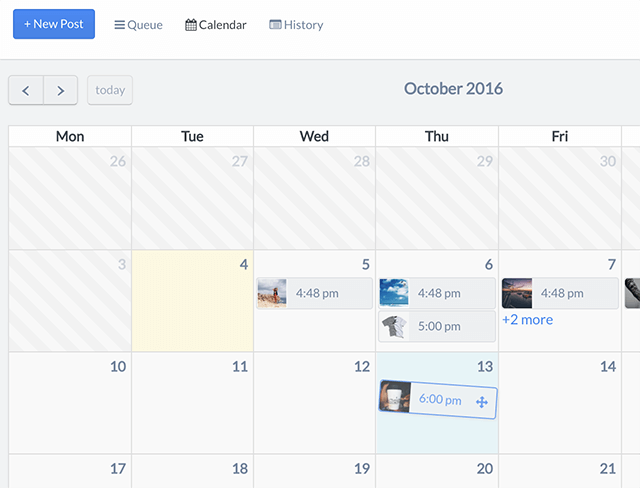 Promoted Posts
Pay to have your products featured on other people's Instagram accounts. Although this is similar to guest posts, it's worth separating. There are specific channels for Etsy sellers and unlike guest posting you don't need to have a big following. Rather than agreeing to post about each other's stores, instead you simply pay to get featured on their Instagram feed.
Etsy promoted post accounts:
Edit: We've had mixed feedback from people who've tried these three accounts. Some people have recommended them and others suggest the engagement rates are too low, which could be an indicator that their follows aren't very active.
Join Etsy Communities
Find other Etsy sellers to collaborate with and swap Instagram marketing ideas. Reddit has a strong community over at reddit.com/r/etsy. Also, check out the 'teams' over on Etsy.com/teams. We recommend: Be 'Unique', 'Daily Etsy Sales' and 'Etsy Success.

4. Wrapping up
That's it for our Etsy guide so far. Thank you to all the Hopper customers that gave advice.
Did we miss any tactics? Has something else worked for you? Please share it in the comments.
TRY HOPPER HQ FREE
Refreshingly Simple Post, Story + Reel Scheduling
Visually plan all your social channels. Instagram, TikTok, Twitter, Facebook + LinkedIn.