Mercy Momah founded Secure Agency to celebrate individuality, maximise representation and bring inclusivity to the modelling industry.
Mercy Momah spent the first ten years with the skin condition Mycosis Fungoides hiding her skin. Through her journey of acceptance and understanding the permanence of this condition she wanted to create a platform to showcase skin conditions. This representation, she hoped, would inspire others like her with visible differences to see the beauty in their skin.
We had the pleasure of speaking to Mercy about her incredible platform and agency growth and of course Hopper HQ!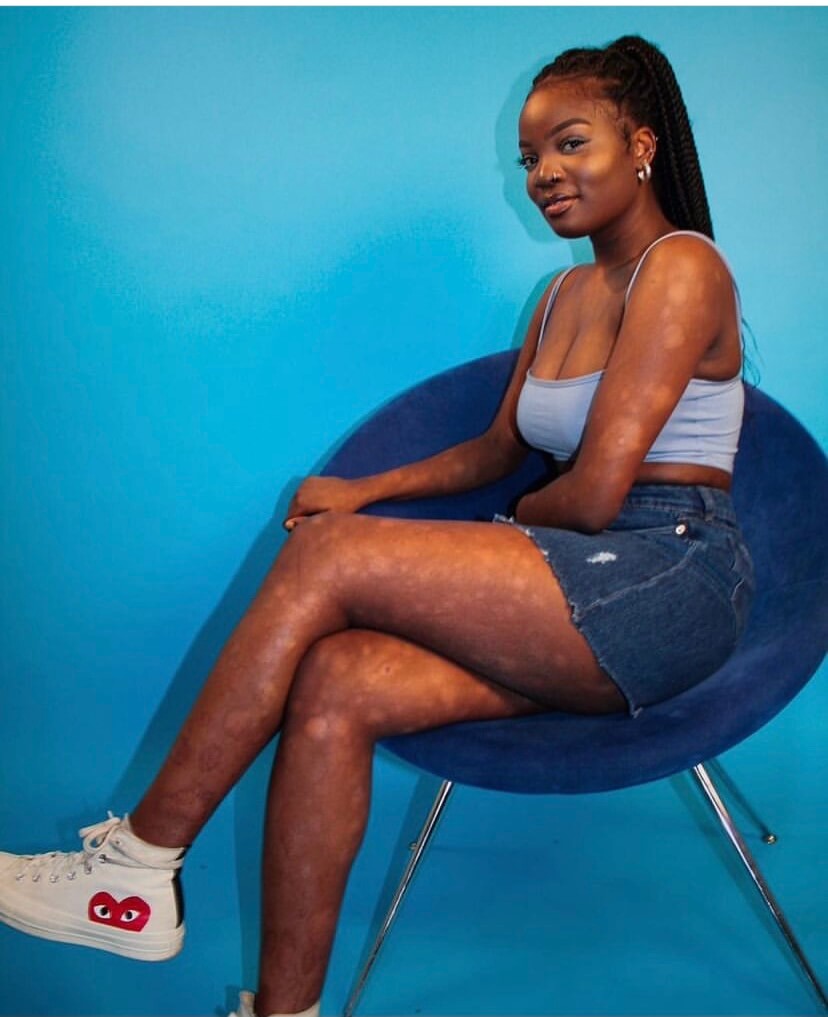 Introducing Mercy Momah and Secure Agency…
I am Mercy and I'm the founder of Secure Agency. I created Secure about three years ago after living with a chronic illness and skin condition called Mycosis Fungoides.
Before Secure, for over a decade I hid my skin. I never went on any holidays and girls trips. I was really insecure about it. I got to my second year of university and I was living with one of my best friends from secondary school who knew about my skin condition. She always told me to embrace it.
I think it's really important to have that support system and people around that know what you're going through. These people really encouraged me when I had this idea for Secure Agency and told me, yeah, go for it! So I started the platform in 2018/2019. And since then, it's just been growing and growing.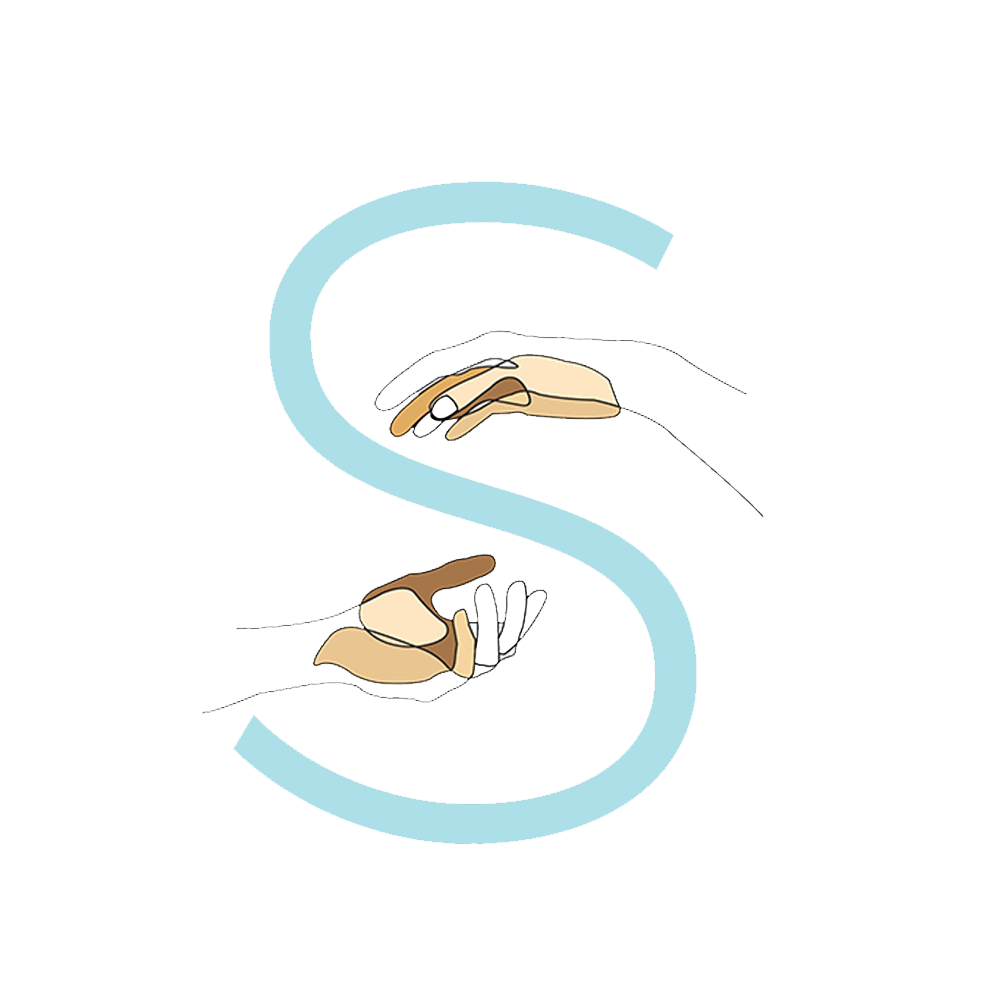 What is Mycosis Fungoides?
Literally every time I mention the name of my condition, in the most innocent way, I'd get questions like: what is that?!
It's a condition called Mycosis Fungoides, a rare form of lymphoma of the skin, where your white blood cells become cancerous, but it's very, very slow progressive, and in some instances people don't progress to further stages.
I've had it for about 13 years now. I believe I'm a stage 1B and it usually shows up on my skin as patches or lesions. I've literally recently just had treatment, but I had patches all over my skin.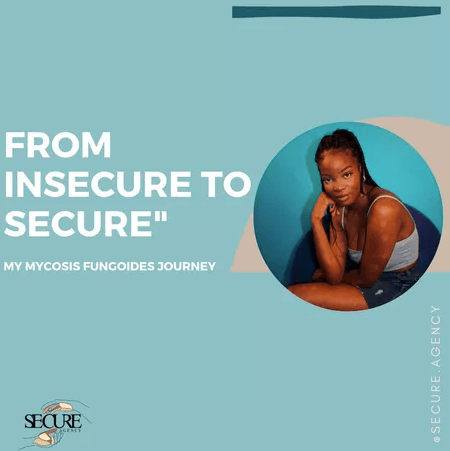 What's the treatment?
The treatment is UVB light phototherapy treatment.
And this was my third round of treatment. So I had it once in 2013 and again in 2015. Then most recently starting from December of last year, up until May of this year. I had quite a few sessions this time. 40 sessions total, going up gradually with the light. So it wasn't too harsh of an exposure to my skin.
It usually lasts around four to six months before the patches start to appear again. This is because it's best to be in sunlight and obviously the UK isn't the hottest country. I'm just hoping this time will be longer.
I've been vegan since last September. I'm trying to heal with natural remedies and try and see if it can be treated in a different way.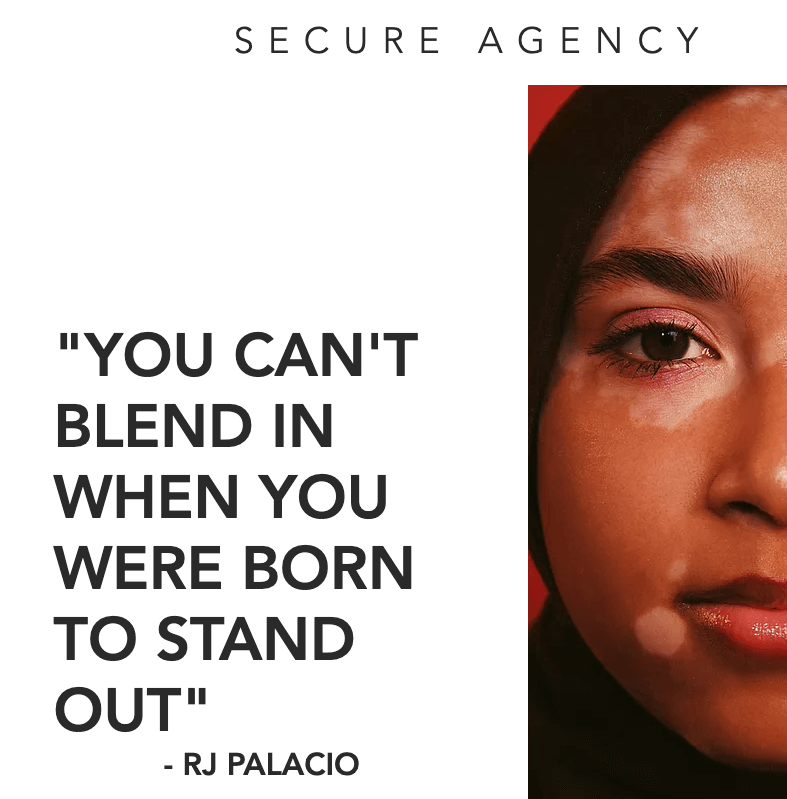 What is Secure Agency?
So, like I mentioned, I started the platform back in 2018/2019, and always wanted it to be more than a social media platform. I wanted a space that celebrates those living with different skin conditions, but also somewhere that educates others and creates a space for us in the industry.
Straight away I started reaching out to different people that I'd come across with a skin condition. I didn't have Twitter, but my friends shared it on their accounts. I had a few people come back to me, but obviously I'm just one person.
A lot of the people wanted a paid modelling job and things like that, which I wasn't able to do. But I told them, more than anything, it's a chance for them to tell their story, hopefully to become more secure and just create more awareness. Which is needed you know, because I feel like it's not spoken about enough, a lot of people still get hate under their comments if they have a visible difference.
So I wanted to change that narrative. From my outreach people came from Birmingham, came from Nottingham and traveled down for the first shoot. Which was just absolutely amazing!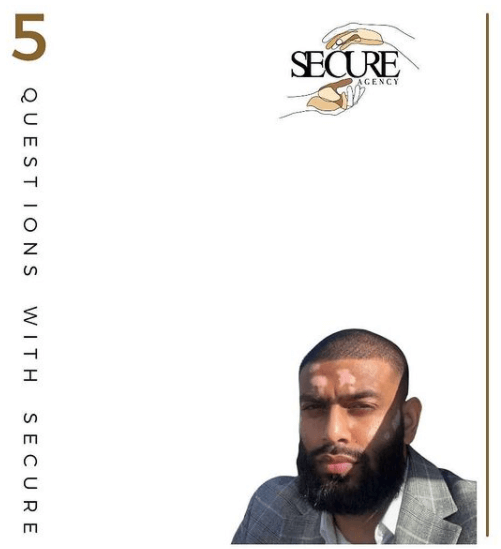 How did you start?
I started off with Secure stories and hearing the stories and journeys of some people really resonated with me – some of them were bullied, some were teased or made fun of. Giving them an opportunity to release and share what they've been through and how they're feeling now hopefully helped them as much as it did me.
I started a series of five questions; five questions with Secure. I would reach out to people with skin conditions who are using their voice or using their platform to create awareness. Or people who I just love their content and I would ask them whether they would share more of their journey with Secure? By answering five questions. Usually like, who inspires them, when they believe they became secure, something they would tell their younger self. Things like that.
I always ask the question at the end: how are you secure now? How has your journey made you more confident and more secure? As much as it was not the best growing up, all of them have something inspiring to say, which hopefully people can come across and read or relate to. Hopefully people can feel that they can also share their skin and not hide it (for as long as I did).
A feature on the platform that I would love to grow is mental health awareness. It's so important. Last year I had a mental health advocate share some tips and some words of encouragement, which I hope helped. I would like to continue doing that.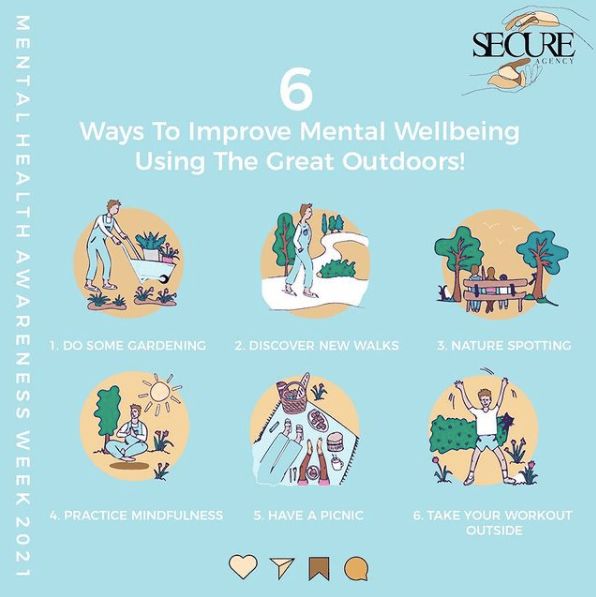 Have you had any brand collaborations?
During the pandemic I reached out to a few different brands to collaborate with. The brands that gave me the most response were skincare brands. And those that actually support people with skin conditions. So I came across a skincare brand based in LA. They were my first brand collaboration.
I found a few amazing girls with Psoriasis and Eczema as their products specially supported people with those conditions that used their social media to create more awareness about their experiences. The shoot happened in September last year, and since then, it's just been growing and growing!
Are there many agencies like Secure Agency?
I haven't seen many.
In recent weeks I've seen another modelling management who caters to people with disabilities as well as skin conditions. And that's absolutely amazing.
As an agency I've come across many brands that are selling a product which is great because it's supporting people with sensitive skin with our needs in mind. But not necessarily creating a service for people to model, or share their story, in that type of way.
Trends, Tips & Inspiration to Supercharge Your Instagram Marketing.
Join 50,000 other subscribers. Getting inspired & supercharge your social media marketing with tips from our experts. Prepare for upcoming trends and social media holidays before they happen.
How did you come across Hopper HQ?
I actually work as a digital marketing assistant, until Secure Agency takes off and I can work for myself. Until then I still have to be working a job. It's for a female entrepreneurship company. I have two clients who I run their social media.
The company introduced employees to Hopper HQ to schedule our client posts. I've been working there since February and after using Hopper HQ for a couple of months, I was like, I actually really enjoy using Hopper HQ.
It is a great platform to schedule posts. I don't have to think about it – which is great because I'm the type of person who, as much as I love Secure, I can sometimes disappear off social media. And obviously if you want to grow your business? You can't really do that.
Literally last month I decided to get this platform for myself and start scheduling posts so I don't always have to think about it. I can put in the captions, put in the hashtags and it's good to go.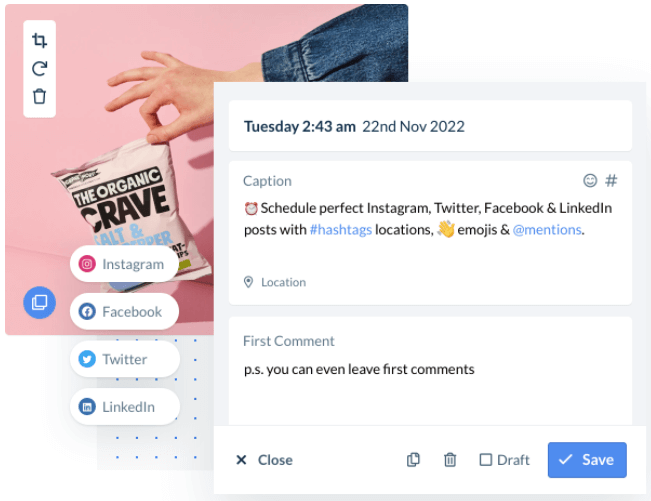 How important do you think social media is for you and Secure Agency?
I think it's so important to reach other people. Like I mentioned, our first collaboration was with a brand based in the US. Even finding the models and talent wouldn't be possible. So, If you don't have that social media presence, it's going to be hard. Especially in this day and age, it's a way of marketing yourself.
I went off social media for a few months last year and then came back. And obviously when you come back and you're being consistent, you start to see growth and you start to see more engagement. Whether you're selling a product or have a service with consistency, you can start to see more sales, you just see more things happening for your business.
Weekly Content Inspiration Direct to Your Inbox
Get free content inspiration delivered straight to your inbox and learn from real brand accounts.
Level up your social media marketing game with actionable tips from Hopper HQ's experts with new advice every week.
Do you have any social media tips?
I would say, be consistent, find your community, and know who your platform is for. Make sure you know who your audience is and what they like. You know, also keeping up to date with things on social media. Reels, TikToks, Instagram lives were a big thing? Well, during the pandemic. Hashtags are also important.
What's your favourite feature with HQ?
It's just very easy to use. You put your pictures in, your captions and hashtags in and everything just goes from there.
I absolutely love that you can tag people. So, yeah, it's just very instant and very easy.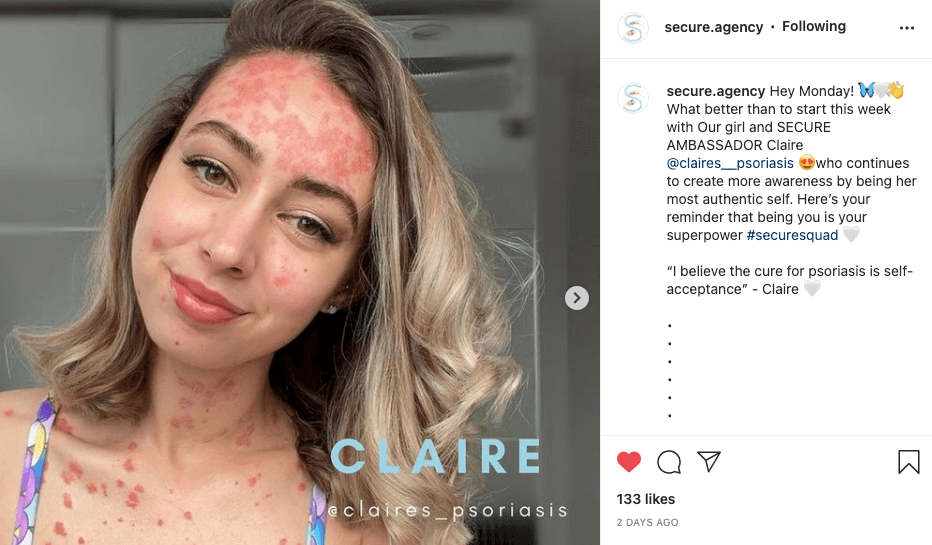 Is there anything exciting happening in the pipeline that we can keep an eye out on your account?
Yes! We've recently taken on Secure ambassadors, people who are advocates and use their experiences to help and inspire others. We also have another brand campaign shoot soon, so that's exciting!
Trends, Tips & Inspiration to Supercharge Your Instagram Marketing.
Join 50,000 other subscribers. Getting inspired & supercharge your social media marketing with tips from our experts. Prepare for upcoming trends and social media holidays before they happen.