The Panel:

Harry is a Co-Founder at The Goat Agency, responsible for the strategy and delivery of their global influencer marketing campaigns. Goat is a leading influencer agency with offices in London and New York, working with brands including Lidl, Formula E, British Airways, New Look, Bumble, Malibu and Chelsea FC. Harry is a regular commentator on influencer marketing, appearing on Radio 4, 5 Live Sport as well as Goat's own What's Happening podcast!

Jamie is a beauty and lifestyle influencer and blogger, as well as a Lookfantastic Beauty Ambassador! She started her blog, Beauty Rocksout of a passion for writing, having previously been a culture and travel contributor for Japan Today. Jamie is now London-based and has a focus on beauty, fashion and lifestyle which she showcases on her Instagram @beautyrocksblog. Jamie has a great deal of experience working on influencer campaigns, and has collaborated with brands such as Debenhams, Amazon and The Telegraph.
Compèred by:

Mike is a Co-Founder of Hopper HQ, the planning and scheduling tool for Instagram. Mike has over 12 years experience in digital marketing including within an advertising agency and as part of startup studio Turn Partners, co-founding and growing multiple digital businesses such as a leading niche dating business and an influencer marketing agency.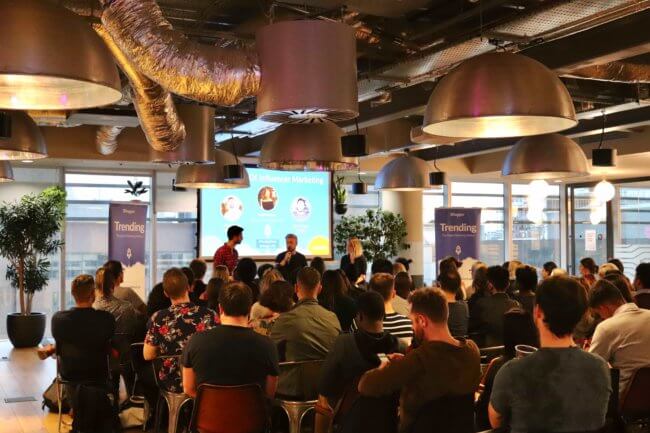 Mike kicked off the event and introduced our audience to the 'cards of contention' on everybody's seats. These are coloured pieces of paper to be used throughout the discussion: blue for agree, orange for disagree, enabling everyone to get involved and offer their opinion! We started with a brief discussion of influencer marketing, its origins and the rate it has grown in the past few years alone, before diving into more detail and learning how much Harry hates CMA regulations.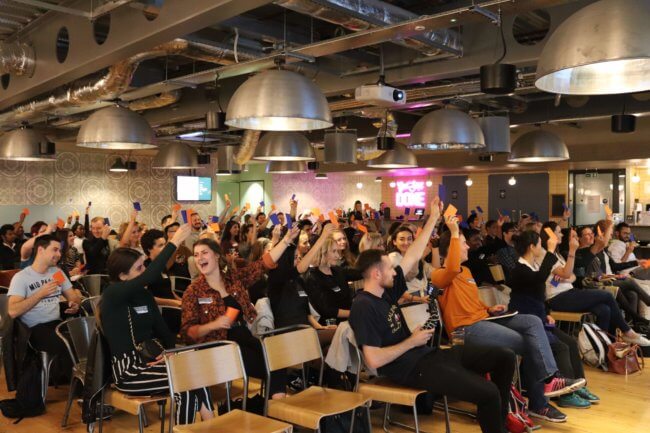 Here are our top takeaways:
It's all about relevant reach 📈
Don't be fooled by high follower numbers or likes and comments – you can fake it all these days. A good influencer is somebody who actually reaches a brand's target demographic. Before working with an influencer, ask them to send you the analytics of their audience to ensure they have the correct following.
There's a difference between an influencer and a celebrity 👥
Harry distinguished an influencer as somebody you wouldn't know if you weren't in their target demographic, giving the example of how Zoella has now become a celebrity.
Influencers are brand ambassadors 🗣
Jamie sees influencers as being third-party advocates for brands. They have built a huge amount of trust with their audiences and so essentially act as brand ambassadors.
Be careful of industry bandits ⚠️
There's been an emergence of bandits in the space looking to get rich quick – both on the influencer and the agency side. Before taking the step into influencer marketing, do your research and learn off people in the know.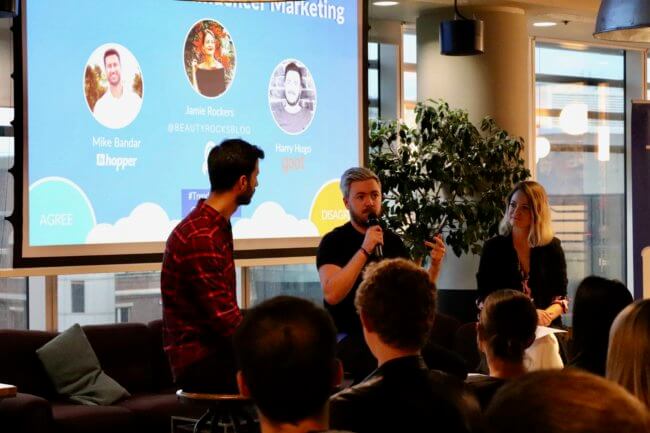 Not just for millenials 📱
Harry wowed us with the fact that 36-55 year olds spend more time on social media than 16-24 year olds, they're just not as active and their behaviour is different. It's important to remember that in order to understand influencer marketing can be for all industries and markets.
Best for 'fast moving consumer goods' 📦
Influencer marketing is primarily a B2C game – specifically with product based brands. You can easily track sales and monitor return of investment.
Action over engagement 🛍
Success from influencer marketing campaigns comes in the form of actions from users – not engagement alone. This could be watching a video, clicking to a website or purchasing a product, but will always vary brand to brand depending on their KPIs
CMA regulations are problematic 💡
With the Competition and Markets Authority pushing for influencer transparency on social media, sponsored posts and labelled as such and consumers feel more aware that they are being sold to than in the early days of influencer marketing. Harry highlighted how ridiculous this is, as it's not universal across other advertising channels or promotional sponsorship deals. His example was when a footballer walks on to a pitch wearing Nike boots, a notice does not appear on our television screens to tell us the boots are being marketed to us, so there's one rule for traditional marketing and another for influencer marketing.
Influencer marketing is here to stay 🎉
Both Jamie and Harry believed influencer marketing is not going anywhere. There will naturally be a transition in channel and form as social media evolves, but the key principals and success of the space will continue to grow.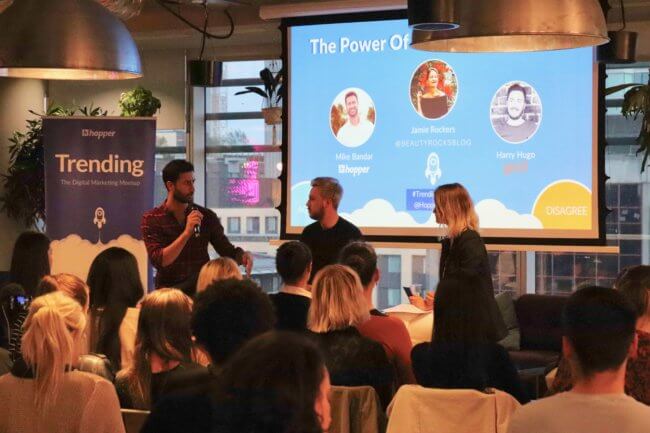 As with all our events, some lucky raffle winners got some camera equipment and a free year of Hopper HQ! Thanks again to everyone who came along, our wonderful speakers and WeWork for hosting us!
Join our Meetup group to keep up to date with all future Hopper HQ events! We run them every month and aim to tackle a different area of digital marketing every time 😁
If you couldn't make this event — or just want to relive the fun — check out the full livestream on our YouTube channel…