Love Island 2018 has finished after dominating our screens (and hearts) for the past two months, but the islanders' journeys into fame and fortune are only just beginning…
After the publication of our 2018 Instagram Rich List, the world was amazed to learn just how much money celebrities and influencers can make from sponsored posts and paid partnerships on Instagram.
Jack and Dani, the nation's sweethearts, won the £50,000 prize money with a staggering 79.6% of the public votes, but are expected to make far more than that from their Instagram accounts alone now that they're back on U.K soil.
Elle Cuthbert-Edkins, our Customer Success Manager here at Hopper HQ, was invited by the BBC to speak on Radio 5 Live and BBC Breakfast about the current state of influencer marketing on Instagram, and how this year's islanders will be able to maximise the opportunities.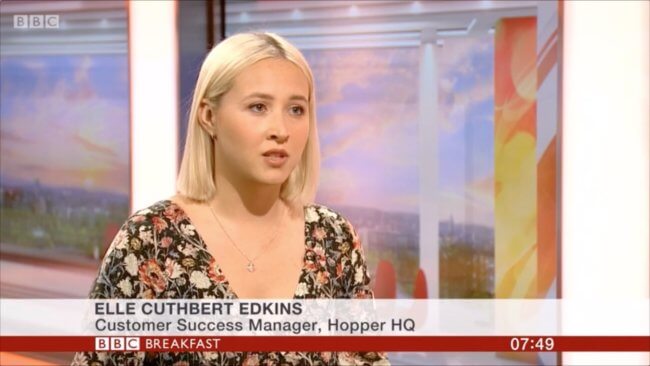 With 3.6 million people watching the Love Island final on Monday night, it's safe to say this year's season took the world by storm. This is why all the Islanders make for perfect Instagram influencers. As Elle said on BBC Breakfast, "we've been glued to our screens for two months watching these people, and we feel like we know them". The beauty of influencer marketing is that it's authentic. Finding brand ambassadors to genuinely recommend products that they would use themselves to their engaged followers is — as Elle puts it — "like getting your customers to sell to your customers". It's no wonder that brands as huge as H&M, BMW and American Express are utilising influencers with huge followings on Instagram.
The big question: 'how much can the Love Islanders earn from 1 Instagram post?' depends on a variety of factors. Firstly, how many followers the account has. Secondly, how engaged that following is. Elle explains that "typically we're seeing brands work exclusively with influencers who have a 10-20% engagement rate", ensuring that the followers are truly interested in what the influencer is posting.
Engagement rate = no. of likes and comments ÷ no. of followers
"More and more brands and agencies are charging by 100,000 followers", Elle tells the BBC. This price per post figure also varies depending on industry, such as fashion, beauty and fitness. For example, the beauty industry charges on average £162 per 100,000 followers. When you bear in mind that Dani Dyer already has 2.4 million followers on her Instagram account (after winning the final 2 days ago), you can see she's looking at earning thousands of pounds for a single post.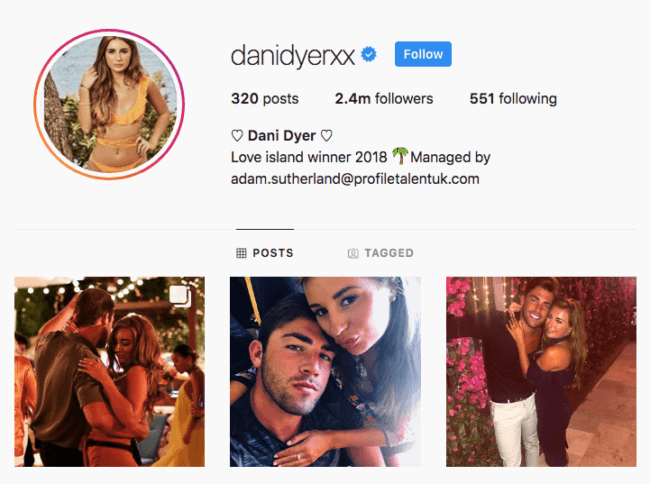 Influencer marketing has had its fair share of criticism in recent years. Consumers have felt misled as a result of being unaware influencers were getting paid to recommend certain products. This has led to a huge push for transparency among influencers. Hashtags such as #ad and #spon have become standard in a paid post caption, in order to distinguish the sponsorship deals from 'genuine' recommendations. Instagram also created their official 'Paid partnership' tag, which sits above a post to inform users that a brand is collaborating with that influencer.
At Hopper HQ we work with hundreds of influencers all over the world, and always encourage them to only accept partnerships with brands and products they truly like and would use themselves. False promotion eventually becomes obvious, meaning the influence the person actually has shrinks. Elle spoke to Steph McGovern about "ad blindness" – the fact that we click 'Skip Ad' on YouTube the second it becomes available, and even pay to not be sold to with services like Spotify Premium. As consumers we're becoming more and more savvy when it comes to advertising, and it's no different with influencers.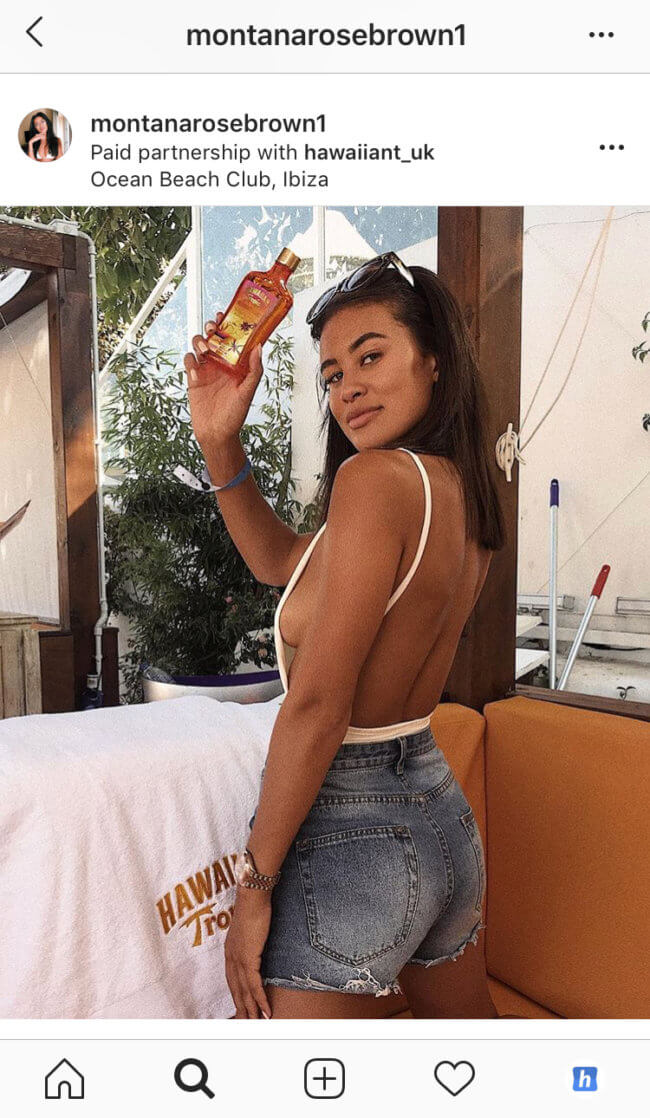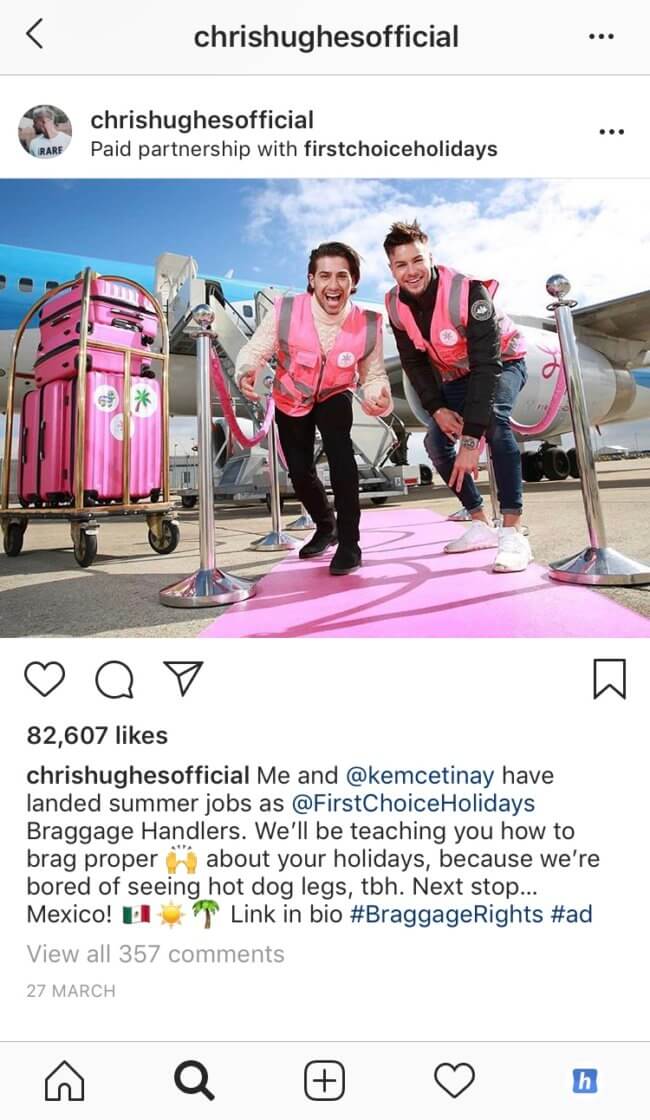 Montana Brown and Chris Hughes from Love Island 2017 are still making a huge amount of money from Instagram, having left the villa over a year ago. 
It's a delicate fine line: keeping genuine interaction with followers and also making money from sponsored posts. This is why almost all of the 2018 Love Island contestants have already been snapped up by talent and influencer agencies, who will manage their campaigns and the relationships with brands. Many of the islanders were working as influencers before they entered the villa, having built up a loyal following on Instagram. However, for some, such as winner Jack Fincham, they've returned to a whole new life with no experience of monetising an Instagram account.
With Love Islanders from years gone by still partnering with brands and even launching their own lines of clothing and businesses, we can see that the Love Island effect does not wear off fast. We're excited to see where this year's contestants will go, with the influencer marketing space estimated to be worth $5 – $10 billion by 2020.
Who knows, Dani Dyer may make next year's Instagram Rich List!
Watch the full interview on BBC Breakfast here:
What are your thoughts on the Love Island phenomenon and the amount of money the stars have the potential to make? Let us know in the comments! 🤑