We all have more fun when we follow the rules, right?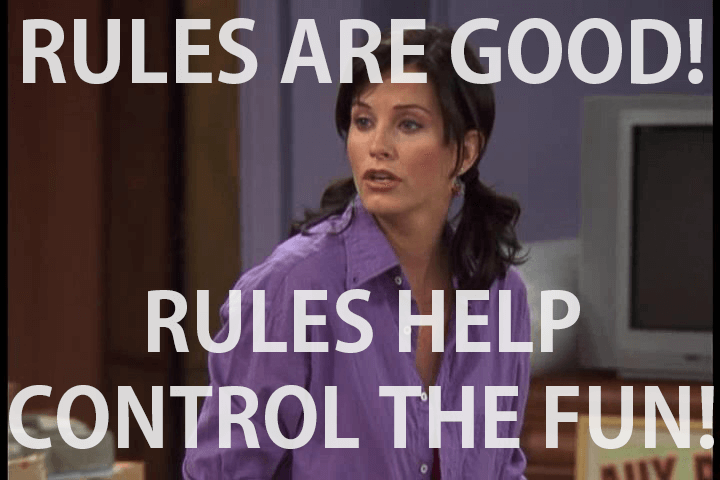 With over 1 billion monthly users on the app, it's no wonder Instagram are tightening up on user activity.
So if you want to make the most out of Instagram and stay on the right side of its algorithm, make sure your behaviour on the app is always in line with Instagram's community guidelines.
Here are some great pointers for maintaining the safe and open community of Instagram:
Only post photos and videos that you have the right to share

By this I mean content that you've personally taken, or asked permission to share on your profile. If your account uses UGC (user-generated content), remember to always ask the owner of the photo/video for consent before posting it. This way you're keeping to the rules of Instagram as well as maintaining a respectful relationship between users – which brings us on to the next point…

Respect all users

Unfortunately, we've all become a little too used to seeing hateful messages on Instagram. Whilst it's easy to instil the mantra of 'haters gonna hate' and shrug it off, wouldn't it be better if we all just got a long?

In all seriousness, it is completely against Instagram's ethos to spread messages of hate, whether this is in the form of threats, abuse, humiliation, violence or insult. It is never acceptable to target members of the Instagram community (or any community, for that matter) based on their race, ethnicity, national origin, sex, gender, gender identity, sexual orientation, religious affiliation, disabilities, or diseases – comments of these kind will be removed.

Let's all do our bit to counter hate speech on Instagram by deleting and reporting objectionable comments, speaking out against abuse, and showing support for one another in this amazing diverse online community.

Post appropriately

You must be 13 or over to use Instagram. The community therefore consists of a wide range of age groups, so bear in mind the diversity of the audience seeing your content! As a result, Instagram doesn't permit nudity or pornographic content to be shared on the app.

It's pretty simple – to stay in IG's good books, steer clear of posting any photos or videos of sexual intercourse, genitals, nude bottoms and female nipples. These nudity rules don't apply to post-mastectomy scarring, women actively breastfeeding or images of paintings and sculptures.

Another area to consider caution when posting is newsworthy events. Despite being informative, anything that features graphic violent, gruesome or upsetting content is at risk of being deleted in order to keep Instagram suitable for all ages groups and cultures.

Stay spam-free

Let's create genuine interactions within the Instagram community! Stay away from apps or bots that give you artificial likes, followers and comments. They're not real, they don't truly help your engagement, and they're contributing to excessive spam on Instagram.

Don't feel the need to post too much! Hopper HQ recommend between 1-3 posts a day being optimum, with anything over 10 considered as spam. Take the approach of quality over quantity, and don't bombard your audience with content.

Another sure-fire way to stay well out of spam zone is to avoid repetitiveness. Don't post the same content or comments day in day out, especially if it's for commercial purposes. Stay authentic and you're more likely to have meaningful interactions with real people – whether you're using Instagram for business or individual purposes, this is always going to be better than fake followers and repetitive content!

Create a mutually supportive environment

The Instagram community is full of people who care about each other. It is a safe place where people experiencing difficult issues can come together to create awareness or get help. During your time on the app, do your best to facilitate communities of this kind, and offer support where you can!

Stay legal

I shouldn't have to say this, but let's just make it really clear: Instagram is not a community that promotes terrorism, hatred, organised crime, or the selling of firearms, drugs and sexual services. Stay within the law kids.
The Ultimate Instagram Course
Learn how to build a relevant & engaged following. Create better content & leverage Instagram for your business.
Do Your Bit
We can all help keep the Instagram community safe and thriving.
If you see something that conflicts with Instagram's values, please help by reporting it. There are teams around the world who investigate these reports and work fast to remove content that does not meet guidelines.
Similarly, if you find content that you personally do not like, but that is not against the community guidelines, you can unsubscribe or block the person who made the post. The joy of Instagram is that you can cater your feed around what you enjoy. There's plenty of reason to believe that your behaviour on the app correlates to the amount of exposure and engagement your profile receives, so stay safe online and follow these guidelines in order to benefit as best as possible from Instagram!
Happy posting 🎉
---
Hopper HQ is not a tool for spammers. Although our plans come with unlimited Instagram scheduling, the tool should only be used to post your own content and not manipulated to post spam.
We're strong advocates of a healthy Instagram-eco system which is why all Hopper HQ accounts are monitored for spam like behaviour, including duplicate content, high post rates, persistent commenting and commercial spam. Sign up for a free 14 day trial now.