"I was reluctant at the beginning, but if you dig out the dances, the memes, and challenges, you can really find great pieces of information there. Tiktok has helped me grow my business around 20%"

@SirHeldarAmos – Twitter
The first perception of most business owners of TikTok is that it is a social media platform for Gen Z, as 47.4% of TikTok active users in the US are aged between 10 and 29. Businesses perceive TikTok as a platform for fun where they can't properly grow their business, but that's not entirely true.
Read on to find out why.
Table of Contents
What is TikTok?
TikTok is an audiovisual interface that's focused on creating short outstanding videos.
With its unlimited stream of trending videos on just about anything, you're almost certain to stumble upon the information you didn't bargain for.
It's a social media app with amazing features that enable users to create and edit their own videos and share them with the world. Users can create a variety of short and entertaining videos, where they lip-sync to background music, comedy, make micro-blog content, and more.
TikTok's short-form content of 15 seconds, 60 seconds, and most recently, 3 minutes is rightly what attracts a growing number of users as it matches the short-attention-span of people nowadays.
It also allows you to upload pre-recorded videos of a maximum length of 10.85 minutes from your gallery.
TikTok is conceivably the most engaging, entertaining and sweetly addictive social media network that shook the internet on its arrival.
TikTok has 1 billion monthly active users. Out of 4.8 billion internet users worldwide, 20.83% use TikTok. With 4.48 billion active social media users, 22.32% use TikTok on a regular basis. TikTok was able to achieve this within 4.9 years of its launch.
TikTok is distinct for increasing brand reach, consumer engagement and creativity.
TRY HOPPER HQ FREE
Refreshingly Simple Post, Story + Reel Scheduling
Visually plan all your social channels. Instagram, TikTok, Twitter, Facebook + LinkedIn.
When did Tiktok come out?
Let's go through a brief history of TikTok…
A social media app named Musical.ly became popular in 2014. The main purpose of Musical.ly was user-generated videos that combined popular songs with videos. The app was majorly used to create videos where users were lip-syncing and dancing. Surprisingly, the Musical.ly app had an estimate of over 200 Million users by mid-2017.
In 2016, ByteDance, a Chinese app developer launched a rival app to Musical.ly named Douyin. It was launched initially only in China before it was later renamed and rebranded to TikTok for better international appeal. Within a year, the TikTok app had more than 100 million users, and the popularity of lip sync videos continued to rise.
in late 2017, ByteDance acquired Musical.ly for a fee of $800 Million and in 2018 merged the two apps into one under the name TikTok.
In September 2021, TikTok reached one billion active users worldwide, with 142.2 million users in North America.
Who owns TikTok?
TikTok is owned by the Chinese billionaire entrepreneur, Zhang Yiming, founder of ByteDance technology company.
In 2012, Zhang founded ByteDance, a Beijing-based business that provides news aggregation services. The company is said to have had revenues of about 50 billion yuan ($7.4 billion) in 2018, and by 2019, it reported a revenue of $17 billion.
The 38-year-old was named one of Time Magazine's 100 most influential people in 2019, who described him as "the top entrepreneur in the world".
TikTok for business
TikTok, like most social media platforms, has different account types and distinct benefits. It has the Creator account and the Business account.
TikTok Creator account
When you open a TikTok account, you have default access to the Personal accounts which have no analytics tools and no advanced functionality.
The pro account consists of both the creator's account and a business account with advanced functions.
The Creators account is similar to a personal account for average content creators. The vast majority of TikTok accounts are creator accounts and come with numerous benefits and tools. However, there are some restrictions that businesses and brands do not find enjoyable.
With a creator's account, you can only message your friends, this means that your customers won't be able to communicate with you only if they are your friends. Another restriction is that to get a website link in your bio, you have to have 1K followers.
Tiktok Business account
It's important to note that while the overwhelming majority of active TikTokers only enjoy the entertainment and social value of its short-form video sharing capability, along with the tools and freedom it gives them to create, share and interact, TikTok's developers are already creating new ways for businesses to harness its highly engaging medium for direct consumer marketing.
So, introducing…TikTok For Businesses: the new multifunctional advertising tool for businesses seeking to tap into the huge potential market of TikTok users.
With TikTok for business, your creativity is sure to have a clockwise turnaround. Increasing your audience reach, engagement, brand awareness and eventually sales, are all unique results you can achieve using TikTok as a marketing tool for your business.
TikTok for Business also offers:
TikTok Paid ads services.
Content trafficking to external websites.
Partnering access to top TikTok influencers.
TikTok Content Analytics to observe and report when your content is trending.
Minute-by-minute performance tracking.
The latest TikTok user statistics show that there are 386.6 million TikTok users between the ages of 18 to 24, and they make up 43.7% of the platform's users worldwide—the largest of all age groups.
This is definitely not an opportunity to miss if your audience can be found on TikTok.
Despite its competition with rival social media apps like Facebook, Instagram, and YouTube, TikTok is still the fastest-growing social media channel among marketers in 2022.
TRY HOPPER HQ FREE
Refreshingly Simple Post, Story + Reel Scheduling
Visually plan all your social channels. Instagram, TikTok, Twitter, Facebook + LinkedIn.
How to make a TikTok
TikTok offers and incorporates several unique and awesome features for users to enjoy and explore their unlimited creativity.
There are a variety of add-ons, soundbites, easy-to-apply special effects and filters which you can use to edit and spice up your TikTok video. You also have an option to upload your pre-recorded and edited videos from your gallery or camera roll.
TikTok videos generally can be in the form of duets, tutorials, hashtags & hashtag challenges, and reaction videos. For whichever form you want to create and record on the go, the steps below will guide you:
1. Click the plus sign (+) at the bottom of your TikTok home screen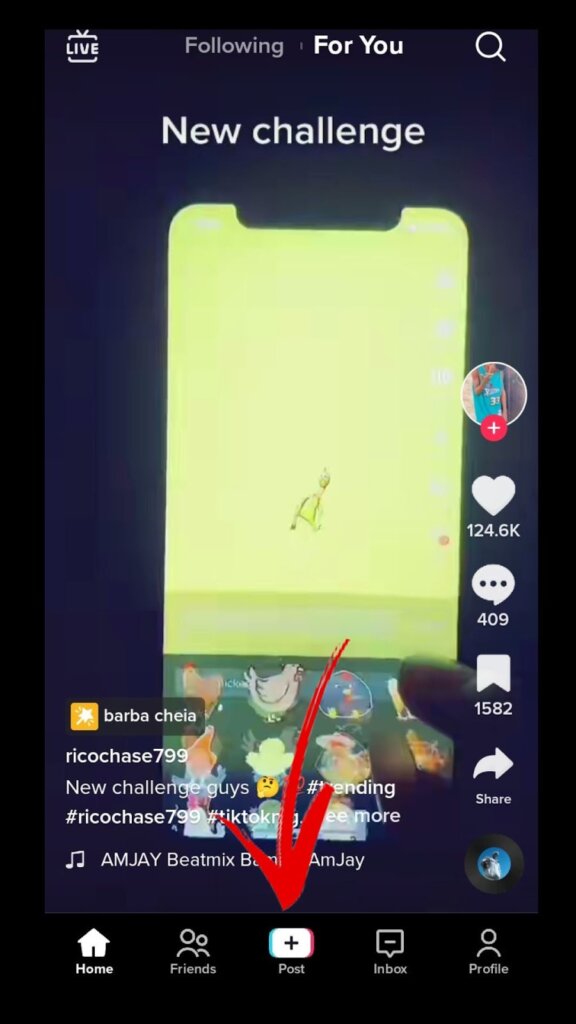 2. Next, the recording screen will display a red circle to start recording.
You can choose the 15-second, 60-second, or 3-minute option above the red circle, depending on the length of time you want your video to be. Click on the red circular button to start recording.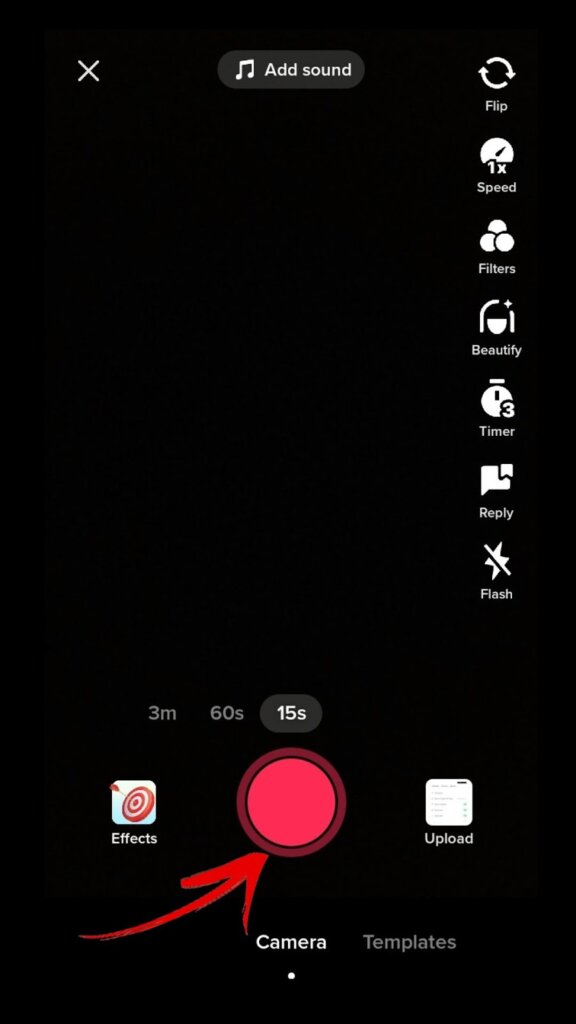 To the left of the red record button is the 'Effects icon', when you tap it, you'll see different effects you can add to your video.
On the right side of the screen above the red circle, you'll find other features you can use in creating your TikTok content, the features include flip, speed, filters, beauty, timer, reply and flash.
From the right side of the record button, you can upload your pre-recorded content by clicking on the 'upload' icon.
3. To add a song to your video, tap the Sounds button at the top of the recording screen. You can add your sound before or after your recording.
If you click on 'Add Sound', the Sound library opens. Here, you can browse new releases, genres, trending playlists, and more. Save the music of your choice to your Favorites by clicking the bookmark icon to the right of the song name. Then, from your favourite, you can add it to your video.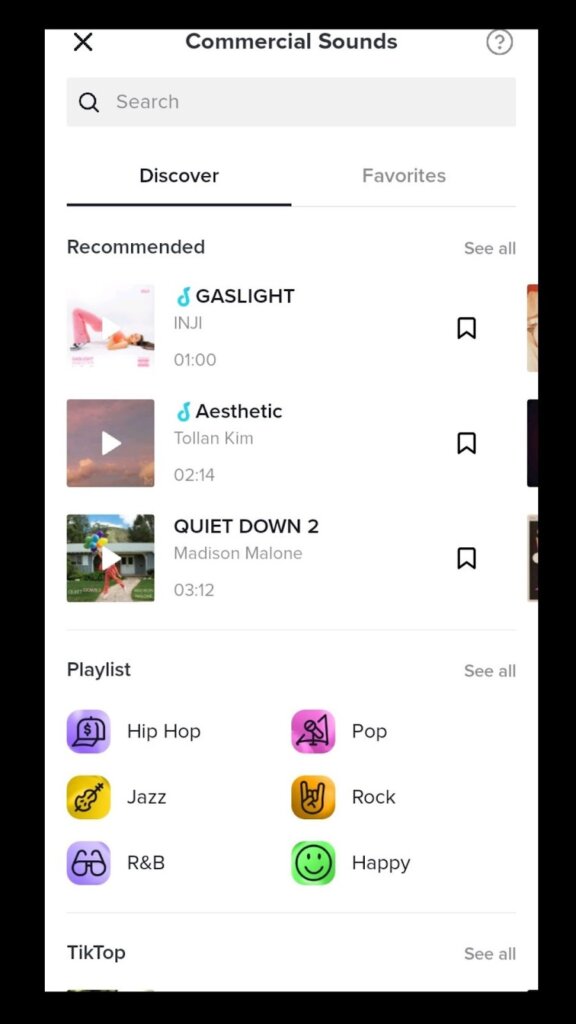 4. Next, TikTok allows you access to other editing features that give your content that touch of excellence and creativity. You can add text, stickers, voice effects, voiceover, trim and more.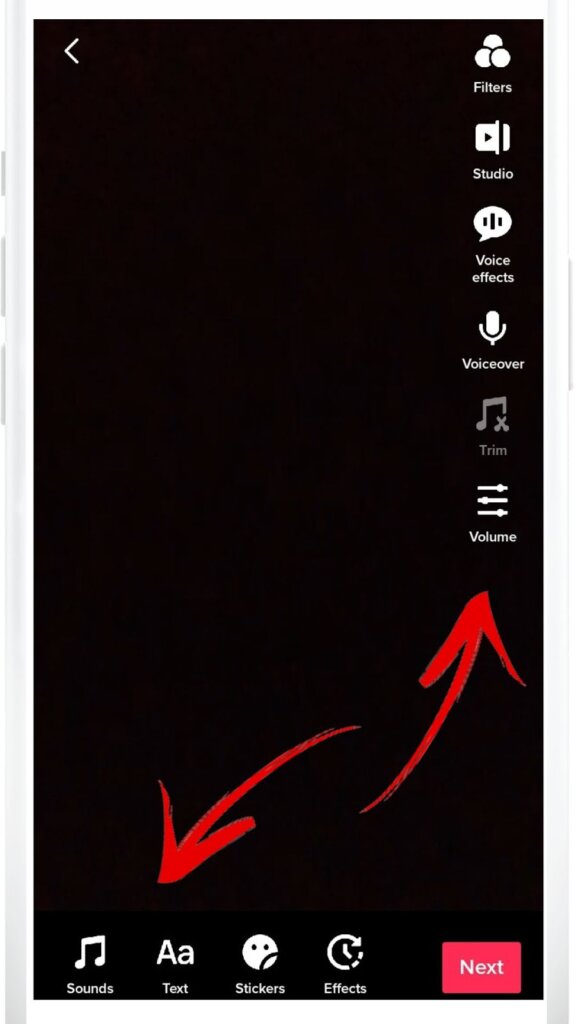 5. Once you are satisfied with your content, click on the 'next' button at the bottom of your screen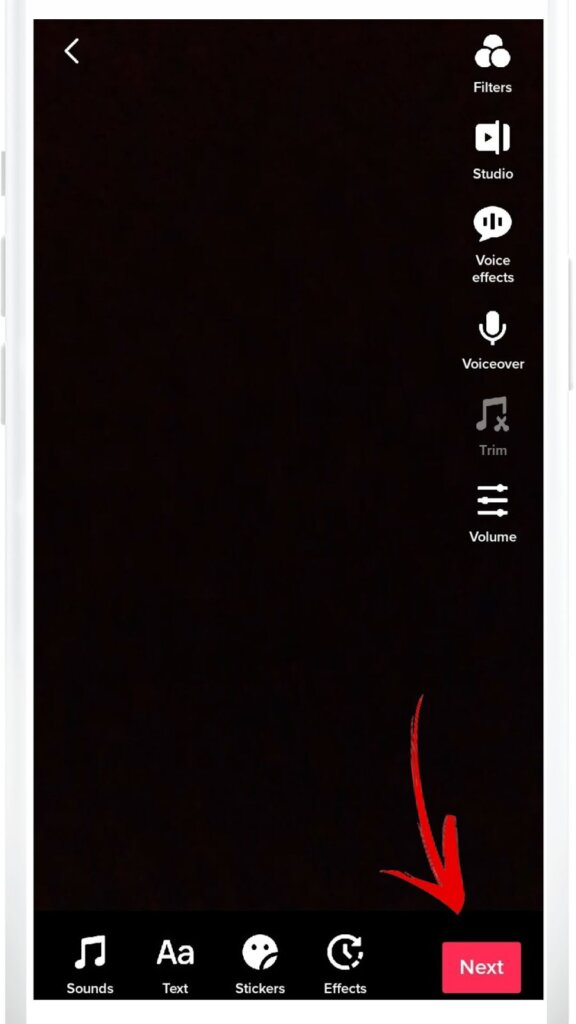 6. Next, the Post screen appears, where you have the following options:
Type a description for your video.
Add hashtags.
(Tag) @ your friends.
Add links.
Decide who can see the video.
Save the video to an album.
Share the video on WhatsApp, Instagram, and Facebook.
7. Once you've made your choice and you are ready to post immediately, tap the red 'Post' icon at the bottom right OR tap the white 'Drafts' button to save it for later.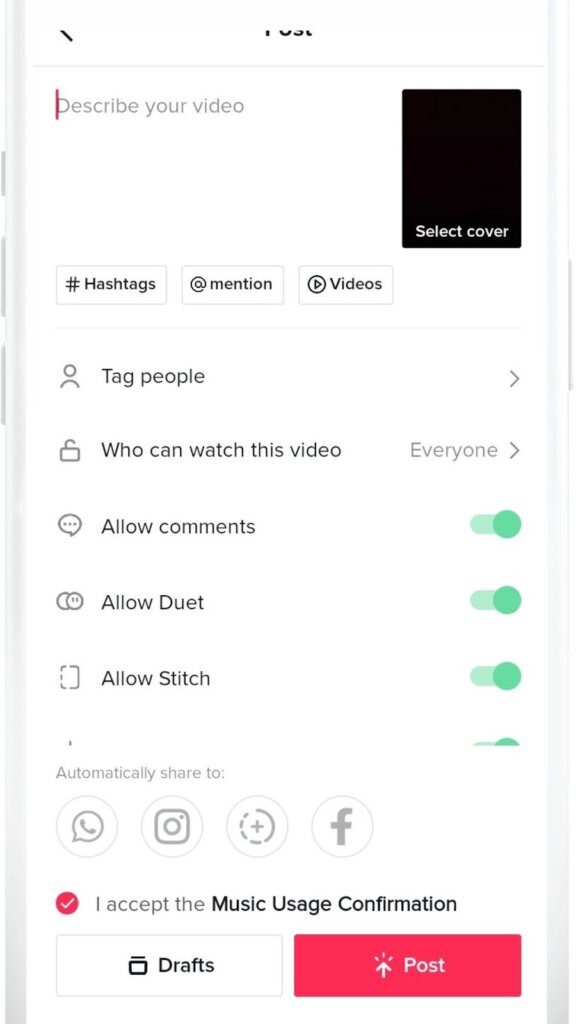 How to schedule TikTok posts (a step-by-step)
Marketers are often busy working round the clock to create content to help them achieve their marketing goals. The best way to save time and create winning TikTok content is by scheduling your posts.
Schedule TikToks with Hopper HQ
Hopper HQ is a great way to schedule TikTok videos. You'll simply receive a push notification on the scheduled publishing day and time, and proceed to publish your TikTok posts with a few clicks.
Here's how:
1. log in to Hopper HQ and tap the Create button.
2. Press the Post button. You can either choose to bulk-upload several posts at a time or one video after another.
3. Select the time schedule and dates for each post you upload and add a note for the push notification display to remind you which one is ready for publishing when the date occurs.
4. Schedule your post and save.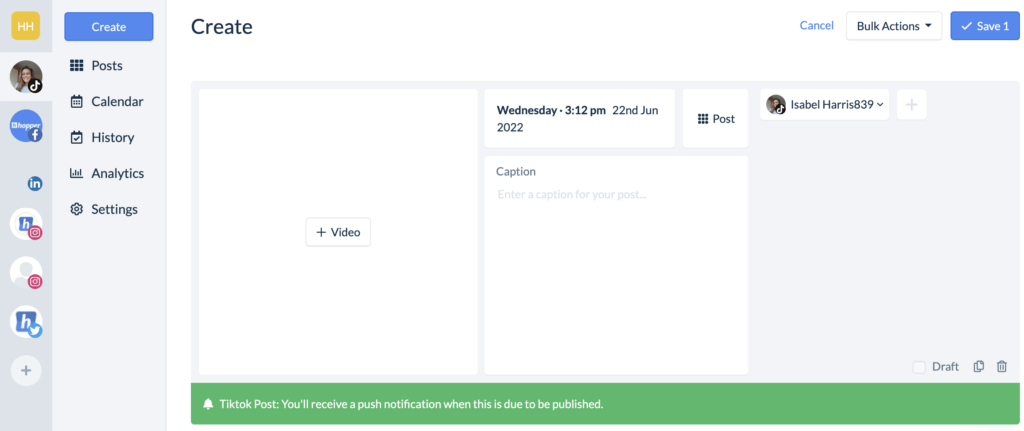 ⚠️ TikToks will not autopost! ⚠️

5. When the scheduled time and date arrive, you'll get a notification in your TikTok app. Click on the notification to publish your TikTok video.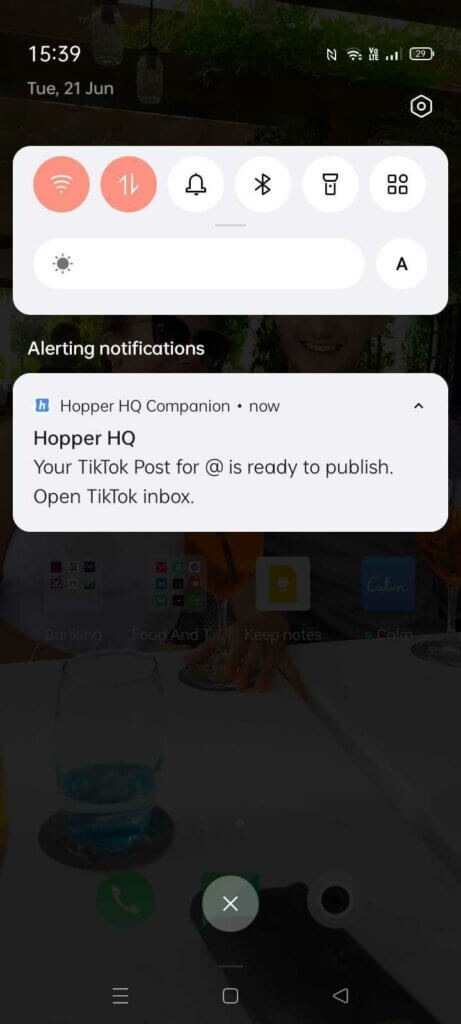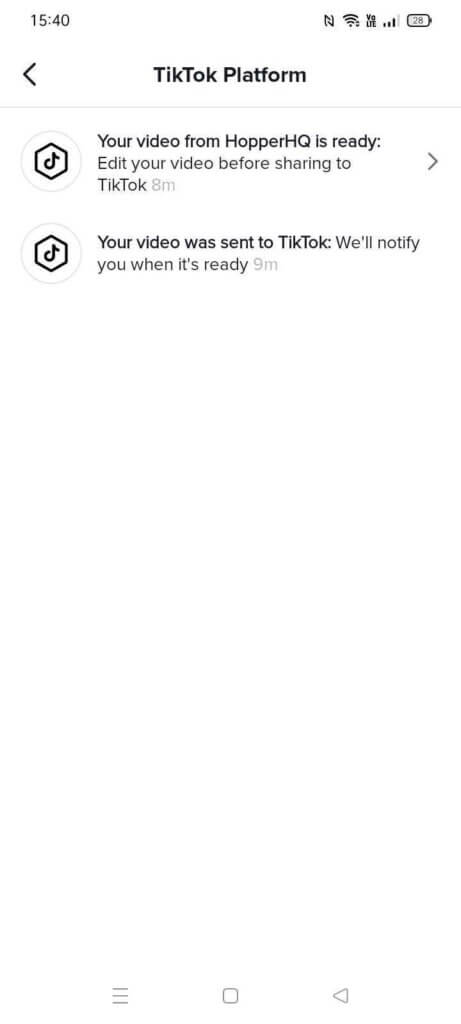 And voila, your TikTok post is live! ✨
Simple Post, Story + Reel Scheduling ✨
Visually plan your social content. Instagram, TikTok, Twitter, Facebook, LinkedIn + Pinterest
Schedule posts with TikTok business
TikTok's new Video Scheduler allows you to schedule posts from 15 minutes up to 10 days before publishing.
In order to schedule TikTok posts with TItkTok business, you will need a Business Account or Creator Account. If you don't already have one, you can go to Settings > Account to change your account type.
Use your desktop and not a mobile phone to access it.
Here is a quick step-by-step:
1. Log in to your account at tiktok.com on a web browser
2. At the top right-hand corner of your feed, click on the Cloud icon.
3. Upload and edit your video, add captions and hashtags and customise the privacy settings for your video.
4. Schedule your post by switching the schedule button to select a date and time to post your video. The time zone on your computer setting is the default.
5. Click the 'schedule' icon to schedule your post!
Note: You won't be able to make any new changes to your video after you schedule it, just as it is with uploading in real-time.
Thankfully, if you need to change something, as soon as you cancel or delete the scheduled post, you have complete control over the process once again from beginning to end. So you can re-upload your new video after making the edits.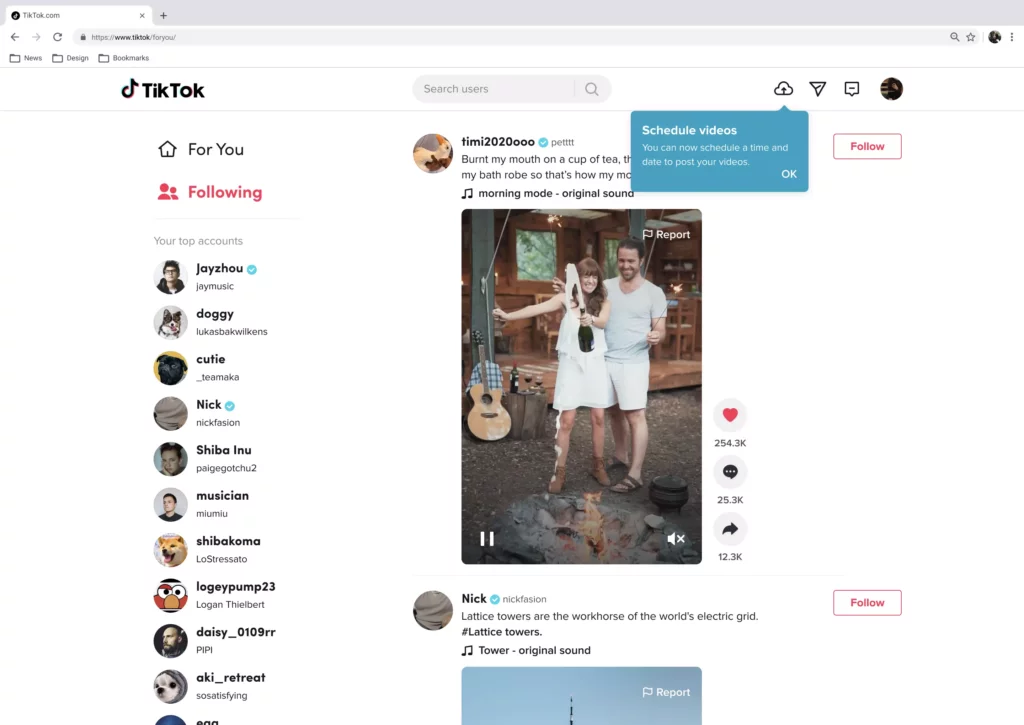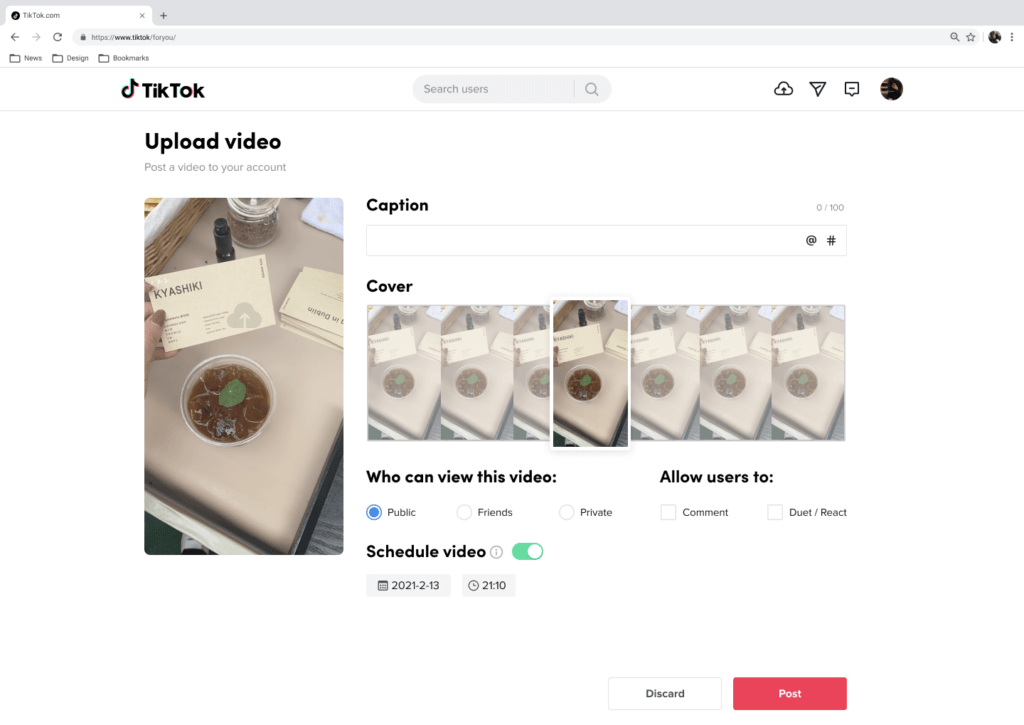 How to go LIVE on TikTok
Tiktok has two major requirements you must meet before going LIVE:
First, you must be above 16 years of age, this is ascertained by your birthdate when you initially create your TikTok account.
Secondly, you will need to have at least 1,000 followers.
Here is a simple guide to going LIVE on TikTok:
1. Open the app and tap the create icon (+) at the bottom of the screen.
2. Select LIVE from the menu.
Once you select LIVE, you'll be able to see a preview of your video feed. In the preview, you can add a title to your Livestream, turn comments on or off, add effects or filters, and share your Livestream through connected social media platforms or a messaging service.
3. When you're ready, tap 'Go LIVE' to begin streaming your video.
4. Once you've finished with your Live event, simply tap the power button on the bottom of the menu screen to end your stream.
5. Unlike a pre-recorded video that you take time to create, edit and post to your TikTok feed afterwards, a Livestream will disappear as soon as you're finished, so enjoy it while you can!
However, TikTok records your LIVE session and you can access it in Settings and privacy > LIVE Replay. You can then choose to replay your LIVE, download it to your device and post it afterwards.
Best time to post on TikTok
Check our detailed blog to find out the best time to post on TikTok
Because of the continuous round-the-clock bustle of TikTok, finding the best time to post on TikTok will differ depending on the time zone of your audience and the day of the week.
For working days like Mondays to Thursdays, the best time to post will be the early hours of the day. Most people check updates on social media before starting their day's activities. Also between lunch hour users get onto their TikTok to refresh or pass the time.
Then finally before the late hours, when most people are starting to retire from the day's work they ease up on TikTok before passing out.
During the weekend there's longer stay time and more activities on TikTok because of free time and fewer work activities for some. It will be good to use your discretion but avoid posting late at night as engagements are usually less.
Influencer marketing hub analysed over 100,000 posts to get an estimate of the best times to post on TikTok based on the highest engagement rates, and here are the results (all in EST and ignoring sectors):
Best Times to Post on TikTok:
Monday: 6 AM, 10 AM, 10 PM
Tuesday: 2 AM, 4 AM, 9 AM
Wednesday: 7 AM, 8 AM, 11 PM
Thursday: 9 AM, 12 AM, 7 PM
Friday: 5 AM, 1 PM, 3 PM
Saturday: 11 AM, 7 PM, 8 PM
Sunday: 7 AM, 8 AM, 4 PM
How to make money on Tiktok
There are several ways to make money on TikTok:
The TikTok Creator Fund
The Tik Tok creator fund payouts are only accessible to creators located in the US, UK, France, Spain, Germany or Italy. Within these listed countries you must be a minimum of 18 years and have at least 10,000 followers and have at least 100,000 video views in the last 30 days. Lastly, your account must abide by the terms of service and community guidelines of TikTok.
With these, you can apply for the Creator Fund using the TikTok pro version which is a paid version.
The TikTok Creator Fund pays you between 2 and 4 cents for every 1,000 views, this means you might expect $20 to $40 after reaching a million views.
TikTok brand partnerships
Another way to make money on TikTok is to partner with a brand, the brand can pay you for creating content that promotes their brand and advertises their product. This works when you have a wide range of audience and traffic going for you. The brand can enter paid collaborations with you and sponsor your content.
We've recently launched our 2022 TikTok Rich List, revealing the highest-paid TikTok creators and how much they get per sponsored post on TikTok. See the full list here!
TikTok selling: How to sell products on TikTok
There are a few tips to help you sell your products on TikTok.
1. Research Your Target Audience/market
Is your target audience/market on TikTok? This is the first question you will need to answer before creating a TikTok account for your business. Backlinko reports that out of 4.48 billion active social media users, 22.32% use TikTok on a regular basis and the majority of users are Gen Zs. If your target audience is young people then TikTok is the perfect channel for you to spend time on.
2. Create an account
Once you create an account, you are automatically tagged as a personal account. You need to switch to a business account to enable you to sell products and have access to other benefits like post performance and audience data, business content creation, video showcase, commercial music library and also analytics.
3. Optimize Your TikTok Profile
Before selling, ensure your profile gives a simple and concise introduction of your brand to your audience. Describe your brand and what you do. You can also link your website, email address, and social media accounts.
4. Link your product to your account
Add links for customers to buy your product. This is one easy way to advertise your product.
5. Create engaging content
Your audience wants to be thrilled every time they see your content. Ensure your content is entertaining and informative. You can see trends and use trending music, create your own hashtags, and search for keywords related to your brand or business.
6. Leverage Influencers
Influencers are individuals or brands that already have a voice on TikTok because of their large audience. You work with an influencer who can mention and promote your brand for a fair price.
7. TikTok Paid Ads
Paid Ads are also a great way to promote your brand as it gives you the opportunity to create TikTok marketing strategies that reach new and wider markets and target your audiences.
TikTok analytics: Top TikTok metrics to track
Monitoring the performance of your content on TikTok will help know how your viewers are engaging with your content. It will also help you strategize and create better content subsequently.
Tiktok analytics is quite detailed and categorized into 3 categories: Overview, Content, and Followers.
Overview: Here you will be able to see your TikTok follower growth, TikTok video views, TikTok profile views, number of likes as well as comments and shares over the last 7, 28, or 60 days.
Content: For deeper insights, you can also find content metrics by clicking on the 'Content tab' for extended data and analytics for each video you post.
Note: All Content metrics are available for the last 7 days only.
Followers: This tab highlights insights about the community you've built on TikTok. This includes information like the location of your audiences, active time of your followers within the week, and also helps you compare your follower growth
To access the analytics of your content simply click on your 'profile' tab, tap the three dots at the top right, click 'Creator tools' and select 'Analytics'.
Explore The Data Behind Your Social Media Accounts 📊
Find the best time to post, track your follower growth, and understand what content works best with post and account analytics.
The TikTok algorithm
What Is the TikTok Algorithm?
The TikTok algorithm is a system designed to show users relevant content based on their interests. The platform uses TikTok's own very personalized content delivery algorithm.
According to TikTok: "the For You feed reflects preferences unique to each user. The system recommends content by ranking videos based on a combination of factors – starting from interests you express as a new user and adjusting for things you indicate you're not interested in, too – to form your personalized For You feed."
The TikTok algorithm is based on each user's responses, engagement (likes, comments, shares), completions, re-watches, previous interactions, user interests (caption keywords, sounds, hashtags, effects), and location.
Factors that don't affect the TikTok algorithm:
The Tiktok algorithm does not factor in the number of followers you have and your previously well-performed content to rank your new content.
Every content posted can go viral once it meets the algorithm standard.
Marketers need to look past the fun and entertainment on Tiktok to harness ways to grow their business.
Related posts:
FAQs
Can I use TikTok to grow my business?

TikTok is perfect for increasing brand reach, consumer engagement and creativity. It is the fastest growing social media platform with over 1 billion followers within 6 years of its launch.
How can I use TikTok to grow my business?

As a marketer growing your business with TikTok requires intentionality and creativity. You will need to:

Research Your Target Audience/market
Create an account on TikTok
Optimize Your Profile
Link your product to your account
Create Engaging content
Leverage Influence
Use TikTok's Paid Ads
How many followers do I need to become an influencer on TikTok?

Influencers vary depending on your niche. The influence you have on your target audience is the best way to measure your influence not only on the number of followers you have. However, having 3k followers is a good start.
How much can I make on TikTok monthly?

Earning on TikTok is limitless. However, it can vary greatly by niche, country, audience location and audience brand affinity.
Why can't I earn on TikTok?

To get verified for payment there are requirements; you must be 18 years or older, have at least 10k followers, and have accumulated at least 100,000 video views in the last 30 days.
Is earning on TikTok limited to location?

TikTok pays creators within the US, UK, France, Germany, Spain, or Italy.