TikTok has become extremely popular in recent years, especially with young Millennials and Generation Z. 167 million TikTok videos were watched in one internet minute.
Want to make Tiktok Videos that grab the attention of your audience? Check out this comprehensive guide to learn how to create scroll-stopping TikTok videos!
Related: Check our latest blog to find out the best time to post on TikTok
Schedule TikTok Posts from Your PC ✨
Visually plan & schedule your TikTok videos right from your desktop with Hopper HQ
Table of Contents
The TikTok For You page
You need to create an account to log in to the Tiktok app. For this, you can use your social media accounts such as Google or Facebook, your email address, or your phone number.
After logging in, you will see the TikTok "For You" page where you can access the colourful world of TikTok, explore the accounts you can follow, and watch fun Tiktok videos.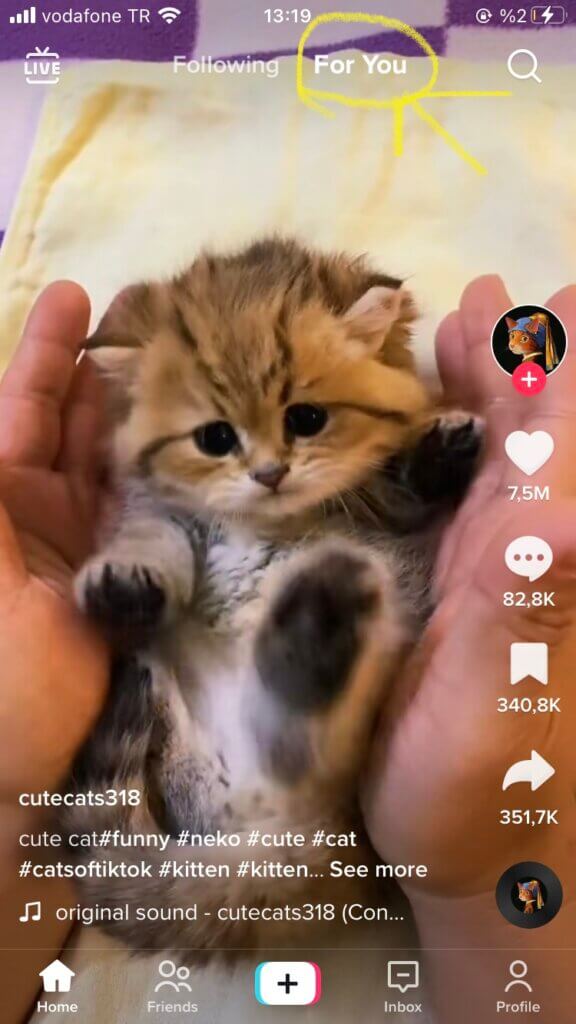 Do not forget to follow the accounts you like to get relevant TikToks on this page that will appear every time you open the application.
We can say that the "For You" section has the same logic as the discover page of Instagram. The videos you watch over time will also shape the "For You" page.
In addition to the "For You" page, you can also search for the content you may like with the discover icon in the top-right corner of the screen.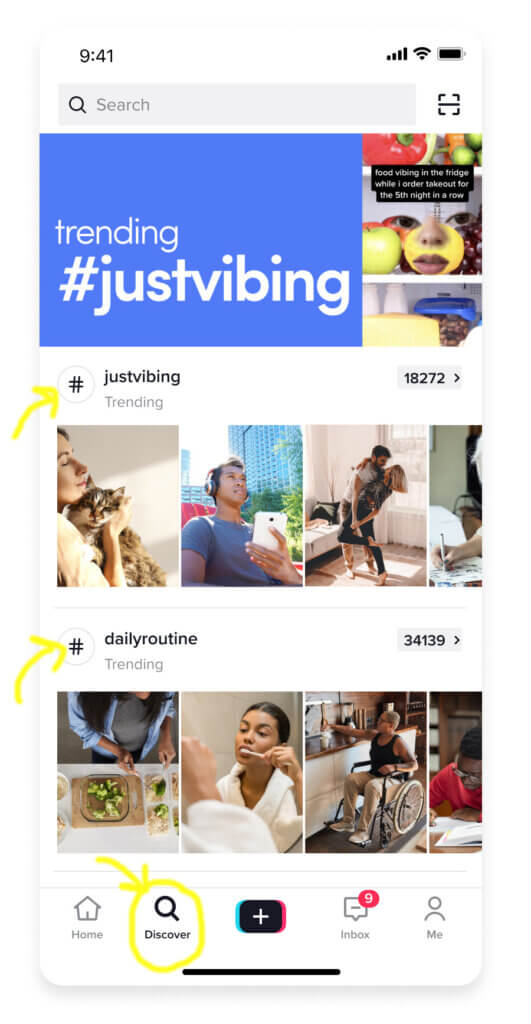 As you can see above, hashtags, song titles, or usernames will help you find the content you're looking for. You can also learn the hashtags created for a TikTok challenge on a certain dance, song, or theme and watch all the users participating in the relevant challenge.
Schedule TikTok Posts from Your PC
Visually plan and schedule your TikTok videos right from your desktop with Hopper HQ
How long are Tiktok videos
Tiktok videos can be 15 seconds, 60 seconds, 3 minutes, or 10 minutes long.
When TikTok was installed, the videos in the app were only 15 seconds long. This short format is designed to grab people's attention. Perfect for fast consumption when scrolling through an endless stream of video.
Tiktok added a 60-second video option in 2017. This has started to increase the amount of time people spend on the app.
As of 2018, TikTok had over 300 million users. Since then, TikTok has started testing longer uploads, increasing the maximum video length to 3 minutes in July 2021.
Recognizing its tremendous success, the company continued to push for even more long-form content. In early 2022, TikTok expanded video lengths to 10 minutes.
Tiktok video dimensions
TikTok profile photo minimum image size: 100 x 100, though we recommend choosing at least 200 x 200 for the best quality.
TikTok video size: 1080 x 1920
TikTok video dimensions ideal aspect ratio: 1:1 or 4:5.
How to make TikTok videos
You can start creating TikTok videos by clicking the "+" icon at the bottom of the homepage.
Then you will see a red circle button that is used to create the video. You can prepare your Tiktok videos by clicking this icon. After you shoot your video, you can share your video by tapping the share option.
You can more easily reach people who will love your Tiktok videos by typing hashtags about your video before sharing it. The more top-rated videos you make, the more people will see you on the For You page.
Grow Your Audience With #Hashtags
Discover better hashtags to reach the more people, grow your follower count and get more engagement on your posts.
Here's what makes a video top-rated on Tiktok:
Using trending hashtags
Keeping up with Tiktok trends
Making videos showcasing your skills
Creating "How To" videos
Covering a current event
Featuring pets (and children) in your videos
Creating lip-sync videos
Making your version of a popular video
Creating duet videos
Starting a hashtag challenge
Making Tiktok Videos (step-by-step):
1. Open the TikTok application on your mobile device and click the + sign in the menu at the bottom of the screen.
2. Choose the length of your Tiktok video as 3 minutes, 60 seconds, or 15 seconds.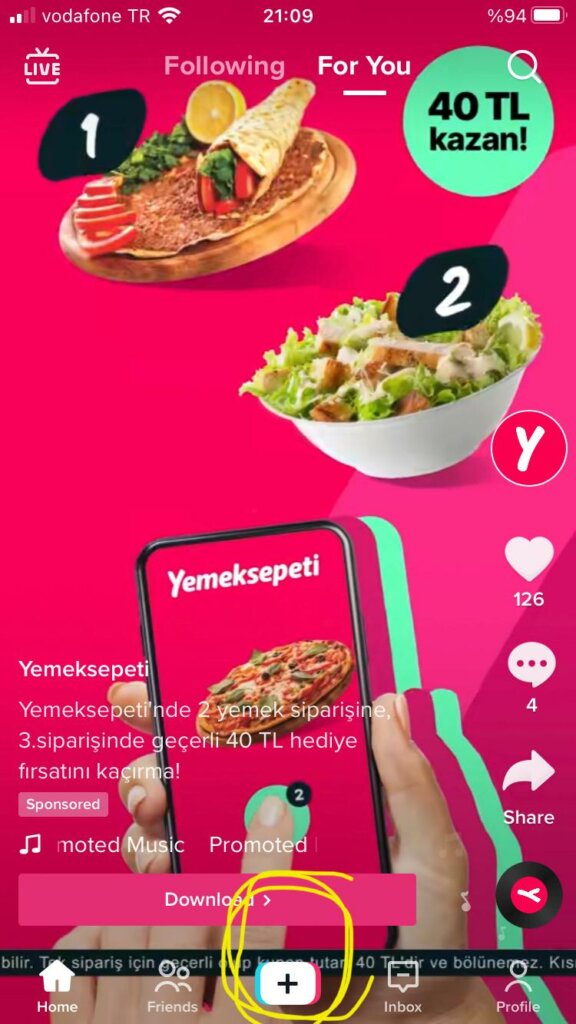 3. Decide whether you want to apply effects before or after recording your video.
If you want to do it earlier, tap the Effects icon. When you're done, tap the screen to exit the Effects section.
You can adjust and apply the effects you want from the buttons on the right side of the screen.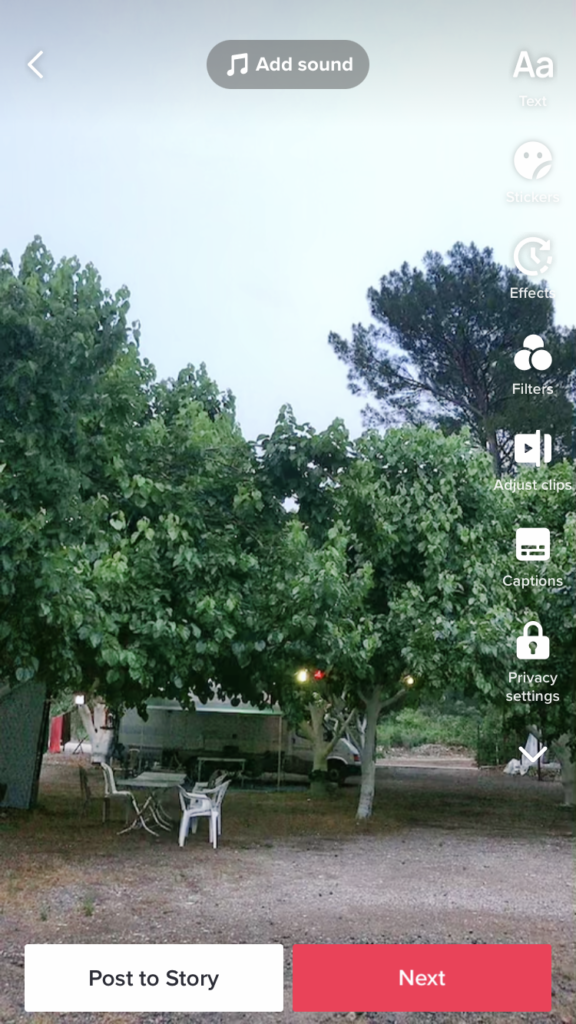 4. Add the filter you want on your Tiktok videos by clicking the Filters button on the right of the screen.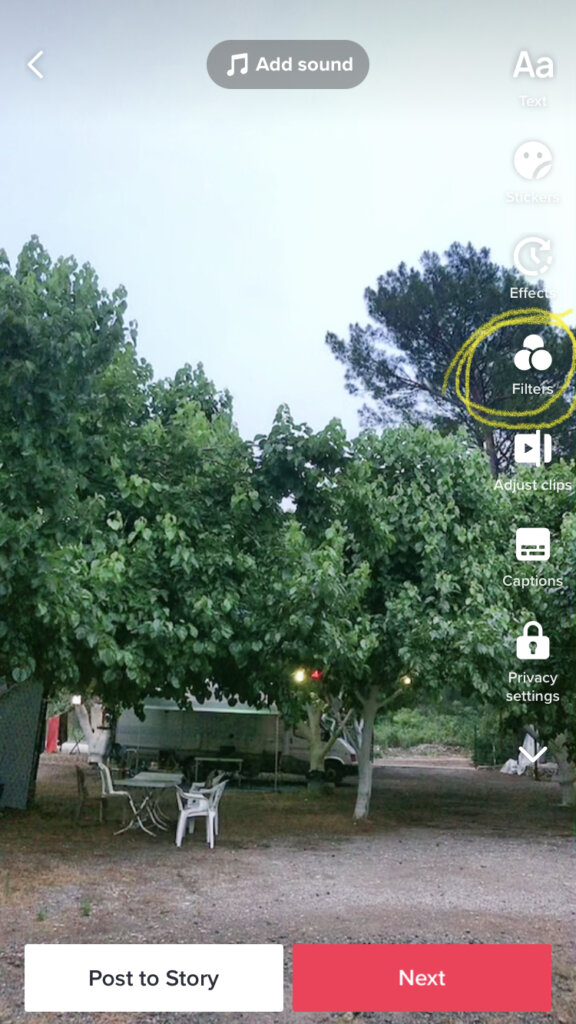 5. Edit the length and content of your Tiktok videos by clicking the Adjust Clips button.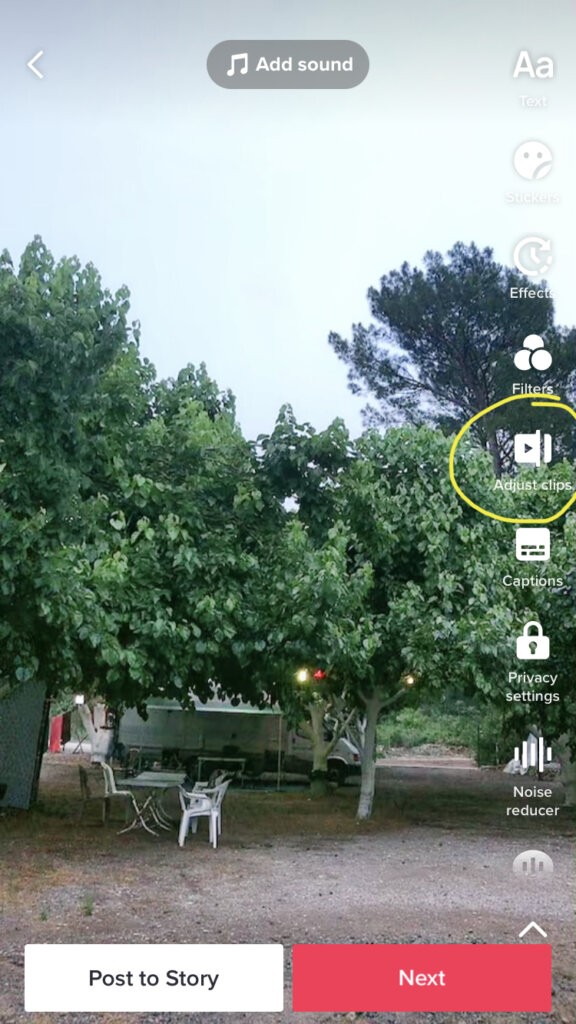 6. Change the sound of your Tiktok videos by clicking the Voice Effects button.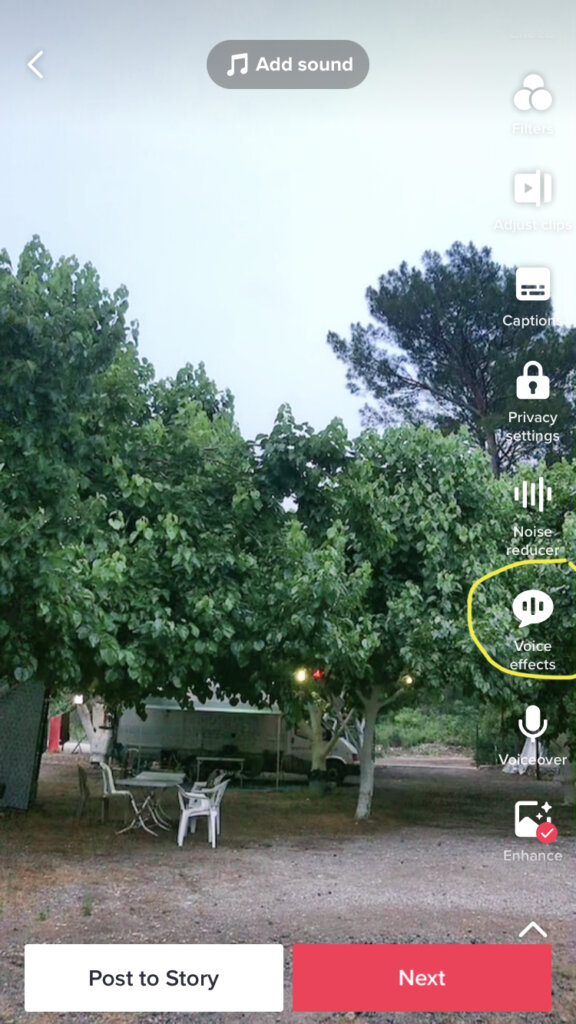 7. By clicking the Voiceover button, you can record voiceover sounds on your video.
8. Click the Add Sound button to choose a sound from the TikTok library.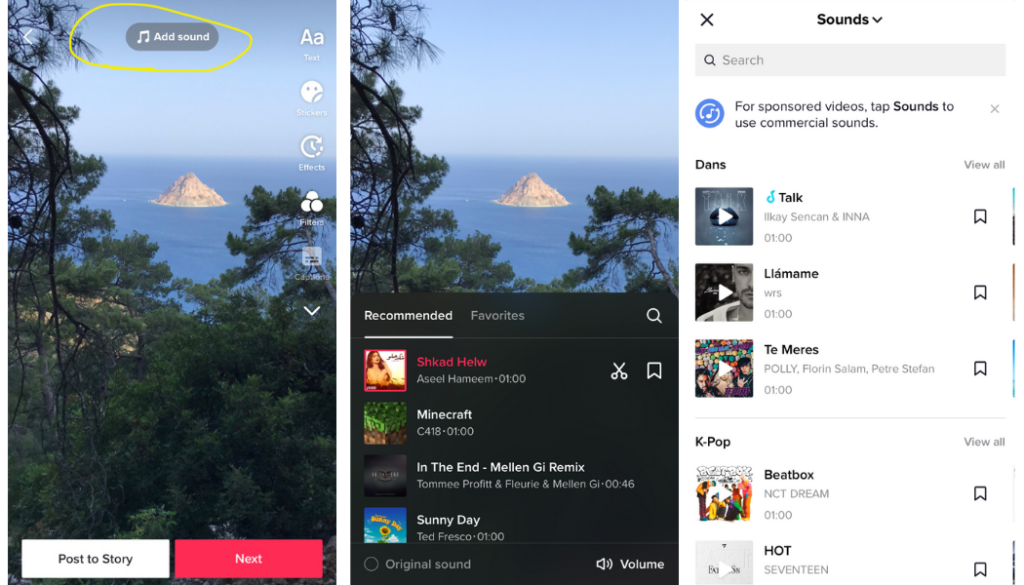 9. Click the Text button to write something in the colour and font you want on your Tiktok videos.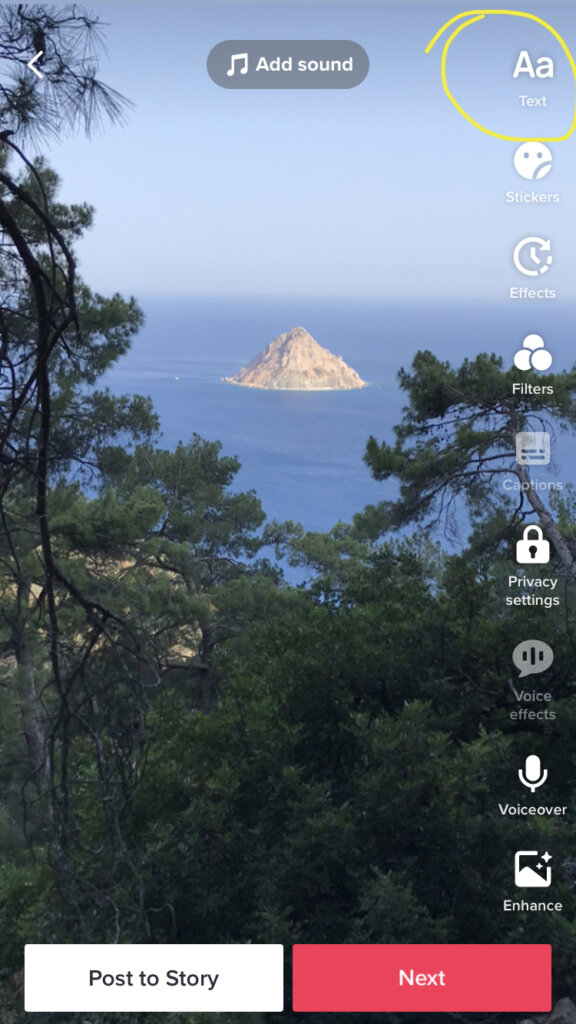 10. You can add interactive and fun graphics to your videos by clicking the Stickers button.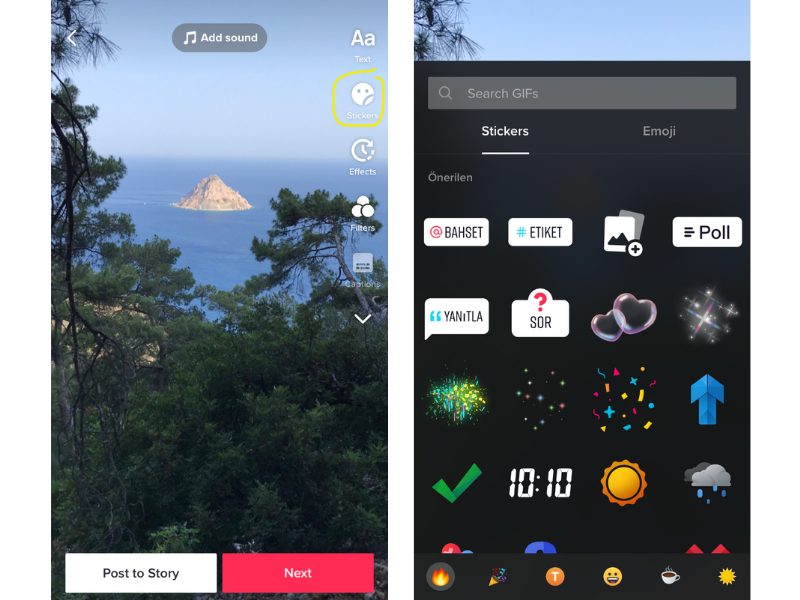 Finally, when you have finished all the adjustments, tap the Next button to publish as a TikTok post, or choose the "Post to Story" button to post it as a TikTok story.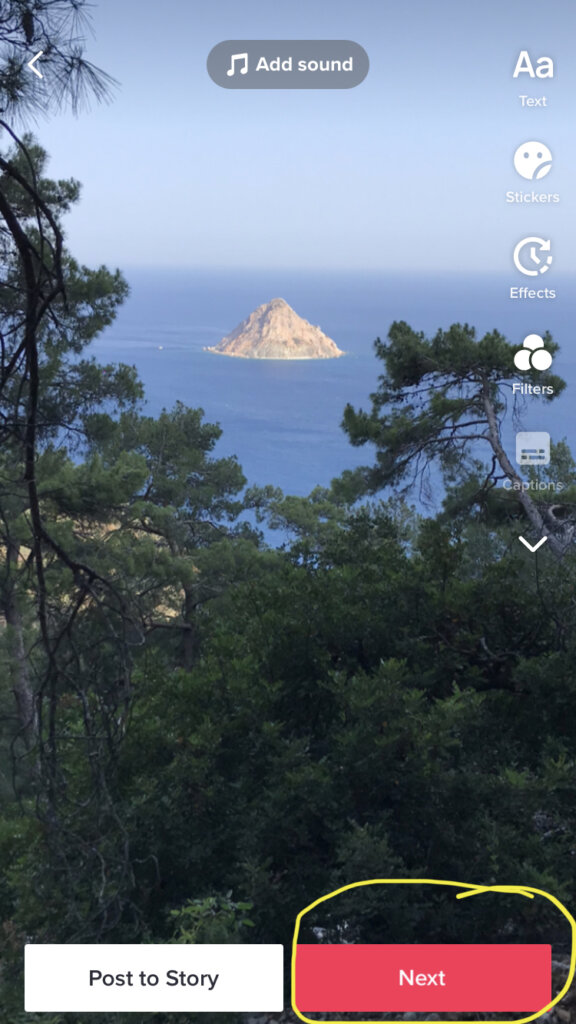 Add your mentions and hashtags, customise privacy settings, allow comments, and choose other social networks to share your video on.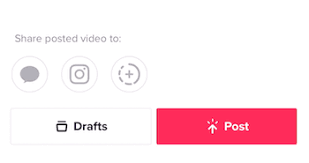 Tap the Post button when you're ready to share your first Tiktok video, or save it as a draft to share later.
Plan & Schedule Your Social Media Posts
Visually plan your posts. Drag & drop everywhere in seconds ✨
How to edit TikTok videos after posting
Most of the video editing on TikTok is done before posting the video. You can add effects while recording your Tiktok videos or before posting them online.
Unfortunately, TikTok doesn't allow you to make too many changes to your video once it's posted online. So, If your video has already been published, you won't have as many options as you did before publishing the video. But don't worry, there are some ways in which you can edit TikTok videos and captions after you've posted them. let's dive in:
Method 1: Save and re-upload your TikTok video
1. Go to your profile by clicking the Profile button at the bottom of the screen.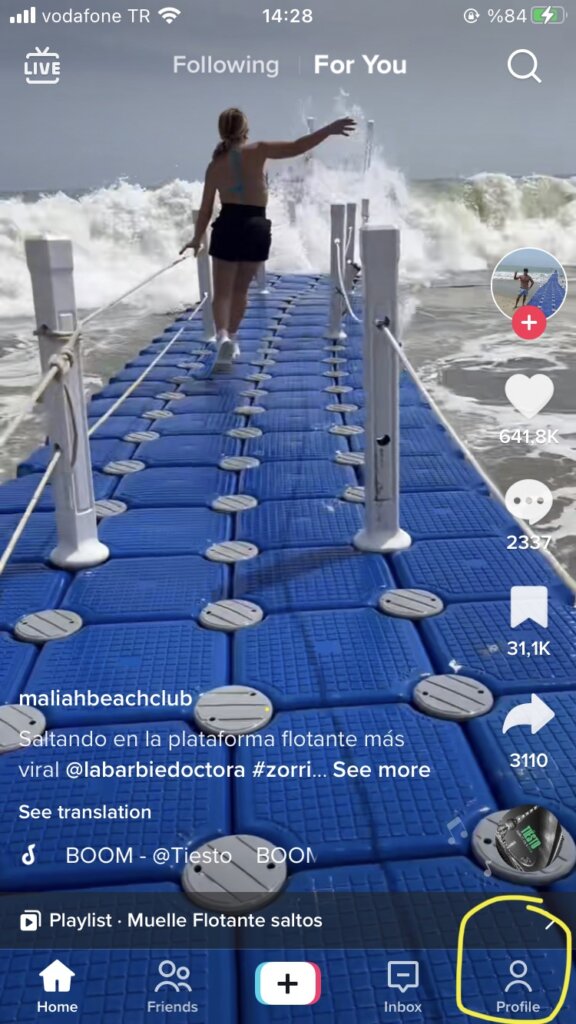 2. Select the Tiktok video you want to change.
3. Tap the 3-dot icon on the right side of your profile. Then select Save Video from the list of options.
This button saves your video to your phone with your effects and music as it is on your TikTok.
4. Once your video is saved, return to the home screen on TikTok and select the + sign to add a new video
5. However, instead of recreating your TikTok video from scratch, select Upload on the right side of the record button and select the video you saved from the list of options.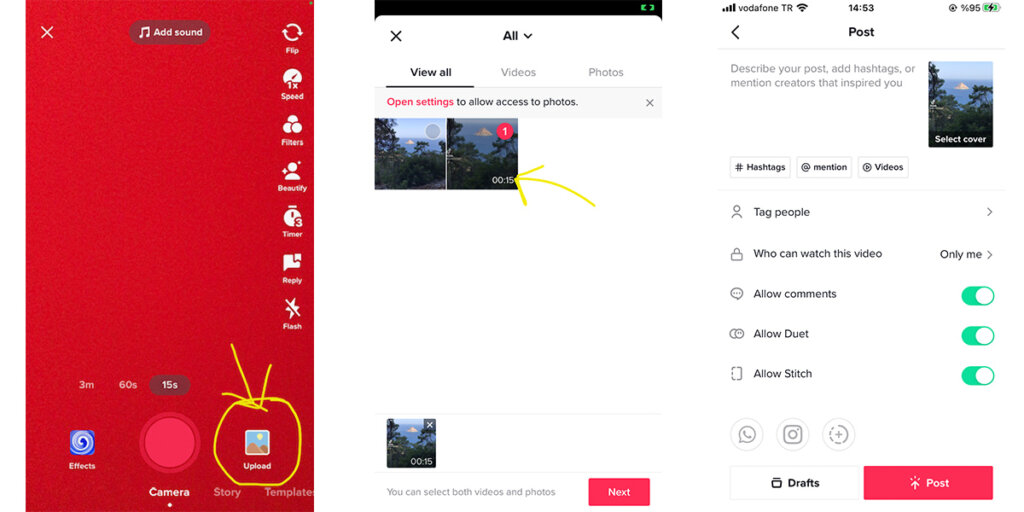 This allows you to directly upload your original TikTok video. You can now adjust it by changing the effects or adding text.
Method 2: Edit TikTok videos in saved drafts
TikTok drafts are unpublished videos that others can't view yet. You can still go back and edit videos in draft mode. Here's how to make edits to a TikTok draft video:
Go to your TikTok profile and tap on Drafts.
Select the video you'd like to edit and publish.
Make the edits you want as you would for a new video
Tap next to publish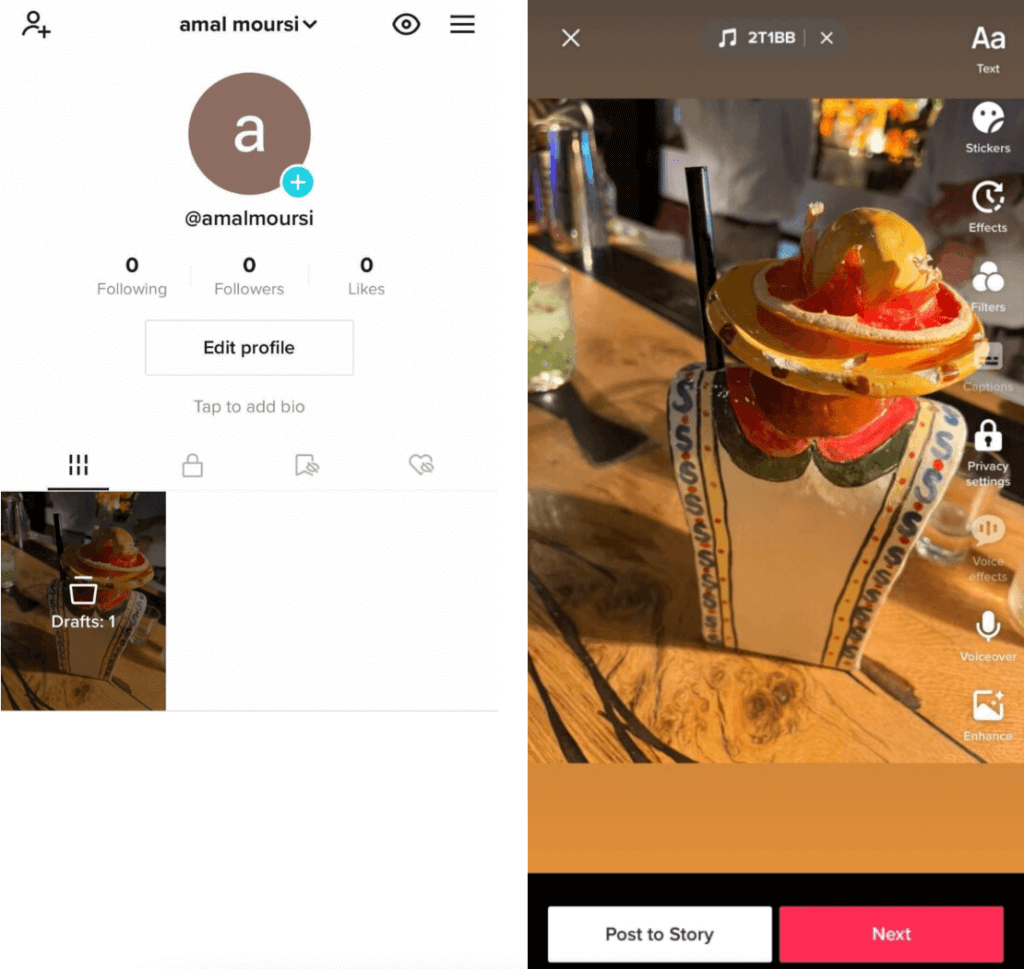 Tiktok Video Editing Apps
While TikTok's internal editor can be a great tool, it does have its limitations. That's why many TikTokers use external editing tools and apps with more features and visual effects to take their videos to the next level.
You can find such video editing apps online or in Google Play or App Store.
Here are some Tiktok video editing apps that you may find useful:
1. Magisto
Even though TikTok comes with many video editing tools, sometimes you need something extra to make your video stand out.
Magisto helps you combine your TikTok videos with photos, music, effects and filters that are not in the original app. You can also share your creations directly on your other social media accounts.
2. InShot
InShot offers a wide variety of features that you can use to further improve your TikTok videos. You can use it to add frames or text to videos, combine two or more videos into one, and add all kinds of cool effects to your Tiktok videos.
You can download the app for free, but your videos will have a small InShot icon in the corner. If you pay $10 for the pro version, the icon disappears, and you get some additional special effects.
3. VivaVideo
VivaVideo works on both iOS and Android devices. It is a small video editor that complements TikTok well.
The app lets you add filters, stickers, themes and even music to your Tiktok videos. You can also cut, copy, merge and create collages of your favourite videos.
How to delete TikTok videos
If you have uploaded a wrong video on Tiktok or you want to delete a video that you no longer like from your account, you can follow the simple steps in this guide.
It's worth noting that it is not possible to delete all uploaded videos at once. TikTok only allows you to delete one video at a time.
Deleting videos on Tiktok is very simple. Before we begin, it is important to remember that a deleted video can no longer be viewed by anyone.
To delete your videos on TikTok, follow these simple steps:
Open the TikTok app on your device.
Click on the "Profile" icon in the bottom right.
On the new screen, you will see all the videos you have uploaded to TikTok.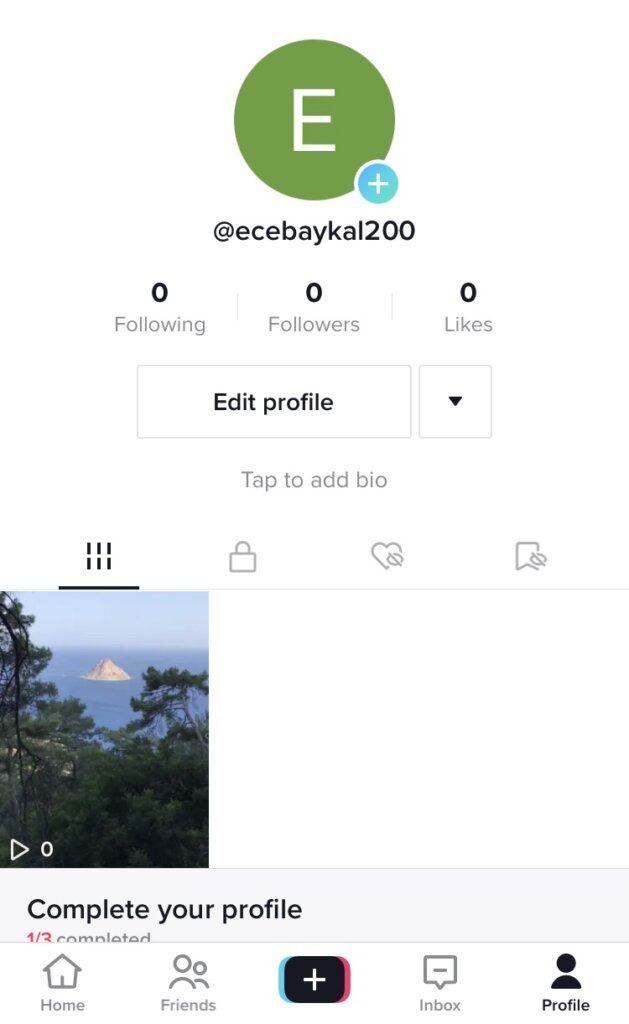 Scroll to find the video and click on it if you want to delete it.
Click on the three horizontal dots icon on the right side of the screen. Then, delete your Tiktok video by clicking "Delete" in the new menu that opens.

How to save Tiktok videos
Keep in mind that when you delete your Tiktok videos, they will no longer appear on your profile, and you can't get them back in any way, so you can always save them before deleting them.
The platform allows you to save your Tiktok videos directly to your camera roll with the TikTok watermark. If you want to save Tiktok videos, you simply need to click the share option.
Repost TikTok Videos to Instagram
Automatically post your TikTok videos to Instagram. without watermark!
TikTok allows you to save:
Any video you make
A video made by someone else
Video downloads you make with the Tiktok app will appear in your device's camera roll. You will only have to wait a few seconds for the app to export the video.
How to save Tiktok videos made by you
To download your own Tiktok videos, you can save them or reshare them on any other social media platform.
Video files will be stored directly in your camera roll. You can use this process on iPhone and Android devices:
Open Tiktok App on your device.
Click your profile in the lower right corner of the screen.
Search for Tiktok videos you want to download.
Click the three-dot icon at the bottom right.
Select the save video option.
Check your camera roll.
Save Tiktok videos from other accounts
You can download someone else's Tiktok video to your phone or on your desktop.
To download any video on Tiktok from your computer
We'll be using the Google Chrome browser. So, there's no need to download any third-party extensions or go to any websites to download a Tiktok video on your pc. All we need to do is open up the Google Chrome Browser and go to tiktok.com and log in.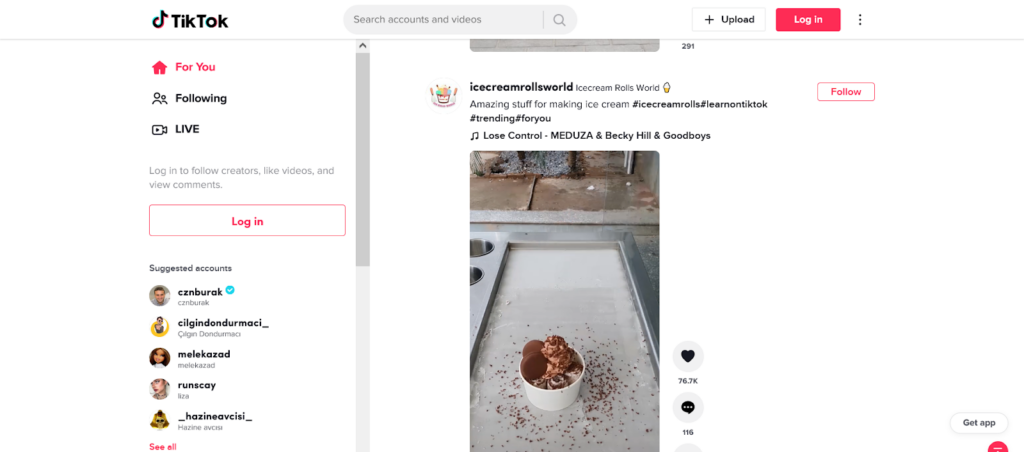 When you go to tiktok.com, find the video you want to download on Tiktok and right-click the video. Then, go to the "save video as" option.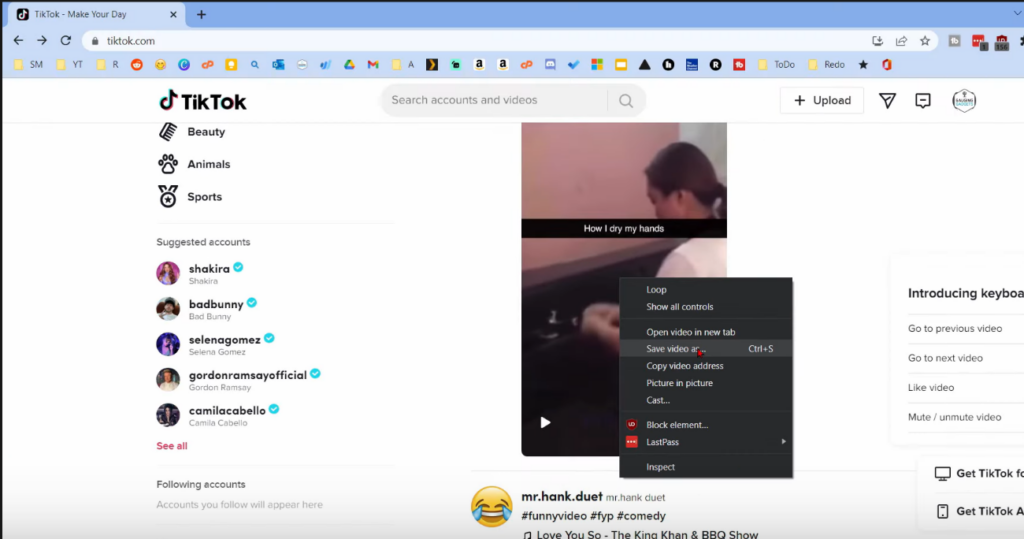 Now, you just need to navigate to wherever you want to save that video. Select save and then you can open up the video on your pc.
Schedule TikTok videos with Hopper HQ
Hopper HQ is a fantastic way to schedule TikTok videos. Scheduling TikTok videos can save time and help you create winning TikTok content. You'll simply receive a reminder on your phone on the scheduled publishing time, and proceed to poost your TikTok video within seconds.

See our step-by-step guide to scheduling TikTok videos with Hopper HQ.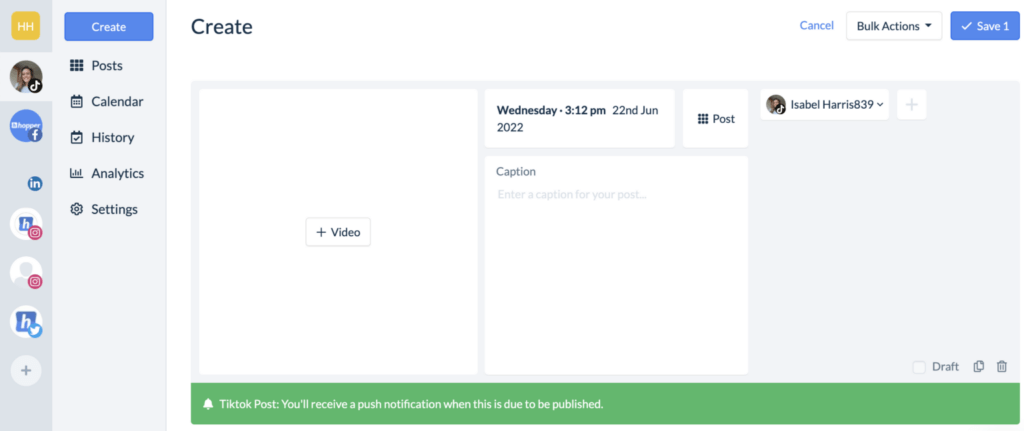 TRY HOPPER HQ FREE
Refreshingly Simple Post, Story + Reel Scheduling
Visually plan all your social channels. Instagram, TikTok, Twitter, Facebook + LinkedIn.
TikTok videos FAQs
How do I make a TikTok video with pictures and music?

You can create a TikTok slideshow step by step:

Open TikTok app
Click upload from the bottom right of the camera page.
Under the "Image" tab, select as many images as you want from your camera roll.
You can add music, effects, and filters.
Click next and choose the horizontal or vertical slide types.
Upload your video to TikTok and you're done!
How do you do the green screen thing on TikTok?

TikTok's green screen effect lets you add GIFs. You can also upload videos in 1080p. That means you can virtually project a GIF, instead of just a still image, behind you while shooting a video.

First, open your TikTok app and click the + icon to create a new video.
After that go to the Trending tab and select the green screen effect.
Tap the green screen effect and you will see a bar with a plus sign on the left, a GIPHY icon and images from your gallery. Click on the GIPHY icon.
You will now be able to search for GIFs in GIPHY to add to the green screen of your Tiktok video.
How do I use TikTok filters?

You can only find TikTok filters on the top-right side of the screen when in Create mode. TikTok effects are located on the bottom-left side of the screen in Create mode. You can also save effects from other people's Tiktok videos.

Open the TikTok app and tap the Create button at the bottom centre of the screen.
Click Filters on the right side of the screen. A Filters drop-down menu will appear at the bottom of the screen.
Swipe to choose your style. You can tap on tabs (like Portrait, Landscape, Food, and Vibe) to go directly to that set of filters. Or you can scroll through all the options.
Drag the slider left or right to decrease or increase the intensity of the filter effect.
When you are satisfied with the effect, tap the screen, and then record your video as normal. Tap the Stop icon on the far left to remove the filter.
Related posts:
– How to Remove The TikTok Watermark in 7 Easy Ways
– The Best Time to Post on TikTok
– How to Link Instagram to TikTok
– How to Get More Views on TikTok