71 Instagram Tools to Skyrocket Your Social Media Marketing
It's 2020 – Instagram is essential. Not just having a well crafted presence but also building spectacular engagement rates. Its engagement is 10 times higher than Facebook, 54 times higher than Pinterest, 84 times higher than Twitter. Yet, many marketers are still late to the game, perhaps thinking the ship has sailed – it hasn't! Understanding how a platform can be used helps you understand it much more, making a marketing strategy much easier to create and execute. This is why I want to give you a look at all the top Instagram marketing tools, so you can understand exactly what you can do with Instagram.
I've only covered the top tools for a given area, dropping any that deliver a lesser or less convenient service than those featured on this list. This list started with 100+ different tools, so the resulting 71 tools should be pretty comprehensive.
The ordering of these tools walks you through an Instagram marketing strategy. We start with research, cover content sourcing and creation and finish with analytics. This means that taking a look through the whole post should deliver value, as well as serve as a helpful tool reference.
So without further adieu, here are 71 mobile and web tools to take your Instagram marketing to the next level:
Content Quick Select
Content Scheduling & Publishing
Hashtag Research
Content and User Research
Content Capturing
Photo Editing
Video Editing
Click Tracking
Competitions
E-commerce
Influencer Identification
Account Management
Analytics
Tool Suites
Miscellaneous
Content Scheduling Instagram Marketing Tools
On of the best ways to increase your Instagram engagement is to post consistently. If your audience knows when to expect your posts, they will view your content more. Scheduling is a great way to automate part of your workload, allowing you to schedule a bulk of your content in a few hours and then have it post during the week. In addition you're able to carefully plan, curate and collaborate on how your feed will look and feel.
Hopper HQ is a planning and scheduling tool for Instagram that automatically posts out your content at the time you set. There are no push notifications to confirm, so you don't even need your phone on for Hopper HQ to work. Hopper HQ's bulk uploader makes it quick and easy to schedule or post all your content in one go from your desktop or mobile device. It also supports first comment scheduling for your hashtags. Hoppers plans start from $10 per month for a basic account. Hopper HQ is regularly ranked top for 'Ease of use' in the category and is loved by its users. It also caters for Facebook, Twitter and LinkedIn scheduling. Disclaimer, this is the tool I work on.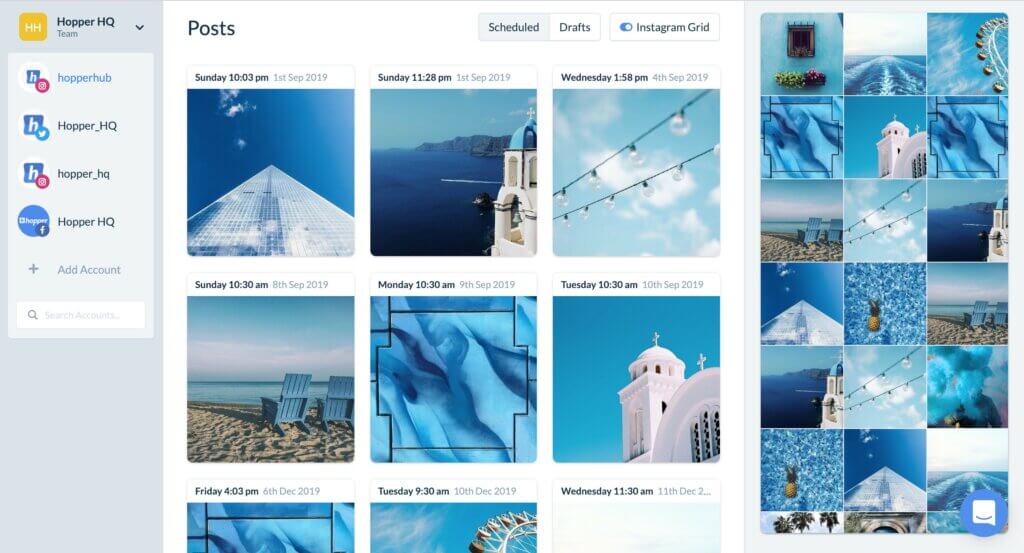 Hashtag Research
Hashtags are a great way to get your content discovered on Instagram. You can use up to 30 per post so it's important that you find a range of them (likely 100+ per account). When you make a post it can appear as one of nine "Top Posts" when users search for a hashtag you've used, based on how well your post does. Because of this, it's good to select a range of hashtags based on how often they're used. Your hope is to appear on "Top Posts" for the least competitive hashtags, gain engagements from them and go on to rank for more competitive ones.
2. Hashtagif
Hashtagify is a great way to get ideas for hashtags to use. I use it to find more hashtags to use for my posts, which I can then check with Tagboard to get more data. Hashtagify shows your searched hashtag as well as 10 related hashtags. This makes it an excellent tool for quickly coming up with large lists of related hashtags to use to increase the reach of your Instagram posts.
 
3. Tagboard
This is a great tool for refining your hashtags. Tagboard allows you to get more in-depth information about the hashtags you've found. For example, the rate at which they're used, the trend the hashtag is taking and the sentiment of the hashtag.
Content and User Research Instagram Marketing Tools
A major stumbling blocks businesses face is understanding what content their followers would want. Finding content that is like the content you intend to post allows you to understand what its consumers are looking for. You can use this information to construct and ideal consumer template that you check your future content against.
4. Picodash (previously Gramfeed)
With Instagram tightening up its API restrictions, many search sites have moved to only offer analytics. Thankfully, Picodash steps in to save the day by still offering high quality searching options for Instagram. Picodash makes it easy to search Instagram in a multitude of ways:
Location; find photos tagged with a certain location, get a real-time stream of photos tagged with a certain location, set a search radius on a map, filter photos from any location.
Hashtags; search for and track any posts by their hashtags, visualise hashtags posts on a map, filter the results by any keyword, search for multiple hashtags.
Users; Analyse your Instagram followers and posts, analyse what hashtags are most used by a user, engage with your followers via comments or likes, and sort content by its number of likes.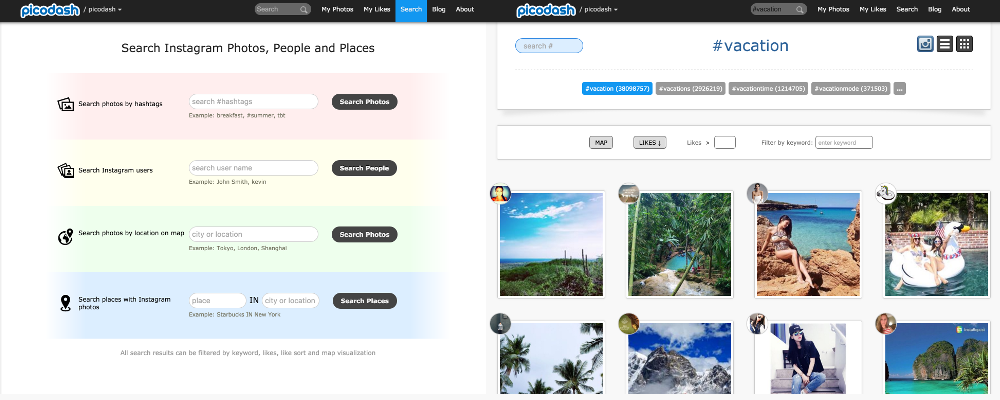 5. iGetter (Android)
iGetter is a simple Android app allowing you to download images or videos from Instagram. You can copy the share URL for an Instagram post and then paste it into iGetter to download the image or video. This makes iGetter a great tool for reposting content from other accounts, providing you have permission of course.
6. Repost for Instagram (iOS|Android)
After Instagram's API change Repost no longer works as well as it once did, as you cannot access other people's feeds. It now works like an iOS version of iGetter, allowing you to copy the share URL of an image and then paste it into Repost to download the image or video.
7. 4kStogram
4kStogram is an excellent free web tool to use to download Instagram pictures and videos, with their captions to your computer. Again, it's great to use to find content from other accounts for reposting.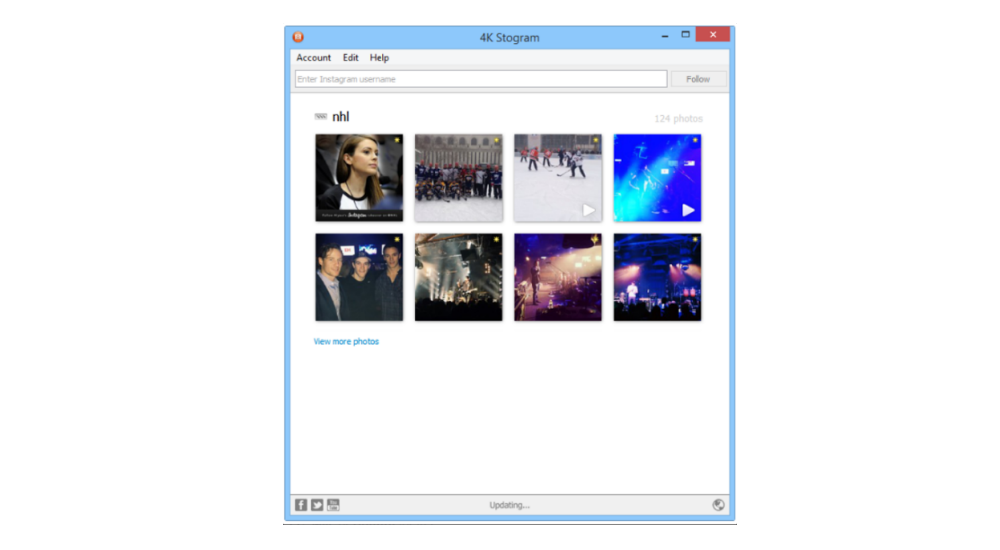 8. Offerpop
Offerpop is a platform that lets you:
Find user-generated content from many channels (including from hashtags on Instagram).
Get the rights to use the content.
Use that content through your buyer journey (in an e-commerce store for example).
You can create contests to vote for which user's post wins, and competitions to submit the best content. Using content that your audience creates is a great way to engage with them more which often leads to an increase in conversions. You will need to contact Offerpop for a pricing quote. If you have a store that you're promoting with Instagram it could be a good investment for your business.

9. Olapic
Olapic is an advanced visual content platform. Using Olapic you can:
Collect content in real time from your customers all over the world.
Approve the content you'd like to represent your brand and link it to your products.
Request the rights to use the content.
Showcase the content on your website.
Measure the influence this has on your engagement, sales, and revenue.
Some of Olapic's advanced functionality involves the use of machine learning algorithms. These can remove off-brand or inappropriate images submitted and rank images based on expected conversion power. It also features automatic user messaging with your terms and conditions to get permission to use their images. Olapic can track the revenue each ambassador or user generates for your site by tracking users that visit after seeing their content. Again, you'll need to request a demo with them for pricing.
Content Capturing Instagram Marketing Tools
Creating your own content for Instagram as well as adapting and reusing the content of others is a great way to add personality to your feed.
10. Camera+ (iOS)
Camera+ is a great app that works differently to most we'll cover. Instead of editing your existing photos, Camera+ helps you take better photos. Camera+ has a load of settings to help you improve your photography such as:
Touch exposure & focus.
Image stabilization.
Photo timers.
Burst mode.
6x digital zoom.
Front flash.
Horizon line.
Scene modes for different subjects.
"Clarity" an image processing sweep that brings out detail in your photographs.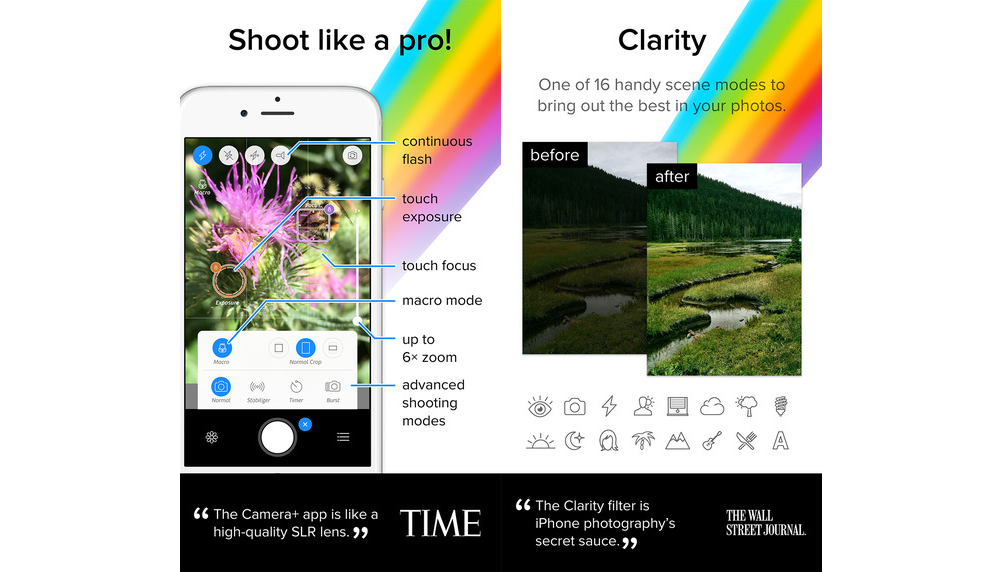 11. Slow shutter cam (iOS)
This simple little app allows you to change the shutter speed on your camera to create amazing motion blur and light trail effects.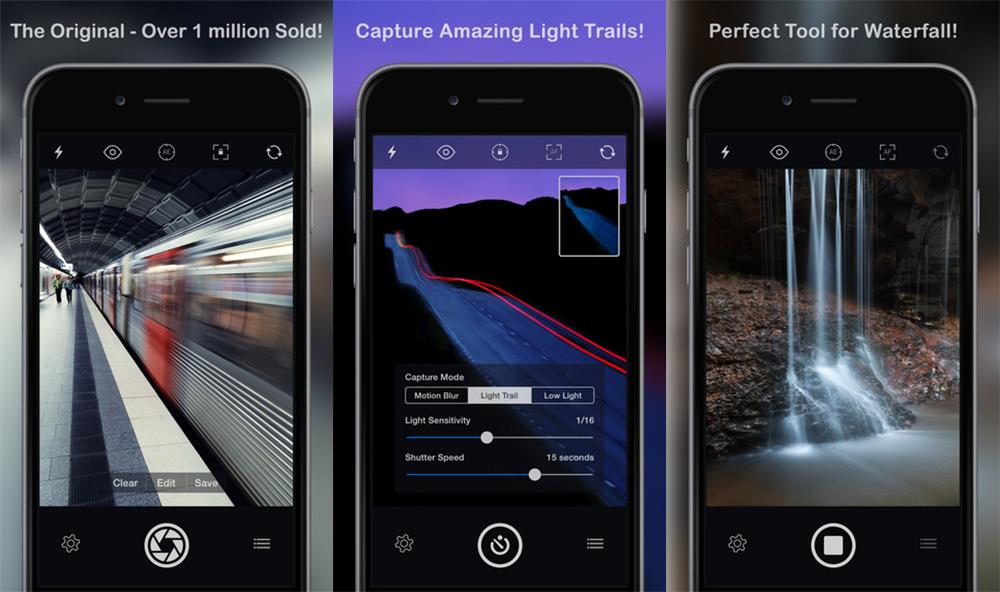 12. Lapse It (iOS|Android)
Lapse It is an app that allows you to record or turn existing videos into time lapse videos. It's a simple to use tool that creates full HD lapses with a background audio track of your choosing. Videos can be sped up to 240x, have a zoom performed over the lapse, have 50+ filters applied to them as well as many more helpful additions.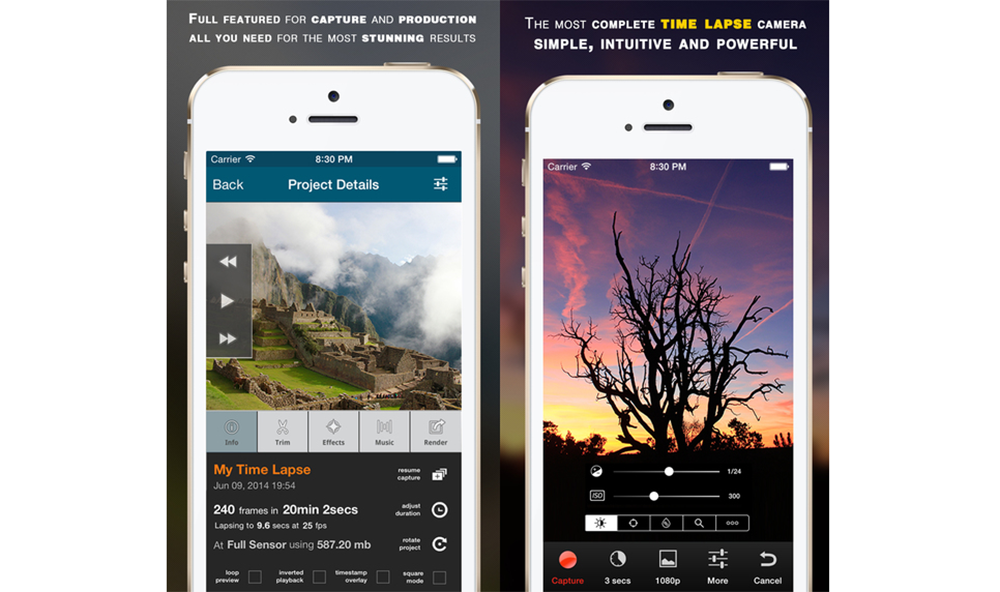 Boomerang is an app made by Instagram. It allows you to make short clips that loop back and forward creating an interesting effect. Boomerang should be another tool in your arsenal for creating interesting and engaging content.
https://player.vimeo.com/video/143161189?title=0&byline=0&portrait=0
14. Hyperlapse (iOS)
Hyperlapse is Instagram's time lapse tool. Hyperlapse comes with stabilization image processing, making it great for short clips whilst holding your phone. But, it only supports 12x speed increases, compared to Lapse It's 240x.

Photo Editing Instagram Marketing Tools
Editing your photo content is one of the simplest ways to increase the total content you offer on Instagram. Applying creative effects to your photos enables you to use the same content many times. This helps you save time creating content from scratch.
PicPlayPost is a great all round collage app for mobile and desktop, allowing for the use of video and gifs, music, watermarks and live photos. You can search Youtube and Giphy through it to find content if you don't have your own.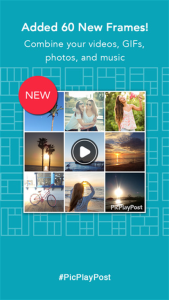 16. A Color Story (iOS)
A Colour Story is a beautiful mobile image editing tool. It features:
100+ filters.
40+ effects.
20+ tools.
Many of these can bring a fresh and unique look to your content. I recommend at least checking out this video!
17. Afterlight (iOS|Android)
Afterlight is the perfect image editing app for quick and straightforward editing. With a simple design, paired with powerful and snappy tools, it gives you the look you want in seconds. Afterlight features:
74 unique filters.
78 natural effects.
128 frames
These all offer a more refined look than Instagram's native editor.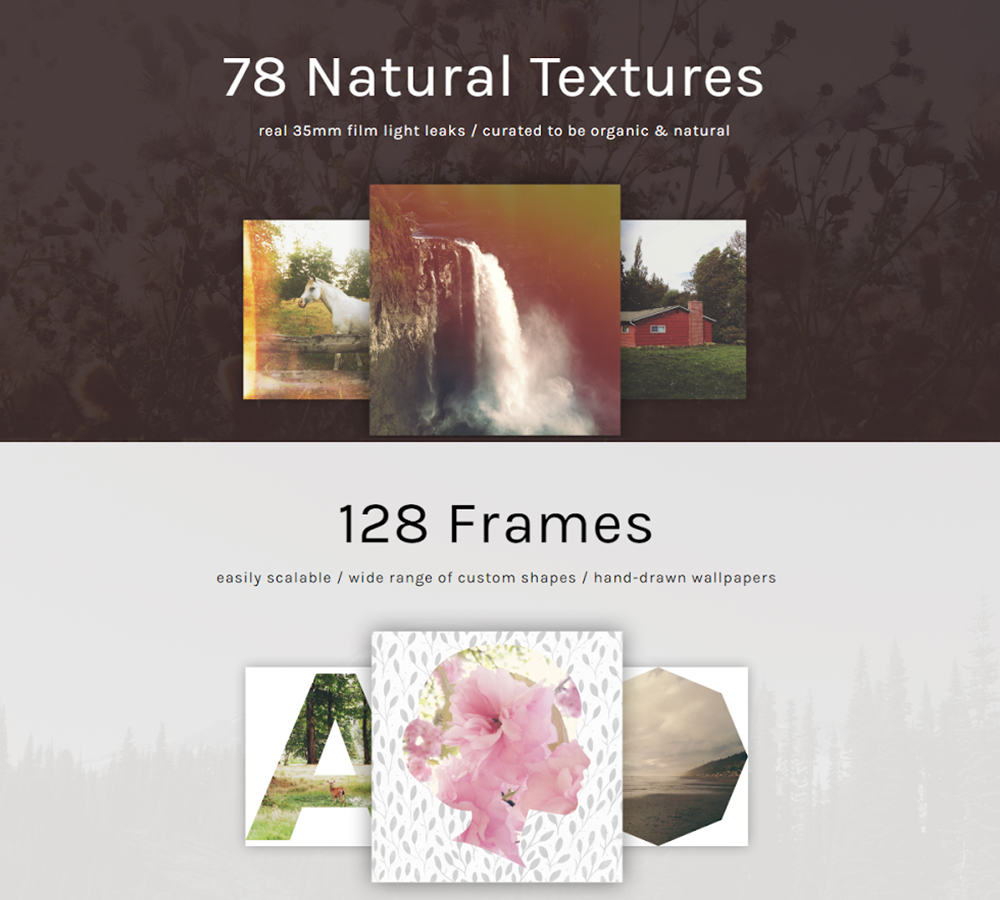 Photogrid is an editing tool with a lot of versatility. It provides lots of editing options:
Filters.
Skin smoothing.
100+ backgrounds.
500+ stickers.
700+ fonts.
Instagram picture size presets.
Photo slideshows with background music turned into video.
300+ collage layouts.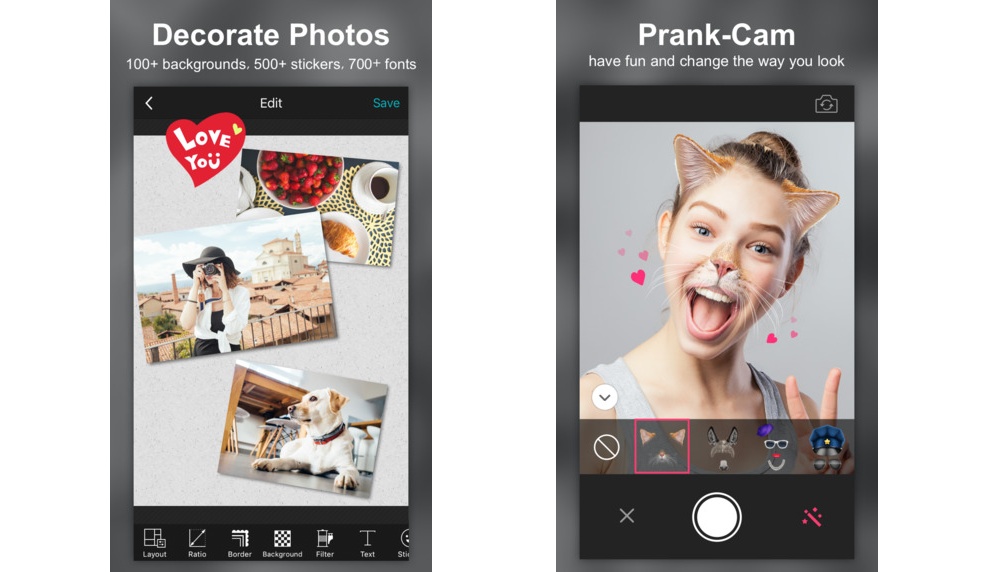 Instasize is a little more grown up than Photogrid. It offers more refined:
Custom filters.
Touch ups.
Video and photo editing.
Borders.
Stickers.
Collage frames.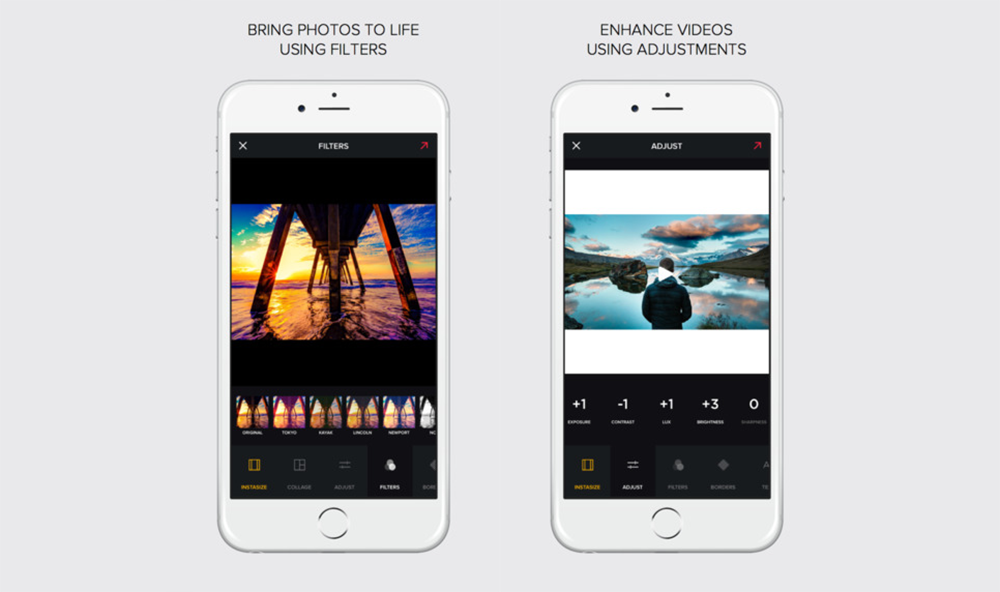 Giant square is a simple tool that allows you to break up large images into sets of smaller ones. These are then posted as a kind of collage on your Instagram feed.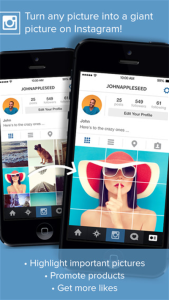 Layout is a tool produced by Instagram to offer simple collage and mirror options for your pictures. It's a simple and effective tool to create more interesting and dynamic imagery.

PIP Camera is a great tool to create "photo in photo" images, giving you yet another option to spice up your Instagram feed.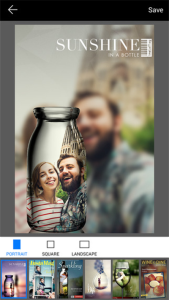 23. Snapseed (iOS|Android)
Snapseed is a tool from Google that gives you the power of professional editing software on your mobile device. It's less in-depth than programs like Pixlr or PicsArt but it still serves as a vastly more capable editor than the one Instagram provides. With the ability to use:
All basic transformations of an image.
Touch ups.
Vignettes.
A range of filter effects that can be stacked and painted on or off certain areas of your photos.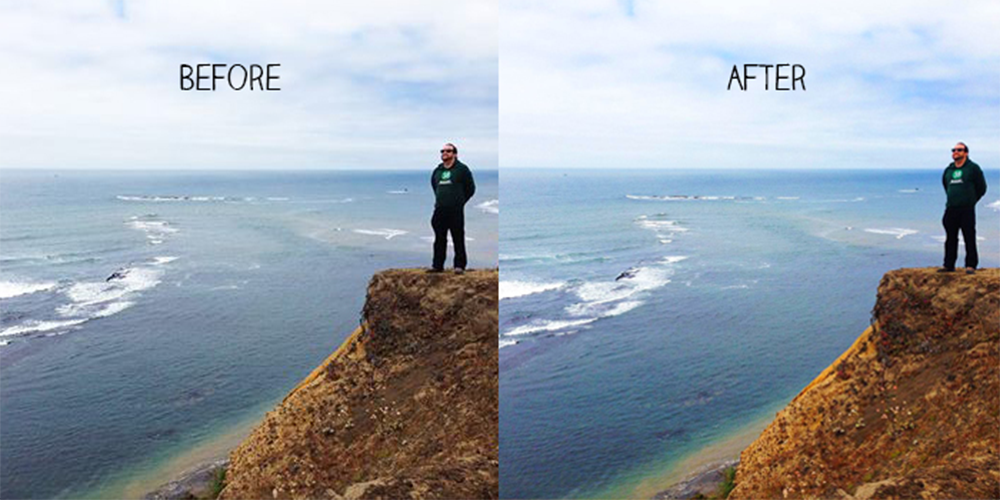 Superimpose allows you to select out the focal point of one picture and change its background to another. It also features:
Masking tools.
Layer blending.
Background blurs.
Shadows.
Add text and filters.
It's all you need to add another layer of complexity to your posts.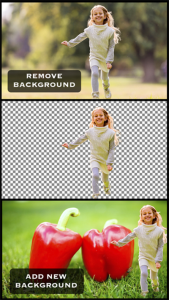 25. Tangent (iOS)
Tangent is a photo editing tool that comes with loads of artistic frames and stickers to take your posts to the next level. If you're an artist creating posts to promote your music, Tangent is likely to suit that vibe.
26. Tiny Planet (iOS)
Tiny Planet is another simple but effective way of livening up your Instagram feed. Tiny Planet allows you to wrap your images into a circle, making a tiny planet or rabbit hole type image.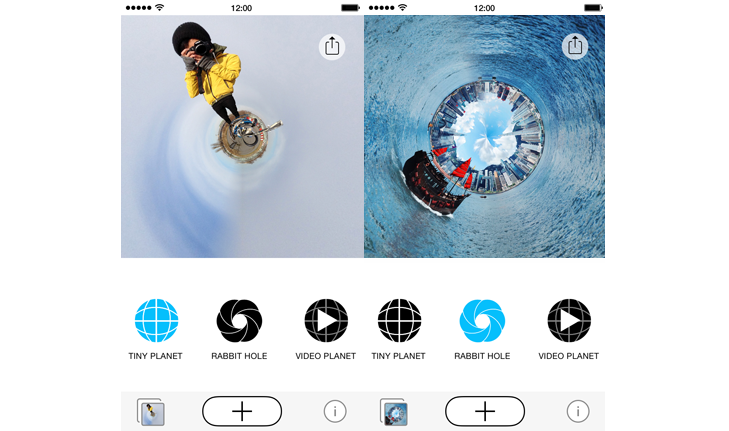 If you're looking for a great quality photo editor for your mobile device, Photofy is likely for you. It's a super-easy photo editing app that combines many helpful features in one app:
Templates.
Filters.
Light Effects.
Photo Mirror.
Text with 90+ free fonts.
Meme editor.
Collage maker with over 70+ free layouts.
A huge collection of overlay content (50,000+ graphic elements).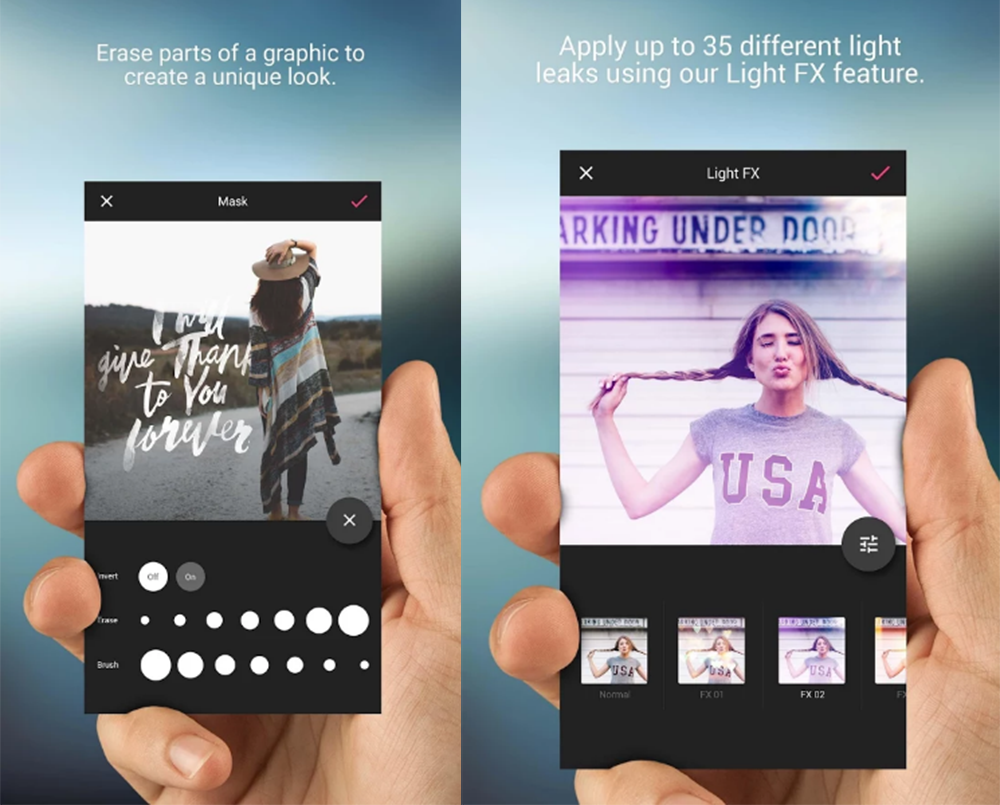 PicFx is another mobile filter tool with a more refined palette. It offers 100+ layerable and rotatable effects that can be strengthened and weakened. If you love Instagram's filters but want more control, PicFx is likely for you.

29. BeautyPlus (Android)
Beauty Plus is a selfie editor that allows you to easily retouch photos with tools using a:
Skin smoother.
Blemish remover. Under eye dark bag remover.
Eye brightener.
Teeth whitener.
A basic suite of photo editing tools.
Whilst I would normally say you look great so don't bother with touch ups, I thought it would be best to let you know about this app and let you make your own mind up!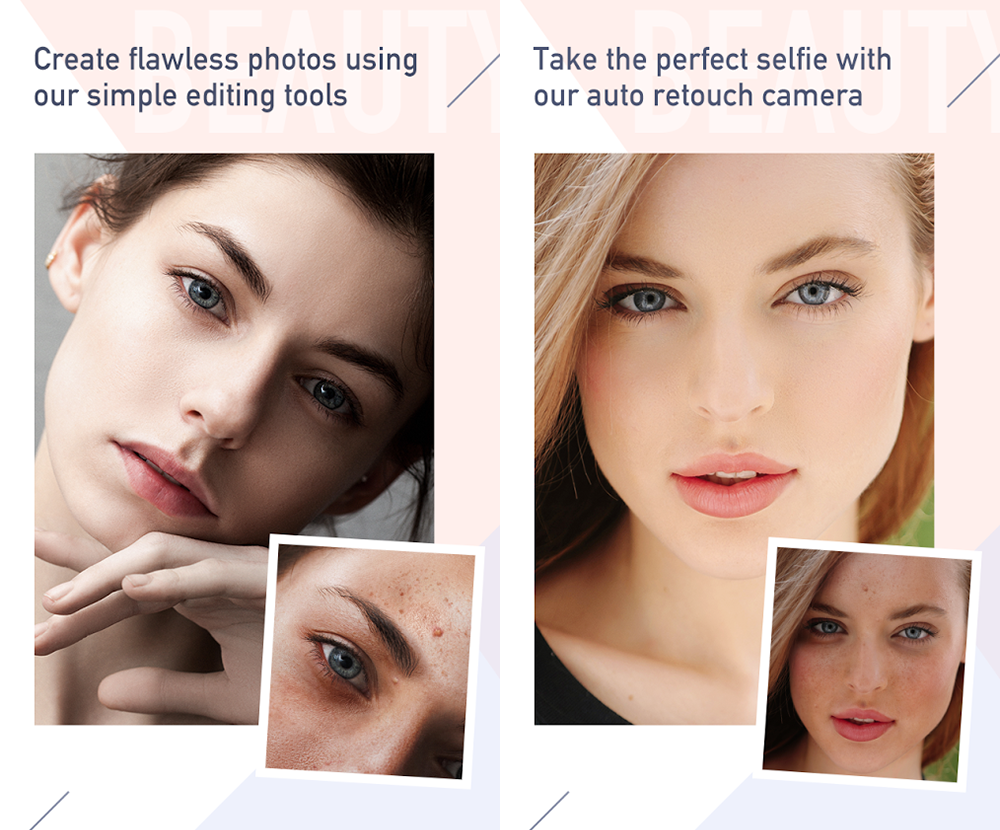 30. Over (iOS)
Over is one of the best-rated text addition tools for mobile. It offers:
A massive range (280+) of professional fonts.
910+ illustrations.
A daily supply of fresh free images.
Combining this library with Over's editing tools gives a powerful way to add more context to your pictures.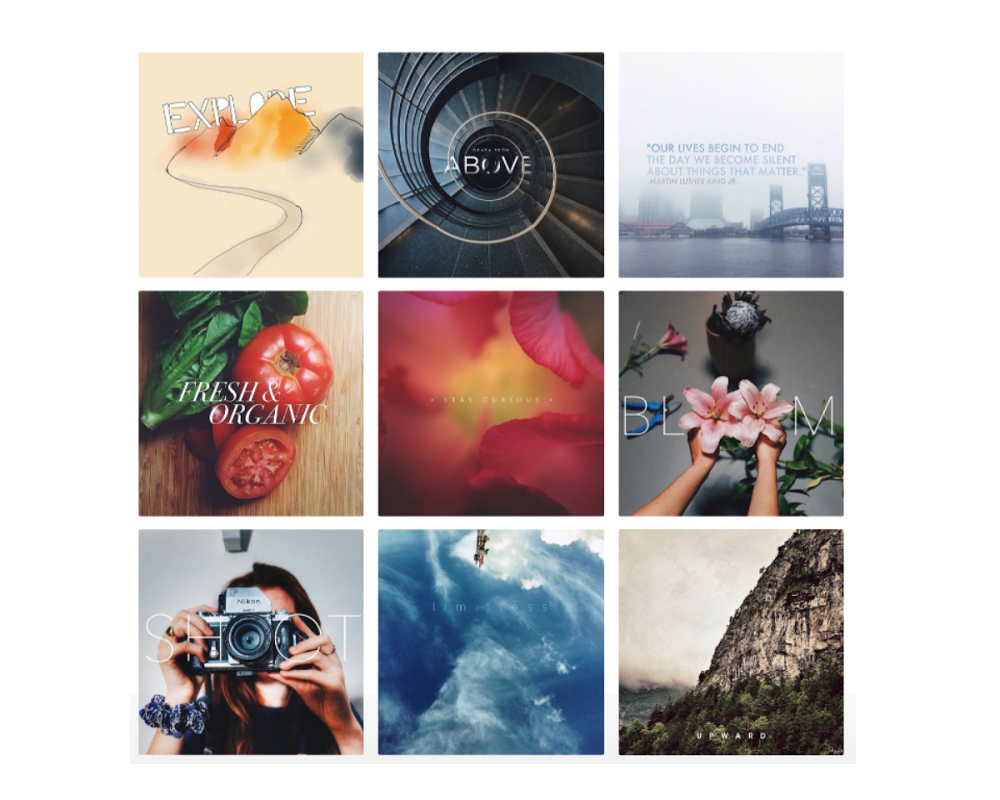 PicLab is a great option for adding stylized text and stickers to your photos. PicLab features:
A wide range of fonts that can be used in layers.
Text shadows.
A delightful collection of stickers.
Overlays and artwork.
120+ shapes.
Borders.
Textures.
Light leaks.
Filters.
A collage and drawing tool.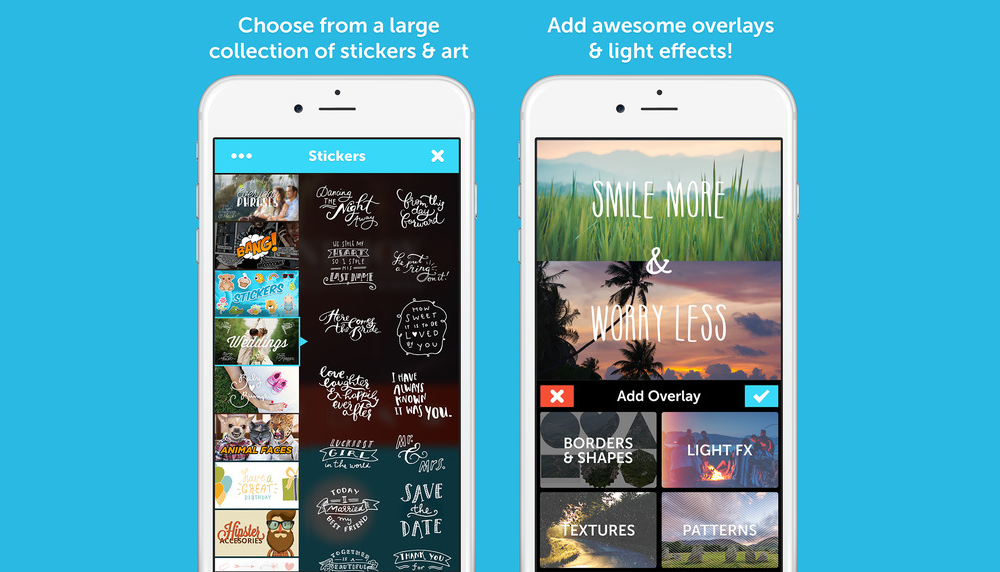 Quick is as you would expect, a quick way to add print text to your images. It's designed to allow you to add text overlays to your pictures with a few taps.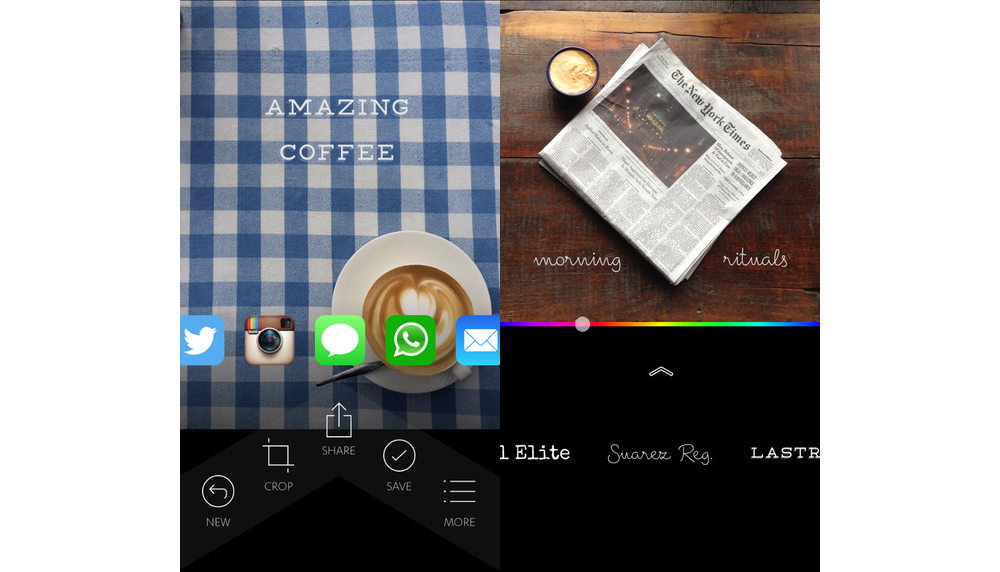 33. A Beautiful Mess (iOS|Android)
A Beautiful Mess is another great app to add text and graphic overlays to your images that really keep to Instagram's vibe.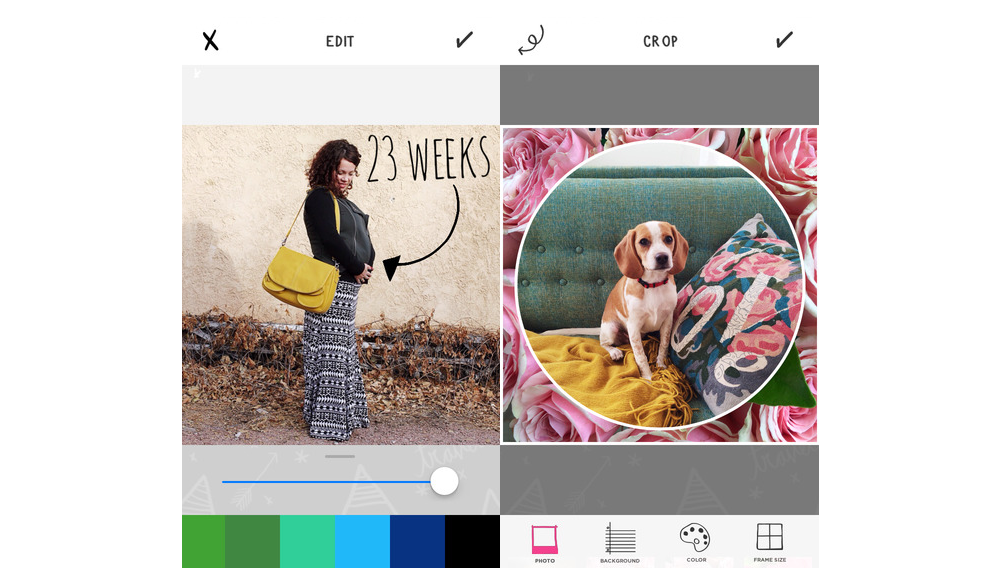 34. Rhonna Designs (iOS|Android)
Rhonna designs features some great metallic text overlays to make your photos really pop.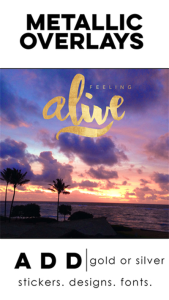 Word Swag is a text app with the added benefit of applying graphic font templates to your messages. These make your text much more interesting than just adding a certain font to your text. Word Swag features:
48 graphic font styles.
590,000+ free backgrounds.
22 image filters.
Text effects such as goldfoil, stamped and watercolour.
36. Enlight (iOS)
Now we're getting into the more advanced tools. Enlight is one of the top rated all in one photo editors for iOS! Enlight has an extensive array of tools, making it like Photoshop for iOS. It contains helpful tutorials to get you started turning photos into creative masterpieces.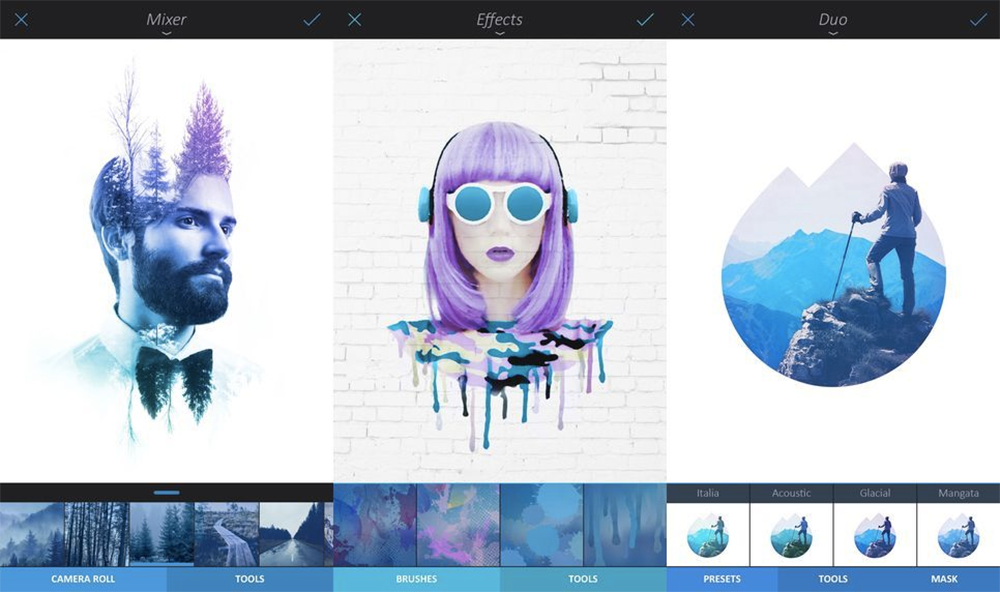 PicsArt is a fantastic tool to create professional images with a simple and accessible mobile tool. It's worth checking out their Youtube channel, they have a whole range of tutorials showing you how to do surreal portraits, double exposure images and more.
https://www.youtube.com/watch?v=j9_b6dUN4RA&feature=youtu.be
38. Pablo
Pablo is Buffer's answer to Canva (covered further down this list) but it's focused on the creation of images for social media. Pablo is a great free tool that lets you upload your own images or chose from their library of 50,000+ royalty-free photos. You can add text from a wide range of beautifully designed fonts and add any other logos, graphics or assets. It's especially effective for creating quote images that pop on Instagram.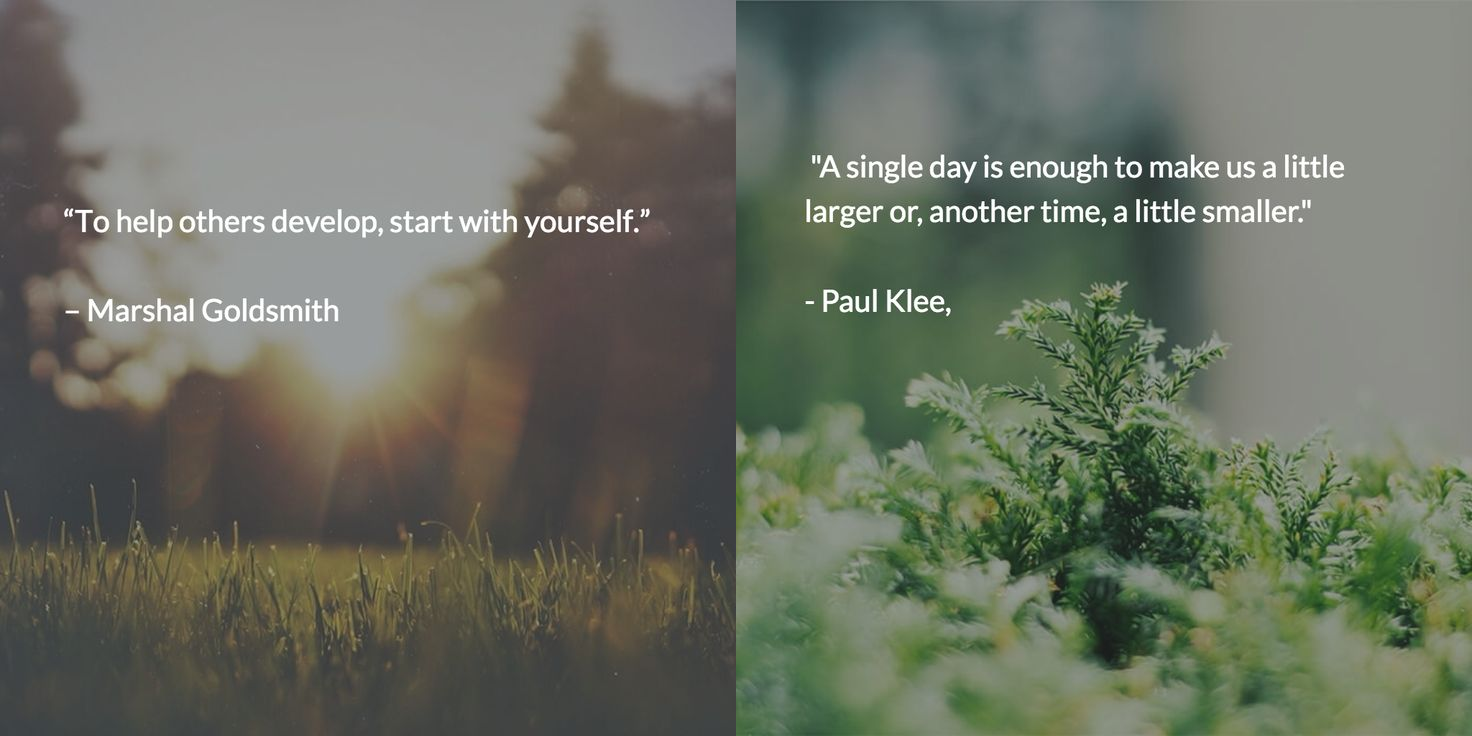 39. Piktochart
Piktochart is a web-based design app, this time with a focus on infographics. It's a great choice if you want to promote something that isn't a physical product, such as a software service.

Canva is a great tool designed to help novices produce professional designs. Canva features a set of tutorials to familiarise you with their tool and get you up to speed quickly. It's a great way to have some more control over your image editing than most of the app-based tools provide.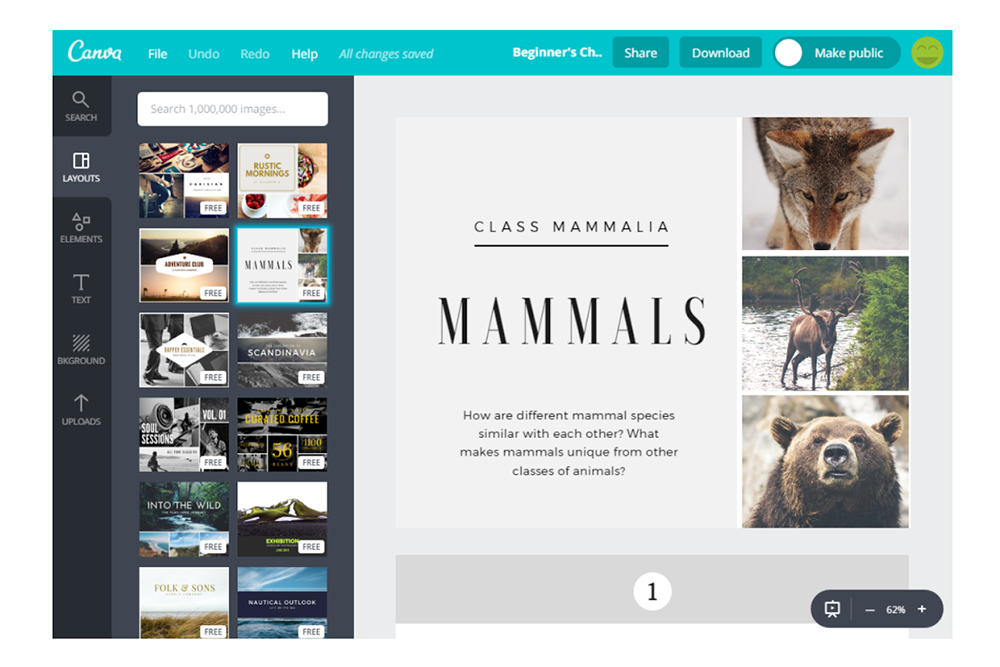 Fotor is a web-based photo editing app (with iOS and Android support). It offers high-quality effects and filters paired with an elegant user interface, making spicing up your pictures a snap. It features a phenomenal suite of editing and design tools such as:
Image touch ups of all kinds.
Backgrounds.
Stickers.
Beautiful filters.
Collage tools.
Double exposure tools.
High dynamic range tools.
Text and design overlays.
If you want to make your photos look a certain way, it's likely that Fotor can help you achieve that.

Pixlr is another phenomenal web and mobile based image editing app. It has so many tools to edit and improve your images it would be difficult to list them all! It features:
Over 100 effects.
340 overlays
200 borders.
It's great for creating combination and double exposure images. They also have cool filters that make your images look like they're drawn in pencil or split into polygons for a retro look. It's just $15 per year so it's well worth experimenting with.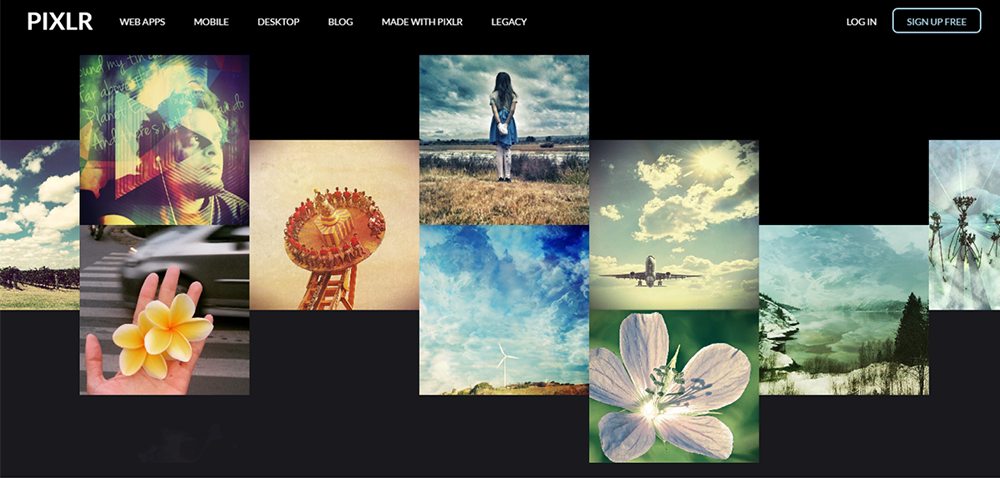 43. Tagg.ly (iOS|Android)
Tagg.ly allows you to add watermarks and brand icons to your photos. This is both a way to protect your images from theft and to market your Instagram account if people reuse your images. Tagg.ly is a simple but effective app that's quick to use on images you capture with the app or that you already have in your library.
 
44. iWatermark (iOS)
iWatermark is a more comprehensive watermark tool. It gives you control over you watermark's:
Font.
Position.
Size.
Opacity.
Colour.
Effect.
Angle.
They also support graphic and QR code watermarks. iWatermark also has a batch watermark tool, allowing you to quickly add them to all your images.
Video Editing Instagram Marketing Tools
Whilst there are more picture editing options available, video is still a more engaging media. Because of this, it's a good idea to get more out of your video content by editing it in various ways.
45. Videohance (iOS)
Videohance is a video editing tool usable in real time as well as on already recorded clips. You can spice up your videos with a range of filters, overlays and tools.
46. Vintagio (iOS)
Vintagio is a comprehensive video app with a vintage feel. Vintagio offers:
7 filters with a feel from decades past.
Video flip.
Trimming and splitting.
Duplicating sections.
Fades.
11 original soundtracks to suit the filters.
Variable play speed.
Forward and reverse play.
Several title cards and transitions.
Whilst this may suit a certain audience, it's worth checking out to see if you can create some magic.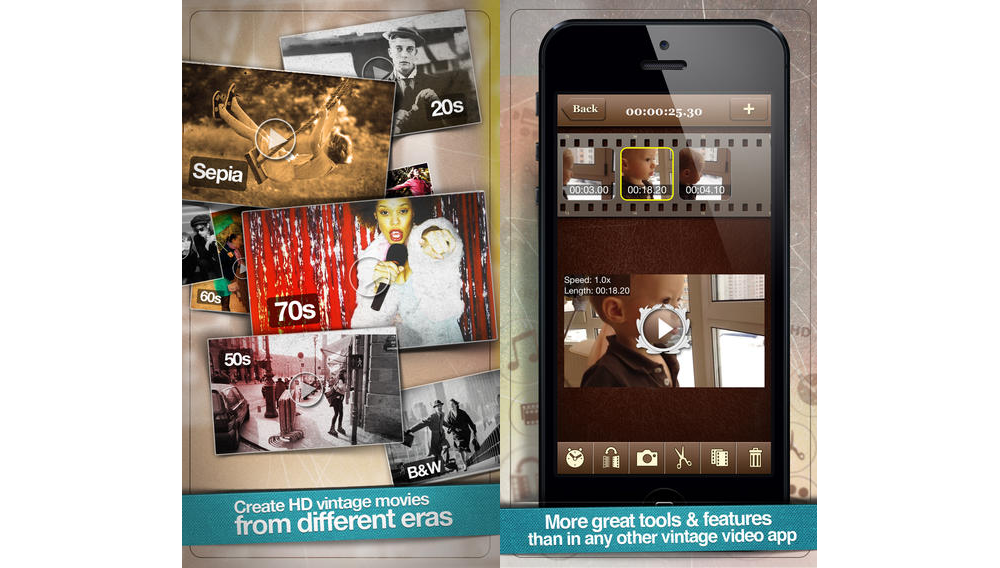 47. Diptic (iOS)
Diptic is a great collage app with:
Text addition.
181+ layouts.
Filters.
Coloured and textured borders.
Simple editing.
Its main point of interest is that it offers animated video collages, a great option for reusing existing video content.
Click Tracking
Tracking where views to your website come from is incredibly important for any sort of marketing. If you don't understand where your views are coming from, you can't understand how changes in your marketing will affect the number of views to your website.
48. Bitly
Bitly is a widely used domain shortening service. It's often used to shorten long domains so they take up fewer characters on Twitter for example. On Instagram it's best for using tracking URLs as your bio link. To create a tracking link you can use Google's URL builder to add information to your link to help you identify where your website viewers are coming from.
Competition Instagram Marketing Tools
Competitions are a great way to spur viral growth on any platform. They often encourage participants to bring more people into the competition, increasing the reach you have. Due to Instagram's restrictive API policies, competition tools that work with it are hard to find. Luckily there are a few great ones you can consider.
59. Gleam
Gleam is an action based competition app that integrates excellently with Instagram. It allows participants to gain competition entries based on actions like following your account, or submitting photos with certain tags.
Gleam also integrates with many other services making it very flexible for creating competitions and encouraging viral growth. They offer a limited free option and paid options starting from $39 per month.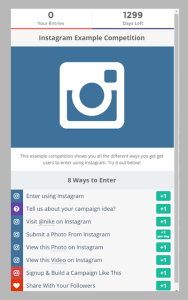 52. Wishpond
Wishpond has a whole suite of lead generation and marketing tools.  The one we're interested in is their Instagram hashtag contest tool. Wishpond will pull images from Instagram that are tagged with your selected hashtag. It then populates your competition page with them. Users then vote on their favourite images.
This encourages influencers that want your prize, to send their audiences to your competition page to vote for their entry. You can use these voters by collecting their email addresses and requiring them to follow you on Instagram to name a couple of options. Pricing starts at $45 per month with a 14-day free trial.
E-commerce Instagram Marketing Tools
Whilst E-commerce has been around for over a decade, it's going through a transformation with the new visual content revolution. E-commerce is becoming more subtle and nuanced. Influencers often promote products just by wearing them, relying on their audience to find out where to buy the products themselves. With this new subtlety, visual content e-commerce platforms are popping up to make it easier for customers to find the products they see.
53. Curalate
Curalate is designed to make Instagram shoppable. It works similarly to the user generated content platforms covered before. Curalate offers a whole suite of products including:
Like2buy – This allows consumers to buy from your Instagram account.
Fanreel – A user-generated content solution which uses that content in your store. It also handles content rights management.
Image recognition software – This looks at Pinterest, Tumblr, and Instagram to locate your product images. This can then give you more accurate analytics on which locations your customers are coming from and why.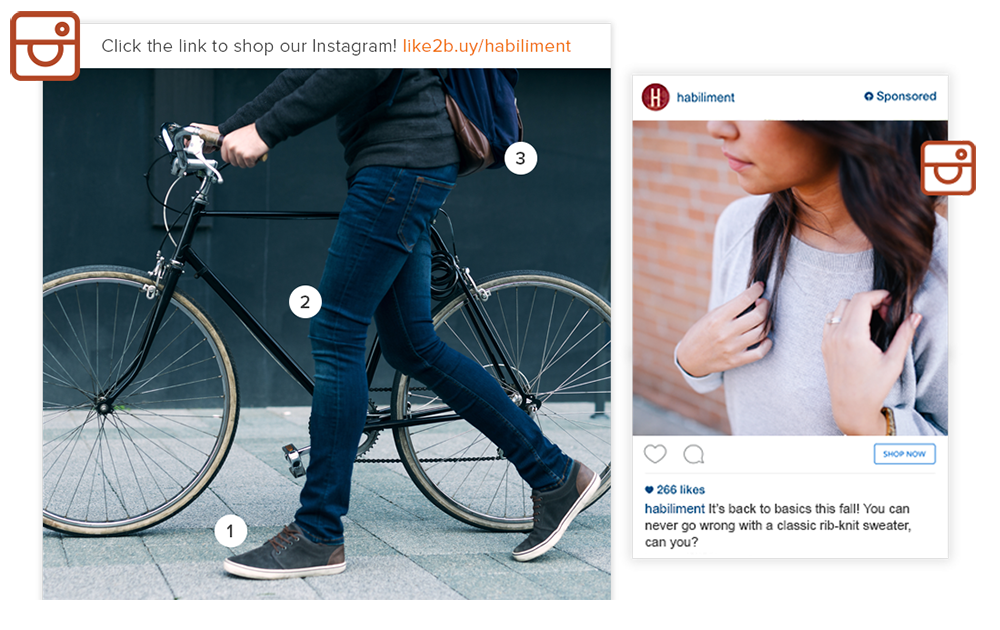 54. Have2Have.It
This works similarly to Like2buy from Curalate to make Instagram shoppable. Have2Have.it recreates your Instagram feed on your website where your users can click the image to get taken to product listings. It's also used to link your Instagram pictures to content posts on your website. This makes it a great option for regularly updated blogs. Have2Have.it is a great way to get many uses out of your one bio link. It starts for free for under 50 clicks per month, and it's free for the first 30 days.

55. InSelly
InSelly also turns Instagram into an e-commerce platform, but this works a differently to the last two examples. You add an Instagram picture to your feed and tag it with #inselly. You then input the relevant information to your listing and it goes up for sale on inselly.com. InSelly.com is an e-commerce advertising platform, where all transactions between the buyer and seller take place via Paypal.
Influencer Identification Instagram Marketing Tools
One of the quickest ways to grow your following on Instagram (or any platform) is to partner with influencers. Influencers are people that have a large following of your target audience. If you can convince influencers to promote your offering, there are few faster ways to grow.
56. Klear
Klear is a comprehensive influencer search engine. It allows you to easily identify the people in your area and niche that you should be trying to work with. Klear accesses 500 million profiles across 60,000 categories with 5 years of historical data. This is used to help you identify the exact people to help propel your brand forward and boost your number of relevant followers. They offer a free demo version.
57. NinjaOutreach
NinjaOutreach is a influencer marketing & outreach software all in one, with over 25 million bloggers and social media influencers in their database. They'veve recently launched an Instagram Influencer Database available for all people to check out for free. It's like an influencer search app but you don't need to type in any keyword, you just have to choose by categories.
Account Management Instagram Marketing Tools
Interacting with your following is a great way to build brand trust. Unfortunately, Instagram is a mobile-only platform, making this difficult to do at scale. Web-based tools both allow for the increased typing speed of a keyboard, and an optimised layout for finding relevant followers to engage with.
58. Crowdfire
Crowdfire is a web and mobile app that makes managing your followers much more simple. Using Crowdfire you can see who's:
Not following you back.
Recently unfollowed you.
Following you that you're not following back.
Recently followed you.
All Instagram interactions are now paid, starting at $9.99 per month for 2 accounts.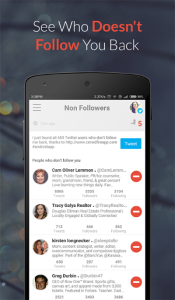 59. River
River is a tool to search Instagram's content and users and then interact with them via your desktop. It's a great way to speed up your account management as well as for research. It costs $49 per month to manage by yourself. As a second option, if you pay $99 per month it works more like a social media agency. River's team will interact with targeted Instagram users to encourage them to follow your account.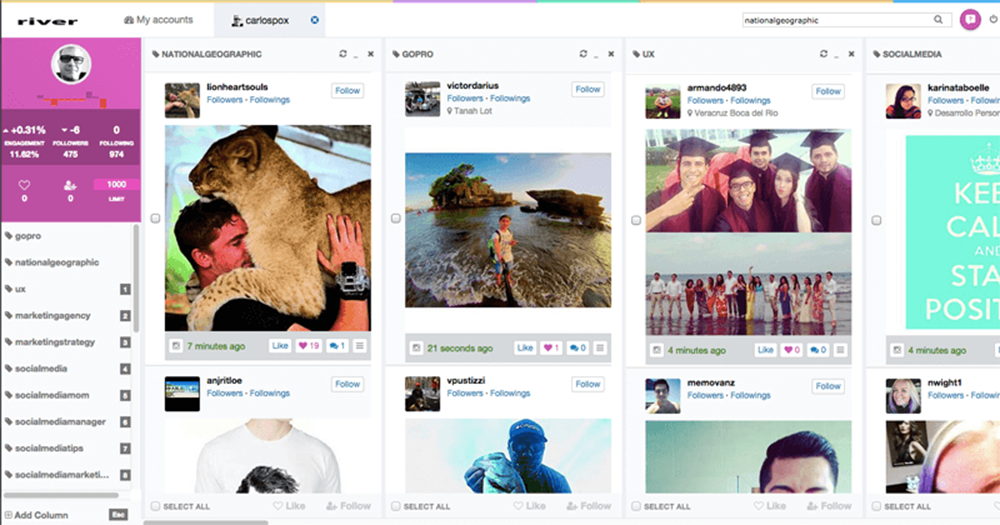 60. Buzzweb
Buzzweb is a social media growth tool for marketing pros and SMB owners. It helps to gain new clients and followers as well as grow current clients and followers loyalty with its four features.
1. By using the Influencer Discovery feature, a marketing strategist or business owner can receive a list of influencers who coincide with the brand's target audience and its product. That is possible owing to numerous filters – from those that target the influencer profile to those that reveal the followers characteristics required by the brand. The user is able to find relevant influencers of the100k profiles database.
2. The Campaign Reports feature gathers the analytics for all the influencer marketing campaigns conducted bfor the brand at any time in the past. The resulting report may be generated in PDF format and provided to his/her superiors or  clients.
3. Competitor Analytics feature allows to analyze the brand's competitors' social media activities – how they are growing, who their audience is, how much they spend on promotion.
4. And Growing Account feature analyzes the brand's page and provides insights and recommendations regarding its subscribers and the engagement rate.

Analytics Instagram Marketing Tools
Analytics are essential for any marketing effort. Without understanding the numbers, you'll not understand what effect changes in your Instagram marketing are having. Analytic tools often help you pull insight from these numbers which you can then feed into your strategy to improve it.
61. Iconosquare
After Instagram's API change, Iconosquare has focused on to delivering a great analytics platform. Iconosquare offers a lot of analytical functionality at a great price point. These are the metrics that Iconosquare tracks:
Followings – follower growth, followers gained and lost, latest followers, latest followers lost, top followers, top followers lost, demographics (location, private v public %).
Engagement – engagement, the lifespan of your past two media (likes), daily like history, daily comment count history, most liked, most commented on and most engaging media.
Follower Interactions – following that don't follow me back, followers I don't follow back, followers I follow back.
Content – post count, filter usage, average number of posts for a day, the best time to post for engagement, filter impact on engagement, hashtag usage, track competition, track hashtags.
Iconosquare costs $28.80 per year for their basic package or $149 per year for their full package.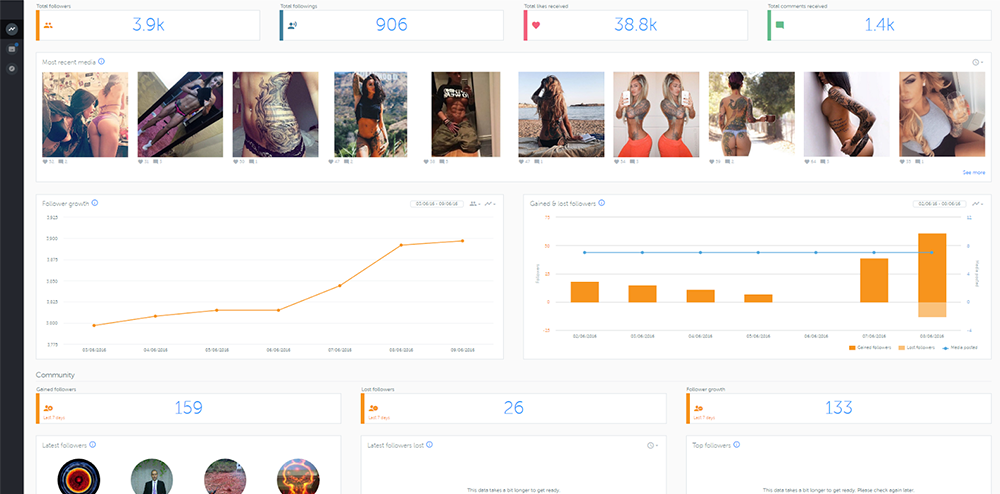 62. Minter.io
Minter.io is another capable analytics platform. It has the great benefit of helping you understand which of your hashtags are the most effective. This is something you'll want to optimise if you're looking to maximise follower growth. Minter.io delivers stats on:
Followers – total followers, growth of total followers, followers gained and lost, countries of followers, cities of followers, top gained and top lost followers, number of posts, interactions,
Engagement – engagement source (from followers and non-followers), post engagement rate, account engagement rate, top posts by engagement,
Optimization – best time to post, picture / video post type split, most engaging post type (video vs photo), top filters, most engaging filter, top video filter, most engaging filter, top hashtags by interactions, and most effective hashtags.
Minter.io offers a 7-day free trial and then starts at $20 per month for up to 5,000 followers in total across any accounts you analyse with them.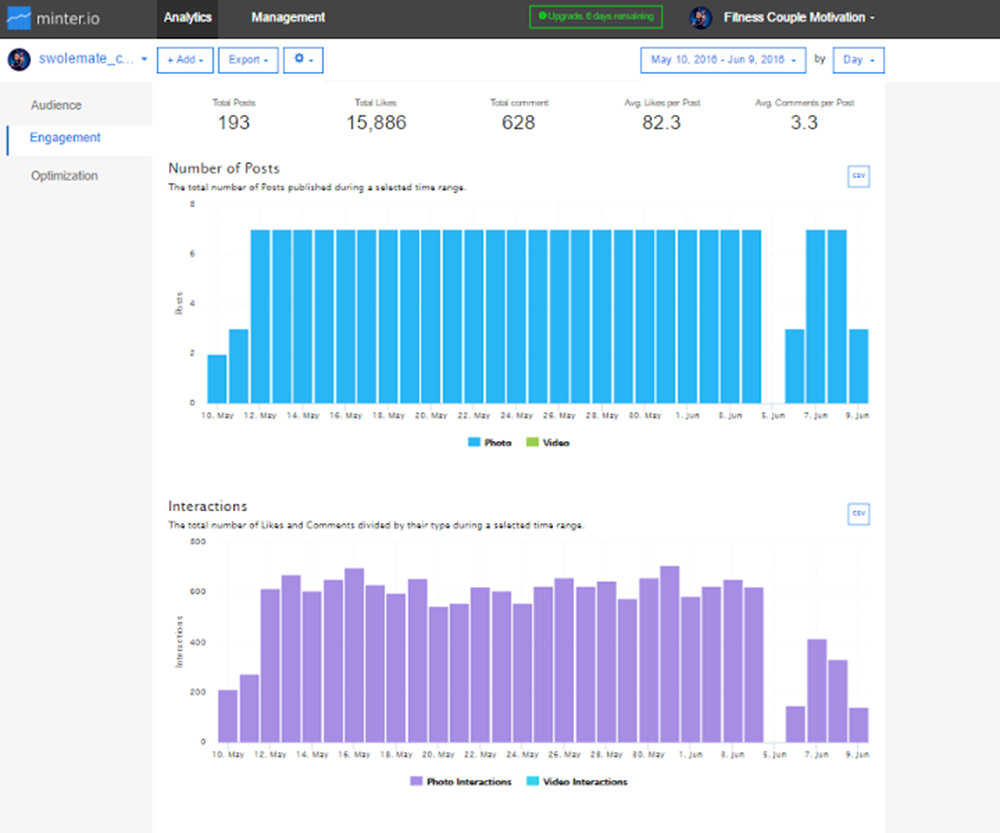 63. Sprout Social
Sprout Social is a great overall analytics platform for many social profiles, giving you all the information in one place. Sprout Social's Instagram tools track many of the most important statistics:
Top posts.
Audience growth.
Your publishing behaviour.
Hashtag performance.
Audience engagement.
If you're using lots of different social profiles and want powerful analytics for them, as well as capable Instagram analytics, Sprout Social might be the solution for you.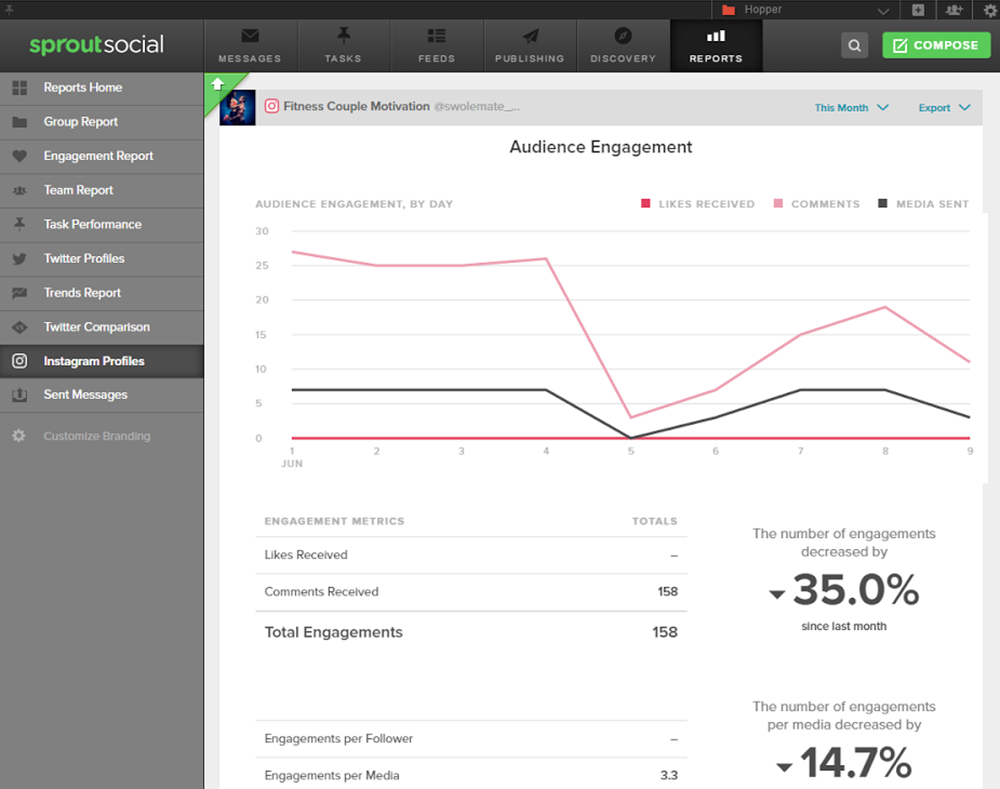 64. Websta
Like Iconosquare, Websta focused its product on analytics after Instagram changed their API policy. However, unlike Iconosquare, they have a free option. Websta tracks:
Engagement.
Likes and comments for recent posts.
Most used filters and tags.
Post amount stats.
Time of week and day most posts are made at.
Likes growth history.
Most liked media.
Comment growth history.
Most commented media.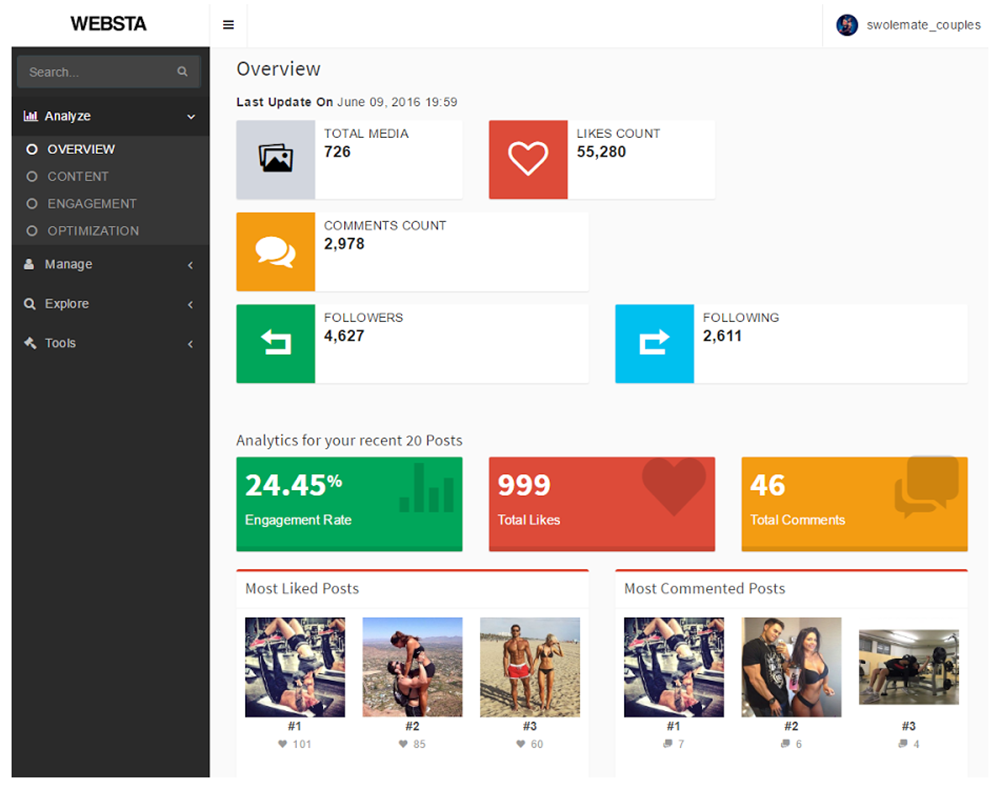 65. Locowise
Now we come to the big daddy of analytics, Locowise. This platform not only tracks a wealth of stats, it also suggests improvements to you and gives a lot of actionable steps you can take. Here are just some of the stats and suggestions that Locowise delivers:
Optimal time of day to make each post.
Optimal post frequency.
Top performing posts.
Sentiment analysis for how good your brand is.
Audience growth by demographic.
Growth predictions.
Competitor comparisons.
They also offer normal stats like:
Follower growth.
Demographics.
Followers per day.
Engagements.
Tag engagements.
Comment feed.
Followers sorted by their engagement.
Locowise is constantly feeding your social data into its models to give you intelligent suggestions that you can act on. This makes it one of the most powerful Instagram analytics tools I've come across. Locowise offers a 2-week trial before charging $120 per month to track 3 accounts. So it's also one of the most expensive analytics tools you can use.
Management Suite Instagram Marketing Tools
Tool suites essentially just combine the functionality of many of the tools we've covered in one location. These are often a good way to get started thinking about your social profiles as a business. Unfortunately, for the more powerful suites you often have to pay a lot.
66. Stribr
Stribr offers a whole Instagram management suite. They offer basic features for:
Searching and engaging with users.
Analytics.
Push notification scheduling.
Monitoring followers.
They offer a free package for many of these features, though some need a premium account. It's a good option if you're looking for a bit of everything for free. However, it doesn't provide the best of any of the areas it covers.
67. ViralTag
ViralTag is a full visual marketing suite for Pinterest, Instagram, Tumblr and more. It combines many of the different tools covered before:
Push notification scheduling.
Finding content.
Tracking and analytics.
User generated content licensing.
Shoppable Instagram tools.
ViralTag's pricing starts at $24 per account per month but for many of its advanced features, you will be looking at $999+ per month. If you heavily use visual content marketing across several platforms, ViralTag might be worth a look. If you're just marketing on Instagram, you'll likely find better luck with a selection of other tools focused on just that platform.
Miscellaneous Instagram Marketing Tools
Here are just a few extra tools that I couldn't fit anywhere else!
68. SnapWidget
SnapWidget offers a simple and effective way to embed your Instagram feed onto your website. They offer free and premium widgets with varying functionality.
Also Read: Hootsuite vs. Buffer  | Planoly vs. Later
69. IFTTT
If This Then That is a great set of automation "recipes". These check a condition and make an action when that condition is completed. An example would be when you post a picture to Instagram, also post it to Twitter or Pinterest. There is a wide range of recipes on IFTTT that interact with many platforms so it's well worth checking out. Instagram's recent API change has prevented any recipies that have the following conditions:
•    You like a photo or video
•    A specific user posts a photo or video
•    A new photo or video is posted with a specific hashtag
•    A new photo is posted from a specific area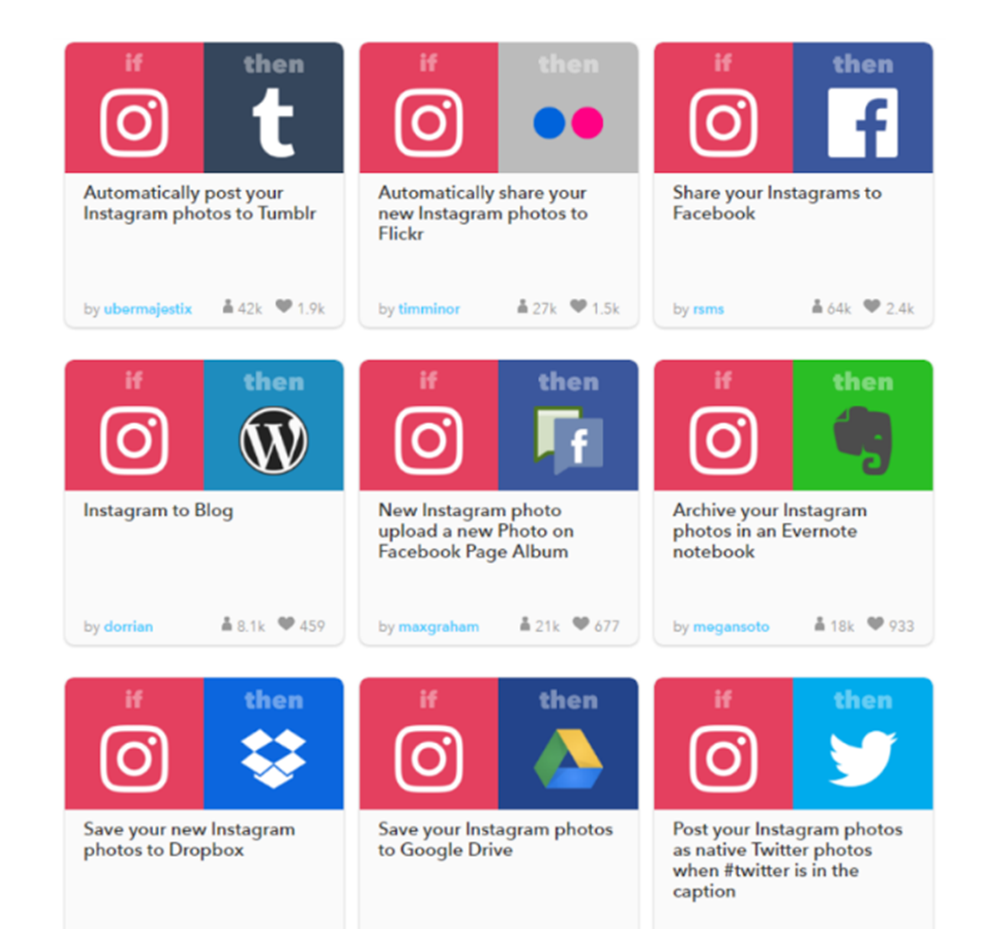 70. Social Print Studio
Social Print Studio allows you to have your best Instagram pictures printed off and put in high-quality frames. Whilst this itself is unlikely to help your Instagram marketing, it would only take a little outside of the box thinking to come up with something. For example, getting a printed copy of the top picture your followers send to you each week and putting them up in your office. This could be a great way to connect with your audience on a deeper level.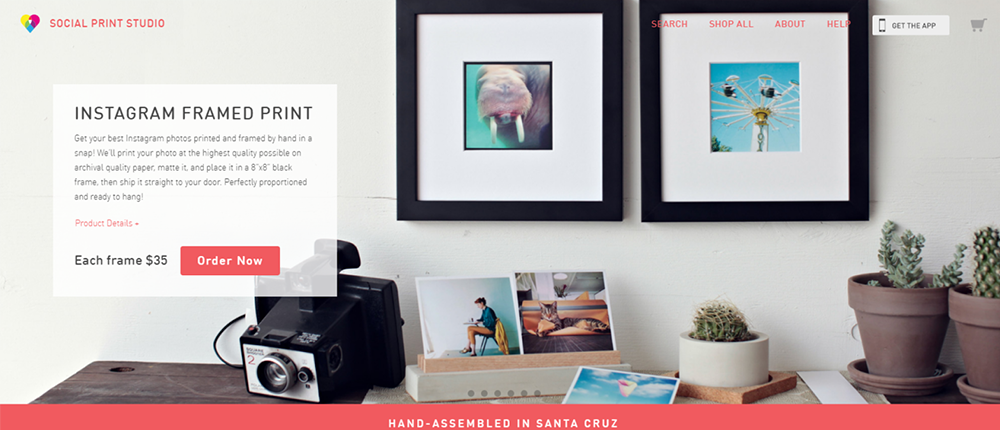 71. Facebook Power Editor
Whilst an in-depth look at Instagram paid advertising is beyond the scope of this post, I thought it would be good to mention this here. Basically, if you want to create sponsored ads on Instagram, you need to use Facebook's Power Editor. Of course understanding the nuances of pay per click advertising is a must if you don't want to lose a lot of money.
Which Instagram marketing tools would you add to this list? What's your go-to Instagram marketing tool? Feel free to share below. If you found this useful, please consider sharing it with your fellow Instagram marketers.
If you're interested in posting to Instagram from your desktop, or scheduling automatic posts in advance, please check out Hopper HQ – The Instagram Scheduling Tool 🙂