If you didn't Instagram your new outfit, did you really wear it? Giving all bloggers and style mavens the ability to share endless content, Instagram has now become the fashion world's platform of choice. In our latest guide we take care of your hashtag game. Whether you are aspiring to gain thousands of followers or just brainstorming new ideas to optimise your channel, having an Instagram hashtag strategy is key. Before we dive in to the best Instagram fashion hashtags, check out our All-In-One Guide To Instagram Hashtags so you're all clued up!
Do your research
You've probably got a general idea of what hashtags best suit the fashion sphere, but it might be worth to expand your knowledge and do a little bit of research.
1. Get suggestions for fashion hashtags from Instagram
When you search Tags on the Instagram app, a list of popular hashtags generates automatically – one of those could be just what you're looking for!
Click on it and you will see all posts marked with that hashtag, as well as a line of "Related Hashtags" along the top. Add these to your list as they are likely to be relevant to your content.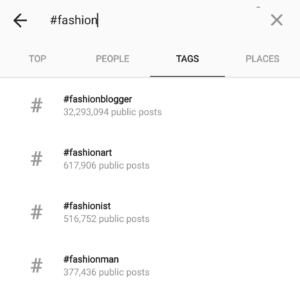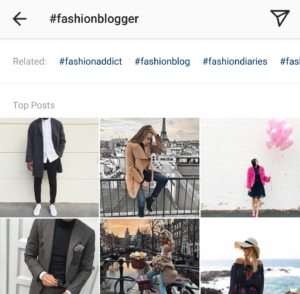 Or check out the most popular accounts in the fashion niche, see what relevant hashtags have been used on each post and reach the same people by using them!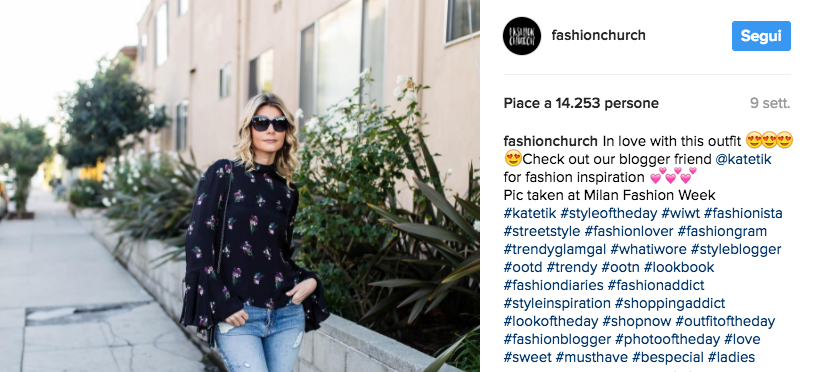 2. Use hashtags research
Hashtags can branch out: apps like Focalmark are perfect tools to identify all those relevant, trending and related tags to a particular topic (and location!). These are data-driven and allow you to target your photos to the right audience, and to a large group of people.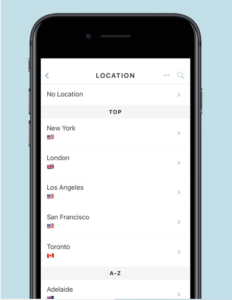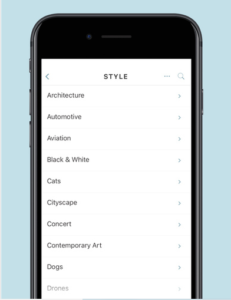 Select hashtags strategically
Once you've done your research and found some interesting hashtags, it's time to experiment! The best idea is to have a healthy mix of a few high-volume, mid-range, and low-volume hashtags; combining both obvious and less evident keywords ensures you get the best of both worlds and reach a wider audience. You can check how popular a hashtag is just by heading over the Instagram tags page showing the total amount of times it has been used.
Lucky for you, we have already done most of the job by rounding up a list of fashion hashtags that will quickly turn you into an Instagram pro!
Yes, we'll wait while you finish exulting.
 1. High-volume hashtags (10 million+ search results)
These can give you fast results as photos will get in front of millions of people within Recent Posts. Your content really needs to be amazing to stand out in such a lighting-fast moving feed, but stay positive – you don't want to miss the chance of ranking in the Top Posts of a popular fashion hashtag!
Here are some great examples.
#FashionDiaries
With over 10 million posts using this hashtag, #FashionDiaries includes general fashion related content and it is an absolute must for all bloggers.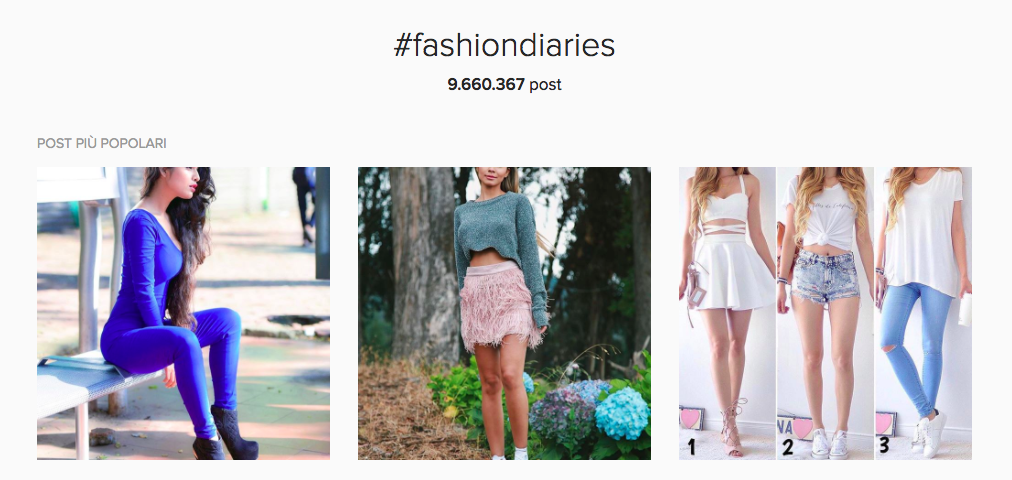 #OOTD
Do we even need to put this on the list? OOTD is one of the most popular tags and stands for outfit of the day; whether you post a high-resolution shot or a fancy selfie mirror, embrace this hashtag and share your daily personal style with everyone!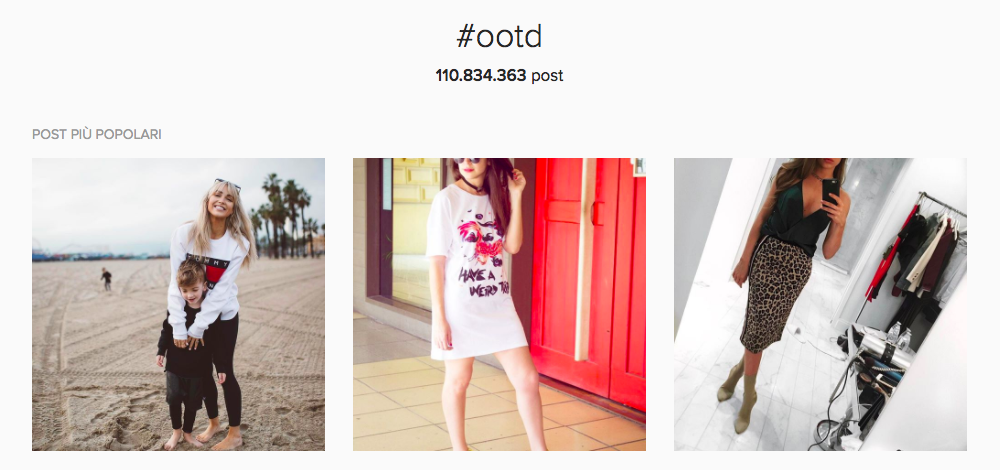 Trending high-volume hashtags:
#Fashion #OOTD #Style #InstaFashion #Vintage #FashionBlogger #Fashionista #StreetStyle #Stylish #MensFashion #WomensFashion #InstaStyle #LookBook #WhatIWore #FashionDiaries #StyleInspo #FashionBlogger #LookBook #WIWT #FashionWeek #FashionStyle #StyleBlog #Blog #StyleBlogger #StreetFashion #OutfitOfTheDay
Schedule your Instagram posts.
Fully automated posts. No phone required.
  2. Mid-volume hashtags (50,000 – 1 million search results)
Using a very popular hashtag would give you immediate results, but your photos will get soon lost in the archives of all the images with that tag. Mid-volume hashtags still let your post to get seen by thousands of people browsing the Recent Posts, yet won't disappear too quickly.
#Liketkit
This is probably one of the most brilliant fashion hashtags you'll find. #Liketkit (Like To Know It) allows you to shop all Instagram outfits linked with the hashtag or link! Simply double tap the photos you like, and shop ready details will be sent to your Inbox. Just sign up here and get your hands on those trendy outfits now! http://liketoknow.it/login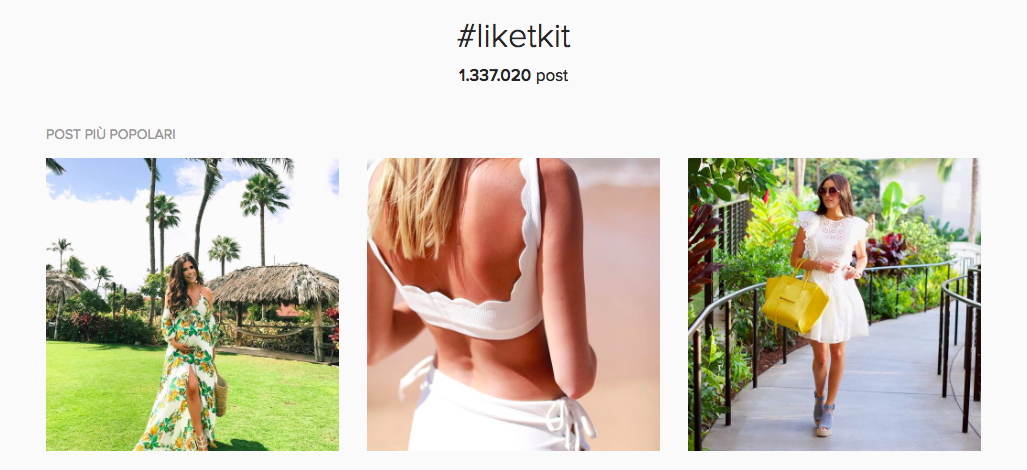 #StyleTheBump
Calling all future mummies! With its 10,000 posts, the hashtag is for all beautifully pregnant and stylish mums-to-be.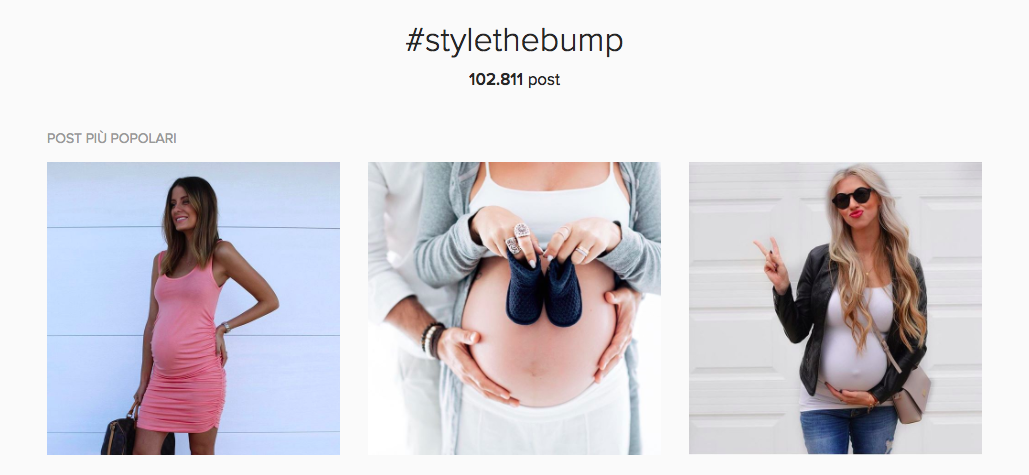 Trending mid-volume hashtags:
#FromAbove #BlueJeans #WhiteSneakers #CurrentlyWearing #abmstyle #OutfitInspiration #Liketkit #FashionGoals #fwis #StyleTheBump #UKblogger #MinimalHunter #TodayIWore #LoveThisLook #StreetFashionStyle #NewShoes #ShoesDay #MakeYouSmileStyle 

  3. Low-volume hashtags (1,000 – 10,000 search results)
Most Instagrammers would not be searching for a term as generic as #Boots, but they might be interested in #WellingtonBoots. A more specific hashtag, although uncommon, will reach an engaged community that is more likely to appreciate your post, which in turn will also stay at the top of the tag page for longer.
#HippieBride
From vintage laces to boho braids, the #HippieBride hashtag includes all those fashion-forward brides (and not only) boasting serious hippie vibes.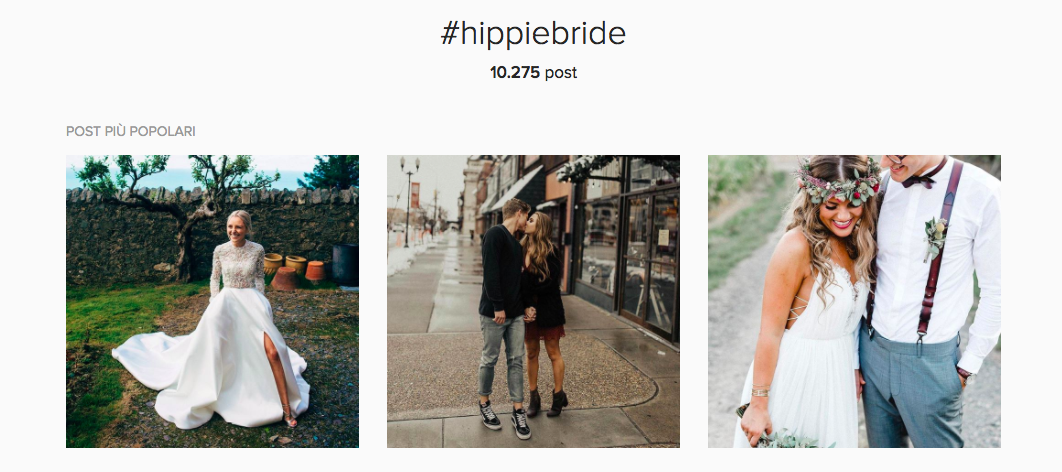 Other low-volume hashtags:
#ShoeCrush #BagCrush #HowToStyle #StyleDiaries #UKBloggerStyle #FullOfCurves  #SlipOnSneakers #HeeledSandals #VelvetBoots #ChokerStyle #ChokerMania #BootCutJeans #BohemianLook #VelvetShoes #BohoChicStyle #MetallicSkirt #MetallicShoes #HippieGirls #GrungeLook #VelvetNails #Camidress #SlipDresses
The Ultimate Instagram Course
Learn how to build a relevant & engaged following. Create better content & leverage Instagram for your business.
Register Now
Free for Hopper HQ customers • Updated October 2017
Using a combination of these fashion hashtags you'll increase your reach on Instagram and hopefully gain new followers as a result!
Remember
When hashtagging, it's important not to overload or spam your posts with fashion hashtags that aren't relevant as it could result in you getting shadow-banned. The trick is to use a few generic and a few niche specific Instagram hashtags to give you the best reach – just make sure they are always relevant to the photo, video or Story you've posted.
Check out our All-In-One Guide To Instagram Hashtags here for more tips!
For more top niche hashtags, take a look at our other guides:
Top Photography Hashtags 📸
Top Food Hashtags 🍕
Top Health & Fitness Hashtags 🏋️‍♀️

Schedule Your Hashtags
Plan & schedule Instagram posts ahead of time.
Video, gallery, image & text only posts
Fully automated. No 'reminders'
Instagram, Facebook & Twitter
START PLANNING YOUR POSTS NOW