Instagram and travel go hand in hand these days, with influencers and travel bloggers sharing their exotic lifestyle and holiday tips on the platform.
But with so much travel photography on Instagram, it's getting harder than ever to stand out. Using the right hashtags will help your travel posts stand out and get more likes.
This list of travel hashtags will help you choose the correct hashtags for different kinds of travel posts! Simply copy & paste the hashtags most relevant to your content…
⭐️ More hashtag strategy tips: All-In-One Guide To Instagram Hashtags ⭐️
1. Most Popular Travel Hashtags
2. Luxury Travel Hashtags
3. Adventure Hashtags
4. Beach Hashtags
5. City Hashtags
6. Solo Female Traveller Hashtags
7. Family Travel Hashtags
8. Honeymoon Hashtags
9. Travel Video Hashtags
10. Schedule Hashtags in Advance
1. Most Popular Travel Hashtags
These are some of the biggest and most used travel hashtags on Instagram! While they're a sure-fire way of reaching new people in your audience, we recommend using a handful of these high volume hashtags mixed with smaller, specific travel hashtags.
#Travelgram #Travelholic #Travelbook #Traveller #Travel_Captures #Instatravel #SeeTheWorld #TravelTheWorld #TravelAddict #Travellingram #TravellingThroughTheWorld #TravelIsLife #TravelWithMe #TravelCouple #WorldTraveler #MyTravelStory #WanderingSoul #TravelMoments #JustTravel #Globetrotter #NextDestination #LetsTravel #HappyTraveller #TravelTips #TheBestDestinations #TravelInspiration #TravelJunkie #WorldExplorer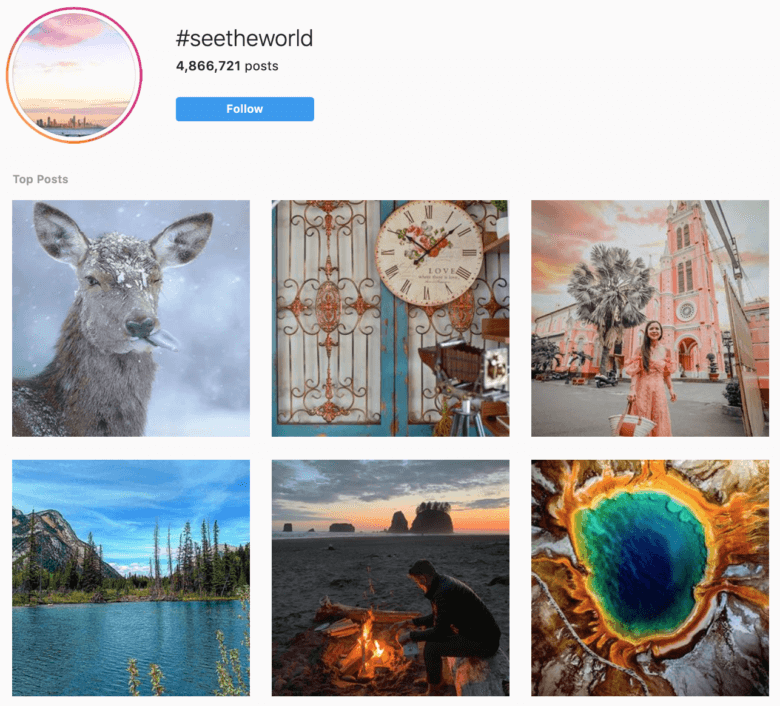 2. Luxury Travel Hashtags
For the high-end traveller showing us the most beautiful hotels and spots across the globe! Luxury travel dominates a large space on Instagram due to celebrities and travel influencers sharing their most lavish trips. If you're sharing luxury travel content use these hashtags to get more likes:
#LuxuryTravel #LuxuryHotelsWorld #LuxuryTraveller #BespokeTravel #LuxuryVillas #LuxuryTrip #TravelLuxury #DreamHoliday #LuxuryEscapes #BestResorts #VacayGoals #DreamDestination #LuxuryHoliday #LuxuryWorldTraveller #LuxuryLifestyle #LuxuryTravelDaily #LuxuryLocation #NeverGoingHome #LuxuryVacation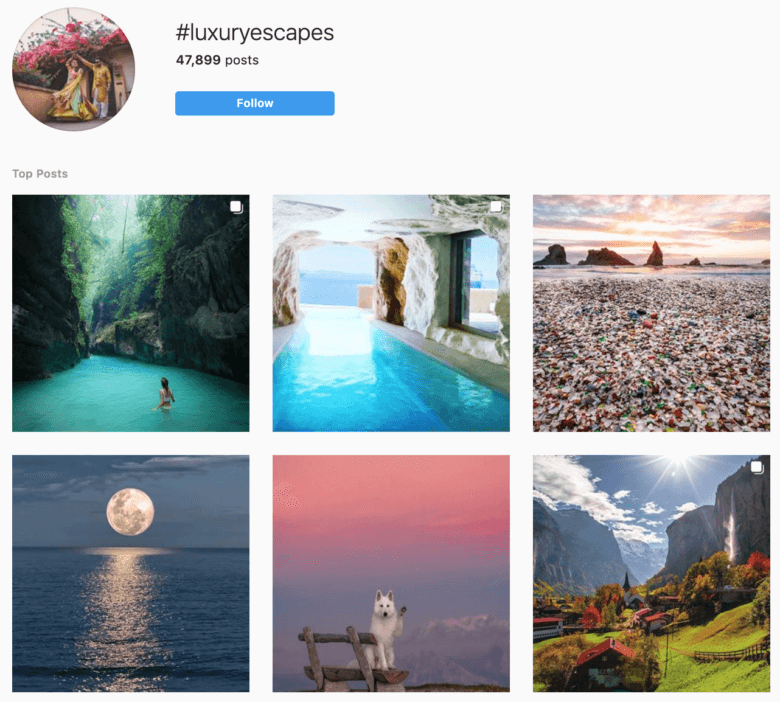 3. Adventure Hashtags
If hiking in the great outdoors is more your cup of tea, there are thousands of Instagram users who are with you! When posting outdoorsy content, use these adventure hashtags to reach the right people:
#LifeIsAnAdventure #AdventureTime #Adventurer #ExploreTheWorld #GoExplore #SeekAdventure #GoPlaces #NotLost #HikingAdventures #AdventureOn #StayAndWander #GoneOutdoors #Adventure_Culture #ChooseAdventure #GetOutStayOut #AdventureAddict #AdventureInspire #AdventureTillWeDie #AdventureThatIsLife #RoamThePlanet #AdventureSeeker #NeverStopExploring #EarthOutdoors #FindYourAdventure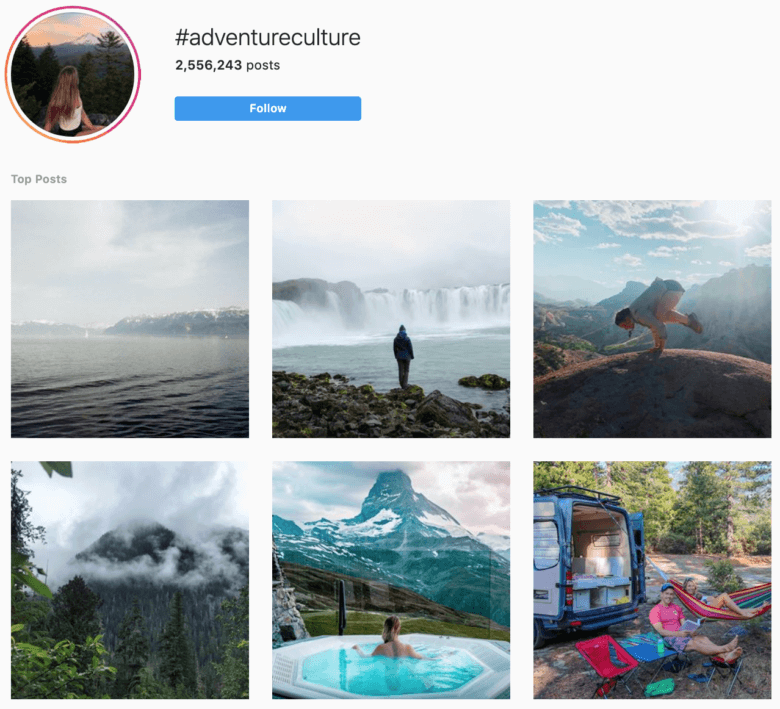 4. Beach Hashtags
Sand, sea, sun and salt…can only mean one thing! Our Instagram feeds are full of white sand beaches and crystal blue oceans, and these are the top beach hashtags for your travel Instagram:
#Beaching #BeachLife #SandAndSun #SaltyAir #PalmTrees #SeaWaves #LifesABeach #Beachscape #SunsetBeach #BeachBabe #Beachy #BeachVibes #OceanVibes #SaltEscape #BeachHairDontCare #BeachBum #Aquaholic #SeasTheDay #BeachDaze #BeachDay #SandInMyToes #SaltySoul #BeachTherapy #RestingBeachFace #BeachLiving #BeachLifestyle #LifeByTheBeach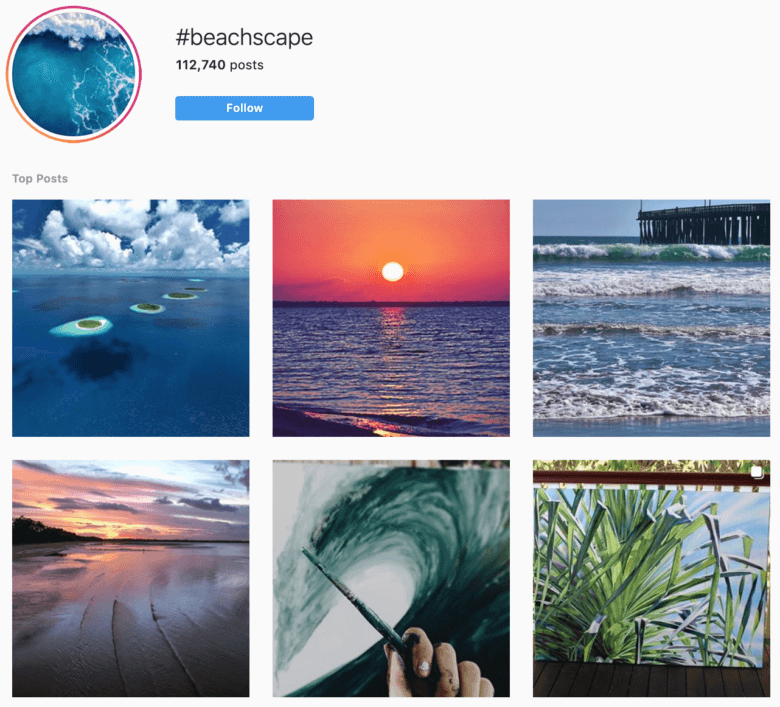 5. City Hashtags
From the coast to the capital, share your city travel photos on Instagram with these city hashtags. Remember to always include the place names of the cities (and anything else) you're visiting! This way fellow travellers will be able to find your posts and learn from your tips.
#CityBreak #CitySightseeing #LoveThisCity #CityTrips #CobbledStreets #CitySights #CityTravel #Siteseeing #ExploringTheCity #CityView #CitiesOfEurope #BeautifulCity #CityLove #CityShot #CityWalking #CityScene #Cityscape #CityCaptures #CityExplore #CitySunset #CityLights #CityAtNight #CityLife #AmazingCity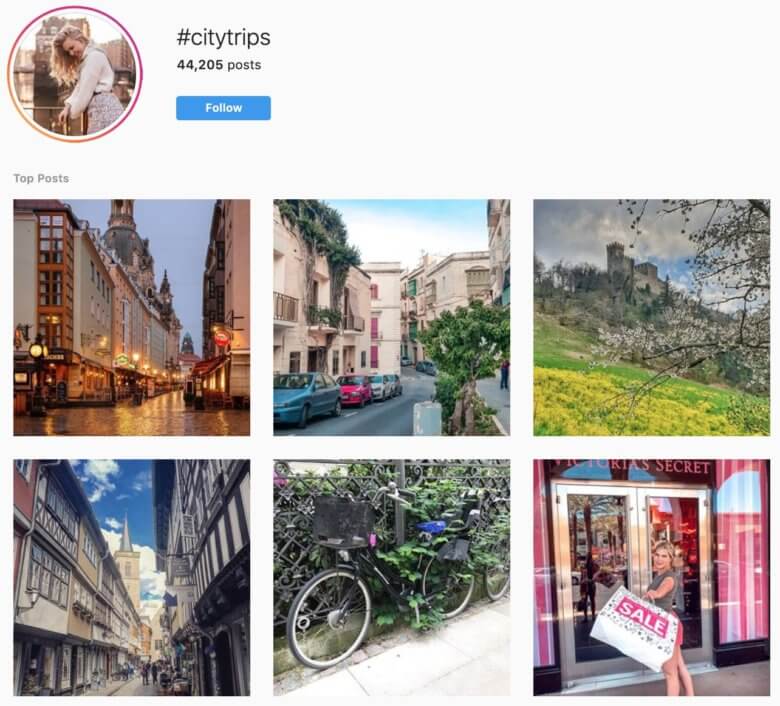 6. Solo Female Traveller Hashtags
Instagram offers a great community for women travelling alone! Many travel influencers and bloggers are solo female travellers, and have set up trending hashtags to connect other women travelling and exploring by themselves…
#TravellingSolo #SoloTravel #TravellingAlone  #Wanderer #SoloFemaleTraveller #SoloFemaleTravel #TravelGirlsGo #SheIsNotLost #SheWhoWanders #JourneyOfGirls #TravelGirlsHub #DameTravel #WeTravelGirls #TravelGirlsGo #WomanTraveler #WomanTravel #GirlsWhoTravelSolo #GirlsTravelDiary #WomenWhoTravel #WomenWhoExplore #Travelette #SheExplores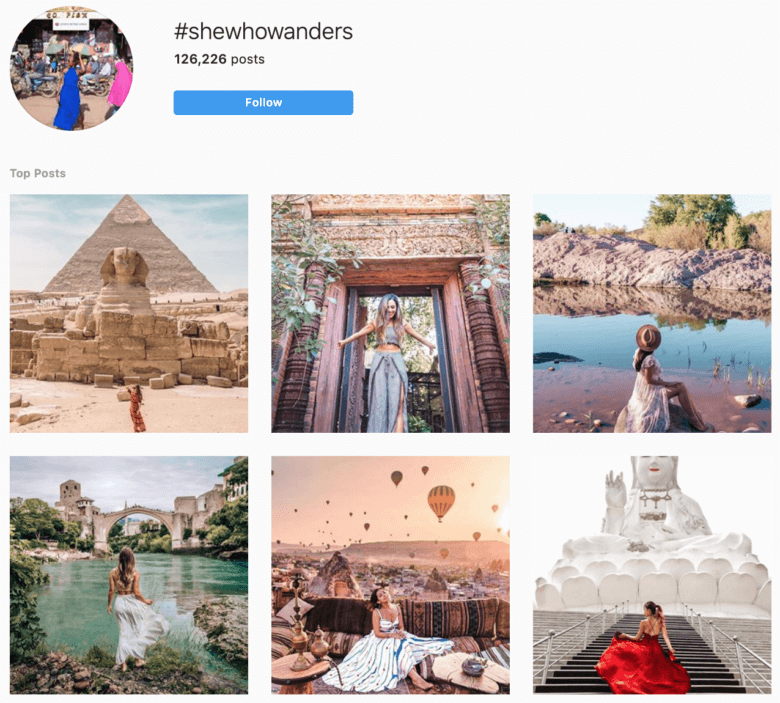 7. Family Travel Hashtags
If you're travelling with young ones, you're not alone! Many families take to the world with their children and document their adventures on Instagram. Use these family travel hashtags to get your posts in front of the right audience:
#FamilyTravels #TravelFamily #FamilyVacay #TravelFam #FamiliesWhoTravel #ParentsWhoWander #FamilyTravelTribe #TravelMadFam #GoWithNugget #TravelBrood #LoveYourTimeTogether #TravellingWithKids #LPKids #ExploringFamilies #FearlessFamTrav #TravelMum #TravelDad #FamilyAdventure #LitteTraveler #OurTribeTravels #KidsThatTravel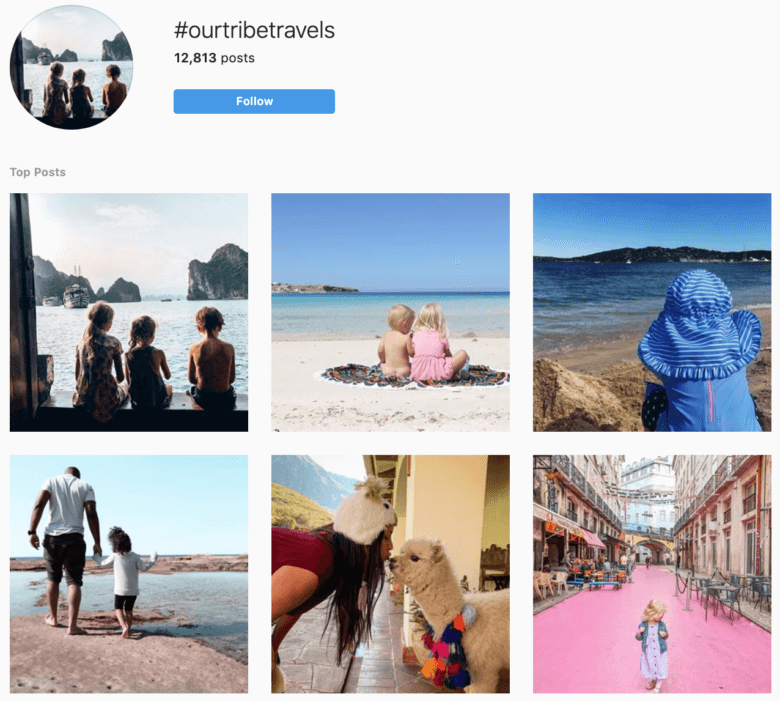 8. Honeymoon Hashtags
Travel couples are big news on Instagram. When else do couples treat themselves to a trip as big as their honeymoon?! Expect paradise water bungalows and rose petals…join in with these honeymoon hashtags for Instagram:
#Honeymoon #HoneymoonDestination #HoneymoonTime #HoneymoonTrip #Honeymooning #HoneymoonTravel #Honeymooners #DreamHoneymoon #RomanticPlace #HoneymoonVibes #RomanticGetaway #HoneymoonBungalow #JustMarried #InParadise #HoneymoonInspo #HoneymoonInParadise #OverWaterBungalow #MrAndMrs #HoneymoonIsland #TravelBuddyForLife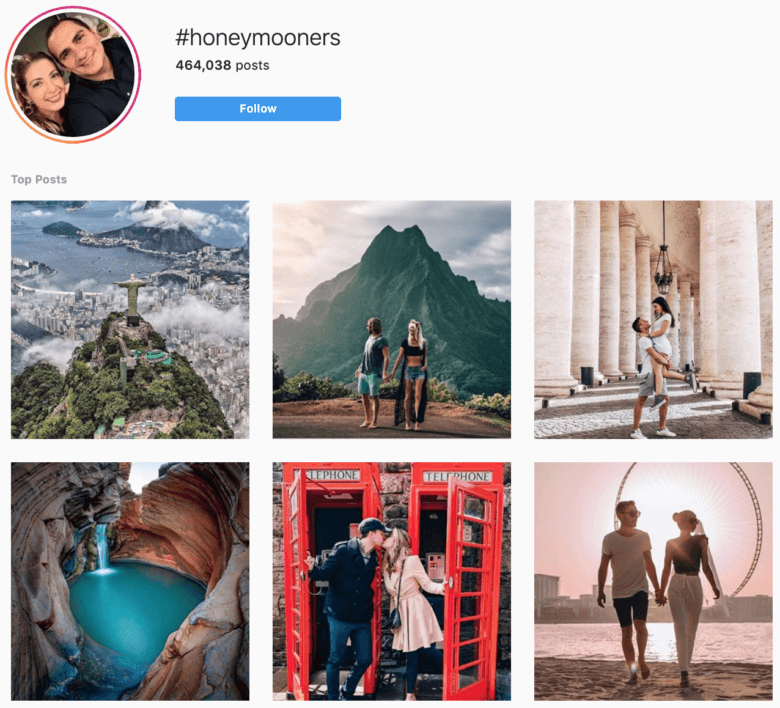 9. Travel Video Hashtags
Drones, GoPros and  advanced mobile editing software make travel videos a huge content area on Instagram. More and more influencers are sharing posts and IGTV videos of their travels, despite the max time limit making it a challenge to cram an entire trip into a 1 minute video. Here's a selection of travel video hashtags you can use on Instagram:
#TravelVideo #TravelVideography #TravelVideos #TravelVlog #TravelVideoDiary #TravelVlogger #VlogTravel #Drone_Countries #DroneWorld #DroneNature #DroneVideography #StreetVideography #TravelDocumentary #TravelMoments #TravelCapture #TravelFootage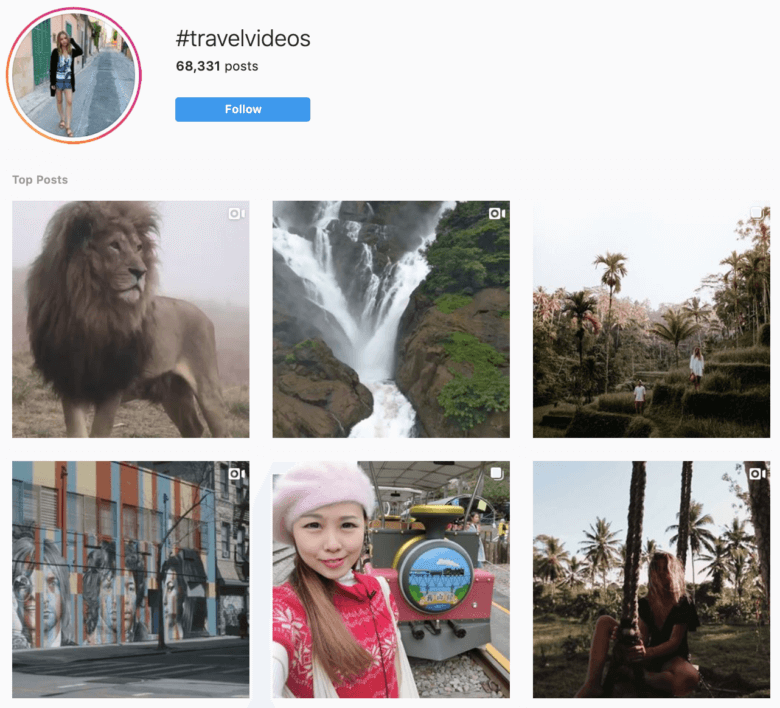 Hashtag Tips
When hashtagging, it's important not to overload or spam your posts with hashtags that don't work and could result in you getting shadow-banned.
The trick is to use a few generic and a few niche specific hashtags to give you the best reach – just make sure they are always relevant to the photo, video or story you've posted.
Check out our All-In-One Guide To Instagram Hashtags here for more tips!
For more top Instagram hashtags by niche, take a look at our other guides:
Top Photography Hashtags 📸
Top Food Hashtags 🍕
Top Fitness & Health Hashtags 🏋️‍♀️
Top Fashion Hashtags 👗

Schedule Hashtags In Advance
Search for the most popular hashtags
Add hashtags to your caption
Add hashtags to your first comment
Schedule your post and first comment in advance
Set and forget – Hopper HQ posts automatically for you!
Try Hopper HQ free for 2 weeks and start saving time today!