As each social media platforms develop new and exciting features, social media managers are left with the challenging task of producing more unique content to match. In your social media plan, auto-posting, bulk uploading tools and developing content in batches should be your go-to.
Content batching makes room for consistent posting across all channels and gives the ability to repurpose your content ideas while minimising your workload and time. (Wave goodbye to burnout!) While bulk-uploading helps you to get your social media scheduled in one-go.
We're sharing a mini-guide on the best ways to batch your social media content for maximum success. Let's get started!
So What Actually Is Content Batching?
Similar to multitasking, content batching is the art of working on various parts of a social media content plan weeks or months in advance. This does not mean you won't create reactive or time-sensitive social media posts, but planning in advance allows you to stay organised while managing your social media activity.
To put it in simpler terms, while batching, you'll spend a few hours focused on writing captions for the week or month instead of previously spending longer hours planning, designing and publishing one social media post at a time.
The thing is, as a social media manager, you wear many hats. With that in mind, it is essential to set up effective social media management workflows to help streamline time-consuming tasks such as content creation to effectively measure social media success and generate better ROI for your social media channels. When batching correctly, you'll be developing a straightforward approach to your social media strategy.
Ready to easily schedule your social media content? Get started with Hopper HQ if you haven't already — it's free for 14 days!
Simple Post, Story + Reel Scheduling ✨
Visually plan your social content. Instagram, TikTok, Twitter, Facebook, LinkedIn + Pinterest
Keep reading to discover how to batch your social media content with ease, saving your time and up your productivity.
Why Should You Batch Your Content?
While social media is undoubtedly a powerful tool, it can often feel overwhelming to consistently develop unique content that will engage or inspire your audience.
Hopper HQ makes it a little more straightforward to achieve the best results with as little effort as possible. Plan, create and post content with delightful ease.
Combining the use of Hopper HQ with batching content can save you a lot of time and stress for several reasons.
By not batching your social media content, you effectively have to write each caption, one post at a time. Once that is completed, you'll have to design and create suitable visuals that match your branding and visual aesthetic. All of which can be slightly exhausting.
With a detailed content calendar, gone are the days where you'll have to struggle to come up with a post last minute—a content calendar forms as one chunk of this plan to organise all your available resources.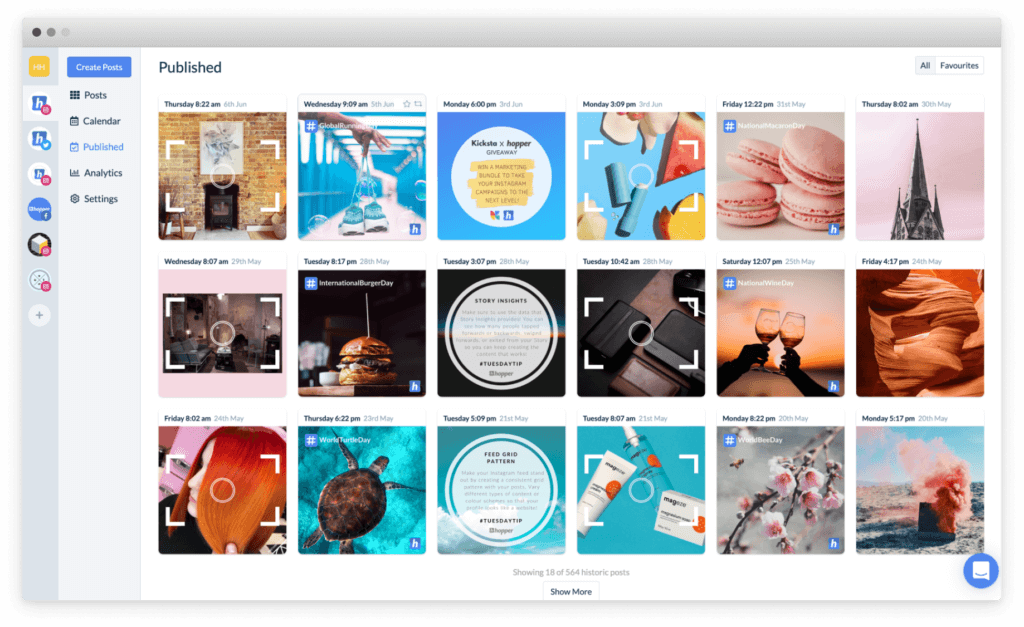 Our visual calendar planner is as simple as dragging-and-dropping. Hopper HQ will tell you your unique best time to post so that you can bulk upload your content in advance.
Batching ensures your social media has a level of consistency. With months worth of social media posts planned and scheduled, you will have a steady flow of beautifully designed written and visual content.
Did you know Hopper HQ allows for bulk uploading too? Upload and schedule up to 50 images and videos directly from your computer or cloud storage location with ease.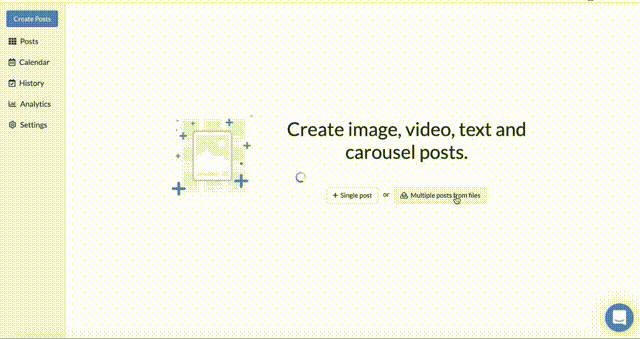 Below, we've outlined a cohesive management flow to take you from idea to scheduled to auto-posted content using our batching method.
How To Batch Content For Social Media
Batch Your Social Media Tip #1: Review Previous Post
Taking a moment to analyse your social media analytics will provide you with a good insight into the type of content your audience engages with the most. By doing so, you'll find it easy to begin batching.
The key points to take into consideration are, what type of content it is? Be that a video, image, meme or graphic. Your posting times and days, as well as what kind of call-to-action/captions were used (Long-form or short).
This will help you to produce more high-valued and cornerstone content.
Explore The Data Behind Your Social Media Accounts 📊
Find the best time to post, track your follower growth, and understand what content works best with post and account analytics.
Batch Your Social Media Tip #2: Get Brainstorming
By now, you should be aware of what content works best for your audience. The next step to batching your social media content is to begin brainstorming topics, also known as your content pillars.
Give yourself a suitable amount of time to come up with different topics, subject ideas and CTA's best suited to work into your content calendar.
With there being more social media channels to consider, posting the same content to all networks at the same time just isn't an option. You need to be creative and craft unique captions suited for each social media channel. Consider including recurring topics to bring a sense of consistency and ease when planning.
It may feel slightly overwhelming, to begin with, but once you figure out your system for developing new content, it will flow easily.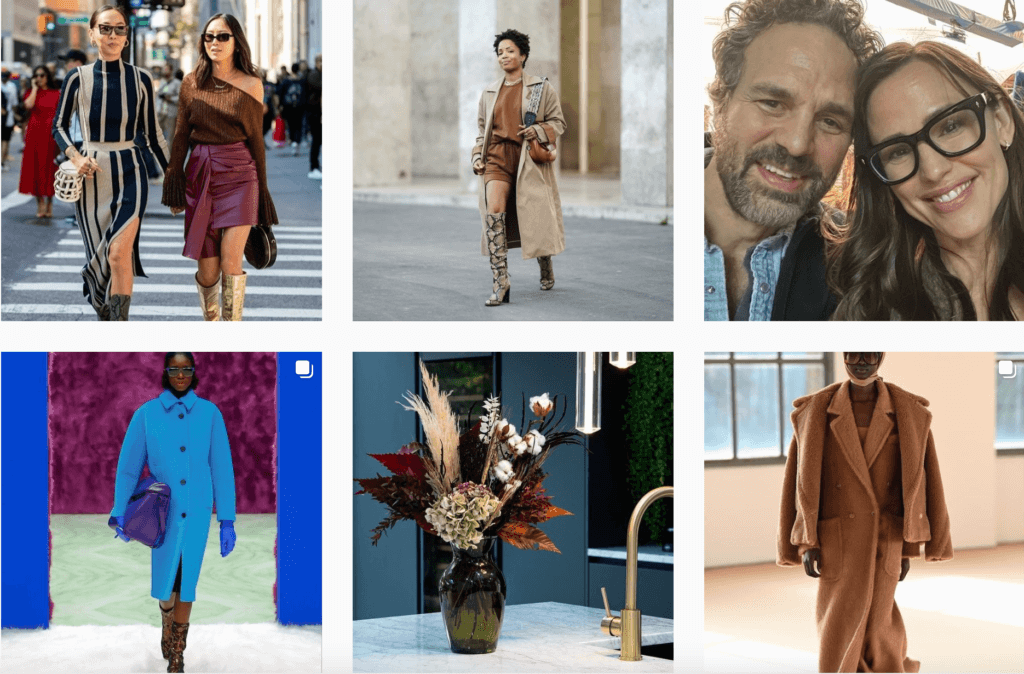 Instyle Germany break up their Instagram feed with fashion trends and street style content, lifestyle, celebrity culture and inspirational graphics. Each post focused on their brand.
Batch Your Social Media Tip #3: Focusing on Captions
Its time to get drafting your copy, now your content pillars have been sorted, and you are well aware of what topics you wish to discuss.
Drafting your captions in batches enables you to keep a consistent tone of voice throughout the process. Try to allow time to proofread and ensure everything makes sense before posting.
Use the Hopper HQ method to write better engaging social media posts:
The first line is the most important: Ensure to write an attention-grabbing first line before the caption is shortened to keep the reader reading.
Use line breaks: Breaking up long-form Instagram captions will help to make your captions easier to read.
Include Eye-Catching Emojis: Add a bit of personality to your Instagram captions with the help of emojis. They bring a pop of colour, can also be used to help break up long blocks of text and also helps to draw attention to your call-to-action.
Add a Call-to-Action: Include a call-to-action to convince users to act on what to do next and how to do it.
Hashtags: Use our #Hashtag Explorer to find other relevant and popular tags to help you increase your reach, get more engagement on your posts, and save time while managing your Instagram Account.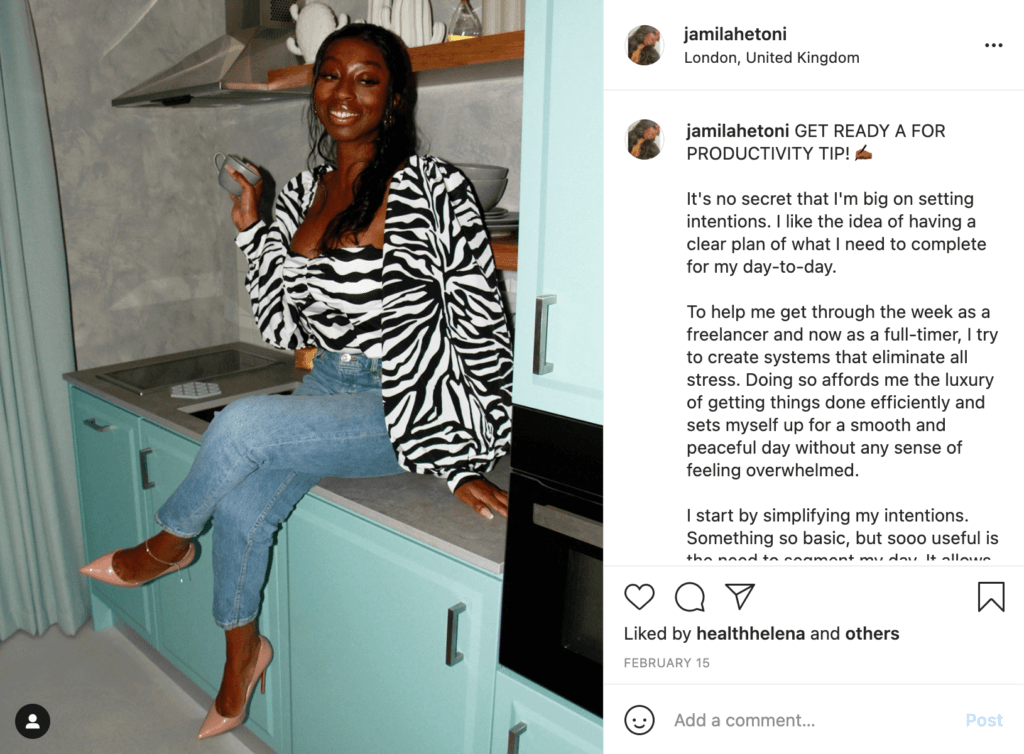 Suffering from writer's block? Take inspiration from these Instagram caption ideas.
Hopper HQ allows you to directly publish your first comment together with your Instagram post within the compose box. Avoid the clutter in your captions by not including hashtags in your original post by adding them to your first comment instead.
Batch Your Social Media Tip #4: Using a Content Calendar
Now you've figured out your content ideas, it's time to coordinate each post for suitable scheduling times, dates, and platforms you wish to share them to. This is where your content calendar will come in handy.
It's totally up to you how you envision your content calendar to look. Some content creators like to keep things super brief, with minimal descriptions of what each post is, what platform, and what time it will be scheduled for. For us at Hopper HQ, we find it useful when organising your content calendar to include all the details required for posting. This should consist of your captions, hashtags, and images.
A nice trick for creating content is to utilise social media holidays.
Social media holidays are essentially micro-holidays celebrated for different events. Not only will your posts reach more people because the hashtags are trending, but sometimes we just need a bit of content inspiration and fortunately, social media holidays offer just that.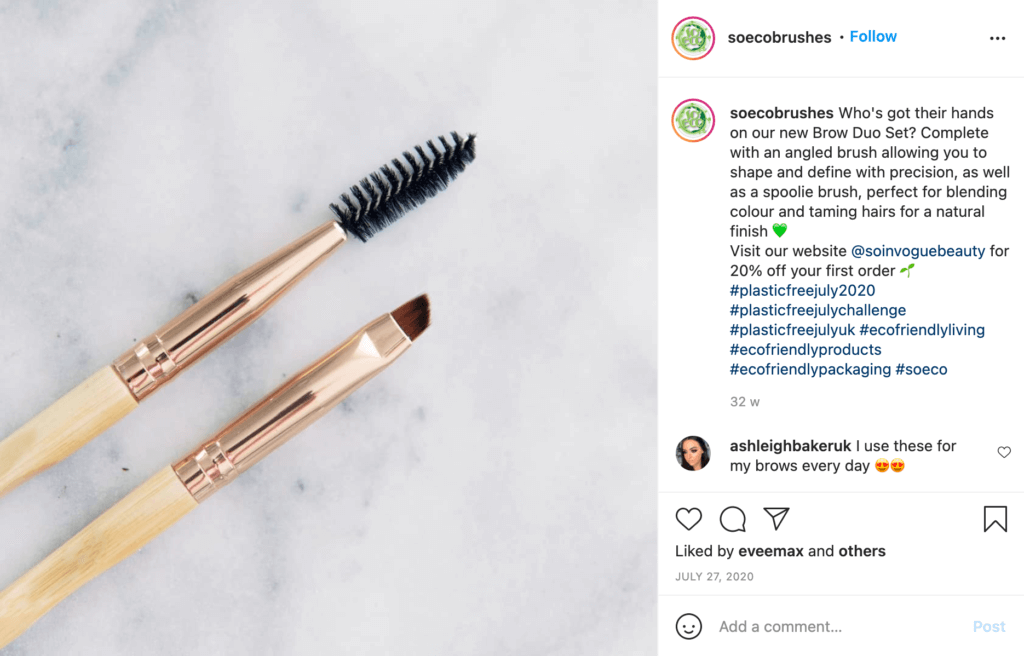 We understand that some of these social media holidays may be too silly for your brand to engage with. But there are a lot of creative holidays that you can help turn a slow week into a successful month of engagement.
Batch Your Social Media Tip #5: Choose the Right Images
Choosing the right images is not just about having a great-looking feed, but it is fundamental for your brand's visual identity.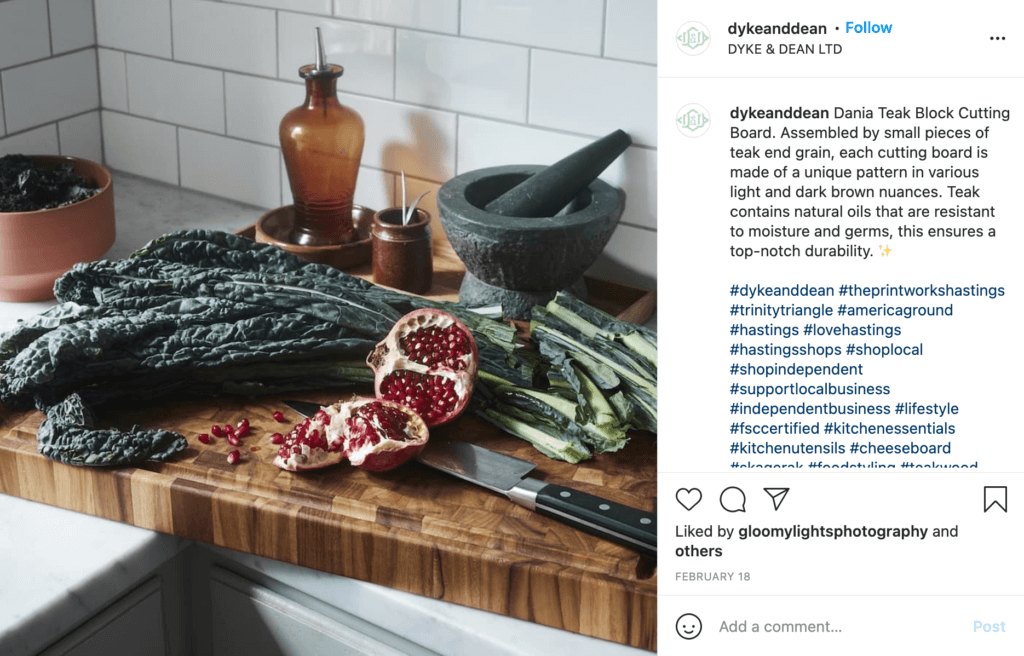 Visuals have become a crucial part of social media marketing, with Pinterest and Instagram having a considerable emphasis on image and video content.
When it comes to content creation, choosing the right images to go along with your posts is necessary because it helps set the tone for the post.
Batching your visual content helps with selecting visuals that are visually appeasing against others. Break up your feed by sharing various graphics, product shots and lifestyle images that will look great across the grid.
Editing tools inside of Hopper HQ will keep your post looking their best across every social network.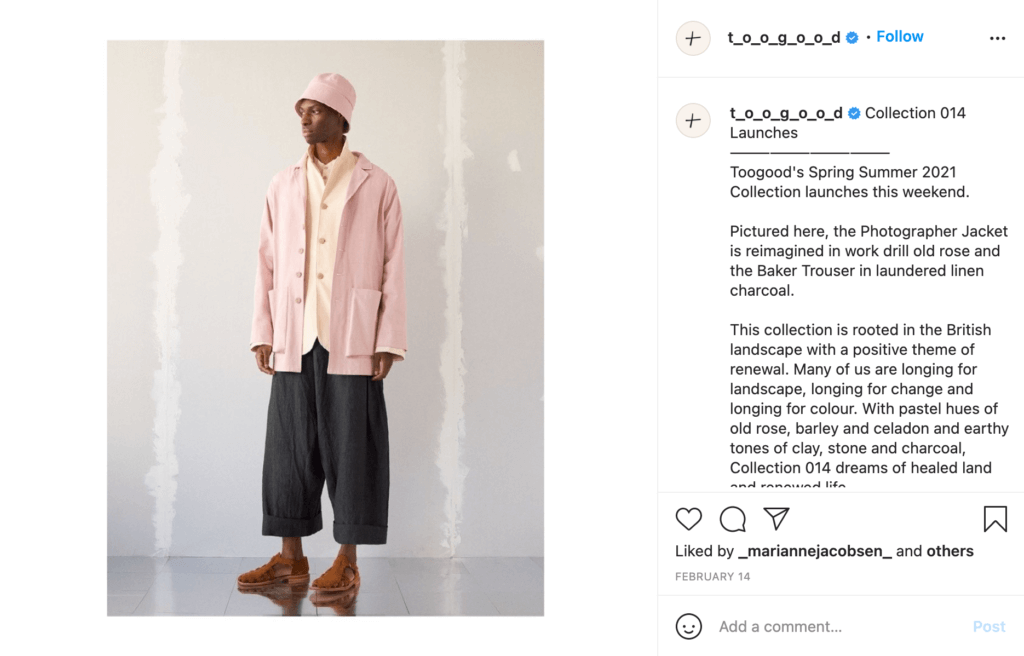 Contemporary Lifestyle British brand Toogood uses white borders to create a cohesive look throughout their Instagram. The white borders create a symmetrical and organised looking feed that highlight their photos against a white backdrop.
Sign up to our Trending Newsletter, and we'll send you social media tips and trends straight to your inbox.
Batch Your Social Media Tip #6: Bulk Upload and Schedule Your Posts
With all the above steps completed, all that's left to do is upload your social media posts to Hopper HQ and get scheduling directly from your computer.
We make it simple to schedule your content thanks to our user-friendly features that allow you to draft captions, bulk upload, and auto post (with no 'reminders' or push notifications, ever.) all to Instagram, Facebook, Twitter & LinkedIn.
Gone are the days when you would have to switch between platforms or create the same post multiple times! Plus, as a visual planner, you can drag and drop your content the way you want it to look for the coming weeks and months with ease.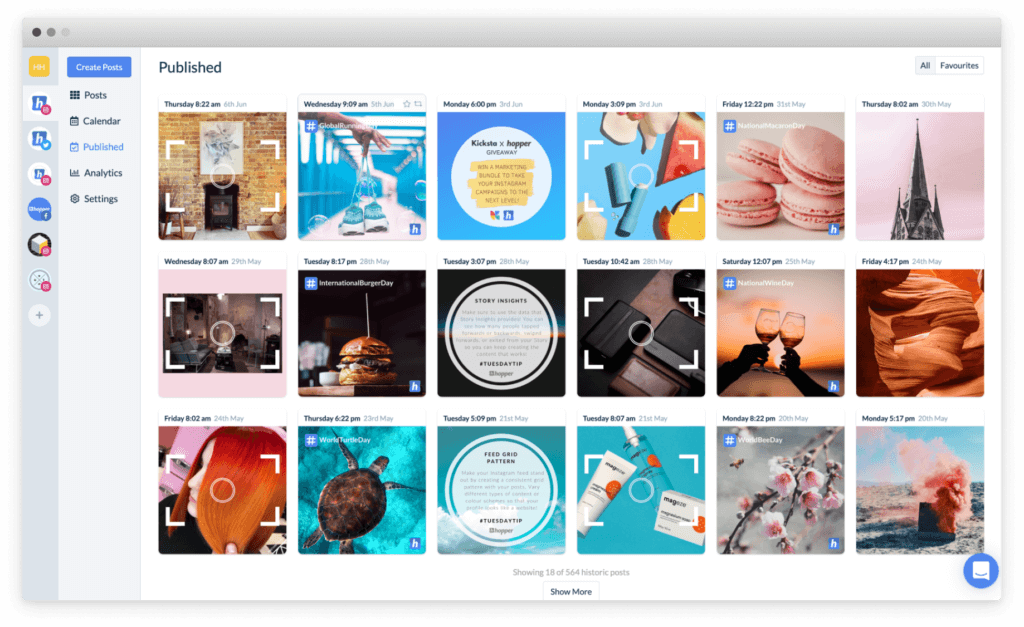 We know it takes time to create awesome content. Unlike other social media tools, we post images and videos automatically at your scheduled time – helping you to spend less time posting and more time creating!
When you begin to batch social media content with the added bonus of bulk uploading, social media becomes less time consuming and feels more manageable. By breaking down the necessary elements to creating consistent, engaging social media posts for your brand, you can be organised ahead of your posting schedule.
Ready to start using our content batching and bulk uploading method? Sign up to Hopper HQ today to increase your social engagement, and spend less time doing it!
Plan & schedule social media ahead of time.
> Video, gallery & image posts
> Calendar, feed & grid preview
> Instagram, Facebook & Twitter