Here are 10 ideas to include in your Instagram content marketing strategy…
Instagram has evolved. From an upstart social media platform that allowed users to post photographs and short captions to a venue that now includes discussions, videos, stories, GIFS, and many more features, it's clear that Instagram has become an important "driver of small business traffic."
It's a simple matter, really. As volume of users of a social media platform increases, so does the interest in using it as a marketing tool. And you can bet that your competition is doing just that. Perhaps you are too.
But crafting great content is only a part of the picture. Brands must follow the latest Instagram trends and have a content marketing strategy specifically suited to Instagram, if they are going to get noticed, followed, and, ultimately, see an increase in revenue from their Instagram presence.
Here are 10 content marketing strategies that will get your brand to its audience…
#1 Show the Application and Value of Your Product/Service
Because Instagram is primarily a visual platform, this is the perfect venue to have photos and videos that will show value of what you offer. A brand that does this particularly well is WD-40. It posts photos and videos, both serious and humorous "how-to" videos, and keeps the many uses of its product before its audience. This is a key content marketing strategy for Instagram and can apply to almost any industry!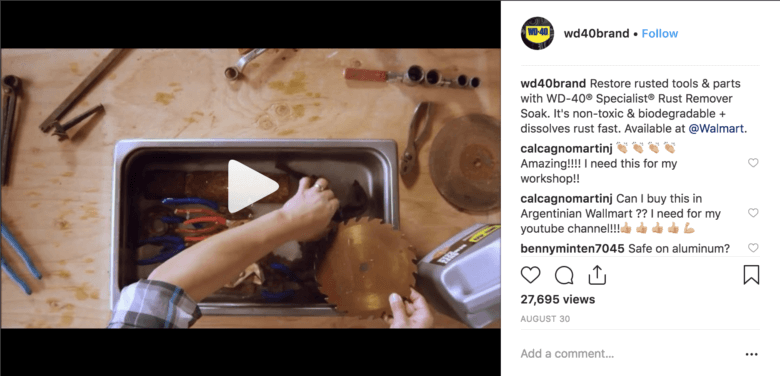 Social proof is a big deal these days. Consumers trust other consumers more than they do brands with which they haven't had any experience. So, if you can solicit photos and/or videos from happy customers, using your product or service, you are far more likely to generate trust from your target audience. This content marketing strategy is employed by brands across all industries, whether it's product-based such as fashion, locations such as coffee shops, or services such as airlines! 
ModCloth is a clothing retailer with a large female audience on Instagram. Its focus is on offering clothing for all occasions – career, casual, and formal – and for any body type. To bring this point home, it regularly posts photos that its customers submit.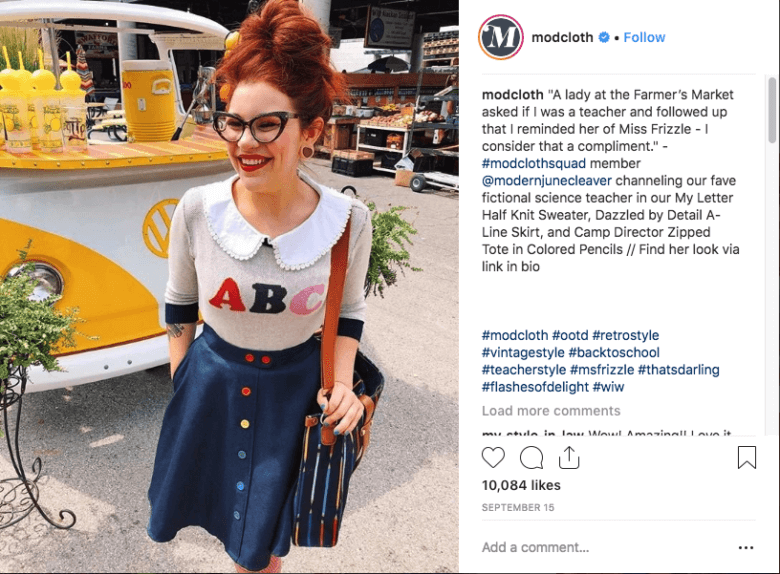 #3 Use Storytelling
Pictures can tell stories; so can videos. You can personalize your brand by featuring your team, the story of your company's beginnings, your product production process, or your commitment to social good as part of your content marketing strategy.
Toms Shoes is a for-profit brand with a larger mission. For every pair of shoes sold, it donates a pair to needy children all over the world. Over the years it has expanded into other social goals – prenatal care, clean water, and eyecare for the needy.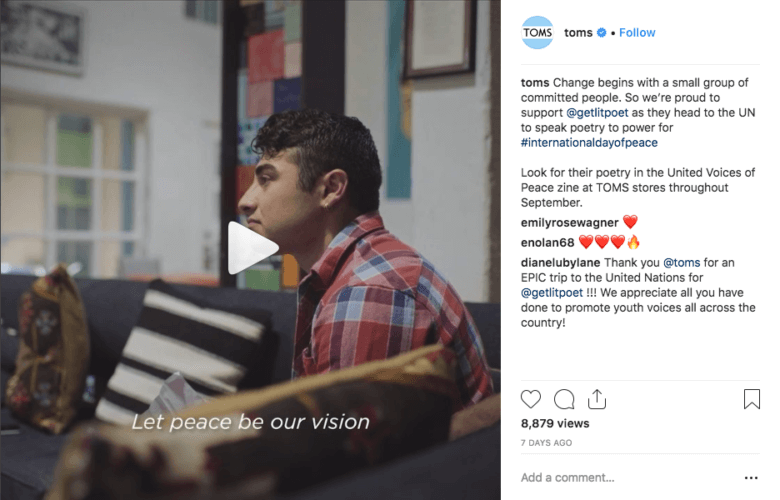 James Daily, a digital marketing specialist at FlashEssay, sums it up pretty well: "Our Instagram presence focuses almost totally on stories – stories we tell with photos of our team members, videos of our writers hard at work, and the success stories of our customers. Our guiding principle for Instagram is that every visual can tell a story."
#4 Schedule Those Posts
Several years ago, Nathan Chan decided to launch his product, Foundr, a digital magazine for startup entrepreneurs, by using Instagram. He manually posted several times a day for a long time. He grew an amazing audience – 10,000 in just three months. But that continual posting was a phenomenal amount of work. Fortunately, he had an intern.
If you are running a business, how much time to do you really have to publish those posts? It takes long enough just to create them! Make sure to incorporate scheduling into your content marketing strategy on Instagram. 
You need to find an automated posting service like Hopper HQ and set up a schedule of postings, so that you can take that task "off your plate." You can craft those posts when you have the available downtime, and then let the automated service kick in on the schedule you have set up. This maintains the consistency you want, so that followers will keep coming back for your latest.
Plan & schedule social media ahead of time.
> Video, gallery & image posts
> Calendar, feed & grid preview
> Instagram, Facebook & Twitter
#5 Tag Products to Make Shoppable Posts
If you want to tag products and allow shopping directly from Instagram, you are wise. This means your followers don't have to access your website but can shop right there, and is a good content marketing strategy to consider. It's easy to do:
Your account must be

approved for shopping

on Instagram

Go to your profile and tap shopping and then continue

Select a product catalog the connects to your profile

Choose a photo and add a caption, then tap the product(s) you want to tag. You are allowed to tag up to 5 products per posted image

To set up shopping right from Instagram, follow the

instructions here

.
Anything you can do to make shopping more convenient for your customers is always a good thing. Here's an example provided by Instagram of Australian clothing brand Spell: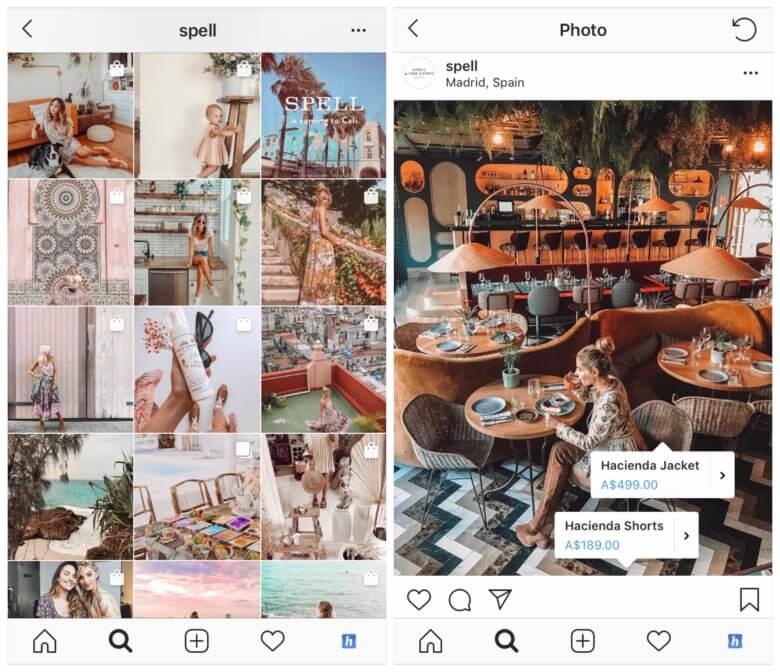 Vera Wright, social media marketer for ResumesCentre, has seen a solid uptick in clients since she began using the product tagging and shopping features. "By posting images of sample resumes and CV's and allowing prospective clients to either shop or call us directly, we have increased our ROI from our Instagram presence. It's such a cool feature."
#6 Use Instagram Ads
You have two options for this Instagram content marketing strategy. You can promote a post through your Instagram business profile or use the ad creation feature on Facebook. You can set up the audience you want to reach, the duration of the promotion/ad, and your budget. Rest assured, your competition is already doing this, and you need to as well.
Amanda Sparks, content marketer for EssaySupply is sold on Instagram ads. "We've been on Instagram for a long time now. And we've done a lot to get our brand 'out there' with only moderate results. Once we began our ad campaigns, though, we got the responses we were looking for. We now have an ongoing campaign."
#7 Partner with Influencers
What makes an influencer? Anyone with a large following that could also be considered your target customer base. Influencers can be individuals or other companies, but collaborating with them is a brilliant content marketing strategy. You have two choices here:
You can pay for shout outs and promotions on that influencer's account

You can enter into a reciprocal arrangement and agree to promote each other's products/services.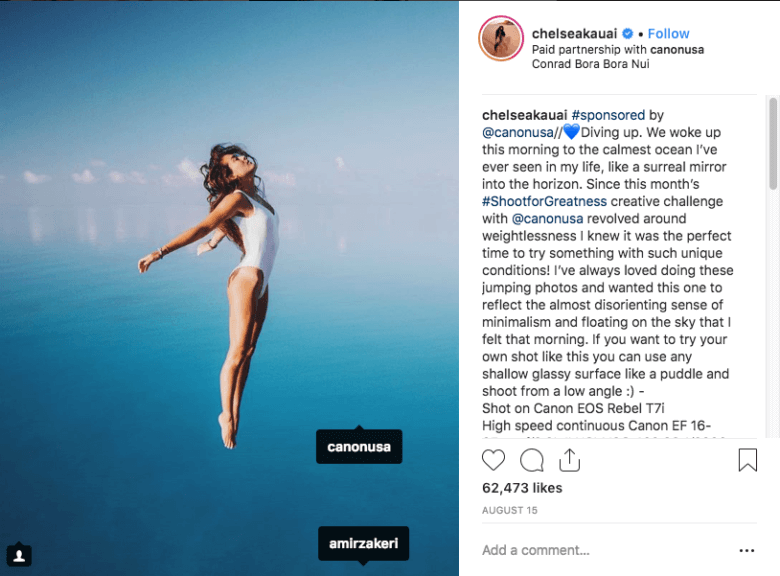 ⭐️ Check out our Simple Guide To Instagram Influencer Marketing in 2018 for more info! ⭐️
#8 Track Your Metrics
You cannot know what types of posts or content marketing strategies are working or not, unless you track views, shares, and growth! Instagram has free analytics tools with great instructions about how to use them. Some of the key data to collect and analyze include:
Your profile analytics – follower count, unique accounts that have viewed your posts, website, call and email clicks from each post, etc.

Insights on your audience – by gender, age, location, days, and times

Impressions and reach of your photos, videos, and stories
Explore The Data Behind Your Social Media Accounts 📊
Find the best time to post, track your follower growth, and understand what content works best with post and account analytics.
#9 Make Sure You have an Appealing Brand Bio
Here is where you need to be quite creative and engaging. If you are a master with words, great. If you are not, take a look at competitor brand bios and consider which of them engage you most, then try to emulate that style and format!
Beyond that, you can get professional profile writing help through writing tools, such as Grammarly, ProWritingAid, or from writing agencies. Check out OnlineWritersRating, a review site that will list the top writing services that offer copywriting.
#10 Add Location Tags 
Geotagging can begin as simply as including the physical location of your business in order to attract local customers. First, create your location through your Facebook "Create the Location" setting. Then, you can add that location to any of your posts, or place stickers on your Stories. There are a number of ways to use Instagram geotags, so do a little research and start using them as part of your content marketing strategy!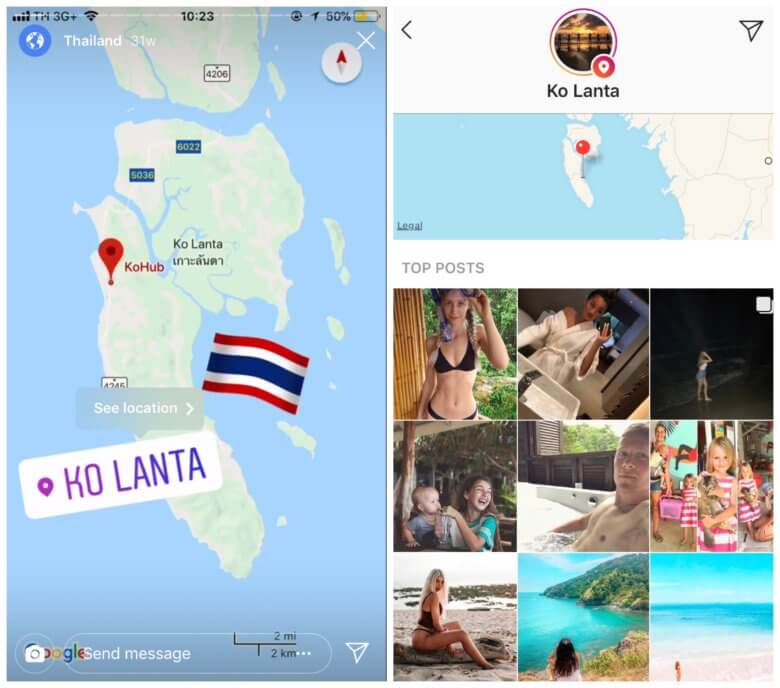 There you have it – 10 content marketing strategies to promote your brand on Instagram! They are not difficult to incorporate into your marketing strategy for this platform, and can bring the results you'd like to see. Go forth and use them!
---
Guest Author: James Scott 

James Scott is an independent blogger and professional marketer. He is passionate about professional and agile team management. Even the smallest member of the team can change everything, so a wise manager should do their best to deliver the best working experience for everyone.