Marketers and customers understand that Instagram is the hottest social network right now. Accounts see more engagement and activity than Facebook or Twitter…
But standing out from the crowd remains the biggest challenge for brands. Currently, the platform has over 2 million monthly advertisers. As a result, brands need to be more creative in their approach…
In this article, we'll discuss the various strategies brands can use to get more out of their Instagram ROI…let's go!
Instagram ROI Tip #1: Use the right hashtags
So much of Instagram visibility depends on using the best hashtags. With a handful of different hashtags, you could increase impressions tenfold.
Instagram even shows which hashtags contribute to discovery, under the Insights panel:
To see how effective hashtags can be, look at Audi's past campaigns. When the company released the Audi R8, someone used the hashtag #WantAnR8 in their social media posts.
Audi saw this post and decided to surprise the user by letting them drive the car for a day. The hashtag was a massive success, and it brought lots of publicity to the Audi brand.
But what about your own brand? How do you know which hashtags to use?
Use Instagram's search bar 🔎
Put yourself in the shoes of a customer. What would you search for on Instagram? Once you type a keyword, Instagram will give you associated hashtags and posts. Let these inspire your own list of hashtags.
Try related hashtags #️⃣
Hashtag pages have a list of related hashtags right at the top. Some of these are great verticals and niche topics to explore. The more you target, the less competition to deal with.
Analyze competitors and influencers 👥
What are others in your space doing? Learn from others, even if they are competing with you. Worst case scenario, you'll find hashtags to avoid so you can stay unique.
There's no magic bullet when it comes to using the right hashtag. Experiment and you'll find that the right tags will vary on the post and situation.
How hashtags affect Instagram ROI:
Hashtags are key to increasing a post's visibility and overall engagement. The more hashtags used, the more likely users are to stumble on the post. Without them, the posts might have gone completely unnoticed!
Plan & schedule social media ahead of time.
> Video, gallery & image posts
> Calendar, feed & grid preview
> Instagram, Facebook & Twitter
Instagram ROI Tip #2: Create Instagram Story Ads
Instagram Stories have proven to be an effective channel for advertising.
Why?
Because unlike posts, they don't show any views, likes, or comments. They're ephemeral and therefore allow brands to show different (often fun/unpolished) content. They also offer a different kind of experience for engaging with customers and potential customers!
For a more compelling argument, observe Converse's story campaigns.
(Source)
Not only are their Stories consistent with their feed, they're simple and inviting. Each story has a single graphic and caption, building hype and calling users to swipe up for more info.
Repetition is key. As other brands flood the platform, Converse reacts by posting several times a day. They not only captivate, but hold your attention.
And don't forget to try other Story features — polls, geotags, hashtags, and even music! You can find a full list of Instagram Story ideas here.
How Story Ads affect Instagram ROI:
Instagram is a vast platform with many accounts and posts vying for your attention. Posts aren't the only way to engage with your audience. Stories allow users to follow big news or giveaways without having to sift through pages of posts.
They also allow users to visit links, answer questions and respond to polls without being influenced by view counts or likes. In short — they offer a totally new way to interact with the brand without the vanity metrics that deter other users.
Instagram ROI Tip #3: Collaborate with an influencer
Influencers are all the rage these days. One study found that 94% of marketers found influencer marketing to be effective. But many fail to capitalize on influencer potential, usually from lack of experience.
Don't make that same mistake! Start your campaign off on the right foot by using trackable links for Instagram. When collaborating with an influencer, make sure they share a link in their caption or bio. Since links aren't clickable in Instagram, the latter is usually more popular.
For trackable links, Bitly remains the gold standard. Not only does it shorten the URL, but it allows advertisers to track traffic. You can then analyze how much of your traffic comes from an influencer.
Fiji water collaborated with We Wore What, a fashion blog by Danielle Bernstein on a campaign. Titled BodyWoreWhat, the influencer campaign offered 8-minute workouts with Bernstein and a trainer. It's a classic example of finding a unique but well-suited match between two brands.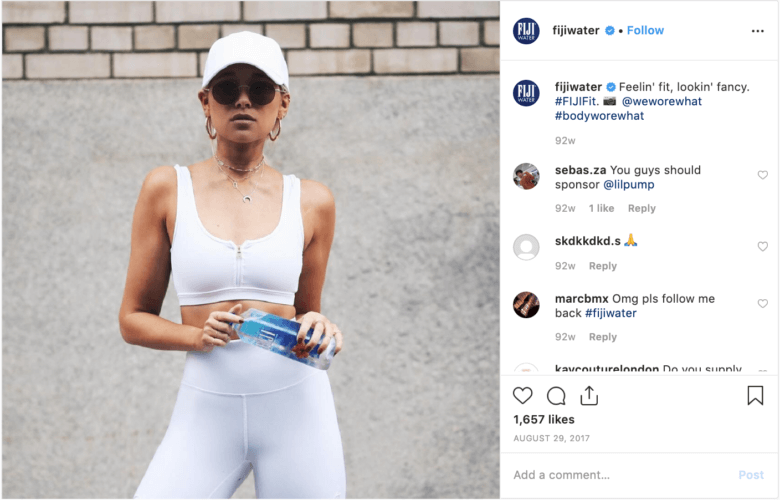 (Source)
How influencers affect Instagram ROI:
Influencers have that title for a reason. Even if their following may not be in the millions, they have more power and sway over their users than even the biggest brands.
They can convince others to try new products and services simply because they are real people with an authentic voice. With the right partnerships, an influencer can be a major driver of sales traffic and increase Instagram ROI!
Simple Post, Story + Reel Scheduling ✨
Visually plan your social content. Instagram, TikTok, Twitter, Facebook, LinkedIn + Pinterest
Instagram ROI Tip #4: Run a contest
Everyone loves a good contest! For marketers, they're great advertising and community building tools. For contestants, they're cheap or free ways to win a valuable prize. It's a win-win!
One of the most popular ways to hold a business contest is still through SMS text message! Why? Because Millennials love texting. 76% say that it's more convenient because they can check on their own schedule. 60% prefer to text with businesses because they're less invasive and more personal. In fact, text messages are so effective, that they can increase engagement by 11-30 times. Text messages with a call to action is 40 times more likely to engage than an email.
But of course, you can find success in Instagram as well. Take it from Oris, producer Swiss-made watches since 1904. Users had a chance to win an Oris weekend bag or fountain pen. All they had to do was follow the Oris Instagram account, share a photo, and tag it with #OrisMovember: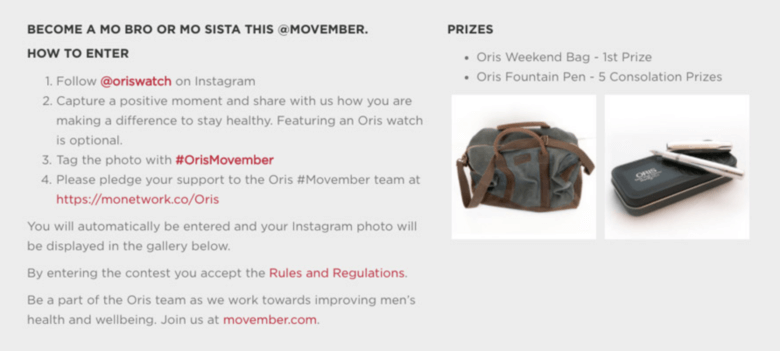 The campaign was great because it encouraged young men to act for a greater cause —men's health. While winning was a great incentive, it's the cause that pushed people to care.
🎁 Follow these steps to run your own Instagram contest! 🎁
How contests affect Instagram ROI:
Instagram contests build up hype and attention towards a brand. By making users tag others and comment to enter, brands can double their existing audience without having to pay for ads.
Contests are also great opportunities for brands to demonstrate awareness and support for certain causes, such as mental health or animal welfare.
Also Read: How To Embed Instagram Feed On Your Website
Instagram ROI Tip #5: Encourage user-generated content (UGC)
What's better than branded content? The content made by your own audience. Not only is it cheaper, but it's more engaging and effective. Nothing builds community quite like creative input straight from your end-user.
Check out how Adobe does it. On their Instagram page, they share high-quality photos and creations made with Adobe. They use a short but appropriate caption, and tag the respective artist.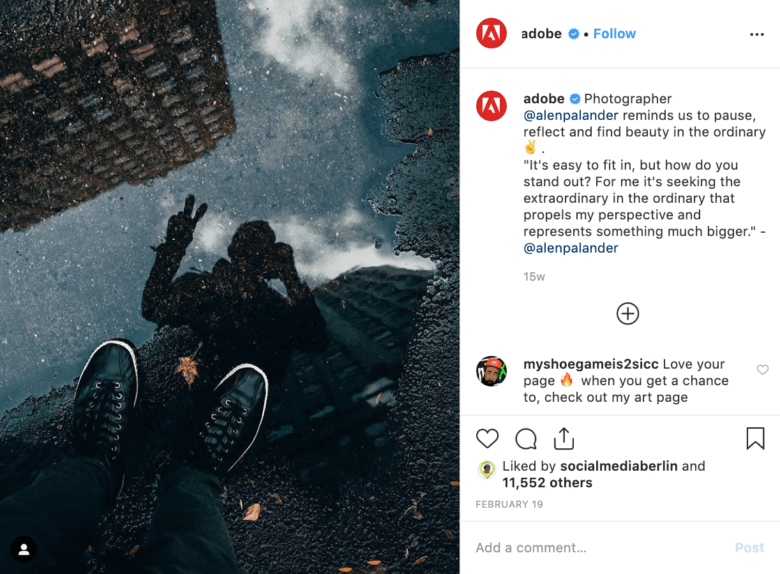 In only a few minutes, Adobe has managed to create a great social post while highlighting their users. The result: that user gets a ton of referral traffic, while Adobe silently promotes their tool!
Promote the creations of your users. Share their stories and struggles. When you highlight the work of your audience, they'll repay you with trust and loyalty.
How user generated content affects Instagram ROI:
UGC is cost-effective and community building. It may cost your brand just a few dollars to setup an ad or pay for someone to create the post, but the final result — an engaged and loyal audience — is completely worth the effort.
Explore The Data Behind Your Social Media Accounts 📊
Find the best time to post, track your follower growth, and understand what content works best with post and account analytics.
Final Thoughts
You don't need a million-dollar budget or a massive following to grow ROI on Instagram! All you need is a robust strategy that maximizes Instagram's toolkit. With that comes a deep understanding of your audience and how to better serve them.
Leave no stone unturned. Experiment with a combination of these tactics, and find which ones work best with your users. Try starting a contest and promoting it with stories. Or use an influencer to start a hashtag campaign.
We gave you the lemons… now go make some lemonade.
---
Guest Author: Alexa Lemzy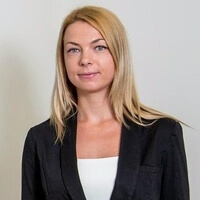 Alexa Lemzy is the customer support specialist and content editor at TextMagic blog. She writes about the best practices and actionable tips for effective mobile marketing and customer service. Follow Alexa on Twitter.